Nike High Top Sneakers
High top shoes are the design of choice for those who like to have a little more protection around the ankles. This type of collar cut was popularized in the basketball court and across skate parks. This is because they provide an enhanced shield on an area of the body that is injury-prone. However, this style of the sneaker has long since transcended toward street style, where they are favored for their added cool factor.
For Nike, the same story is true. Nike high top sneakers have been favored in both the sports and lifestyle categories. They are also offered in different colorways, from the staples black, white, red, or a combination, along with some inspired color options.
The high top design has been featured in different iconic silhouettes, celebrated for their refined yet sleek looks, and worn and loved by many generations.
Popular Nike High Top Models by Category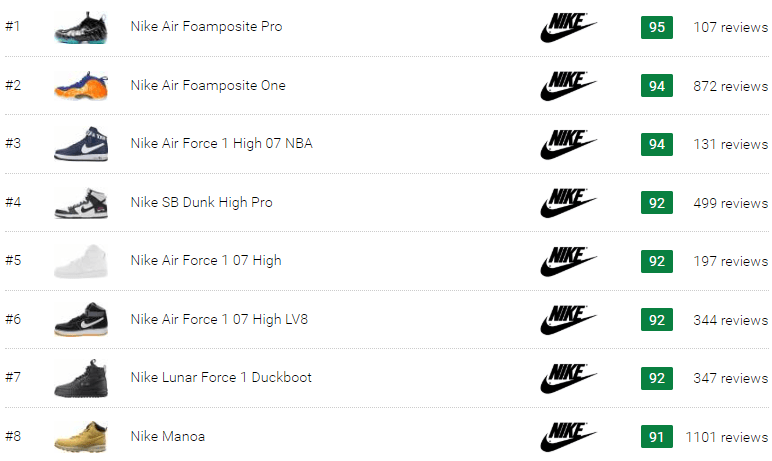 Nike offers many high-top shoes for both men and women. At times, the brand also releases high-top iterations of its low-top sneakers and vice versa. Below are the most popular Nike high top sneakers, listed as to their availability of sizes for men and women.
Women's Nike high top shoes
Nike high top sneakers exclusively for women are quite a limited number. However, many of the brand's high-top models are offered in both men's and women's sizes. Below are the top high cut models that are provided in women's sizes.
1. Nike Lunar Force 1 Duckboot
The Lunar Force 1 Duckboot was introduced in 2015, meant to let the wearer face the cold and rainy days in style. It's water-resistant and durable, ideal for going out during inclement weather. At the same time, the sneaker has been described as ultra-comfortable and lightweight, providing a well-rounded fashionable appeal.
The shoe's Lunarlon sole provides long-lasting comfort and superior cushioning.
It has an expensive price tag of $170.
These Nike high top sneakers for women are in sizes 5-12. It's also offered men's 6-15. It runs small.
2. Nike Dunk Sky Hi Essential
Nike's iconic basketball shoe, the Dunk, was the inspiration behind these Nike high top women's shoes. It signifies the brand's direction towards more feminine silhouettes, updating its catalog of classic kicks for a stylish flair. Court functionality and high fashion come together in this unique sneaker.
A concealed 2.6-inch wedge is this shoe's main attraction.
It also has a rounded toe and perforated vamp that add a feminine contrast to the sporty and sleek design.
At $130, this shoe has an average price.
These women's Nike high top shoes were issued in sizes 5-13. It fits true to size.
3. Nike Air Max Goadome
The Goadome has been popular go-to winter footwear since its introduction in 2007. It's an All Condition Gear (ACG) sneaker, built to be durable for outdoor use. At the same time, these Nike high top women's shoes were meant to be worn for city environments, providing superior comfort in any weather and terrain.
It has a full-length Air-Sole unit for an ultra-cushioned feel.
A lug pattern graces the rugged outsole for a premium grip.
It retails at an expensive price point of $170.
These women's high top sneakers from Nike are in sizes 5-12. Men's 6-15 were also released, fitting true to size.
4. Nike Dunk Retro QS
The Nike Dunk was introduced in 1985. It was designed by Peter Moore and introduced in college team colors. Thirty years later, the brand decided to retro the model, issuing revolutionary colorways. The basketball-inspired sneaker has been given a Quickstrike update, featuring enhanced comfort and materials.
These Nike high top sneakers for women have a rubber cup sole for a well-cushioned and supportive feel.
It's reasonably priced at $120.
Wearers have described the fit as bigger than expected. Women's 5-11 and men's 6-12 can be found.
5. Nike Air Force 1 High SE
As the first basketball sneaker to feature Nike Air, the Air Force 1 was a legend in the making at the time of its release. Since then, there have been thousands of versions for the model, including this special edition Nike high top sneakers. This time, the inimitable silhouette has a distinctly feminine flair.
The Phylon midsole houses the shoe's Air cushioning, giving premium support and cushioning.
At $110, this model is an affordable footwear option.
It is reputed to run narrow. These women's Nike high top shoes are offered in sizes ranging from 5-12.
6. Nike Kwazi
Nike released the Kwazi model in 2016, the result of the fusion of different iconic kicks. It took some of its design inspirations from the Yeezy 2, Roshe, and Huarache sneakers. The overall effect is something familiar yet refreshing, ideal for those looking for a well-balanced look for everyday casual use.
The rubber outsole has a design inspired by an egg crate, enhancing comfort and flexibility.
These Nike women's high top sneakers are budget-friendly at a price of $90.
Women's 5-11 can be found, along with men's 6-14 sizes. It fits as expected.
7. Nike Air Huarache City
Released in January 2018, the City edition of the Huarache features the same foot-hugging design and mixed-media upper of the original model. It also had a custom strap detail and other accents that offer a youthful take to the decades-old Huarache shoe. It's versatile, timeless and fit for a standout look.
There are many colorways for these women's high top sneakers from Nike, including Desert Sand/White/Gum Light Brown and Black/Diffused Blue/Racer Pink/Navy.
At a $140 price point, this is a slightly expensive model.
Women's 5-14.5 sizes are available, with a true-to-size fit.
8. Nike Lunar Force 1 Flyknit Workboot
The Lunar Force 1 Flyknit Workboot model is one of Nike's sneaker-boot hybrids, designed to endure wet and cold weather. An inner structure made up of wool keeps the wearer's foot warm. A water-repellent finish completes the shoe's winterized design. The classic silhouette provides an edgy style for any day, rain or shine.
Flyknit technology was used to create these Nike women's high top sneakers' seamless upper, reinforced with leather construction.
It's a premium priced shoe, sold at $200.
Users have revealed that it runs a half size large. Women's 5-10 and men's 7-13 were released.
Men's Nike high top shoes
There are plenty of Nike high top shoes for men, featuring different colors, designs, and editions. They could be inspired by basketball, skateboarding, and others, and transitioned for streetwear and lifestyle use. The following are some of the most sought-after ones.
1. Nike Air Foamposite Pro
This sneaker debuted in 1997, inspired by a beetle's hard shell. It was designed by Eric Avar and was issued in retro form by the brand in 2001. The shoe celebrated its 20th anniversary in 2017, maintaining a hefty price tag due to the production costs. These highly valued Nike men's high top sneakers could add an edge to any outfit.
Foamposite technology is featured in this model, which uses a molded, cooled, and solidified foam made from a liquid material, resulting in a uniquely contoured design.
It's a very expensive shoe with a price tag of $230.
Men's 6-15 sizes were released. It generally runs true to size.
2. Nike Air Foamposite One
The Foamposite One made waves upon its release in 1997, becoming Penny Hardaway's signature shoe. It was also notable for being one of the most expensive basketball kicks back in the day. Its molded Foamposite upper delivers a futuristic look. It has become a cult favorite and continues to be well-loved today.
This sneaker uses Zoom-Air Sole technology and a polyurethane midsole, offering a responsive and well-cushioned feel.
At $230, it's a very expensive model.
Sizes from 7-15 are available. These men's Nike high-top shoes run small and narrow.
3. Nike Air Force 1 High 07 NBA
The Air Force 1, the legendary sneaker designed by Bruce Kilgore, has been released in many iterations over the years. Its popularity among basketball players has led to the introduction of the Nike Air Force 1 High 07 NBA, an off-court lifestyle shoe designed for casual use. It's the same old classic design with a few twists and fresh details.
The famous Velcro strap graces the midfoot area of these Nike high top sneakers, offering a secure and locked-in feel.
It's an affordable sneaker, retailing at $100.
Men's 6-18 sizes are offered, running true to size.
4. Nike SB Dunk High Pro
1985 was the year that the Nike Dunk was introduced. Designer Peter Moore combined various models to create the sneaker, taking inspiration from such models as the Nike Terminator and the Air Jordan 1. In 2004, the SB Dunk received the stamp of approval from such skaters as Lewis Marnell and Paul Rodriguez.
Heel slippage is avoided through the shoe's heel lining pods.
At $130, this sneaker is slightly expensive.
These Nike men's high top sneakers are in sizes 4-15, running true to size but with a narrow width.
5. Nike Air Force 1 07 High
The classic Air Force 1 aesthetic is retained in this sneaker, along with updated accents. A circular pattern design on the outsole replaces the old herringbone one, making the shoe better suited for quick motions. It's available in many colorways, such as white, black, red and white, and yellow and black.
The rubber outsole has a pivot point that delivers traction and durability for different movements.
It's a reasonably priced shoe with a price tag of $100.
These men's Nike high top shoes were released in 6-18 sizes, with a generally true-to-size fit.
6. Nike Air Force 1 07 High LV8
In 2007, the legendary Air Force 1 celebrated its 25th anniversary. It was also the same year that the brand decided to create a uniform stitching and leather cut for the model, resulting in the Air Force 1 07 series. Iconic details such as the premium leather upper and Velcro strap are retained for a vintage vibe.
The outsole features the Concentric Circ0le design, which offers support for pivot movements along with premium grip.
These Nike high top sneakers retail at a price tag of $110, giving value for the money.
Men's 6-18 sizes are offered. It generally fits as expected.
7. Nike Manoa
A shoe from Nike's All Condition Gear or ACG series, the Nike Manoa is a sneaker built for high performance while meeting the needs for comfort. It looks like a traditional work boot with its rugged design, balanced with a sleek style to suit the city streets. This waterproof model is a winter season essential.
Flex grooves run along the width and length of the outsole, providing an ultra-flexible and smooth ride.
It's a budget-friendly shoe at a retail price of $90.
Men's 6-15 are available. These Nike high top sneakers run true to size but have a narrow width.
8. Nike Air Max Speed Turf
Originally a football training sneaker, the Air Max Speed Turf was first released in 1995. It was worn by Miami Dolphins' legendary quarterback Dan Marino. Along with its 360-degree Max Air unit and midfoot strap, the shoe also sports a waffle outsole for superior traction. This head-turning model is fit for delivering edgy everyday looks.
A striking look is achieved in the multi-layered upper of these Nike high top sneakers, giving off a vintage vibe.
It is an averagely priced sneaker at a price of $140.
It's in men's sizes, ranging from 6-15 and fits according to size.
9. Nike LeBron XI NSW Lifestyle
The Nike Lebron XI Lifestyle was the eleventh signature shoe that LeBron James designed with Nike, hence the name. It was built with Lunarlon cushion technology and Flywire, among others. The 2013 silhouette was then updated with an NSW iteration, making the shoe suitable for casual use.
These Nike high top shoes for men are part of the Nike Sportswear (NSW) line, which features high-quality lifestyle variations of a particular model.
This shoe is slightly expensive, with a price of $130.
Men's 5-15 are available. The model fits true to size, but those who have wide feet are encouraged to get a half size up.
10. Nike Zoom Mercurial Flyknit
Making its first appearance in Paris, the soccer-based Nike Zoom Mercurial Flyknit is also a running hybrid shoe. It's a hybrid model that took inspiration from the classic Air Zoom Spiridon and the relatively new Free Mercurial Flyknit. The eye-catching, ultra-modern design makes it a unique addition to the Nike catalog.
These Nike high top shoes from the men's catalog have a revolutionary exposed Flyknit design. The material changes color as the wearer shifts from one movement to the next.
It's an expensive shoe that bears a $200 price tag.
Men's 6-13 were issued. It fits as expected.
Frequently Asked Questions
1. What are the clothes to wear with Nike high top sneakers?
Nike high top shoes are relatively versatile and can be worn with a variety of clothes. Jeans are a favorite piece to pair with this type of design, especially skinny jeans as they emphasize the high-cut detail of the shoes. Below are some other styling tips on how one could style high top sneakers from Nike.
For women, the brand's high-top shoes could be worn with athleisure clothes such as leggings, joggers, and shorts, paired with tank tops or t-shirts. For a more casual vibe, the sneakers could also be matched with jeans, skirts, and dresses.
Styling Nike high top shoes in the men's section offer plenty of possibilities. The kicks could be paired with sporty outfits such as track pants, shorts or joggers, along with t-shirts. For a laidback style, the shoes could also be worn with jeans and sweatshirts or jackets.
2. Where could one buy Nike high top kicks?
These models and other shoes are sold at many of the brand's retail stores all over the U.S. and the world. Also, Nike high top sneakers could be found in many department stores. They could also be available online at the Nike website or online sneaker retailers, such as Zappos and Amazon. Resellers could also list such kicks at sites like eBay.
3. How much are Nike high top shoes?
Pricing depends on the model, ranging from budget-friendly to very expensive. The price range of these sneakers is from $90, such as the Kwazi and Manoa models, up to $230, such as the Foamposite Pro and Foamposite One.
4. Where are Nike shoes made?
Nike is a global name in the footwear industry. As such, the company is known for having many factories, which are mostly located in the Asian continent. Countries such as Vietnam, India, Taiwan, Indonesia, Malaysia, Pakistan, the Philippines, and China are where the brand's products are mostly manufactured.
5. How much ankle protection do high top Nike shoes offer?
As Nike high top sneakers are meant for casual use, they do not offer the same level of protection for the ankle as their counterparts in the basketball category and other sports. They do, however, provide ample ankle support so that the shoe stays in place. To conclude, these high-top models do not prevent ankle injuries.
6. How to avoid wearing out Nike high top sneakers?
Like many other kinds of shoes, there are ways so that one could prevent quickly wearing out high top sneakers. These involve methods of proper footwear care, such as cleaning and maintaining the shape.
7. Do high top Nike sneakers look bulky?
It depends on the design of the sneaker. Some users have commented about a few models looking too bulky, but it could also depend on the size and shape of the foot. The key is to find the right design, styling, and size to make sure that high top Nike shoes don't feel or look bulky when worn.
8. Does Nike high top footwear make the wear look short or tall?
A short or tall effect can be achieved, depending on how one styles high-top kicks. If the shaft or collar of the shoe is concealed, say by a pair of wide-leg jeans, then the wearer will not look shorter than he or she really is. However, if the sneaker is worn with skinny jeans or the collar is revealed, then the leg may seem shorter.
9. Are there any technologies used on Nike high top shoes?
Given that some Nike high top models are inspired by such sports as basketball and soccer, it's no wonder that they are infused with the brand's tech. The following are some of the innovations that have been featured on high top Nike shoes.
This durable material starts as polyurethane liquid which is then molded into a foam-like, tough upper. A glove-like, a snug fit is offered by Foamposite shoes, which gradually contours to the user's foot.
This innovative cushioning system uses soft foam that is responsive and supportive. It also offers shock absorption while reducing impact.
Nike Air Cushioning. First appearing in 1979, Nike Air has been a staple of the brand ever since. It uses compressed air to provide lightweight cushioning and support.
This is Nike's seamless knit technology, which has been featured in many of the brand's iconic kicks. It uses an advanced digital knitting process that allows the brand to customize the support and flexibility needed in certain areas of the shoe.
10. How can one determine that a pair of Nike high top kicks are fake?
Due to the popularity of Nike high top sneakers, many counterfeit products are touted as authentic at much lesser prices. Here are some tips to determine whether or not a pair of high top kicks is fake.
Look at the box the shoe came in with and check for errors in logos, spelling and the overall quality of it.
There should be a consistent pattern on the outsole, which is formed by Nike's unique lines and grooves.
Observe the quality of the stitching of the sneaker and check for any inconsistency or low-quality work.
Check the material and the overall shape of the model and see if the shoes match each other.
Finally, the product number on the tongue label should be the same as the number found on the box.
15 best Nike high top sneakers
Nike Air Foamposite One
Nike SB Dunk High Pro
Nike Lunar Force 1 Flyknit Workboot
Nike Air Pippen
Nike Air Force 1 07 High
Nike Air Max Goaterra 2.0
Nike Lunar Force 1 Duckboot
Nike Air Max Speed Turf
Nike Air Force 1 07 High LV8
Nike Dunk Retro QS
Nike Air Max Goadome
Nike LeBron XI NSW Lifestyle
Nike Air Force 1 High
Nike SF Air Force 1 High
Nike SB Dunk High Pro QS
This shoe has recently been added to RunRepeat. There are still not enough reviews for us to assign it a
CoreScore
.
CoreScore
A score from 1 to 100 that summarizes opinions from users and experts. The average CoreScore is 78.
More...