Overall ranking lists
Mizuno categories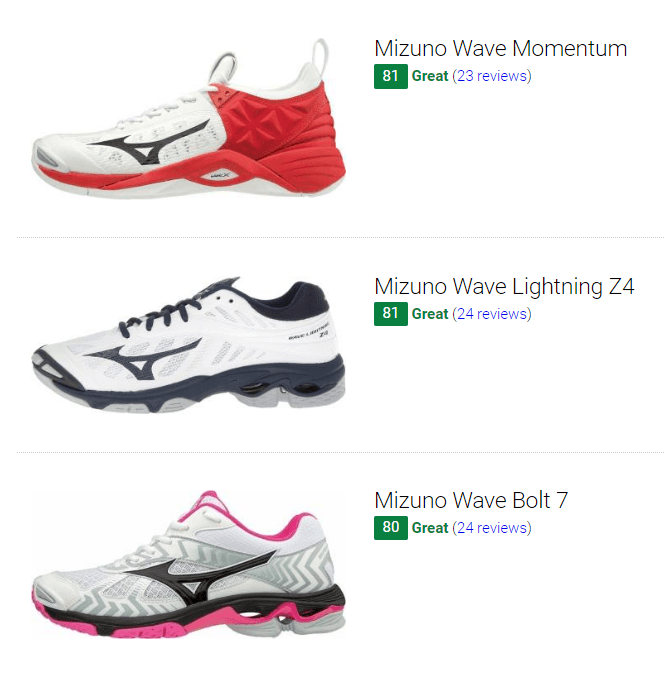 Mizuno has had a long history in the sporting world. But in the volleyball scene, it's still pretty young. Despite its early stages, Mizuno volleyball shoes can compete with the more popular brands today. The company has a team of engineers that focuses on delivering the best products for the sport.
What to expect from the best Mizuno volleyball shoes for men and women
Mizuno is a sports company dedicated to delivering the best gears for running, baseball, golf, softball, volleyball, swimming, tennis, and soccer. Though it started with baseball products, it has applied the same precision to its other lines, including volleyball shoes.
Mizuno volleyball trainers are designed from the ground up with the wearer's comfort in mind. For instance, the brand employs several underfoot technologies that protect against impact with each step. As for the upper, it is designed to sit close to the skin. It allows for natural expansion and movements of the foot. They are so comfy to use, you may get tempted into wearing them as your everyday walking shoes.
A secure lockdown is vital in preventing injuries. Volleyball players need their shoes to be able to move with their feet. Volleyball shoes from Mizuno are crafted to contain the foot to prevent slippage. The brand has engineered some materials to follow the natural contours of the foot to deliver snugness and stability.
Aside from the balls of their feet, the toes of volleyball players are also used extensively. Some athletes drag their toes while serving and others stand on the tips of their toes when they block. Mizuno volleyball shoes are equipped with extra protection in this area in the form of an additional piece of rubber or the outsole extending upwards. This feature is similar to that found in most CrossFit trainers.
The outsoles of the best Mizuno volleyball trainers are made using a type of rubber that provides grip on indoor surfaces. There are grooves that not only help in flexibility but also in biting the surface. A pivot disc is usually found under the ball section. This feature allows wearers to turn or quickly change directions without hurting their knees. It is easy to mistake badminton shoes for volleyball shoes because they share quite a few of the same features, especially in the outsole.
The ability of volleyball footgear to move with the foot is crucial as it helps with the player's agility. Volleyball shoes from Mizuno employ materials that would facilitate natural foot movements. They bend at the right places but also have stabilizing elements to prevent injuries.
Volleyball players need to be able to move quickly on their feet. To accommodate this, their trainers should be light and move in perfect unison with the wearers. Mizuno engineers have constructed their volleyball trainers using lightweight materials.
What's unique about Mizuno volleyball shoes is its ventilation features. First, the upper is constructed using a mesh that allows air to cool the interior of the trainer. Some models have a midsole feature that helps with temperature and moisture control.
Volleyball trainers, in general, should fit snugly, especially at the heel and the middle section of the foot. This type of fit prevents unnecessary movements of the foot and protect against potential injuries. Though volleyball shoes from Mizuno do not come in wider options, the top is structured to avoid pinched toes and allow them to spread out when needed.
Technologies used on Mizuno volleyball shoes
Outsole
XG Rubber. The XG in its name stands for 'extra grade.' This compound is designed to provide excellent grip on indoor floors. It is usually placed in high wear areas where more traction is needed. This type of rubber is seen on the Mizuno Wave Momentum model.
X10. Another type of rubber used in some Mizuno volleyball shoes. It is made using carbon rubber, which is very durable. It allows the footwear to last longer.
Dura Shield. It is a piece of rubber, or thermoplastic polyurethane (TPU), placed at the tip of some volleyball shoes from Mizuno like the Wave Tornado X2. It creates a bumper-like effect that protects the toes against hits and abrasions.
Sensorpoint. This component found in some Mizuno volleyball shoes enhances stability and traction. It is a suspension system that connects the Wave plate in the midsole to the floor. It provides wearers a better feel of the ground.
D-Flex Groove. It is a diagonal furrow placed at the midfoot area of the outsole. This element allows the unit to support side-to-side movements. It also makes it possible for players to turn, at maximum speed and power, without toppling over. The feature helps maintain balance as the body quickly changes directions.
DynaMotion Groove. Another feature found in Mizuno volleyball trainers that helps with flexibility is the DynaMotion Groove. These strategically designed fissures enhance both the traction and pliability of the outsole by allowing it to expand in multiple directions. One model that uses this innovation is the Wave Supersonic.
Midsole
AP+ Midsole. A lightweight platform that is engineered to withstand multiple impacts. It is crafted to be bouncy, so athletes are quicker to transition from one step to another.
SR TOUCH. This is a type of midsole used in some Mizuno volleyball trainers. What differentiates it from other cushioning technologies is that it delivers both shock absorption and rebound in a lightweight form. This unit also allows for a smooth heel-to-toe transition.
U4icX. This innovation is an updated version of the U4iC midsole. It is crafted to be lighter and provides more plush underfoot coverage. It also has a higher rebound quality than the original iteration.
PoWnCe. Feel like a tiger pouncing on its prey when you're wearing the Mizuno Wave Mirage 2. It features the PoWnCe midsole, which is the amalgamation of power and bounce. The shock absorption it offers is similar to AP+, but the PoWnCe is 10% lighter.
Anatomical Cup-In-Sole. If your foot sliding inside the shoe is your concern, some Mizuno volleyball shoes utilize the Anatomical Cup-In-Sole. This insert follows the shape of the underfoot. It is also concave to ensure that the sole lies securely on top of it.
Mizuno Wave. A proprietary midsole technology made of a plate with an undulating shape. The waves expand when pressure is applied and quickly returns to its form for a more energized toe-off. The design of the Mizuno Wave also allows it to disperse the force from the point of impact to a broader area, for better shock absorption and stability.
Parallel Wave Plate. An iteration of the Wave technology that features the waves on the lateral and medial sides of the heel are the same width. This construction allows it to evenly disperse shock to other parts of the midsole. The uniform design also keeps the foot stable.
Infinity Wave Plate. This technology is easily spotted because of the two holes in the heel section. As seen on the Mizuno Wave Lightning Z4, the holes resemble the infinity symbol, explaining the name of this innovation. What makes it different from the original Wave is that it delivers enhanced shock attenuation and rebound.
Intercool. This ventilation system is unique to some Mizuno volleyball trainers like the Wave Voltage. It is a full-length platform with holes that help regulate temperature and moisture. The opening of the Intercool is found at the outsole. If you see a structure covered by a fine mesh, then you're looking at it. The fine-holed mesh prevents debris from entering the inside of the footwear.
Upper
AIRmesh Upper. This engineered mesh technology features an open-cell construction. It allows more air to enter the foot chamber to enhance breathability and comfort.
DynaMotion Fit. Several technologies are used in conjunction with one another to deliver a top that fits perfectly, so it moves seamlessly with your foot. This construction prevents bunching, thereby eliminating stress points that can cause chafing or blisters. A model that uses this type of upper is the Mizuno Wave Luminous.
Mizuno volleyball shoes through time
Mizuno started making gears for baseball in 1907. It wasn't until 1910 that the company released its first baseball shoe. It took almost a century for the brand to launch its first-ever volleyball trainer, the Mizuno Wave Lightning, in 2003.
Mizuno may not be like other brands wherein they release trainers like pancakes. The company has quietly released various volleyball shoe models since 2013, and these lines have received updates since then.
Because Mizuno volleyball shoes are not meant to be worn on the streets, the company introduced the Court Select OG. This volleyball-inspired trainer is equipped with an EVA midsole for comfort, while the upper uses mesh nylon and premium full-grain leather for the top. As for the outsole, it is still made using gum rubber for that iconic indoor shoe look.
In 2019, the company has ramped up its efforts in the volleyball scene with the release of several aesthetically pleasing trainers.

March - It introduced the Wave Momentum, which was also included in the Cosmo Pack. The other two shoes in the collection include the Wave Lightning Z5 and the Wave Luminous. All three models come in colorways reminiscent of outer space. They also use technologies that provide wearers with boundless energy so they can dominate on the court.
May - Just a few months after the Cosmo Pack, Mizuno released the Mars Volleyball Collection. It includes the Wave Lightning and the Wave Momentum. Instead of the blue and grey tones of the Cosmo Pack, the Mars Volleyball Collection used red. If you don't already know, Mars is known as the red planet, so the Mars line used the same hue.
June - The Jump N' Run collection takes inspiration from the 80's Japanese video games. IF you were lucky enough to play them, you'd vividly remember that the color that popped out the most is green. And of course, the Jump N' Run line makes use of this retro look in the soles of the Wave Momentum and Wave Lightning Z5.
July - To commemorate the 15th anniversary of Wave Lightning, Mizuno launched the Flash of Brilliance edition of the Wave Lightning Z5. The only difference is that this iteration delivers the flashy white colorway made for ladies.
Collaborations and sponsorships
Mizuno currently sponsors two-time Olympic medalist April Ross. Ross started her volleyball career as an indoor player where she dominated the court in high school and collegiate competitions. She also played club volleyball for five years before turning to beach volleyball, proving she can throw down on any turf.
In September 2017, M1 Volleyball, one of the most successful training centers in the U.S., signed a partnership with Mizuno. As its official sponsor, the athletic brand provides the team with volleyball apparel, footwear, and gears.
Frequently asked questions
How much do volleyball shoes from Mizuno cost?
Volleyball trainers from the brand cost somewhere between $65 to $145. You can expect that those above the $100 price are equipped with advanced technologies aimed at improving underfoot protection and foothold. If a cheap yet reliable pair of volleyball shoes is what you're after, we've got your back.
Here at RunRepeat, we search tap partner retailers (so you won't have to) to present with the best deal. Just click on a model you are interested in and you'll see the best price offerings. With our help, you won't have to wait for the next Mizuno sale.
Are there wide Mizuno volleyball shoes available?
Currently, Mizuno does NOT offer wide widths for its volleyball line. But if you're a runner and in need of a wide or narrow pair, check out the Wave Inspire 15, the Wave Rider 22, and the Wave Paradox 5.
Can I use my Mizuno running shoes for volleyball?
In general, running shoes are made for onward movements. On the other hand, volleyball players require a footgear that will be able to support their foot during forward, lateral and backward movements. Also, since players are mostly on the balls of their feet, they need shoes that have more cushioning under the forefoot section.
Can Mizuno volleyball trainers be used for other sports?
Some athletes prefer to use their volleyball shoes for other indoor sports like badminton, squash, or racquetball. The reason behind this is that the above mentioned athletic disciplines have similar footwork with volleyball. And because they are all played indoors or on smooth surfaces, the grippy outsole of Mizuno volleyball trainers work well for these other activities too.
Can training shoes be used in place of Mizuno volleyball shoes?
Some trainers, like those for CrossFit, have toe bumpers for protection and overlays on either side of the midfoot for lateral support. However, CrossFit shoes are quite heavy, which may impede a person's ability to move quickly. Also, the outsole of CrossFit footgear is often made from colored rubber which may streak volleyball courts. This type of rubber may also lack the grip needed by the players.
Can basketball shoes be used in place of Mizuno volleyball shoes?
A popular trend among volleyball players is wearing basketball shoes for games. The reason behind this is that basketball kicks have sufficient cushioning, a grippy outsole on indoor courts, and a supportive top. But the problem is that most basketball shoes weigh heavier compared to volleyball trainers. The additional weight may slow down volleyball athletes who are used to wearing light shoes.
Another reason not to use basketball shoes is that these trainers are designed to support running forward and backward. And they may not always have the cushioning needed to subdue the impact of continually landing on the balls of the feet, which usually happens in volleyball.
Can volleyball shoes be used for streetwear?
Volleyball trainers from Mizuno use a type of rubber that is sticky on indoor courts. This compound allows players to move swiftly. However, the downside to this grippy rubber is that most often than not, it can quickly wear out when used to walk on pavement or cement. If you use your playing shoes outside the court, there's a good chance that the treads of the outsole will deteriorate even before the season ends. Which means you might find yourself looking for a new pair sooner than you want to.
When should I replace my Mizuno volleyball shoes?
A pair typically lasts a full season even with 3 to 4 times a week of practice. However, it would be wise to purchase a new one if you see any signs of wear and tear. The need to replace a worn-down pair all boils down to safety.
If the outsole no longer has any grip on the court, you can slide and lose your footing, which can lead to your or your teammate's injury. If the midsole cannot absorb shock anymore, you may find yourself in pain after just a few rounds of play. And if the upper has lost its hold, the looseness of the top material could cause you to sprain your ankle. An excellent working shoe not only helps you stay on top of your game, but it also prevents injuries.
How do I clean my volleyball trainers from Mizuno?
The brand doesn't provide information on its website on how to clean your trainers. So, to be safe, do NOT machine wash your Mizuno volleyball footwear.
The best course of action is to dip a soft cloth or an old toothbrush dipped in a solution of gentle detergent and warm water. Then use it to scrub stains off the footgear. Wipe away suds and dirt with a clean, damp cloth. You can also just do the last step if you want to freshen up your kicks but lack time.
Remember!
Air-dry the trainer in room temperature and away from any heat sources or direct sunlight.
Remove the laces and insoles (if possible) and clean and dry them separately from the shoe.
Does Mizuno sell volleyball shoes that cater to specific positions in court?
The company designed its volleyball trainers to be worn by everyone, regardless of their position on the court. However, Mizuno does offer some recommendations as to which trainer would match a person's playing style.
For example, the brand recommends the Wave Bolt 7 for all players but added that pin and back hitters would benefit more from it. According to Mizuno, the lightweight nature of the trainer would allow them to run faster, preventing missed hits.
Which is better, a low- or a mid-top Mizuno volleyball shoes?
It's a matter of preference. Low-top volleyball trainers are used by players who like more room for their ankle to move. On the other hand, the high collar of mid-top volleyball kicks provides more support while still allowing movement of the ankle.
7 best Mizuno volleyball shoes
Mizuno Wave Voltage
Mizuno Wave Momentum
Mizuno Wave Lightning Z4
Mizuno Wave Bolt 7
Mizuno Cyclone Speed 2
Mizuno Wave Lightning Z5
Mizuno Wave Hurricane 3
This shoe has recently been added to RunRepeat. There are still not enough reviews for us to assign it a
CoreScore
.
CoreScore
A score from 1 to 100 that summarizes opinions from users and experts. The average CoreScore is 78.
More...