11 best minimalist running shoes
Updated July 2018
Based on 3,013 reviews
Loading please wait...
Why are minimalist shoes great for running?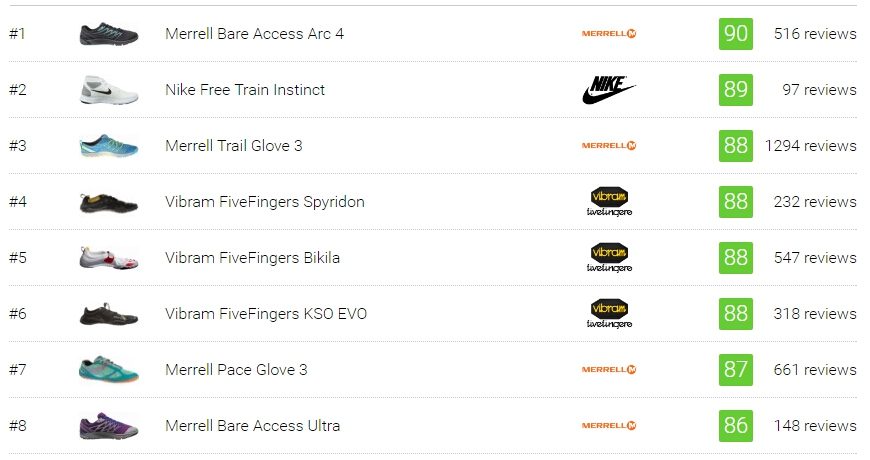 Shoes with less cushioning are likely to improve the runner's performance on the road or trail. By being independent from technical features, they are likely to develop better stability with more ground contact. In fact, kids who started running barefoot will possibly grow as successful runners.
Minimalist running shoes help runners gain more flexibility when hitting the pavement or the trail. The soles are likely to develop a better response over the months of using minimal-structured shoes. The elasticity of the Achilles tendon is also enhanced, thereby decreasing foot fatigue
Wearing minimalist shoes will decrease the pressure from the body, which is caused by heel striking. Once the runner learns to strike with the heel farther from the ground, better acceleration forces are expected, as well as a balanced natural foot motion.
What are factors to consider in choosing minimalist shoes?
Weight. Whether you are a road runner or a trail racer, the weight of the shoe is an important factor. Lightweight platforms are better since they do not drag the runner down when running. A lightweight profile also adds to the barely-there experience, helping the runner to facilitate minimalist running as best as possible.
Heel to toe drop. For better ground contact, a minimalist pair of shoes should have a low differential. You can choose from a zero drop to 4 mm drop, but not higher than that.
Structure. Look at the technical construction of the shoe. The lesser features it has, the more it is likely to mimic barefoot-like running.
Best minimalist running shoes and overall running experience
Enhanced proprioception and balance. Minimalist running offers better ground contact and improves coordination by activating the small muscles in the ankle, heel and feet. It also allow runners to have a wider toe splay.
Cost less energy. Minimalist running shoes are lighter and use up less energy as compared to traditional running shoes. During forefoot strike, the natural foot springs and calf muscles are use to to store and discharge energy.
Better performance. Minimalist running encourages natural foot splay, foot flexes and enhanced ground contact for better running performance. It can also strengthen the tendons and foot muscle. Minimalist running shoes also reduce the risk of common running injuries.
This shoe has recently been added to RunRepeat. There are still not enough reviews for us to assign it a
Corescore
.
Corescore
A score from 1 to 100 that summarizes opinions from users and experts. The average Corescore is 78.
More...