It's bouncy and fast - it's everything most of the
track running spikes
we've tested aren't. In other words, the Nike ZoomX Dragonfly is the best of its kind! It's a track shoe that makes you run like an elite in high-mileage efforts, and it does so at a hefty price. After putting it through the paces, it's a premier choice for distances 3K to 10K!
Pros
Perfect for 3k-10k
Works for 400m-1600m as well
Bouncy and fast
Full-length spike plate
Super breathable
Perfect laces
Wow looks
Elite-level spike
Worth the price
Nike ZoomX Dragonfly review
This Nike spike is an elite track spike that is designed and performs remarkably for distances 1500-10k. It's bouncy, lightweight, responsive, and a real pleasure to race in.
I have used it for many distances and can say this is one of the best, if not the best track spike on the market.
Who this shoe is (not) for
Buy this shoe if you're looking for:
Nike's newest, elite-level distance track spike
Spike made for distances 1500m - 10k
The Vaporfly Next2 % (one of Nike's fastest and most advanced marathon racing shoes) of the track.
Don't buy this shoe if you're on the budget or want a spike for shorter distances. In this case, Nike Zoom Rival S 9 is worth checking out.
Nike ZoomX Dragonfly was made for 3k-10k
The longer races is where this spike really shines, 3k-10k. I personally have used it for 3k-5k but not 10k (though I know many people who have and can attest this spike is great for it).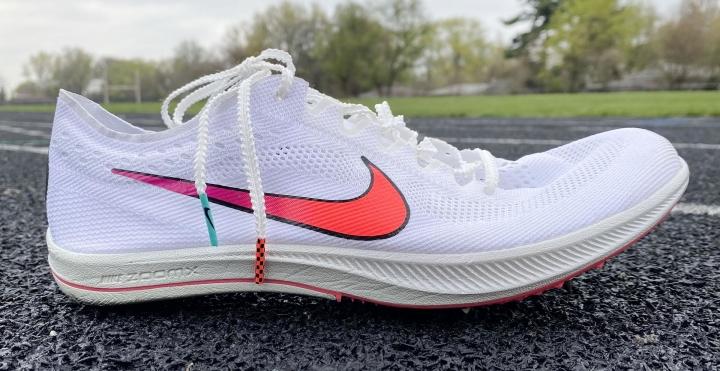 For shorter races such as 400m-1600m, the spike was fast enough to still perform really great. It may be too soft for others to enjoy at those distances but I personally really liked it.
Bouncy and fast ride
It's extremely bouncy and supportive enough to get you through races without your legs or feet feeling beat up.
The plate is a full-length stiff Pebax plate that contributes to a smooth, and efficient ride. It had a great blend of snappiness (not as much as a carbon fiber plate) and toe-off while also keeping a smooth transition.
The midsole of this spike consists of Nike's premium ZoomX foam. ZoomX is Nike's lightest and most responsive foam.
I found it to be exactly that while racing, which is why it's comfortable enough for distances 1500-10k. I also love the high amount of arch support which is good for keeping the feet feeling fresh during the longer 3k or 10k races.
Premium spike plate
The outsole of this spike consists of a full-length spike plate, sharkskin heel for extra traction, and outsole foam for some extra durability.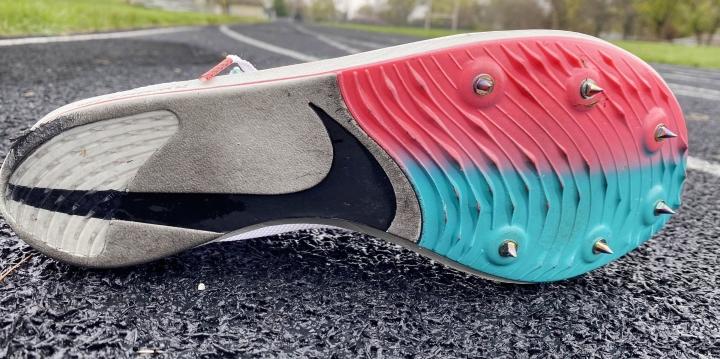 This spike utilizes 6 removable stainless-steel pins to grip the track and ensure no slipping.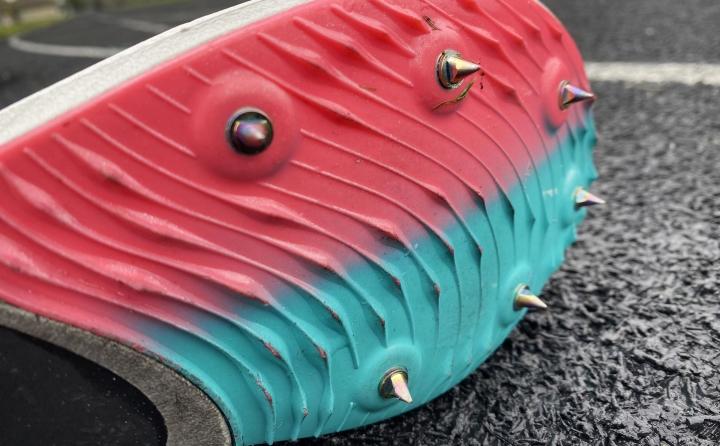 In terms of flexibility, this spike has very little flexibility which is what makes it so fast and versatile.
Nike Dragonfly is super breathable
The upper of this spike is Nike's Fly Mesh upper, which was updated with extra perforations for extra breathability.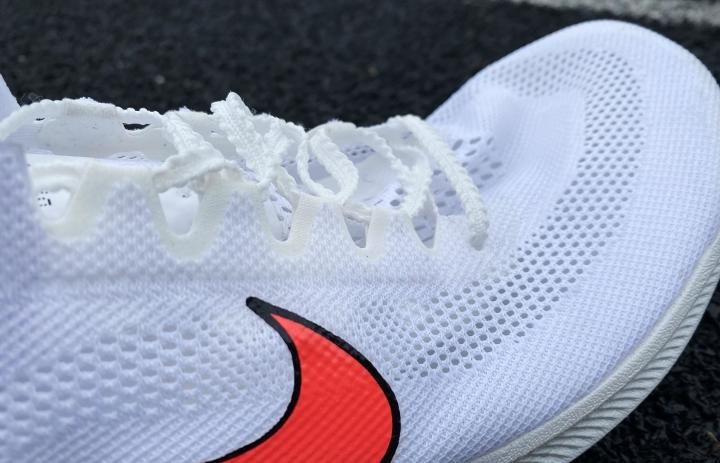 It also utilizes a Matumbo hole in the heel which cuts down the weight and adds comfort.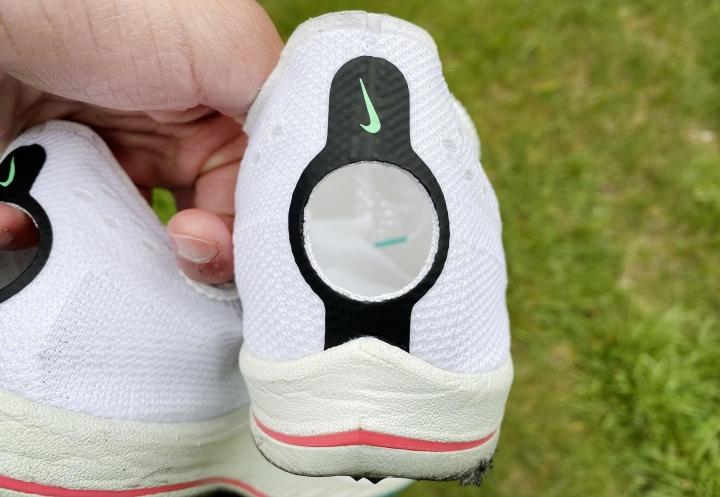 Tongue doesn't fit properly
The only problem I have with the upper is that the tongue bunches up when tying the laces down.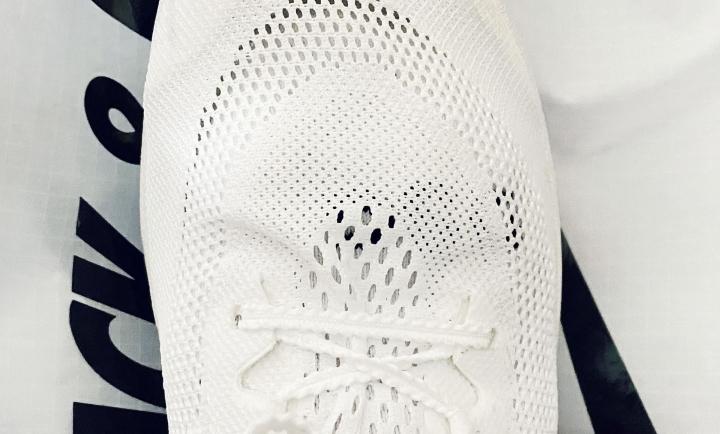 Perfect laces
A small detail I really enjoyed is the notched laces which ensure they don't become undone during the race.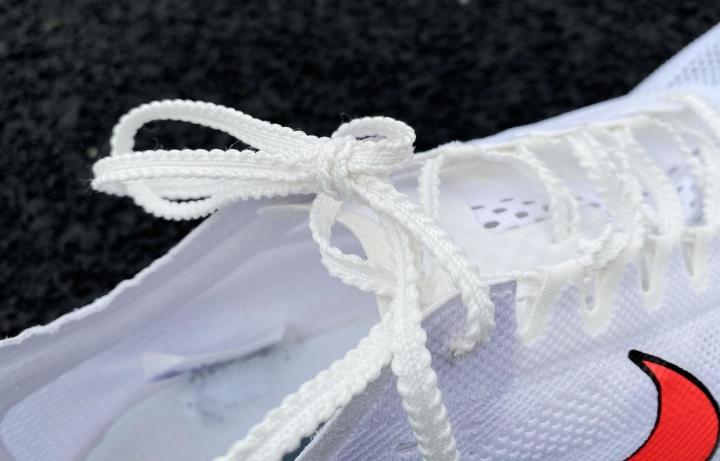 Sleek and comfortable
In terms of looks, I really enjoy the look of this spike. It looks fast, sleek, and very comfortable, which it is.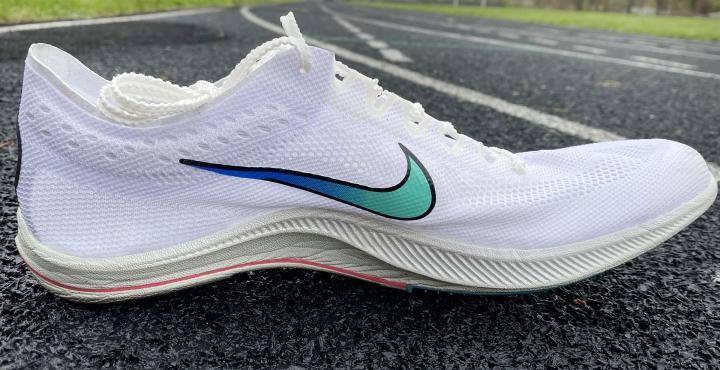 Costly at $150, but worth it
The price of this spike is $150, which I feel is justified by the amazing quality you get in this spike.
Nonetheless, it's still one of the more expensive spikes on the market. That being said, you get a versatile spike that can produce extremely fast times in the 1500m-10k (even 800m which I have raced it in).