Nike Pegasus Trail 3 review
90
The Corescore is a score from 0-100 that summarizes opinions from users and experts. Below shows the distribution of scores for all running shoes.
Verdict
The Pegasus road series just holds a special place in our feet, we just had to see it in trail action. And voila! 50 miles later, the Nike Pegasus Trail 3 won us over with its uber plush landings! It's stable and comfy and will make your run cloud-like. When faced with slick surfaces, however, it shows its limitations.
Pros
Soft, bouncy ride
Very comfortable
True to size
Wide for a Nike
Wide loop on heel
Built to last
Reflective swoosh
Killer grip on dry trails
Cons
Not grippy in wet
Runs warm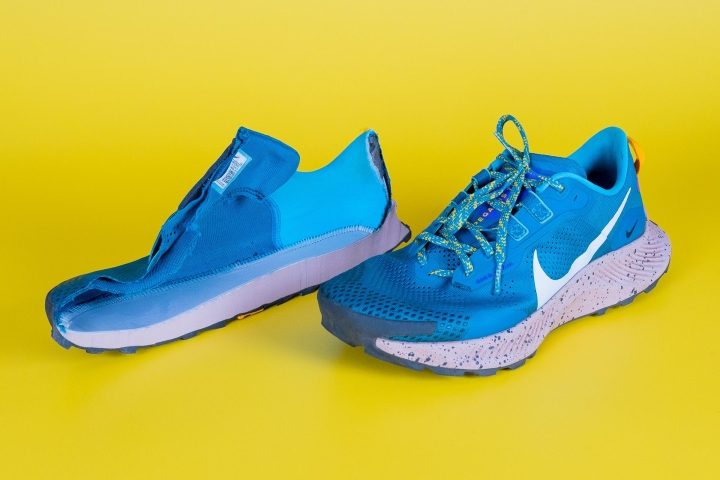 73% say it's true to size.
We earn affiliate commissions at no extra cost to you when you buy through us.
Comparison to similar running shoes
| | | | | | | | |
| --- | --- | --- | --- | --- | --- | --- | --- |
| | Add a shoe to compare | Add a shoe to compare | Add a shoe to compare | Add a shoe to compare | Add a shoe to compare | Add a shoe to compare | Add a shoe to compare |
| CoreScore | | | | | | | |
| Users rating | | | | | | | |
| Experts | | | | | | | |
| Best price | | | | | | | |
| Ranking | | | | | | | |
| Popularity | | | | | | | |
| # of colorways | | | | | | | |
Nike Pegasus Trail 3 review and lab test
Almost great…
The Nike Pegasus is well known. It's Nike's daily cushioned road trainer and on the 38th iteration currently. With its success came the need for a trail version.
The Pegasus Trail 3 is still the youngster on the block, it's designed as a max-cushioned trail trainer for those looking for soft, plush padding for long efforts in a sexy, sleek package.
There's a lot that's good about this shoe, and if you live in the arid west, or somewhere that doesn't see a ton of rain they may be perfect for you, BUT, and it's a big but, if you live in wet climes this shoe is a disaster.
Read on to find out why.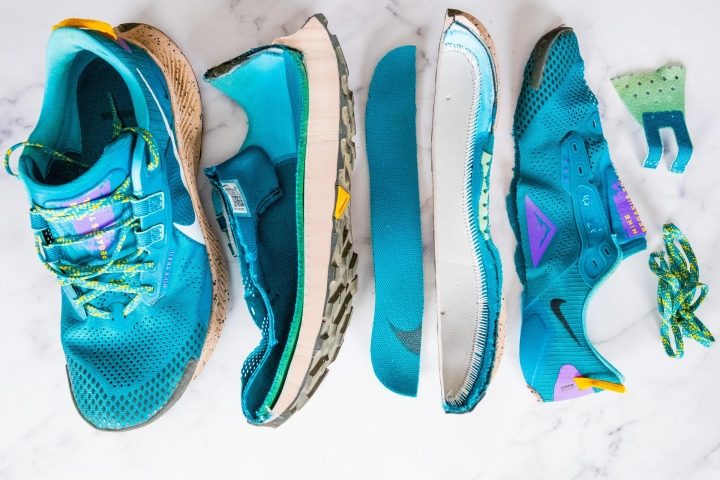 Who should buy the Nike Pegasus Trail 3
Anyone looking for a max cushioned trail shoe with insanely soft landings should consider the Pegasus Trail 3.
The Nike React midsole is a dream underfoot and unlike most Nikes, this shoe can work for people with slightly wider feet.
This shoe is highly durable so if you plan to run on the roads to the trails, or want a shoe that can do both, the Trail 3 may be a solid choice for commuters.
Also, consider the Hoka Challenger ATR 6 which fills similar needs.
Who should not buy it
Do not buy the Peg Trail 3 if:
You have super wide feet. Although this shoe is wider than most Nikes it's still constricting. Try the Salomon Sense Ride 4, it was more accommodating in my experience.
You live in a wet climate. The outsole is a disaster on wet terrain. Inov-8 grip is fantastic check out the Terraultra G270.
You run in super hot temps. There are plenty of trail shoes with a more breathable upper.
You want to go light and fast. This shoe is heavy and prefers long slow runs. Check out other lightweight trail shoes instead.
Peg Trail 3 not as narrow as other Nikes
Let's start with fit. I am never all that psyched to get a Nike into the testing lab, mainly because I want so badly to love them, but they all tend to be too narrow for my wide feet.
The Peg Trail 3 seemed to be more of the same. Straight from the box, I could barely get it on my foot, but surprisingly once on, there was actually plenty of space up in the toebox and after a few runs and some breaking in, the shoe worked well on my feet.
They are tight across the midfoot but provide great lockdown because of it, just know you'll need to wear these a few times before you can truly test them.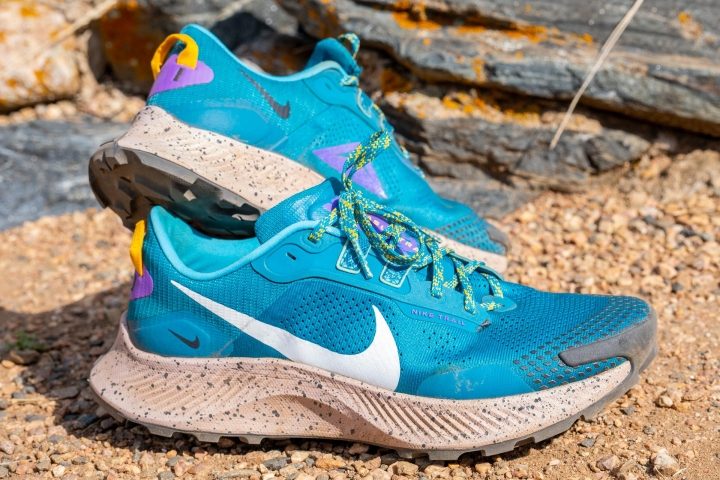 Pegasus Trail 3 like clouds underfoot
We'll Nike nailed the underfoot comfort with the Peg Trail 3. It's just fantastic. Honestly, it feels more like a road shoe, than a dense dull trail shoe.
The full Nike React midsole is plush and soft and bounces down the trail without being overly unstable.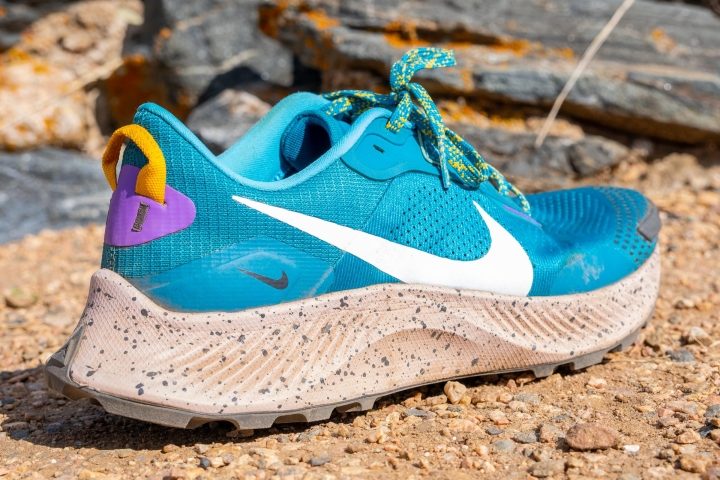 The padded tongue is soft across the top of your foot and stays put thanks to its fully gusseted design.
There are a few issues though.
The ankle collar in the heel rises up a bit high and throughout my runs, it annoyed my Achilles with insistent rubbing.
Tall, soft, and wide
I can mostly sing praise for the Nike React midsole and there's a lot of it on the Pegasus Trail 3.
At 35.3mm stack in the rear and 10.3mm drop, the shoe feels a bit tall and steep. Compare this to the Salomon Sense Ride 4 at the 26.5mm in the heel and just 7.3mm drop which feels more grounded and nimble.
All that foam means it's just a joy to bound down the trail in. It's a max-cushioned shoe that's not dull and marshmallowy like most high-stack EVA trail bruisers out there, and it crushes on the downhills. It has a big extended heel also which helped add stability while descending.
But the responsiveness of the midsole does make it a bit wobbly, which luckily Nike planned for. They gave the Trail 3 a nice wide platform underfoot at 116mm in the forefoot and 92.6mm in the rear (compared to the average of 112.8 and 89.3mm) ensuring it's as stable as can be considering how soft and tall the midsole is.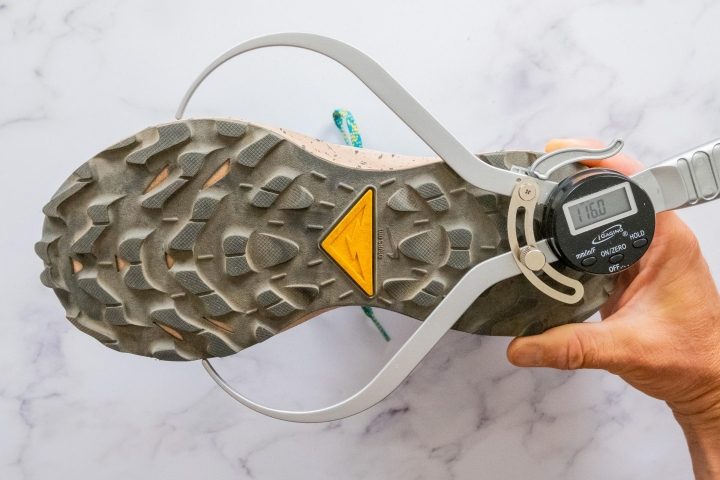 The only downside is this much midsole comes with heft, and the rest of the shoe is not designed to break any weight records by any means, and because of that, it feels sluggish on climbs.
One other thing worth mentioning is this shoe feels like it has some light support under the arch. If you're a light pronator looking for a supportive trail shoe this may be worth a look.
Break-in need for wide feet
The shoe needs a break-in period for people with extra wide feet, other than that, it's ready to go on day one.
Peg Trail 3 needs to go on a diet
This shoe struggles with being fast. It's slow on the climbs and even on flats, you can feel them on your feet. I pushed this shoe to a 5min pace, so it can be done, but it's not where it performed best.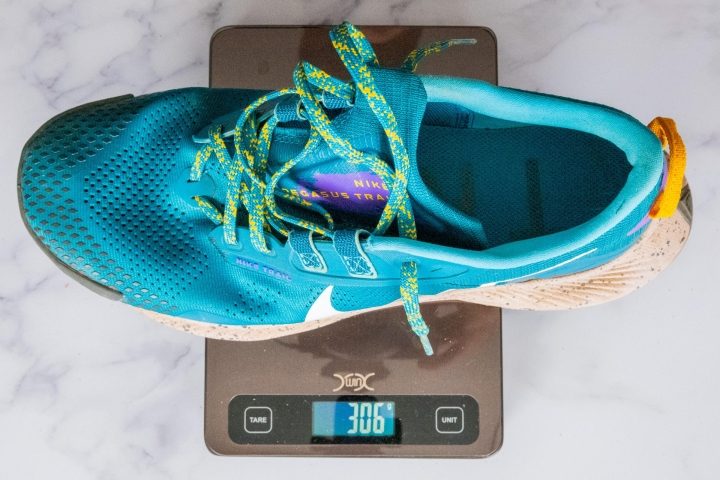 At 10.8 ounces (306g) it's a hefty design even for a max cushioned trail shoe. The average shoe we've tested is 9.5 ounces (269g), and if Nike could configure this to be under 10 ounces they'd have a real gem on their hands.
No real durability concerns
Durability on the Peg Trail 3 shouldn't be a concern, well except that it's a Nike. But past the typical Nike issues, this shoe is built to go the distance.
The outsole is 5.5mm thick and 86HC hard (compare to 3.8mm average outsole depth and 79.2HC hardness), meaning it won't wear down easily.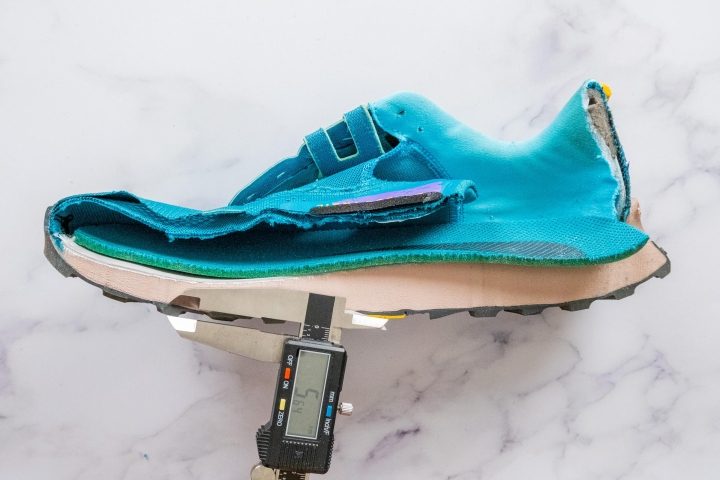 And the upper is thick and covered with protection. There's a thick rubber toe bumper and welded toe overlays ensuring the front doesn't blow out prematurely.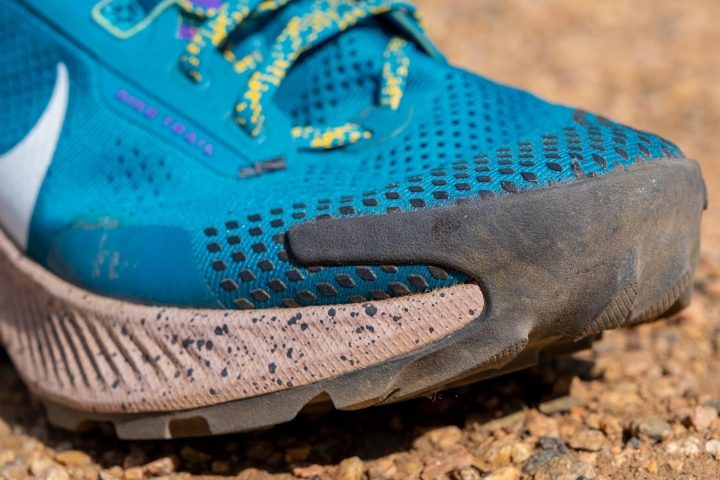 Nike's trail outsoles suck
It's a known issue, Nike trail shoes have terrible rubber outsoles, and Nike yet again hasn't updated it for the Pegasus Trail 3.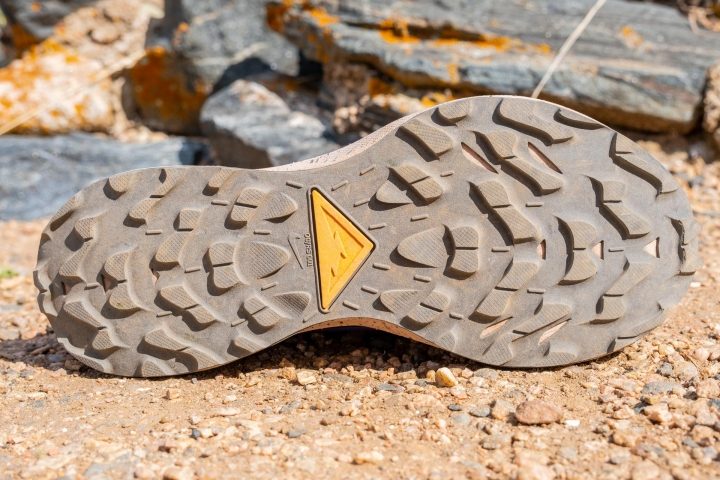 Now, this may be a bit confusing so pay attention.
The grip on these shoes is fantastic, on anything dry. If you live somewhere as I do (Colorado) these kill it out on dry dusty trails.
BUT!!!! If you encounter water, wet rocks, tree roots, or any moisture they turn into ice skates. The hard outsole which gives the shoe added durability is also its biggest weakness.
If you live somewhere wet, stay away from the Pegasus Trail 3. I tested these by splashing water on a rock on one of my runs to see if Nike fixed the outsole from V2, and even gingerly standing on the rock was enough to send me rolling into the Poison Ivy.
I can't imagine trying to navigate wet terrain at speed in these. Nike it's time to get real and just call Vibram…
Where should you run the Peg Trail 3
These shoes are great out on a variety of terrain. They could be ideal as a multi-surface shoe and the hard outsole should wear slowly on pavement if you are running to and from the trails in these.
The Peg Trail 3 is actually soft and responsive enough to be a road shoe if needed in a pinch.
Obviously, just avoid the rain and puddles, I can't imagine hitting a crosswalk in these on a misty morning…
Breathability isn't great
The shoe runs hot. It has plenty of perforations in the upper making you think it would be cool on warm days, but there's a full sock liner in the inside blocking the heat from escaping.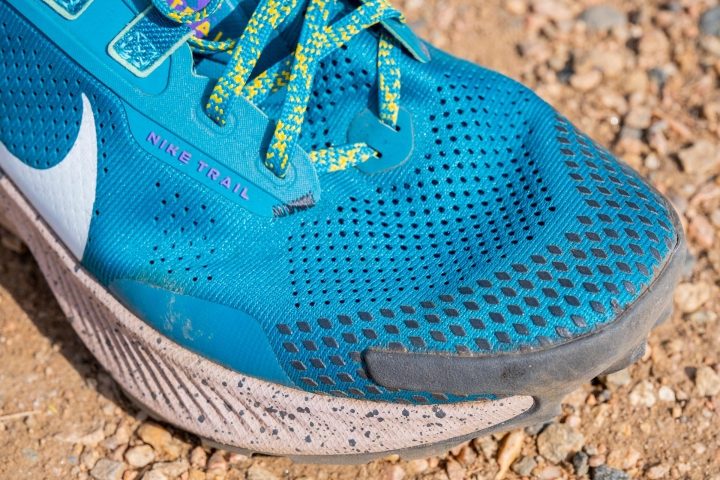 As you can see on the video, fog only escapes through the vent holes, while the rest of the upper is relatively impervious. Obviously, the vent holes are there for a reason but there's just not enough of them considering they are the only place heat is escaping.
If you run in really hot temps this shoe may be too warm.
Trail 3 has great lockdown
Lockdown was great in the Trail 3. It's a touch tight on my wider foot, which obviously helps, but there's also a dynamic banded lacing system which coupled with the gusseted tongue provided solid lockdown across the midfoot.
The heel didn't move around at all, no problems back there other than it feeling a touch tall like I mentioned earlier.
Not a great winter shoe despite running warm
Although this shoe would be ideal in cold temps thanks to its breathability issues, it's not great in cold weather.
All that sweet soft React foam gets stiff in cold temps. In our freezer test, the shoe stiffens up 62.6% (average shoes stiffen just 30.9%) making this less ideal out on cold, frosty trails days.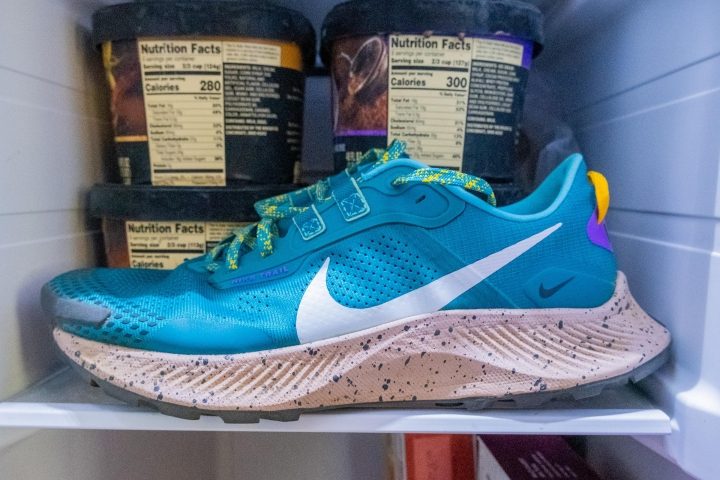 Love the looks and the heel loop
Gotta mention the looks, damn this shoe was sexy (before I cut it into pieces). Honestly, I'd buy this as a town sneaker. With its grip issues, it has limits in my lineup, but it was cool enough looking and comfortable enough to just have for cruising around in.
Also, the heel loop is well done and a solid update. It's no longer a heel-wide band like in V2, it's now a smaller piece of webbing but they put enough on the back of the shoe to easily slide andy finger through, even a thumb. Small details make me happy.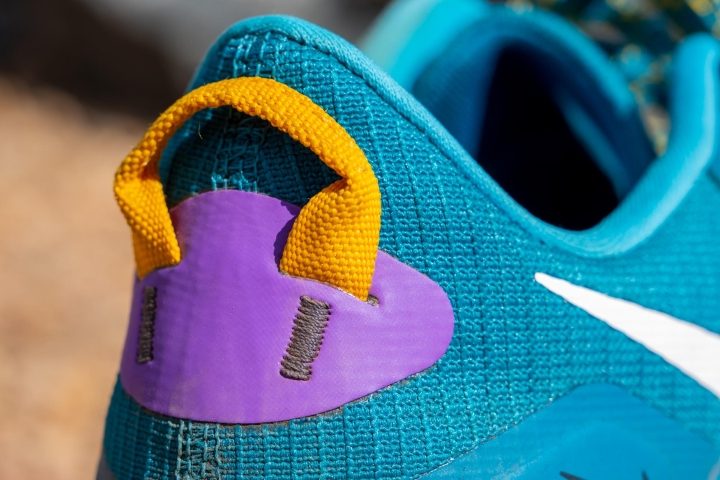 Lastly, it's got a semi-reflective swoosh. Small thing to point out, and although it could be highly reflective, at least it bounces some light. Glad they thought about those that hit the trails in the dark.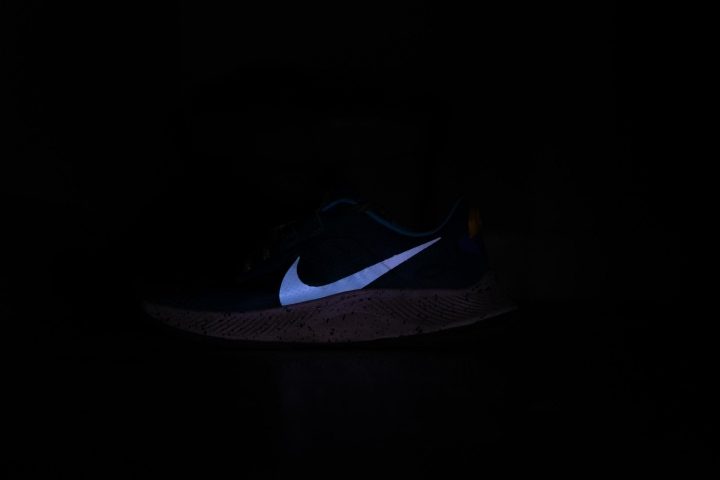 Complete lab-specs overview
Pegasus Trail 3
Average
Whole shoe

Weight (g)

306

269

Drop (mm)
10.8
9.5
Flexibility of the shoe (N)
23.5


41.3

Flexibility of the shoe (Freezer 20 min) (N)

38.2

51.4

Flexibility of the shoe (% of change)

62.6

30.9

Lace slip test with the knot (N)

21.2

23.9

Longitudinal flexibility (1-5 scale, 5 being the stiffest)

3.0

2.9

Torsional flexibility (1-5 scale, 5 being the stiffest)

3.0

3.1

Upper

Thickness - Tongue (mm)

6.6

5.6

Width Upper - Forefoot (mm)

100.8

98.7

Width Upper - Heel (mm)

73.2

75.7

Lace Stretch (1-5 scale, 5 being the most stretchy)

2.0

2.7
Flexibility of the heel counter (1-5 scale, 5 being the stiffest)
3.0
2.7
Tongue: gusset type

Full Gusset (Both Sides)

-

Heel: pull tab

Finger Loop

-

Midsole

Width Midsole - Forefoot (mm)

116.0

112.8

Width Midsole - Heel (mm)

92.6

89.3

Stack - Forefoot with insole (mm)

25.0

25.1

Stack - Heel with insole (mm)

35.3

33.2

Durometer Midsole Heel (Room temperature) (HA)

14.5

23.3

Outsole

Outsole thickness (Heel) (mm)

5.5

3.8

Lugs Depth (mm)

3.3

3.1

Durometer Outsole Heel (Room temperature) (HC)

86.0

79.2

Insole
Insole Heel Thickness (mm)

4.5

4.4

Insole: removable

Yes
Compare popularity
Interactive
Compare the popularity of another shoe to Nike Pegasus Trail 3:
Nike Pegasus Trail 3 video reviews