Verdict from 9 experts and +100 user reviews
5 reasons to buy
Those who have tested the Nike Air Zoom Structure 22 felt that the stability features offered proper protection against moderate overpronation.
The aesthetics of this running shoe were welcomed by consumers.
Some runners noted that the engineered mesh upper was able to provide comfort throughout the running session.
The midsole didn't sag or wear off quickly, a tester stated.
A consumer commended the traction capacity of the outsole unit.
1 reasons not to buy
The padding on the heel collar didn't secure the foot properly, according to a reviewer; he experienced some annoying accidental shoe removals.
Bottom line
The 22nd iteration of the Nike Air Zoom Structure line was able to capture the attention of people, especially those who wanted to have a façade that is cool-looking and comfortable at the same time.
Tip: see the best running shoes.
Our reviews
Is your closet getting a little crowded with all those specialty shoes you've been collecting? It's true, right?
We have more shoes than any generation before us - tempo shoes, flats for the track, cushy trainers for recovery, lightweight trainers for longer races. We don't need yet another specialty shoe as much as we need a bigger closet.
I've searched high and low for the one trainer that could reclaim my closet and let me run Tempo, Track, and Recovery runs with happy feet. The biggest surprise of all is I think Nike, the supplier of the elites, has responded with a nicely balanced shoe at a great price. Enter the Nike Zoom Structure 22!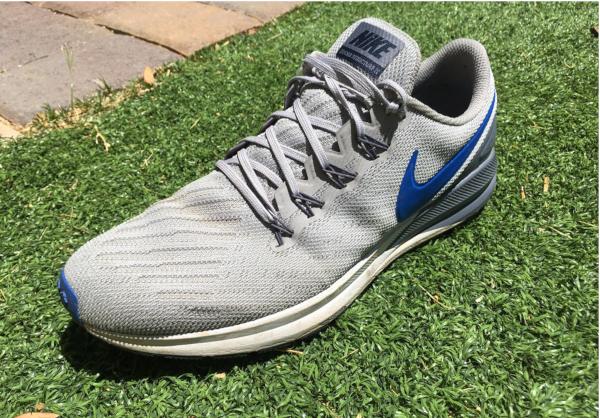 Gold star toe box
Unlike many of Nike's offerings, the Zoom Structure 22 has a roomy toe box. There is nothing worse than to be cramped up front on those repeats or even worse that long run.
That is not going to happen in these Zooms. Nike built in plenty of room for those toes to spread out. It gives supreme comfort during the workout, and you'll feel great after you're done.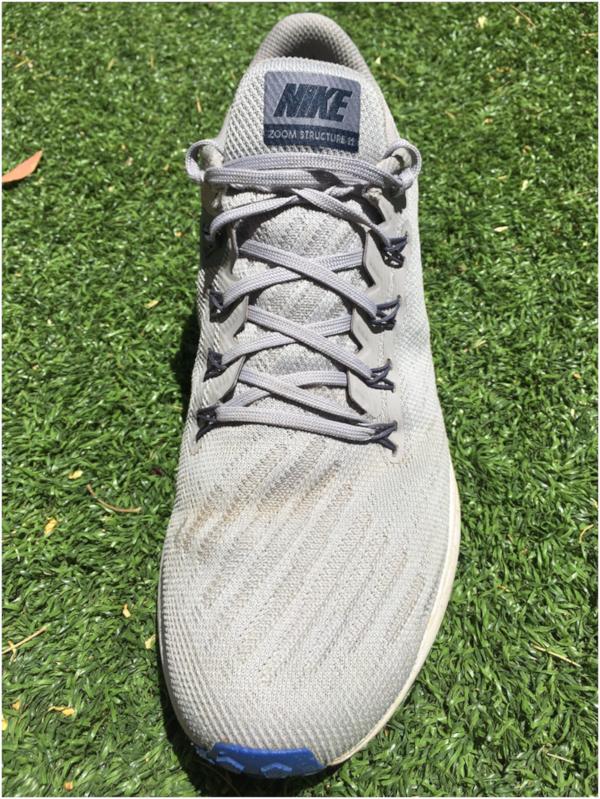 Midsole - gets better the more you wear them
This was such a pleasant surprise for me. Nike uses a dual density midsole with Phylon and Cushlon materials to create what they call Dynamic Support.
Initially, I felt the midsole was on the firm side but satisfactory. After putting over 100 miles in them, I can honestly say they just get better with age.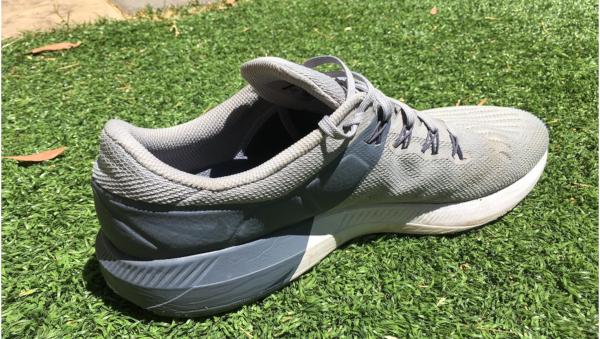 They still give that support, but the comfort quotient just gets better and better. The performance of these shoes and the fact that Nike develops all their foams in the house has me believing in Nike again.
Uppers - no one does it better than Nike
Nike has a knack for crafting a shoe that fits nicely around your foot. In the Zoom Structure 22, Nike creates a great fit with a seamless upper and Flywire to give that custom fit.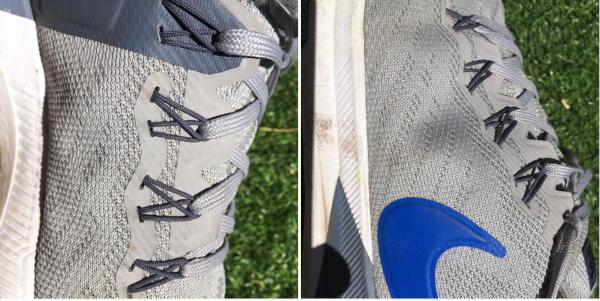 There is no unnecessary padding, and the upper has a tailored feel to it. The material also has proven to be breathable while maintaining durability.
When I say breathable, I run in sunny Las Vegas, and I'm telling you, the uppers ventilate nicely on those sweaty runs.
Soles that politely grip the road
The structure uses a multi-thread that gives grip but still lets you rip. The treads don't have aggressive lugs that get in the way on the road.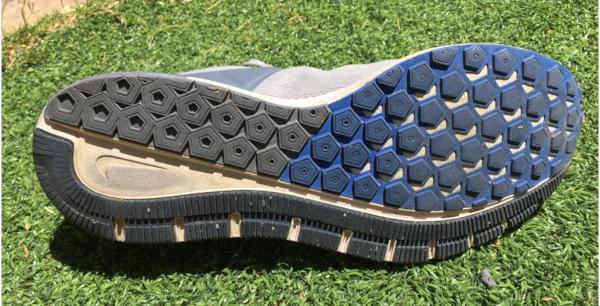 They feel stable underfoot, but you don't even realize they are there. This makes these shoes so versatile because you can Zoom on a training run, track workout, distance event, or just look cool on Saturday night. I've done all those things in my Zooms.
Reasons I would buy them again
The midsole material gives modest support and improves with age
The craftsmanship of the upper makes them feel good at different paces
The eyelets for the laces sit wider on the shoe that alleviates pressure on the top of my foot
There is a variety of stylish colorways that look cool
They are a supreme value at $120
Things yet to be perfected
The tongue is pretty basic that is a small blemish to an otherwise great fit
There is a break in period with these shoes
Conclusion
These shoes really grew on me. After training in them for three months, they check almost all of the boxes. They have a great fit with midsoles that simply improve with wear.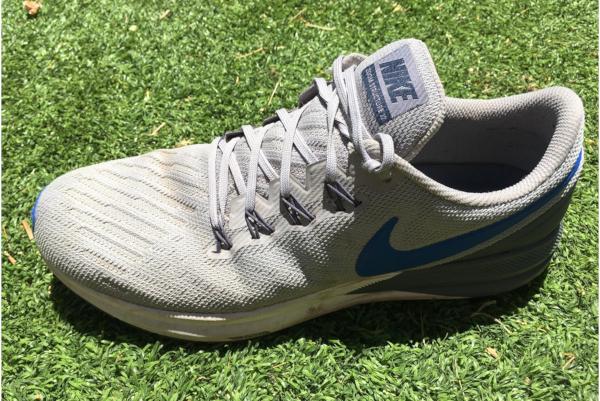 The uppers wrap your foot extremely well and are available in modest colorways if you're not into the neon jogger look. These things are incredibly versatile and perform well in a range of workouts.
If you are looking for a versatile, supportive trainer and willing to sacrifice somewhat that max cushioning feel of other daily trainers, PR's await you in the Nike Zoom Structure 22.
Having run in the Nike Air Zoom Structure 22 previously, it was a pleasure to road test these shoes once again.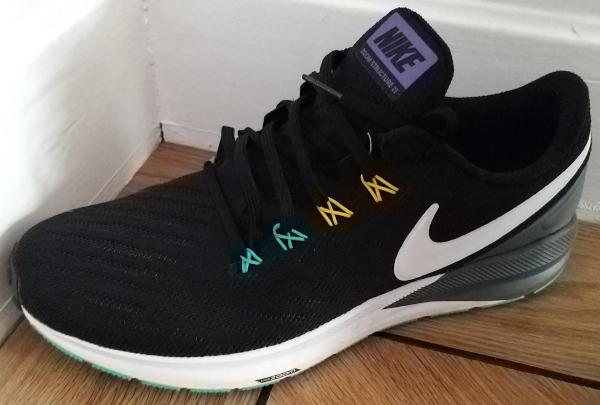 I had previously covered 600+ miles in my original pair. This is a shoe that you can rely on straight out of the box. There is no need to break this shoe in, and you can enjoy it right at your very first run.
The fit of this road shoe is true to size, and there is plenty of room in the toe box, which is very enjoyable, especially on longer training runs.
Design
The design is very appealing to anyone who will lay their eyes on it.
The mesh upper is very sleek and fast looking. It is also very comfortable, and it secures your foot in a great lockdown.
The upper has a great feel during your run. It provides a cool feeling because the material used is very breathable, unlike some of the shoes I have trialled recently.
Cushioning
All positive vibes from myself as I think the shoe is exceptionally well-made. It is very comfortable for all distances.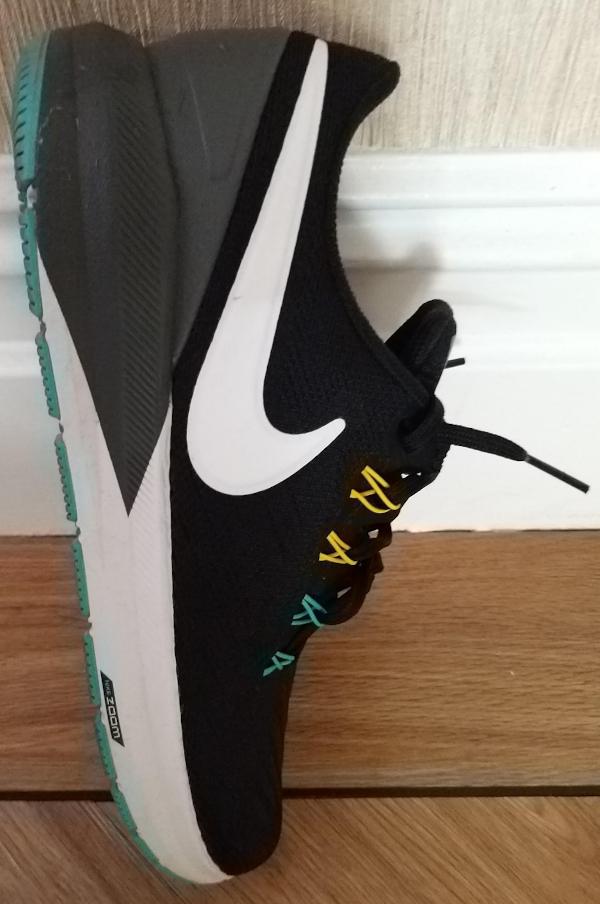 I have used it on hilly half marathons, and it was brilliant up the rocky paths and equally as reliable going down the steep hills.
Speed
When you choose to increase your speed and work through your gears, this shoe will respond.
I use it for faster 5k sessions, and I also use it for my typical longer runs of up to half marathon distance. The zoom air unit in the forefoot delivers responsive cushioning.
Control & traction
The traction is brilliant on all surfaces, including wet road types. I have used this shoe during my track sessions even whilst raining on the rubber surface at my athletics club.
Lacing up this shoe is enjoyable using the Flywire lacing system, which is very good and ensures a comfortable performance. It definitely provides the shoe with wow factor!
The colours of the flywires are different from those of the shoe colour which works really well.
Stability
This stability shoe is extremely well-made and has a great feel to it. Also, the rubber sole on the forefoot enhances the cushioning.
During my every run, I have always been pleased with the performance that I get from this shoe.
Best used on
I have run on road surfaces and also trail routes in this shoe, and it doesn't disappoint on either surface.
Pros
I had a superb running experience wearing this shoe. If you are reading this review and you have never previously worn Nike, then this is a great shoe to select and purchase.
Structure 22 will springboard your performance towards the next level. Also, the shoe is not heavy and neither lightweight and can be used for races to work away at those PB's.
Cons
I don't have any negative things to say about this shoe.
Conclusion
Structure 22 has great value for money and is so so versatile. It is there for all to explore—from beginners who are just starting out to experienced runners covering distances up to 80miles per week.
This is my go-to shoe. It has never let me down and always feels great.
The shoe wears really well too. The upper on my last pair is still in awesome condition.
I am giving the Nike Air Zoom Structure 22 an overall score of 94 / 100. It is a very high score for a brilliant product.
It is the best shoe that I have worn, and I strongly suggest you give them a go. Enjoy the running experience as I did. You won't look back!
Good to know
The Nike Air Zoom Structure 22 is a stability shoe that's created for the roads and for those who want their overpronated foot motion to be corrected. The visual aspect of this product is mostly similar to its predecessor, the Zoom Structure 21, utilizing an uncluttered silhouette and sparing amounts of printed overlays. But this time, the Structure series moves from knitted mesh into engineered mesh territory for a lightweight, breathable and form-fitting fit.
Cushioning is given by a full-length platform, which is made up of Cushlon and dual-density Phylon. These elements work together to mitigate impact shock and maintain a balanced stance when running. The external pad is made of two rubber compounds (blown in the forefoot and BRS 1000 in the heel) to help with surface control and abrasion protection.
The forefoot section of the Nike Air Zoom Structure 22's outsole unit is made up of Duralon, a blown rubber compound that offers traction, abrasion defense, as well as added cushioning through its malleable build.
BRS 1000 is a durable carbon rubber layer placed in the high-wear areas of the outsole, particularly the heel. This feature is tasked with resisting the debilitating effects of surface exposure and consistent use.
The main part of the midsole unit is the Dynamic Support technology, comprised of Cushlon and dual-density Phylon. This full-length cushioning unit has a forefoot that is responsive and flexible and a heel that is firm and stable. Overpronators are the target of such a configuration.
The heel has a decoupled part that isolated impact shock during the landing phase of the gait cycle. This design is also meant to smoothen the heel-to-toe transitions.
A plastic case filled with compressed air is placed in the forefoot section of the platform. This Zoom Air unit, which is also present in the Nike Pegasus shoes, heightens the cushioning capacity of the midsole, encouraging a well-mitigated step and a reactive forefoot lift.
Engineered mesh serves as the upper unit of the Nike Air Zoom Structure 22. This cloth-like material is lightweight, flexible and highly breathable. It has an open construction that accommodates environmental air into the foot-chamber, thus maintaining a cool and dry experience for the wearer's foot.
The Nike Swoosh is printed onto the lateral side, acting as an overlay that keeps the foot in place.
A wraparound heel print with mild padding helps in stabilizing the ankles and the Achilles tendon, thereby preventing sprains or strains.
The Dynamic Flywire Cables connect to the traditional lacing system of the Zoom Structure 22. These stretchy yet durable wires cause the rest of the upper to adapt to the tightening or loosening of the shoelaces, thus giving a customized fit-profile.
Rankings
How Nike Air Zoom Structure 22 ranks compared to all other shoes
Popularity
The current trend of Nike Air Zoom Structure 22.