At a moderate price, the New Balance FuelCell Rebel is a speed monster! Don't get us wrong, it made our feet nice and cushy during easy runs, but the beast came to play when we started picking up the pace. This shoe just delivered faster turnover, and it increased our cadence! Translation: It's like driving a supercar in traffic.
Pros
Super lightweight
Responsive midsole
Superb upper
Appealing looks
Affordable price
Cons
Less traction on wet surfaces
Lace bite
New Balance FuelCell Rebel review
There's no other way to say it - the New Balance Fuelcell Rebel is a great shoe!
At $130, in an era of days where high-performance shoes are well above this price point, the New Balance FuelCell Rebel is definitely a steal.
Meet the FuelCell Rebel
In 2019, New Balance introduced its new Fuelcell foam as a replacement for Revlite. New Balance produced the Fuelcell Rebel akin to the New Balance 5280, a carbon-plated short-distance racing shoe.
Fuelcell Rebel is very similar to 5280, but it does not have Carbon plate and has more Fuelcell foam in the midsole.
Upper
The New Balance Fuelcell rebel features one-piece knit upper without any overlays. The wavy pattern of knit is unique and looks pretty good. Knit Upper just enhances the looks of the shoe.
Upper performed superbly in every aspect that a runner wants from a running shoe. The upper wrapped the foot like a sock. It's the kind of upper that one can easily forget that they are wearing a shoe.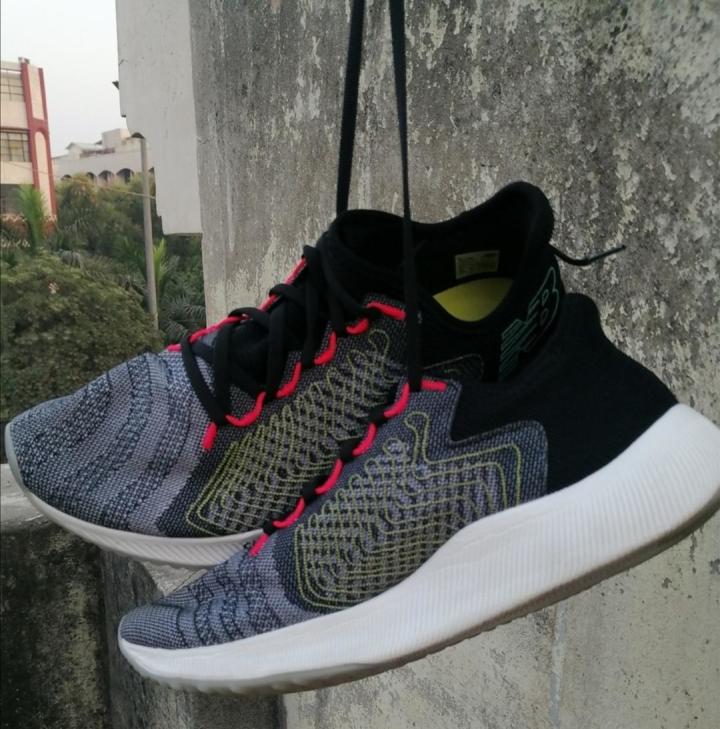 Knit upper is not as soft as primeknit or as compared to other high-end shoes with knit upper, but it does not cause any chafing, blister, or other issues. The shoe's breathability is top-notch; I did not feel any hot spots while running in hot weather.
The upper has tiny holes all over the upper, which enhances the breathability. Rebel has bootie construction, which means there is no tongue and one-piece upper the only problem I found with the upper, it was a little tough to get the foot in the shoe.
Toebox
New Balance Fuelcell Rebel has a wide toe box and enough space for runners with wide toe box.
Runners with wide feet will not find any problem as the knit adjusts easily to the foot's shape.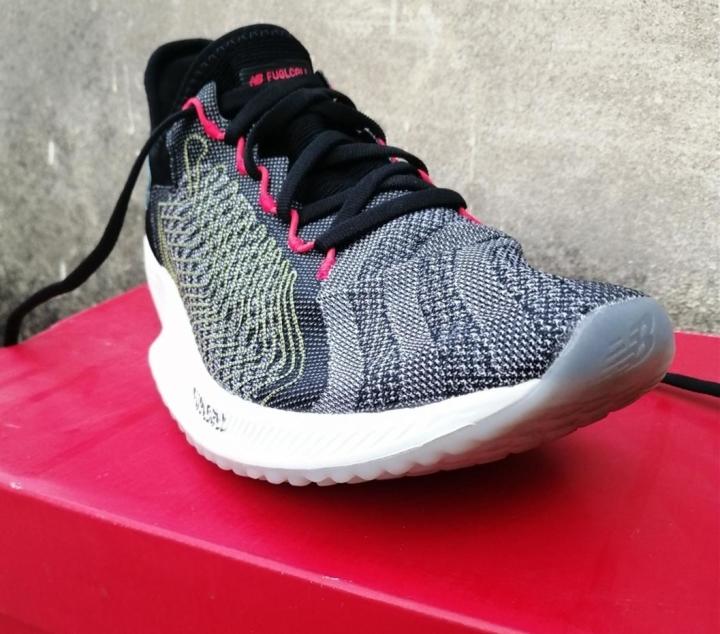 Heel counter
Rebel has a semi-rigid heel counter without any external heel clips. The heel counter provided great lockdown and did not feel any degree of heel slipping while running at faster paces or while taking turns.
Overall, the New Balance Rebel has great upper and ticks all the boxes.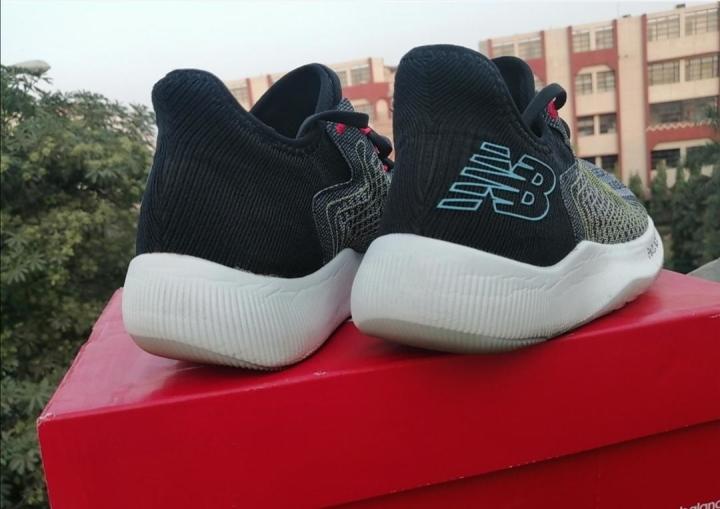 Rebel'lious lacing
The lacing pattern in Rebel is very unique. Instead of holes for lacing in the upper, it has a string attached, and laces passed through it.
This lacing technique leaves no space for customization. When I wore the shoes with thick socks, I noticed the pressure from the laces on top of my foot.
However, the problem went away with thin socks. This can be with me only because of my foot shape.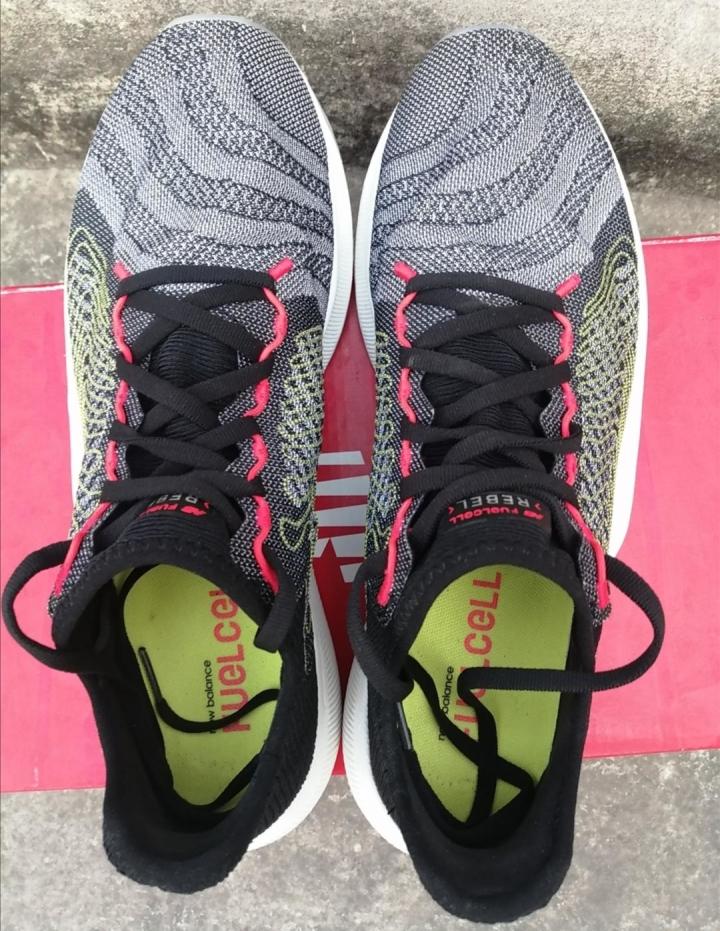 New Balance FuelCell midsole
The shape of the midsole is weird. It has an outward flange, which is inspired by the gait pattern of Jenny Simpson. Interestingly this outward flange does not affect the gait cycle and is totally unnoticeable.
As the name suggests, this shoe has Fuelcell midsole, which New Balance introduced as a replacement for Revlite. New Balance claims that this new foam is much more responsive than Revlite.
I have run in 890v7 (which has Revlite midsole), and I found this new foam Fuelcell way more responsive and giving than Revlite foam.
Revlite foam was firm, and anything above 10k was rough for the legs. However, this foam Fuelcell, despite being on the firm side of cushioning, has more shock absorption and impact protection.
This Fuelcell foam is made up of TPU foam injected with nitrogen making the shoe more snappy and promoting faster turnovers.
I used these shoes for my 5k run and shaved 40 seconds from my time without any specific training. The first few miles felt pretty firm and not responsive.
After 15-20 miles, though, Fuelcell foam started to feel softer and more responsive. When I ran below the pace of 5:30/km, the Fuelcell foam showed its true colours, and it made running at fast paces very easy and effortless.
The midsole is made up of two dual density Fuelcell foams. The dual-layer can be seen right through the transparent outsole, which is pink in colour.
According to New Balance, this dual-density foam provides more energetic forefoot propulsion.
How the NB Rebel performs
As this shoe is inspired by New Balance 5280, it has similar outward flange in the midsole, which promotes midfoot landing.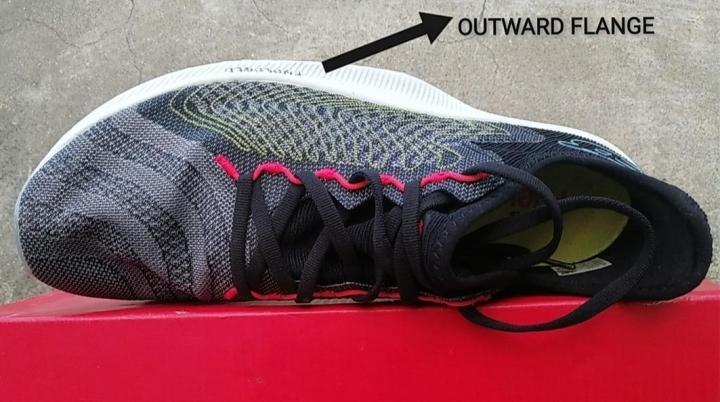 Fuelcell Rebel offers a very responsive ride. This shoe is built for neutral runners who land on midfoot. Runners who land on the heel will not be able to enjoy the ride of the shoe.
It was like a normal shoe when running at slow paces, but when I increased my speed, the Fuelcell midsole showed its true colours. It increased my cadence, and turnovers became faster.
Outsole
Everything about this shoe is very unique. The outsole of New Balance Rebel is made up of data-driven lug design taken from New Balance 5280 made for mile racing.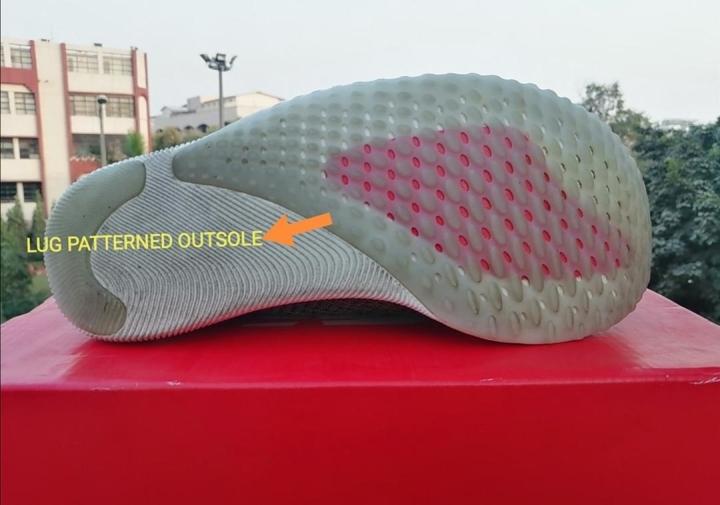 The forefoot of the outsole is covered with transparent rubber. There is very little rubber covering the outsole's heel area, and the midfoot has blown rubber for durability.
The traction provided by the outsole on dry road was very good, but on wet surfaces, the outsole does not provide adequate traction.
I have not noticed any kind of premature wear and tear of the outsole in terms of durability. It will easily outlast the midsole of the shoe.
Support
Fuelcell Rebel has enough support for a neutral runner. The trace fiber provides great amount of support without adding weight to the shoe.
Also, the wider landing platform of the shoe provides stability. Knit upper has almost no stretch to it, wrapping the foot snugly and keeps the foot in place while taking turns or doing track workouts.
There are no external plastic clips for heel support to keep the shoe's weight low, but there is no heel slippage issue, and the heel counter keeps the heel in place.
Durability
After using these shoes for 60 miles, there is no fraying. The upper and outsole are in decent shape.
Fuelcell foam is still as responsive as it was on the first run. I think this shoe will easily last for 400 miles.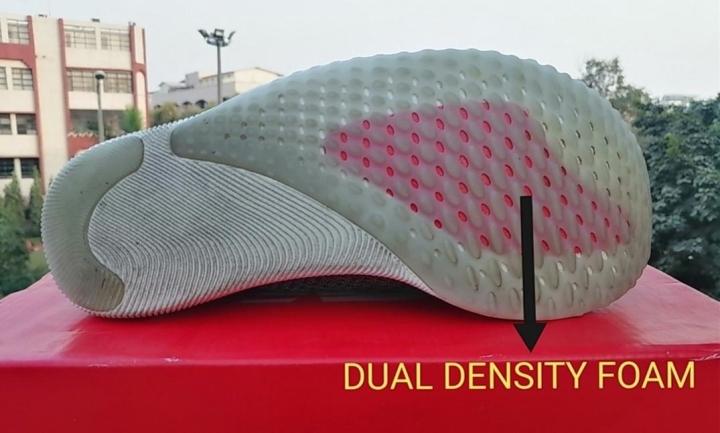 Style of the New Balance FuelCell Rebel
This shoe is an all-rounder who performs brilliantly and looks even better. The knit pattern, lacing technique, shape of the outsole, everything about this shoe is unique, and I love how it looks.