With a significant update from the previous iteration, the New Balance Fresh Foam Roav v2 is now a much better daily trainer. It scored very well in the weight department and does even better when it comes to the price, which is really one of the lowest around. It's best suited for short runs, yet it's not limited to that and can be an excellent choice for gym workouts and even an appealing sneaker for the city.
Pros
Protective cushioning
Very light
Snappy ride
High-quality materials
Versatile for running and gym
Wallet-friendly
Lots of colors available
Cons
Lacks traction on wet
Not for wide feet
Durability is not great
Who should buy New Balance Fresh Foam Roav v2
Get this shoe if you are an entry-level in the world of running, better yet if a heel-striker, and/or you want something reliable, light, and comfortable to bring to the gym or for everyday life.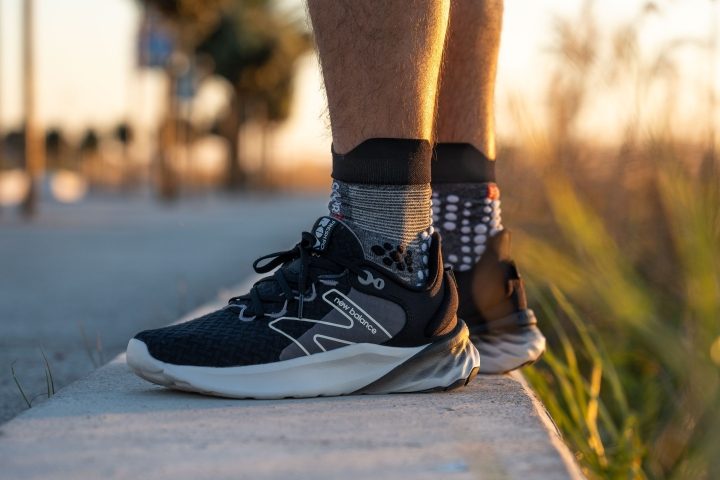 Who should not buy it
Don't buy this shoe if you:
There are of course better running shoes out there, but if your priority is saving some money, it is hard to beat.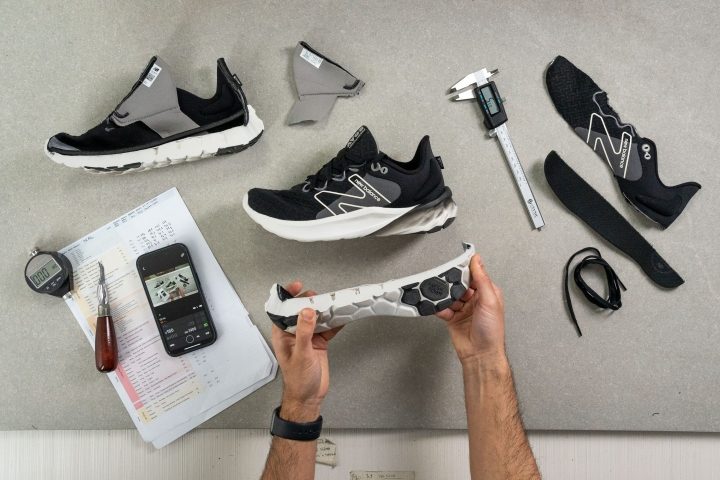 Breathability: not there yet
Based on our measurements, the upper is not airy and therefore this shoe is not ideal for warm days.
New Balance Fresh Foam Roav v2 (left): breathability is limited; Altra Torin 6 (right): very breathable.
Fact check
In our tests, breathability scored just 1 out of 5. As the video above shows, very little smoke comes out. The poor breathability was confirmed in the transparency test seen below: the light from the lamp does not pass through the mesh.
The midsole is THE reason to buy it
Reviewers agreed when it comes to the midsole. They described it as soft, bouncy, comfortable, and responsive. As they put it:
"a responsive ride that won't turn your gait cycle into mush"
"a lot of bounce in a light package"
"feels like you are running on a cloud."
Fact check
In our lab we found the midsole to be only 2.7% firmer than the average of all running shoes we've tested. This means it's neither soft nor too firm, it's a balanced midsole.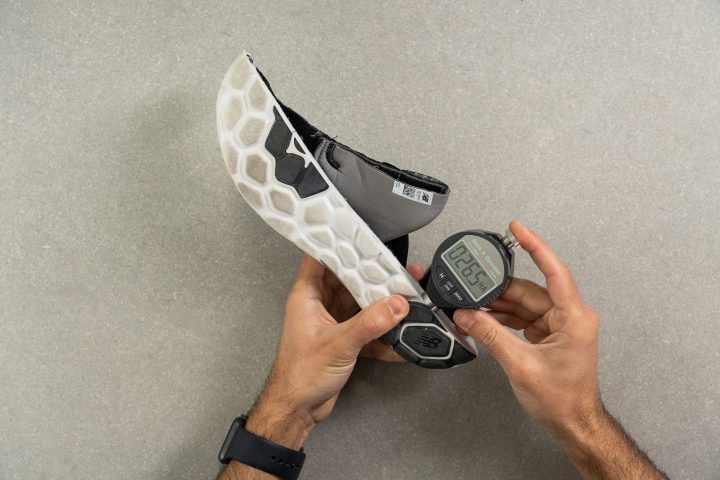 Disclaimer: We repeat the durometer measurement five times to ensure accuracy. The photo above shows the final measurement.
Fact check
Midsoles tend to get firmer in colder temperatures. In order to simulate cold-weather conditions, we put the shoe in the freezer for 20 minutes and the Roav v2 got 24.5% firmer. For reference, the average is 27.1%.
Comfy feel in the New Balance Roav v2
According to the reviewers who tried it on, wearing this shoe is very enjoyable. As a runner said, the heel area is well padded and has great lockdown, "it does feel very comfortable on the foot."
Fact check
We tested the heel stiffness and it scored 2 out of 5, which means it's flexible.
Another experienced runner said she loved "the sock-like foot insert that cradles your foot," while another tester added that you can "wear them all day, take them off and you don't even realize."
Not ideal for wide feet
According to most users, there's not much room in the toe box, which is why the shoe is recommended for medium to narrow feet only.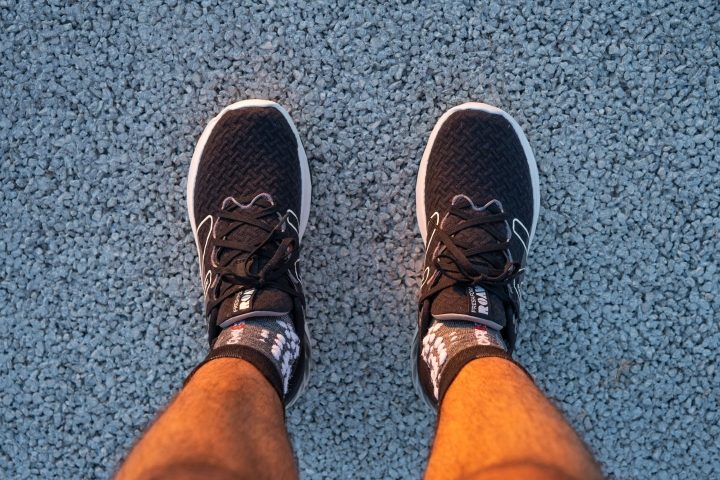 Fact check
We measured the toe box in our lab and found that the users' comments are correct: the shoe has a width of 97 mm, which is very close to the average (97.7 mm).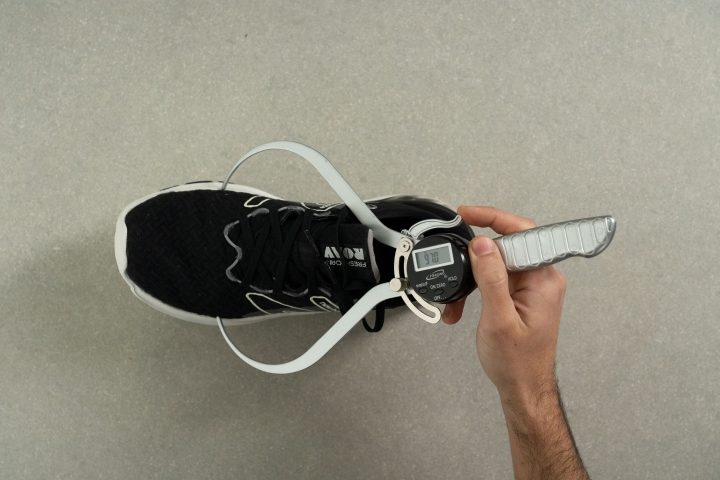 Fresh Foam Roav v2 is for dry days only
In this shoe, we don't have a full-length rubber outsole, but just two small areas placed where it is most needed. The rest of the surface is just foam from the midsole, and although this helps keep the weight at bay and improves agility, in this case, runners found out that it compromised traction in wet conditions.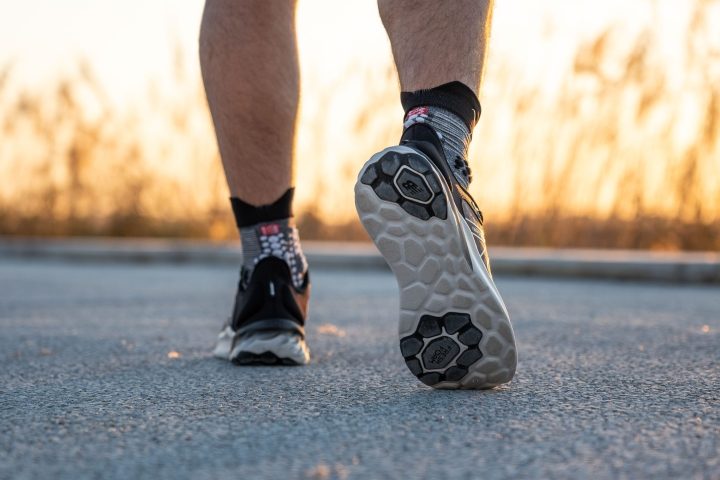 As for other situations, it delivers a decent amount of grip.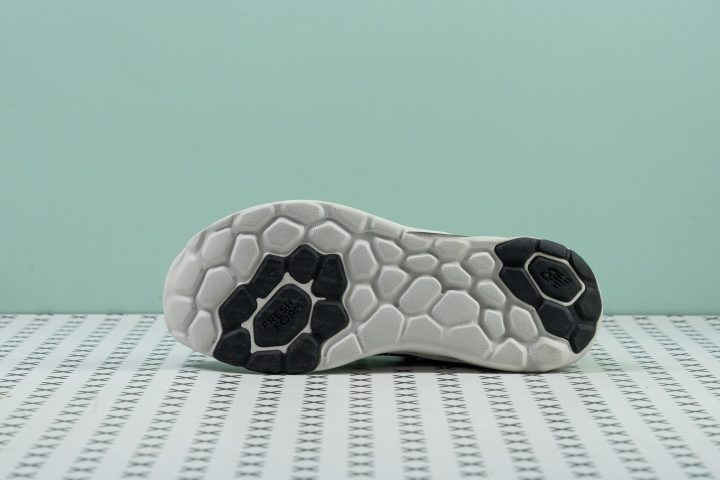 Perfect if you land on your heels
Testers said that this shoe is best for those who are heel-strikers. That's because they can really get the most out of the 8 mm drop and the midsole, which is described as being more protective right at the rearfoot.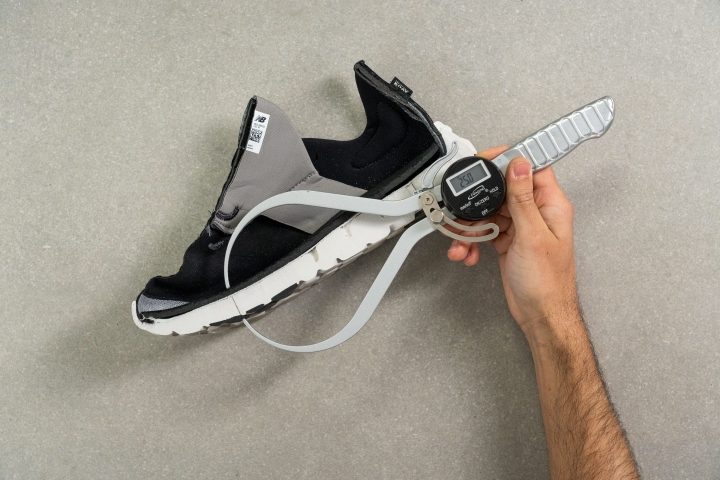 We always measure stack height including the insole.
Fact check
New Balance claims that the shoe's drop is 8 mm. However, we found that the stack height at the rearfoot is 32.2 mm, and the height at the forefoot is 25 mm, which means the drop is just a little lower: 7.2 mm. This is not a huge variance from the official statement, and given that in other running shoes we sometimes find much greater differences, it's certainly acceptable.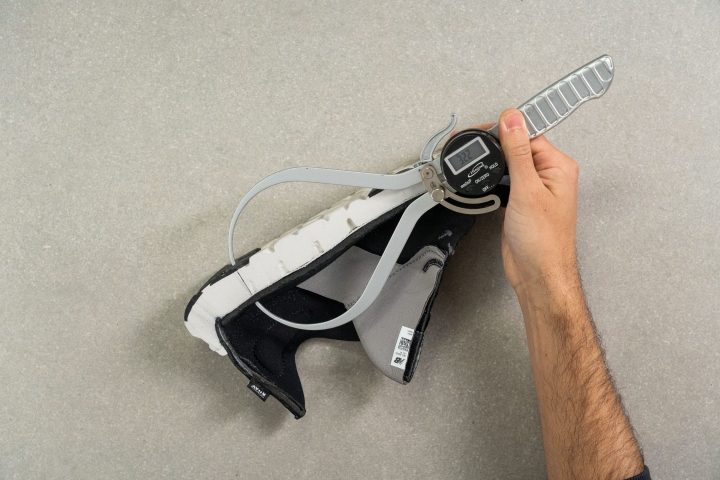 Fact check
Our test showed that the insole measured 4.6 mm, very close to the average of 4.5 mm.

Fresh Foam Roav v2 is not just for running
When it comes to running, reviewers suggest using these shoes for short efforts. As a runner said, they "worked very well during runs of 5-10k."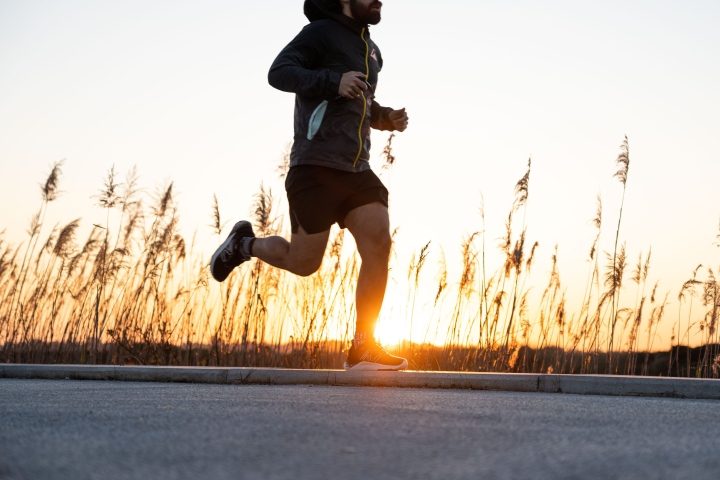 A gym goer enjoyed them as well: "I loved using them for plyo-box jumping, and lifting," and another user added that they are "perfect for snappy sets, as well as HIIT and cross-training."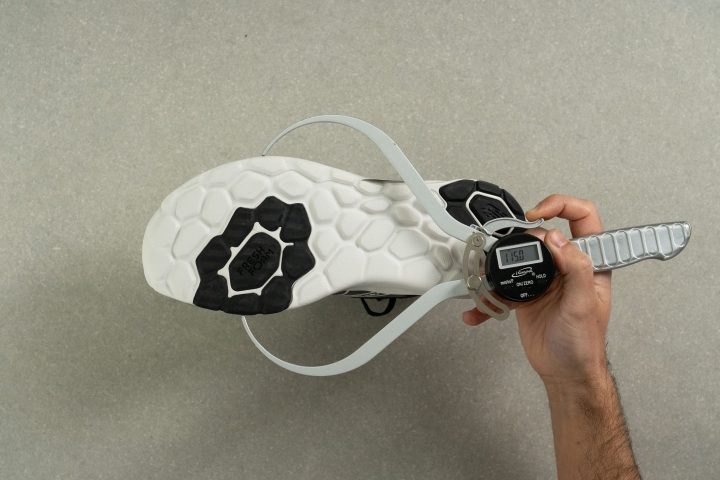 Fact check
The Roav v2's platform is 115 mm large at the forefoot, 2.2% larger than the average for running shoes. This, together with the slightly firm midsole, enhances overall stability, which is important for gym workouts.
Feels even lighter than what it is
Weighing 9.10oz (258g), it is rather light compared to the average for a running shoe (9.6oz or 272g). Reviewers pointed out that at this price point, it's a significant plus. One of them said that it's "an incredible weight," while another runner didn't even notice the shoe when wearing it and said it's "a dream to have on your feet."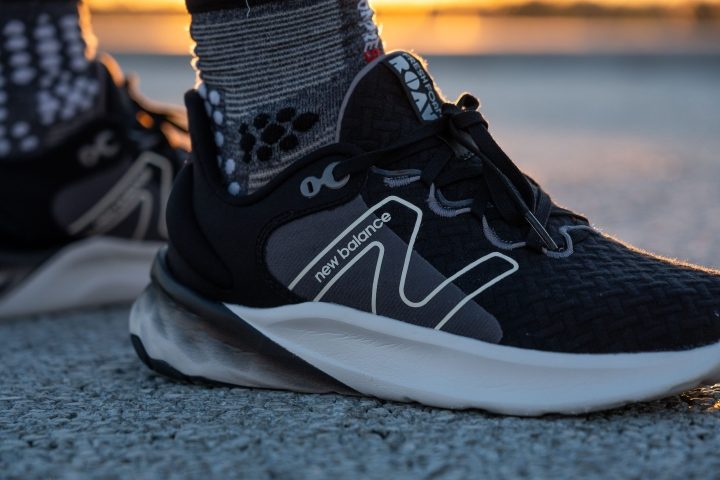 A flexible New Balance shoe
The shoe is pretty flexible. On a scale from 1 to 5 (5 being the stiffest) we judged it to be 2.
Even after putting the shoe in the freezer, it remained 22.4% more flexible than the average.
The outsole is the weak part
A tester pointed out that, although "the materials are of good quality, and the build is top-notch," there's a part of the shoe that doesn't seem to be as good as the rest. He noticed that the exposed foam in the outsole wore out pretty quickly, and therefore cannot stand as many miles as other shoes do.
Fact check
We measured the midsole softness to be 77.4, which is close to the average of 79.7. This can be an indication of not-so-great durability. On the other hand, the rubber is 20.5% thicker than the average running shoe.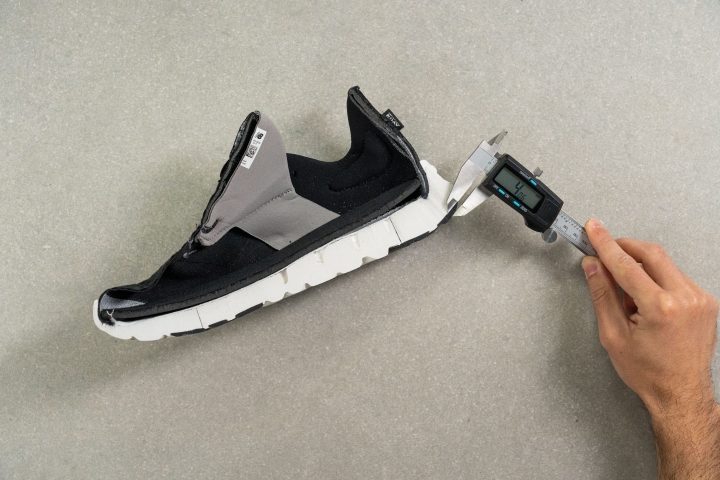 Easy to achieve a good lockdown
Runners appreciated that the laces, unlike with many other running shoes, are flat instead of rounded. This makes it easier to fix them and while running there's no need to adjust anything, they remain in place.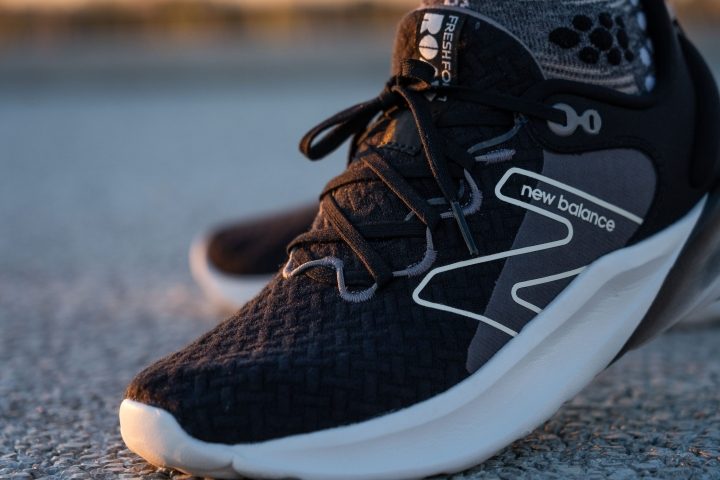 Plenty of colors for the New Balance Roav v2
A tester was "impressed by the look" and even more by the fact that there are more than a dozen colors available for this shoe. That's indeed impressive and not something you see very often.
A win for the budget-minded
A tester said that the shoe is not on the top of his list, but thanks to its price, "it gets a boost in ratings," and added that "for this money, it's really, really good." It costs $85, which is very well below the average for a running shoe ($123). Another runner confirmed this when he said that "that's an incredible price."
Complete lab-specs overview
New Balance Fresh Foam Roav v2
Average
Whole shoe

Weight (g)
224
264
Drop (mm)
7.2
8.7
Overall Internal Length (mm)
256.3 (men's US 8)
262.3
Flexibility of the shoe (N)

29.6

34.0

Flexibility of the shoe (Freezer 20 min) (N)

38.4

47.1

Flexibility of the shoe (% of change)

29.7%

44.7%

Longitudinal flexibility (1-5 scale, 5 being the stiffest)

2

3.0

Torsional flexibility (1-5 scale, 5 being the stiffest)

2

3.2

Upper

Breathability - smoke test (1-5 scale, 5 being the most breathable)
1
3.8
Thickness - Tongue (mm)

5.9

5.6
Width Upper - Forefoot (mm)

97.0

97.7

Width Upper - Heel (mm)

88.6

89.6

Heel counter stiffness (1-5 scale, 5 being the stiffest)
2

2.6

Tongue: gusset type
both sides (semi)
Heel: pull tab
no
no
Midsole

Width Midsole - Forefoot (mm)

115.0

112.5

Width Midsole - Heel (mm)

88.6

89.6

Stack - Forefoot with insole (mm)

25.0

24.5

Stack - Heel with insole (mm)

32.2

33.2

Durometer Midsole Heel (Room temperature) (HA)

26.5

25.8

Durometer Midsole - Heel (Freezer 20 minutes)

33.0

32.9

Durometer Midsole - Heel (% of change) (TEST)

24.5%

27.1%

Outsole

Outsole thickness (Heel) (mm)

4.1

3.4

Durometer Outsole Heel (Room temperature) (HC)

77.4

79.6

Insole
Insole Heel Thickness (mm)

4.6

4.5

Insole: removable

yes

yes