What sets the Boulder apart from other boots though, is the casual style that lets it work as well on day hikes as it does at a downtown restaurant on a rainy day. If you're looking for a boot that'll keep your feet comfortable in both casual settings and on light hikes, then the Lems Boulder boot is a great option.
Pros
Water-repellent
Great for casual wear
Lightweight
Wide-feet friendly
Ground feel
Great traction
Lems Boulder Boot Nylon review
The Lems Boulder Boot is a unique minimalist option with a zero heel-toe drop, a wide toe box that allows toes to splay naturally, and a thin midsole that provides just enough cushioning while allowing ground feel and foot flexion.
The boot has a lightweight upper, very little cushioning, and its outsole doesn't have the greatest grip in wet, muddy conditions.
That means the boot is fine on groomed trails but won't hold up well for serious hikes on rough terrain.
Who the Lems Boulder is for?
The Boulder Boot is built for fans of minimalist footwear that still want a little bit of cushioning under foot. They have a zero heel-toe drop, meaning your heel is naturally positioned at the same height above the ground as your heel.
Like Altra shoes, the Boulder Boots also have a slightly wider toe box than your average boot, so metatarsals and toes are free to splay naturally instead of getting cramped together.
However, unlike many competing minimalist boots, the Boulder still has decent cushioning under foot to protect feet from protruding rocks and sticks along the trail.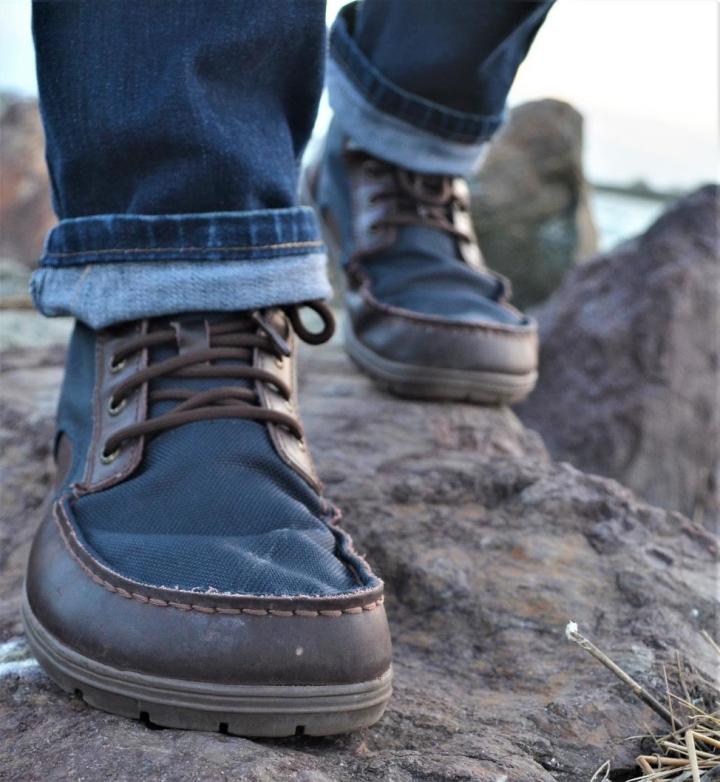 Not a robust hiking boot but stylish
The Boulder Boot is nowhere near as robust as a more substantial boot like the Salomon Quest 4D. It just doesn't have the level of cushioning, protection on the upper, or thorough enough waterproofing for multiday hikes. However, for day hikes, it'll get the job done.
What the Boulder Boot lacks in robustness, it makes up for in style and portability.
The Boulder boot looks terrific as casual footwear for a rainy night out or a schlep into the office in the sleet, something very few true hiking boots can pull off. Your feet will stay comfortable, dry, and classy.
The Lems Boulder Boot Nylon is light and packable
Another great perk is how light and packable the boots are. If you're going on a trip, a good pair of boots usually take up half your suitcase. Not so with the Boulder: it'll fold up and fit neatly in a carry-on backpack.
So, for those who like a minimalist, natural fit and are looking for a mix of light hiking and casual use, the Boulder Boot is an excellent option.
For a detailed review from top to bottom, continue reading the sections below on the upper, midsole, and outsole.
For a comparison of how the Boulder Boot stacks up against competing shoes from Altra, Vivobarefoot, and Inov-8, continue to "The Competition" section at the bottom.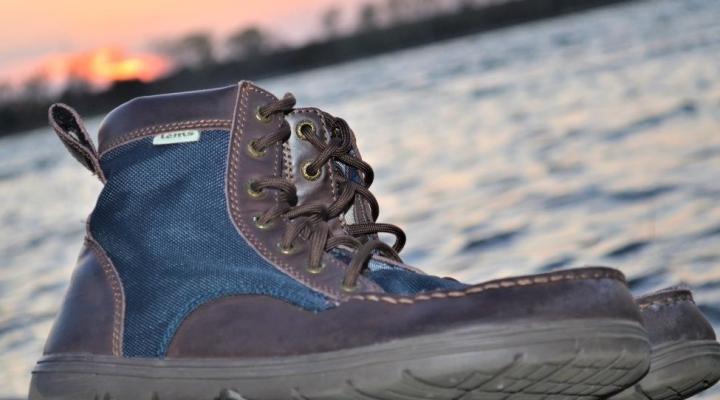 Offers plenty of toe space
The upper on the Boulder Boot is fantastic. Although it uses highly visible, thick seams to weld together several canvas and leather panels, it forms the foot nicely and never feels abrasive.
The tall height of the toe box and forefoot give toes plenty of space to splay and wiggle naturally and gives room for thick wool socks if you're wearing the Boulder Boot in the winter.
Again, the Boulder Boot is cut a bit like Altra shoes in a natural, wide foot shape.
So, for people who feel like most boots really constrain and pinch the toes, the Boulder Boot will be a breath of fresh air. However, if you have narrower feet or really like a snug feel, the toe box might feel a bit sloppy for you.
Keeps feet dry in rain and shallow stream
The upper's waterproofing is solid. It is good enough for getting caught in the rain or shallow stream crossings during light hikes. However, it doesn't feel quite as watertight as, say, Gore-Tex or e-Vent uppers.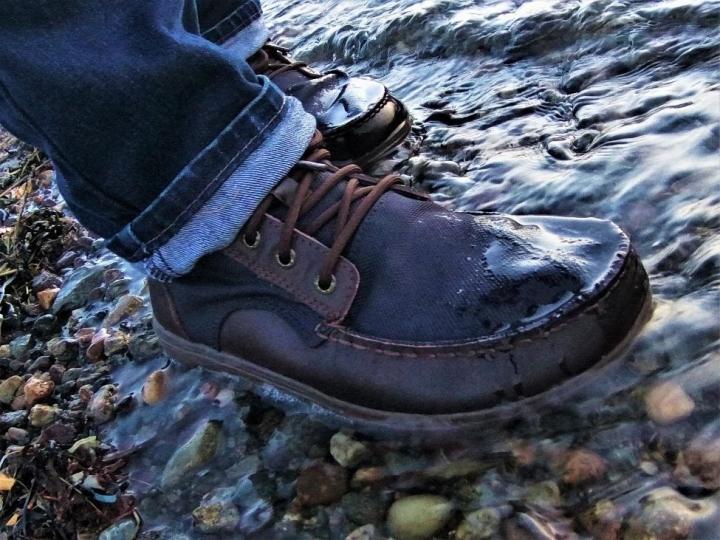 After about a minute partially submerged in water, my feet started getting a bit damp. I wouldn't trust the Boulder Boot with serious hiking in torrents or multiday treks, but for day hikes or afternoon strolls in the rain, it does perfectly well.
Yet, the biggest plus on the upper are its looks: the boot is stylish, especially for a reasonably practical hiking boot. It comes in a few different nice colorways that all go well with casual or even formalwear on wet slogs to the office.
This contrasts with most other hiking boots that just don't pass the style test and make you look like you're about to audition for Naked and Afraid or get deployed to Fallujah. It's this unique blend of style, comfort, and practicality that makes the Boulder Boot stand out.
Not durable
The one major downside of the upper is its lack of robustness or durability. The thin overlays on the upper are enough protection for easy hikes or casual walks, but any substantial hiking will leave you wishing your feet were better protected.
I found the upper already getting scuffed up and the leather getting worn down by brushes with curbs or other minor obstructions just walking around the city.
For a serious hike where loose scree, sticks, logs, and other major hazards come into play, the Boulder Boot just wouldn't have a solid enough upper to meet to challenge, and I could easily see it getting punctured by branches or rocks on the trail.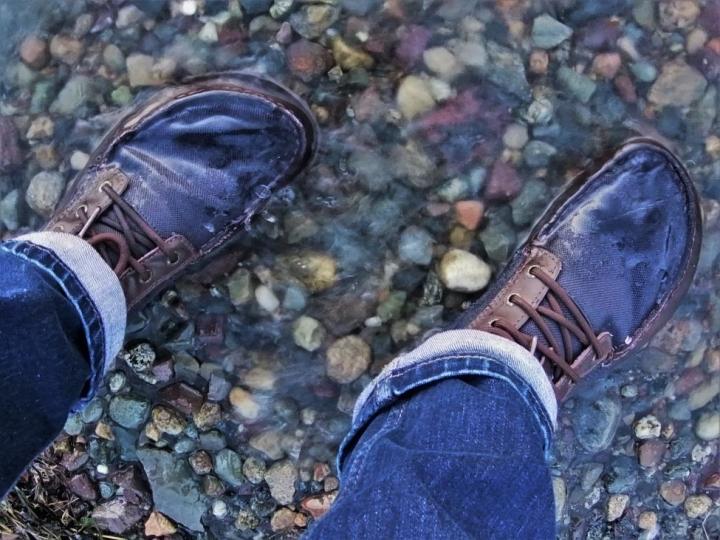 Fantastic cushioning and ground feel
The midsole of the Boulder Boot is fantastic. It has a natural zero mm heel-toe drop, so the foot is balanced and can move smoothly through the gait cycle.
The Boulder Boot avoids the issue of many minimalist shoes that go too far, in my opinion, toward feeling like walking barefoot and leave you exposed to obstacles in the trail.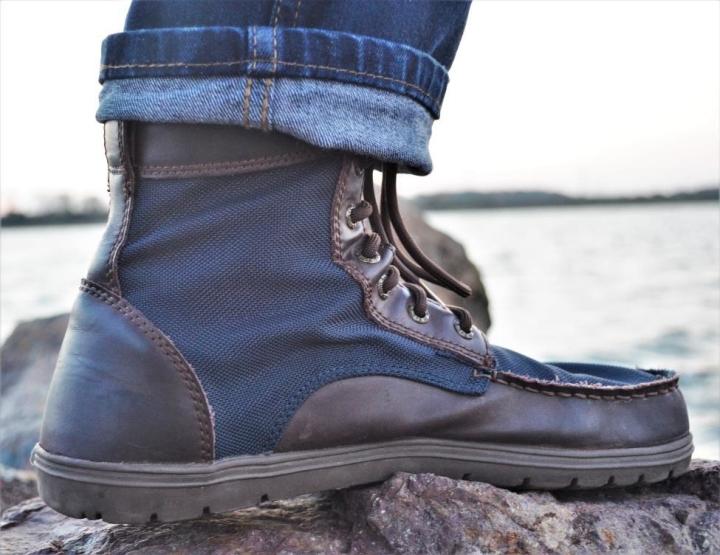 As a few examples, I've always felt the New Balance Minimus, Vivobarefoot Scott, and Vibram Five Fingers are just far too minimalist for their own good, leaving feet exposed to getting stabbed by any little stone or twig lying on the trail.
In contrast, the Boulder Boot still has a decent stack height to give feet some needed cushioning while walking over gnarly terrain.
Yet, the midsole is still low enough that you get plenty of ground feel and flexibility. For comparison, I would rate the Boulder Boot's cushioning as two notches up from Vivobarefoot boots and shoes, a notch up from the New Balance Minimus, and comparable in cushioning to Inov-8 boots like the Roclite G 345 GTX.
Finally, in terms of durability, after around 50 miles of walking in the Boulder Boot, its midsole cushioning has held up and maintained its soft feel.
The boot is surprisingly sticky
Despite its lack of aggressive lugs, the Boulder Boot's outsole is remarkably sticky. I found I had good grip walking on a wide range of wet and dry surfaces.
It's also thin, allowing the boot to flex, delivering a smooth transition through the gait cycle. However, in sloppy environments like muddy trails, snow, or wet grass, the outsole just doesn't have enough bite to deliver confident footing.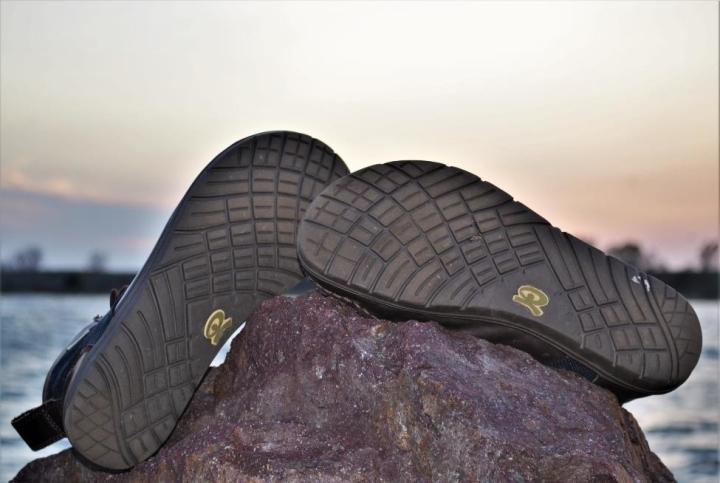 So, like the rest of the boot, the outsole will do just fine for light day hikes and casual use around town but probably won't be enough for more technical hikes. It's grippier and more practical than other style-oriented boots like Uggs or Sorel. My one concern about the outsole is a lack of durability.
The outsole's grip is mostly due to the use of relatively soft rubber, which is plenty sticky but also wears down relatively quickly.
Like the rest of the boot, the outsole is durable enough to hold up on non-technical crushed gravel and dirt trails or walking around town but would get chewed up quickly if taken on rough terrain.
The competition
The Lems Boulder Boot is a terrific option for light hiking and casual use. But how does it stack up against competing for minimalist boots?
The most direct competition comes from Vivobarefoot—such as the Scott 2.0—which both have a minimalist zero mm heel-toe drop, low stack height, and a nice mix of style and function.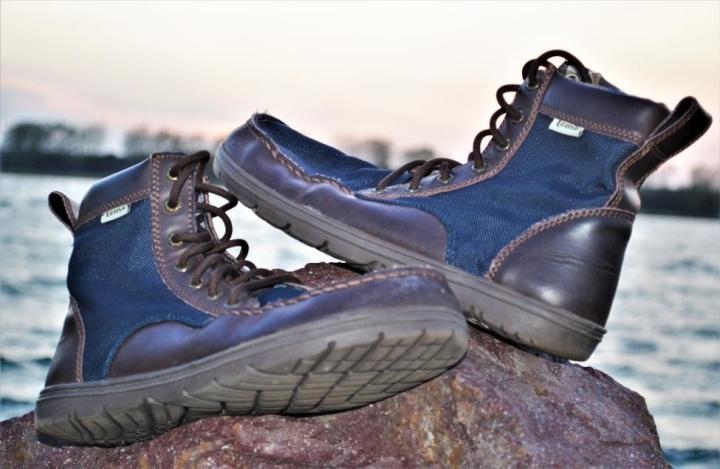 The main differentiation between Lems' offering and these two boots from Scott is the stack height and the outsole. Vivobarefoot boots and shoes essentially have no midsole foam, so you feel every little pebble and twig underfoot.
If you're a fan of really going as close to barefoot as possible, Vivobarefoot will be your preference. However, if you like having a bit of cushioning to protect you from jarring obstacles on the trail, then Lems will be far more comfortable.
Another set of competing boots comes from Inov-8, including the Roclite G 345 GTX and the Roclite G 286 GTX. Both offerings from Inov-8 are slung low to the ground with thin, pliable midsoles that give lots of ground feel and allow feet to flex naturally.
However, neither of these boots have a natural foot position, with 8mm and 6mm heel-toe drops, respectfully. They also have crammed toe boxes with tight, angular forefoot shapes that prevent metatarsals and toes from naturally splaying. So, in terms of barefoot feel, the Boulder boot has Inov-8 beat.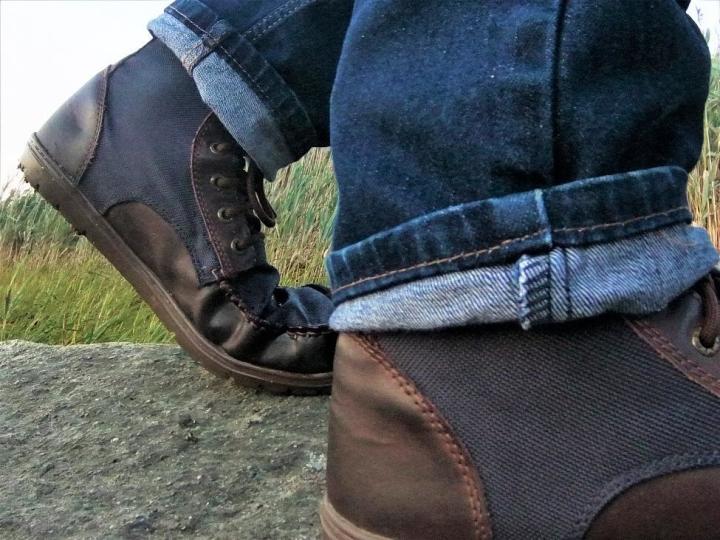 The Boulder boot also has them beat in terms of versatile style: the Roclite boots are aggressively styled, so they're fine for the trail but will make you look out of place wearing them to a restaurant or the office.
Where the Inov-8 boots have Lems clearly beat are durability, protection, and grip. The Inov-8s are real, rugged hiking boots, perfectly comfortable on a rainy, multiday hikes on rough trails. You'll get a grip on rocky scree, wet logs, pavement, anything.
So, if you're looking to do some real serious hikes and don't mind not having true zero drop or a narrower toe box, the Inov-8s are going to be preferable.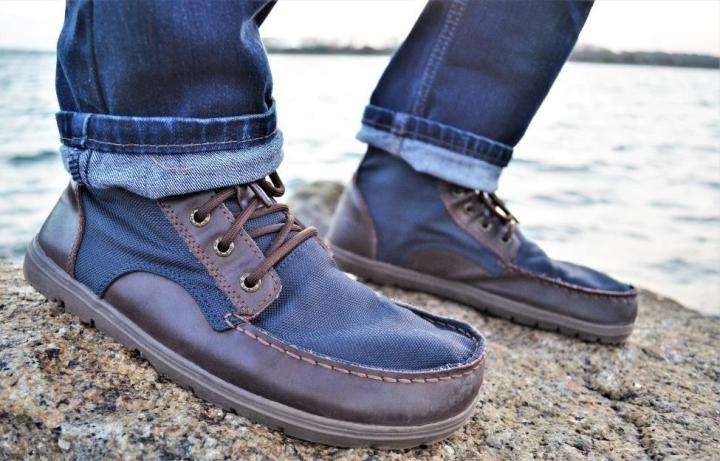 The last obvious competitors to the Lems Boulder boot come from Altra: either the Tushar hiking boot or the Lone Peak mid-RSM.
Like the Lems Boulder Boot, each of these boots from Altra has zero mm heel-toe drops, flexible midsoles, and wide, "foot-shaped" toe boxes. However, both boot offerings from Altra are far more robust than the Boulder boot in terms of cushioning, durability, grip, and protection in their uppers.
They are also far heavier than the Boulder Boot and stylistically not at all wearable off the trail and in casual settings.
So, if you're looking for a versatile option that's as comfortable on a groomed trail as it is in the corner pub, then the Boulder boot is your best choice. However, if you're going to go out on challenging terrain, the Altra options will be far better.