The KEEN Targhee II is a low-cut waterproof hiking shoe that will keep you churning out the trail miles in all sorts of conditions! This shoe falls in line with much of what KEEN has produced over the years: hybrid-styled footwear that allows for versatility and lets any lover of the outdoors encounter all varieties of environments and outings.
Pros
True to size
Roomy toebox
Waterproof
Impressively durable
Grippy outsole
Cons
Loose fit
Rigid feel
Break-in period needed
Who should buy it
The Targhee II is for those who want the toughness and protection of a hiking shoe, but also desire a bit more versatility that comes with a low-cut model.
Who should NOT buy it
Consider another pair of hiking shoes if you:
KEEN Targhee II review
I have come to expect a few things from KEEN footwear over the years: durability, toughness, and plenty of fun and creativity in design--the Targhee II is no different. The hiker will experience a well-constructed waterproof shoe that is low cut, allowing for a sneaker-like walking experience, yet with the toughness of a backpacking boot.
The KEEN Targhee II has a loose fit
While the construction of this shoe leaves the wearer feeling indestructible like wearing armor on your feet, unfortunately, it also allows for a pretty loose fit throughout the foot.
I was hoping that the heel in particular would be snugger than it is, especially considering that the low-cut design does not offer any added protection for the ankles. I can feel my feet slipping around inside the shoe during hikes, especially with inclines and declines, which makes me worry about the potential for blisters on the longer and rougher days.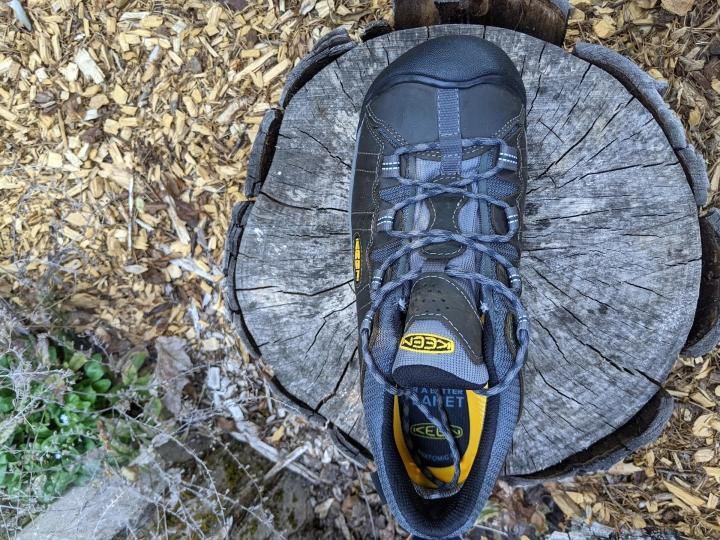 The good side is that KEEN boots and hiking shoes do tend to fit true to size, they will eventually break in which allows for a more intimate feel, and the toe box is wide enough for plenty of room for the toes when one desires to wear thicker socks.
Not the most comfortable immediately
While KEEN makes some of the most durable shoes I've ever worn; I often find the comfort missing the mark. I love a shoe that will not crowd my toes, but I find the Targhee II to feel more stiff than agile.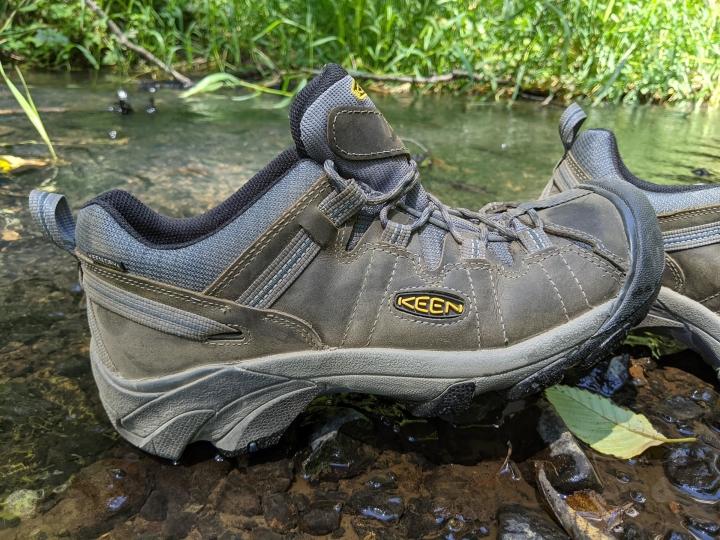 The laces are a paracord material which means that they're not likely to break. The downside, however, is that they are hard to get snug enough for a tight fit. The leather upper provides for a wonderfully protective experience but is not as flexible as some fabric upper constructions that KEEN has produced with other shoes like the KEEN Explorer Waterproof shoe.
The Targhee II needs a longer break-in period
Here's the truth about hiking shoes: they take time to break in. The Targhee II is no exception. Putting on a KEEN Targhee II shoe feels like suiting up in armor the first time: sure, you feel indestructible, but you also can feel the weight of the construction, and it takes some getting used to.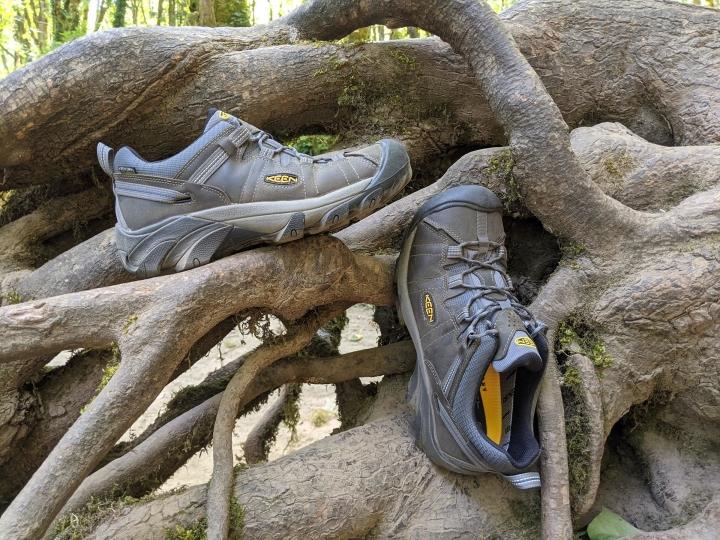 I love the leather upper, the fantastic waterproofing, and the great tread on the outsole, but the first miles are always a bit uncomfortable and stiff. I can notice things starting to break in even after just a few weeks, but I expect it will take some time before things get to the point where I'm describing my walking and hiking as purely comfortable and natural.
Offers ankle flexibility but lacks support
The Targhee II is able to weather even the harshest of terrains, which means that you can hike without fear of rocks poking through the outsole, branches tearing fabric, or water soaking the feet.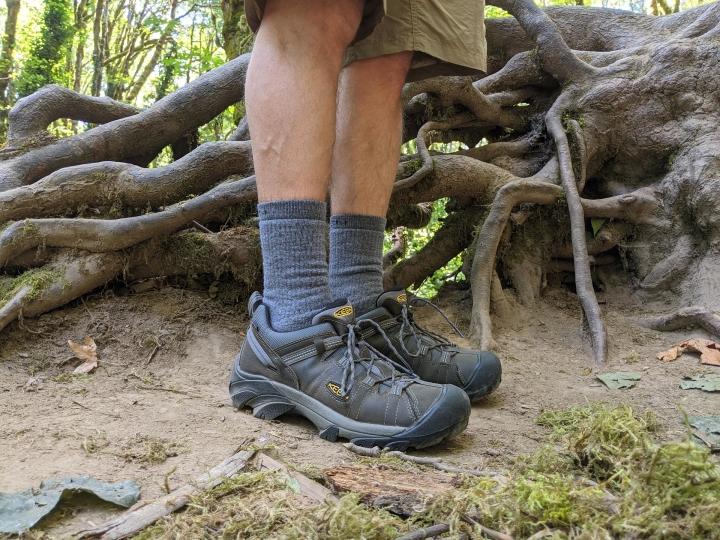 However, the low cut leaves the ankles exposed, which I prefer to have addressed if I'm going to decide on wearing shoes in the first place. Sure, you get more ankle flexibility with this hiking shoe, but at what expense when it comes to support? I believe the Targhee II also comes in a mid-cut design, which solves this issue for me.
Durability is not an issue
I have been able to hike on a variety of surfaces and terrains during this wear test, and one thing is for sure: the Targhee II is near indestructible. If you want toughness out of a hiking shoe, then this is your match.
I love the leather upper that can take the abuse of the trail, and even when trails are not required.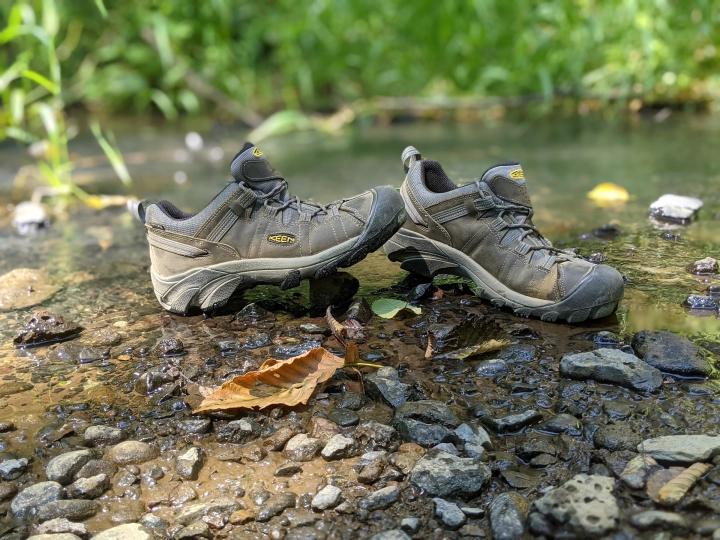 The outsole is thick, super grippy with plenty of traction, and it definitely lasts. Heck, even the laces are tough!
With shoes like these, I have no reservations in expecting these shoes to last on the trail as long as needed.
Dependable outsole on varied conditions
The Targhee II outsole performs great in just about every scenario. I have been able to hike through dirt, mud, gravel, water...even city streets, and the outsole looks like I just took them out of the box. Designed with a formidably strong rubber, nothing is getting through. One of the things people love about KEEN shoes is the rubber toe protection which really is an extension of the outsole.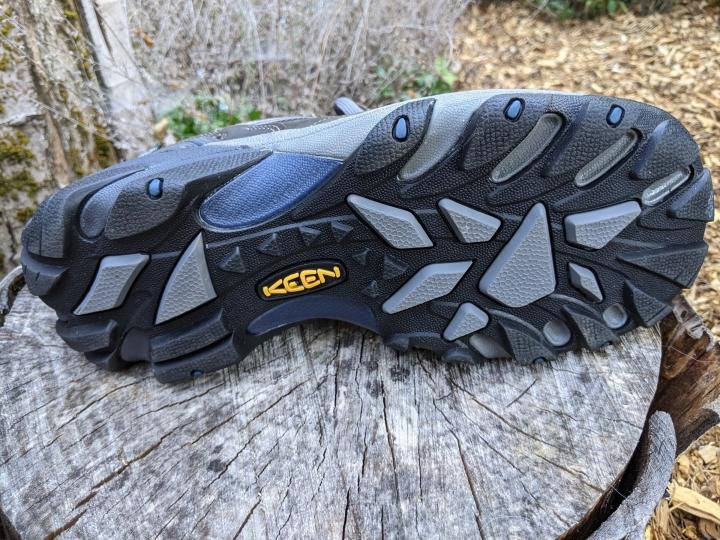 The one downside: walking feels a little clunky at times because of the thickness of the sole, but I expect my feet to adapt to that feeling soon. With great traction; these shoes are perfect for rough trails and wet conditions.
The KEEN Targhee II is heavy
The Targhee II hiking shoe weighs 15.4oz/436g, which is very heavy compared to other hiking shoes that have an average weight of 13.7oz/388g.
Safe and secure in wet conditions
What I love perhaps most about this hiking shoe is how wonderfully constructed they are for wet conditions as well as dry. Hiking in the rain? No problem! Sloshing through mud and muck? Sign these bad boys up! Looking to cross through streams and creeks and splash through puddles without hesitation? The Targhee IIs are a wonderful option.
The waterproofing (KEEN Dry) is of great quality; I was able to ford through streams with no fear of getting wet socks.
What I was also pleasantly surprised by is how even with the heavy leather upper construction and KEEN Dry waterproofing, my feet didn't feel swamped in sweat after miles of hiking. What a great combination that I think KEEN has found a way to make happen time and time again!
Conclusion
Overall, I find the Targhee II to be yet another great shoe from KEEN that has earned a reputation for making some really interesting footwear that can take beatings. What I also love about this shoe is how one can feel just as comfortable on the street wearing it as he or she might be on the trail--this shoe has style!
I think this is a great option for hiking in the cold and wet, but I am comfortable recommending these shoes to hike in the heat and dry as well. And just in case I haven't been clear enough up to this point: these shoes are like armor for your feet!