Hoka Carbon X review
The Hoka Carbon X was my first Hoka shoe and I was pleased with almost everything about it! It was a nice blend of comfort, speed, and performed well for a lot of my runs. It's not the top of its class in terms of marathon racers but I was still very much pleased with it. At $180, this is cheaper compared to other carbon-plated racers.
Who should buy it
The Carbon X is for runners who want a carbon-plated shoe under $200 that offers a fairly soft landing.
Who should NOT buy it
Don't buy the Carbon X if you:
prefer a race shoe without a carbon plate (in this case, consider the Hoka Evo Rehi, which is a lightweight and flexible road shoe)
prioritize durability; the Hoka Elevon 2 is praised for its durable outsole and impressive lockdown
are looking for a stability shoe like the Hoka Arahi 5 that offers minimal to moderate support
Lockdown is the best thing about this shoe!
I really enjoyed the lockdown of this shoe and thought it was one of the best things about this shoe. The tongue is gusseted which allows for superior midfoot lockdown as well as it lays down perfectly on the top of the foot which allowed me to lace the shoe perfectly. There was also no heel slippage at all and I overall had zero problems with the lockdown.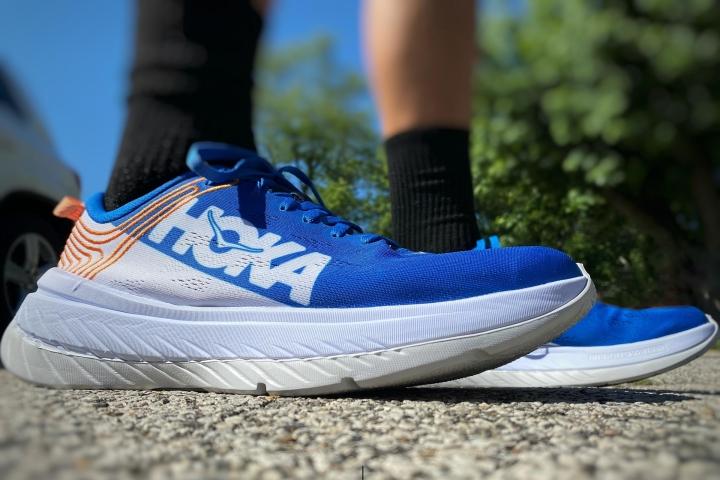 The Carbon X definitely shined in the tempo/moderately hard pace
With this shoe, I had found the ride to be quite pleasant. I think it was a great mix between comfort, speed, and was able to accomplish many different runs. I had taken it through a variety of runs at a variety of paces which a few of them were:
I had found this shoe to do great for my 3-mile tempo run. It was springy and responsive thanks to the carbon fiber plate. Not as lightweight as I typically would like but the comfort made up for it as my legs felt fresh and good. My verdict is that for faster paces it does fine, it might not be the most aggressive or lightweight but it gets the job done better than your standard shoe.
It's not the most comfortable for your easy days
I wanted to take this shoe in the double digits (10-mile easy long(ish) run) to see how comfortable it was at those kinds of distances. The midsole was soft and forgiving while the carbon-fiber plate/rocker geometry reduced the fatigue in the later miles.
In terms of easy-paced running, it surprisingly wasn't bad. I think that's due to the less aggressive geometry of the carbon plate to where it doesn't feel super stiff at slow paces like other shoes such as the Vaporfly Next% 2 or Adios Pro 2.0.
It's not the best for easier paces though, it still has a plate and has some stiffness and rigidity to it. I'm a 5k specific runner so the most I'll do is 13-14 miles, but this is a marathon shoe so I expect it will bring comfort to the 20 miles and above range.
Soft, cushioned feel
The midsole of the Carbon X is the PROFLY X foam, which consists of CM EVA foam placed above a carbon fiber plate and injected rubberized EVA added below the plate. The CM EVA foam (top layer) is made to deliver a soft and cushioned feel, while the rubberized EVA (bottom layer) is made to be durable.
Overall I thought the midsole was great, it was soft and definitely saved my legs whether it was going fast or long.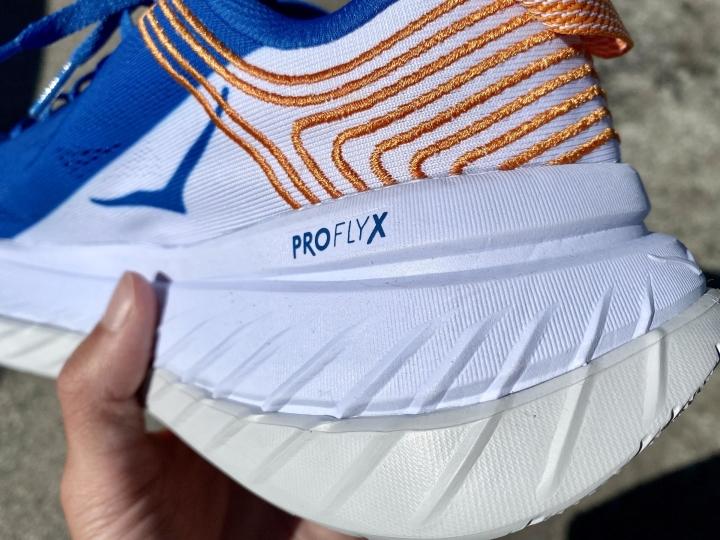 No adaptation period needed
I personally did not have any adaptation period in this shoe but there are two points I could foresee people having adaptation periods with:
Adaptation to the carbon fiber plate if you're not used to it.
Other than these two things I don't think there is much of an adaptation period.
Not the lightest racing shoe
The weight of this shoe in comparison to most running shoes is not bad, with it coming in at 8.7oz/247g. But unfortunately, compared to today's carbon-plated racing options it would be quite heavy, with most of them being 7.8oz/222g. Overall it's not the heaviest but definitely not the lightest racing option either.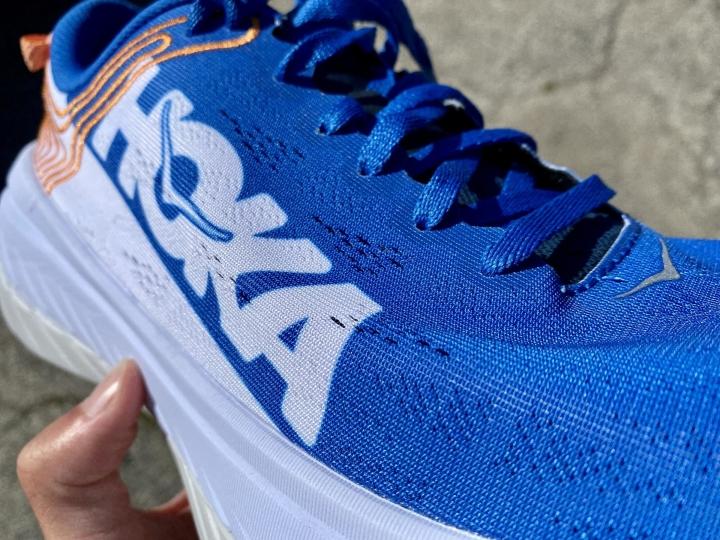 Outsole wear after 30 miles
The outsole of this shoe is a rubberized foam. Obviously, for a racer, durability isn't the top priority, performance is. That being said, some people want a shoe that will last them 500 miles, and I don't think this is the shoe for you. I do think this shoe will last in the 200-250 mile range, but I don't have much experience with Hoka's rubberized foam, so I'm not sure how long the actual outsole tread will last but after 30 miles I could already see wear and tear on high wear areas.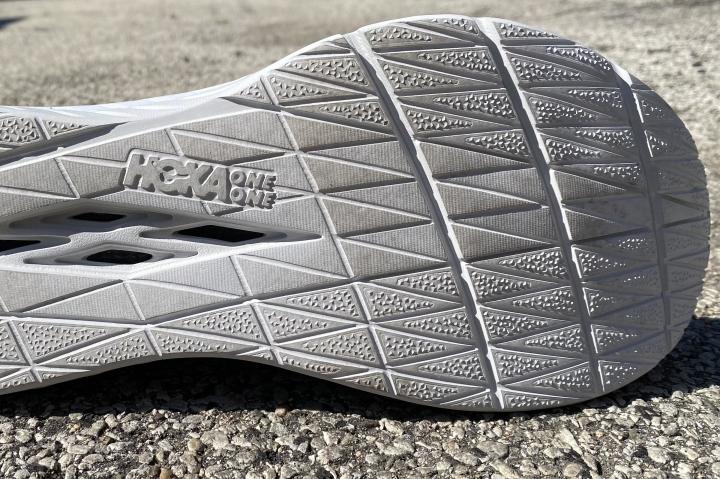 Grip is limited to road
I had tested this shoe on most roads - as that's what the shoe was made for. I did take it for one run on a grass/lightly packed trail. It wasn't very bad but it's quite obvious it wasn't made for anything other than the road.
A great deal of breathability
I really enjoyed the overall upper of the Hoka Carbon X and the breathability was no different. It is a single-layer engineered mesh that has visible perforations throughout the forefoot which allows for a great deal of breathability.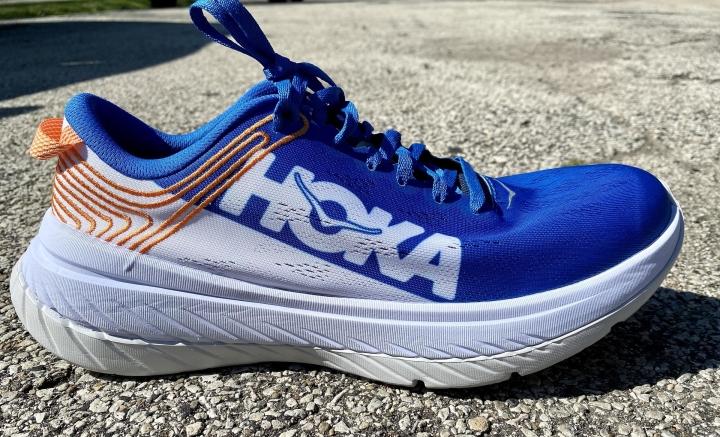 Pricey for a shoe, but not for a carbon-plated racer
The price of this shoe is $180 (you can most likely find it for cheaper.) I think for a carbon-plated shoe with an average price of $200, this is a fair price for this shoe.
Conclusion
Overall I was pleased with the shoe and thought it was a great blend of everything you want in a fast pace shoe; responsiveness, great lockdown, and comfort.
Compare popularity
Interactive
Compare the popularity of another shoe to Hoka Carbon X: