5 Best Minimalist Running Shoes in 2023
We earn affiliate commissions at no extra cost to you when you buy through us. Why trust us
The idea behind minimalist running shoes is that feet should experience movement in a more natural way. This means stripping away all the extra cushioning, making space for toes to move freely, and letting your feet feel the surface more. This way, feet are more aware of the terrain and send signals to your brain on how to run better.
Although minimalist shoes make up a small portion of the running shoe market, we still tirelessly scrutinized running shoes to find the best and most appropriate ones. We have tested over 10 models in our lab to see which ones perform the best in various categories.
For expert tips on how to choose the best minimalist running shoes for you, we got everything you need in our guide.
Comparison of the 5 best minimalist running shoes
| | | | | | | |
| --- | --- | --- | --- | --- | --- | --- |
| Best | | | | | | |
| CoreScore | | | | | | |
| Users rating | | | | | | |
| Experts | | | | | | |
| Best price | | | | | | |
| Ranking | | | | | | |
| Popularity | | | | | | |
| # of colorways | | | | | | |
3 expert tips for buying minimalist running shoes
Here is expert advice on buying minimalist running shoes so you make the best out of the experience.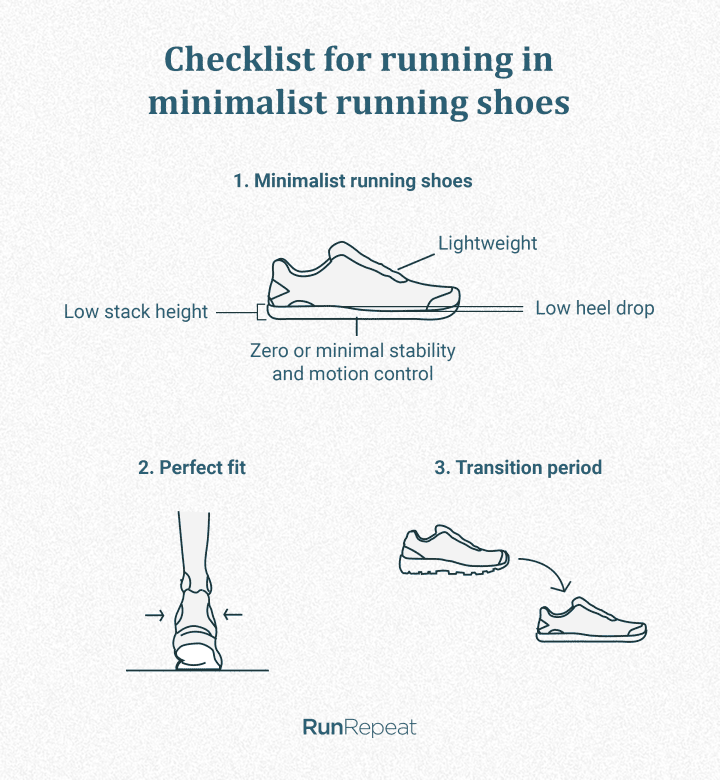 1. Make sure your current health allows you to start running in minimalist shoes
Minimalist shoes tend to go minimal in all directions: weight, stack height, heel drop, stability and motion control. You should be aware how low values of those features affect one's body while running and if you're ready for that.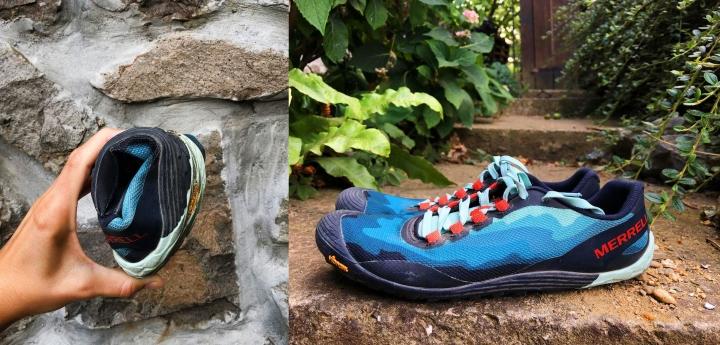 Merrell Vapor Glove is one of the iconic minimalist shoe models.
Shoe features
Effects on the body and running
Lightweight
The lighter the shoe, the less features it has. If you're ready to give up on those, you might benefit from light-weight shoes. A study has shown that minimalist shoes, weight-wise, are better for running economy: If one considers that a typical standard shoe weighs about 350 g, about 200 g more than most minimal shoes, and that every 100 g adds about 1% extra cost, then the net savings to minimal shoe running is between 4.4% and 6.8%.
Low stack height
Loading rates (the speed at which you apply forces to the body) are significantly higher in minimalist shoes than in maximalist shoes, as shown in this study.
Low heel drop
Lower heel drop can place greater stress on the foot, ankle, lower leg, but might help with ITB, (anterior) knee pain, gluteal overuse syndrome.
Even Nike tried stripping off heel drop while chasing the sub-2-hour marathon. The only issue was: runners hated it.
High flexibility
Some brands have been doing the stiffer models - whether it's the material of the sole itself or inserting carbon plates. Forefoot stiffness is something to forget about when buying minimalist shoes.
No or minimal stability and motion control
You should be ready to give up (or go really low) on
a) motion control - the ability of the shoe to support the inner foot and reduce inward rolling (overpronation) and on
b) stability features - the ability of the shoe to offer support and alleviate foot discomfort.
2. Find the perfect fit
Minimalist running shoes tend to feel glove-like. It's an imperative to find the shoe that fits perfectly and is comfortable. Make sure you try on different models (with separate fingers, wide toe-box, foot-shaped, etc.) before choosing the best one.
3. Take the adaptation period seriously.
The bigger the transition (think going from maximalist to minimalist), the more cautious you should be. Minimalist-footwear brands usually have transition plans on their websites.
The length of the adaptation period is a very individual thing. Vibram used to have the 10-week transition plan on their website, but the study showed that it simply wasn't enough. At times, the transition might take up to a year. Practice caution and be aware of how your body reacts and adapts.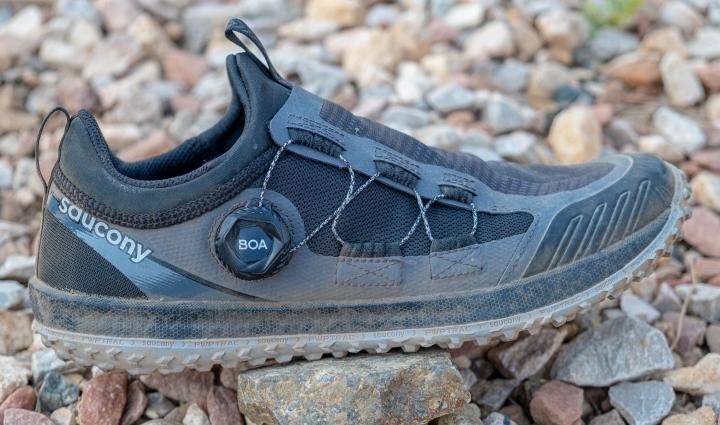 Example of a minimalist trail shoe: Saucony Switchback 2
Scientifically proven effects of minimalist running shoes
How safe are minimalist shoes?
Are they better for running than standard shoes?
Here we'll offer scientific background on what minimalist running shoes might have an effect on. If there's one finding for you to remember, it's this one: transitioning to minimalist shoes will lead to an injury if not done properly (gradually).
Running injuries
Foot muscles
Minimalist shoes improved plantar flexor strength more than conventional shoes in runners with greater weekly training distances. [3]
The size of intrinsic foot muscles appears to be important in safely transitioning to minimalist shoe running. Strengthening it may help with the transition. [4]
Changes in joint angles previously attributed to minimalist footwear alone may be similarly achieved with instruction. [5]
Habitually shod runners who transitioned to minimalist shoes demonstrated a significant increase in leg and foot muscle volume. [6]
Individuals who habitually wear minimal footwear have longitudinal arches that are stiffer both statically and dynamically than those who habitually wear conventional modern shoes. Less stiff arches lead to flat feet.
Flat foot can be treated by switching to minimal footwear. [7]
Running efficiency
Minimalist running shoes might lead to greater running efficiency in some experienced runners. [8]
Gradually introducing minimalist shoes during the six-week training block might improve running economy and performance in trained runners. [8]
Long-term effects of minimalist running shoes
After 20 weeks and moving to 100% minimalist shoe use, runners didn't further improve performance, running economy, or alter running biomechanics and lower limb bone mineral density. [9]
5 characteristics of minimalist shoes
Based on a consensus, minimalist shoes are "Footwear providing minimal interference with the natural movement of the foot due to its high flexibility, low heel to toe drop, weight and stack height, and the absence of motion control and stability devices".

Minimalist shoes are defined by Minimalist Index (MI). Characteristics included in MI are weight, flexibility, heel to toe drop, stack height, and motion control/stability devices. Each characteristic weighs 20% (or 5 points) of the final score.
Minimalist index breakdown

Features/# of points
5
4
3
2
1
0
Weight
<125g
From 125g to less than 175g
From 175g to less than 225g
From 225g to less than 275g
From 275g to less than 325g
325g and more
Stack height
<8mm
From 8mm to less than 14mm
From 14mm to less than 20mm
From 20mm to less than 26mm
From 26mm to less than 32mm
32mm and more
Heel-to-toe drop
<1mm
From 1mm to less than 4mm
From 4mm to less than 7mm
From 7mm to less than 10mm
From 10mm to less than 13mm
13mm and more
Stability and motion control technologies
None
1 device
2 devices
3 devices
4 devices
5 or 6 devices
Possible technologies: multi-density midsole, thermoplastic medial post, rigid heel counter, elevated medial insole under the arch, supportive tensioned medial upper, medial flare.
Flexibility: Longitudinal + torsional
The more flexibility, the higher the score.
Minimalist vs. barefoot running shoes
While minimalist shoes might resemble barefoot running to some degree, when it comes to kinetics and kinematics, the difference is evident. Additionally, stride frequency, anterior-posterior impulse, vertical stiffness, leg stiffness, and mechanical work were significantly higher in barefoot condition compared to shod. Barefoot running simply can't be imitated, whatever features a shoe has.
However, there are minimalist shoes that offer the experience that's closest to barefoot running. They are called barefoot running shoes. People usually argue that barefoot running is the most natural way of running and they tend to enjoy it as much as possible in barefoot running shoes.
Minimalist vs. barefoot running shoes

Minimalist running shoes

Barefoot running shoes

Shoe features are defined with MI (Minimalist Index), but not all features are required to have minimal values.

Shoe is stripped off of most features, aiming for the minimal values. They are minimalist of the minimalist.

Stack height might be high enough so it offers comfort while running on uneven terrain.

Stack height is minimal, which usually means you'll feel the surface details, especially bigger ones (rocks, cracks).

It's possible to have some support if looking for comfort.

Usually no support/cushioning is offered.

RunRepeat database has over 200 minimalist running shoes.

There are a lot less barefoot running shoes than minimalist ones.

Minimalist footwear with lower heel heights and minimal shock absorption is more effective in replicating barefoot running.

No definitive conclusions can be drawn regarding the risks or benefits of running barefoot, shod, or in minimalist shoes, as explained in this metastudy.
Popularity of minimalist running shoes
In 2009 the book Born to run was released and it caused a boom in the running community. The book promotes minimalist running shoes and barefoot running and that's why 2009 was a turning point. Born to run is, to this day, a must-read for a runner.
With new shoes hitting the market like Vibram FiveFingers and Xero, the popularity of minimalist and barefoot running shoes has certainly seen some spikes. It's difficult to imagine the hype reaching the maximum again, given the backlashes (like the Vibram lawsuit) and people gaining experience and even injuries with minimalist footwear.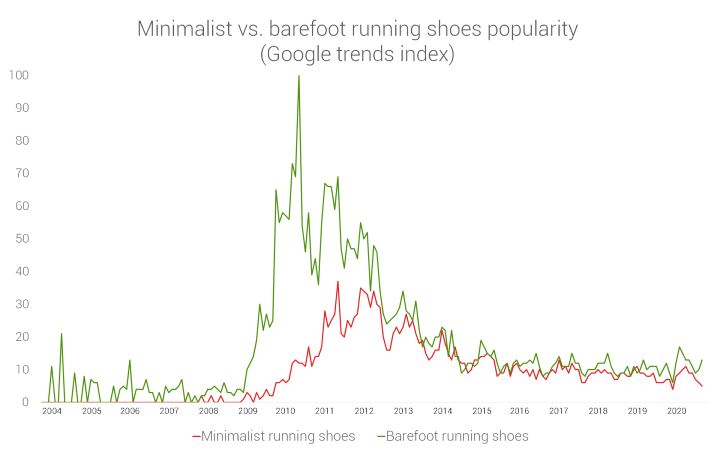 If you don't feel ready to go full minimal, there are other options to help your transition. Consider looking at low-drop running shoes or lightweight running shoes first.
How we test running shoes
With the rapidly growing popularity of max-cushioned running shoes, there aren't that many minimalist shoes on the market. But we still put them through an extensive review to pick out the best ones:
We run 30-50 miles in each pair on average to provide an in-depth overview of its comfort, fit, and performance in various conditions.
Over 30 different shoe parameters are measured at our RunRepeat lab. This is how we get comparable data to put each shoe against all others. The clincher is we even break the shoes into pieces so in a way, we leave no stone unturned.
We buy every pair with our own money and receive no free shoes from brands.