7 Best Running Shoes For Overpronation in 2023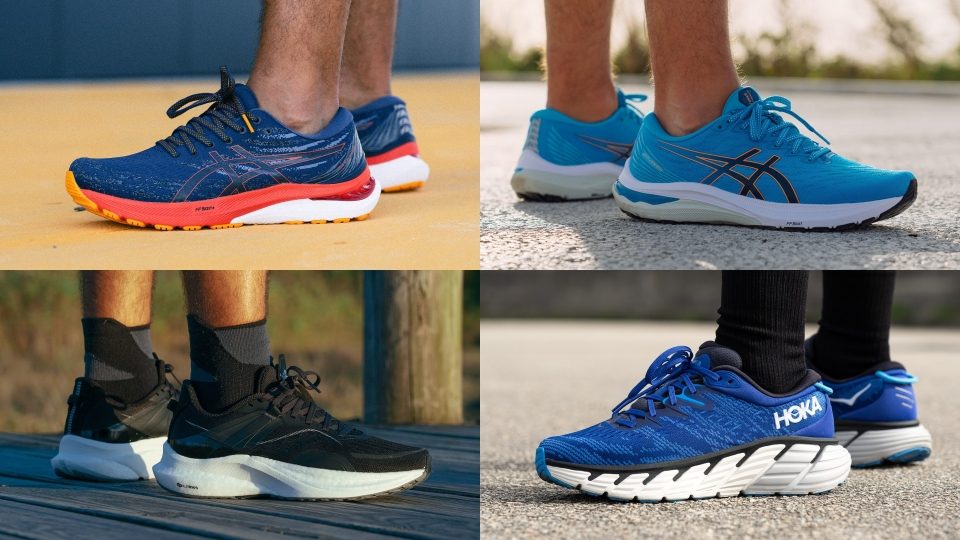 We earn affiliate commissions at no extra cost to you when you buy through us. Why trust us
The role of overpronation running shoes is to offer extra support which prevents excessive inward rolling of the foot. They help to lower the risk of injury and discomfort by using supportive elements on the inner side of the foot, right where the biggest impact happens.
Given how crucial it is to your foot health, we were especially cautious when testing shoes for overpronation. Over 90 models had gone through our lab tests and wear tests before we claimed the best ones.
We also presented our top picks in different categories, depending on what you may find the most important in your pair of shoes.
For more in-depth details on buying running shoes for overpronation, check out our guide!
Disclaimer: The purpose of this article is to educate, not to make any medical diagnosis or recommendation.
Comparison of the 7 best running shoes for overpronation
| | | | | | | | | |
| --- | --- | --- | --- | --- | --- | --- | --- | --- |
| Best | | | | | | | | |
| CoreScore | | | | | | | | |
| Users rating | | | | | | | | |
| Experts | | | | | | | | |
| Best price | | | | | | | | |
| Ranking | | | | | | | | |
| Popularity | | | | | | | | |
| # of colorways | | | | | | | | |
Do you need overpronation running shoes
Yes, if you overpronate.
While novice runners might use neutral shoes as shown in this study, research (here and here) has shown that overpronators benefit from using overpronation running shoes - these shoes improve rearfoot eversion and lower the injury risk.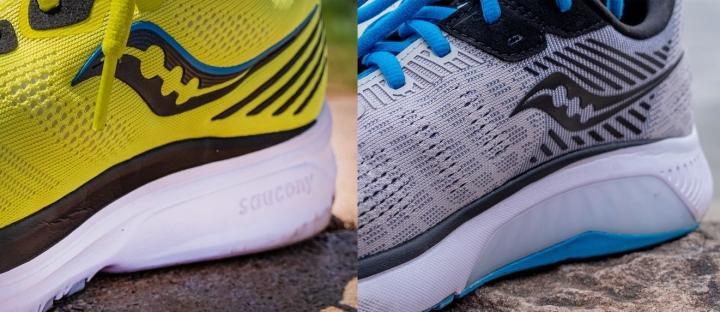 neutral shoe (Saucony Ride) vs. stability shoe (Saucony Guide)
To find out if you overpronate and at which level, consult the visual guide below. You can video your movement (from behind), or visually inspect your footwear that has seen significant mileage already.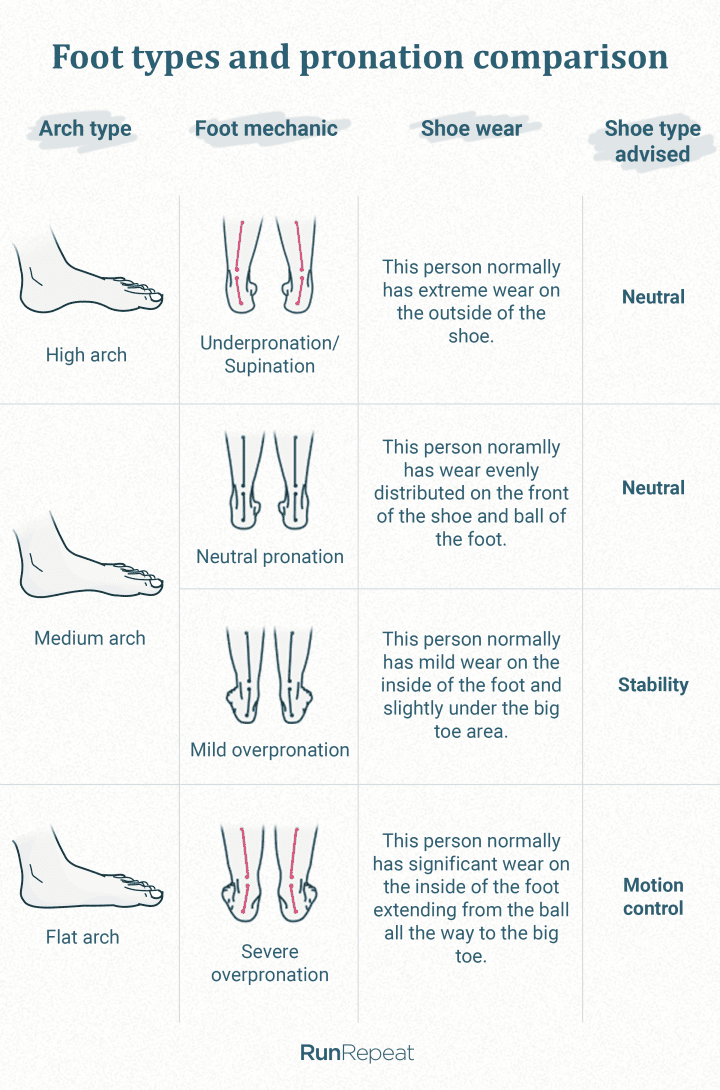 Level of overpronation might be mild: it's when you should look for stability shoes. It can also be severe, when motion control shoes were recommended. Today, the latter are a thing of the past because advanced technologies have been developed for stability shoes with an extra level of support.
When overpronating, impact distribution isn't even throughout the foot during ground-time, so it might lay ground for injuries like shin splints or plantar fasciitis. That's why it's important to choose the shoes that match your running gait.
Wet test: discover your arch type
If you're insecure about the above-mentioned methodology, you can also do a so-called wet test to discover the type of your arches.
Here's how:
Wet the soles of your feet, one at a time
Stand onto a piece of paper while allowing the water from your feet to sink into the paper
Step off
Look at the shape of your footprint and compare it to the ones shown below.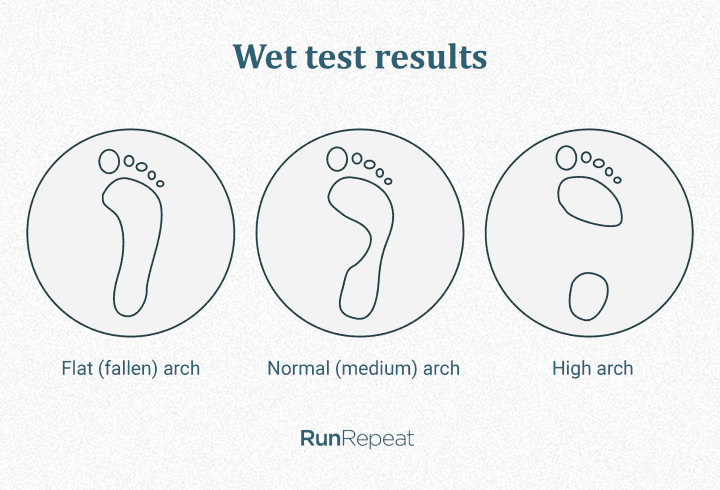 If your footprints look like the 1st picture, you should look into motion-control running shoes or stability running shoes. People with medium and high arches usually run in neutral running shoes.
These guidelines are general and don't apply to 100% of cases. Scientists still think that, when picking a running shoe, comfort comes first. If you have a history of injuries or experience severe pain during the run, consult a specialist.
Features of overpronation running shoes
Both stability and motion control running shoes have some supportive elements or rigid feel. They stop your feet from severe overpronation and make your shoes last longer. Enforcements are placed on parts that would wear down first if it was a neutral shoe.
This is how they compare to neutral shoes: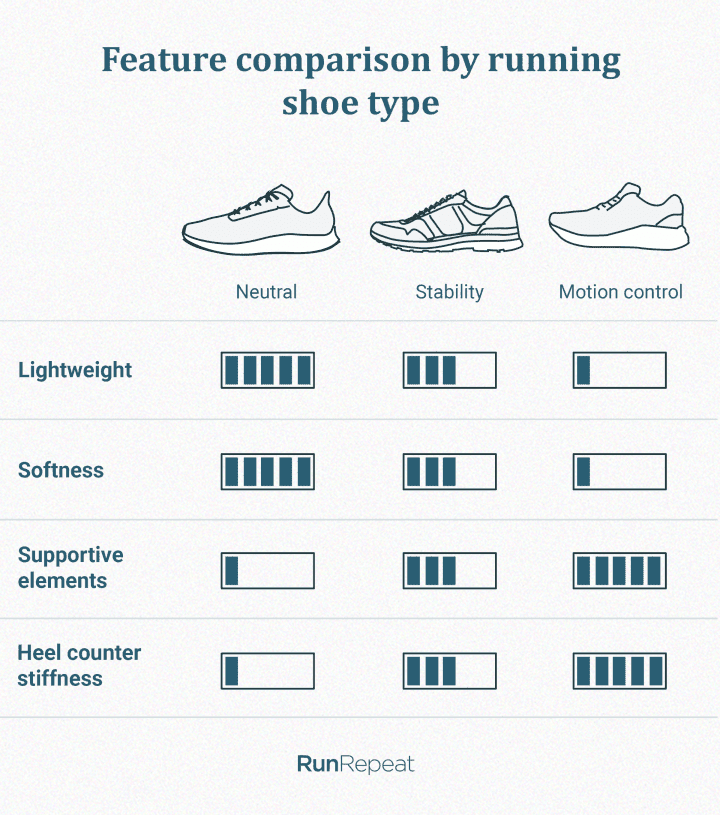 This comparison is rather general and doesn't apply to each and every shoe on the market.
Types of arch support in running shoes from least to most supportive:

neutral or no support (Nike Air Zoom Pegasus)

stability: support for mild to moderate overpronation (ASICS Gel Kayano)

motion control: supports severe overpronation (Hoka Gaviota)
How to recognize overpronation running shoes
Features of the shoes can be found in RunRepeat's database, where you can also look for overpronation or severe overpronation filters. However, if you want to judge the shoe "in person", you should: try to bend it, twist it, look at the outsole, and squeeze the heel counter.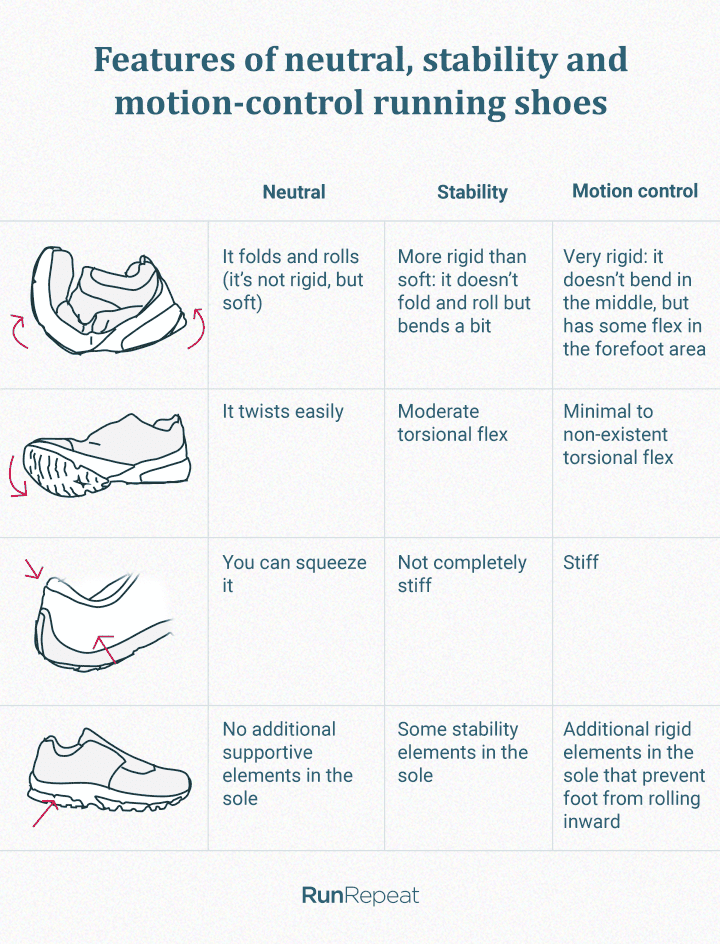 A highly stiff heel counter on the Hoka Arahi helps to control the heel motion.
Running-shoe market dropdown by stability features
Unfortunately, the minority of shoes on the market are made for overpronators. That's why it's important to double-check if your pick has the stability features you're looking for.
FAQ about overpronation running shoes
1. What does it mean to overpronate while running?
It means your feet roll inward while you're running. You'll notice this when you inspect your used footwear - the inner side will have significant wear when compared to the middle and outer side.
2. Is overpronation bad?
It's a call for caution. Since impact distribution isn't even throughout the foot during ground-time, it might lay ground for injuries like shin splints or plantar fasciitis. Choosing shoes that match your running gait is essential.
How we test running shoes
Having runners with overpronation on our team, we understand how crucial it is to feel the best support you can get from a running shoe.
With the help of our shoe testing lab and an in-depth approach to the review process, we put each running shoe through the wringer:
It is literally sliced into pieces in our lab and measured based on 30+ parameters, including ones that contribute to arch support and stability.
We, as dedicated runners, log 30-50 miles in overpronation running shoes before delivering our extensive feedback.
We purchase all reviewed shoes with our own funds to escape any bias or brand loyalty.
You can expect to see the best running shoes for overpronation here.