3 Best Cheap Tennis Shoes in 2023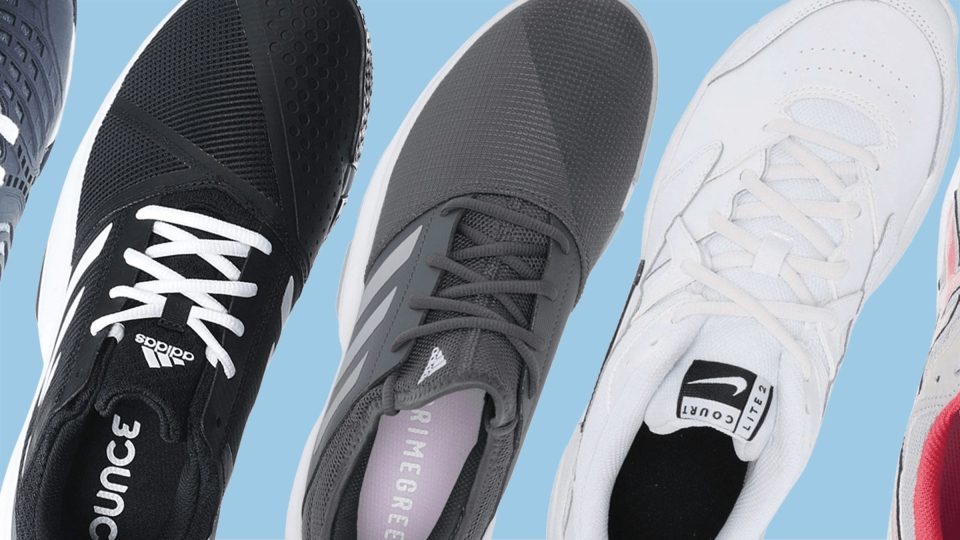 We earn affiliate commissions at no extra cost to you when you buy through us. Why trust us
Playing tennis doesn't have to be super expensive. Thanks to cheap tennis shoes that are ready to keep up with our pace. Cheap doesn't always mean haphazard. You'd be surprised that some cheap tennis shoes are equipped for match days.
We tagged all tennis shoes costing $110 and below as cheap finds. We placed these pairs, around 50 in total, into a two-week ground test to know which of them would excel against the rest. Whether you're a budget-conscious beginner, a recreational player, or a tennis pro, you'll easily find the most affordable footgear that we have investigated here. We also have a suggestion for highly supportive and ultra-shock-absorbing but inexpensive ones from our list.
Cheap tennis shoes with the best comfort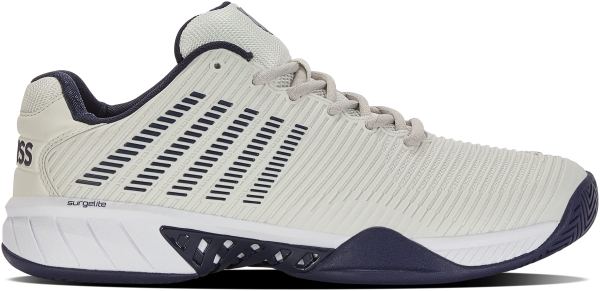 What makes it the best?
Sweeping the comfort category of cheap tennis shoes is the K-Swiss Hypercourt Express 2. The irony lies in the fact that it packed so much cushioning for us but it feels incredibly light. The paradox continues, as it is overwhelmingly delightful on foot but unbelievably easy on the wallet at $105. Compared to the usual price of tennis shoes, we saved 13.1%!
It isn't only that the midsole graced our feet with superb stepping comfort but it also hindered any possible harm that may come from our violent landings. The good news is we didn't feel like there was any heaviness from the midsole pulling us down, making our games even more amusing.
If there is one thing that we discovered could be better in the Hypercourt Express 2, it is its fit which is more on the wide side. We found that this shoe might not be the best bet for players with slim feet. If you are one of them, we suggest seeking snugger tennis pairs.
Pros
Amazing comfort

Plush cushioning

Lightweight

Flexes well

Secure fit

Great traction as in the Hypercourt Supreme
Stable ride

Appealing style
Full review of K-Swiss Hypercourt Express 2
Best cheap tennis shoes overall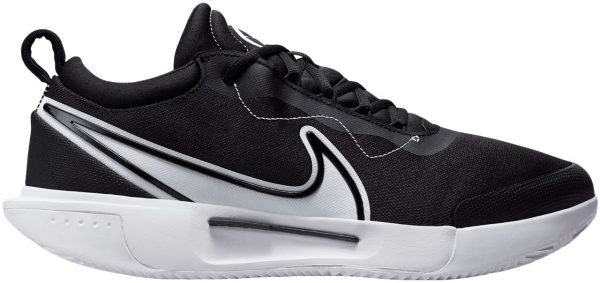 What makes it the best?
Even though the NikeCourt Zoom Pro is affordable, we got the worth of every cent we spent and more, which is why it takes the lead as our number one inexpensive tennis shoe! At a cost of $100, it exceeded all our expectations in overall performance, bringing us top levels of comfort while playing. Bonus? It is 17.3% cheaper than most tennis shoes.
We loved how the NikeCourt Zoom Pro held our feet down without strangling our toes. It wrapped our feet in snugness, letting us experience the best of both worlds: foot pleasure and a secure fit. Surprisingly, the feet-hugging upper didn't suck the air out from our feet. Instead, it provided us with superb breathability, keeping us free from perspiration.
We also felt driven in every move we made in NikeCourt Zoom Pro, thanks to the plate present in its sole. This not only allowed us to be more accelerated in our steps, but it also provided us with great feet-to-court connection and bounciness.
Regrettably, the durability of this tennis shoe, specifically its upper, did not impress us. After only using it a few times, we already observed holes in the material. If you prioritize long-lastingness, we suggest searching for other tough pairs as we cannot recommend the NikeCourt Zoom Pro.
Pros
Good lockdown
Effective traction for sliding
Closes vertical gaps quickly
Can be worn off the court
Comes at a low price
Provides arch support
Breathable even during hot days
Cons
Little lateral support
Upper breaks easily
Full review of NikeCourt Zoom Pro
Cheap tennis shoes with the best durability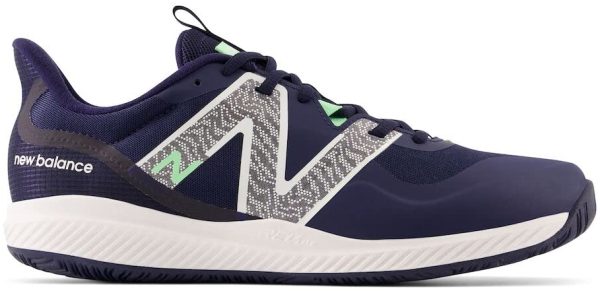 What makes it the best?
Setting the standard in terms of splendid quality among cheap tennis shoes is the New Balance 796 v3. We only got it for $90 but best believe when we say this trumps all the other affordable pairs in terms of durability. It's 25.5% cheaper than the average tennis shoe and that didn't stop it from withstanding harshness inside the court.
We played in the New Balance 796 v3 both indoors and outdoors and its robustness is consistent: remarkable! It didn't yield to the abrasive courts, our forceful turns and shifts, and frequent use, giving us the much-needed assurance during games.
Another reason why we didn't mind using it indoors and outdoors is its solid grip that got us safely planted on the ground no matter how agile and active we were in our movements.
However, we noticed that this shoe squeezed our toes because of how narrow it was. Due to this, we advise getting a half to a whole size higher than your usual with this pair.
Pros
Provides support
Gives excellent stability
Allows trouble-free movement changes
Zero break-in
Super lightweight
Superb indoor and outdoor court traction
Affordable price
Cons
Unexpected tight fit
Skimped on padding and cushioning
Full review of New Balance 796 v3
Comparison of the 3 best cheap tennis shoes
| | | | | |
| --- | --- | --- | --- | --- |
| Best | | | | |
| CoreScore | | | | |
| Users rating | | | | |
| Experts | | | | |
| Best price | | | | |
| Ranking | | | | |
| Popularity | | | | |
| # of colorways | | | | |
When it comes to hitting the tennis court without breaking the bank, finding the best cheap tennis shoes can be a real game changer. Whether you're a casual player or a budding tennis enthusiast, the right pair of budget-friendly tennis shoes can allow you to enjoy your time on the court knowing that your wallet is as happy as you are.
In this article, we'll take a look at what the world of affordable tennis shoes looks like and what offerings the manufacturers can serve up. By the end, you should be ready to smash your competition with a pair of tennis shoes that are not only cost-effective but also ace your needs.
Not just tennis but pickleball and more
This guide might be specific for tennis shoes, but players of other similar sports will benefit from it too. From the rapidly evolving pickleball to handball and badminton, these tennis shoes are versatile enough for many different activities.
7 reasons why there's no shame in cheap tennis shoes
There's no shame in seeking out cheap tennis shoes. Everyone is in a different situation and needs and priorities are subject to circumstance. Consider:
Budget constraints: Tight budgets mean keeping expenses down but it doesn't necessarily mean you need to stop living life. Affordable tennis shoes allow you to enjoy court time without worrying about your bank accounts.
Occasional or light play: Not everyone plays tennis all day every day - I know, hard to believe right? If you don't play very frequently then it's hard to invest in expensive tennis shoes, and often a cheaper option is more than adequate.
Beginners: People who are just starting out with tennis may not wish to spend too much money on an activity they're not quite sure about yet. With racquets, club fees and court hire, shoes can be an extra unwanted expense, so a pair of cheapies allow them to test the water… well, grass as the case may be.
Growth spurts: Junior tennis players, and teenagers in particular, are susceptible to growth spurts so it's fair that budget-savvy parents don't want to pay a premium for tennis shoes. It's much better investing elsewhere to help your child's journey, such as a coach, before committing to more expensive shoes that barely get worn in before they get a chance to be worn out.
Backup: Having a spare set of tennis shoes is a good idea to keep in your kit bag, in case your preferred get damaged or wet. A backup pair will need to meet minimum requirements, but if you intend to wear them infrequently it's fair that you don't see the value in investment.
Experiment: Not sure which tennis shoes suit you or why? Experimenting with a cheaper version of the model that takes your fancy isn't a silly idea, it allows you to 'try before you buy', so to speak.
More than just tennis: If you're the type of person who enjoys sports of all sorts, tennis might just be another activity on your busy schedule. That being the case, a pair of inexpensive tennis shoes might also be suitable for other activities, as opposed to premium tennis shoes which are really best left for the court.
Don't compromise on comfort
In the pursuit of affordable tennis shoes it's likely you're already aware you'll need to be willing to compromise on something along the way. And if there's one thing you must not compromise on, it's comfort.
Imagine spending hours upon hours on the court, chasing the ball left and right, to the baseline and back to the net all day only to be let down by some uncomfortable shoes. No thanks. Take it from us, it's ok to skimp on the dollars and pursue a bargain, but whatever you do don't skimp on comfort - you'll be paying the price quickly!
Big tennis brand name bargains
It might seem somewhat counter-intuitive that the big brands are even up for consideration in an article focused on cheap tennis shoes, but fortunately all of the big brands realize that there is a market for budget-conscious customers. Great news, it means not only are the big brands a consideration they are a very real contender. So if it's a big brand name bargain you're looking for, consider these brands:
Asics
Asics is a brand most people will think of as being high-performance and expensive athletic footwear. However, they have recognized the need to appeal to sports enthusiasts of all budgets too. That's why Asics is not just the brand seen on Novak Djokovic's feet, it's now an extremely popular choice amongst tennis players of all abilities. Look for their Gel technology to help soften the shock which tennis players experience so much of.
Adidas
One of the biggest brands in the sporting world, Adidas has a history of offering good value tennis shoes without being too expensive. They serve players of all varieties, including men and women, boys and girls - which is excellent news if you're in a tennis family. Aesthetically, many of Adidas offerings are a classic look which is similar across the board, regardless of price. This makes them a definite consideration if 'fake it til you make it' is in your on-court repertoire. Afterall, none of us want to look cheap, even if we are.
New Balance
A well respected brand in the athletic footwear field, New Balance is known for its quality and comfort. Fortunately for us they've retained those standards in their lower-priced tennis shoes, allowing you to take advantage of the brand's commitment to upholding their reputation. The lineup is often suitable for a range of activities, not just limited to tennis, which makes them a worthy candidate for someone seeking additional value in their shoe-purchases.
Nike
A global sensation, Nike offers a wide range of tennis shoes suitable for all budgets. Their iconic Swoosh logo means you can enjoy the style and flair that the brand is famous for without it costing you an arm and a leg. With styles suitable for all members of the family, Nike is always a good contender when researching the best tennis shoes on a budget. Additionally, many of their cheaper options are great choices for general streetwear meaning you can maximize your bang for buck - two activities for the price of one.
Materials on a budget
Cheap shoes are unlikely to be fitted out with the premium materials that their more expensive counterparts might enjoy, but that doesn't mean there aren't viable options available.
Synthetic uppers are most commonly found on inexpensive tennis shoes but the good news is that technology has allowed this fabric to thrive and they are now considered a comfortable and reliable option.
Rubber outsoles are standard on tennis shoes, but you might find cheaper shoes don't quite have the longevity or grip compared to the more premium options.
Basic EVA midsoles are an easy choice for a shoe manufacturer trying to cut costs, especially as most consumers overlook them early in the research and buying phase. Compared to their pricier alternatives they either won't have the cushioning from the start, or if they do they will compress quickly. Be cautious of this if you experience foot pain or require extra support.
Stitching is obviously an important detail in shoes, but some budget models may choose to use weak or cheap stitching that won't last very long.
Buy (too) cheap, buy twice
Take the time to really consider the materials used in your next pair of tennis shoes, especially if you are looking for good value. Low cost shoes might mean you need to sacrifice some aspects but try to strike the balance between affordable and decent quality. Don't make the mistake of buying a cheap pair of shoes only to discover they didn't last very long, therefore forcing you to buy another pair when you could have bought a good pair at the start for the same money.
The traction trade-off
Traction is an important feature of most tennis shoes, something that nearly all players will consider as it directly impacts their on-court performance. Cheaper tennis shoes may not see the same advanced technology that high-performance tennis shoes may offer, but you should be able to find something still which offers reasonable grip and stability on the court.
Simple outsoles
Simple patterns on the outside of budget-friendly tennis shoes are common. Basic herringbone patterns look great to the untrained eye because they look so similar to the pattern on higher end models. But that's somewhat of a marketing ploy - players will notice a big difference between a simple outsole with a herringbone pattern versus a well thought out outsole with deep treads, which also happens to have a herringbone pattern.
Cushy but affordable confidence
Cushioning is important for tennis players to provide comfort and support, especially when court time is more than just a quick hit. While it's true that some cheaper tennis shoes will not offer the same level of cushioning as their more expensive rivals, there are some features offered that you can look for.
Some of the best known shoe cushioning technologies for tennis include Gel by Asics, Air Zoom by Nike, and Boost by Adidas. If you can find a pair of shoes with those features within your budget, that's a great place to start.
Acing the color choice
White shoes are about as synonymous with tennis as one could possibly imagine. For shoppers on a budget, white is most commonly the primary color consideration - anything else might be considered a risk. A risk that the local club courts won't accept colorful shoes as due to their strict attire requirements, or a risk that even if they did your non-white shoes might not work well with the rest of your outfit.
You may also wish to consider a relatively plain black pair, which is seemingly particularly popular amongst the pickleball playing community.
Striking the perfect balance between price vs value
Tennis is an equipment based sport and nearly every player will have at some stage asked themselves the age-old question: how do you strike the perfect balance between affordability and quality?
Ultimately, the choice between affordability and quality in tennis shoes comes down to your individual circumstances and priorities. While budget constraints may lead you toward cheaper, more affordable options, remember that there's value in investing in your game, even if it means stretching your budget slightly.
The bottom line
What matters most is that you're comfortable, supported, and confident on the court. After all, tennis is about enjoying the game and having fun on the court, regardless of the shoes you wear.
Frequently asked questions
Is there a dress code for casual tennis?
There are no rules about what to wear when playing tennis recreationally at a park or on a public court. Some clubs or private courts may enforce rules such as 'all white' clothing or 'clay-court only shoes' (if they have clay courts), and it's worth checking with them prior to outlying your cash on any new equipment purchases.
Do I really need tennis shoes?
Fair question, especially if you're on a strict budget. But remember, while tennis shoes are built a bit more stronger to account for the fast and sharp on-court movements than regular sneakers, they can also be worn during day-to-day activities including walking the dog, a morning at the shops or picking up the kids at the afternoon school run. You can get great value out of a good pair of tennis shoes, not just with a racquet in hand.
How we test tennis shoes
Buying the shoes is the first step. When we say we buy the shoes, we really invest in them using our own funds. We do not rely on anyone as we want to remain nonpartisan.
We do multiple playtests on each pair of shoes for a minimum of 4 hours a day for two weeks, mindful of vital parameters like stability, cushioning, traction, durability, flexibility, fit, weight, and so on.
We are nerdy about scores and quantities because we want to put more weight on the characteristics of the shoes. So we test them in our lab, measure various aspects, and compare the values to the mean. We also bring our saw machine to work by cutting the shoes open, revealing all their parts.
Important: As our pages are ads-free, our selection process for the "top picks" isn't influenced by advertisements. We bought every pair of tennis shoes that we subject to a rigorous wear test. None of these came free from our affiliate retailers or were given by the brands.