84
The Corescore is a score from 0-100 that summarizes opinions from users and experts. Below shows the distribution of scores for all running shoes.
This shoe has a 10% penalty on its expert reviews because it has fewer than 5 reviews. This is to avoid that shoes with few reviews unjustly receives high scores.
Learn more
Verdict
A simple and no-fuss daily trainer, the Brooks Ricochet 3 helped us roll through our strides with ease and comfort! It's not meant to wow you, but it's a solid middle-ground between overly soft shoes and fast tempo shoes. In short, it's utilitarian - cushy for easy days, and responsive enough when you want to pick up the pace. Even more, it's a durable shoe that'll last you hundreds of miles!
Pros
Super breathable
Fits wider feet
Hugs your feet
Smooth ride
No heel slipping
Excellent midfoot lock
Doesn't feel tall
Feels light
Great value for the money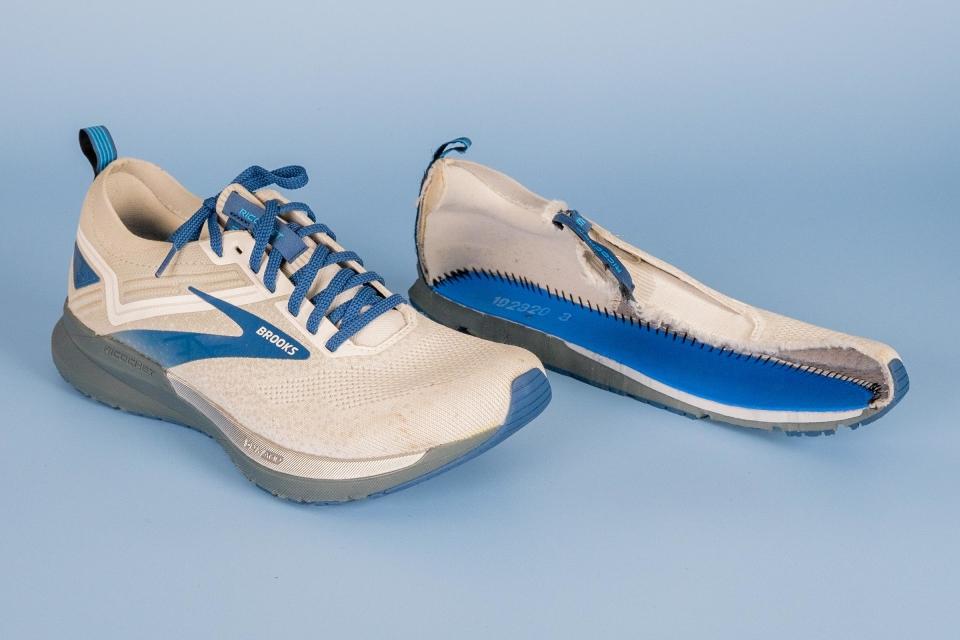 87% say it's true to size.
We earn affiliate commissions at no extra cost to you when you buy through us.
Comparison to similar running shoes
Brooks Ricochet 3 review and lab test
Ultimately this is a utilitarian shoe, it's not screaming for attention, but as a daily trainer, it gets the job done without any fuss. This is a no-frills, get it done, neutral daily trainer, treat it as such.
Buy this shoe if you are looking for a sturdy, consistent workhorse, that's not overly plush or overly hyped.
Don't buy this shoe if you're looking for a super-fast, ultralight, carbon-plated shoe. If that's the case, look at Hyperion Elite 2 - a race shoe, or Hyperion Tempo - a fast shoe. Also, if you want a super soft, plush riding shoe, look at Brooks cushioned line up (Ghost, Glycerine, Adrenaline).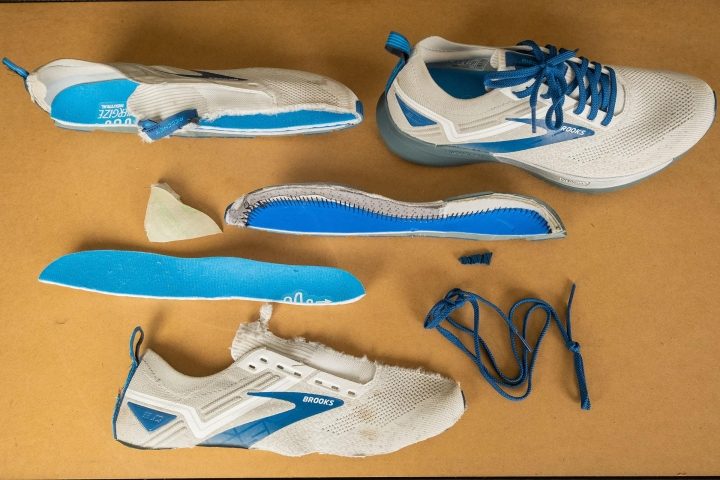 Super stretchy and super breathable!
The knit upper is fantastic on this shoe. Sure, it's not cutting edge, but I like it. It's amazingly stretchy, I thought this shoe would be way too narrow for me when I pulled it from the box (it's only 113.7mm across in the midfoot), and while it accommodates my slightly wider foot, it also retains great lockdown.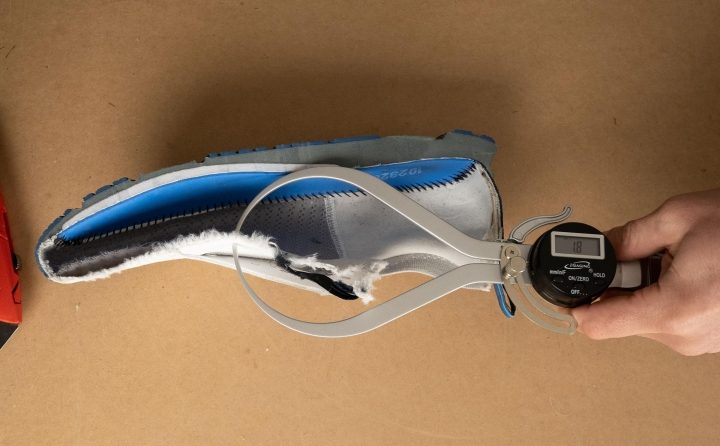 It's not overly stretchy like the NB 1080 V11, and never did I fear rolling out of this shoe on sharp turns or varied terrain.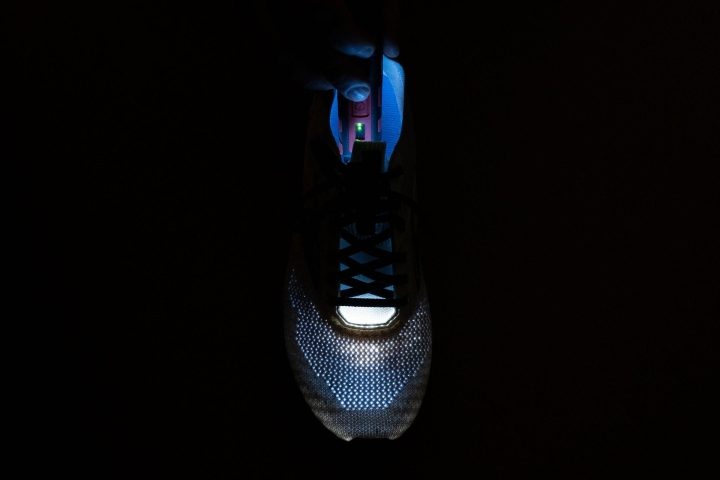 What I like about this upper is it's super breathable, allowing 17.4 LUX through on our light test. There's no extra padding, well, actually there's no padding at all to be honest, other than the subtly tapered foam ankle collar which increased from a very slim 4mm to just slightly thicker 11.2mm, gently hugging my achilles with every step.
Heel stays put
Sitting atop of the lightly padded ankle collar, the Ricochet 3 has a flexible knit edge that hugs your ankle nicely keeping debris out. The thin, 1.2mm fiber-board heel counter was medium stiff and kept my heel secure. I hate shoes that have any heel slip, and happily, the Ricochet 3 locked my foot down well.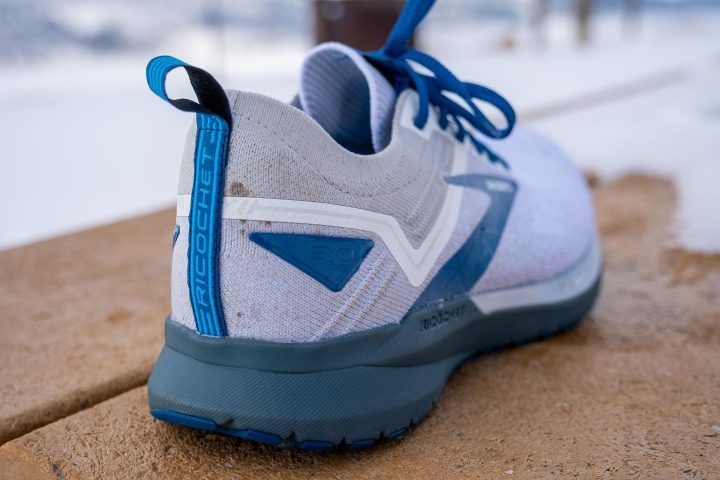 Excellent midfoot lock
I've never understood the need for a heavily padded tongue, and this shoe reminded me that with the right design, superfluous padding is unneeded. The flexible knit tongue paired well with the matching upper which thanks to its ample 98.8mm forefoot had enough room to keep my toes happy without feeling sloppy at all.
The Ricochet 3 hugs the top of your foot nicely thanks to its stretchy mesh gussets which extend from midfoot all the way through the toe box and have a nice smooth finish to them making it easy to slide your foot in and out of, which can be an issue on these sock-like uppers at times.
Laces work (no wow factor)
The lacing system is fairly simple, complete with braided flat nylon laces. Not super light, but not heavy either at 4g, and they have a touch of stretch (.117 stretch ratio), just enough to be comfortable over the top of your foot.
One issue with the laces is at 47'', they are a bit short if you want to use the extra lacing hole at the top. Although there wasn't any heel slip to fix, you still don't have that option without abandoning the standard top lacing hole.
Lacks the pop during the toe-off
The midsole is constructed from an interesting dual-layer construction, primarily of dull, firm BioMoGo DNA (36ha on the durometer) which I am not a huge fan of, and then a thin layer of softer DNA AMP (23.2ha on the durometer) midsole under the forefoot gives this shoe a bit of sensitivity by adding this thin, white layer of softer, springier foam.
It's not quite that of the pep of the Hyperion Tempo and the DNA Flash material that I love, but it feels more a little more peppy on toe-off and a bit softer on landing (if you are a forefoot striker) than the brickish BioMoGo.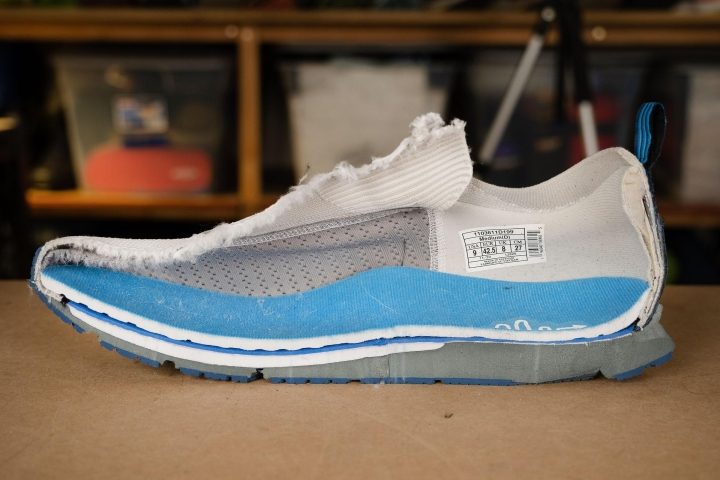 Although adding a dual-density layer of foam makes this shoe more interesting to run than other Brooks road shoes, it may come with some added weight and ultimately a more peppy sensation would simply be accomplished with a better midsole all together.
This is not a plush shoe by any definition but it does feel better than the past two versions of the Ricochet which were heavier and less enjoyable under foot. Brooks is heading in the right direction here for sure.
Smooth ride
Brooks says the "arrow point" outsole is meant to help speed up transitions in a smooth manner, and although I don't know if the arrow-shaped design really helps speed, I will admit I liked the full-length rubber outsole. It is firm enough (82.8hc) to keep this shoe running for hundreds of miles, and with a narrow profile through the middle there's not much drag to be noticed.
The outsole is very consistent in firmness (as confirmed by a durometer) and height (2.8mm) from heel to toe, and rolls smoothly underfoot as expected for a daily trainer. The goal of an outsole is to not be noticed, and this outsole does that well in my book.
Comfort level: hugs your foot
The fit was great for me. The upper hugged my foot nicely and I didn't have any slip or hot spots. I think this shoe will work well for narrow and wider feet. And although there is no padding in the upper I didn't want for any. The Ricochet 3 proves you don't need all that padding and added weight to get a comfortable fit.
Fortunately, it doesn't feel tall
Brooks claims this is an 8mm drop shoe but our measurements came in at 6.8mm, and it didn't feel overly steep, I think the factory stats could be skewed a touch, in an acceptable way.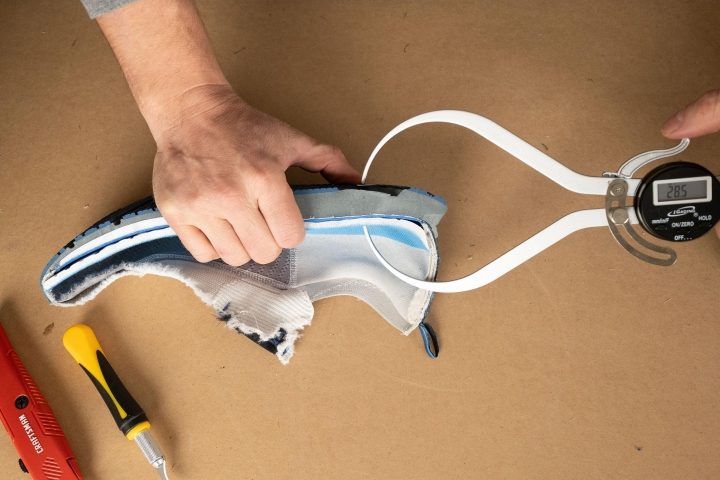 With 27.6mm of stack in the heel, I also really like how this shoe feels close to the ground. It's not overly tall, in a world where tall shoes seem to be everywhere, and that gives this shoe a sense of balance underfoot without fear of any instability.
Feels light(er than it is)
It's shaved almost an ounce from the past versions, which has made the Ricochet 3 a bit more nimble, and a bit more worthy of being in my daily lineup. Now weight is not everything, but when you can feel your shoes weighing down your legs, they are too heavy, and luckily these were hard to notice even though 9.15 ounces is nothing groundbreaking.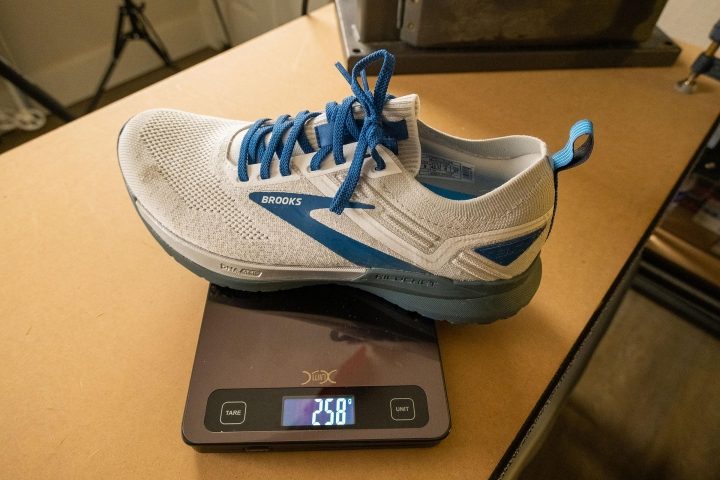 Although some would still scoff at a 9+ ounce shoe in these days of the ultralight and ultra-expensive footwear, thanks to the slim design and form-fitted upper you forget this metric the second you lace them up.
Running experience: perfect middle in the world of daily trainers
The Ricochet 3 has smooth transitions on pavement and asphalt thanks to its consistent, full-length outsole and that subtle pep and cushioning you get from the DNA Amp foam in the midsole.
Daily trainers are not meant to blow your mind, they are designed to work every day without fuss. Sure, it's not a Hyperion Tempo which is fast and light, but it's not a Glycerine which is overly cushioned and slow. There's a happy middle ground here for those looking for a shoe that works well on hard-packed surfaces, without being on either side of an argument.
Worth the money
At $120 I think this shoe is a value. It's not super sexy or boasting the best tech, but it works, it's comfortable, and if you like the classic, simple look, and the stretchy knit upper of the 2016ish era, it may be the right shoe for everyday, consistent training.
Conclusion
I don't have much to add to my conclusion, it's balanced well, I like it on my foot, and I was honestly a bit bummed to be cutting it in half. I wanted to run more in this shoe if that says anything. But duty calls, time to turn on the saw!
Complete lab-specs overview
Brooks Ricochet 3
Weight - Left

258g

Weight - Right

258g

Weight - Insole

18g

Weight - Lace

4g

Length - Overall

288mm

Length - Insole

279mm

Width Midsole - Forefoot

113.7mm

Width Midsole - Heel

88.9mm

Width Midsole - Middle

60.4mm

Width Upper - Forefoot

98.8mm

Width Upper - Heel

77.3mm

Width Upper - Middle

73.1mm

Stack - Forefoot with insole

20.8mm

Stack - Heel with insole

27.6mm

Stack - Forefoot without insole

14.8mm

Stack - Heel without insole

21.9mm

Drop

6.8mm

Outsole thickness (Forefoot)

2.8mm

Outsole thickness (Heel)

2.8mm

Lugs Depth

NA

Insole Thickness

5.8mm

Laces (without stretch)

47inches

Laces (with stretch)

52.5inches

Lace Stretch Ratio

0.117

Laces - Thickness (Height)

0.9mm

Laces - Width

5.5mm

Durometer Outsole Forefoot (Room Temp: 59.5 F)

75.5HC

Durometer Outsole Heel (Room Temp: 59.5 F)

82.8HC

Durometer Midsole Forefoot (Room Temp: 59.5 F)

36.0HA

Durometer Midsole Forefoot 2nd layer (Room Temp: 59.5 F)

23.2HA

Durometer Midsole Heel (Room Temp: 59.5 F)

23.5HA

Durometer Insole (Room Temp: 59.5 F)

38.3HA

Flexibility of the shoe (Room Temp: 59.5 F)

25.8N

Durometer Outsole Forefoot (Freezer 1 hour)

79.2HC

Durometer Outsole Heel (Freezer 1 hour)

83.5HC

Durometer Midsole Forefoot (Freezer 1 hour)

45.5HA

Durometer Midsole Forefoot 2nd layer (Freezer 1 hour)

26.5

Durometer Midsole Heel (Freezer 1 hour)

29.8HA

Durometer Insole (Freezer 1 hour)

35.7HA

Flexibility of the shoe (Freezer 1 hour)

31.0N

Durometer Outsole Forefoot (% change with temperature)

4.86

Durometer Outsole Heel (% change with temperature)

0.8

Durometer Midsole Forefoot (% change with temperature)

26.39

Durometer Midsole Heel (% change with temperature)

26.95

Durometer Insole (% change with temperature)

-6.96

Flexibility of the shoe (% change with temperature)

22.59

Thickness - Heel Counter/Insert

1.2mm

Thickness - Ankle Collar (min)

4mm

Thickness - Ankle Collar (max)

11.2mm

Thickness - Ankle Collar (Range of taper)

7mm

Heel counter material

fiber board

Thickness - Tongue

1.8mm

Flexibility of the heel counter

71.6N

Light test (transparence)

17.4LUX

Lace slip test with the knot

31.6N

Longitudinal flexibility (0-5)

3

Torsional flexibility (0-5)

3

Tongue: gusset type

Gusseted (both sides)

Laces: profile

Flat

Laces: extra hole

yes

Laces: are they long enough to use the extra hole

no

Heel: pull tab

yes

Insole: removable

yes
Control devices:
Multi-density midsole
Rigid heel counter
Elevated medial insole under arch
Supportive tensioned medial upper
Medial flare
Thermoplastic medial post

no
yes
yes
no
yes
no

Longitudinal flexibility (on a 1-6 scale)

3

Torsional flexibility (on a 1-6 scale)

3

How minimalist the shoe is in %

32
Note: all the tests were done on a men's shoe US size 9.
Compare popularity
Interactive
Compare the popularity of another shoe to Brooks Ricochet 3:
Brooks Ricochet 3 video reviews