I really looked forward to receiving my pair of Revel to test (courtesy of Brooks & RunRepeat) and spending some time with them.
The marketing talk of "lifestyle shoes" got my attention. To me, that suggested a pair of trainers that I could wear for pretty much anything, including walking, exercising, socializing, and of course running.
I was intrigued at how Brooks would pull it off since the challenge required a pair of shoes which possessed all the necessary technology and attributes of decent running shoes while managing not to look "too" much like one.
We all know of someone who turns up to social occasions (usually also in a Boston Marathon running jacket) wearing a pair of trainers in bright colors laden with some newfangled technology which just scream "runner."
Nothing wrong with the look of course; I've been guilty of the same myself and there is nothing more comfortable than a pair of well-cushioned runners, but sometimes occasions call for a more subtle look and, all going well, the Revel could well be what I'd wear to the next birthday gathering...after having gone for a run in them earlier in the day, of course.
Clean lines, understated style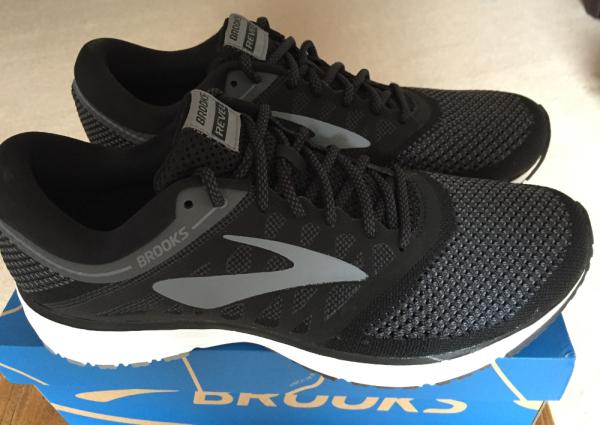 Best Upper Ever
Out of the box, things looked promising. The Revel came in a nicely understated combination of Black/Anthracite/Primer Grey and other than the words "Brooks," "Revel," and the logo, the shoe was refreshingly uncluttered.
What really stands out though, is the upper, which is composed of flat-knit mesh. Knitted uppers are of course used by other brands too these days but that on the Revel is distinguished by a thicker knit, thicker than that on your average Christmas sweater.
Closer to the midsole, the knit becomes much tighter, which is a nice touch both aesthetically and probably functionally. On closer inspection, one can see that the gusseted tongue is actually a part of the inner "bootie" which sheathes the forefoot.
This presumably is to act as a barrier against any dirt or debris making its way through the knit and serves a dual purpose of ensuring a close, comfortable fit, even when sock-less.
Love the dual-density knitted upper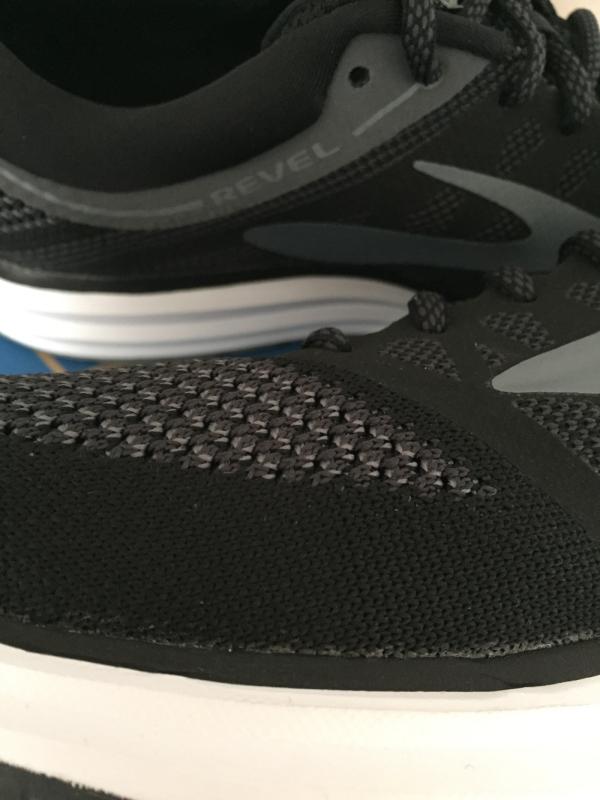 If the knitted mesh is the best part of the upper, the seemingly overly padded heel cup is my one and only criticism.
The generous padding adds to the bulk and perception of Revel as a heavy shoe, although at 10.3 ounces it is actually lighter than the Ghost, a cushioned dedicated running shoe.
Still, even after having tested the shoes extensively over the past few weeks, the aesthetics or functionality of the excessive padding in the heels is lost on me.
Too much heel padding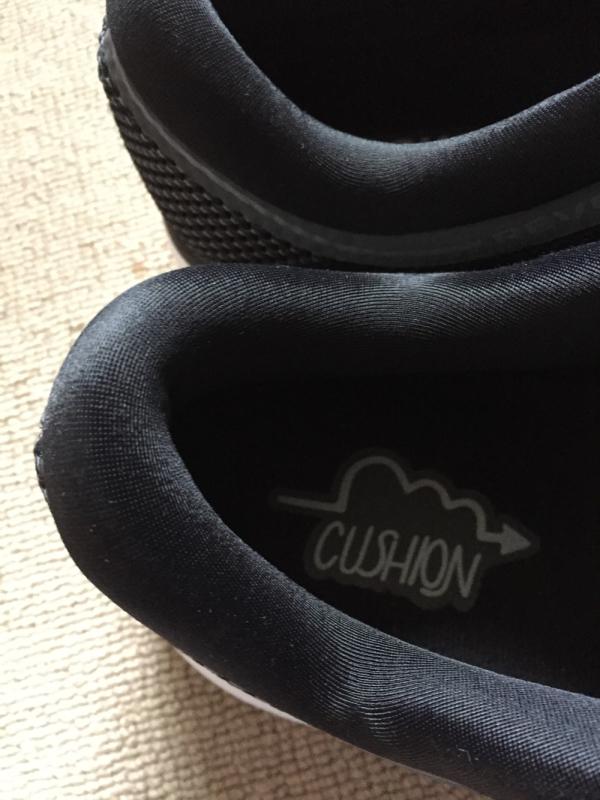 Looking at the midsole, the absence of the "caterpillar" that is typical of many of Brooks' line helps one forget that you're looking at what is, in essence, a running shoe.
The midsole is composed of "BioMoGo DNA," a proprietary material providing adaptive cushioning which Brooks also uses on many of their cushioned shoes, including Ghost. The heel-toe drop is rated at 12mm, which to me seems a tad high for a neutral shoe.
The outsole consists of the generous volume of blown rubber on the forefoot and heel areas, with grooves cut out in the forefoot to enhance flexibility.
DNA midsole and blown rubber outsole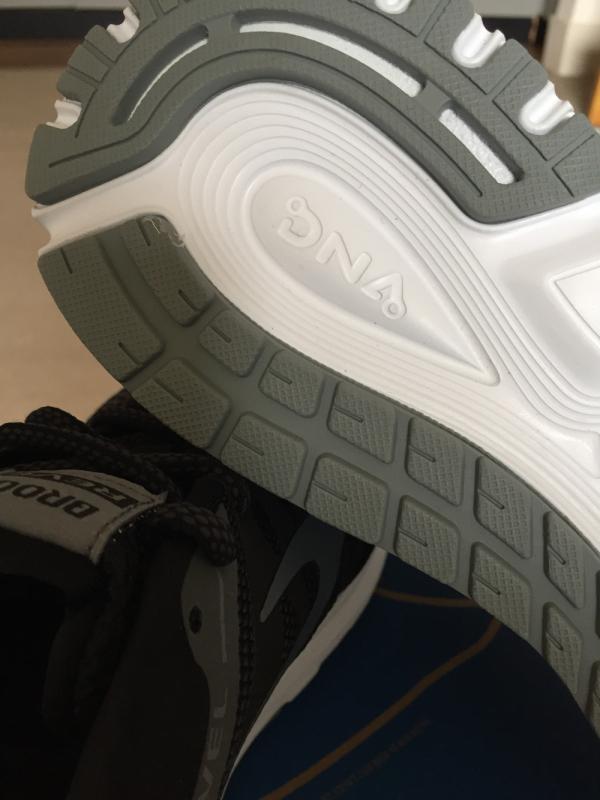 The Road Test
My first outing in the Revel was for a 10-mile trot around the neighborhood, consisting of tarmac, concrete, and some packed dirt trail. The ride was smooth and cushioned yet responsive, and the shoes very comfortable.
I felt I could easily have done at least another 10 miles – not bad for a pair fresh out of the box and a testament to their comfort. Although most of my road running shoes tend towards 4-8mm drop, despite being rated at 12mm, the stride was unobtrusive with the transitions smooth.
My next outing on them was to our local parkrun, a free weekly 5km community run which takes place across 17 countries. I tend to use these parkruns as a speed session, where I'll use the first mile to warm up, and gradually ramp up pace towards a sprint finish.
At full speed, the Revel felt OK save some minor heel slippage but I do own racing flats which are better suited for sprinting shorter distances and the Revel won't be replacing those anytime soon.
As running shoes, I felt the Revel is better suited for slower paces and/or longer distances but, to be fair, that is to be expected given the shoe's specs.
The point here is that, as running shoes, the Revel is more than adequate, something which shouldn't necessarily be taken for granted given the extra emphasis on style.
They are Versatile
Speaking of style, actually, my second outing in the Revel was later in the day after my 10-miler when I went to meet my wife at the cinema.
"A new pair?" Asked the wife with raised eyebrows as she has done countless times before. "Yeah..." Said I sheepishly. "They look nice" was the follow-up comment from her.
And there you go, no better seal of approval than that as far as their style and versatility are concerned. The Revel is good running shoes but even better lifestyle shoes.
Going casual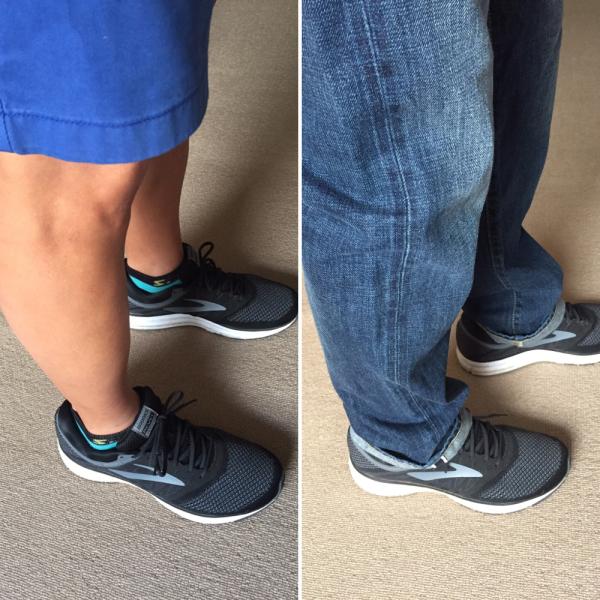 Concluding Thoughts
I've worn the Revel pretty much every day for the past 3 weeks since receiving them. I've clocked about 35 miles running in them and must have covered at least that distance walking in them. Why so much walking? Well, they are darned comfortable AND they look good.
In fact, the Revel would be ideal travel shoes, where you'd only need the one pair for sightseeing and the occasional run. In that regard, they can be seen as a more robust equivalent of the On Cloud.
Looked at purely as running shoes, the Revel is no worse than, but at the same time not obviously superior to, other dedicated running shoes that I have at my avail. But if I'm going out on errands about town or meeting some friends for a drink, then I wouldn't hesitate to throw these on with my shorts or jeans.
Plus, if you're running late like I often am, you can easily jog over! I also appreciate that, unlike me, the majority of folks will not own more than one or two pairs of trainers, in which case the Revel would be well-suited as an all-rounder.
At US$100 MSRP, the Revel presents a great value, and you do get a lot of running shoe for the price, and with the good looks, to boot.
Brooks may have created a new category here, or at the very least come up with a hit product.
I reckon all the cool kids with their caps worn backward will be sporting these in their local skateparks soon, as well as those parents being dragged around Disney World.