Verdict from 9 hours of research from the internet
7 reasons to buy
Many runners noted that the Brooks Glycerin 18 is comfortable to wear.
Some consumers praised the roomy toebox of the shoe.
A few buyers appreciated this running companion's flexible upper unit.
The shoe offers just the right amount of cushioning, said some commenters.
One reviewer claimed that this running partner is responsive.
A couple of testers mentioned that the shoe is perfect for long runs.
This running shoe is also comfortable for work, school, and other non-strenuous activities, based on reviews.
3 reasons not to buy
Several users complained that the Brooks Glycerin 18 is stiffer than its predecessors.
It does not offer enough arch support, according to a reviewer.
A handful of purchasers reported that the shoe is a bit narrow.
Bottom line
The Brooks Glycerin 18 is a neutral running shoe that can work for mild pronators or people who supinate. This shoe is suitable for runners and athletes who are seeking comfort, flexibility, and protection. It is equipped with advanced technologies that aim to enhance the running experience. Aside from road running, it is also suitable for gym sessions and casual walks.
Tip: see the best running shoes.
Our reviews
The Brooks Glycerin 13 was one of my favorite running shoes of all time. I put 5000 (this is not a typo) miles into my pair of Glycerin 13s. I ran in that shoe until it had disintegrated into a few measly scraps.
As a shoe reviewer, I never have a chance to wear out my shoes; there are always barely used shoes laying around, but I couldn't take my feet out of this pair. The Glycerin 14s and 15s had too firm of a midsole.
Despite the weird looks, Brooks regained the absolute plush comfort in the 16th, 17th, and now the 18th iterations.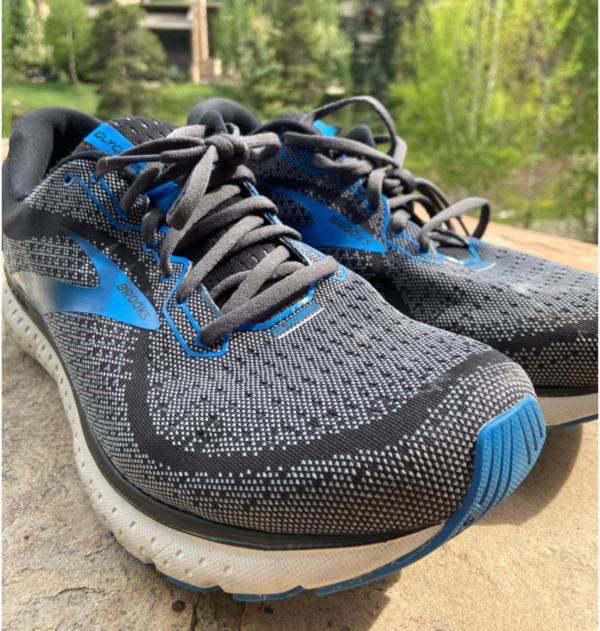 This most recent edition has a similar midsole and outsole as previous versions, but Brooks has made a great update to the upper. I gave the glycerine 17 a 100/100, but they somehow have improved it again.
Anyway, the Glycerin might be the most comfortable and reliable daily trainers on the market. This shoe will go the distance.
Disclaimer: I love these shoes so much that It may sound as if Brooks is paying me to write this, or that I know nothing about shoes, but no, Brooks is not paying me, and I have experience with over 100 different running shoe models.
Comfort
Comfort is the highlight of the Glycerine 18. I have never run in a more comfortable shoe, and I cannot fathom that a more comfortable shoe exists on the market.
Of course, depending on the type of running you participate in, there may be more specialized running shoes that provide more comfort for that purpose, but as a general daily trainer, the Glycerine takes the prize, as long as the shoe fits.
The upper has a soft, sock-like feel which is pleasant even without socks. The upper is light and breathable, preventing hotspots and blisters, while still providing protection.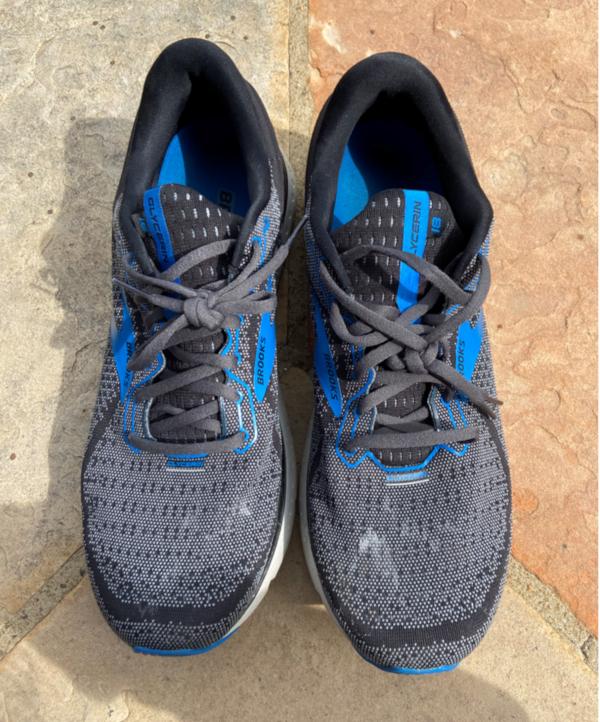 It is made of a synthetic moisture-wicking material that keeps the feet dry and happy. The tongue and heel cup are plush, but not overly padded, which feels great on foot and distributes any pressure points.
The midsole is as cushioned as possible while still not feeling mushy or slow. The Glycerine is the type of shoe that does not cause any problems for my feet, so I forget that they are there, even thirty miles into a run; and that is the true measure of a comfortable running shoe.
Fit
The Glycerin has a standard fit in the heel and midfoot areas, and a wider toe box for a non-gimmick, standard running shoe. Brooks would only give me a 12 or a 13, despite my 12.5-foot size, and the shoe was roomy, but fit very well.
The toe box allows for a straight big toe and toe splay, which is biomechanically favorable. The laces are very adjustable, and the upper is slightly stretchy so the shoe can adapt to many different types of feet.
Ride
Brooks uses a thick layer of a variation of their BioMoGo DNA in the midsole of the Glycerin 18. Biomogo DNA is an adaptive cushioning system that adapts to your specific foot strike every time you land.
DNA is made of a non-Newtonian compound, which means that it changes its state of matter when different amounts of pressure are applied to it. When you are running faster, you apply more pressure to the midsole.
The extra pressure causes the shoe to become more firm and responsive. When you are lightly jogging, you apply less pressure to the midsole. This causes the midsole to be softer and less responsive.
These adaptations happen every time your foot touches the ground. The Glycerin has a lighter and overall softer version of the DNA Midsole for an even more plush ride.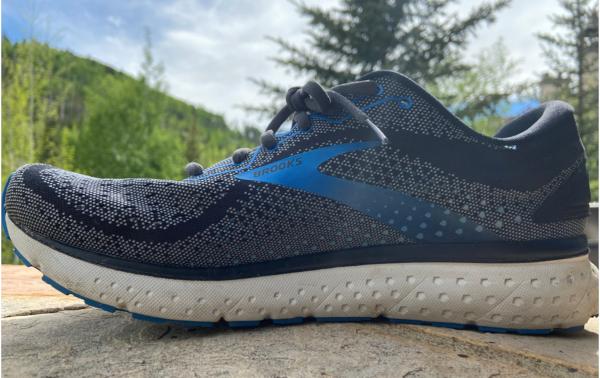 This technology gives the perfect soft ride on slow jogs and a snappier feel on tempo runs. It is, of course, not universal, so a racing shoe will still trump the Glycerine during a race, but for a one shoe kind of runner, this adaptive ride is a great choice.
The Glycerin has grooves in the outsole to improve flexibility. The midsole material itself is also flexible. With these factors, the shoe is moderately flexible to improve comfort and not restrict the foot's natural movement, despite the thick cushioning.
The Glycerin is a daily trainer, and for an experienced runner, the ride will feel a little bit slow on faster runs. However, the Glycerin has a more adaptive and snappy ride than other shoes with its level of cushion.
For less experienced and heavier runners, the Glycerin will be able to handle any kind of speed and distance.
For those running in harsh winter conditions, the midsole does freeze a little bit. The ride becomes less soft, and you might be better off choosing a shoe with a TPU style midsole. The Glycerin is still a great choice.
Traction
The Glycerin has exceptional traction. The outsole is updated from the Glycerine 17. Instead of having two different compounds of rubber, the outsole is made of a single density, sticky and durable rubber.
This takes a step backward from the last model's functionality. Anyway, traction is still fantastic.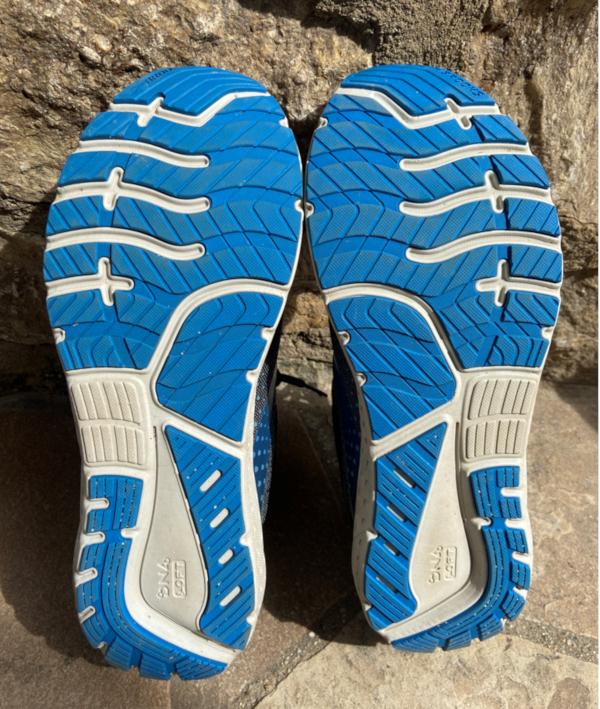 It will stick to wet roads without an issue, and all of the power from your push off will be transferred into forward propulsion. The Glycerin is not a trail shoe, so it works well only on light trails.
An issue with the traction is that the Glycerine has small grooves in the outsole which collect small pebbles. This decreases the lifespan of the outsole, disrupts the traction slightly, and just feels gross underfoot. This is only a small gripe since the pebbles it collects are so small.
Durability
The Glycerin may be sleek, but it is certainly heavy-duty. All the materials in the shoe are very high quality and durable.
As I said in the introduction, I put 5000 miles into a previous model of the Glycerin. Was that a good idea? No, but this does speak to the durability of the shoe.
This shoe will outlast most other running shoes while staying in good condition. Brooks guarantees 300-500 miles and will replace them for free if they don't last that long, but I'm sure anyone can easily double that figure.
Sustainability
The BioMoGo part of BioMoGo DNA means that in an anaerobic landfill, the midsole will decompose within 20 years, compared to the thousands of years that it takes other midsole materials to decompose.
You don't need to worry about the midsole breaking down prematurely because you don't live in an anaerobic landfill (hopefully)! The BioMoGo technology is not patented because Brooks wants other companies to be more environmentally friendly.
Best employment
The Glycerin works best for neutral runners looking for a comfortable everyday running shoe. The Glycerin has just enough structure to provide a little support to runners seeking a stability shoe.
Heavier runners and lighter runners alike will enjoy the Glycerin 18. The Glycerin works best as a daily road running shoe, but can really handle anything if you push it.
The Glycerin is also comfortable enough to buy as a casual shoe and comes in a completely black colorway if you need black shoes for work.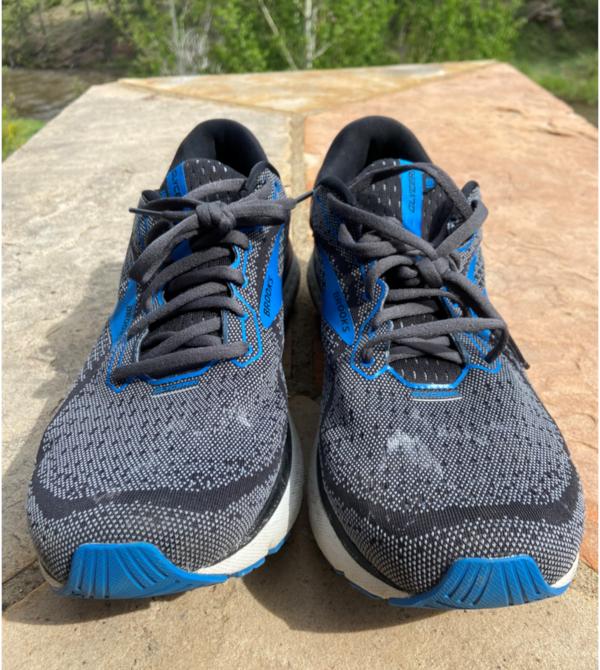 Conclusion
In conclusion, buy the Glycerin 18. The comfort and ride of the Glycerin 18 are impeccable, with only minute details to improve upon.
If you want a shoe that won't cause your feet any problems, these are the move. Brooks' logo is Run Happy; the Glycerines make that a reality.
Whether you're a long time seasoned runner or you're embarking on a new running journey as part of your new quarantine fitness routine, the Brooks Glycerin 18 is a great shoe of choice.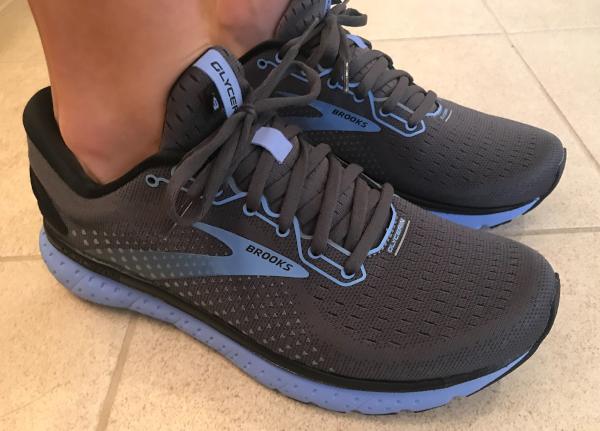 More specifically, if you believe there is no such thing as too much cushioning, perhaps the Glycerin 18 is the perfect shoe for you!
Overview
If I had to describe the Glycerin 18 in one word, it would be COMFORT. It's no secret that the Brooks Glycerin is a longtime favorite running shoe for many runners.
These shoes are designed to keep your feet comfortable mile after mile. With that being said, the Glycerin 18 debut couldn't have come at a more perfect time!
I haven't run in a Brooks running shoe in a while, so I was eager to try the Glycerin 18, especially since my weekly training mileage has dramatically increased.
The plush comfort of the Glycerin 18 made my feet happy on those long runs for sure!
Specifications
Here is a quick break down of the Glycerin 18 specifications:
| | |
| --- | --- |
| Weight | 9.0 ounces (W7), 10.2 ounces (M9) |
| Heel-to-toe drop | 10mm offset |
| Shoe type | Road running |
| Category | Neutral |
| Cushioning | Plush cushioning |
First unboxing! Cornflower blue colorway :)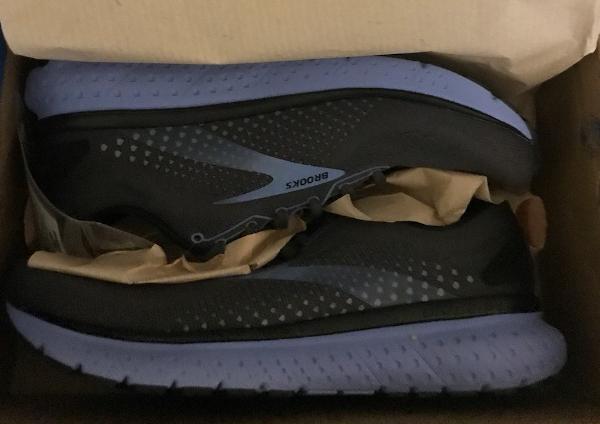 Sizing/fit
The Brooks Glycerin 18 fits true to size.
As for the fit, the toe box has a wider toe box, yet not as wide as a Topo or Altra model by any means. The overall fit was very comfortable, and I didn't have any issues with hot spots.
Furthermore, the heel counter is amply cushioned for optimal comfort.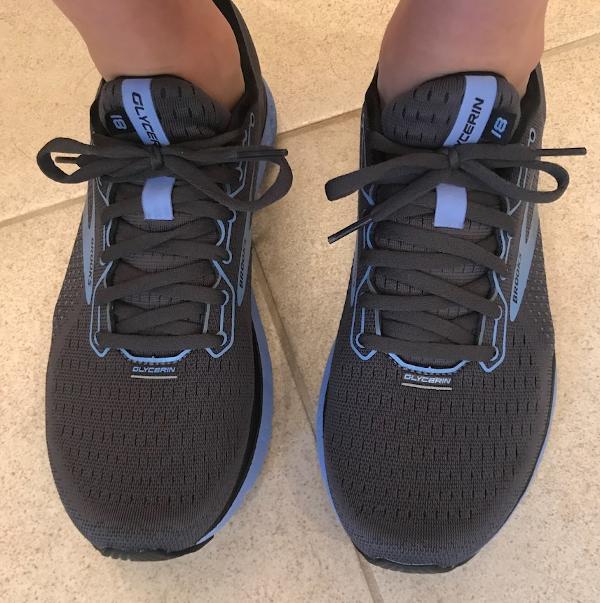 Here is my size chart of various shoe brands to be used as a comparison in choosing the right size for yourself:
| | |
| --- | --- |
| Brooks | 9.5 |
| Nike | 9-9.5 |
| Reebo9 | 9 |
| Asics | 9 |
| Salomon | 9 |
| Altra | 9 |
| New Balance | 9.5 |
| Topo Athletic | 9.5 |
| Inov-8 | 9.5 |
| Mizuno | 9.5 |
| On Running | 9.5 |
| Saucony | 9.5 |
| The North Face | 9.5 |
Midsole and outsole
Say hello to the reconfigured DNA LOFT midsole of the Glycerin 18! The full-length DNA LOFT midsole coupled with an OrthoLite sock liner increases the overall step-in comfort and cushioning of the Glycerin 18. As soon as you insert your feet in these shoes, the cushioning is very obvious!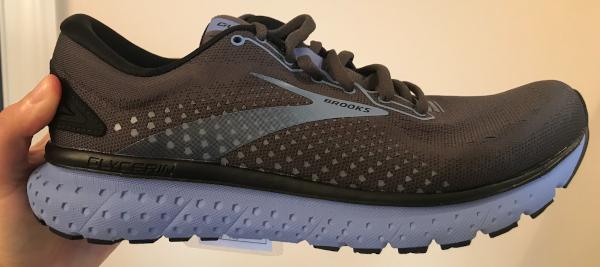 Lately, many of the shoes in my shoe rotation have been on the firmer side, especially for speedwork and up-tempo runs.
With the changes to my training regimen, I needed a shoe that was cushioned for longer distance training. The Glycerin 18 provided the perfect amount of cushioning for what I desired.
Moreover, I feel as though these shoes would be an excellent choice for those who are on their feet for long periods. Thanks to the plush midsole and excellent underfoot cushioning, the Glycerin 18 would be a great option for prolonged walking or standing.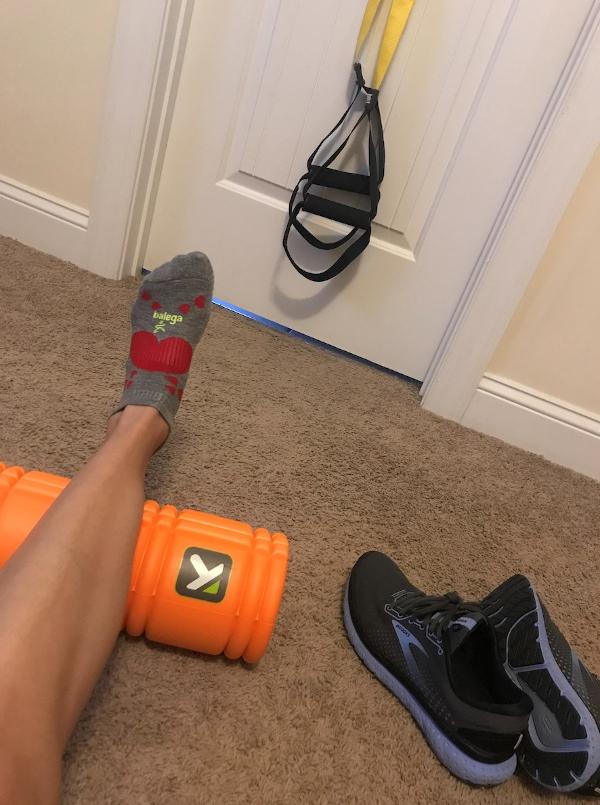 The rubber outsole of the Glycerin 18 is somewhat similar to its previous iteration with minor modifications. With over 132 miles in the Glycerin 18, the outsole has shown only minimal wear. All of my miles were only on the road or occasionally the treadmill.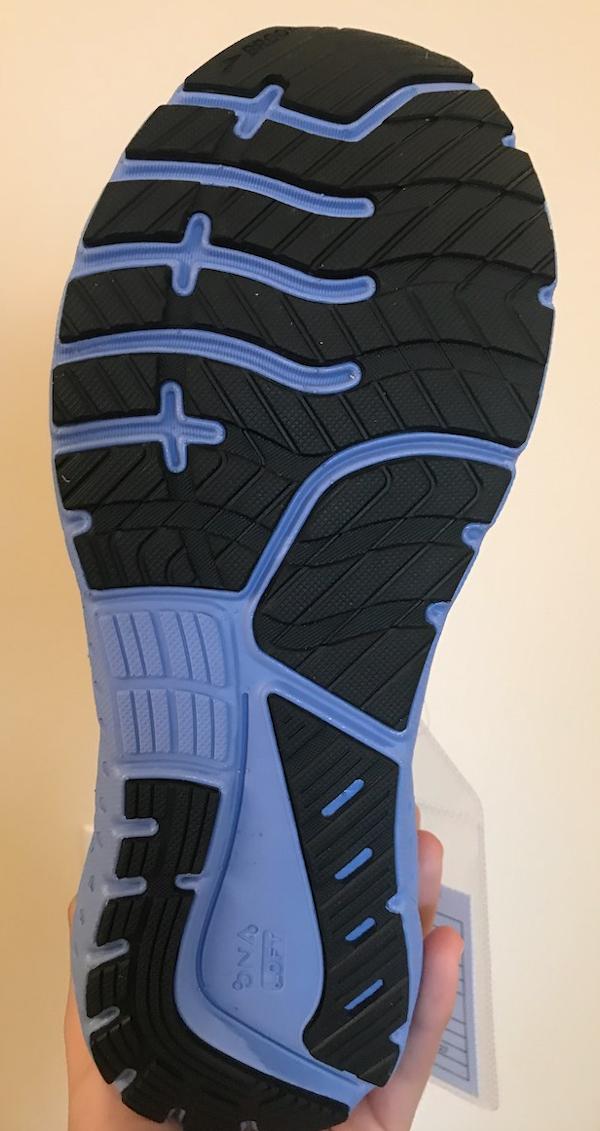 The rubber outsole in the Glycerin 18 shows a diagonal tread pattern, whereas the Glycerin 17 has a straight pattern. I am not certain if the diagonal pattern increases traction, but I have run in wet road conditions, and the traction of the Glycerin 18 had no issues whatsoever.
The flex grooves in the outsole add an element of flexibility to the Glycerin 18, which enables heel-to-toe transitions to feel smooth, creating an overall comfortable ride.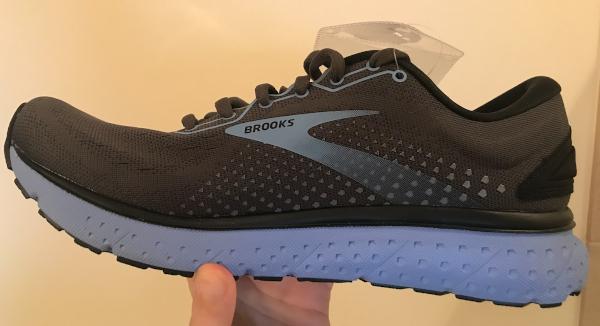 Upper and laces
The upper of the Glycerin 18 is one of my favorite features of the shoe. Aesthetically speaking, I like the looks of the shoe, too. The upper is comprised of a double-jacquard engineered mesh which feels like a stretch bootie. The fit is not too tight or not too loose. It's just right.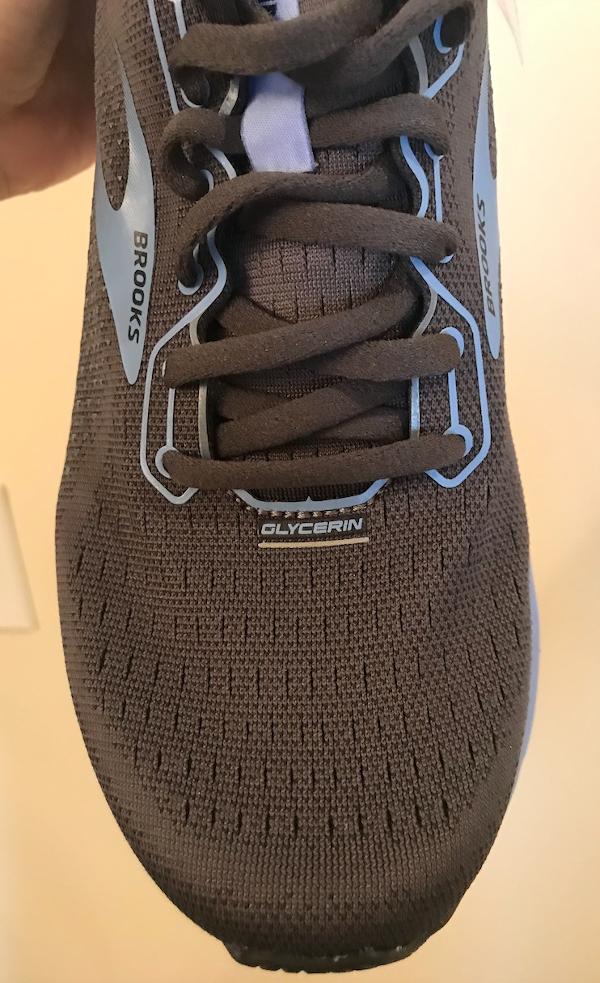 The stretchy feel of the upper increases the overall comfort. I have neither wide, nor narrow feet, but I feel as though various foot types could be accommodated by the upper of the new Glycerin 18.
The Glycerin 18 is outfitted with flat laces which are great because they evenly distribute pressure across your feet when lacing up.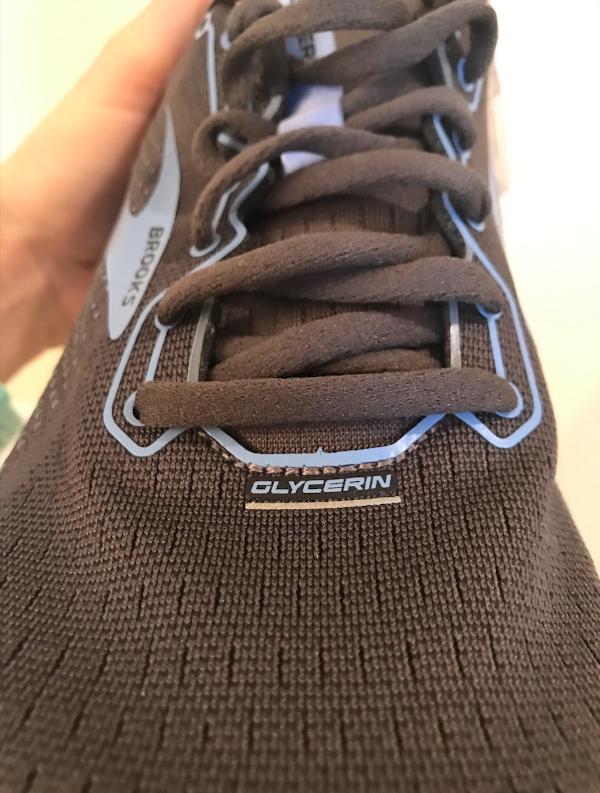 As far as lockdown goes, I didn't have any issues with heel slippage or discomfort. I felt as though my foot was secure in the Glycerin 18.
Performance/comfort
I had really high hopes for the Glycerin 18, but my overall experience was simply just okay. Right out the box, I took the shoes for a 10-mile run, and I absolutely applauded the cushioning!
As for the ride of the Glycerin 18, it feels a bit slower and less responsive than other cushioned running shoes I've tested.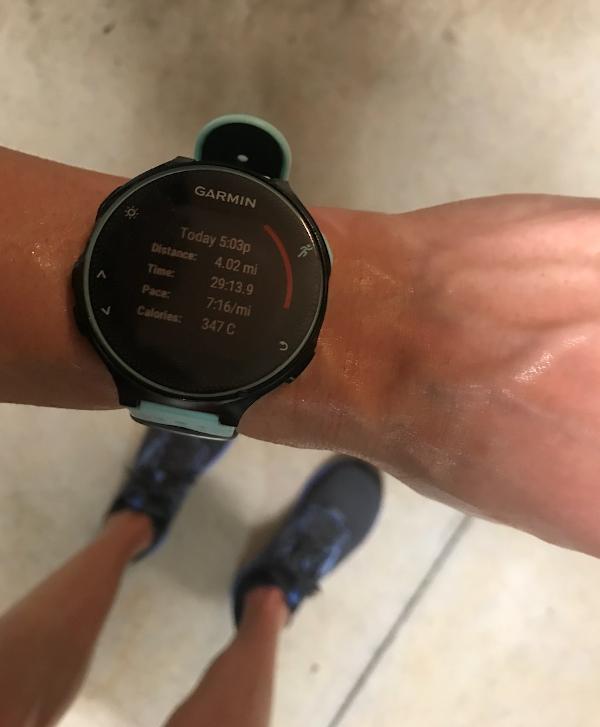 Now, the Glycerin 18 isn't a bad trainer at all. I'm just not exactly sure if it's the right shoe for me and my running needs. For long easy runs or recovery runs, I believe the Glycerin 18 is perfect.
Additionally, I did find myself wearing the Glycerin 18 out-and-about because of the overall comfort of the shoe was phenomenal. I simply prefer a shoe that encompasses both cushion and responsiveness.
Furthermore, comfort is a 10/10, but there was a lack of responsiveness and energy return. I also personally found the Glycerin 18 to feel somewhat heavy. Many of the shoes I've been running in lately weigh no more than 7 ounces which made the Glycerin 18 feel heavy.
I completely understand that sacrifices need to be made in the name of cushioned comfort, so the few extra ounces in weight weren't the end of the world, but something to note.
I suppose the Glycerin 18 would be suitable for midfoot strikers and heel strikers alike due to the abundance of cushioning. A 10mm stack height is pretty typical of many trainers, yet my "sweet spot" is more around 6-8mm.
Realistically, shoe stack height is more of a personal preference though. The Glycerin 18 isn't a bad shoe! In a nutshell, I suppose I just wanted a little more ground feel than the Glycerin 18 offered.
Pros
Well-cushioned and comfortable fit
Great for distance running/recovery runs
Comfy updated engineered mesh upper
Cons
Lacks desired responsiveness
A bit on the heavy side
Not as versatile as other running shoes on the market
Final thoughts
Ultimately, the Glycerin 18 is a well-constructed shoe that is designed to keep you comfortable. If cushioning is what you're after, the Glycerin 18 may very well be your next go-to shoe.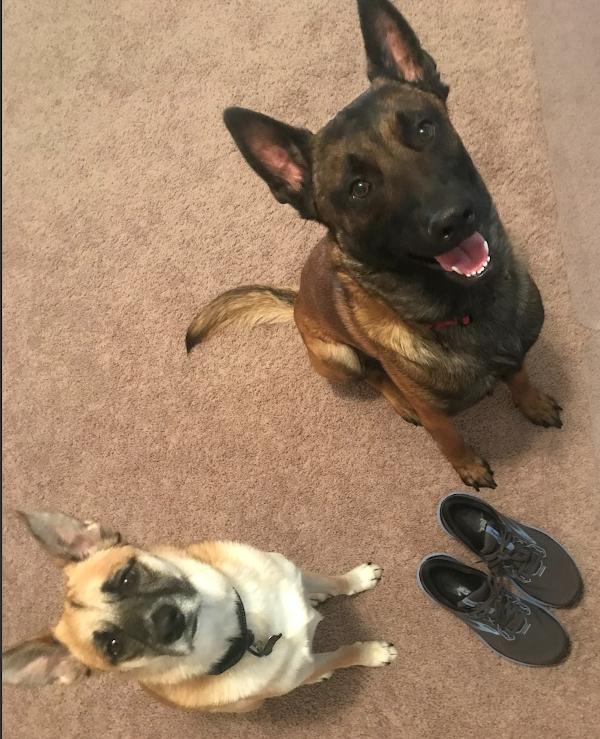 Though I found the Glycerin 18 to lack responsiveness and energy return, I still found the shoe to be comfortable enough for slower and longer runs where pace wasn't my priority.
I applaud the comfort of these shoes and choose them for when I need to be on my feet for long periods and even for daily wear. Brooks is moving in the right direction for sure!
Small updates to the responsiveness could be a game-changer for the Glycerin line!