Brooks Glycerin 13 review
Disclaimer: I love these shoes so much that It may sound as if Brooks is paying me to write this, or that I know nothing about shoes, but no, Brooks is not paying me, and I have experience with over 100 different running shoe models.
The comfort and ride of the Glycerin 18 are impeccable, with only minute details to improve upon.
If you want a shoe that won't cause your feet any problems, these are the move. Brooks' logo is Run Happy; the Glycerins make that a reality.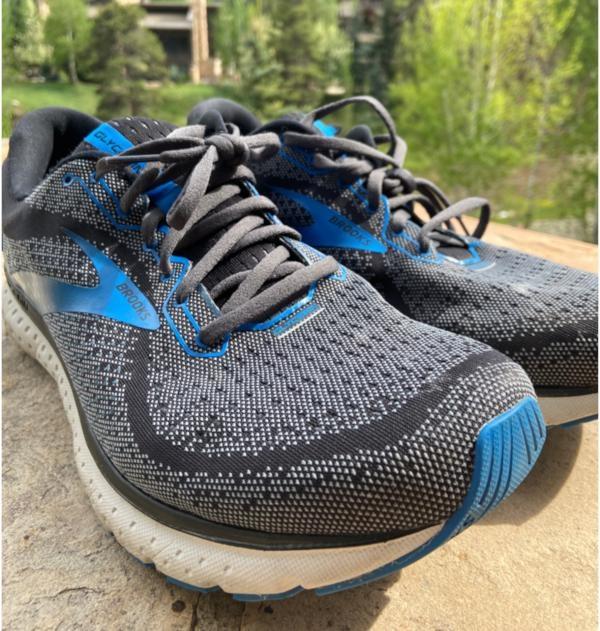 Comfort is the highlight of Glycerin 18
I have never run in a more comfortable shoe, and I cannot fathom that a more comfortable shoe exists on the market.
Of course, depending on the type of running you participate in, there may be more specialized running shoes that provide more comfort for that purpose, but as a general daily trainer, the Glycerin takes the prize, as long as the shoe fits.
The upper has a soft, sock-like feel which is pleasant even without socks. The upper is light and breathable, preventing hotspots and blisters, while still providing protection.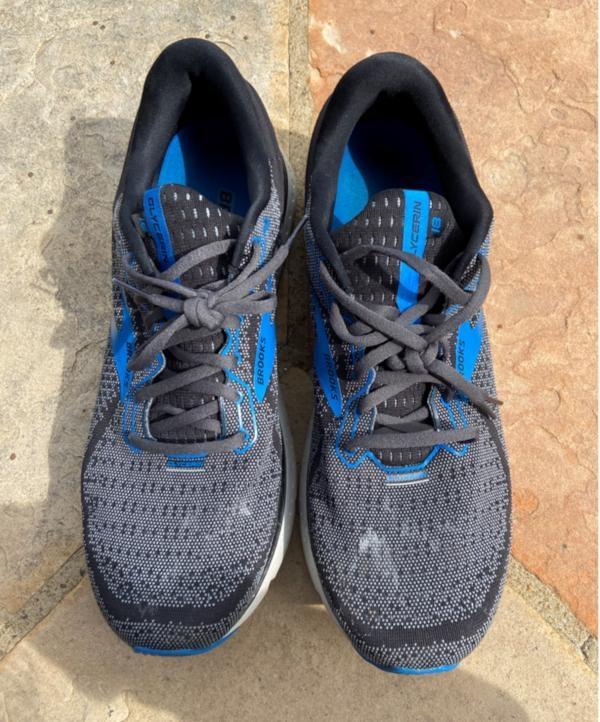 It is made of a synthetic moisture-wicking material that keeps the feet dry and happy. The tongue and heel cup are plush, but not overly padded, which feels great on foot and distributes any pressure points.
The midsole is as cushioned as possible while still not feeling mushy or slow. The Glycerin is the type of shoe that does not cause any problems for my feet, so I forget that they are there, even thirty miles into a run; and that is the true measure of a comfortable running shoe.
No surprises with fit except pleasant
The Glycerin has a standard fit in the heel and midfoot areas, and a wider toe box for a non-gimmick, standard running shoe. Brooks would only give me a 12 or a 13, despite my 12.5-foot size, and the shoe was roomy, but fit very well.
The toe box allows for a straight big toe and toe splay, which is biomechanically favorable. The laces are very adjustable, and the upper is slightly stretchy so the shoe can adapt to many different types of feet.
Glycerin 18 cushioning suits any type of run
Brooks uses a thick layer of a variation of their BioMoGo DNA in the midsole of the Glycerin 18. BioMoGo DNA is an adaptive cushioning system that adapts to your specific foot strike every time you land.
DNA is made of a non-Newtonian compound, which means that it changes its state of matter when different amounts of pressure are applied to it. When you are running faster, you apply more pressure to the midsole.
The extra pressure causes the shoe to become more firm and responsive. When you are lightly jogging, you apply less pressure to the midsole. This causes the midsole to be softer and less responsive.
These adaptations happen every time your foot touches the ground. The Glycerin has a lighter and overall softer version of the DNA Midsole for an even more plush ride.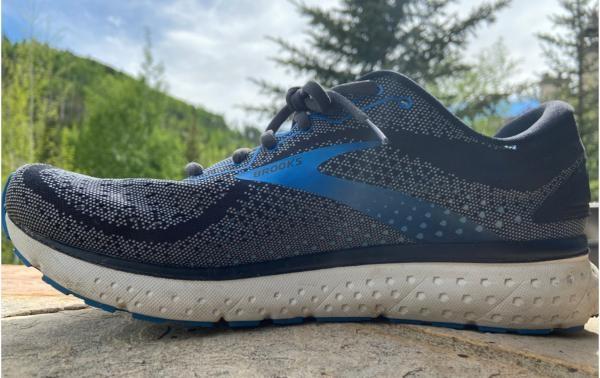 This technology gives the perfect soft ride on slow jogs and a snappier feel on tempo runs. It is, of course, not universal, so a racing shoe will still trump the Glycerin during a race, but for a one-shoe kind of runner, this adaptive ride is a great choice.
The Glycerin has grooves in the outsole to improve flexibility. The midsole material itself is also flexible. With these factors, the shoe is moderately flexible to improve comfort and not restrict the foot's natural movement, despite the thick cushioning.
The Glycerin is a daily trainer, and for an experienced runner, the ride will feel a little bit slow on faster runs. However, the Glycerin has a more adaptive and snappy ride than other shoes with its level of cushion.
For less experienced and heavier runners, the Glycerin will be able to handle any kind of speed and distance.
For those running in harsh winter conditions, the midsole does freeze a little bit. The ride becomes less soft, and you might be better off choosing a shoe with a TPU style midsole. The Glycerin is still a great choice.
Exceptional traction
The outsole is updated from the Glycerin 17. Instead of having two different compounds of rubber, the outsole is made of a single density, sticky and durable rubber.
This takes a step backward from the last model's functionality. Anyway, traction is still fantastic.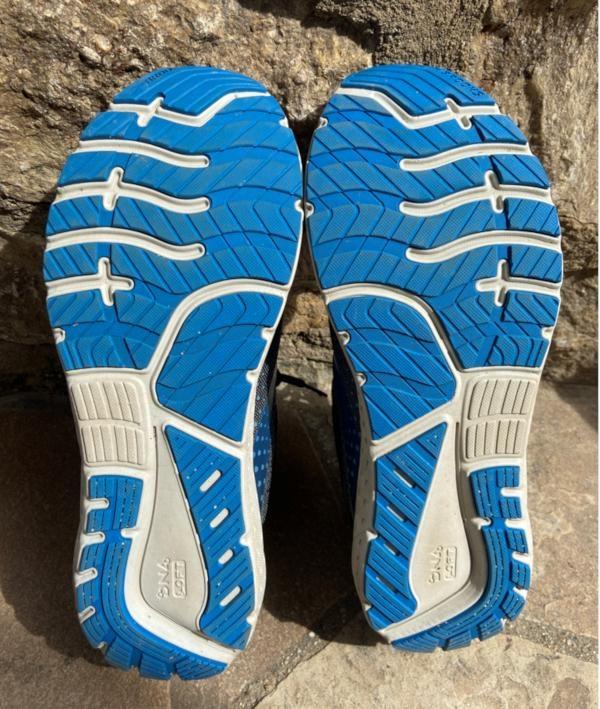 It will stick to wet roads without an issue, and all of the power from your push-off will be transferred into forward propulsion. The Glycerin is not a trail shoe, so it works well only on light trails.
An issue with the traction is that the Glycerin has small grooves in the outsole which collect small pebbles. This decreases the lifespan of the outsole, disrupts the traction slightly, and just feels gross underfoot. This is only a small gripe since the pebbles it collects are so small.
Guaranteed durability
The Glycerin may be sleek, but it is certainly heavy-duty. All the materials in the shoe are very high quality and durable.
As I said in the introduction, I put 5000 miles into a previous model of the Glycerin. Was that a good idea? No, but this does speak to the durability of the shoe.
This shoe will outlast most other running shoes while staying in good condition. Brooks guarantees 300-500 miles and will replace them for free if they don't last that long, but I'm sure anyone can easily double that figure.
With sustainability in mind
The BioMoGo part of BioMoGo DNA means that in an anaerobic landfill, the midsole will decompose within 20 years, compared to the thousands of years that it takes other midsole materials to decompose.
You don't need to worry about the midsole breaking down prematurely because you don't live in an anaerobic landfill (hopefully)! The BioMoGo technology is not patented because Brooks wants other companies to be more environmentally friendly.
Best use for Brook Glycerin 18
The Glycerin works best for neutral runners looking for a comfortable everyday running shoe. The Glycerin has just enough structure to provide a little support to runners seeking a stability shoe.
Heavier runners and lighter runners alike will enjoy the Glycerin 18. The Glycerin works best as a daily road running shoe, but can really handle anything if you push it.
The Glycerin is also comfortable enough to buy as a casual shoe and comes in a completely black colorway if you need black shoes for work.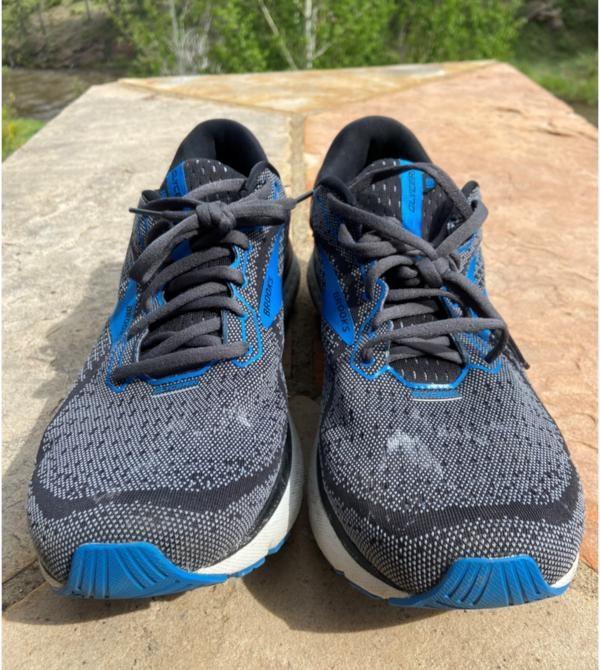 Why choose Brooks Glycerin?
The Brooks Glycerin 13 was one of my favorite running shoes of all time. I put 5000 (this is not a typo) miles into my pair of Glycerin 13s. I ran in that shoe until it had disintegrated into a few measly scraps.
As a shoe reviewer, I never have a chance to wear out my shoes; there are always barely used shoes laying around, but I couldn't take my feet out of this pair. The Glycerin 14s and 15s had too firm of a midsole.
Despite the weird looks, Brooks regained the absolute plush comfort in the 16th, 17th, and now the 18th iteration.
This most recent edition has a similar midsole and outsole as previous versions, but Brooks has made a great update to the upper. I gave the Glycerin 17 a 100/100, but they somehow have improved it again.
Anyway, the Glycerin might be the most comfortable and reliable daily trainer on the market. This shoe will go the distance.
Compare popularity
Interactive
Compare the popularity of another shoe to Brooks Glycerin 18: