According to one retailer, the new Brooks Glycerin provides "A soft underfoot feel with a high level of cushioning."
It's a "natural daily trainer." (Running Warehouse) Do we agree?
See the verdict below.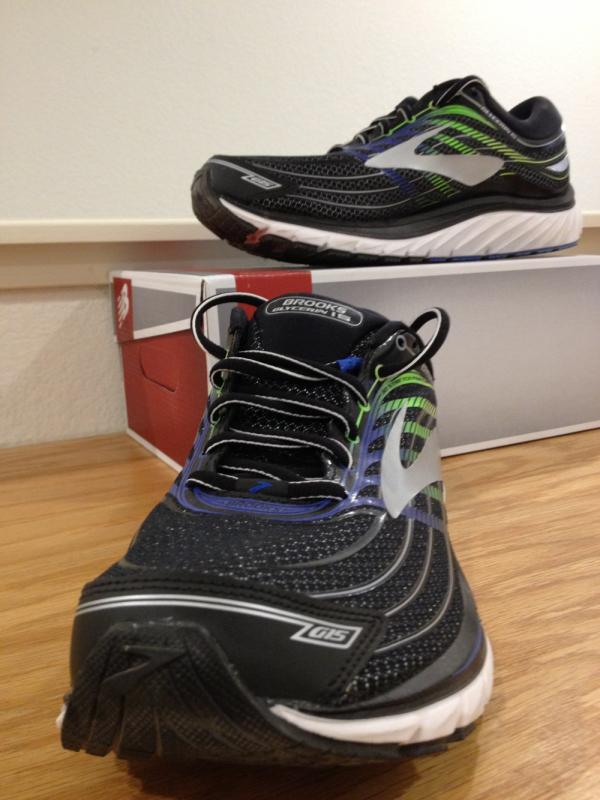 The Shoe Basics
The Brooks Glycerin 15 (hereinafter simply Glycerin) – a sample of which was provided by Brooks, is what some would term "a big guy shoe." But it's in no way restricted to bigger runners in terms of its uses and strengths.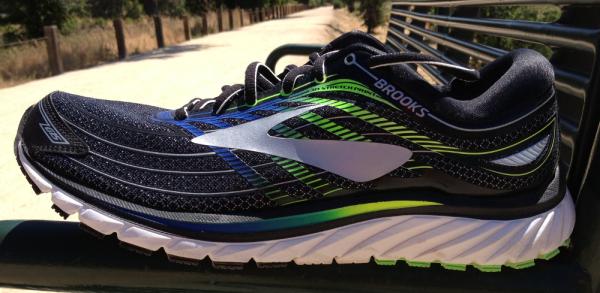 The Glycerin weighs 10.3 ounces, is technically neutral, and sits on a 10mm heel drop. It's said to be a medium volume model in terms of fit, but I found it to be somewhat roomy – better to be slightly big than too small, and there was enough room up front to keep all of my toes happy.
The Glycerin offers blown rubber in the forefoot, accompanied by two full and three partial flex grooves.
On The Road
On city streets and sidewalks, the Glycerin provides a springy ride and is as stable as one could possibly ask for.
The Glycerin has a soft, abrasion resistant heel but Brooks proves that one can make a soft heeled model which provides for distinct, noticeable heel strikes. Perhaps it's because the heel is noticeably built up – there's a lot of rubber back there!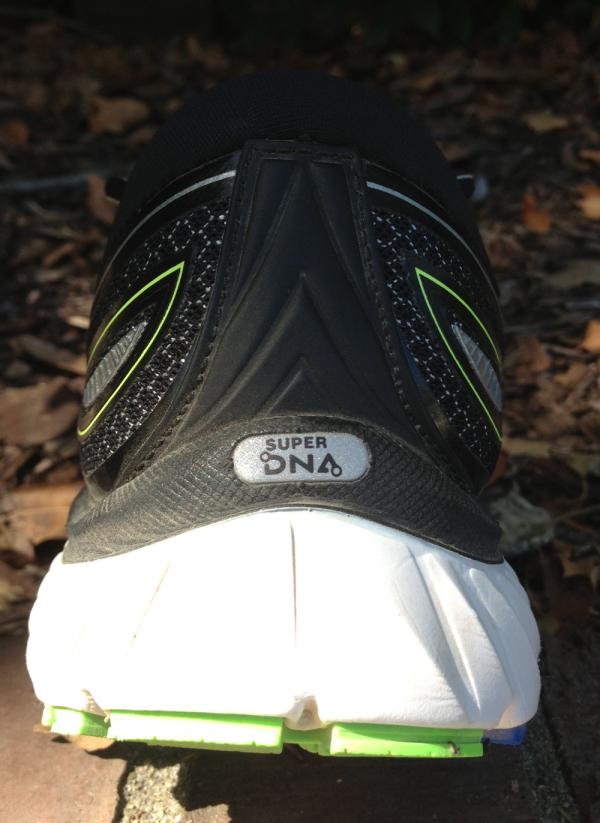 The Glycerin offers up an excellent transition from heel strike onto the midfoot landing, and then onto the forefoot. There's somewhat of a rocker feel to the Glycerin's ride pattern.
While the Glycerin feels soft it's also substantial. This is not a wimpy runner. It's immediately clear from one's first steps in the Glycerin that it's a substantially protective shoe.
Once one gets moving in the Glycerin, the Super DNA midsole allows one to build up momentum, making it a good candidate for use as a pace trainer.
On The Trail
Being that the Glycerin is highly protective and possesses a relatively grippy sole, I began to wonder how effective it might be as a trail running tool. I decided to find out by trampling on a few unique surfaces.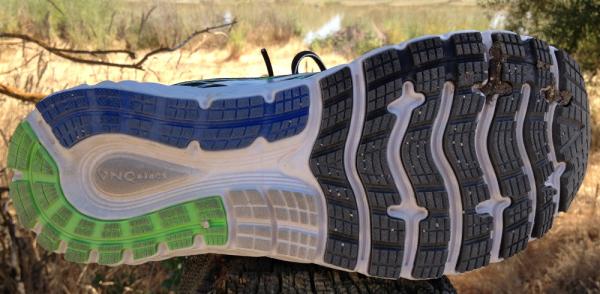 On a dirt and gravel-covered trail, the Glycerin supplies a good amount of trail feel. The ride on this surface is protective and steady. On a hard-packed dirt trail, the Glycerin proves to be secure, stable and nimble.
The one place where the Glycerin falls short is on a trail composed of large and small rocks. Here the shoe's lugs fail to grip well and one's feet slide all over.
While the runner's feet are not punished, there's a high risk of falling from the slippage. So avoid rock-strewn trails in the Glycerin and stick with a dedicated trail shoe to avoid exigent trips to the emergency room.
Grading the Glycerin
Cushioning: A
The Glycerin has as much cushioning as one will ever need. In fact, it has so much cushioning that the shoe created a problem for me. I have relatively inflexible feet, which causes my toes to compensate by attempting to grip and grab surfaces with each step. My toes are constantly moving around.
In the Glycerin, the very ample cushioning meant that my toes were locked in place. And so my big toe began to complain after runs in the shoe, and I would develop forefoot numbness. Fortunately, the vast majority of runners – 95% or so, will not have to deal with this issue.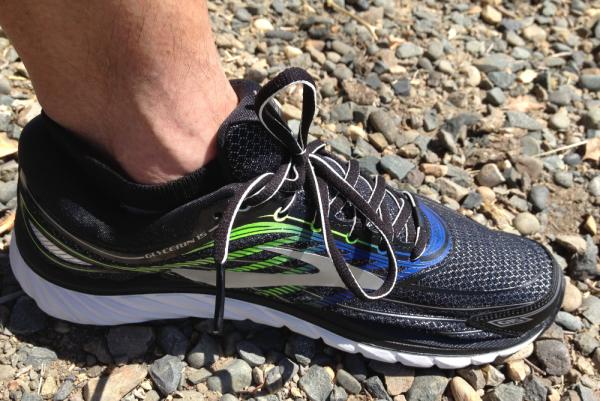 Flexibility: B- to B
For a larger shoe, the Glycerin is surprisingly flexible. However, it would benefit from an increased amount of flexibility to compensate for the high level of cushioning that works against forefoot flexing.
Responsiveness: B to B+
As mentioned earlier, the Glycerin's ride is springy but not so much so that it produces wasted energy.
Speed: C to B-
While the Glycerin permits one to build-up momentum while running, it's not a shoe that's going to enhance speed training sessions.
Shoe Rotation
Although the Glycerin will work for many as a daily trainer, I see it as being a natural recovery and long-run shoe. Brooks loyalists could use the Revel or Launch 4 as their daily trainer (keep in mind that the Launch 4 is the more neutral of these two models), and use the impressive Asteria flat as a race day shoe.
An alternate rotation would involve using the Mizuno Wave Shadow or Adidas PureBOOST DPR as a daily trainer, and the New Balance 1400 v5 as the shoe to slip on for race day.
Overall Verdict
The Glycerin is a true Jack-of-all-trades. It does almost everything well, quite well, and suffers from only a couple of minor defects – which is true of all running shoes, no matter how well-designed and built. All in all, the shoe is close to being as good as it gets.
The majority of runners will be able to use this fifteenth edition of the Glycerin as a reliable, safe trainer and/or as a recovery or long run shoe. It's a fine choice for training runs of 10K to 10 miles and should offer a high level of security and protection for distances up to 26.2 miles.
The Glycerin is not an inexpensive shoe but its build quality is evident. It's a durable shoe that should provide many problem-free miles for its purchasers.
Highly recommended.