Verdict from 6.6 hours of research from the internet
5 reasons to buy
Many runners praised the gripping performance of the Brooks Divide.
This running partner is comfortable, according to many users.
A wearer commented that this shoe is lighter compared to other trail running shoes.
It is highly recommended for mixed terrain runs, based on reviews.
Several consumers highlighted the overall quality of the shoe.
2 reasons not to buy
One disappointed user complained because the tongue of the Brooks Divide is too short.
The extra fabric in the upper causes discomfort, said a tester.
Bottom line
Designed with an aggressive rubber outsole, the Brooks Divide equips the runners and athletes to run confidently on both paved surfaces and trails. It is crafted using durable materials and state-of-the-art technologies for excellent breathability, protection, flexibility, and comfort. This Brooks running shoe works best for neutral runners or athletes who supinate.
Tip: see the best running shoes.
Our reviews
Lighter and less expensive than the iconic Brooks Cascadia, the Brooks Divide provides an excellent, traditional stack height, entry-level daily trainer for casual trail runners with neutral gaits looking for a comfortable and dependable everyday trainer.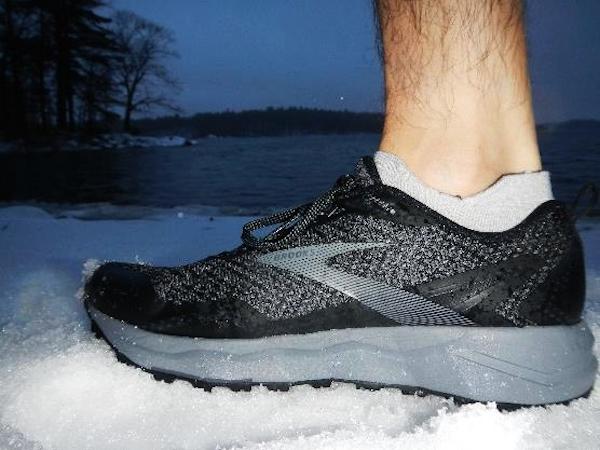 Who is the Divide right for?
The Divide is a new entry-level trail shoe from Brooks. It's a good shoe throughout.
It has a moderate level of cushioning; has a roomy, accommodating upper; an average stack height from a moderate amount of cushioning; a moderate heel-toe drop at 8mm; a grippy yet not-too-aggressively-lugged outsole; and a moderate weight at 10.3 oz for a men's size 9.
All this moderation is a good thing for the Divide's target audience. These design choices make it a well-balanced trail shoe that'll work well for a vast range of trail runners of different sizes, foot shapes, running gaits, and trail environments.
Brooks has provided a safe bet for a diversity of runners looking to put in a few casual miles on anything but the most technical, gnarly, and demanding trails.
The biggest appeal is the shoe's price. At $100, the Divide is a full price point below most of its competition that run $120 and up.
This includes another trail shoe from Brooks, the iconic Cascadia, which has a very similar design and feel, same 8mm heel-toe drop, and an almost identical midsole, but is a smidgen heavier than the Divide at 10.7 oz for a men's size 9.
The Cascadia is a go-to trail option you'll find in almost every running store. But, while I was out running along some rainy trails in the Divide enjoying the shoe's fit, feel, and thoroughly impressed with its nice grippy outsole, I caught myself thinking.
Why would anyone pay more for the Cascadia? And, why Brooks put out a lighter, less expensive competitor to outperform its flagship trail shoe.
I don't know, but if choosing between these two models, I can say the Divide is such a good entry-level trail shoe. The only reason I can think of why someone would pay more for the Cascadia is if they have fairly narrow feet (see "The competition" section below).
But, on every other count, save your money for energy gels and go with the Divide.
In short, the Divide will be a terrific option for casual or beginner trail runners with neutral gaits (meaning, to oversimplify, your medial arch does not collapse and thereby disrupt your running gait – the Divide does not have medial arch support features).
For more experienced runners or those looking to compete in races, it may be worth investing a few more dollars for a pair of lighter, more pliable, more cushioned, or more precisely fitted trail shoes (see "The competition" section below).
For a detailed review of the Brooks Divide from top to bottom, keep reading.
In-depth review, from top to bottom
Upper
The upper on the Divide is excellent. It has minimal use of overlays, letting the shoe smoothly wrap the foot and allowing it to accommodate a wide range of foot shapes.
The only overlays are at the toe box to give a bit of added protection from obstructions on the trails, and in the hindfoot wrapping around a rigid heel shank.
This heel shank and overlay combo do a good job keeping the heel secure and locked down while running over uneven trails. The upper also has some strategically placed padding along the heel and the tongue, so the Divide feels relatively plush for a trail shoe.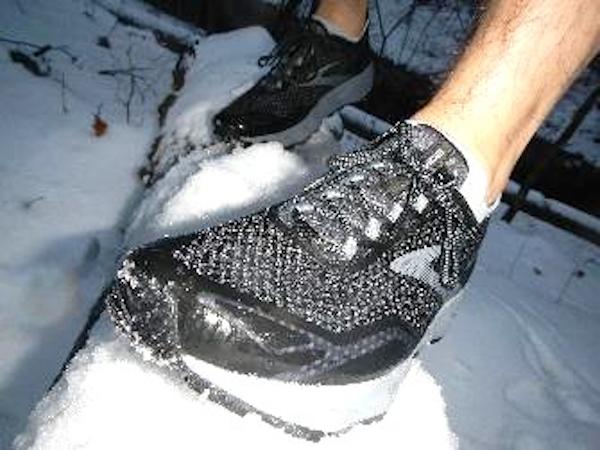 However, most of the upper is an overlay-free, soft mesh that breathes well while remaining durable. It's a small detail, but the eyelets on the Divide are a nice touch—they're a reinforced material that adds durability while keeping the laces locked down even as the foot flexes from running on patchy terrain.
Midsole
The Divide's midsole is average, about what you'd expect from an entry-level trail shoe. Like most trail shoes, it is a bit firmer than comparable road shoes.
I'm sure this firmness is from Brooks anticipating runners will not be needing quite as much cushioning for soft trails as they would on hard concrete; I found it was the right amount of padding for dirt, crushed gravel, and any terrain softer than pavement.
Running on roads in the Divide is fine but does get a bit jarring after a few miles. The midsole's average amount of cushioning will keep most runners comfortable up to around a half marathon distance, at which point you might need a slightly more plush, cushioned shoe (see "The competition" section below).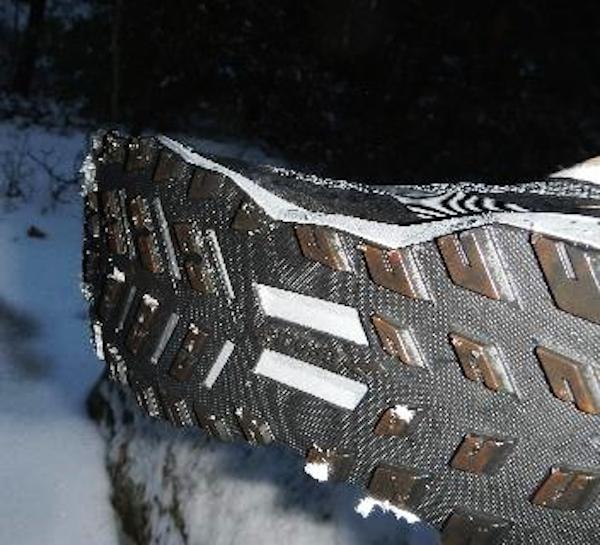 The midsole's moderate stack height is fairly stiff, so although it has a slight curving shape that allows for a smooth heel- or midfoot-toe transition, fans of more minimalist, natural feeling running shoes will find the Divide to be too rigid.
However, that rigidity has its benefits: the rock plate in the midsole plus the shoe's ample amount of "DNA" foam mean feet feel perfectly well protected from rocks and other jarring obstacles you might step on out on the trails.
Finally, the moderate 8mm heel-toe drop of the midsole will work for a wide range of runners with a diversity of lower leg ranges of motion and gaits—all but the hardcore minimalist crowd should feel comfortable.
One note for online shoppers: the Divide's midsole is neutral, meaning it does not have any special features designed to provide medial arch support or otherwise mitigate overpronation.
For most runners, this shouldn't be a problem. But for runners with low, collapsing medial arches who have histories with shin splints, plantar fasciitis, or other related symptoms, look for a more supportive trail shoe (like the La Sportiva Bushido). Or, get yourself a supportive insert like a pair of Superfeet to replace the Divide's neutral sock liner.
All in all, the midsole is perfectly adequate for any casual runners looking to do around 13-mile runs or less out on the trails.
Outsole
The outsole of the Divide may be the most impressive feature of the shoe; it is as grippy on a wide range of surfaces as much higher priced shoes like the Salomon Sense Pro.
The lugs are deep enough to grip a diversity of surfaces—from wet leaves to dirt to crushed gravel to snow—and let me run confidently on everything but super deep sloshy mud and solid ice.
At the same time, the lugs are shallow and flat enough that you can still run comfortably on hard surfaces like sidewalks or large rocks.
Further, the outsole is highly durable, showing very few signs of wear after grinding it down over some rough trail conditions. I anticipate the outsole will far outlive the midsole.
The competition
The Divide's main competition might be another Brooks trail shoe, the iconic Cascadia. But, the Cascadia is a half a notch heavier than the Divide (10.7 oz versus 10.3 oz for a men's size 9, respectively), $20 more expensive, and otherwise identical in virtually every other way.
Why would Brooks out-compete its flagship trail shoe with a more affordable option? I don't know, but trail runners out there should celebrate: your wallets just got a bit thicker.
The only reason I can think someone would go with the more expensive Cascadia over the Divide is if they have relatively narrow feet and prefer a snugger fit.
The Divide has a slightly more accommodating upper than the Cascadia, so if you like a snug, secure fit, the latter shoe may be worth the extra $20. Other than that, though, the Divide seems like a better buy for your running shoe dollar.
Other trail runners at the fringes of the minimalist/maximalist cushioning spectrum will want to find a shoe other than the Divide.
The Divide has a relatively moderate amount of cushioning and moderate heel-toe drop (8mm), so it'll work well for a wide range of runners. Still, those who prefer lightweight, minimalist, natural-feeling running shoes should look elsewhere, possibly the Inov-8 Trailtalon 235.
On the other end of the spectrum, those putting in long trail runs over around 13 miles will find the Divide's cushioning to be inadequate; this crowd might consider looking at more maximalist options like the Hoka Speedgoat 4 or the Salomon Ultra.
Another category of runners who might look for a shoe other than the Divide are those who need a little bit of extra medial arch support and have a history with shin splints, plantar fasciitis, or related injuries.
As noted in the "Midsole" section, the Divide is a neutral shoe, and won't offer extra supportive features. For most runners, this is no problem.
But, if you have a history with the injuries listed above, head to a speciality running store to get properly fitted, consider a more supportive trail running shoe (like the La Sportiva Bushido), or get yourself a pair of supportive inserts like Superfeet to swap out for the Divide's neutral sock liners.
Finally, while the Divide will work well on a wide range of trails, it won't be enough protection for, particularly gnarly conditions.
The shoe isn't waterproof, has minimal use of protective overlays, and doesn't have a particularly snug fit to keep feet locked in while running over technical terrain.
Running on groomed trails will be a breeze in the Divide but running a ridgeline in the Rockies will probably need something a bit more robust.
For more waterproofing and protective overlays, trail runners might consider the Brooks Cascadia GTX or the Scott Supertrac Ultra RC.
Both have similar fits and feels, but offer fully waterproof (in the Cascadia GTX) or water-resistant (in the Supertrac Ultra RC) uppers that'll hold up better in rough, wet conditions than the Divide.
For a more tailored fit for keeping feet secure on technical terrain, trail runners may look to the Salomon Sense Pro or the La Sportiva Bushido, which have similar moderate-levels of cushioning, but offer a bit more form-fitting design that lock in feet better.
That said, each of these competing shoes is a price point higher and sell for $120 and up, so unless you need the extra bells and whistles, the Divide will do just fine.
Conclusion
If you're a casual trail runner looking for a low-cost daily trainer, the Brooks Divide is a perfect option.
It has a comfortable, protective upper that will accommodate a wide range of foot shapes. It also has a midsole with enough cushioning to keep feet and joints happy up to about a half marathon distance.
Lastly, it has an impressively grippy and durable outsole that will let you run confidently over a wide range of different trail surfaces (everything but the most technical, rough conditions).
If you're on a budget and want a dependable shoe for the trails, the Divide is a solid choice.
The Brooks Divide is advertised as a door-to-trail shoe, and it serves that purpose nicely. That said, I'd describe it as a legit trail shoe that feels like a road shoe.