Verdict from 10 experts and +100 user reviews
5 reasons to buy
The capacity of the Under Armour HOVR Phantom to cushion each step has been lauded by testers.
The generous stack height of the sole unit prevented the foot, knee, and leg from fatigue during the run, several consumers noted.
Most of the purchasers have seen the aesthetics of this road running shoe to be highly appealing to the eyes.
People note that the quality of the materials is dependable; the upper, midsole, and outsole apparently didn't break down quickly.
Some say that this Under Armour running shoe is affordable and on par with its overall quality.
3 reasons not to buy
Most consumers have noted that the Under Armour HOVR Phantom is challenging to put on; the one-piece opening didn't open wide enough to smoothen the wearing process.
Based on a bevy of reviews, the textile used for the collar of this product has a tendency to rub irritatingly against the skin.
A few people report that the outsole isn't as grippy as initially thought; they feel themselves slipping on the floor sometimes.
Bottom line
The feedback directed towards the Under Armour HOVR Phantom has been mostly positive. This running shoe is praised for its appealing looks, the reactive and accommodating midsole foam, and the solid quality-to-price ratio. On the other hand, some complaints focus on the irritating textile upper, the inconvenient design, and the inconsistent traction of the outsole.
Consumers who are fans of neutral running shoes and those who like to take to the roads are the ones who are likely to enjoy the Under Armour HOVR Phantom.
Tip: see the best running shoes.
Our reviews
I'm a tall, medium built, fore-mid foot striker, and I train mostly in barefoot/minimal shoes. But, I'll try anything, at least, once. Enter the HOVR Phantom from Under Armour!
Under Armour say, "Point blank: you've never felt a shoe like this before. It's literally like wrapping your foot in a pillow, but one that's so super-light that you forget it's there.
It's the comfort that comes from the anatomically designed, moulded interior, the super-plush knit collar and the layers of plush material that envelop your foot.
Simply put, the second you step into the UA HOVR™ Phantom, you'll know why we call it a whole new running experience."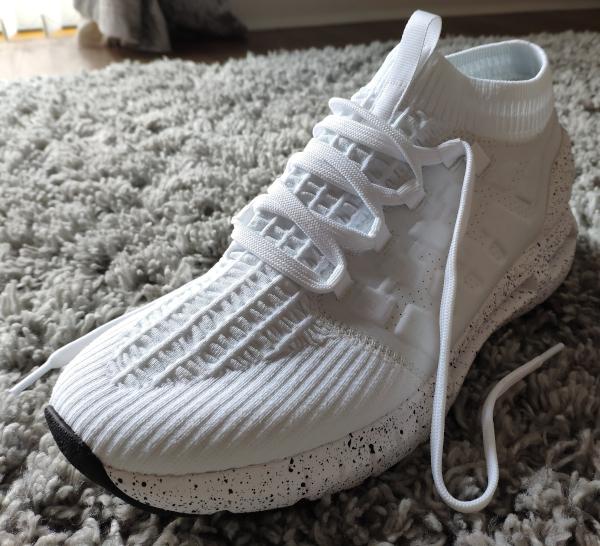 To say that these trendy looking road shoes had a lot to live up to is an understatement.
I was really looking forward to getting out on the road in them and seeing if they were as good as Under Armour claims.
Tech specs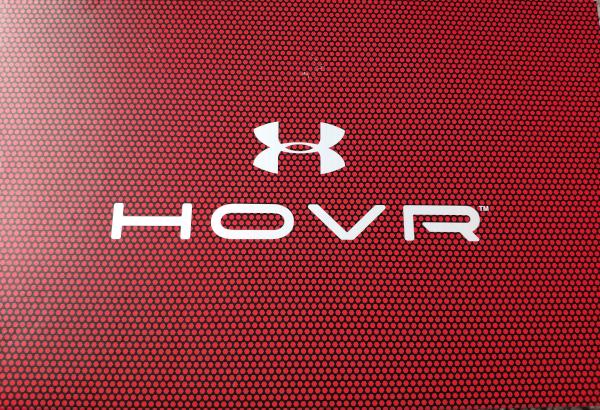 UA HOVR™ technology provides a 'zero gravity feel' to maintain energy return, which helps eliminate impact step after step
Compression mesh Energy Web contains and moulds UA HOVR™ foam to give back the energy you put in
Upper dries fast and provides a breathable, compression-like fit that delivers lightweight directional strength and unmatched comfort
3D moulded midfoot panel with laser perforations for increased ventilation
Knit ankle collar provides a snug, bootie-like fit
External heel counter creates the ultimate in stable support
Ultra-breathable, SpeedForm® 2.0 sock liner is built into the shoe with gender-specific contours for extra protection and softer underfoot support
Full rubber outsole features unique knobbed texture for elevated traction & durability
Offset: 8 mm
Weight: 301g, Weighed weight of 351g (UK11, EU46)
Imported
Design overview
My initial thoughts on pulling these out of the box were just how much they remind me of the Nike Epic React Flyknit I tested a little while back.
I get the feeling that these road shoes are Under Armour's attempt at creating something similar to the Epic React and perhaps the Ultraboost from Adidas.
The only difference to those other shoes is that the HOVR Phantom has a little trick up its sleeve.
You can connect these road runners to your phone via Bluetooth and actually track your cadence and stride length on runs using the MapMyRun app.
This is something I was very keen to test out. I'll let you know how I got on a little further on in my review.
Back to the appearance now. I have been reliably informed by several 'young' people that the HOVR Phantom is indeed trendy and that it does look cool.
(I'm not even sure if cool is the right word these days, but I'm not cool anymore, so it doesn't matter).
I am not totally sold on the looks of these personally, but we'll break it down and see what works and what doesn't.
Upper
The upper is stretchy and very soft. It feels very snug without crushing my feet.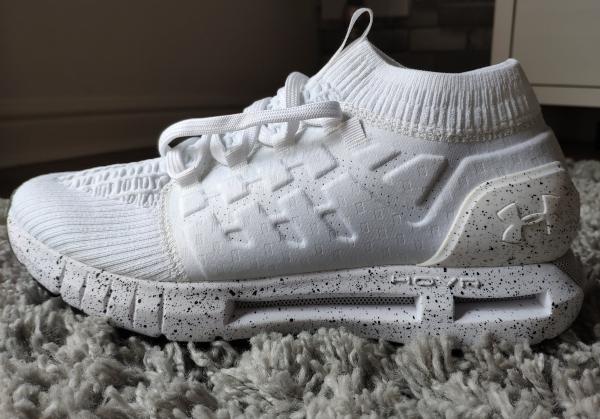 I really like this because my feet feel completely rock solid when they're inside the Phantom, yet at the same time, it's like they're wrapped firmly in a soft blanket.
It's a very well designed upper, and I definitely get the impression that Under Armour put a lot of thought into the design of these road shoes.
Laces
At first, I thought, yes, these laces are brilliant! But after about 50 metres of running the laces on both shoes came undone, which I found very disappointing.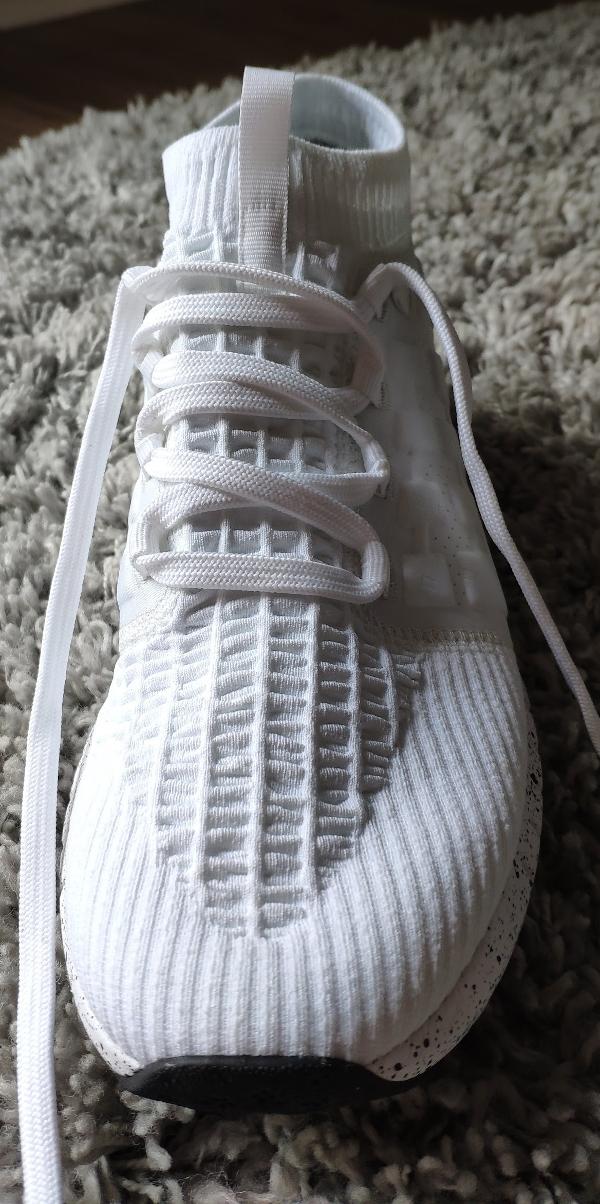 I had to employ Ian's secure knot to make sure they didn't come apart again—something that shouldn't be needed for a pair of road shoes.
Epic fail!
Heel Counter
Unlike most road shoes, the HOVR Phantom opt not to have a hard insert within the construction of the heel. Instead, this has a semi-rigid outer support around the back of the shoe.
It only comes about halfway up as well, so it doesn't dominate the heel in any way.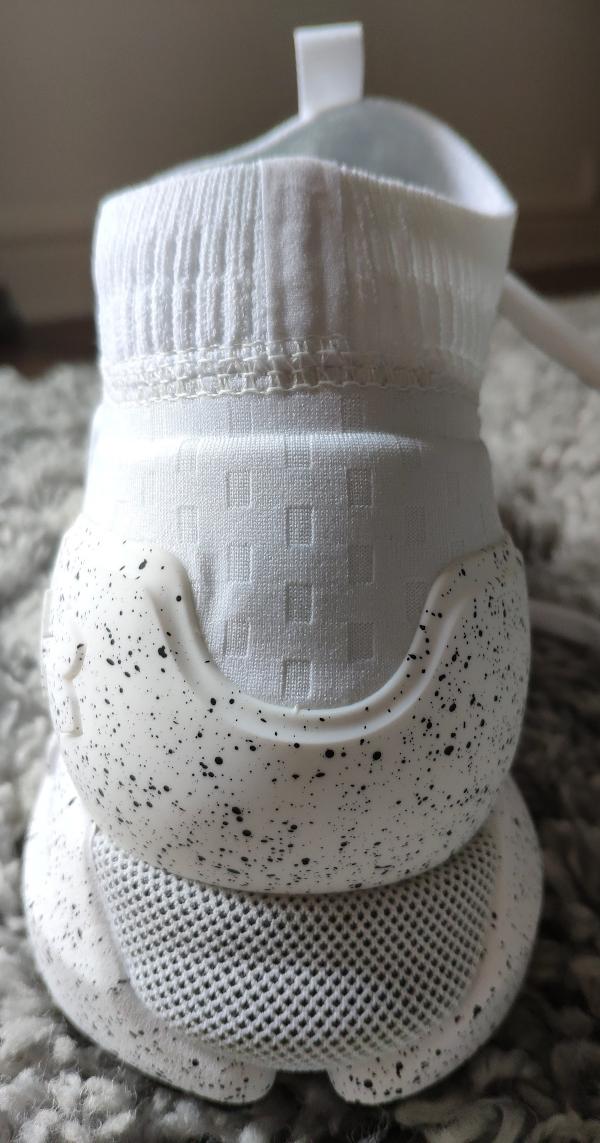 Being a fan of minimal shoes, I really like what Under Armour have done here. It's soft and supple whilst still offering sturdy heel support.
In fact, I would go as far as to say that of all of the conventional shoes I have reviewed or worn, these shoes have the best heel design!
Collar
Another well thought out area of the Phantom is the collar. It is sort of a stretchy, knit-like, seamless sock. I found it very easy to slide my feet in through the opening.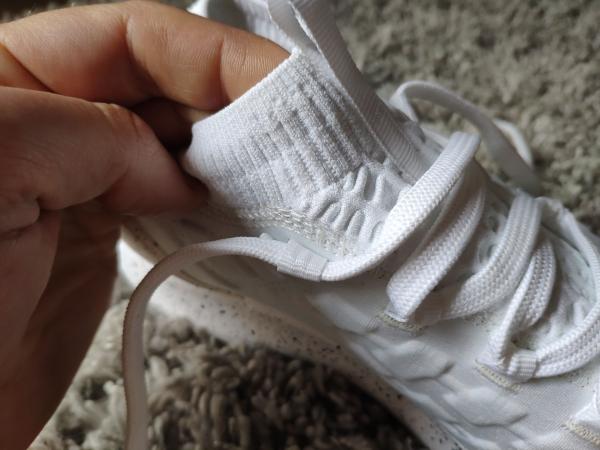 And once they were in, even without doing up the laces I felt pretty sure-footed. It's also extremely comfortable. Once again, top marks to Under Armour for their design.
Tongue
There isn't one! Woohoo! Don't you just love it when there's a seamless upper with no tongue or stitching to worry about? Because I do!
Instead of a tongue, the HOVR Phantom has an unusual compression-like, stretchy material all the way from the toes to the collar. It's comfortable and did well to keep my feet locked in.
Certainly no complaints here.
Safety
Although I don't think that the sections of padding on the outer are for safety, they're just about the only thing that comes close to anything in this area.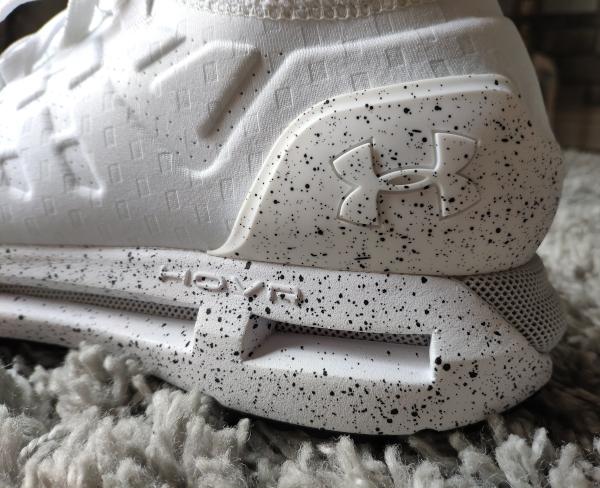 I'm not sure how much protection they actually provide as I do not need for any just yet, but I'm sure they can't make things worse.
Otherwise, the Phantom is a pretty minimal shoe in this respect.
Sole
The sole on these beasts is a little bit special. It's clearly Under Armour's attempt to create a lightweight, highly reactive foam sole, and it very nearly hits the spot.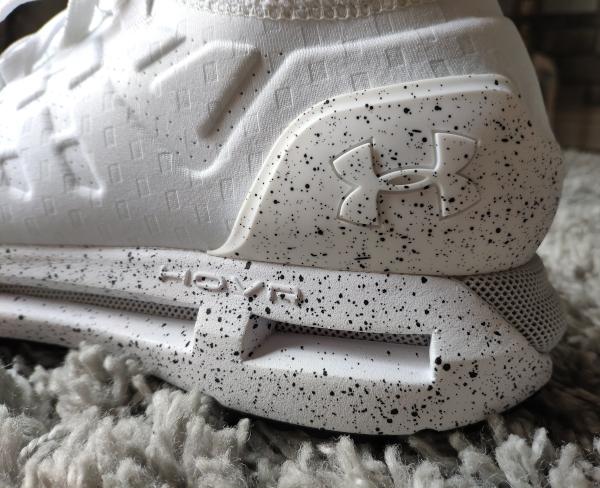 The foam is indeed light. And yes, it is also pretty reactive, but it's not as responsive as the Epic React, which is a shame. I had high hopes, but alas, I did not float in the Phantom.
Support
As anyone who's read any of my other reviews will know, I'm very fond of minimal shoes and don't usually get on too well with more standard shoe designs.
Moreover, these road shoes don't feel overly excessive. Yes, there's a lot of sole in comparison to minimal and barefoot shoes, but it's quite flat inside the shoe.
Moreover, it doesn't try to force my foot into an unnatural position.
There's no arch support or plastic shank through the sole. Thus, there's no added stress on my feet while running.
The Phantom, although thick and padded, don't make my feet get weaker by being overly supportive. They still allow my feet to do what they need to do to support themselves.
Flexibility
One of the biggest downsides of the sole on these shoes is the lack of flexibility. The Nike Epic React was much better in this area.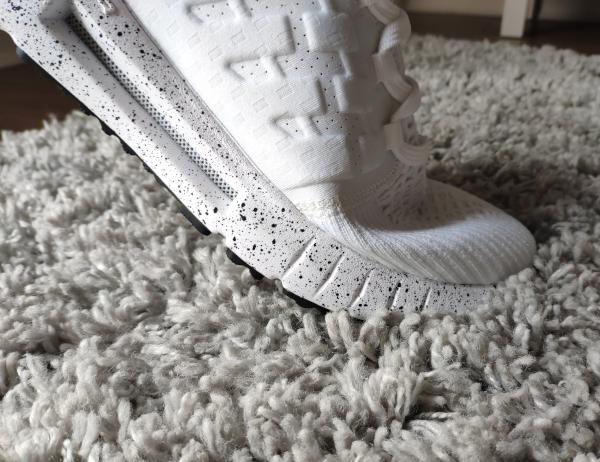 However, that could be because the Epic React has very little outsole rubber, whereas the Phantom has a fairly substantial rubber layer—something that is perhaps not all that necessary.
Tread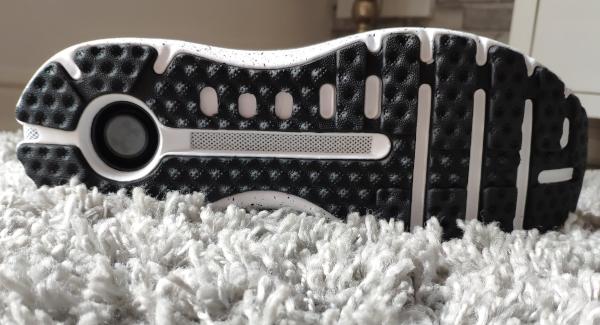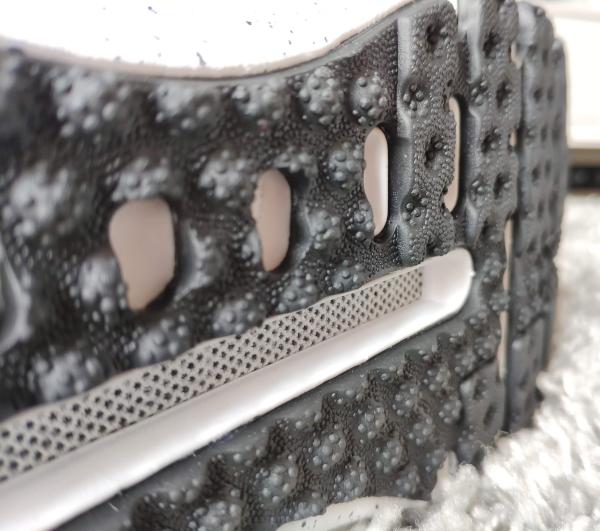 The tread is a sort of crazy looking dimples upon dimples design. It's not aggressive in any way as you'd expect from a road shoe, but it's certainly not the smoothest tread I've come across.
Grip
As with nearly every single shoe I've ever worn, initially, the sole will feel a little slippy underfoot. But the Phantom very quickly started to show it's true potential, and it didn't disappoint.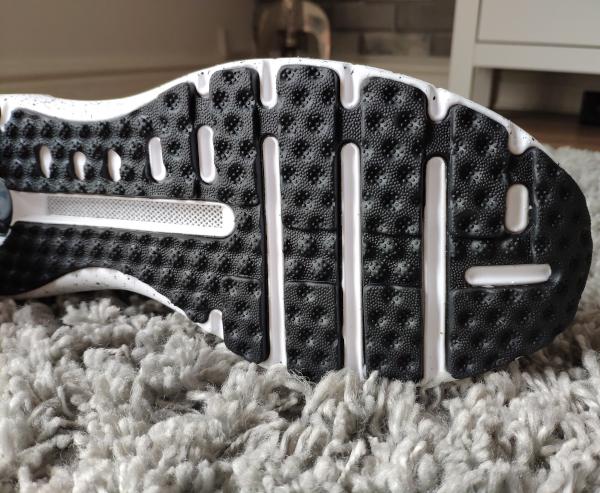 I can't say that these are the grippiest shoes I've ever worn, but they are certainly just as sticky on the road as the most grippy I have tested.
Fit & comfort
Here we encounter the biggest stumbling block of these fantastically designed road shoes from Under Armour. They are too small!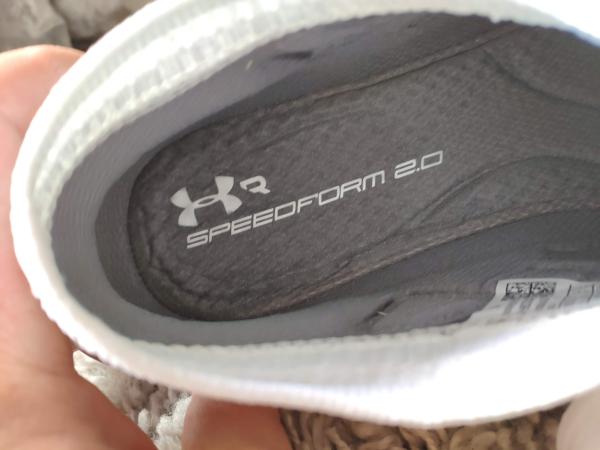 Even though I used the size guide on the Under Armour website, my size 11 UK, 46 EU, which is my usual size, were about a whole size too small.
This is really disappointing. Had it not been for the sizing, these shoes would have blown just about any other shoe out of the water in terms of comfort.
Toe box
Obviously, since the pair I had to test was too small, I didn't get the space I had hoped for.
My toes were also forced further into the pointed end of the shoe, so it definitely wasn't as comfortable as it could or should have been.
Even though things were tight at the toes, the upper did a good job at stretching to give my toes a small amount of wiggle room. I managed to complete a couple of longer, 10-mile runs.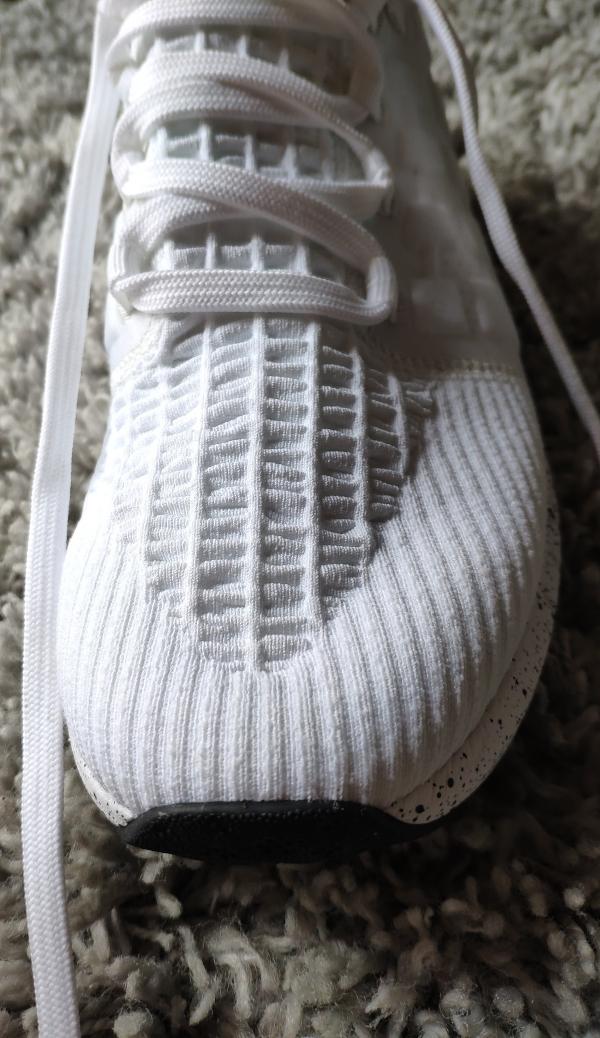 If the Phantom hadn't come up small, they would be even more comfortable and would offer pretty decent toe room.
Although for a few people with a wide foot or toe spread, these road shoes will be too snug.
Heel
The heel on the Phantom is as good inside as it is out, and because of this, it is very comfortable. There's a felt-like material that feels soft against the back of my foot.
I think this is also there to help reduce heel slippage, and it seems to work reasonably well as far as I can tell.
Technology
I've decided to put an extra section to talk a bit about the technology built into the Phantom.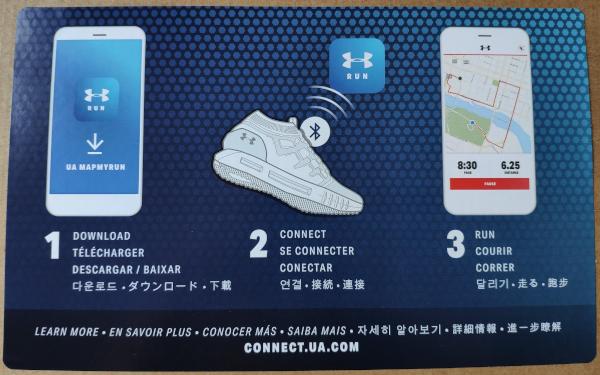 The idea is that you can connect them via Bluetooth to your phone and then connect them to MapMyRun.
Then when you go running, while MapMyRun tracks your run using your phone's GPS, the Phantom track your cadence and then work out your average stride rate and length per mile.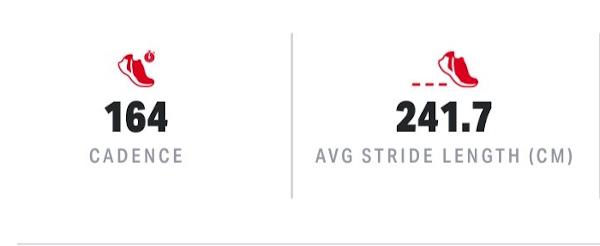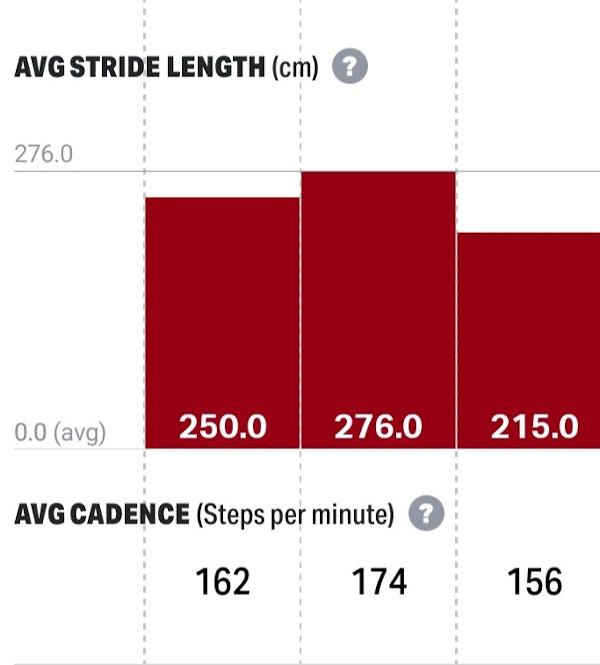 I didn't have any issue with connecting the shoes to my phone and MapMyRun (though I don't usually use the app).
But on my first run, my phone decided it didn't want MapMyRun anymore, so after 3 km it stopped tracking everything all together.
After playing with some settings, I tried again. On my second run, things worked a little better. But this time, my GPS was struggling.
So after a 5-mile run, my MapMyRun only thought I had run about 100m, and decided I was very unfit indeed.
After this, I remembered why I no longer track my runs with my phone and why I bought a GPS running watch.
The GPS watch is far more reliable and all of my data in one place to upload to wherever I choose.
Aside from these issues, I did find the cadence data quite interesting. And, it was accurate as far as I can tell.
But honestly, the only way to make this technology really shine would be to add GPS to the shoes so that you didn't need your phone with you at all on runs.
Performance
Overall, the HOVR Phantom performed very well. They were agile and responsive whilst providing good general comfort and cushioning.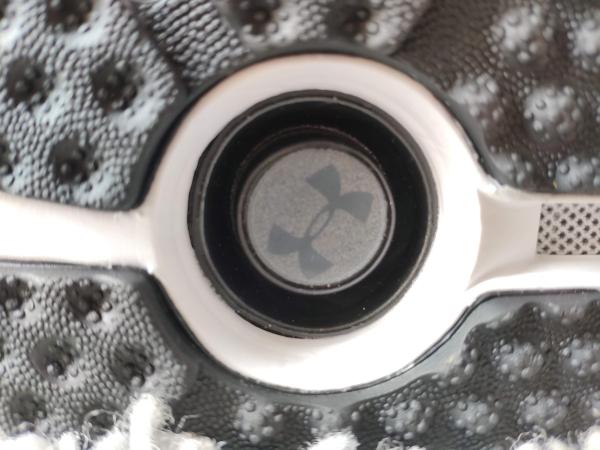 They're not the lightest of shoes but certainly don't feel it during runs.
They gripped very well on most surfaces and didn't cause discomfort over long runs.
On-road
It kind of goes without saying that these shoes performed well on the road. They stick like glue and offer all of the comfort and reactiveness needed on the tarmac.
Off-road
While not ideal, the grip does do quite well at coping with mild trail running. I wouldn't advise anything too extreme, though.
For speed
Not bad, but not great. Because the foam isn't as reactive as I'd hoped, I didn't feel particularly fast in the Phantom.
Although they definitely didn't feel slow or sluggish, I still wouldn't grab these for speedwork myself.
For distance
This category is where the Phantom shines! It was light enough that my feet didn't tire out. Secondly, it was responsive enough that I didn't feel sluggish late into the longer runs I did.
And, lastly, it was comfortable enough that I didn't feel any discomfort at any point. These shoes were built for long runs.
The Good
Very comfortable
Lightweight (for a standard running shoe)
Sock-like upper and collar
Super grippy outsole
Interesting built-in tech
Not overly intrusive insole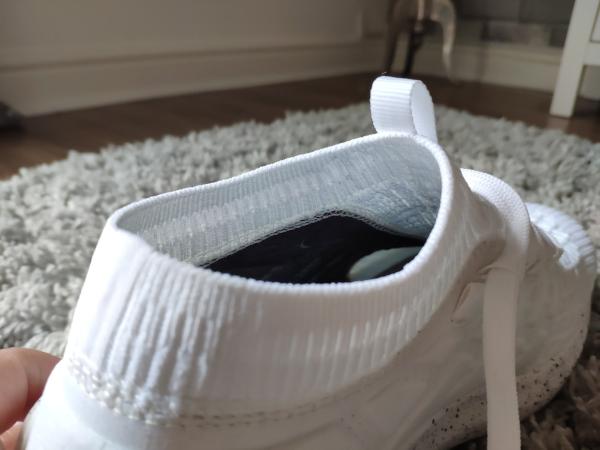 The Bad
Not true to size
The slightly narrow toe box
Lack of GPS for better tracking
Slightly excessive outsole (could be less for better flexibility)
Not very flexible
Dear Under Armour
Reduce the outsole rubber to increase flexibility, add GPS to the technology and fix the sizing issue, and this shoe would be truly incredible! (Though it's pretty awesome already.)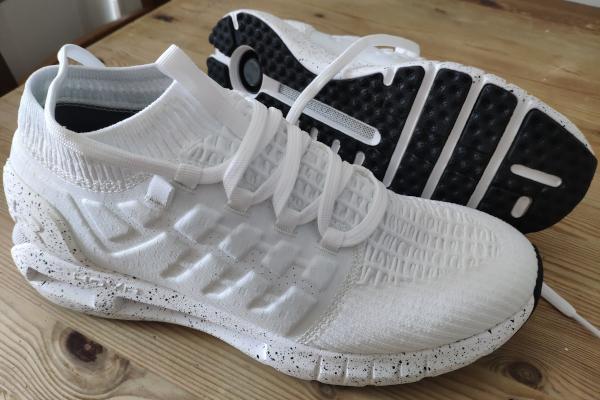 Ratings
Appearance: 8/10
Build Quality: 9.5/10
Comfort: 9/10
Sole: 8.5/10
Run Score: 8.5/10
Overall Score: 8.7/10
Bottom line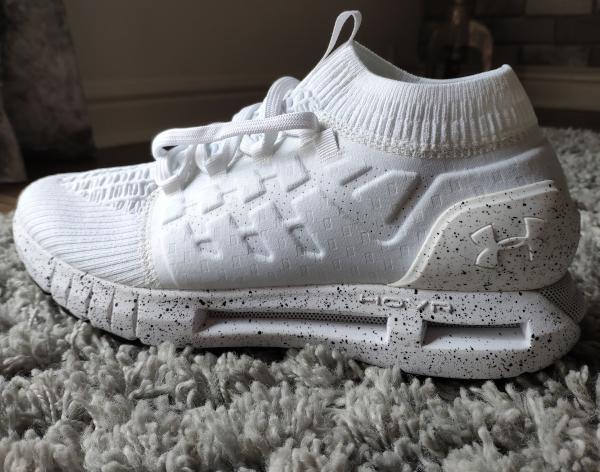 The HOVR Phantom is a really good road running shoe. They've been well thought through and have some great features.
If you're looking for a solid training shoe that will be comfortable mile after mile, look no further.
I was very skeptical about trying this shoe, as I was unsure due to its aesthetic appearance. The Under Armour Hovr Phantom Confetti is a beautiful shoe!
From an outside opinion, it looks like a lifestyle shoe that I would typically wear on a day-to-day basis. However, after doing some research and testing, it is a very cleverly designed piece of kit.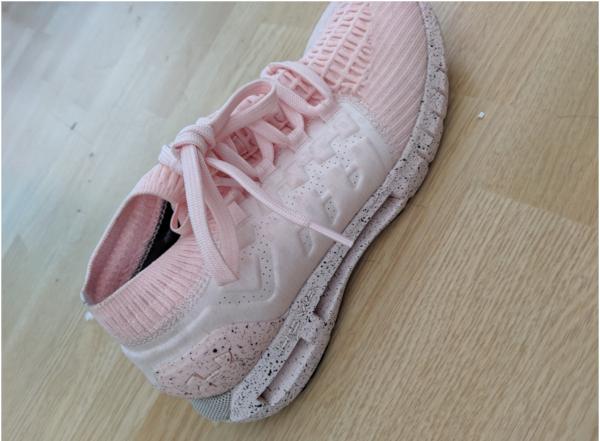 Bluetooth device
I think the most notable thing is at the bottom of the shoe. There is a small Bluetooth device. You can connect this to the 'MapMyRun' app, which syncs the shoe and app together.
It gives you loads of details about how you are running. Under Armour claims it's able to reduce injury through this as it can offer advice.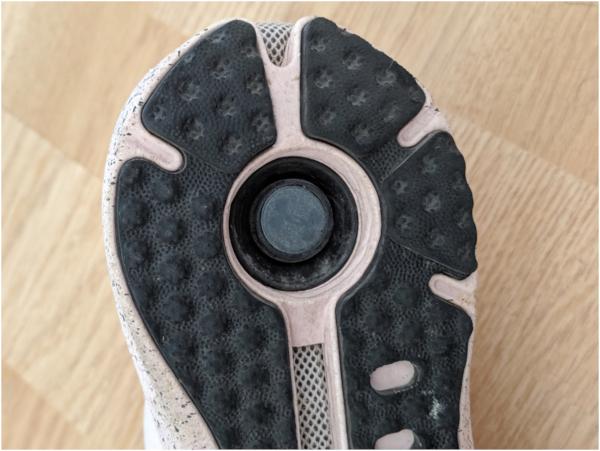 Some of the features include giving cadence details, how your stride length is, and it tells you how many steps you've done in that shoe, as well as providing a breakdown of all your runs and the distances.
They really have gone to town with the statistics, and it is very interesting! If you're someone who appreciates numbers, I definitely recommend this shoe!
The upper
The upper of the shoe is very sock-like. It's super elasticated and really expands with your foot as you get hotter.
It's super soft, and I didn't get any rubbing on my toes at all. I like to be able to wiggle my toes around! It did feel really free and comfortable.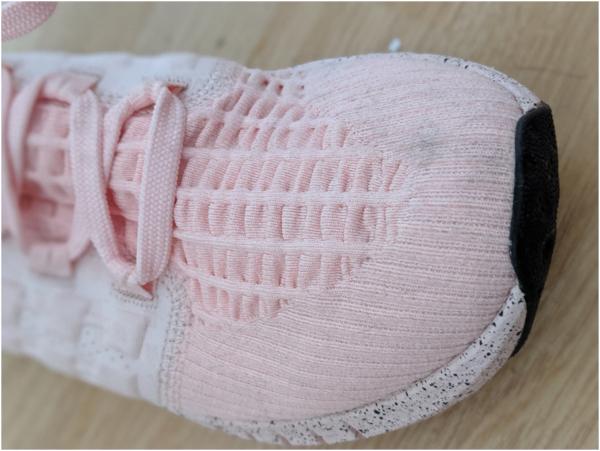 The upper also has loads of grooves, which I think I'm more for appearance, but it's so nice to see a shoe which is a nice colour and not offensive!
The part of the shoe around your ankle also is very sock-like, which I had to wear long socks as it started to become a bit sore around my heel, but it's something you just get used to.
Sole
The sole of this shoe is probably one of my favourite parts. It got loads of traction which is fantastic if you end up going slightly off-road.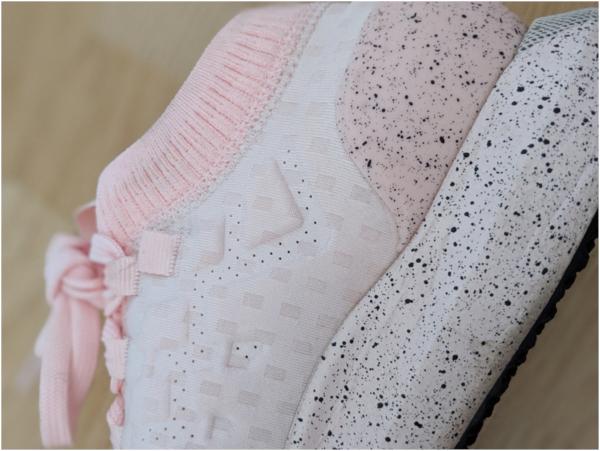 Even in icy conditions, it provides lots of grip, and I never felt like I had to be super careful. It is much harder than most running shoes, which can cause a bit of pressure on the joints, which is something to definitely bear in mind.
They didn't feel like there was a lot of give at the bottom of the shoe. I felt like I was doing a lot of work, instead of the shoe working with my body (if that makes sense!)
I think it's a preference thing whether you like the shoe to roll with you or just to provide a stable base.
Final thoughts
In summary, I don't think this is a shoe I will wear constantly. It just didn't work with the rhythm that I liked your run, and my toes felt quite sore due to the grooves within the lining of the shoe.
I'm sure some people will prefer this cushioned innersole, but it just wasn't for me! I really appreciate, and respect Under Armour has done with the app, and think it's a fantastic idea.
I also love the look of this shoe. I get so fed up having to purchase a bright pink pair of shoes all the time. Having this really pretty nude colour was really fantastic.
I've tested the Phantom, "big sister" of the Sonic model, more lightweight and less cushioned of the HOVR series.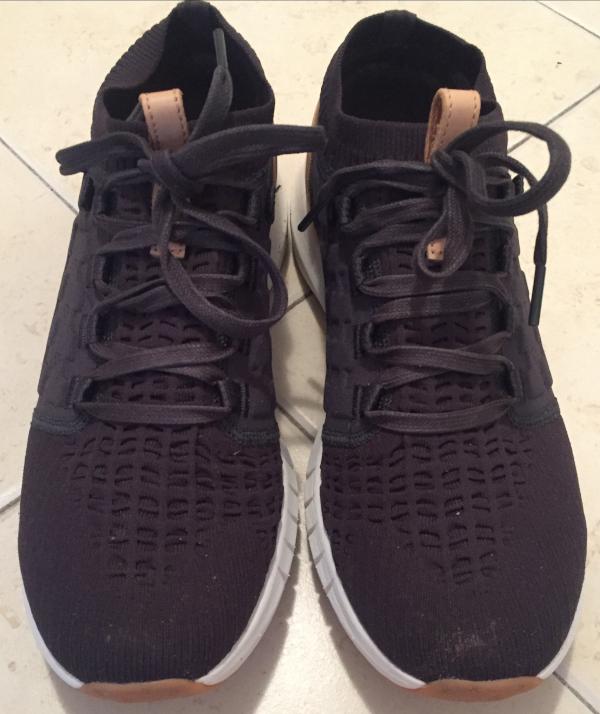 My first impression was that it is a good shoe for a runner who's looking for a soft and reactive shoe. It can do what the foot says and not the other way around.
However, I have to say that I usually prefer running in more natural, foot-shaped shoes. So. my first kilometres running with this UA shoes were challenging for me.
I had to change my stride and adapt it to the 10 mm drop from heel to toe. I felt like I have to lean forward in order not to stumble. Even the front sole appeared to be a bit too stiff, creating an annoying slappy sound in every step I take.
Let's see them in details:
Sole and cushioning
As just said above, the heel to toe difference of the HOVR Phantom is 10 mm.
The new HOVR system is not just a new material placed in the midsole of the running shoe. Still, it is a system that integrates the new foam patented by "Dow Chemical" and a mesh network, the "Energy web", in which the cushioning system is enclosed.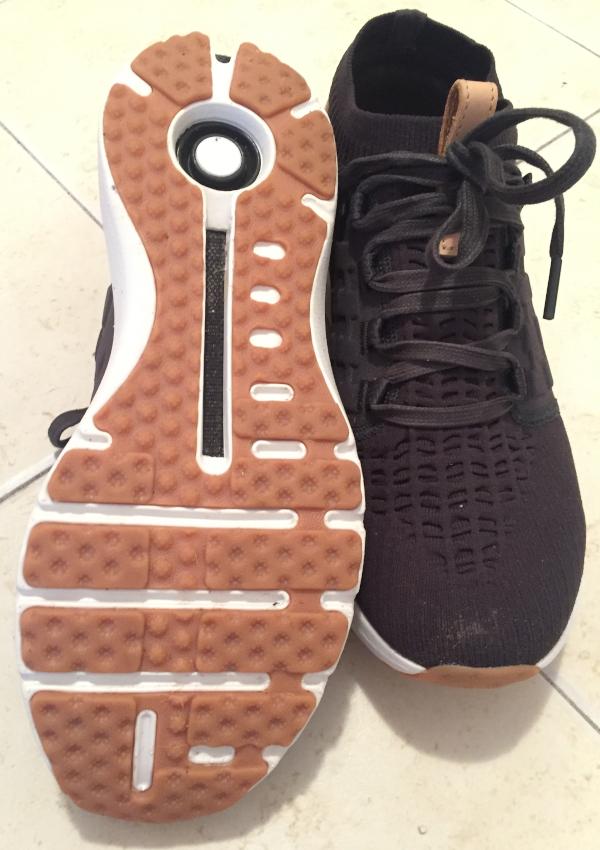 This means that the foam absorbs the weight of the stride during the run and together with the Energy web returns part of the energy produced, allowing a cushioned and reactive run.
The sole of the Under Armor Phantom is made up of regular carvings. The rubber seems to be very resistant (after almost 50 miles or 80 km, there's no sign of wear yet).
It also has a longitudinal cut that follows the normal roll of the foot, with a greater concentration of cushioning on the heel.
Upper and mesh materials
The return of energy is also linked to the effectiveness of our running technique and the control of the shoe. Meanwhile, the external heel counter and knit upper, which envelops your foot like a soft and comfortable sock, facilitate the optimal management of the run.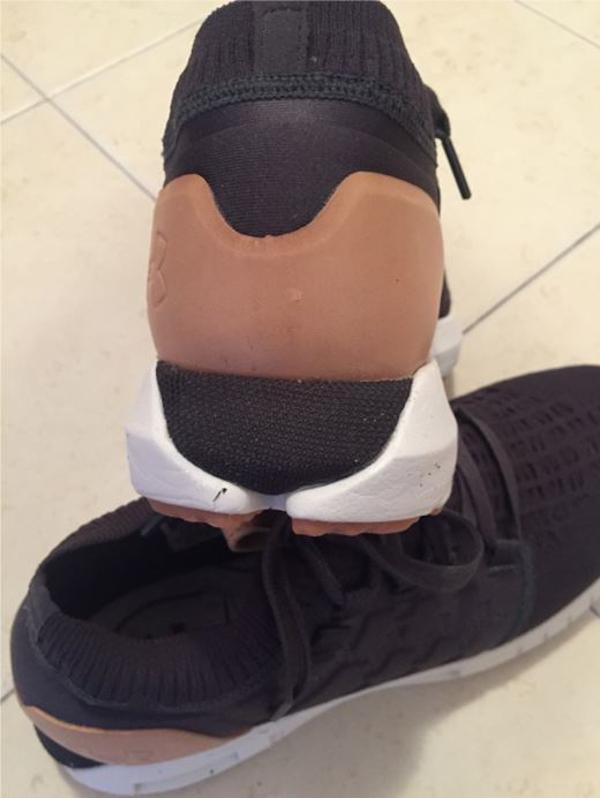 The upper is made of a singular sock-like one piece. This means there's no tongue. I believe it can be a good point as you don't have to worry about sand or dirt getting into your shoes.
Moreover, the sock-like design makes the shoes comfortable as you simply have to slip them on and the soft upper will fit your foot like a glove.
The upper has inserts made in a 3D fabric that is more similar to that of a padding for cycling shorts rather than a traditional mesh. It is a robust but soft and smooth material.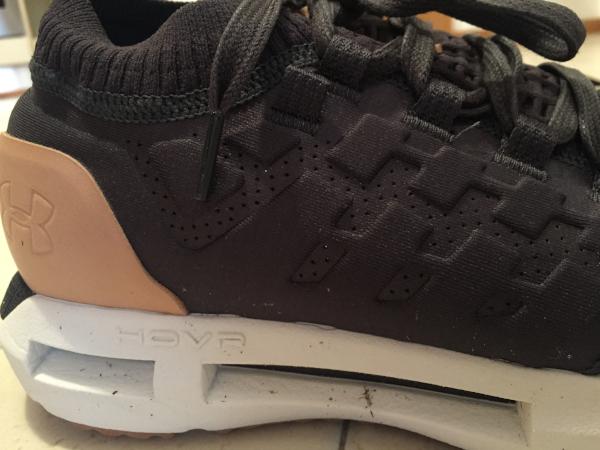 The heel counter is also really soft as there's no plastic insert in the heel. I do appreciate the aspect because too many times I found blisters on my Achilles tendon due to a stiff heel counter rubbing on my socks. But, with these shoes on, there's no risk of that.
Lacing
This is the detail that disappointed me the most. I don't like the UA Phantom laces. They untie too easily while running, and I think that every runner just hates to stop and tie his laces up. I found double knot is the only solution to avoid this.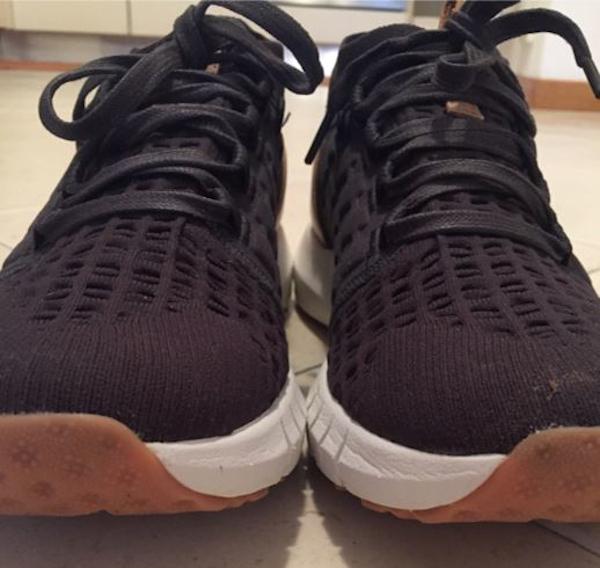 Furthermore, I ran twice under the rain and when the laces were we,t it was nearly impossible to untie them. Even the material they're made does not look good to me as they're too stiff and look felted.
Conclusion
The HOVR Phantom is a model more suited to long distance racing and for those looking for even more cushioning and protection.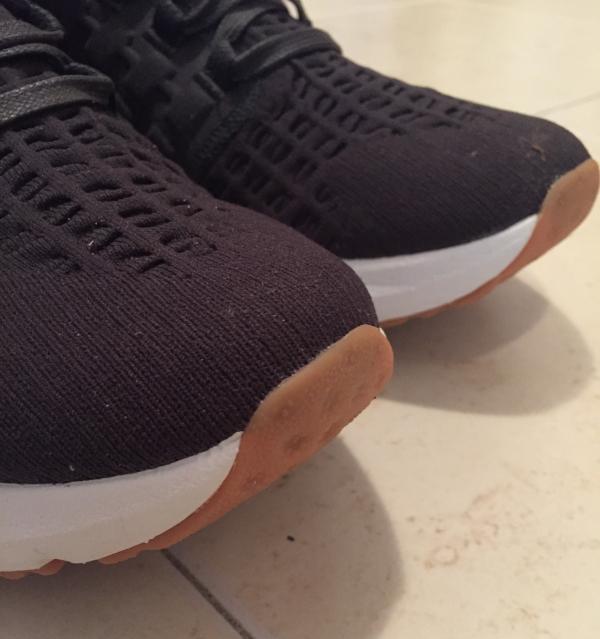 But, I don't think I would wear them every time for my daily running as I'm used to wider shoes with a minimum drop.
Good to know
- The Under Armour HOVR Phantom is a running shoe that's designed for those who have neutral pronation. This product uses the HOVR™ technology, a multifaceted cushioning system that aims to provide a soft yet resilient ride. Underneath this feature is a rubber compound to shield against wear-and-tear and to ensure traction over the asphalt.
- A piece of knitted fabric is used for the upper unit of this product. The form-accommodating construction aims to evoke the feeling of being wrapped by a sock. It is even topped by a one-piece collar made of stretchy fabric, completing the look and feel of a sock. Snugness and security are the responsibilities of the 3D molded midfoot panel and the external heel counter.
The Under Armour HOVR Phantom was constructed using the standard sizing schemes. Shoe enthusiasts are welcome to get a pair using their typical choice of size. Full and half sizes are the available variants, permitting slight changes and modifications to the in-shoe feel. Getting the most out of the in-shoe experience may require testing the shoe first from brick and mortar stores or determining feedback from online sources.
The available options for width are D - Medium and B - Medium for men and women, respectively. Those who have low or medium foot measurements are the ones who are going to enjoy the fit profile of this product.
The lasting board has a semi-curved shape which adheres to the natural curvature of the human foot. This element works with the form-welcoming upper to deliver a snug yet accommodating wrap.
The outsole unit of the Under Armour HOVR Phantom is made of rubber. This layer is tasked with protecting the midsole technologies from the debilitating effects of surface contact and continued use. It has a naturally grippy nature to appease the desire for movement control and sureness of the step.
Flex grooves are patterned across the forefoot section of this footwear. This feature is designed to make the platform as flexible as possible, encouraging the inherent bending capacity of the toe joints and tendons as they prepare for the toe-off phase of the gait cycle.
HOVR™ is a part of Under Armour's premier cushioning technologies, one that is born from the desire to encourage consistent underfoot support and springiness. It is fundamentally a 'core' unit that is formed out of soft foam and a mesh wrapper. The latter protects the former from losing its structure and causing a diminished performance. HOVR™ is its moniker because it basically sits on top of a carrier unit.
The carrier unit that houses the mesh-covered foam is made of Olefin. It is a synthetic compound that is touted to be durable yet able to mimic the cushioning capacity of industry-standard foam pieces. This feature serves as the base, receiving the chunk of the impact force generated by the foot-strike. It transfers the energy from such an act to the 'core' piece, enabling it to energize the steps of the wearer.
The SpeedForm® 2.0 is a sockliner that's placed right above the primary cushioning system of the HOVR Phantom. This add-on offers a soft surface for the underside of the foot. It has gender-specific curves to accommodate the particular foot that is resting on it. It can be removed or replaced if the wearer decides to do so.
The upper unit is made of a soft-knit fabric, a material that aims to bring breathable support that is akin to merely wearing a sock. The stretchy construction of each fiber helps to hug the foot and mimic its movements as it goes through the process of taking each step.
A 3D-molded midfoot panel is stitched onto the facade, the wraparound structure helping the rest of the silhouette when it comes to securing the foot and keeping it in place.
A one-piece collar is used for this shoe. It resembles the top of a sock, further solidifying this model's purpose of delivering a sock-like in-shoe hug. This design graces many popular shoe series from various companies, including the Adidas Ultra Boost Uncaged and the Nike Epic React Flyknit.
A thermoplastic counter is placed on the rear part of the upper unit. This exposed piece is meant to hold the heel in place, preventing it from wobbling during the run or exiting the shoe unexpectedly.
How HOVR Phantom compares
Corescore: 54-57
3 shoes (0.32% of shoes)
Corescore: 58-61
6 shoes (0.64% of shoes)
Corescore: 62-65
14 shoes (2% of shoes)
Corescore: 66-69
20 shoes (2% of shoes)
Corescore: 70-73
55 shoes (6% of shoes)
Corescore: 74-76
62 shoes (7% of shoes)
Corescore: 77-80
208 shoes (22% of shoes)
Corescore: 81-84
265 shoes (28% of shoes)
Corescore: 85-88
207 shoes (22% of shoes)
Corescore: 89-93
93 shoes (10% of shoes)
Price: £40 - £70
114 shoes (12% of shoes)
Price: £70 - £100
267 shoes (29% of shoes)
Price: £100 - £130
274 shoes (29% of shoes)
Price: £130 - £160
169 shoes (18% of shoes)
Price: £160 - £190
60 shoes (6% of shoes)
Price: £190 - £220
35 shoes (4% of shoes)
Price: £220 - £250
10 shoes (1% of shoes)
Price: £250 - £280
1 shoes (0.11% of shoes)
Price: £280 - £300
2 shoes (0.21% of shoes)
Price: £310 - £330
1 shoes (0.11% of shoes)
Weight: 100g - 135g
6 shoes (0.77% of shoes)
Weight: 136g - 171g
24 shoes (3% of shoes)
Weight: 172g - 207g
48 shoes (6% of shoes)
Weight: 208g - 243g
135 shoes (17% of shoes)
Weight: 244g - 279g
216 shoes (28% of shoes)
Weight: 280g - 315g
235 shoes (30% of shoes)
Weight: 316g - 351g
82 shoes (10% of shoes)
Weight: 352g - 387g
25 shoes (3% of shoes)
Weight: 388g - 423g
7 shoes (0.9% of shoes)
Weight: 424g - 460g
3 shoes (0.38% of shoes)