An attempt to merge the world of road running shoes with fitness sneakers, the Hoka Kawana is versatile enough for gym workouts, crossfit sessions and daily short runs. It provides a lot of comfort, durability and a stable ride to both experienced and beginner runners alike.
Pros
Exceptionally comfortable
Secure fit
Smooth and stable ride
Protection hits the sweet spot
Above average durability
Versatile: running and gym
Best-looking Hoka so far
Cons
Not particularly lively
Firmer than other Hokas
Needs some breaking in
Average-at-best grip
Who should buy Hoka Kawana
Buy it if you are looking for a reliable, comfortable and durable shoe to wear on your next workout, whether it be a road run or a gym session.
Perfect if you are a heel-striker and for runners who need a touch more stability on their short easy runs.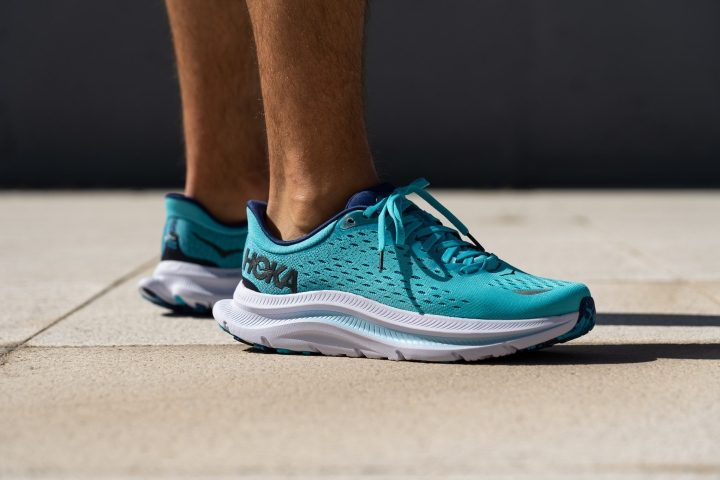 Who should not buy it
The Hoka Kawana is not ideal if you:
A good do-it-all shoe
Many testers commented on the versatility as one of the main reasons to buy these shoes, with one summing it up perfectly: "wear these everywhere."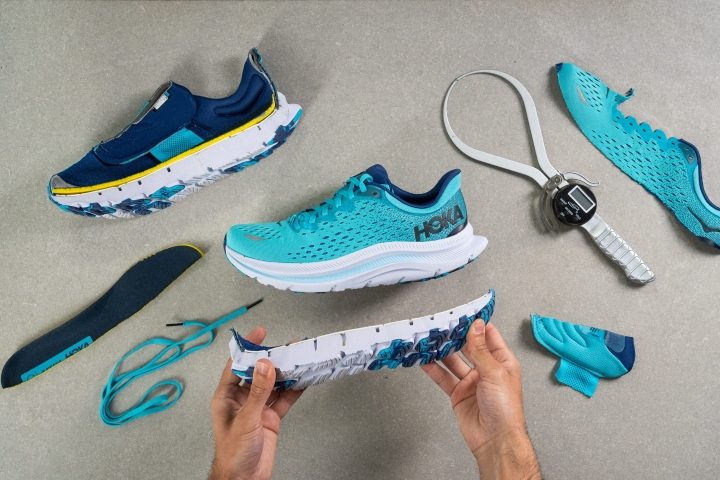 Based on the reviews, Hoka Kawana works perfectly for runs-to-gyms transitions. Similarly, this versatile shoe is ideal for packing light when traveling, as it performs exceptionally well in nearly all situations and you can leave the rest of your shoes at home.
Summer ready!
One running expert stated that "it works well for training runs of all distances, and is surprisingly well ventilated."
Fact check
Following our breathability test, we can confirm that the shoe lives up to the claims. It scored a 4 out of 5 in our assessment, which is better than the average shoe (3.7) and surpasses nearly all other daily trainers on the market. And the video speaks for itself!
A clever way to let your feet breathe
This shoe serves as a prime example of how to achieve excellent ventilation with a thick upper, demonstrating how a shoe can effectively handle both cold and hot weather conditions. As you can see, light doesn't pass through the upper material, so it will be warm in winter.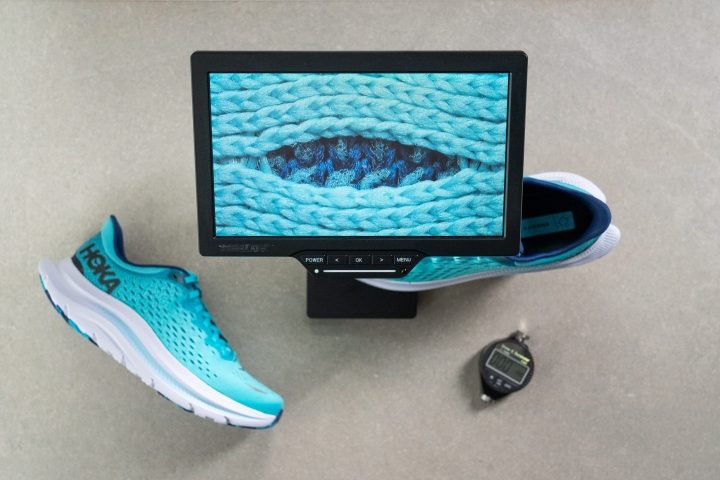 The mini-holes in the upper are strategically placed to promote airflow.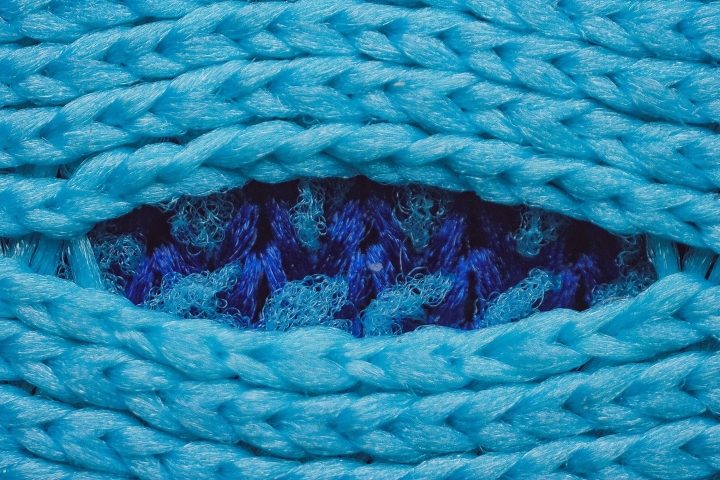 We loved this approach for a daily trainer. In contrast, this is Nike Streakfly's upper, which is also super-ventilated, but not great for winter runs.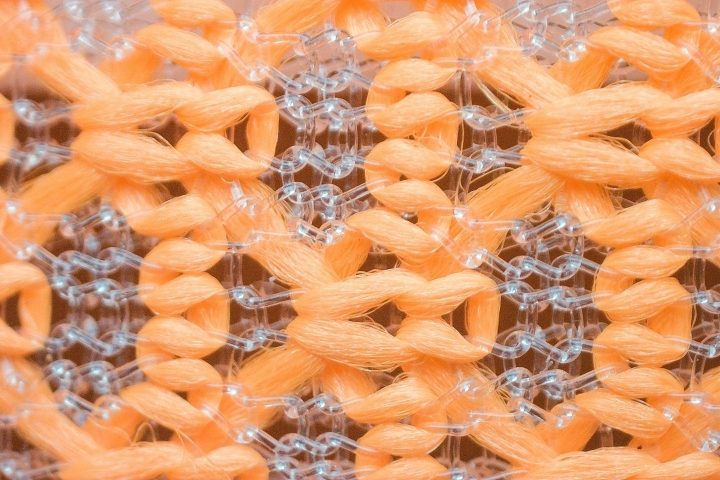 Not stiff at all
This shoe is a versatile all-rounder, which means it simply can't be too stiff. Hoka Kawana delivered.
Fact check
We required 21.4N of force to bend the Kawana to a 90º angle. That's 25.7% less force than what was needed to bend a Clifton 9 and 58.4% less than the average shoe. So, it's confirmed: this is indeed a flexible shoe!
Better-than-usual behaviour in cold temperatures
This shoe is great for winter running and it was a surprise, given that most Hoka running shoes tend to harden up too much under freezing temperatures.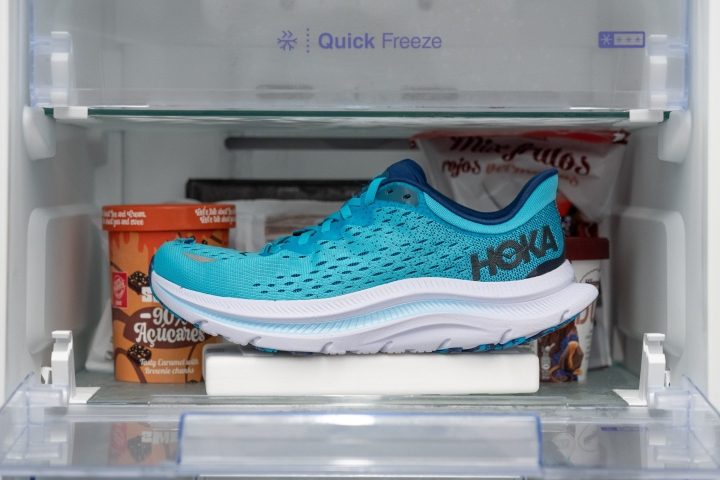 Fact check
The Hoka Kawana's midsole hardens by only 26.7% after our freezer test. That's a favorable result for an EVA-based midsole in a Hoka shoe. For comparison, the Hoka Bondi 8 becomes 49.3% firmer, while the Hoka Mach 5 experiences a crazy 60.0% increase in firmness.
When it comes to flexibility and cold weather, the Kawana truly embodies the essence of a daily trainer, showcasing an average performance. In fact, after putting it through our flex test in cold temperatures, its flexibility decreased by 42.3%, which is strikingly close to the average shoe tested in our lab at 43.6%. Talk about a close call!
Look elsewhere if you want that soft "Hoka feeling"
Every critic noted that the Hoka Kawana midsole feels firm compared to almost any other Hoka:
"It might be best described as a blend of mildly soft and moderately firm"
"Is a firmer and slightly versatile option for those wanting a Hoka shoe that isn't as high off the ground."
"This is not your typical Hoka, expect a firmer and less flexible ride with higher durability."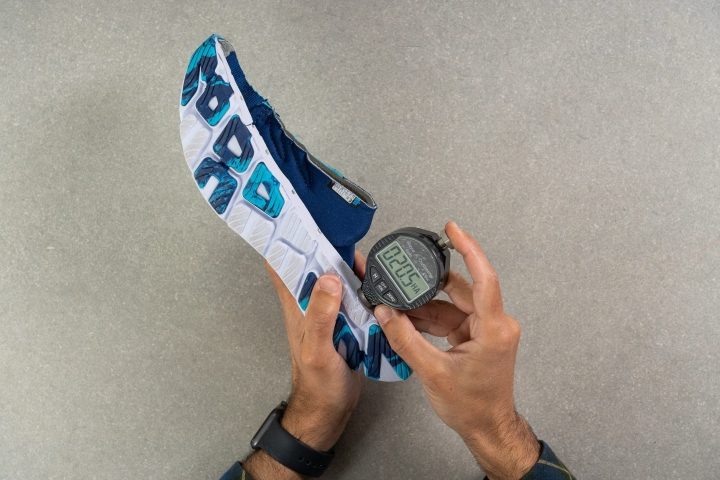 Disclaimer: To determine the average, we take 4 durometer readings, excluding any outliers. The image above displays one measurement.
Fact check
We measured the midsole at 21.4 HA, which is 24.6% softer than the stability-focused
Hoka Gaviota 4
but 5.4% firmer than the
Mach 5
. That correlates pretty well with every tester thoughts on this shoe.
It's clear that users and experts have no doubts about this: the Hoka Kawana is firmer than most other shoes from this brand and the cushioning is "not at all marshmallow-y soft." Those who appreciate a firmer feel in running shoes definitely liked this never-seen-in-a-Hoka feel.
Smooth and stable ride
Testers especially loved the unique swallowtail design which made the shoe's ride "incredibly smooth and seamless."
Experienced runners liked its stiffness and stability, which makes it a good option for those who "need a little more guidance."
On the other hand, many experts didn't particularly enjoy the energy return, as the shoe doesn't offer much assistance in propelling forward. However, this is understandable since it's a hybrid road/gym shoe suitable for everyday training rather than long runs.
Best suited for narrow feet
This shoe may not be the best for runners with wide feet. It is better suited for those with narrow feet, and it can also work well for regular-width feet if a snug fit is preferred.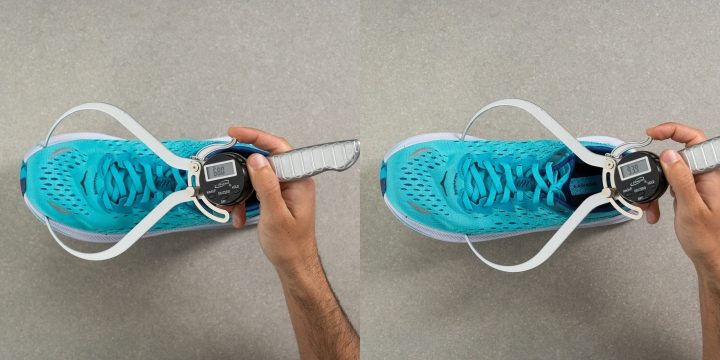 Fact check
With a maximum width of 93.9 mm in the forefoot and 68.0 mm in the big toe, this shoe is quite narrow. For comparison, a popular average-width running shoe like the
Saucony Kinvara 14
is 5.9% and 8.1% wider in those respective areas.
But you get a wide platform!
Hoka is renowned for its maximalist approach and its super-wide platforms to promote stability. Although the Kawana is not massive, it still offers a lot of real estate in its outsole—especially in the heel.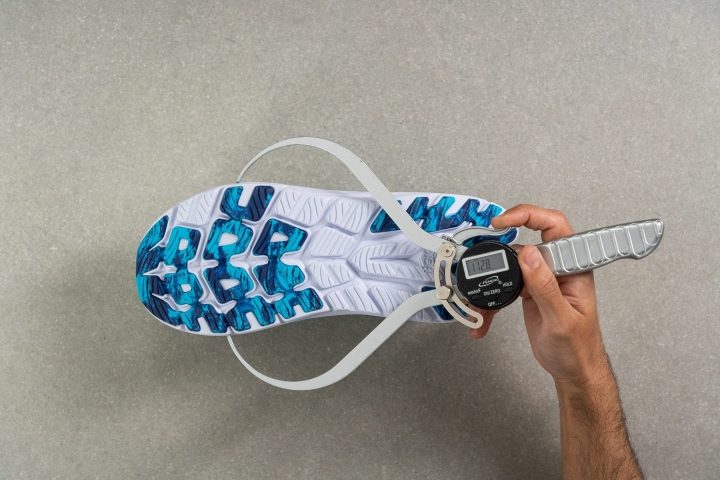 Fact check
We measured 112.8 mm in the forefoot and 95.6 mm in the heel. While the forefoot is pretty average, the heel is impressively wide, being 12.9% wider than a Pegasus 39 or 9.6% wider than a
Nike Zoom Fly 5
.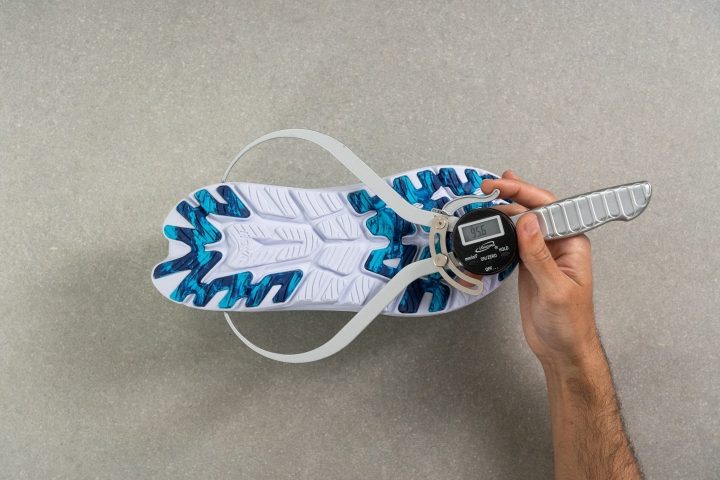 With its firm midsole and its wide heel, this is a great shoe for any heel striker. One reviewer also said that "Hoka finally gets their rearfoot geometry correct, making for an excellent heel transition."
This recycled upper can last forever
A running expert really liked the upper: "The upper is made from an engineered recycled jacquard mesh. Its breathable and adequately padded." We had the same feelings about this shoe, and it's great that Hoka was able to use recycled materials on this model.
In our standardized Dremel test, which applies the same force and RPM to every shoe for 4 seconds, the Kawana performed impressively—showing remarkable resistance is truly noteworthy for being a daily trainer.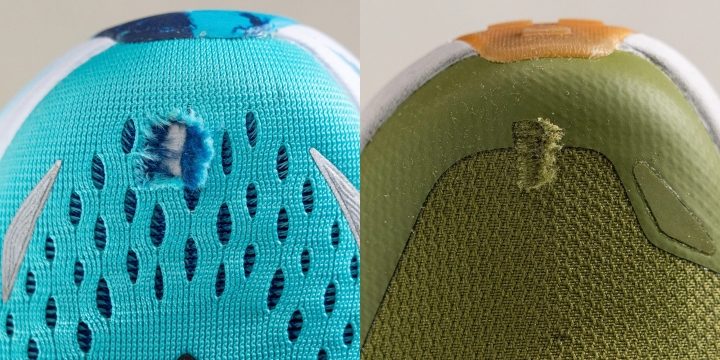 Fact check
The results reveal that although the upper isn't as durable as the Hoka Transport on the right, the Kawana still provides impressive performance as a comfortable and soft daily trainer. That's why we've given it a 3 out of 5 rating.
Pillow-like tongue
The shoe just screams comfort. Reviews over this topic are all positive:
"With a flared heel, achilles pillows and a thickly padded and gusseted tongue, the Hoka Kawana is a breathable pillow for your foot."
"I also like the plush tongue with it's sewn-in bootie construction."
"The tongue of the upper is well padded, and comfortable, and never moved while I worked out."
Fact check
Upon closer examination in our lab, we can verify that the semi-gusseted tongue is among the thickest we've encountered, measuring at 11.6 mm.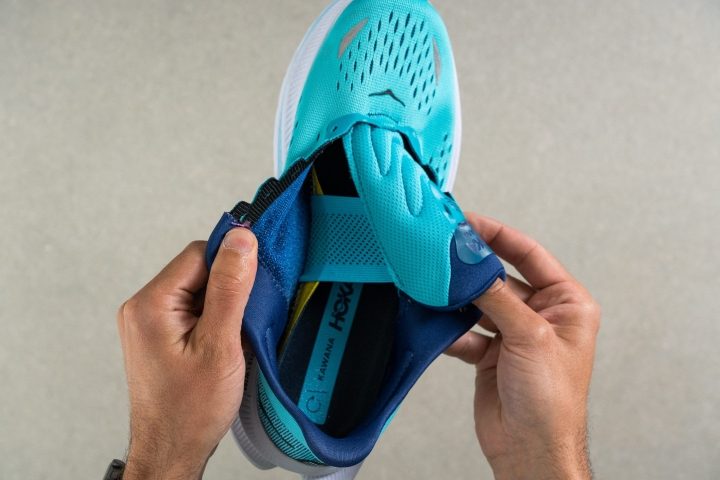 Based on what runners say, the upper is exceptional as it provides a "solid lockdown", the tongue adds a "premium feel" and, overall, the upper fit is "outstanding."
Not a good choice for high-drop lovers
Hoka consistently leans toward lower drops, and the Kawana is no exception. With a 30/25 mm stack height resulting in a 5mm drop, this shoe truly embodies a low-drop feel. A critic stated this: "As a rockered shoe and with the greater heel transition, it did feel super low drop but is noticeable being lower."
Disclaimer: We always include insoles in our stack measurements.
Fact check
We carefully measured this shoe and discovered significant discrepancies from the official specifications. Our measurements show a 32.8/27.1 mm stack height with a 5.7 mm drop, which is a considerable deviation from what Hoka claims.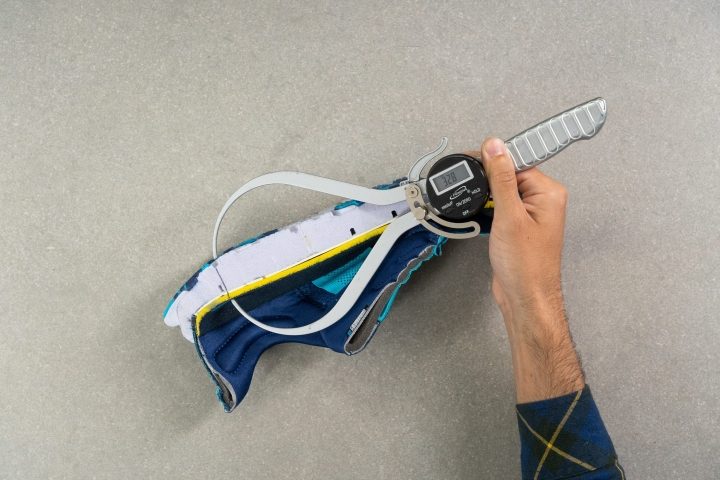 Hard-but-nice heel counter
The Kawana's heel counter adheres to the signature Hoka style. As a result, it is firmer than the typical daily running shoe, while still providing gentle and comfortable support for your heel. Additionally, it boasts a unique curvature that alleviates pressure on your Achilles tendon.
Might not work in wet conditions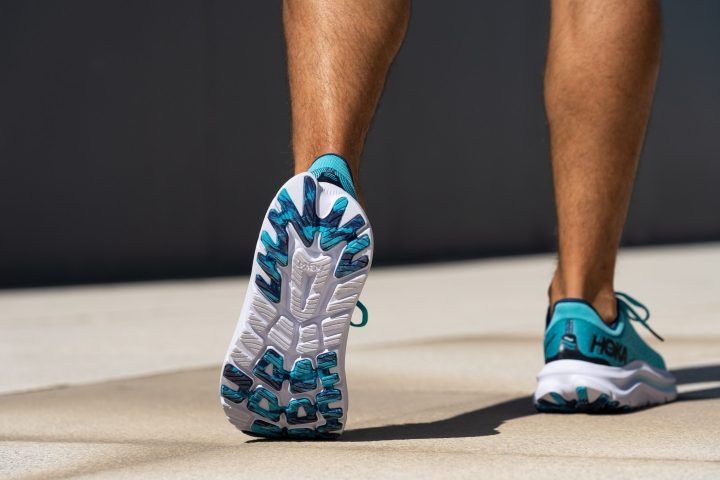 The outsole is described by a reviewer as efficient, grippy, and well-designed: "nice work there, not too much rubber, just nailed it."
Experts do not agree, though, on how the shoe performs in wet conditions—some found it very grippy, others slippery, especially in snow. After examining the outsole, we found it way less grippy than other Hokas like the also-versatile Rincon 3.
Heavy, but doesn't slow you down
This is not the lightest shoe in the Hoka line, but a runner said that it doesn't feel heavy when picking up the pace and it provides a good amount of protection underfoot.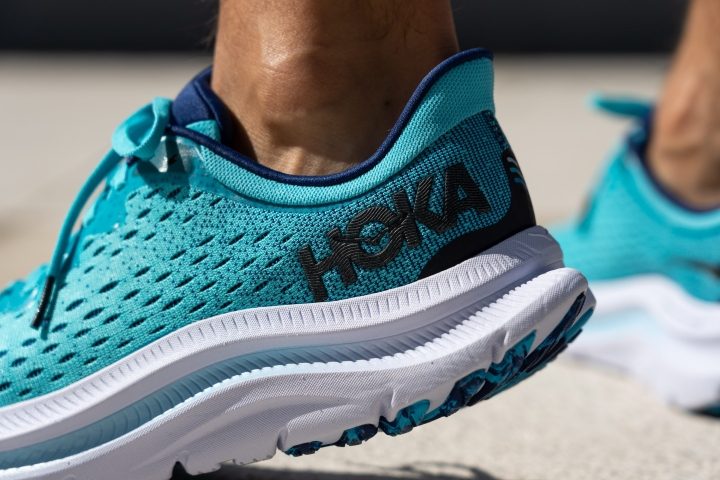 Fact check
Weighing 303g, we can confirm that this is not a light shoe. In fact, it's heavier than most of its competitors in the daily trainer category. For instance, the uber-popular
Pegasus 39
is 12.6% lighter!
Give it some time
Not ready straight out of the box, this shoe "took a while to break in" and definitely offers its best after a few runs. Just give it time, but remember it won't ever feel as soft as other Hokas. As one reviewer puts it: "These shoes feel surprisingly firm coming from the Hoka lineup."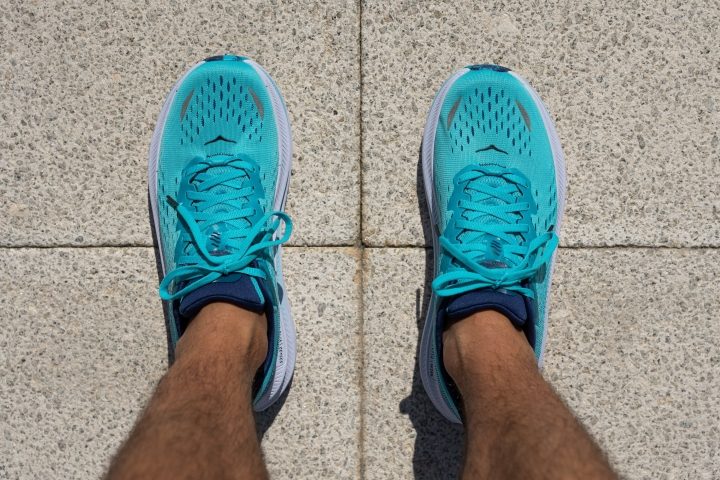 Hoka Kawana is resilient
Both the midsole and the outsole have proven to last long. An expert said this Hoka is "extremely durable" and another runner concluded that this is "one of the most durable Hoka road shoes ever made."
Disclaimer: We calculate the average of four durometer measurements, disregarding any outliers. The photo above shows one of those takes.
Fact check
We measured the Hoka Kawana's outsole hardness at 86.6 HC, a figure that supports all the feedback from every tester. That's some sturdy rubber! In comparison, the outsole of a
Nike Pegasus Turbo Next Nature
is 11.5% softer, and the average shoe's hardness is 2.5% lower than the Kawana's measurement.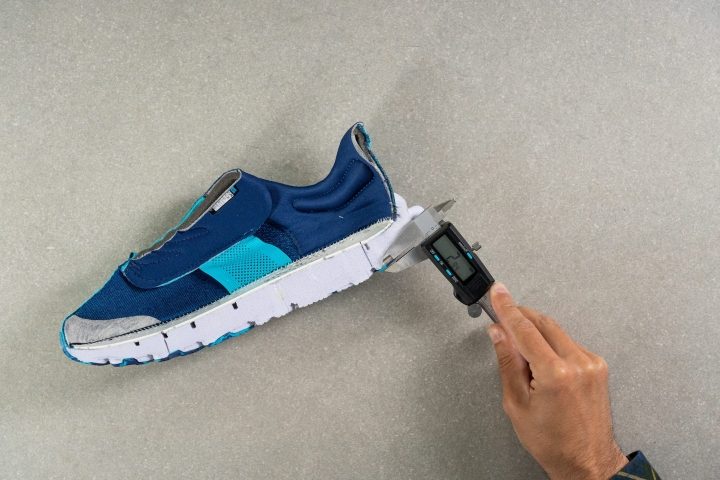 In an effort to reduce weight, the Kawana's outsole features a modest 2.9mm height. Though it's 0.5 mm less than the average shoe, there's no cause for concern, thanks to the remarkable sturdiness of the rubber used in this shoe.
Somewhat reflective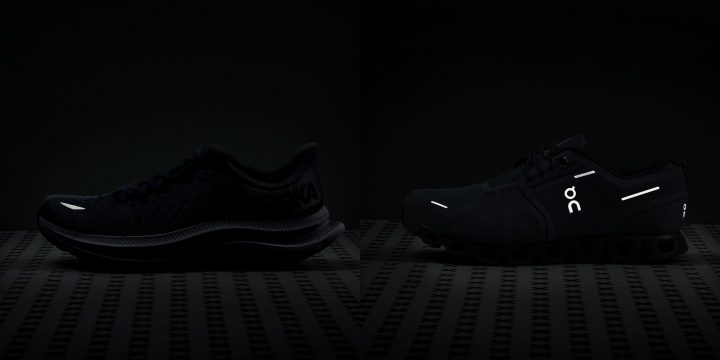 In keeping with the overall theme of this running shoe, the reflective material is fairly average. While it doesn't provide visibility from great distances like the On shoe (right), it does have some reflective elements, unlike many shoes that lack this feature entirely.