Verdict from 6 experts and 100+ user reviews
8 reasons to buy
Its stylish look and colorways have received appreciation from a lot of owners.
Scores of hikers mention that it is surprisingly supportive.
It excels in water activities, based on a written review.
The Hurricane XLT2 from Teva is a great pair of sandals for summer hikes, says a multitude of wearers.
Numerous verified purchasers praise its affordability.
This Teva sandal is superbly comfortable, declare hordes of wearers.
Many users state that it is well-cushioned underfoot.
The Hurricane XLT2 is very easy to adjust and easy to put on and take off, as testified by more than a handful of owners.
4 reasons not to buy
A group of displeased testers and hikers points out that the molded plastic rubbed their ankles and toes. They attribute it to its awkward positioning.
The squeaking sound from the Teva Hurricane XLT2 sport sandal has annoyed a few.
A gear critic mentions that the insole failed at sweat management.
Some wearers expressed disappointment with the unpadded straps. They noted that it should all be cushioned, not just the heel tab.
Bottom line
Those who love venturing the outdoors, whether going on a hike or doing water sports, will certainly appreciate the benefits of this hiking sandal. It renders immediate comfort, so there's no need to spend extra time softening it up. Also, it comes in an admirable style and gives excellent value for money.
Nevertheless, these outstanding qualities do not conceal a number of reported setbacks. To summarize, the Teva Hurricane XLT2 is a multi-sport sandal that intent buyers may find hard not to consider with its generous pros.
Tip: see the best hiking sandals.
Our reviews
I am fortunate to live in a part of the United States where the coast is right nearby, and beach-access trails abound. I was looking for a shoe that could get wet and at the same time, be used for serious outdoor activity like hiking or kayaking.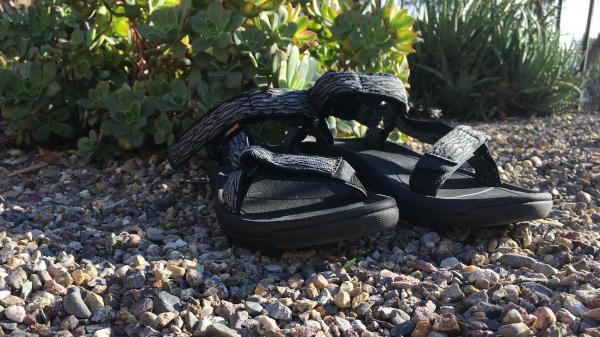 I had purchased another pair of hiking sandals, the Keen CNX, which didn't quite measure up in this department. After trying the Teva Hurricane XLT2, I retired the Keen CNX to beach-only status.
The Teva Hurricanes were just that much better for actual hiking and other outdoor activity.
I have tested the Teva Hurricane XLT2 on plenty of trails as well as tidepool areas by the beach. I have walked in them for miles.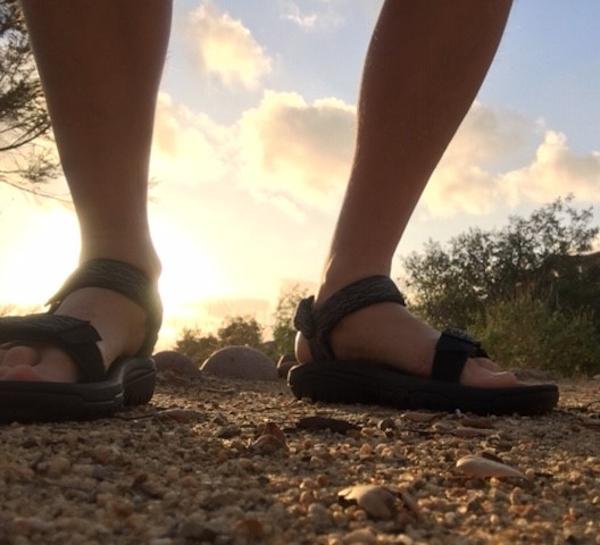 My impression of this shoe is solidly positive. I was surprised by how well this model supported my feet across multiple types of terrain.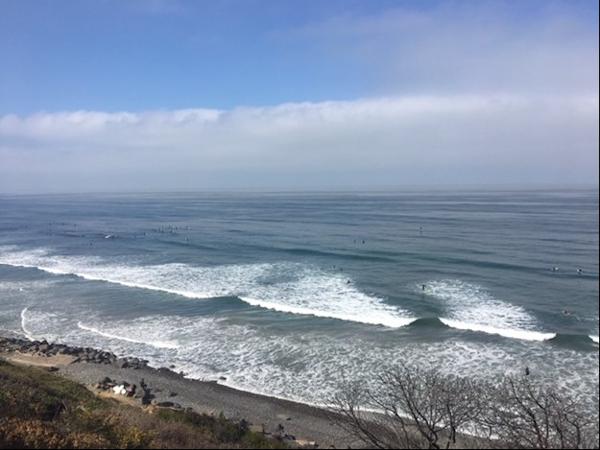 These sandals have been comfortable for me despite my being flat-footed with recurring plantar fasciitis issues. Below you will see the details as to why I recommend this shoe so highly!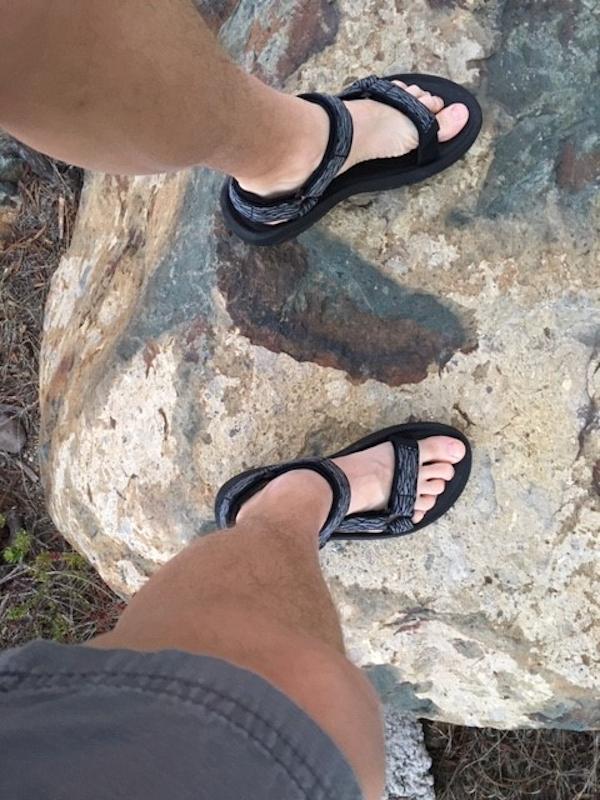 What should you look for in a water-friendly hiking sandal?
As one who enjoys outdoor activities that take me in and out of the water as well as hiking-friendly terrain, there are some particular features that I look for in a water-friendly hiking sandal to ensure that I am as safe as possible from injuries.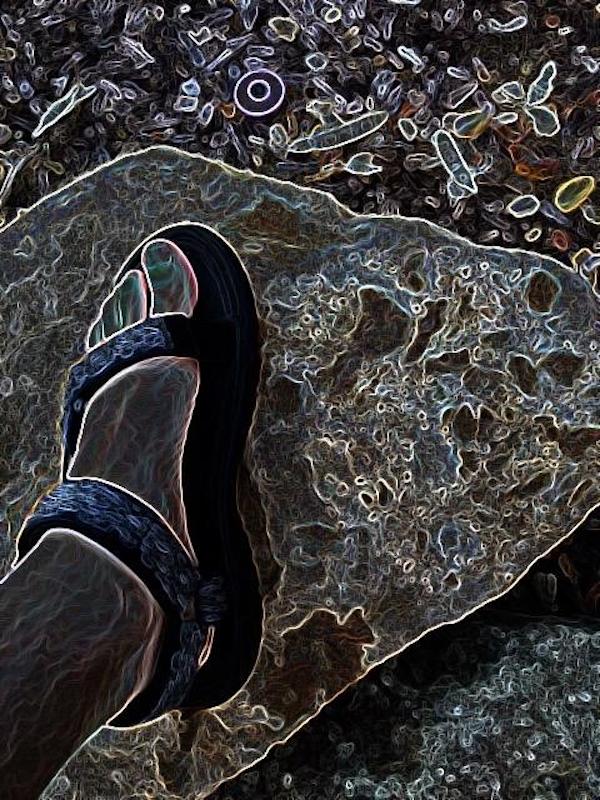 1. A rugged outsole: The outsole must offer some grip on the terrain to minimize slips and falls. I also like to make sure that the outsole works on wet rocks. This requires some lugging or raised bumps that offer traction across multiple surfaces.
2. A supportive footbed: A sandal doesn't need to be as rigid as a hiking boot since I am not going to use it as my regular day-hiker, but some support around the midsole is helpful.
I always buy water-friendly hiking sandals that have some contoured footbed with a cupped heel and raised arch. The ones that are completely flat (and that's many of them!) tend to hurt my feet after only minimal wear.
3. A protective, adjustable, water-friendly upper: It's easy to scrape a foot when crossing wet rocks or hiking on loose dirt or gravel. The upper should be made of a rugged material that will offer excellent protection from the elements.
I like to pick a model with a toe bumper to minimize the all-too-frequent toe injuries that come from trekking near the water. I also want to make sure that the upper dries quickly to keep the shoe from becoming too waterlogged throughout a day by the shore.
Finally, the upper must be adjustable for a proper fit.
4. A sufficiently roomy toebox: Pinched toes are no good! I always make sure that my outdoor footwear (of any kind) offers ample room for my toes to flex and bend.
Now that you know what to look for when choosing a water-friendly hiking sandal, it's time to see how the Teva Hurricane XLT2 measures up.
Product features
Overall aesthetic
The Teva Hurricane XLT2 has a minimalistic look that hadn't changed much since the 1990s when I bought my very first pair of Teva sandals.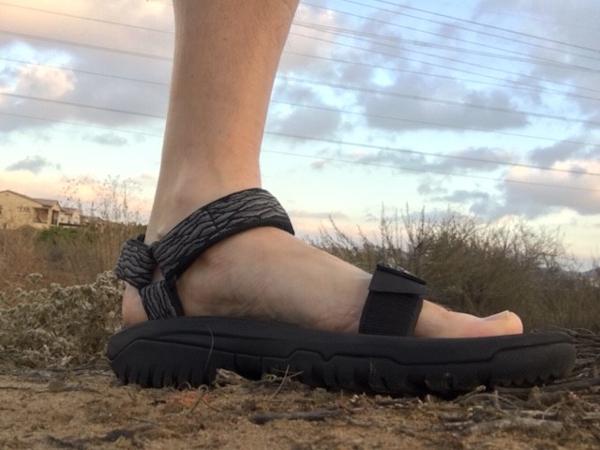 The sandals are comprised of a set of adjustable synthetic straps, which are connected to a rubber footbed, and that's all. The straps typically carry some design or pattern on Teva sandals.
The Hurricane XLT2 model possesses a rugged, beefed-up sole with lugged traction and added arch support. Back in the 1990s, I would see Teva sandals like the Hurricane worn often in the beach communities along the San Diego coastal area near where I live.
Nowadays, I see them worn less often (flip-flops have long since taken over with the beach-going crowd), but Tevas are still timeless as far as I am concerned.
Fit
The fit is the one aspect of the Teva Hurricane XLT2, which could use some improvement.
I have a size 9 standard-width foot, but the size 9 in this model was very long and loose. I had to exchange for an 8 to achieve a proper, snug fit with the arch support located under the correct part of the foot. Once I found the correct size, the fit of these sandals is pretty much perfect.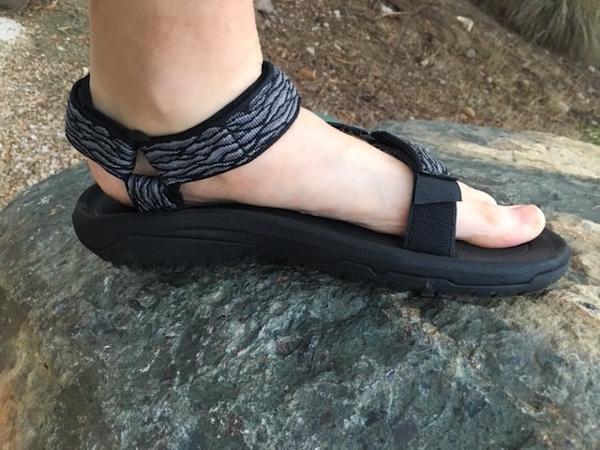 I like that each strap can be adjusted to ensure that the foot is held in place. This feature ensures that these sandals will fit pretty much any person with an average width foot.
Also, as you can see from this picture, my feet are pretty flat. The support falls right where it needs to, and for me, it's essential for comfort!
Weight
The Teva XLT2 is a light-weight shoe. The sole is beefed-up and supportive, but it does not make the shoes feel heavy or bulky. I can walk for miles in the Teva Hurricane XLT2 without feeling weighed down at all.
Upper
The upper straps are made of synthetic material with Velcro under each adjustable strap. This material is water-friendly and fairly minimalistic. The straps are held together by plastic pieces.
I do not find that the straps or plastic strap-connectors dig into my feet at all. The straps are well-cushioned without adding any bulk to the shoe.
The heel strap is particularly comfortable, with an extra pad that adds cushioning and helps keep the heel of the foot in place. You can see this feature in the picture.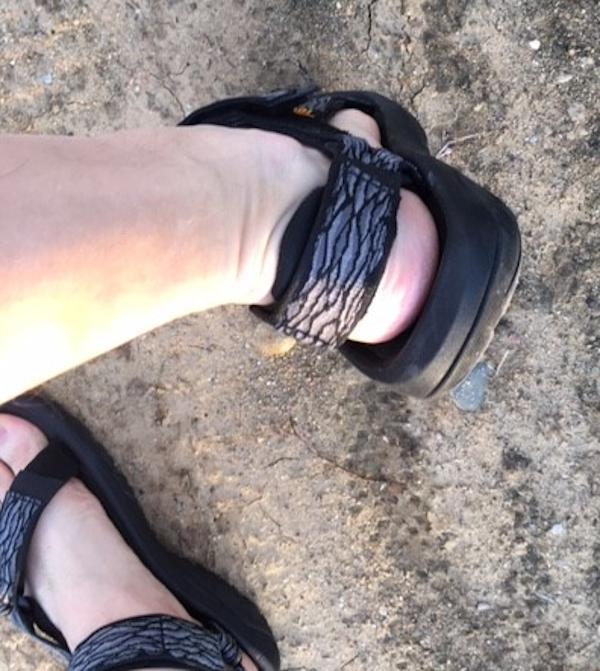 Footbed
The footbed is where the Teva XLT2 really shines, and what makes this shoe my favorite-ever hiking sandal. The arch support on these sandals is nothing short of amazing.
As a decades-long plantar fasciitis sufferer with flat feet, this feature makes all the difference for me. The contoured footbeds on these sandals function like an orthotic, holding up the arch and keeping the heel centered in the shoe.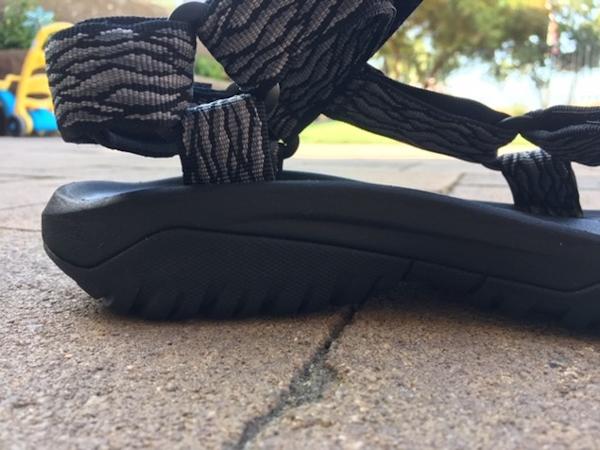 As a result, I can hike in these sandals pain-free. Finding a sandal with this kind of support is often an expensive proposition (for example, the Chaco brand).
But, the Teva Hurricane XLT2 somehow manages to be packed with support at a very reasonable price. This is why the Teva Hurricane XLT2 is one of my top picks among budget hiking footwear for performance in actual challenging terrain.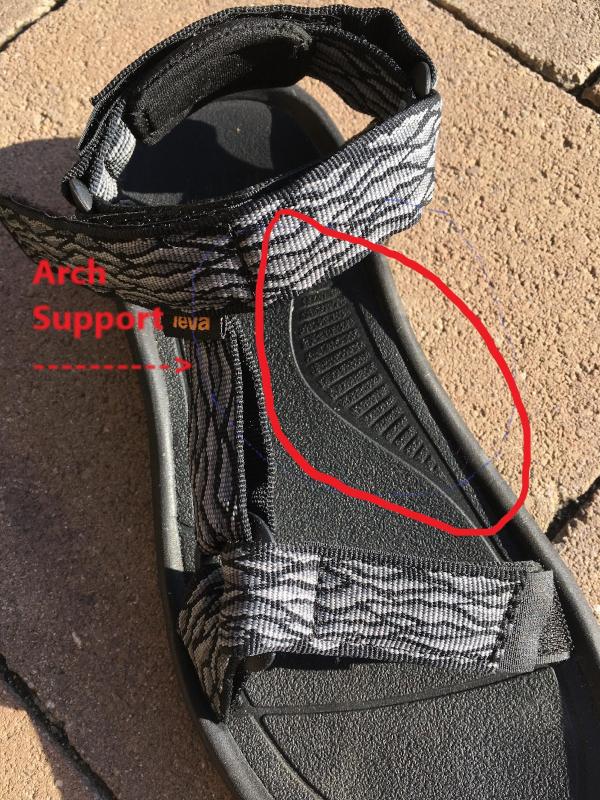 Outsole
The outsole is where the rubber hits the road for any adventure shoe. The outsole of the Teva XLT2 is made for gripping rocks and loose terrain.
The triangular lugging in the middle of the outsole was particularly useful when climbing over rocks. At no point, while wearing these shoes, did I ever feel like I might slip off of anything I encountered, from wet rocks to loose gravel.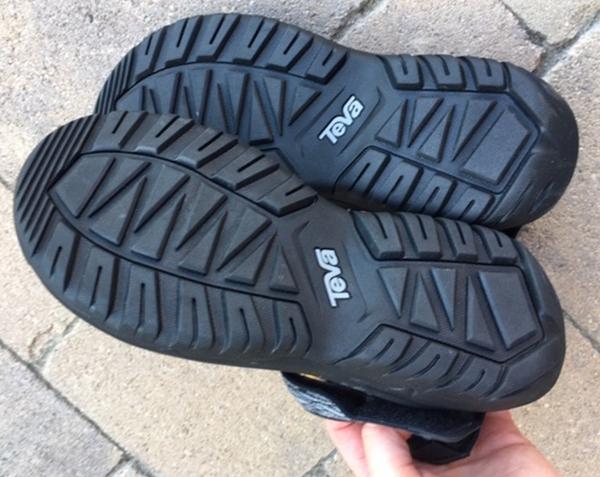 That's really something, especially in a sandal. The textured rubber on the outsole of the shoes does not cover the toe area at all but does extend forwards to prevent toe stubs.
Price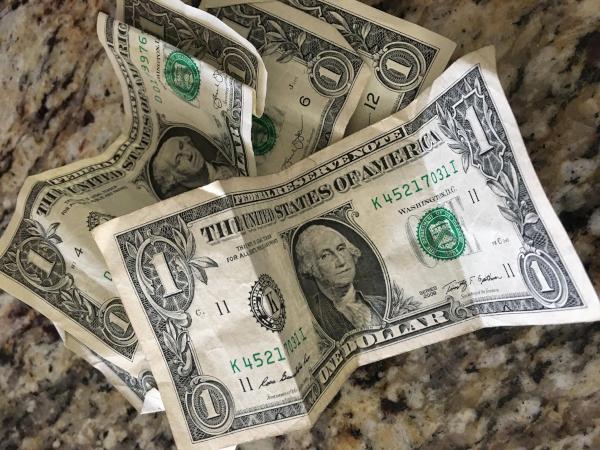 Lastly, a word on price. Although prices for this model vary depending upon where you find them, I have found that you can get a great deal on these sandals.
I would say that the Teva Hurricane XLT2 model is affordable for most active people, even those on a budget. Given all the excellent features that these sandals possess, they are a true bargain and good value.
If you plan to do light hiking regularly in a warm climate (or during a warm time of year), these might just be the only pair of hiking shoes you need!
Pros and cons
Pros
The Teva XLT2 is designed with some very excellent features:
A solidly supportive footbed, which worked for my problematic flat feet to provide the support I needed across any terrain
An outsole that is grippy enough for me to feel secure across a variety of surfaces
A customizable fit which can be achieved through the adjusting of the Velcro straps that hold the rearfoot and toe area in place
Sufficient water resistance to handle wet areas and occasional partial or full submersion
A very wallet-friendly price tag
Cons
The shoe does have one drawback:
Sizing, which was the biggest issue for me. If you are uncertain about your size, I recommend sizing down. You may need to try these in a few sizes to get the correct one. I recommend buying your first pair from a store or website with a good return policy.
The bottom line
The Teva Hurricane XLT2 is an exceptional hiking sandal at a bargain price. With superb support, a nicely tractioned outsole and a customizable fit, this sandal is an excellent value product, which can be found at a very reasonable price.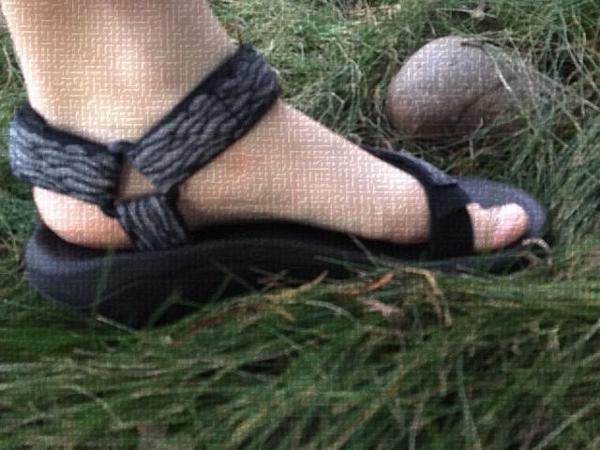 If you are looking for a water-friendly shoe that can take on just about any outdoor challenge, look no further!
Good to know
Teva's designers updated the Hurricane XLT to deliver enhanced comfort and grip. Carrying a vegan-friendly construction, its upper now uses a blend of polyester, nylon, and recycled P.E.T. The designers improved the heel strap by adding a cushion pad to promote a cozy feel.
The Hurricane XLT2 inherited the EVA midsole from its older brother for lightweight cushioning. In terms of support, it is still equipped with a nylon shank underfoot.
The brand's very own Durabrasion Rubber outsole is carried on from its predecessor. It, however, was redesigned to optimize ground adherence.
The Teva Hurricane XLT2 is a hiking sandal for men and women who love the outdoors. Both styles are manufactured in medium (standard) width and full sizes only. Its hook-and-loop closure permits owners to fine-tune the overall fit.
According to the brand, the product runs true to size. Teva recommends getting the buyer's actual shoe size. However, for individuals who are in between sizes and have a wide foot, it is suggested to go a half size up to get a wider fit.
Additionally, male hikers who prefer the fit of Teva women's Hurricane XLT2 sandals may look at two sizes bigger than what they usually wear. Conversely, ladies (who wear men's shoes) should get two sizes down.
This multi-sport sandal from the Teva Hurricane series carries the brand-owned Durabrasion Rubber outsole. It is a sturdy unit which yields traction on most types of terrain. The angled lugs, whether situated at the sides or the center, amplifies its adherence on ground surfaces. The ridged forefoot area is designed to assist during ascents.
The Teva Hurricane XLT2 sport sandal wears an ethylene-vinyl acetate (EVA) midsole. This element is a rubber-like foam which provides cushioning and comfort without weighing the user's foot down. It is paired with a nylon shank—a lightweight material that takes care of stability and support over rugged terrain.
The upper of Teva's Hurricane XLT2 is made of a combination of polyester, nylon, and recycled P.E.T. webbing. These materials create a water-ready quality and enable it to dry quickly after submerging in water. Its heel strap is cushioned which enhances comfort and eliminates chances of developing hot spots.
The fit can be managed using the Velcro strips at the heel, instep, and forefoot. There are injection-molded strap ends that allow quick adjustments and easy grip. The sandal also comes with a hook-and-loop design for donning and doffing with ease.
The brand recommends the following care tips in extending the life of Teva sandals.
Clean the sandals every two to four weeks, depending on the frequency of use.
Never machine wash the sandals. Manually clean it using antimicrobial soap and warm water. With the help of a soft-bristled brush, carefully scrub away the dirt on the topsole and the outsole. Gently bend it to expose hidden grooves for a deeper clean.
If odor persists after cleaning the sandals, try these tips:
Create a mixture of one cup of antibacterial mouthwash and two cups of water. Submerge the sandals for 15 minutes then scrub gently. Air dry.
Soak the sandals in a hot tub or chlorinated pool for 15 to 20 minutes. Scrub and rinse in clean water. Air dry.
Seal the clean sandals in a plastic bag. Put it in the freezer overnight.
Dredge the sandals with a layer of baking soda and let it sit for 8 to 24 hours. Tie it in a plastic bag to amplify the odor-neutralizing effect of the baking soda.
The Hurricane XLT2 and Hurricane 4 share a huge resemblance which may give potential buyers a hard time deciding which pair of multi-sport sandals suit them best. Here are their similarities and differences.
Upper. The Hurricane XLT2 combines polyester, nylon, and recycled P.E.T. while the Hurricane 4 employs polyester webbing for its upper. All the mentioned materials make the sandals quick-drying.
Closure system. Both models use a Velcro closure system. With its hook-and-loop design, customization of fit is easy and quick.
Midsole. Teva's Hurricane XLT2 and Hurricane 4 use an EVA foam midsole. This component helps keep the weight of the sandal low without compromising comfort. The Hurricane 4, however, features ShocPad in the heel area which optimizes shock absorption upon ground contact. The said product also has Microban, a zinc-based treatment which wards off the development of odor.
Support. These lightweight hiking sandals from Teva come with a built-in nylon shank. This sturdy piece of material takes care of support and stability underfoot.
Outsole. The trademarked Durabrasion Rubber makes these Teva sandals grip on different ground surfaces. What makes them different from each other in this aspect is the placement and shape of the lugs differ. Additionally, the ridged toe area of the Hurricane XLT2 helps in tackling uphill slopes and the textured finish prevents the accumulation of mud.
Availability and sizing options. These multi-sport sandals are available in whole sizes only, for both men and women variants. Generally, it is recommended to get one size bigger if in between sizes. A plus point for the Hurricane XLT2 is its vegan-friendly construction.
Rankings
How Teva Hurricane XLT2 ranks compared to all other shoes
Popularity
The current trend of Teva Hurricane XLT2.