Equipped with a clean aesthetic and Skechers' highly-praised comfort, the GOwalk Joy - Ecstatic easily becomes a go-to shoe for daily wear. You barely feel it on your foot and yet it keeps you comfortable for long hours. Just be aware that it is a slip-on shoe and the laces on top are not adjustable.
Pros
Cozy in-shoe feel

Relieves foot pain

Comfortable for all-day wear

Lighter than average

Breathable mesh

Easy on-and-off

Machine-washable
Cons
Laces can't be tied

No arch support
Who should buy the Skechers GOwalk Joy - Ecstatic shoe
This cozy women's silhouette from Skechers is likely to be your perfect match if: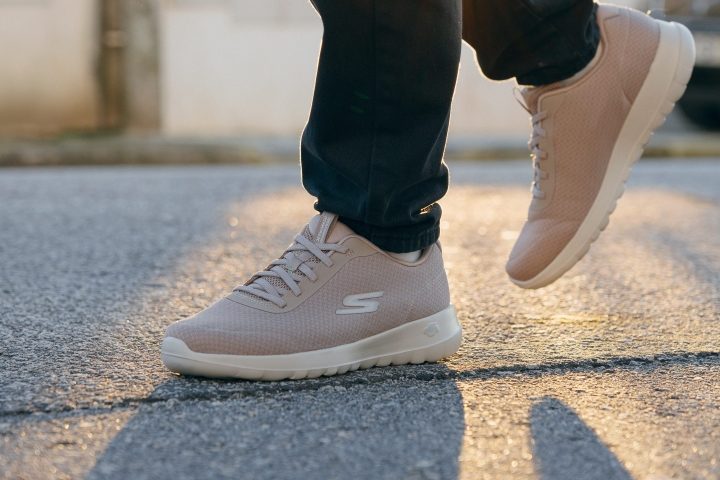 Who should NOT buy the shoe
If you do need a proper lacing system to be able to regulate the tightness, consider Skechers GOwalk Joy - Paradise or GOwalk 5 - True instead.
And if you are someone who needs extra underfoot support for flat feet, overpronation, plantar fasciitis, and other foot conditions, your best bet is Skechers Arch Fit and its numerous variations.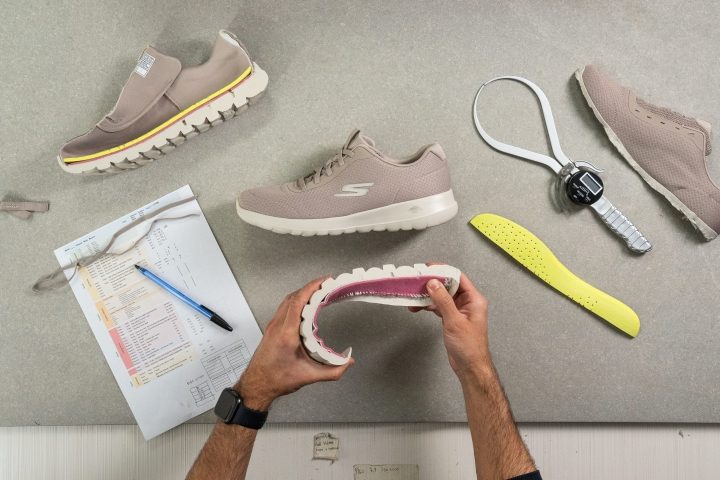 Breathable but not for hot weather
More than a few reviewers have pointed out how well the mesh upper on this Skechers shoe keeps the interiors ventilated. However, those who have worn it in extra warm summer conditions report that the shoe falls short in such weather.
Fact check
The GOwalk Joy - Ecstatic is indeed somewhere in between. Having pumped smoke through the shoe's upper, we assessed the amount of air that is able to pass through and at what speed. As a result, the shoe gets 3 on a 1-5 scale where 5 is the most breathable.
Fact check
In another test below, you can see how close-knit the mesh is, letting little-to-no light pass through it.
Fact check
A well-padded tongue is another feature that holds the shoe back from being more breathable. With a 4.4 mm thickness, it is 1.4 mm thicker than the average (3 mm).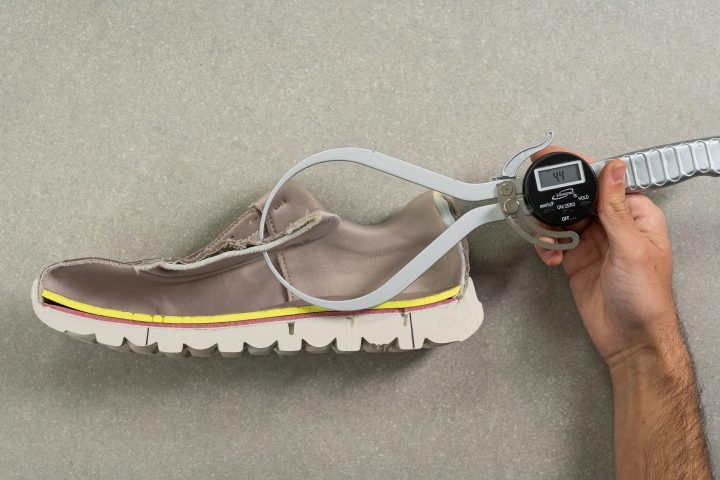 Instant on and off
Don't let the shoe's laced-up top misguide you - this is a true slip-on pair. These stretchy laces are merely there to hold the foot in place.
Most wearers found it very convenient as they didn't have to bend over and fiddle with the laces. But on the other hand, there were ladies who needed traditional laces to regulate the fit.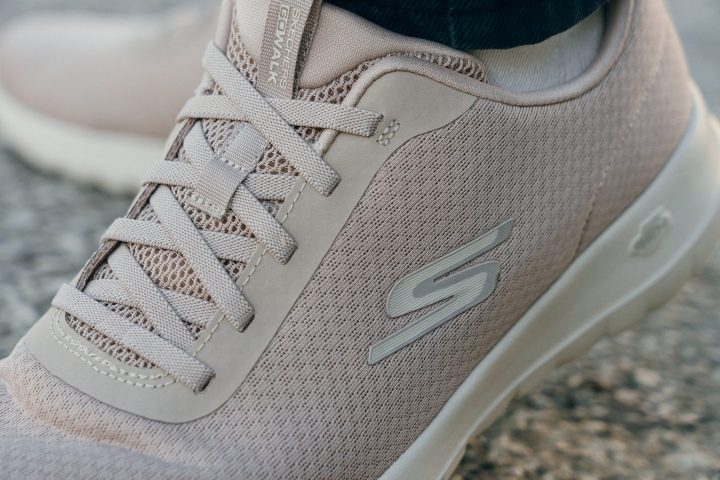 But all of the reviewers seem to agree that it couldn't be easier to put the shoe on and take it off.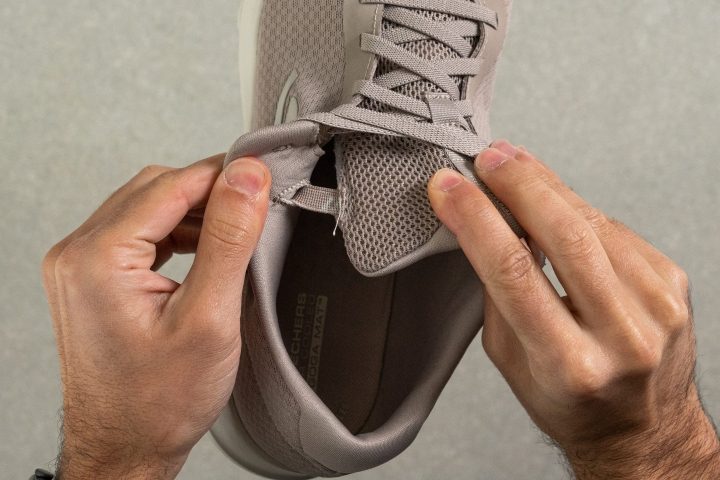 Does it get any lighter than the GOwalk Joy - Ecstatic?
Its unbelievably lightweight nature has become one of the most enticing reasons to get this Skechers shoe.
Tipping the scales at 7 oz (198 g) per shoe, this is one of the most lightweight women's walking shoes on the market. For comparison, the average weight of walking shoes for women is 8.2 oz (233 g).
Makes you feel barefoot
Ladies absolutely love the agile feeling they get when wearing this shoe. This is thanks to the highly soft and flexible nature of the sole. "Like walking on thick sponges but with support," says one of the wearers.
Fact check
The GOwalk Joy - Ecstatic has very plush cushioning. Measuring it with a durometer, we found that the foam is 21% softer than the average for walking shoes.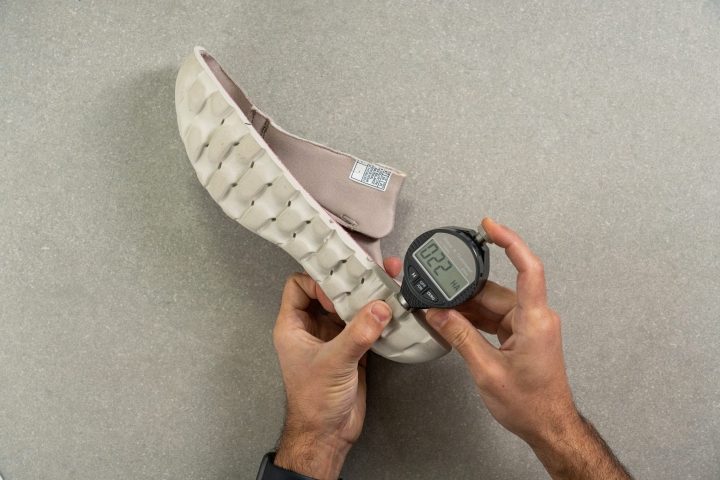 Disclaimer: We take the durometer measurements 5 times to ensure accuracy. The photo shows our final measurement.
Fact check
The shoe's flexibility is just as impressive. Having checked its resistance to bending, it turns out that the Ecstatic is among the most flexible walking shoes. It is within the same range as the Allbirds Tree Runners.
Fact check
Even by simply bending and twisting the shoe in your hands, you can tell that it is among the most pliable shoes out there. On a 1-5 scale, where 1 is the most flexible, we marked the GOwalk Joy - Ecstatic as 1.
Cozy from step one
No breaking-in is needed in this comfort-oriented walking shoe from Skechers. As one reviewer shares, the pair is "comfortable the minute you put them on." Looks like it's named "Ecstatic" for a good reason.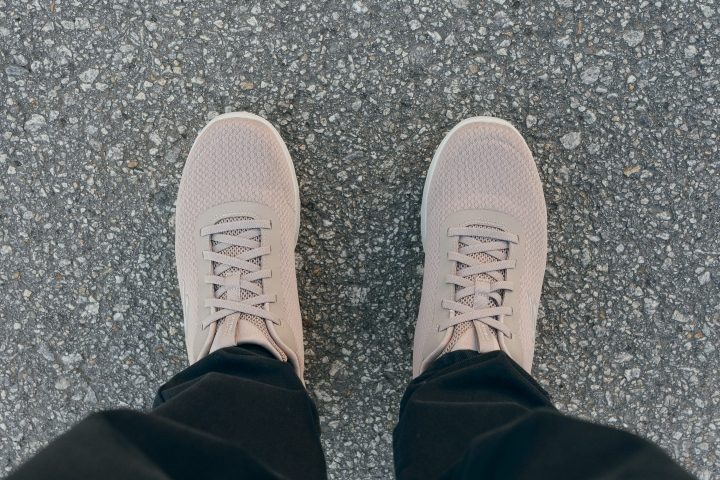 A soft inner lining inside the shoe received some spotlight too. More than a few ladies reported feeling comfortable wearing the shoe without socks.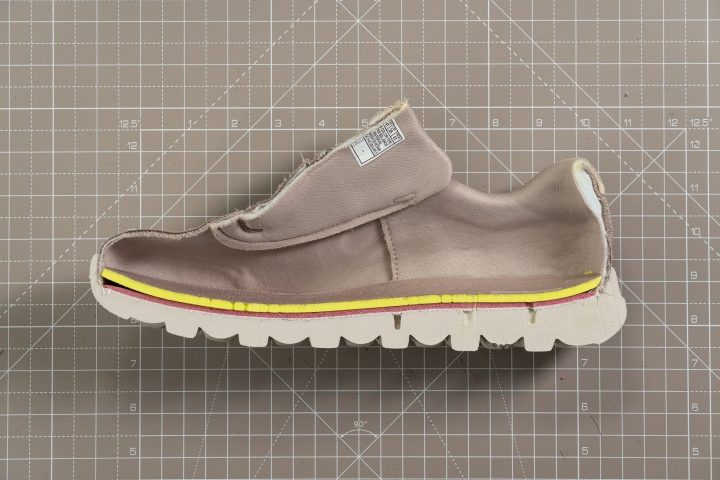 There seem to be no bad surprises with the sizing of the GOwalk Joy - Ecstatic either. The majority of reviewers tagged it as true to size.
Fact check
However, when we measured the shoe's internal length in a women's US size 11, we got 274.2 mm. According to Skechers' shoe size chart, this corresponds to women's US 10.5 (275 mm), while US 11 starts at 280 mm.
So, if you have a chance, we recommend ordering two sizes and sending the wrong one back.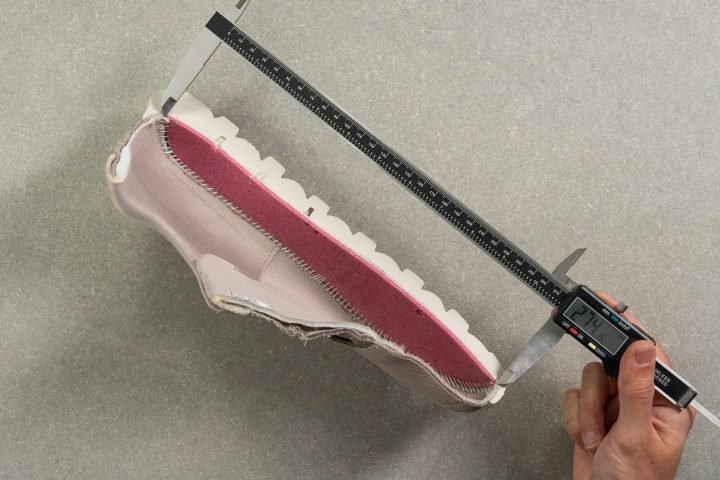 Ecstatic comfort for hours
The Skechers GOwalk Joy - Ecstatic has become a go-to shoe for spending long hours on the feet. Whether it's a daily 4-mile walk or 15 hours of continuous walking and standing at work, this Skechers shoe managed to keep a lot of feet happy. One lady even shared that it encourages her to walk more.
Another reason why so many people fell in love with the GOwalk Joy is that, for them, it was able to relieve pain and discomfort. Neuroma, arthritis, and various foot and leg issues have been made easier with this shoe:
"a Godsend to my feet, ankle, legs, and back"
" feet don't get tied after wearing them all day"
"make my back feel great, especially since I'm on my feet all day"
Fact check
The GOwalk Joy - Ecstatic packs a surprisingly generous amount of cushioning into such a lightweight package. We measured it to be 32.7 mm thick in the heel and 24.4 mm in the forefoot. This is even a little thicker than the average 30.6 mm and 19.9 mm respectively.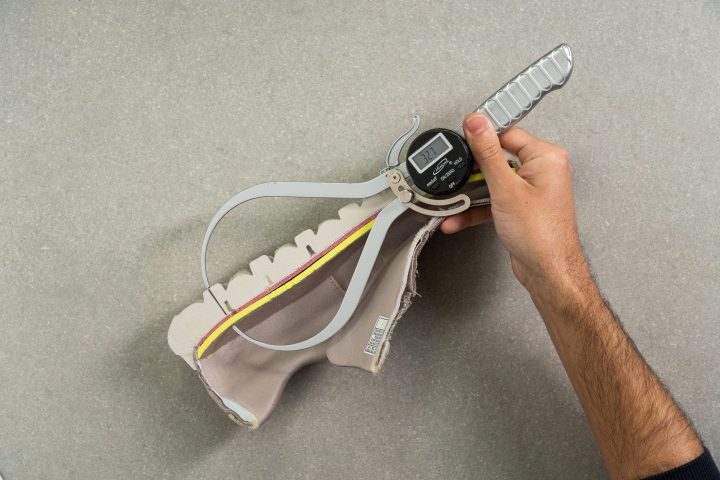 Fact check
We always measure stack with the insole included. In the case of Skechers Ecstatic, it is a 4.3 mm Ortholite footbed. This insole type also has moisture-wicking properties which keep the foot fresh, based on the wearers' feedback.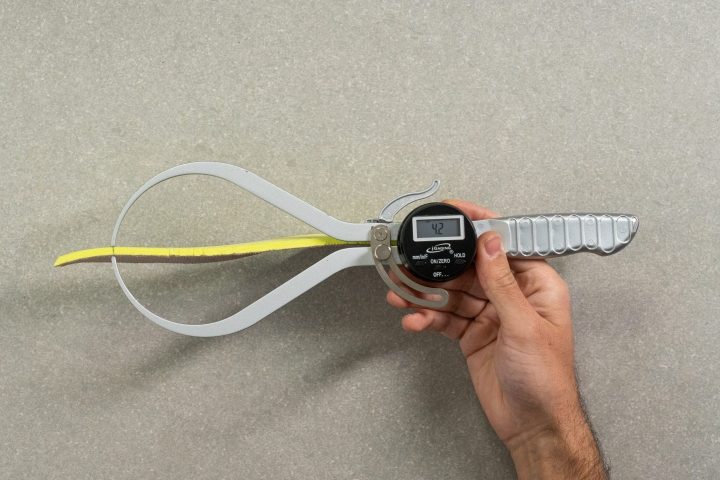 GOwalk Joy - Ecstatic is NOT the right shoe for flat feet
The shoe features no supportive elements to support the arch whatsoever. In addition, its softer-than-average and extremely flexible sole don't help with keeping the foot stable. With such design, it becomes way too easy for the foot to roll inwards excessively.
A no-no for wet and slippery surfaces
There is no rubber layer at the bottom of the Ecstatic, leaving the foam to be fully exposed. This type of material does a poor job of gripping smooth and, God forbid, wet surfaces.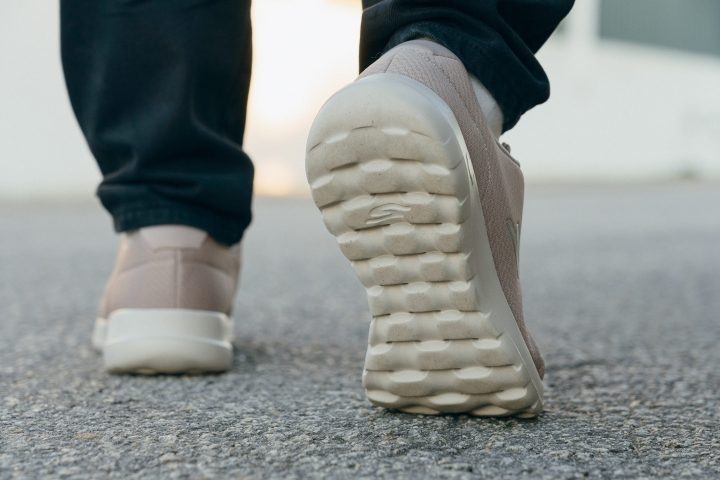 One Skechers style to fit them all
Chores, grocery shopping, power walking, lunch with friends, traveling - no matter the occasion, this Skechers silhouette can pass the dress code with flying colors. It's got a no-nonsense, simple design that doesn't draw a lot of attention yet blends very well with many situations and outfits.
Ladies love the variety of monochromatic colorways available for this walking shoe. Some of them even ended up buying multiple pairs because of that. "Give me more colors and I'll buy even more!," says one of them.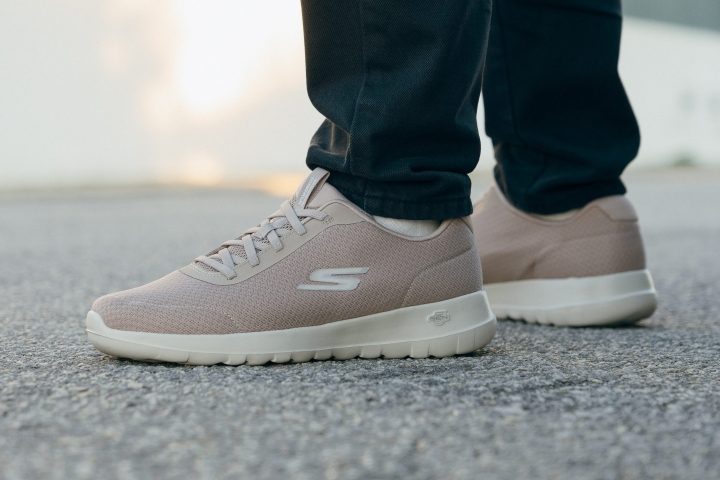 Complete lab-specs overview