The Saucony Kinvara 13 doesn't just look fast; it also runs fast. Apart from being the lightest Saucony Kinvara, it's also the brand's lively and natural-feeling jack-of-all-trades. It's a speed trainer that's cushioned enough for short to mid-distance runs, and is bouncy yet stable for faster paces. For Saucony fans, the Kinvara 13 is a low-to-the-ground complement to the famous Saucony Endorphin Speed 2.
Pros
Soft and responsive cushion
Insanely light
Secure lockdown
Tongue stays in place
No lace bites
Breathable for warm weather
Reflective elements
Sustainably-made upper
Cons
Lacks cushion for long runs
Too roomy for narrow feet
Who should buy the Saucony Kinvara 13
The Kinvara 13 from Saucony is a must-have for:
beginners who want a moderately-priced uptempo shoe

Kinvara fans who want a lighter, more responsive version of the Kinvara 12

runners who want a stable, more minimal running shoe

those who want a springy ride for short to mid-distance training runs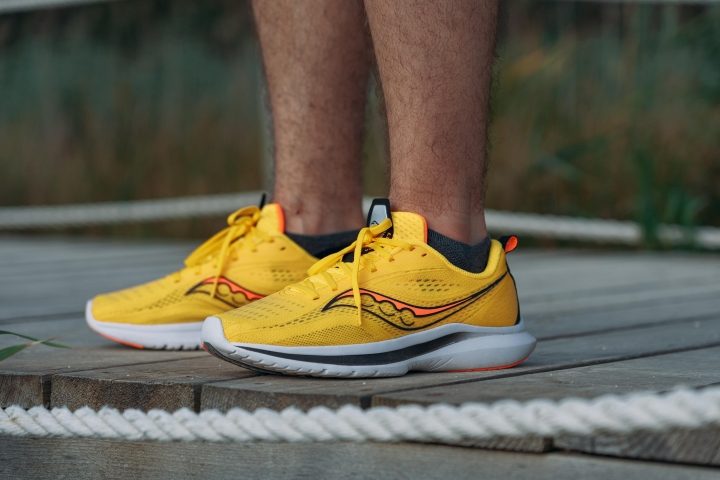 Who should NOT buy it
It's a pass if you prefer more stack or something that's more suitable for high-mileage runs.
Fact check
We measured the heel stack height (insole included) and it shows 26.9 mm which is lower than the average 32.7 mm among our lab-tested shoes.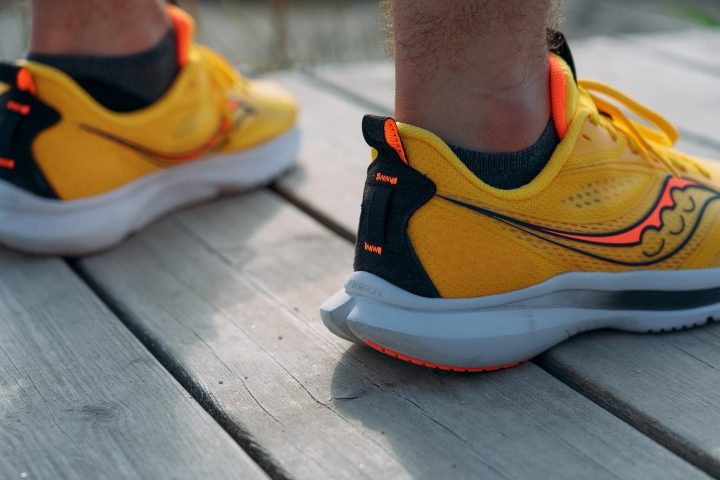 For a more cushioned ride, take the Saucony Endorphin Speed 2. And for longer distances, experts advise runners to go for the NB FuelCell Rebel v2. If you're looking for an easy-day trainer, the Saucony Endorphin Shift 2 is a no-brainer.
Kinvara 13 vs. 12: Nothing major
There's not a lot of change implemented on the thirteenth edition of the Kinvara. However, it remains proof that the smallest change makes the biggest impact.
Here are the updates that made the Kinvara 13 go from firm to fun:
Smoother

and more responsive

ride: Thanks to a more beveled midsole and a contoured design, heel-to-toe transitions are more seamless.
Lighter: It goes from 7.5 oz or 213 g (in US M 9) to 7.2 oz or 204 g because of its trimmed-down upper.
Softer upper with better support: A new mono mesh upper is introduced with a more pliable feel. Despite being stretchy, it remains secure because of its overlays and gusseted tongue.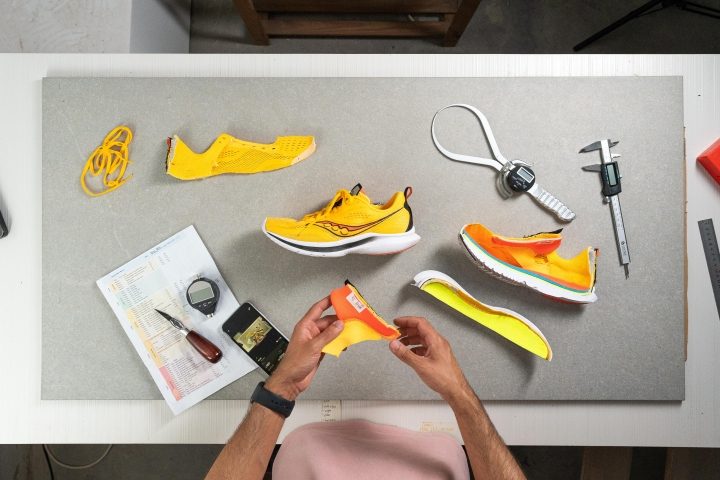 Lightest Kinvara yet
The Kinvara 13 from Saucony goes on a diet with its 7.2 oz (204 g) weight in a men's US 9. According to the brand's loyalists, this is the lightest Kinvara by far. And contrary to other tempo running shoes (8.9 oz on average), it doesn't tip the scales.
Fact check
This is indeed one of the lightest running shoes you can get. We weighed the shoe in a men's US size 8 and it's 6.8 oz (192 g).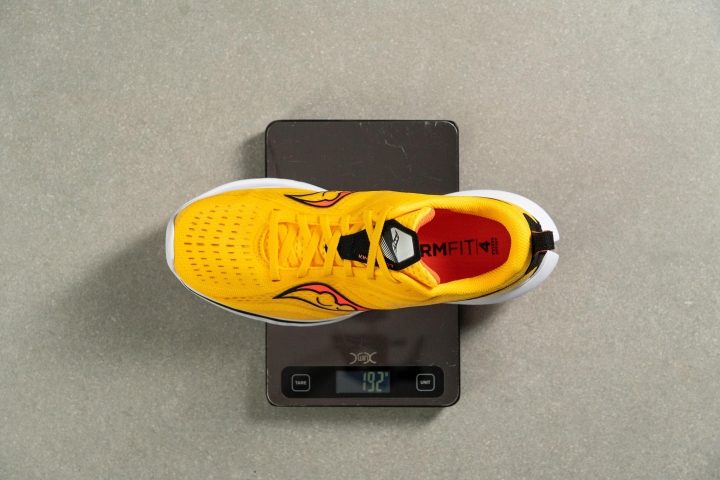 Brings back the fun
The Kinvara 12 was more of a miss because of its rather rigid ride. But with the Kinvara 13, many find it "more forgiving," "bouncier," and "with better ground feel."
Fact check
Based on our durometer measurements, the foam turns out to be a little softer than most running shoes: 21.5 compared to the average 29.4.
Keep in mind though that the cushioning loses its softness in colder conditions. This means that it might take some time for the shoe to "warm up."
Fact check
We have put the shoe through our freezer test (20 minutes in the freezer), measuring the softness before and after. The foam got 23.9% firmer.
The Kinvara 13 is super flexible
Being pretty close to a minimalist running shoe, the Kinvara is not only close to the ground but is also highly flexible and maneuverable.
Fact check
The shoe's flexibility is way above the average (13.8 N over the average 29.5 N). It also bends easily in any direction.
However, if you intend to use the shoe in colder temperatures, it is important to point out that it gets insanely stiffer!
Fact check
After our freezer test, the shoe's flexibility changed by 148.3%! This is a significant outlier given that most shoes only stiffen up by 30-60%.
Width is average but wider than previous Kinvaras
"It's roomier than past iterations." - This is what wide-footed reviewers say about the Saucony Kinvara 13. Because of the ample space, there are no reports of toe bumps or toe pressure.
Fact check
We wouldn't necessarily put the shoe into the "wide toebox" category given that its forefoot width is 95.9 mm, which is below the average 98.7 mm. There are wider shoes out there, especially from Brooks and Altra.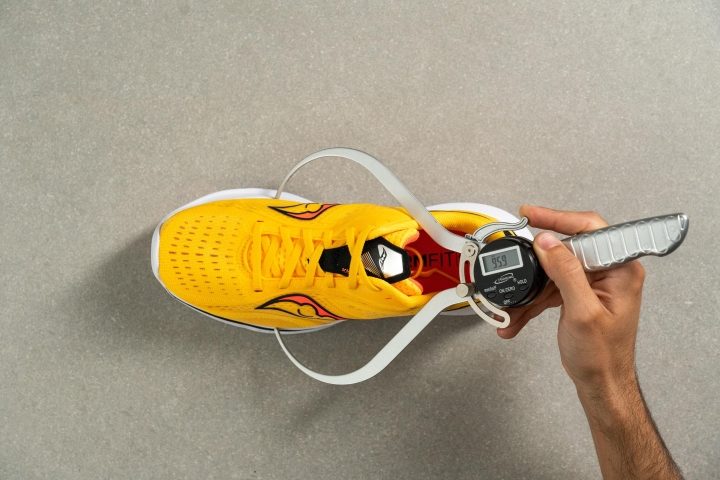 A bust for narrow feet
It's too roomy for narrow-footed runners. According to them, they have to cinch down the laces to the last eyelet to feel locked in.
The Kinvara 13 keeps you supported
A lot of testers appreciate its racer-like fit, especially during sharp turns and fast efforts. There are no slips or missteps.
The mono mesh upper is stretchy but not in any way sloppy. It follows the shape of the foot so well and has sufficient padding in all the right places; it's snug from the rearfoot to the midfoot.
The Kinvara 13's tongue understands the assignment
It's gusseted, reflective, padded, and has a pull tab; hordes of road runners rave about it. It stays in place and does a great job of preventing lace bites.
Fact check
It is 5.0 mm thick which is quite noticeable. For reference, on the Saucony Ride 15 daily trainer it's even thinner (4.2 mm).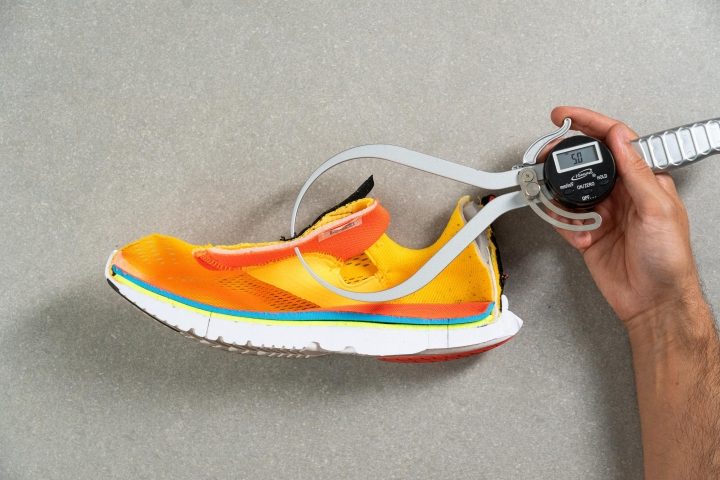 No more sweaty feet
The Kinvara 13 from Saucony is "superbly breathable" in the midfoot. Experts who have tested it under warm conditions state that it's breezy, and the upper doesn't absorb moisture.
We lighted the mesh from the inside to show you how easily the light passes through the material.
Not a hard-wearing shoe
As there is no full-length rubber protection on the outsole, experts agree that the Kinvara 13 is not really geared towards durability. It has two rubber components in the forefoot and the heel, where grip and protection are most needed but the long-term shelf life of the shoe remains a question.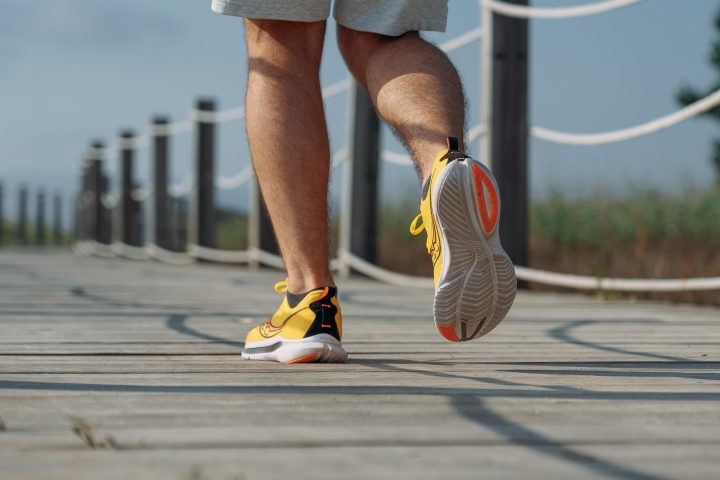 Fact check
Having measured the rubber firmness, we can see that it's slightly below average too: 76.0 compared to 81.2.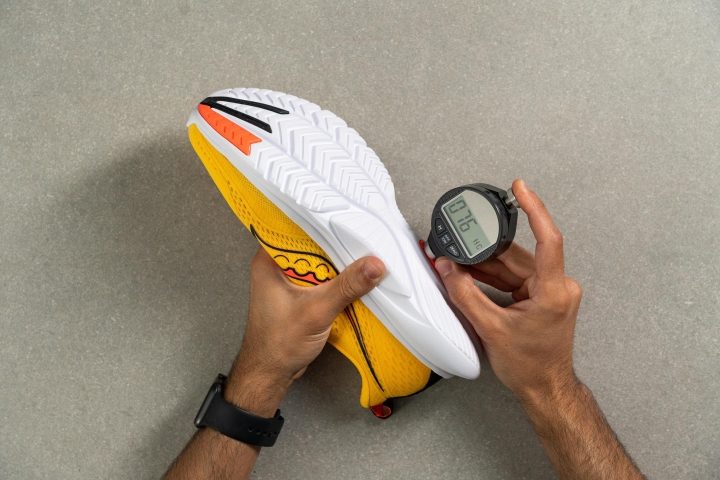 Big on comfort, small on waste
It's the first Kinvara to have a 100% recycled mono mesh upper, while the remaining components of the upper are made with 90% recycled materials.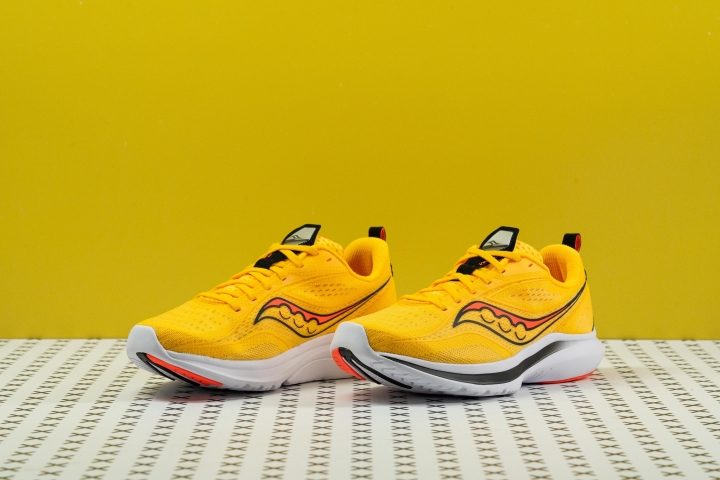 Not only does it care for the planet, it also takes care of the feet as the majority agrees that it's "softer" not only to past Kinvaras but also to Skechers shoes with the same upper component.