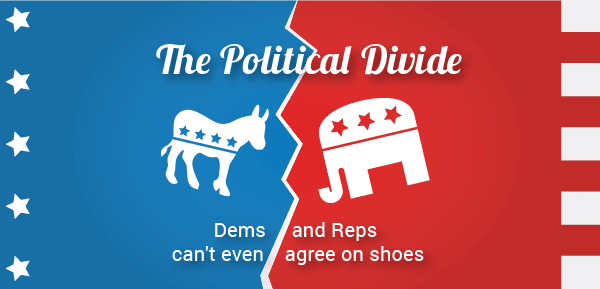 The political divide is seemingly greater than ever. Although we are all citizens of the same country, there are clearly differences in the people that fall on both sides of the aisle. Which begs the question: how does one's political affiliation impact their online shoe shopping behavior?
To answer that question, we enlisted the help of customers at RunRepeat.
We conducted a survey where customers were asked to self-identify their political affiliation. We gathered 3,633 results—1,910 from Republicans and 1,723 from Democrats.
In this study, we present our findings on how differences in shoe shopping behavior are connected to differences in political affiliation.
Key Findings:
Millennial Republicans on average spent 11.88% more on shoes than their Millennial counterparts across the aisle.
Republicans of all ages on average spent 5.29% more money on shoes than Democrats.
Despite spending more, Republicans saved an average 10.3% more on each of their purchases.
The Democrat's top 10 shoe brands included Vans, Altra, and PUMA, whereas Republican's included brands like Hoka, Salomon, and Reebok.
Price sensitivity - Democrats vs Republicans
Our analysis shows that Republicans, in general, buy more expensive shoes.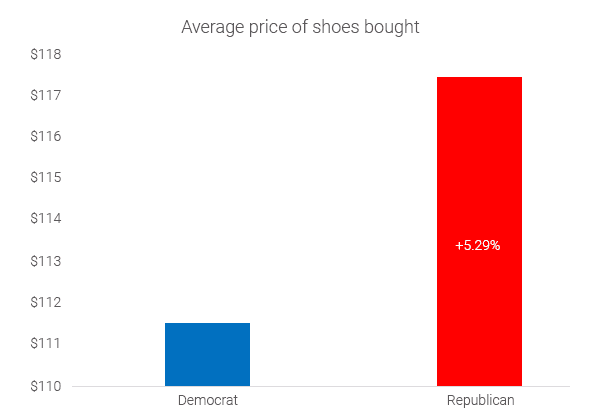 On average, Republicans spent 5.29% more than Democrats.
It's also interesting to note the differences based on the type of shoes.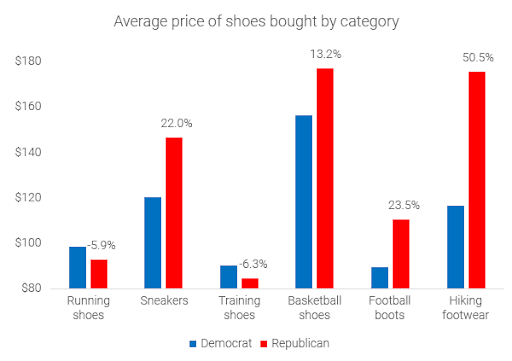 Republicans outspent their Democrat friends in 4 out of the 6 shoe categories. Specifically, they were spending:
50.5% more on hiking footwear.
23.5% more on football boots (Read "soccer cleats" for those in the states)
22.0% more on sneakers
13.2% more on basketball shoes
Democrats also outspent Republicans in two categories but to a much smaller degree. Specifically, the Democrats were spending:
6.3% more on training shoes
5.9% more on running shoes
Pricing Sensitivity - Millennial Democrats vs Millennial Republicans
In our survey, we also included one other question to determine the customers' age. This question was used to investigate the difference in progressive and conservative millennials when it comes to online shoe-shopping behavior.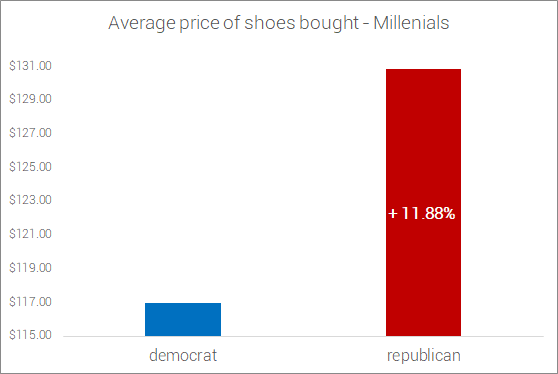 As we can see, conservative millennials spend almost 12% more, on average, than their liberal counterparts.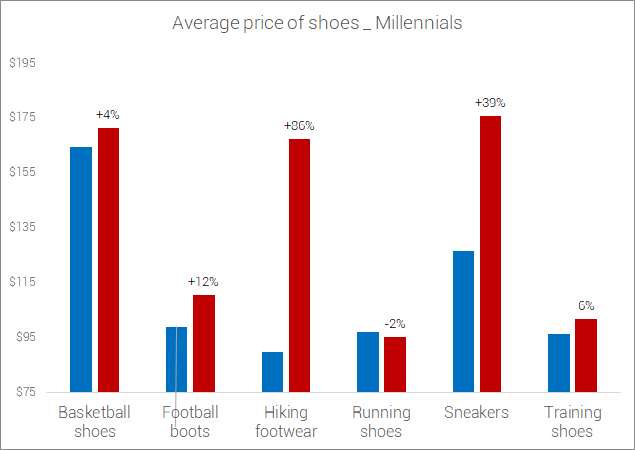 When the data is broken down by shoe category, we see the same trend in conservatives spending the most with some slight differences.
Specifically, millennial republicans spent:
86% more on hiking footwear
39% more on sneakers
12% more on football boots
6% more on training shoes
4% more on basketball shoes
Leaving only the category of running shoes. In this category, the more progressive Millennials outspent Republicans by 2% when it came to running shoes.
Bargain hunting
At RunRepeat, our software pulls in and provides the best prices for shoes, making it so we could compare the average discounts that people got on our website with MSRP. Even though Republicans spend more on shoes, they also enjoyed the greatest savings.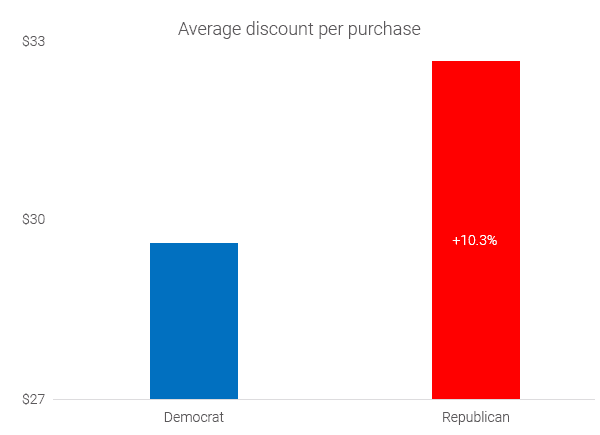 On average, Republicans were saving an additional 10.3% than Democrats.
Gender differences
When it comes down to it, we wanted to see who was responsible for the expensive tastes of the Republicans. The men or the women?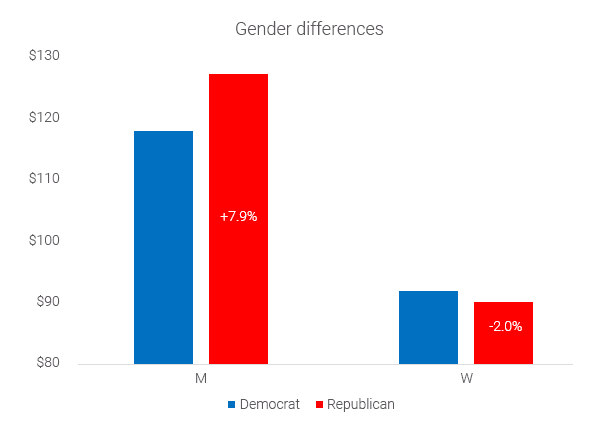 The data made that answer very clear. The Republican men were outspending the democratic ones by 7.9%. With the men overall spending a significant amount more than women, regardless of political affiliation. Although the biggest discrepancy was between Republican men and women.
When it came to the women, it was a much different story with Republicans spending 2.0% less than the democrats. And much less on average compared to their male counterparts.
Favorite brands
There is also a difference in the brands that Republicans and Democrats prefer, even though their top 2 choices are the same. Where some brands just differ in overall popularity, other brands don't even appear on each party's top 10 list.
The percentages show the market share of the brand for each party.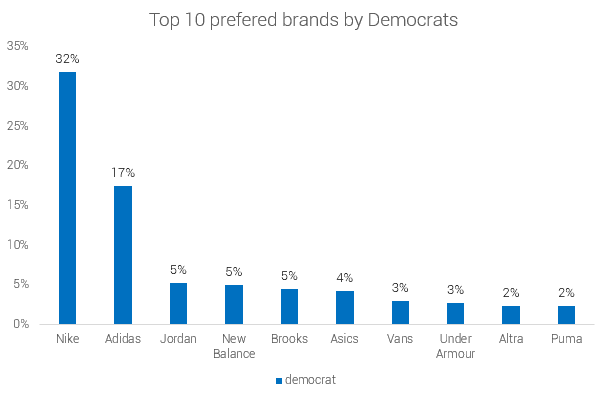 As mentioned, both parties had Nike & Adidas as their top 2. The Democrats preferred Nike 4% more and Adidas 1% more than Republicans.
The 3 brands in Democrats top 10 that aren't in the top 10 across aisle
Vans Brand Shoes:
Vans came in as the 6th most preferred brand (3%) "on the left".
Altra Brand Shoes:
In 9th place, Altra got the thumbs up being preferred by 2% of the survey respondents.
PUMA Brand Shoes:
In 10th place, PUMA was preferred by 2% of the survey respondents as well.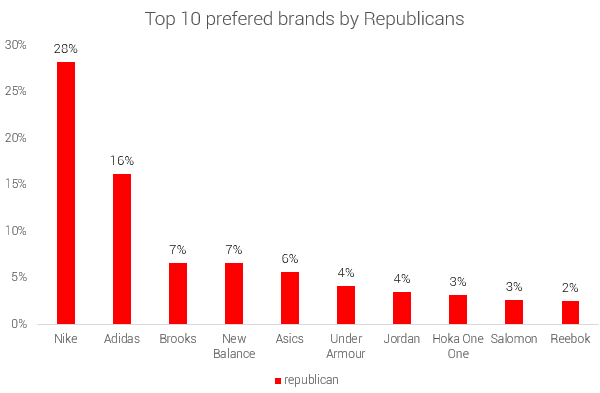 For Republicans, they also had some significant differences from spots 3-10.
Differences in brand preferences that were in both political parties top 10
Brooks Brand Shoes:
Republicans - 3rd place (7%)
Democrats - 5th place (5%)
New Balance Brand Shoes:
Republicans - 4th place (7%)
Democrats - 4th place (5%)
ASICS Brand Shoes:
Republicans - 5th place (6%)
Democrats - 6th place (4%)
Under Armour Brand Shoes:
Republicans - 6th place (4%)
Democrats - 7th place (3%)
Jordan Brand Shoes:
Republicans - 7th place (4%)
Democrats - 3rd place (5%)
The 3 brands that Republicans prefer that Democrats don't
Hoka Brand Shoes:
On the right, Hoka came in 6th, getting 3% of the love.
Salomon Brand Shoes:
In 9th, Salomon took its' place, being preferred by 2% of the conservatives.
Reebok Brand Shoes:
In 10th place, Reebok was holding it down, being preferred by 2% of responders.
Discussion:
To discuss the findings, we enlisted help from individuals with a wide range of related expertise. Their backgrounds and experience ranging from psychology, politics, and marketing.
Introduce the experts
Why Are Republicans Spending More Than Democrats?
The study found Republicans spent a great deal more than Democrats almost across the board. This distinct difference isn't random.
There are tons of factors that influence shopping behaviors and buying decisions. As Dr. Elisa Robyn explained, "our attitudes are powerfully influenced by the community around us, our peer groups, and our culture. Political ideologies work in the same way."
With the extent to which politics has infiltrated our lives, it makes sense that politics would influence spending. Carole Lieberman shared this sentiment with two main reasons why Republicans are spending so much more.
The first is that "Republicans don't feel guilty about spending money" and that they are "more optimistic about the economic health of the country, so they aren't as worried about spending money."
With hiking and sneakers accounting for the highest average spending for Republicans, she explained that "Republicans like the status of the more trendy sneakers." She also added that it is also "because they live in states where there is more access to hiking, whereas there are more Democrats in bigger cities with less access to hiking."
All together, Carole Lieberman explained that combining this confidence with spending money, a desire for status, and a geographical bias for hiking shoes are the major reasons for these differences in spending.
Bruce Sanders, Consumer Psychologist and Consumer Marketer was in agreement on the topic of status. It's why he was explaining that when marketing to "politically conservative target populations, emphasize status maintenance." The goal of the business would be to get shoppers to "think about ways they are maintaining their status as the world around them is changing."
Bruce was able to expand on a short list of different aspects about Republicans and Democrats like how the left prefer a company that is all about growth, innovation, and evolution while those on the right may prefer "statements of stability" that "highlight the concepts of tradition, conformity, security, power, and materialism."
Carole and Bruce provide insights into an aspect about Republican shoe shoppers that companies may be well aware of. So are companies targeting this specifically? Are they charging higher prices because of this? Or is the price of the shoe something that is only adding to the perceived benefit to their status?
Lastly, Republicans had the most savings per purchase. Data from our study shows that Republicans still spent a significant amount more per purchase than Democrats, on average.
So what is causing Republicans to spend more than Democrats on shoes?
A willingness to spend money?
Optimism in the economy?
Belief in economy's direction under Trump?
A desire for status?
Love for hunting the best deals?
Or is it a combination of these factors all simultaneously influencing their buying decisions?
What is driving the differences in brand preference?
Another notable finding in the study focused on the differences in brand preferences.
The survey showed that both sides prefer Nike the most, which was the choice of 32% of Democrats and 28% of Republicans that were surveyed. They also agreed that Adidas was #2 by a significant margin to other brands, being preferred by 17% of Democrats and 16% of Republicans. This survey clearly shows that these two brands have a large market dominance, regardless of political beliefs.
Five other brands remained in both parties' top 10, with preferences for all five ranging from 3% to 7%. On each top10 list, these brands ranked anywhere from 3rd to 7th place.
Some brands kept their rank while others saw major shifts. For example, Jordan brand shoes ranked 3rd place for Democrats and 7th place for Republicans.
Lastly, there were six brands in total that made it on the top 10 of only one political party and not the other. Three for Democrats and three for Republicans.
Christine Carter pointed out "extensive research suggests that Democrats value traits like being warm, curious, fun-loving, friendly, while Republicans value being hardworking, determined, ambitious, thorough, and organized." Explaining that a customer may be drawn to one brand over the other because they see these attributes in a brand.
It isn't by accident either. Dan Christensen, Founder of Morningdove Marketing explained that "businesses who know and understand their customers have a much higher probability of success; that's true whether you're selling sneakers, popsicles, or lawn mowers." Businesses use this information to better target specific audiences.
He continued on, explaining that "even the words you use can be custom-tailored to trigger buying responses in different ways based on this data."
Is it this highly targeted marketing and crafted brand persona that's driving the differences in buying behavior then?
Analyzing these results through the lens of 2 previous RunRepeat studies
RunRepeat has produced several data-based studies on sneakers.
Two of them provide some interesting conclusions that may change the perception around these results.
This study points out an interesting discrepancy between pricing and which sneakers are the most satisfying.
The more expensive a sneaker was, the more it's rating decreased
10 cheapest sneakers are rated higher than the 10 most expensive sneakers
We know this applies to the sneakers category, which Republicans were shown to spend a significant amount more on. And which suggests Republicans were more likely to be spending more for a shoe that was not rated as highly.
This study found that, in the running shoe category, the higher the discounts, the worse the reviews were.
If this concept applies to other shoe categories, it would suggest that the two main differences of the Republicans' online shoe shopping habits—spending more and getting the biggest discounts—are directly correlated with getting a worse shoe.
More analysis of prices, ratings, and political division is needed to answer this with confidence, but it seems that the data is suggesting that Republicans are spending the most, looking for the biggest discounts, but also getting the worst ROI on their shoe purchases.
About Nick, Vania, and RunRepeat
Nick Rizzo is the Training Director whose focus is on all things health, fitness, training and benefits of regular exercise. Vania Nikolova is a data analyst at Runrepeat.com. She holds a Ph.D. in Mathematical Analysis and is keen on interesting trends relating to sports shoes.
At RunRepeat.com we give you all the information you need to buy the best pair of sports shoes at the best price, base on your needs - for running, hiking, football, basketball, and training.