With plenty of flex, a vented, breathable mesh upper, and an affordable price tag, the Nike Downshifter is a serious bargain for a daily trainer. The shoe is really light on the foot and on the pocket which makes it perfect for those starting out their running journey.
Pros
Wider fit
Lightweight
Super durable outsole
Breathable
True to size
Insanely good value
Beginner-friendly
Great for every day and gym
Cons
Entry-level feel
Firm underfoot
Nike Downshifter 11 review and lab test
This shoe is a steal!
It's extremely affordable, has a cool style, a grippy outsole, and can do a little of everything for the entry-level or beginner runner.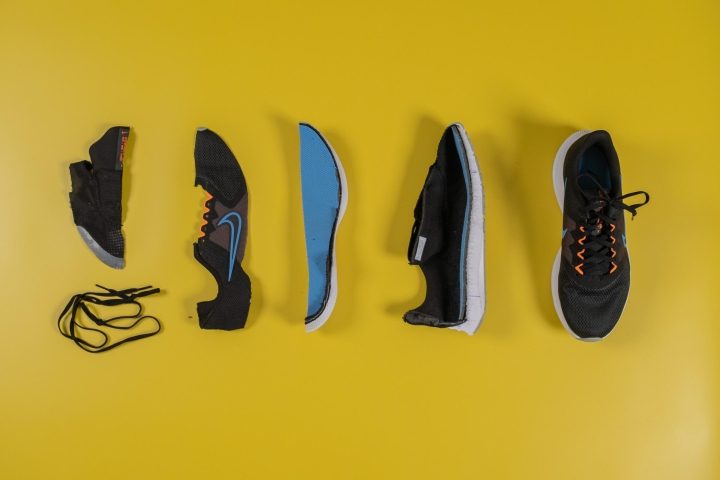 The Downshifter 11 is comfortable on the roads, at the gym, and even just as an around-town sneaker.
Plus that Nike swoosh had street cred!
Who should buy the Nike Downshifter 11
If you are on a tight budget or just need a training shoe on the cheap check out the Downshifter 11. There's nothing super fancy about it, it's just a solid, affordable running shoe with no frills.
Who should not buy it
Don't buy the Nike Downshifter 11 if:
Runs wide for a Nike
Unlike most Nikes, the Downshifter 11 runs a bit wide surprisingly. Normally my wide feet don't agree with the Nike cut, but these seemed to fit well.
The upper measures 97.8mm on the forefoot and 74.8 in the heel which is right around the average shoe (98.4/75.4mm).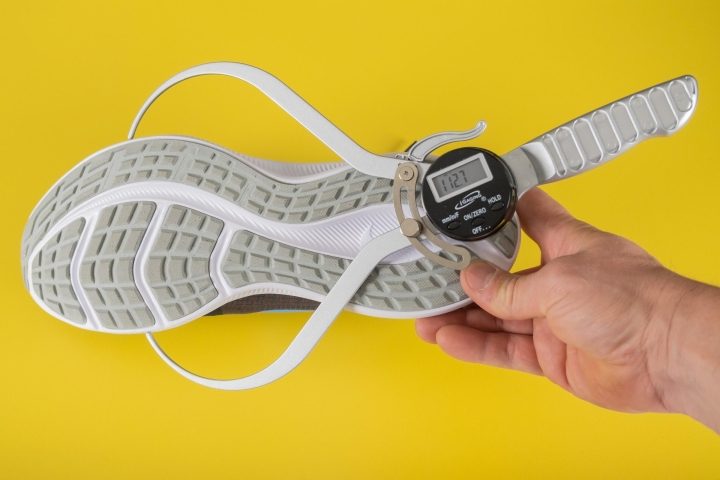 My heel had a bit of slip but there's a second top lace hole for a runner's knot if that's a persistent issue.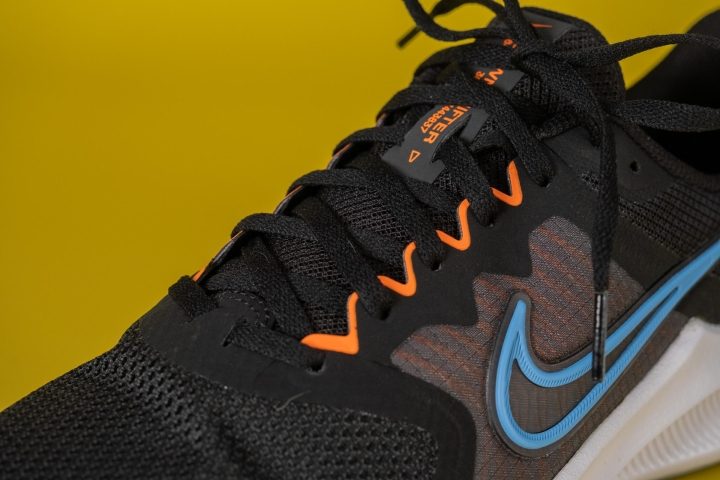 Feels as you'd expect for a low-cost shoe
The shoes feel fine on my feet, but they are nothing to write home about. They a bit cheap, but at $60 they are low cost and in the end, they are not as poor as I would have expected for this price point.
There's plenty of padding in the tongue and ankle collar to offer some comfort, and they breathe well which is usually the main downfall for lower-cost shoes.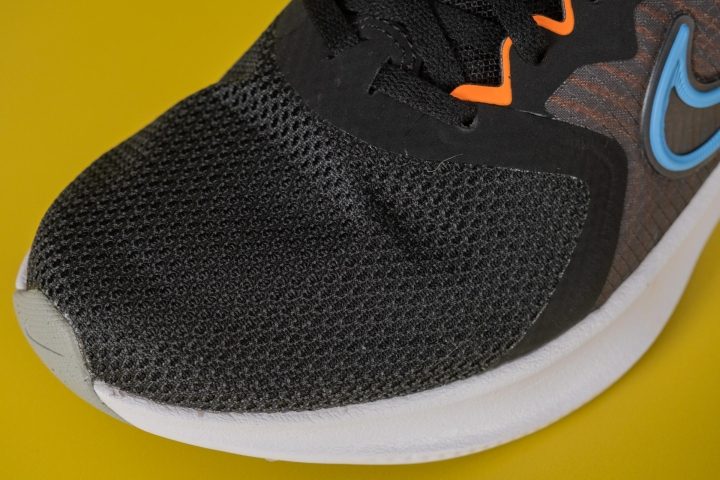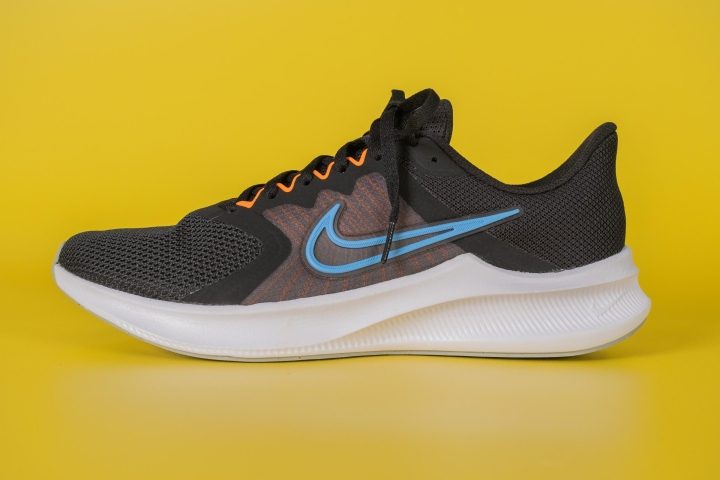 Nike Downshifter has a simple, flexible ride
The ride on the Downshifter 11 is adequate. It's a flexible shoe that flexes through your gait. At 26.2N the shoe flexes more than average shoes (38.8N). This gives it an unobtrusive feeling on your feet, but it also doesn't have a ton of response or pep because of it.
These days, lots of shoes have high-tech foam midsoles, and nylon or carbon plates, and this shoe is not as exciting as the newer technology out there.
The midsole is firm too, at 32HC (average midsole run 22.8HC) it's a bit dense under foot, and feels a slight bit harsh to run in for longer distances.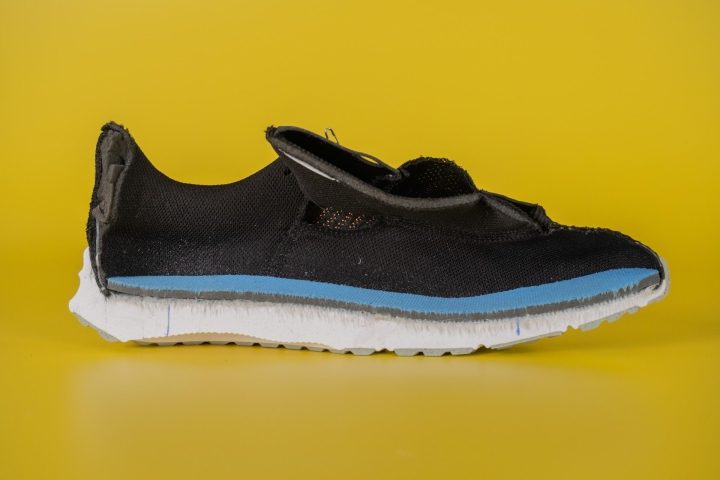 The other thing I don't like about Nike's lower-budget shoes is they cram the heel with foam for a high-drop experience. The Downshifter 11 has a 11.6mm drop which is just too much. Their other budget shoe, the Quest 4 has an amazing 13.7mm drop in our tests… Nike, even beginners don't need this much heel!
Surprisingly nice weight on the Downshifter 11
Surprisingly the Downshifter 11 weighs in at just 8.8 ounces (249g) which for a $60 shoe is pretty impressive, especially with 31.5mm of foam in the heel, and a padded tongue and ankle collar.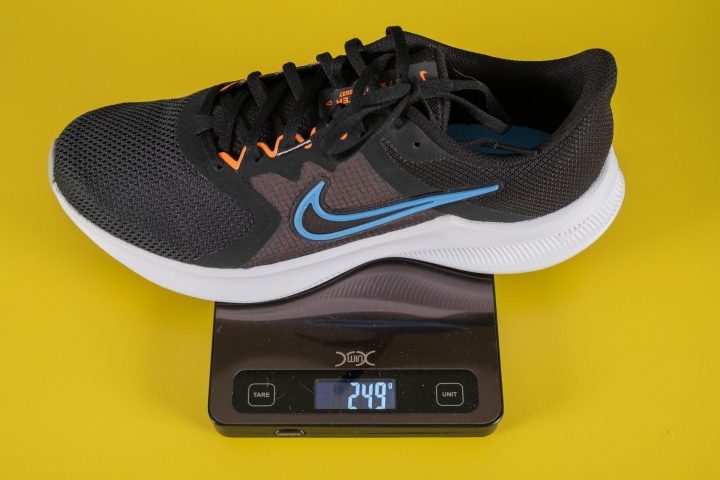 This is one of the saving graces of this shoe for sure.
Durability and grip
The shoe is low cost, so I can't really determine if it will last a long time, but the outsole is super hard at 88.5HC (average outsoles are just 80.5HC) so it should wear slowly, but where this may break down is in the upper if it's manufactured poorly.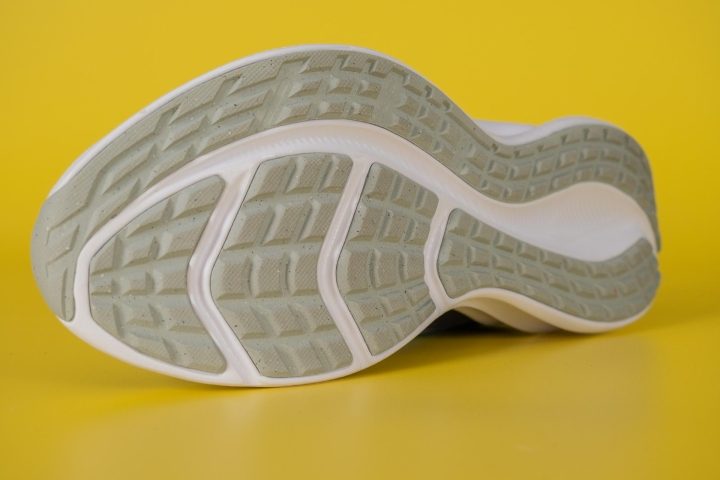 As for the grip, the outsole has mini 1.7mm lugs, which is great on a road shoe since they normally don't have this much texture. It should be fine on gravel trails and dirt paths and had no issues on our road tests.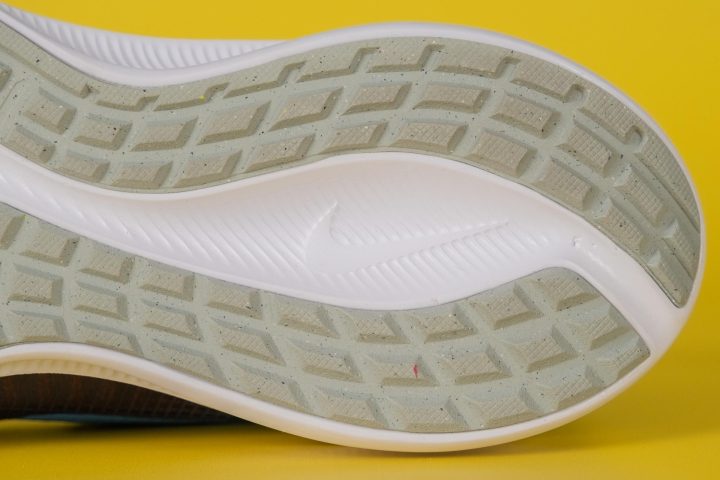 Just beware in the cold, as rubber this stiff can become slick when it freezes up a bit.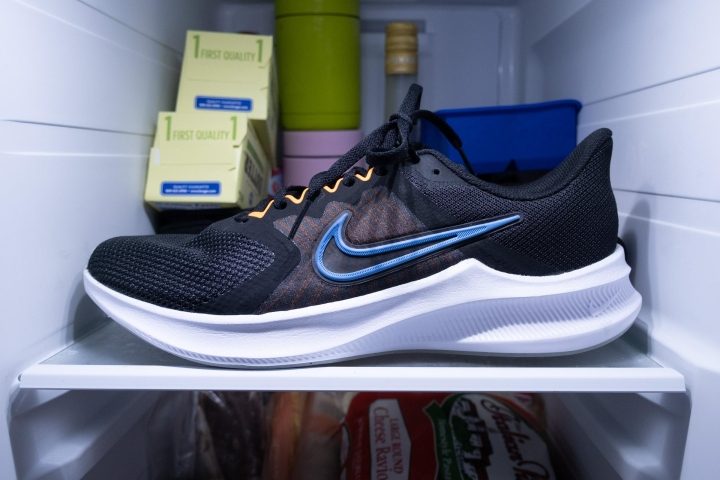 Missing any reflective elements
There are no reflective elements on the Downshifter 11 so be sure to be careful after dark in these if you are out running on busy roads.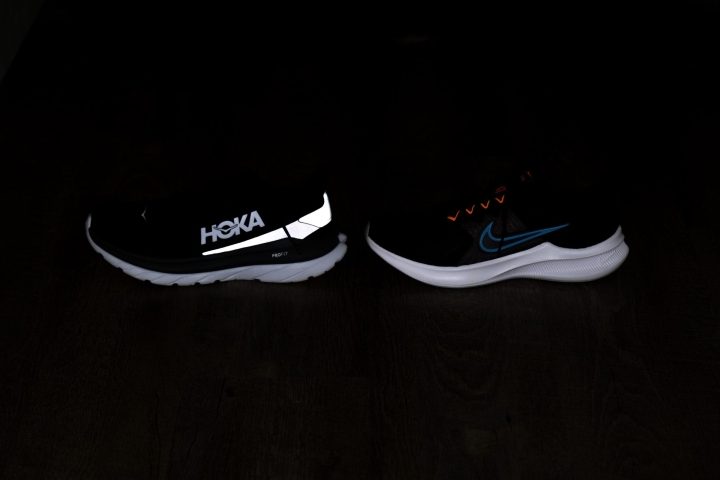 Nike Downshifter 11 is priced right
At $60 this shoe is insanely inexpensive and a bargain for anyone looking for a running shoe.
Conclusion
Looking for a low-cost, everyday shoe to run and lounge in, the Downshifter 11 may fit the bill.