3 Best Nike Air Force Sneakers, 60+ Shoes Tested in 2023
When it comes to iconic designs, it's almost impossible to beat the Nike Air Force sneakers. Aside from its rich history and heritage at the very heart of the sneaker culture, they simply look amazing, hands down, with almost everything you have in the wardrobe.
With its timeless appeal, versatility, and superb comfort, the Air Force kicks have continued to dominate the lifestyle footwear realm for generations. Every restocking and revamp of this revolutionary silhouette feels like Christmas to all sneakerheads around the world.
If you're eyeing to pick your first-ever pair or adding your 4th AFs to the collection, we are here to help you make things more convenient. We've tested and reviewed 40+ of the best Nike Air Force sneakers currently available. Start with these top recommendations below.
How we test sneakers
Our data-driven selection process at RunRepeat is not only quite meticulous but also super fun. We have our own independent shoe testing lab where we put all the sneakers from the Swoosh label (and many other brands) through the wringer from the outer designs to their minutest parts.
The entire approach involves:
Investing our own resources (time, energy, money) to make our own independent and BS-free reviews.
After analyzing all the Air Force sneakers at the lab, we distribute them to our wear-testers for in-field assessment Wear-testing for each pair of Nike kicks takes about a month. The testers then submit to us their evaluation of each particular model's fit, comfort, weight, toe box, insole, breathability, durability, overall style, and versatility, among many others.
Gathering more comparable data from literally thousands of customer reviews.
In the end, we consolidate all research data and lab-tests results which appear in the reviews. All the pairs of Nike Air Force sneakers are given their respective performance ratings, which are displayed on the CoreScore.
Best Nike Air Force sneakers overall
Nike Air Force 270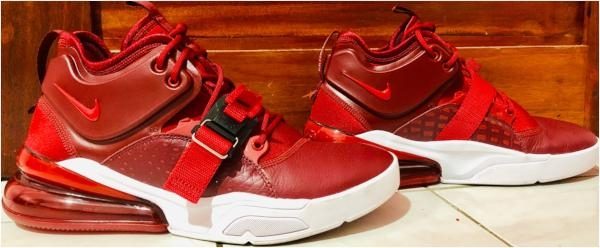 Pros
True to size
Very comfy
Nice fit
Breathable
Nice design
Verdict
Nike has put a nice design into Air Force 270. It's not running nor a training shoe but a lifestyle shoe. It has the looks of a basketball shoe but the feel of a running or training shoes. You can use this for special occasions but not for strolling in the mall and driving. If you're planning to use this when you travel, be ready to remove them during inspections because it will take you some time.
Nike Air Force 270 full review
Best value
Nike Air Force 1 07 Next Nature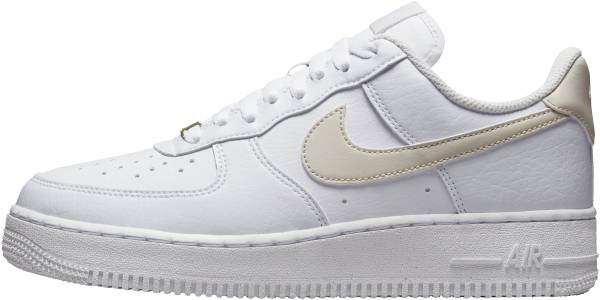 Pros
Incredibly comfy
Soft interior
Partly sustainable
Stylish

Affordable

Enough wiggle room
Easy to clean
Cons
Squeaky sole
Requires some break-in
Lacks arch support
Verdict
Nike Air Force 1 07 Next Nature may appear rigid and heavy, but it's way more gentle and accommodating than the typical Air Force 1s. The tongue, heel, and sole are liberally padded, creating a happy environment for the feet. It isn't only comfy and chic for everyday use but eco-friendly too, with the bottom layer spun from repurposed waste.
Nike Air Force 1 07 Next Nature full review
Most popular Nike Air Force sneakers
Nike Air Force 1 07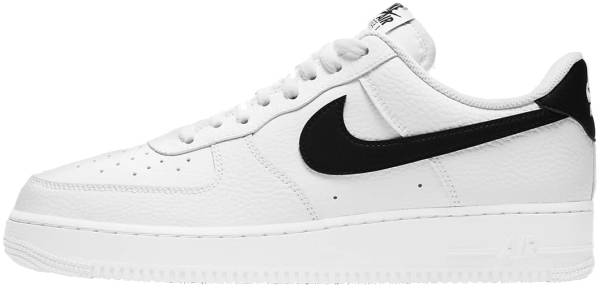 Amazon
Prime & free shipping
Finish Line
Free shipping & returns
Champs Sports
Free shipping & returns
Pros
A classic
Lasts for years
Great summer shoe
For active and semi-formal attires
Roomy toe box
Excellent basketball-type traction
Snug fit
Adds inches to your height
Verdict
AF 1 07 can be worn with almost any outfit. It's very durable. There are those who assert that the Nike AF 1 07 shoes and their iterations are among the most comfortable shoes out there. Given its affordability, this shoe is undoubtedly one that is hard to resist.
Nike Air Force 1 07 full review