5 Best Cross-training Shoes For Men in 2023
We earn affiliate commissions at no extra cost to you when you buy through us. Why trust us
Working out is an addiction, and it's the only type of addiction that we approve of. It not only makes you healthier, it also makes you look better and feel happier about yourself. These benefits, of course, do not come without effort. After all, it's still a no-pain-no-gain world here.
Fortunately, pain becomes more bearable when you work out wearing reliable cross-training shoes for men. Hence, in this article, we share the training shoe models that perfectly correspond to the unique needs of the male foot anatomy and the masculine style of working out. As expected, many of these picks are from top brands like Nike and Reebok.
How we test training shoes
Our claims are bold, and our reviews are brutally straightforward. We are aware that we need to maintain our integrity to be believable, so we do the following:
Buy men's cross training shoes using our own funds
Use the shoes in actual workout sessions
Whenever possible, share our individual experiences with the shoes with each other
Doing such things makes our assessments not only truthful but also free from bias. Through our exchanges, we are also able to paint a more comprehensive picture for you, which we hope will help you make a more dependable buying decision.
Comparison of the 5 best cross-training shoes for men
| | | | | | | |
| --- | --- | --- | --- | --- | --- | --- |
| Best | | | | | | |
| CoreScore | | | | | | |
| Users rating | | | | | | |
| Experts | | | | | | |
| Best price | | | | | | |
| Ranking | | | | | | |
| Popularity | | | | | | |
| # of colorways | | | | | | |
What to look for in cross-training shoes for men
Your gym workout demands a lot from your lower body. The stresses you expose your feet and lower legs to are varied and severe and approaching them with shoes built for a leisurely jog in the park is a not wise thing to do.
What you need on the gym floor is support, versatility, stability, and grip, and if your current shoes aren't providing all of those things you need better shoes.
A quality cross-trainer has to be, above all, versatile:
| | | |
| --- | --- | --- |
| Stable | Lightweight | Flexible |
| for weightlifting and multi-directional movements | for running, jumping, and plyometric training | for jumping, lunging, and stretching |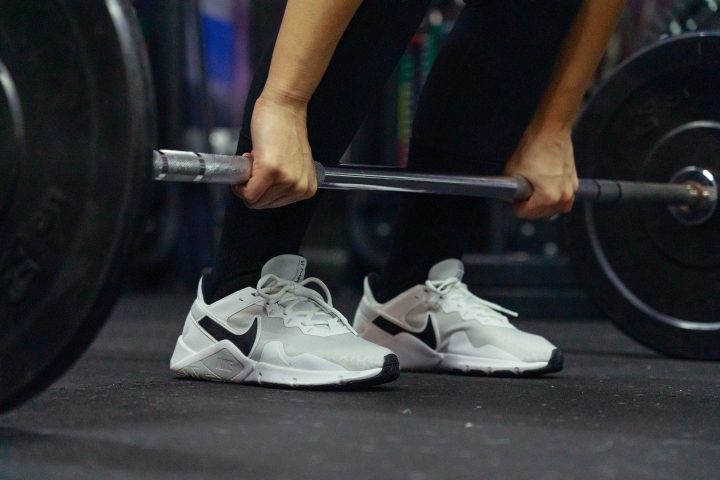 Is there a difference between cross-trainers for men and women?
Yes, there is a difference. While both types of cross-trainers are designed for multi-sport activities and provide similar levels of support, cushioning, and stability, there are some key differences between men's and women's models:
FIt
Women's cross-trainers are designed with narrower heels for a more comfortable and secure fit.
Size
Men's sizing scheme runs about 1.5 US size larger than women's.
Style
Designed in different styles to appeal to the different fashion preferences of men and women. Women's cross-trainers may come in more colorful or feminine styles, while men's cross-trainers may have a more neutral or sporty look.
TIP: Guys with narrower feet can benefit from getting a women's version of the shoe. Just make sure to get 1.5 US size larger from your regular men's size.
Should I buy cross-trainers or weightlifting shoes?
If you're a general fitness gym goer who wants a decent shoe that you can train in then a pair of cross trainers may well suit your needs. A weightlifting shoe is geared more towards the serious lifter who wants to lift heavy under premium conditions.
So, if you are a person who spends the majority of your gym time on the squat rack or doing weightlifting moves, you should invest in a pair of dedicated weightlifting shoes.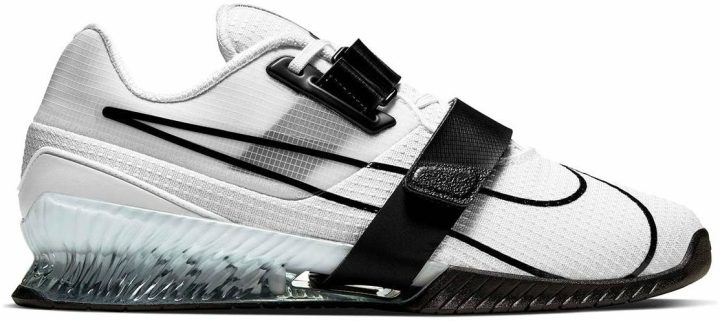 On the other hand, if your workout sees you doing a range of machine and free weight exercises, possibly including squats, and you don't want to carry a second pair of shoes in your gym bag, then go with cross trainers.
The pros and cons of weightlifting shoes and cross-trainers

Weightlifting shoe

Cross-trainer

Elevated Heel

PROS

Better knee tracking
More upright torso when squatting
Can squat with more depth
Less ankle joint stress
Not recommended for deadlifts

CONS

Not ideal for general gym workouts
May conceal ankle flexibility issues

Flat Heel

PROS

Suitable for general gym workouts
Enhances ankle flexibility
Suitable for moderate-weight squats and Olympic lifts
Ideal for deadlifts

CONS

Won't promote an upright torso
Limited knee tracking
May not allow deep squat

Low Compression

PROS:

Greater stability when lifting
No energy leaks

CONS:

Lacking compression for other aspects of the workout (plyo, treadmill running, etc)

High Compression

PROS:

Provides cushioning to reduce impact stress on joints
Flexible to enhance movement on agility exercises

CONS:

Cushioning provides an unstable surface
Absorbs lifting force to affect power output negatively

Very Rigid

PROS:

Sturdy construction material to prevent lateral foot movement
Secure lockdown system to prevent foot lift
Wide toe box to allow toes to spread out

CONS

Lack of flexibility not as comfortable
Low breathability

Very Flexible

PROS:

Flexibility is ideal for plyometric exercises such as step-ups, burpees, and squat jumps
High breathability

CONS:

Impaired lifting stability
Lack of toe box space for toe splay
Cross-training shoes vs running shoes
To many people, athletic shoes all serve pretty much the same purpose; whether you're running in the woods or heading to the gym, a decent pair of runners or trainers will do the job. That type of thinking, though, is plain wrong.
There are some important differences between workout shoes and running shoes. Those differences make each one ideally suited for a specific type of exercise. Here's a breakdown of the key differences between a running shoe and a workout shoe.
Running shoes are, naturally, designed specifically for running, both outdoors and on a treadmill. As such, they have the following features:
Forward propulsion technology
Limited side-to-side movement capabilities
A mesh upper to allow for greater breathability
A relatively high heel-to-toe drop:

average drop of running shoes - 8.7 mm
average drop of training shoes - 4.5 mm

Extra heel cushioning for impact absorption:

average heel stack of running shoes - 33.2 mm
average heel stack of training shoes - 24.1 mm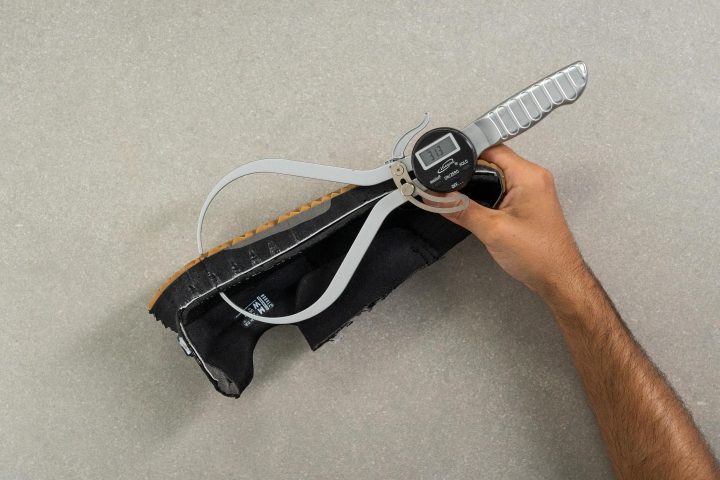 NOBULL Runner stack height - 31.3 mm
NOBULL Trainer stack height - 18.6 mm
Workout shoes are created to meet the workout needs of the average gym goer. As such, they need to be able to do a bit of everything, including weight lifting, cardio, machine and free weight exercises, and fitness class workouts.
Unlike running shoes, workout shoes need to allow for lateral movement and sudden changes of direction. The cushioning is not as great as on a running shoe in order to get a balance between the rigidity needed for heavy lifting and the cushioning required for plyometric jumping exercises.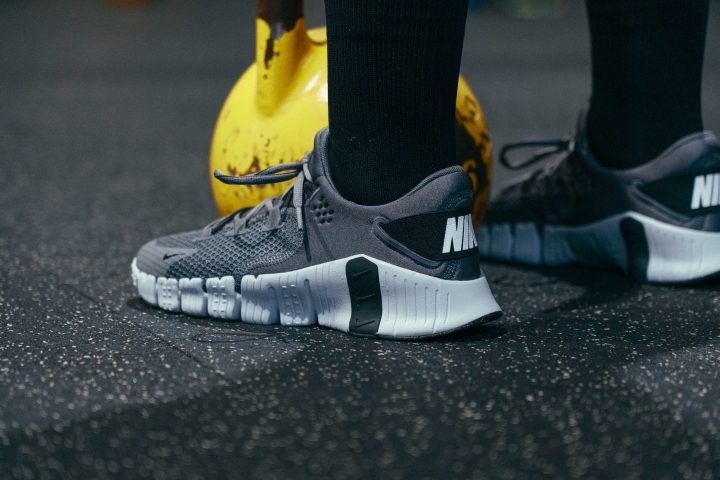 The toe box on a workout shoe is roomier than that on a running shoe. That's because it needs to provide space for the toes to splay out as they naturally do when pushing a weight overhead or when squatting. The wider toe box also allows for more efficient movement changes.
Even though some running shoes can be wider in the toebox than cross-trainers, the latter are on average 1.5 mm wider.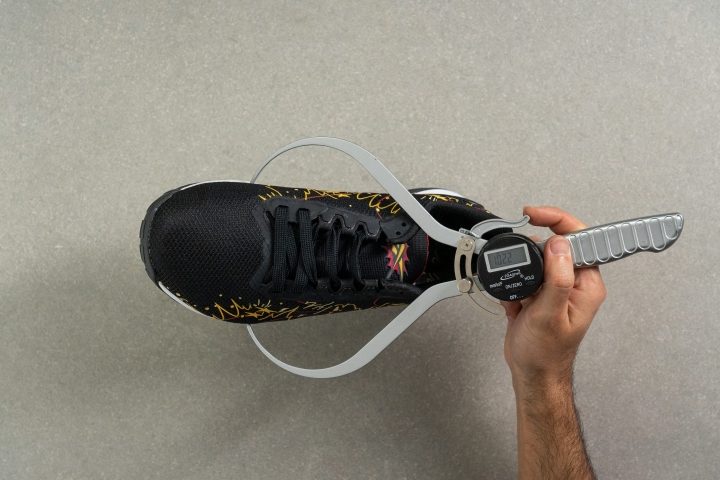 8 things to consider in a pair of men's cross-training shoes
To make sure you feel your best when reaching your peak performance at the gym, pay attention to the following characteristics when choosing a pair of cross-trainers:
Heel Support
A good workout shoe offers additional heel support to provide rigidity when lifting and prevent lateral movement. This is usually in the form of a plastic insert in the heel.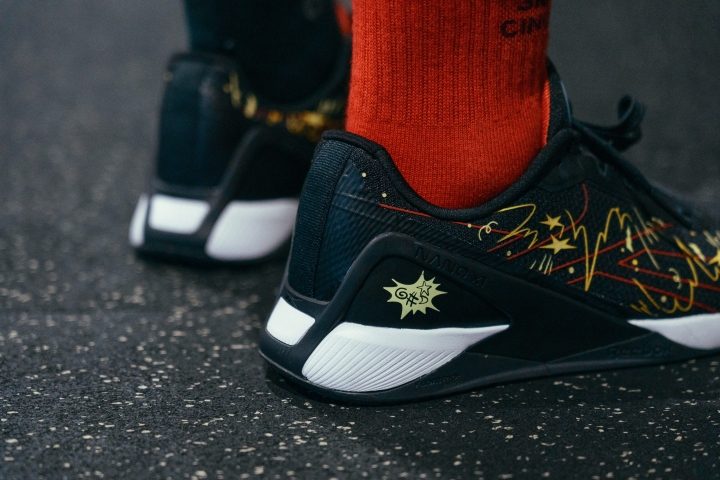 Flexibility
A flexible shoe makes it simple to change directions and move in every direction without compromising your agility or balance.
Flexibility level can vary a lot across training shoes. Depending on your typical workout, you might prefer either a more pliable shoe or a stiffer one.
Nike Free Metcon 4: one of the most flexible trainers (better for HIIT, aerobics, etc.)
NOBULL Trainer+: one of the stiffer shoes (better for weightlifting)
Toebox
The toe box of your workout shoes should provide a few centimeters of extra width to allow for the natural toe spreading that occurs when lifting weights when your feet are planted on the ground.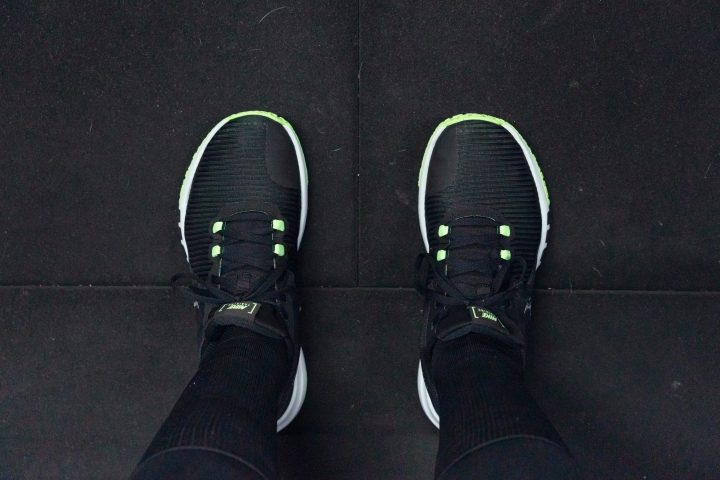 On average, the widest part of the forefoot measures 99.2 mm in cross-training shoes. For reference, here are the averages in other categories:
cross-training shoes: 99.2 mm
hiking shoes: 98.9 mm
trail running shoes: 98.9 mm
road running shoes: 97.7 mm
basketball shoes: 97.5 mm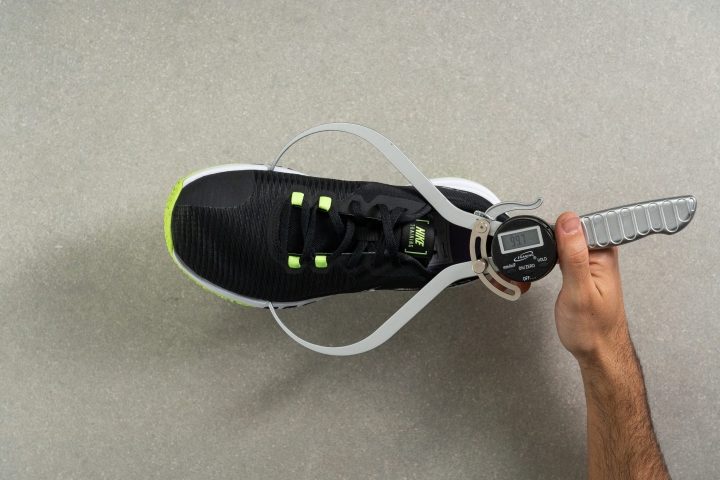 The material used to make the toebox should also be flexible, allowing for the toes to bend easily. This makes it possible for your foot to push off with the help of the forefoot, or the base of your toes.
Cushioning
Look for workout shoes that offer some cushioning but not too much. In multidirectional movements, excessive cushioning could make you land incorrectly, putting you at risk for knee or ankle injuries. When pushing the weight with your feet on the ground, too much cushioning will also rob you of a stable base.
An optimal cushioning setup would be a firm heel and a moderately soft forefoot.
Lower heel-to-toe drop
A high heel-toe drop could make lateral motions more likely to cause an ankle injury. The reduced cushioning of the heel that is needed in a workout shoe will naturally contribute to a lower heel-to-toe drop.
The average drop in cross-trainers hovers around 4 mm.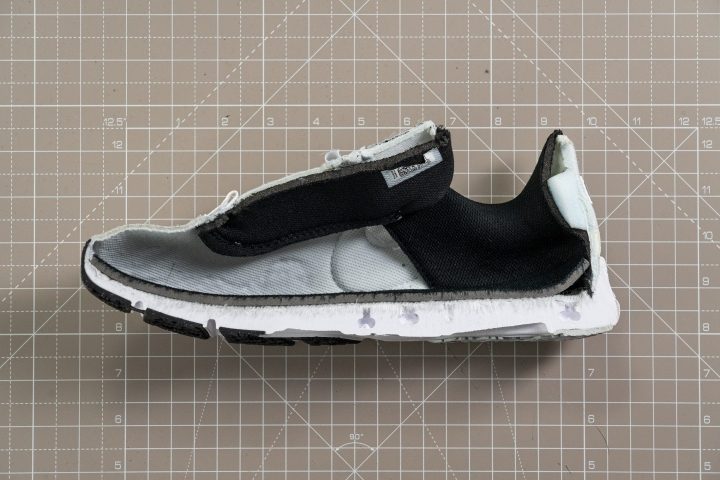 Nike Legend Essential 2 (5.1 mm drop)
A 4-mm is barely visible to the untrained eye and feels a lot like zero drop. This helps the wearer feel more planted and grounded.
Grippy and hard-wearing rubber
Pick training shoes with enough traction on the sole to enable safe and swift motions. When trying to slide your feet across a surface, the shoe should feel secure on the floor. At the same time, the outsole should provide you with a secure ground connection.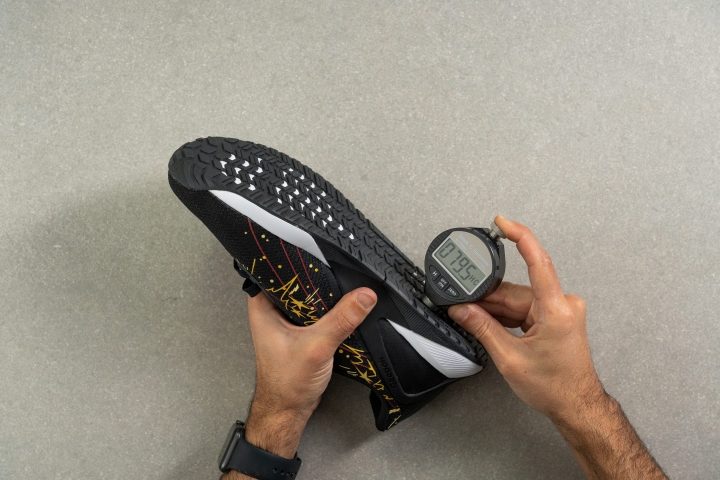 The rubber outsole in cross-training shoes is about 5% harder than in road running shoes.
If rope climbs are part of your routine, make sure the trainer has rubberized side walls too.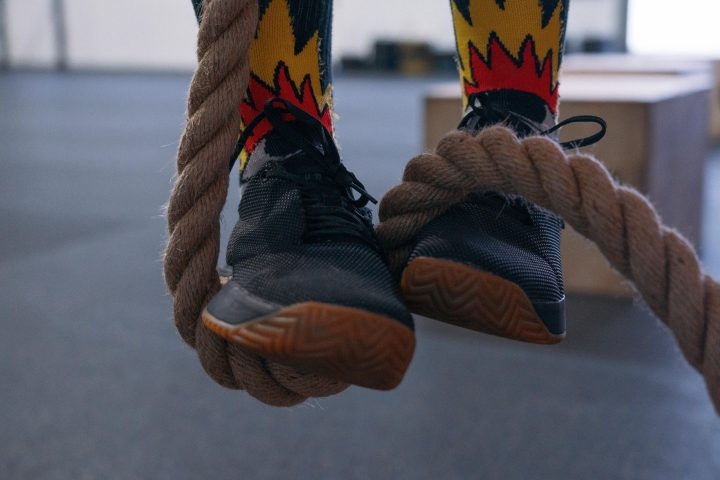 Material
Personal preference should play a big role in determining the material to use. The materials used in training shoes are frequently a mix of mesh, plastic, leather, and synthetics.
Depending on your climate and training environment, you may want to opt for more breathable trainers.
Nike Air Zoom SuperRep 3 (breathability: 5/5) vs. NOBULL Trainer (breathability: 1/5)
Frequently asked questions about cross-training shoes for men
Do I really need to wear cross-training shoes in the gym?
Wearing the right shoes for your workout is important for several reasons, including:
| | |
| --- | --- |
| Your feet are supported and protected | Wearing the right shoes can help to prevent injury by providing the support, stability, and cushioning your feet need for your activities. Cross-training shoes are designed specifically for multi-sport activities and can help to reduce the risk of injury by providing the right level of support for your feet. |
| You can perform your best | Wearing the right shoes can also improve your performance by providing the right level of traction, stability, and support for your activities. Cross-training shoes are designed to provide the right level of support and stability for a variety of activities, so you can perform at your best. |
| You feel comfortable | Wearing the right shoes can also help to keep your feet comfortable during your workout. Cross-training shoes are designed to provide good cushioning and support, so you can stay comfortable during even the most intense workouts. |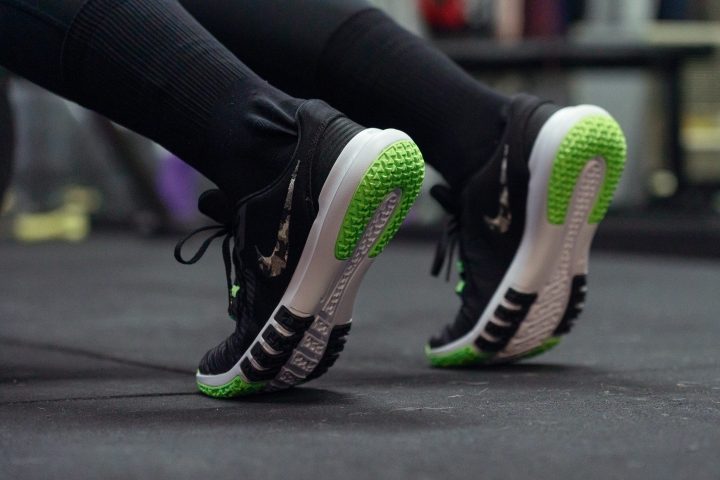 Is it ok to train barefoot in the gym?
Training barefoot in the gym can have both benefits and drawbacks. Here are some of the things to consider:
Benefits:
Improved balance and stability: Training barefoot can help improve your balance and stability, as your feet have to work harder to maintain your balance without the support of shoes.
Better sensory feedback: Training barefoot can also provide better sensory feedback, as your feet have direct contact with the ground, allowing you to feel and respond to changes in your environment more quickly.
Drawbacks:
Increased risk of injury: Training barefoot can also increase the risk of injury, as your feet are not protected from sharp or hard objects on the floor. This can lead to cuts, bruises, or other foot injuries.
Decreased protection: Training barefoot also provides less protection for your feet, as there is no cushioning to absorb shock or support for your feet. This can lead to increased stress on your feet and legs, particularly if you're doing high-impact activities like jumping or running.
When in doubt, go for a minimalist trainer from brands like Inov-8 and Xero Shoes.