7 Best Hoka Shoes For Walking in 2023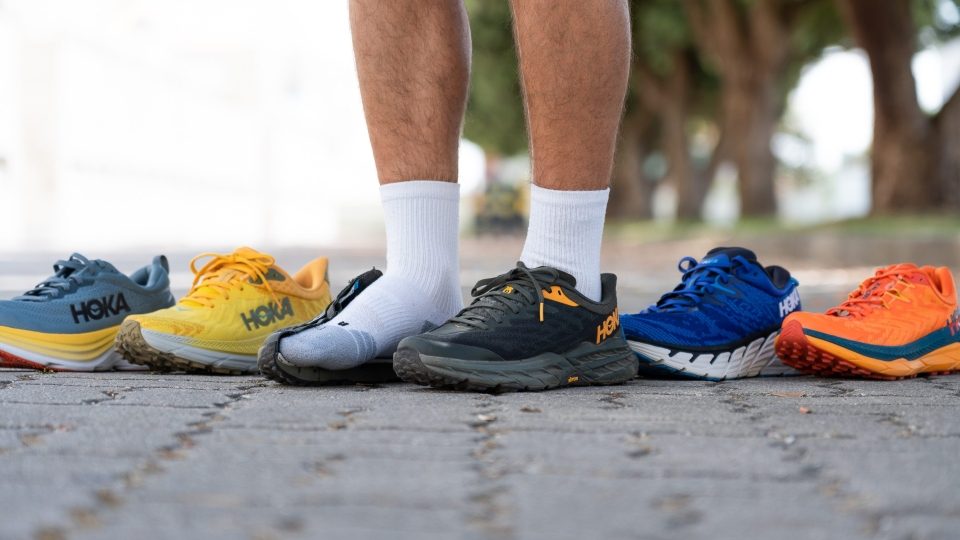 We earn affiliate commissions at no extra cost to you when you buy through us. Why trust us
A good pair of walking shoes can take you far, literally and figuratively. Besides being comfortable and stable, walking shoes should also be hip and stylish to show off when strolling around the town. 
One brand that has been making waves in the walking realm is the Hoka. Boasting its comfortable, supportive, and durable footwear collection, this brand has been dubbed one of the podiatrists' favourites for countless fantastic reasons. And we sure did experience what Hoka has to offer when we put them on our feet and tested them away!
If you're interested in getting a pair or two, we've concocted our recommendations under various categories to make your Hoka walking shoe hunting quick and easy. 
Comparison of the 7 best Hoka shoes for walking
| | | | | | | | | |
| --- | --- | --- | --- | --- | --- | --- | --- | --- |
| Best | | | | | | | | |
| CoreScore | | | | | | | | |
| Users rating | | | | | | | | |
| Experts | | | | | | | | |
| Best price | | | | | | | | |
| Ranking | | | | | | | | |
| Popularity | | | | | | | | |
| # of colorways | | | | | | | | |
Choosing the best Hoka walking shoes
Walking is one of the most accessible and effective ways to cultivate long-term health and well-being. Although walking is low impact and relatively pedestrian (pardon the pun), you can still risk discomfort and even injury without the right shoes.
Hoka shoes are most often associated with distance running thanks to their exceptional comfort and max cushion designs, but these qualities make them a top choice for walkers too.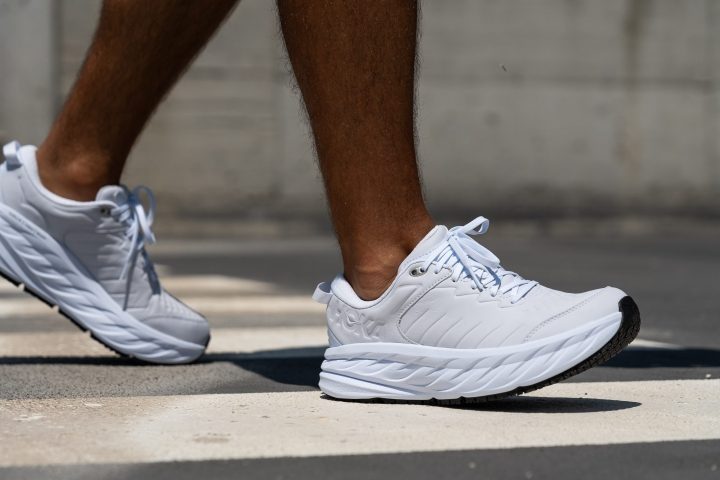 Why choose Hoka shoes for walking?
Hoka shoes have revolutionised the footwear industry with their unique approach to cushioning. The brand is practically synonymous with maximalist cushioning–almost all Hoka shoes feature supportive, plush, and thick midsoles.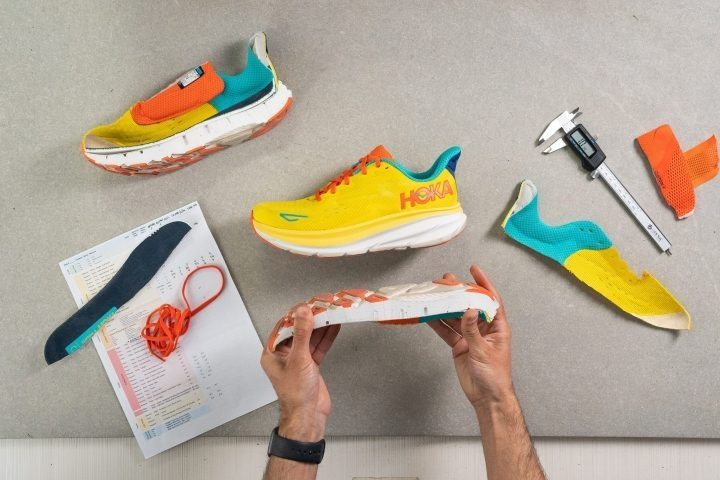 This design minimises impact forces otherwise absorbed by your legs, so it is no surprise that the smooth, supportive, and comfortable ride Hoka shoes provide has made them extremely popular with runners and walkers alike.
Understanding your walking style
Before deciding on Hoka shoes, it's important to understand your walking style.
Do you walk for fitness, for leisure, or as part of your job?
What surfaces do you typically walk on?
Do you require extra stability or arch support?
Your answers will help you identify what type of Hoka shoes are best suited for you.
Factors to consider
When choosing the best Hoka walking shoes for you, several factors come into play. Let's take a closer look at the most important ones.
Cushioning and support
Hoka shoes are renowned for their exceptional cushioning, but the level of cushioning can vary between models. If you're looking for maximum cushioning for support and all-day comfort, consider shoes with plush midsoles, like the Hoka Bondi or Hoka Clifton.
Hoka Clifton 9 parameters: 32.7 mm heel stack, 26.6 mm forefoot stack, 6 mm drop
If you're looking to get a bit more of a workout, then a light and responsive shoe with slightly less cushioning, like the Hoka Mach, is more appropriate.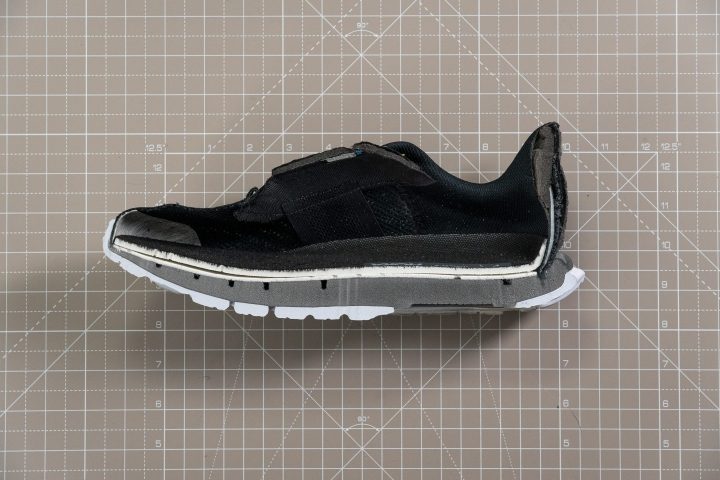 Hoka Mach 5 parameters: 30.7 mm heel stack, 25 mm forefoot stack, 5.7 mm drop
Colour and style
If you are wearing Hoka shoes for work, city walks, or travel, your style preferences will likely differ from your workout-specific shoes. Hoka does flashy, athletic colorways well, but there are also more versatile and muted colours and shoe designs to choose from, like the Hoka Transport.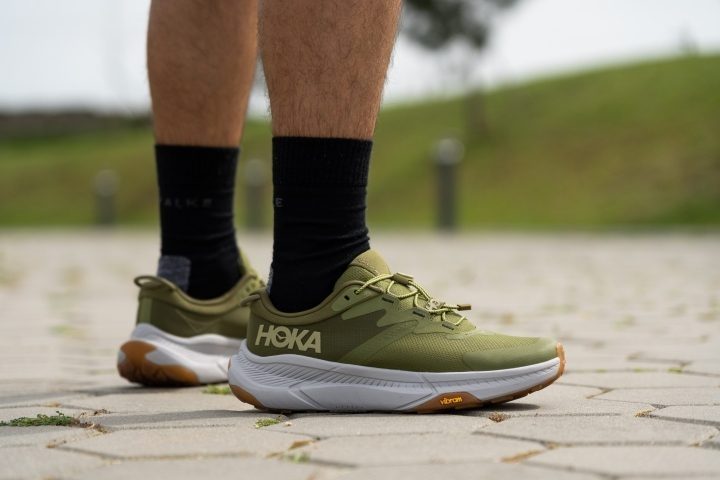 Traction
Different Hoka shoes cater to different surfaces. Road shoes are perfect for walks around the neighbourhood or on the treadmill. But for trails or snowy and icy conditions, trail shoes with lugged outsoles, like the Hoka Speedgoat, offer some much-needed traction to keep you stable and upright.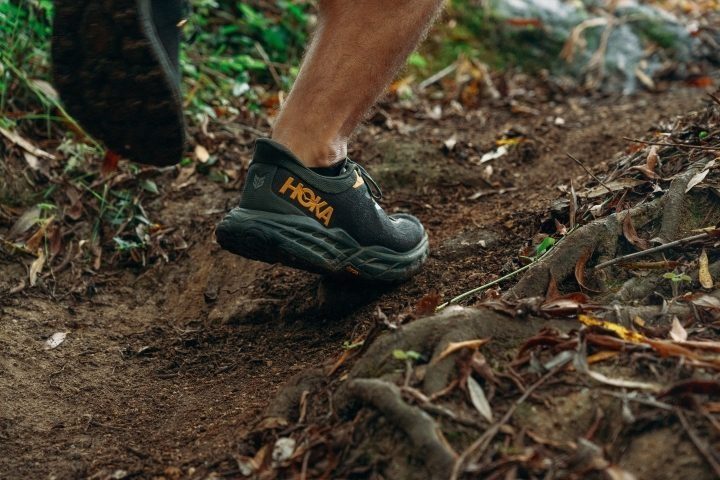 Hoka Speedgoat 5 features 3-mm lugs to bite the trails
Different types of Hoka walking shoes
Hoka offers a diverse range of walking shoes to cater to different styles and use cases. Here's a quick summary of the best Hoka shoes for walking.
Hoka Transport

Everyday Walking Shoe

The Hoka Transport is the ultimate everyday walking shoe that seamlessly balances form and function. Thick midsoles, stylish colorways, and Vibram outsoles make it a great shoe for just about any walk imaginable.

Hoka Clifton

All-Round Versatility

The Hoka Clifton strikes a balance between cushioning and responsiveness. This makes it a versatile choice for various walking styles, including neighbourhood strolls, speedy aerobic sessions, or long days spent exploring a new city.

Hoka Bondi

Maximum Cushioning

If you're all about cushioning, the Hoka Bondi is your go-to option. It features generous cushioning and a plush feel, making it perfect for walkers seeking superior comfort. 

Hoka Speedgoat

Trail-Worthy Traction

The Hoka Speedgoat is like the off-road vehicle of the shoe world. Designed with rugged trails and long days on your feet in mind, they're the best Hoka shoe for walks and hikes extending beyond the pavement

Hoka Arahi

Stable Arch Support

The Hoka Arahi is a stability running shoe. It provides additional arch support, catering to walkers who require more foot stability than most neutral shoes offer.

Hoka Mach

Light and Nimble

The Hoka Mach is designed to be light, nimble, and responsive. Its bouncy and light feel is well suited to walkers with a brisk pace.
The tech in Hoka walking shoes
Nearly every Hoka walking shoe incorporates one or all three of these key technologies. They are tailored to deliver comfort, cushioning, and stability for walking to varying degrees depending on the specific shoe model.
Lightweight cushioning foam
The signature feature of Hoka shoes is their thick, highly cushioned midsoles. The brand's compression-moulded EVA (CMEVA) foam marries plush all-day comfort with lightweight construction.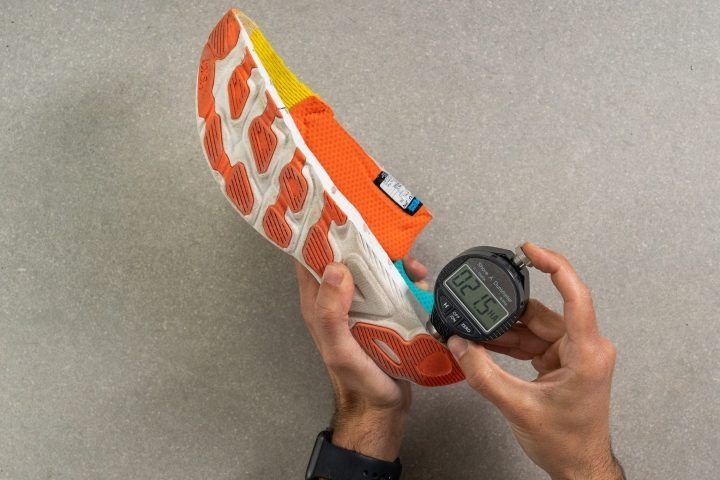 Based on our durometer measurements, Hoka walking shoes tend to be softer than average. Depending on the model, it can be anywhere from 15% to 130% softer than average.
Some of the best lightweight Hoka walking shoes, like the Mach, utilise innovative supercritical EVA blends achieved through exposure to high temperatures and pressures with nitrogen or carbon dioxide. The energetic bounce this provides is perfectly suited to brisk walks, whether working out on the treadmill or cruising around outdoors.
The Mach 5 is one of the softest running/walking shoes from Hoka
Meta-Rocker design
Hoka shoes incorporate a Meta-Rocker design–gently rounded soles encourage a natural and efficient foot strike pattern. Meta-Rocker soles mitigate the dull, unresponsive sensation that some walking shoes provide.
Active foot frame
Another defining element of Hoka walking shoes is their deep, moulded foot frame. By embedding the foot frame deeply within the midsole, Hoka shoes feel secure and stable, even with their extra thick midsoles. By pairing stability with robust cushioning, Hoka shoes are perfect for long days on your feet, whether they are spent standing, running, or walking.
FAQs about Hoka walking shoes
Are Hoka shoes suitable for long walks? 
Hoka shoes are renowned for their comfort and cushioning, making them an excellent choice for long walks.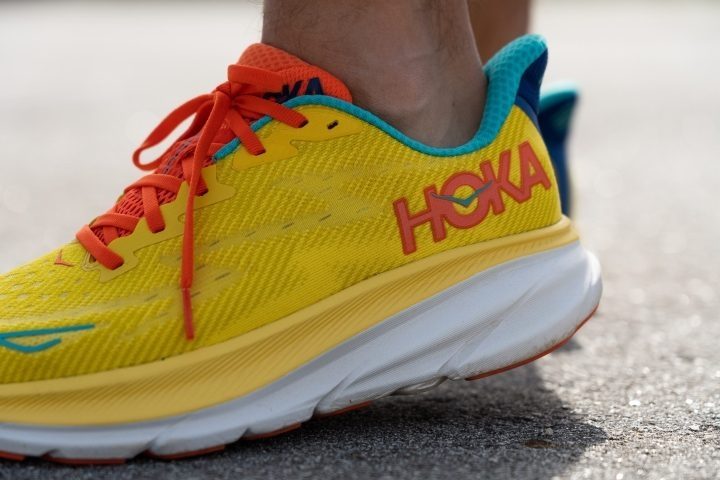 Can I use Hoka Speedgoat shoes for regular walking? 
While designed for trails, Hoka Speedgoat shoes can also provide comfort during regular walks, especially if you value extra traction and stability.
Their 3-mm lugs aren't too deep to be pronounced on the pavement and other hard surafces.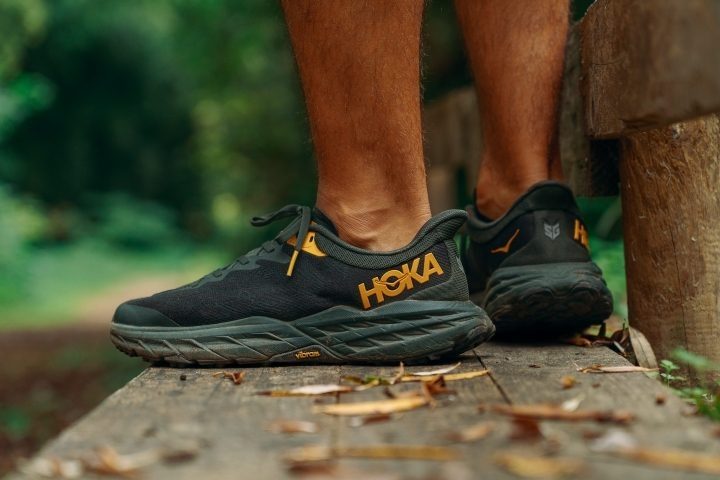 How often should I replace my Hoka walking shoes? 
On average, you should replace your walking shoes every 300 to 500 miles, or when you notice signs of wear and tear.
In our lab durability tests, Hoka shoes often perform better than average.
Can I machine wash my Hoka shoes? 
It's best to avoid machine washing Hoka shoes, as it can damage the materials and cushioning. Instead, clean them by hand using a gentle cleaning solution.
How we test walking shoes
Here is our approach to give you an honest and fair review:
We buy these shoes using our money to avoid any biased feedback.
We subject them to a slew of lab tests and comparisons to check a wide array of parameters. Plus, we split the shoes in half to have a closer eyeshot of what's inside.
We go through our usual affairs in a day - walking indoors and outdoors, going to work, travelling, and others - only this time, we do them while the walking shoes that we want to test are on.