7 Best Walking Shoes For Plantar Fasciitis in 2023
We earn affiliate commissions at no extra cost to you when you buy through us. Why trust us
Your feet deserve better than the stabbing pain in the heel area. Finding the right shoes is the #1 step to stand in the way of this. Our guide goes in-depth on which shoes are best for plantar fasciitis, why are they different from other shoes, and what science has to say.
We have reviewed over 30 pairs of walking shoes that are recommended for this condition. Some shoes are better suited for people with wide feet, some feel extra light, and some offer extra slip resistance on smooth surfaces. See our top picks in each of these categories!
Disclaimer: This guide was created for educational purposes and tends in no way to offer medical advice or diagnosis.
Comparison of the 7 best walking shoes for plantar fasciitis
| | | | | | | | | |
| --- | --- | --- | --- | --- | --- | --- | --- | --- |
| Best | | | | | | | | |
| CoreScore | | | | | | | | |
| Users rating | | | | | | | | |
| Experts | | | | | | | | |
| Best price | | | | | | | | |
| Ranking | | | | | | | | |
| Popularity | | | | | | | | |
| # of colorways | | | | | | | | |
Do you need shoes for plantar fasciitis
Yes, if you have plantar fasciitis. It is well known for the pain that happens in the heel area and might even spread to the midfoot area. The pain is present because the fascia that connects your heel to your toes becomes inflamed, usually because of the overuse. The best thing to do is to see a specialist about it - better than trying to self-diagnose. There are numerous possible causes for heel pain.
Symptoms of plantar fasciitis
In this review of the most current scientific literature on plantar fasciitis, the symptoms are listed as follows:
A severe heel pain in the morning or after a rest period
The heel pain that gets worse with weight bearing
Pain might spread from heel to the midfoot
Soreness when palpating plantar fascia
Discomfort when you bend your big toe by hand (passively)
7 features of walking shoes for plantar fasciitis
If you're experiencing plantar heel pain you might experience difficulty with footwear comfort, fit and choice, as this research has shown. Don't be discouraged, here's the list of shoe features to help with the pain.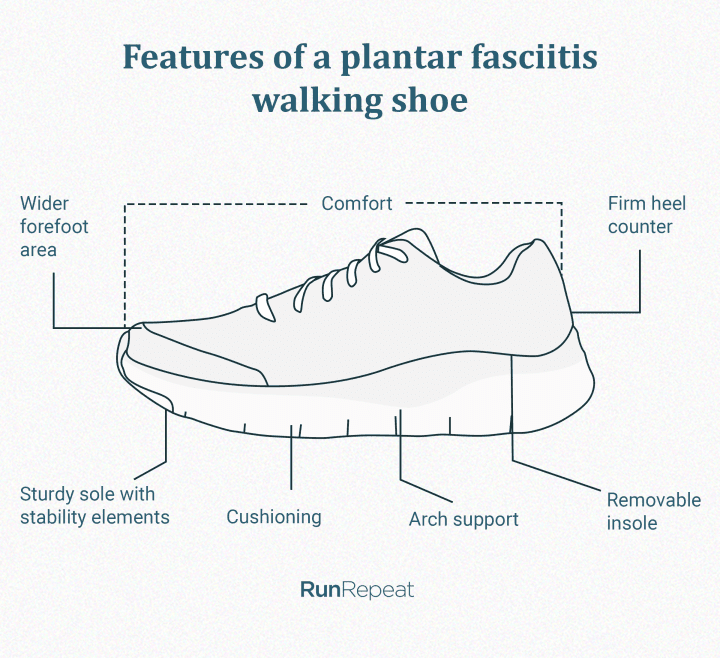 These are the things you should look for in a shoe in case you have plantar fasciitis. The idea behind these features is to find a shoe that minimizes impacts when your foot hits a hard surface.
Comfort: shoe should be comfortable overall!
Wider forefoot area so your toes don't feel pressure (avoid shoes that are snug in the forefoot)
Cushioning: appropriate amount of cushioning which decreases the impact forces while walking. Pay special attention to the heel area, it should have additional padding which takes the strain off the plantar fascia ligament.
Arch support: in case you have flat feet.
Sturdy sole: offers highly needed stability features
Firm heel counter: keeping the heel steady minimizes additional stretching of the plantar fascia
Removable insoles: you might need this option in case you go for special insoles for plantar fasciitis.
Not all these features are a must. Comfort comes first. Everything else is there to eliminate/lessen the pain and make your walking a comfortable experience.
You should definitely avoid barefoot type of shoes, because they lack in majority of the features mentioned above.
Average price of walking shoes for plantar fasciitis
For comparison, we've shown average prices of shoes for flat feet, for plantar fasciitis, and all walking shoes. Keep in mind that this is the manufacturer's suggested retail price - you can always look for discounts.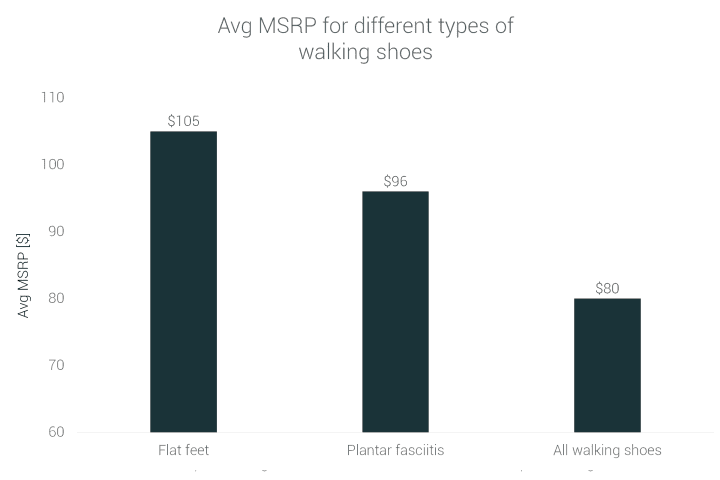 Also, per our database, 28% of walking shoes are for plantar fasciitis.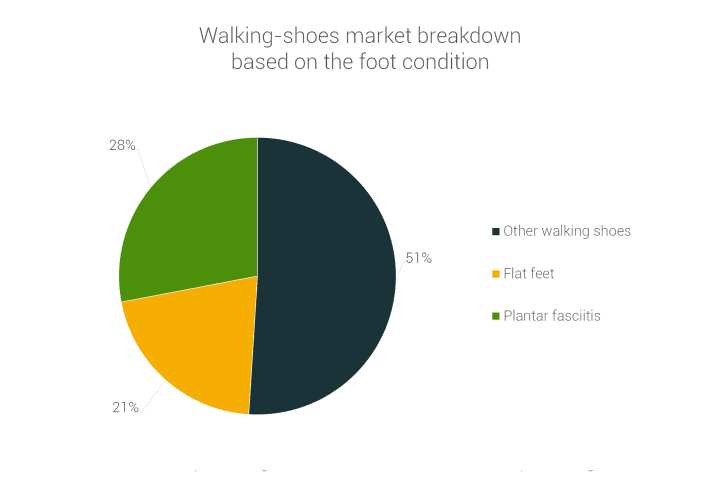 Treatment of plantar fasciitis
It's important to consult your specialist about possible treatments for your condition. The treatments that should likely be attempted first are those that are low-cost and low-risk such as stretching of the plantar fascia and/or Achilles tendon, education about the condition, and prefabricated orthotics (as explained here).
This, however, is a general overview of how the treatment algorithm looks like: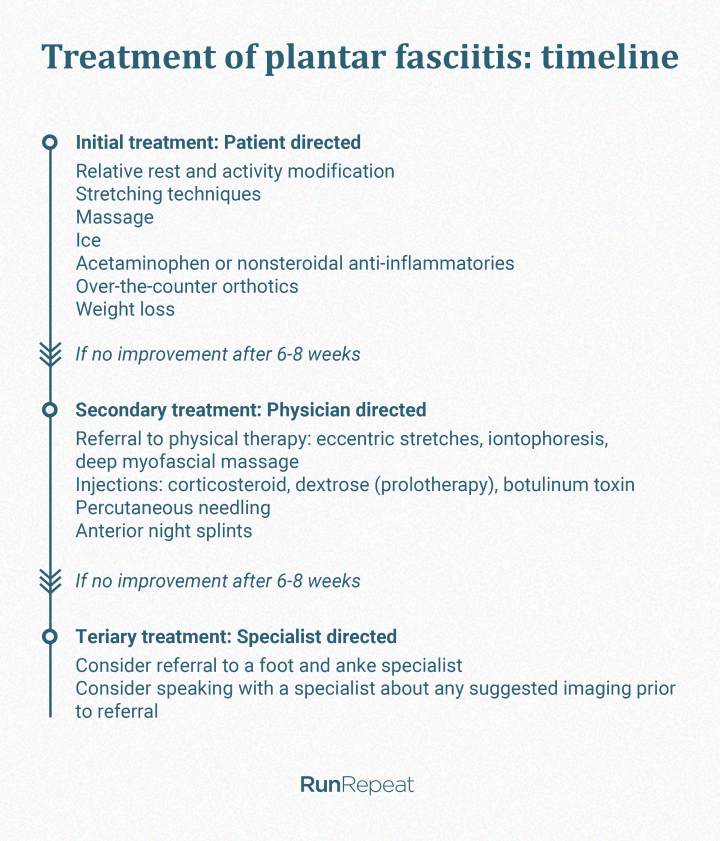 If you're dealing with chronic plantar fasciitis, this research offers an in-depth comparison between different inserts and insoles.
Don'ts for people with plantar fasciitis
1. What happens if you ignore plantar fasciitis?
It will go from acute to chronic pain. It might even lead to pain in other body parts, because you'll start walking differently in order to lessen the paint by changing the impact in the feet. This way, compensation will happen and other body parts will light up. In order to avoid new discomfort and pain, it's important to treat plantar fasciitis while it's in the acute phase.
2. Can I walk on the treadmill if I have plantar fasciitis?
Walking on a treadmill might make your plantar fasciitis worse. Basically, you're doing more steps in a shorter period of time. The best suggestion for plantar fasciitis is to stop repetitive motion with impact forces in the heel.
Some even advise activities such as elliptical machine or stationary cycling until the symptoms resolve, as shown in this study.
3. Can I wear running shoes for walking if I have plantar fasciitis?
Depends on the purpose. If you're doing quick power walks, running shoes might do. Pay attention to how your feet feel. However, if you're looking for shoes for casual walks, you should look for models made especially for walking. To read more on the differences between running and walking shoes, read our in-depth guide on walking shoes.
4. Can I walk barefoot if I have plantar fasciitis?
You should not walk barefoot. Plantar fasciitis means your plantar tendon is under too much pressure and you need stability features that shoes offer to help decrease both pain and pressure.
5. What causes plantar fasciitis?
The main cause hasn't been discovered scientifically. However, there are numerous risk factors:
Intrinsic risk factors:
Obesity
Pes planus (flat feet)
Pes cavus (high-arched feet)
Shortened Achilles tendon
Overpronation (inward roll)
Limited ankle dorsiflexion
Weak intrinsic muscles of the foot
Weak plantar flexor muscles
Extrinsic risk factors:
Poor biomechanics or alignment
Deconditioning
Hard surface
Walking barefoot
Prolonged weight bearing
Inadequate stretching
Poor footwear
How we test walking shoes
Foot issues are something that we, at RunRepeat, take seriously. Walking might be an effortless form of motion, but with plantar fasciitis, a lot could go wrong even just for a few hours of walking in the wrong pair of shoes. That is why we scrutinized walking shoes in a well-thought-out manner.
Before anything else, we get our hands on these walking shoes using our own money. We like to give strong emphasis on this because we like our reviews done with complete fairness. After acquiring the shoes, we wear them right away. We bring them on our morning walks, trips to work, and daily runs of errands. We also tested them on concrete, cobblestones, and other surfaces.
We assess our experiences and observations from the wear test. And we correlate them to the next and final step, which is lab testing. We conduct tests on the shoes and we measure and score different properties such as breathability, durability, platform width, and midsole hardness. We also split the shoes in half for a more extensive view of each.