3 Best Adidas Yeezy Sneakers in 2023
We earn affiliate commissions at no extra cost to you when you buy through us.
Level up your everyday wear with the unique flair of Adidas Yeezy sneakers. Even with the fallout between Kanye (the brain behind the design) and the Three Stripes label, we're very fortunate to learn that Adidas own the proprietary rights to the remarkable Yeezy product line.
Available in a wide array of colorways, cuts, and innovative technologies, which you can all browse through our extensive catalog at RunRepeat. To get you started, you may check out first the model that received a top-rated rank -- the Adidas Yeezy 750 Boost.
Get your best-suited Adidas Yeezy sneakers with our recently updated and reviewed selection. We tested them for your convenience and ranked them all accordingly. Check out the recommended pieces below from our in-house experts.
How we test sneakers
We do all the research and wear-tests independently to identify the finest Yeezy kicks. Although evaluating each model for this guide takes a lot of time and effort, we do have a lot of fun doing it. Our comprehensive test process includes lab analysis and real-world performance assessment.
The process involves:
Utilizing our own resources to make independent and comprehensive reviews for our readers. Our objective approach ensures you only get bias-free recommendations from us.
Once careful vetting of all the Yeezy shoes are done at the RunRepeat lab, we give them to the testers who lace them up for actual evaluation in the city streets and other activities.
We gather all feedback from wear-testers, focusing on the models' fit, in-shoe feel, weight, style, versatility, balance, insole, closure system, overall performance, flexibility, and other more features.
Getting more useful information from thousands of other customer reviews.
In the end, we publish our top rankings together with the in-depth reviews of the footwear in the catalog. Each model is also given a rating from 0 to 100 shown on the CoreScore.
Best Adidas Yeezy sneakers overall
Adidas Yeezy 350 Boost v2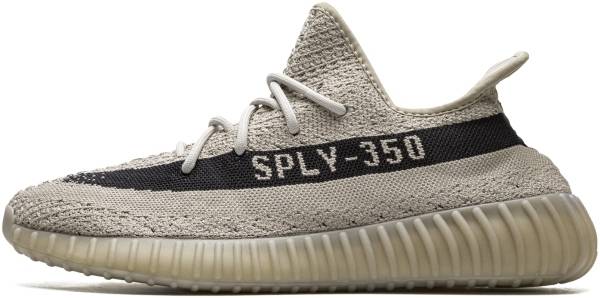 Pros
Trendily attractive
Premium parts
Supple underfoot
Dreamy confines
Works with most OOTDs
Expensive but highly worth it
Easy access
Improved fit
Cons
Restrictive toe room
Needs break-in
Elusive
What makes it the best overall?
The Adidas Yeezy 350 Boost v2 is the fifth shoe released in Kanye West's collection. Made with top-of-the-line Primeknit fabric and Boost cushioning, it is known for its eye-catching aesthetics, as well as versatility, enhanced comfort, and fine craftsmanship. It might not be winning an award for affordability anytime soon, but to sneakerheads in droves, it is a worthy piece of investment.
Read our full review of Adidas Yeezy 350 Boost v2 here
Best value
Adidas Yeezy Desert Boot Rock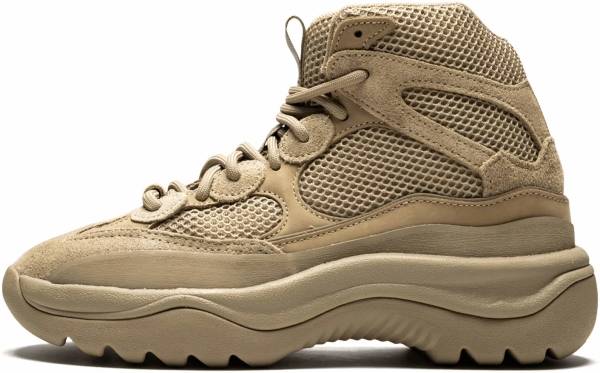 Pros
Good quality materials
Lightweight
Breathable
Relatively comfortable
Great on-feet feel
Fashionable
Eye-catching
Great value for money
Well-made
Uniquely dope
Cons
Snug
Stiff ankle area
Not heavy-duty
What makes it the best value?
Another lifestyle silhouette of Adidas, the Adidas Yeezy Desert Boot Rock boots are a mixed composition of both lifestyle and military elements. Despite the fact that these boots have some cons to them, Kanye West's latest entry into the world of rugged footwear offers great functionality that's built with forward-thinking design and high-fashion aesthetic.
Read our full review of Adidas Yeezy Desert Boot Rock here
Most popular Adidas Yeezy sneakers
Adidas Yeezy 500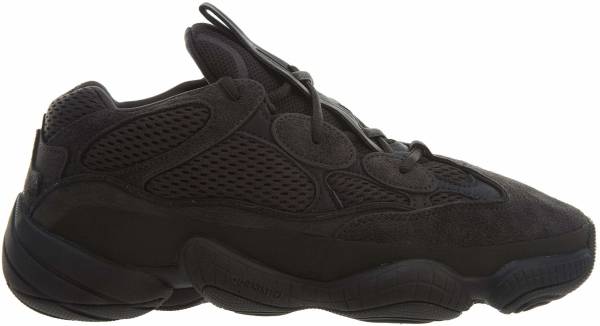 Pros
Comfy
Eye-catching
Superb finish
Premium materials
Breathable
Supportive
Lightweight cushioning
Cons
Expensive
Lacks punchy colorways
What makes it the most popular?
The Adidas Yeezy 500 is another chunky addition to the expanding Yeezy lineup. This kick displays upscale details, which fuse athletic looks with innovative elements. While not the perfect kick (it has a considerable number of naysayers, after all), this sneaker still gets the nod of many in many areas. These chunky kicks will definitely blow you away.
Read our full review of Adidas Yeezy 500 here