Considered the go-long running shoe from ASICS, the GlideRide 3 offers a softer and lighter ride than before. Given its dedication to stability (even though it's a neutral shoe) and comfort, it runs best during easy days. Overall, the ASICS GlideRide 3 screams luxurious comfort that can eat up miles on the road.
Pros
Seamless heel-to-toe transitions
Very stable
Lighter than version 2
Dampens impact
Welcomes wide feet
Secure heel hold
Long-lasting
No lace bites
Tongue stays in place
Awesome value
Cons
Warm for the summer months
Lacks pop for faster runs
Who should buy the ASICS GlideRide 3
Treat yourself today with the third version of the ASICS GlideRide if you want a: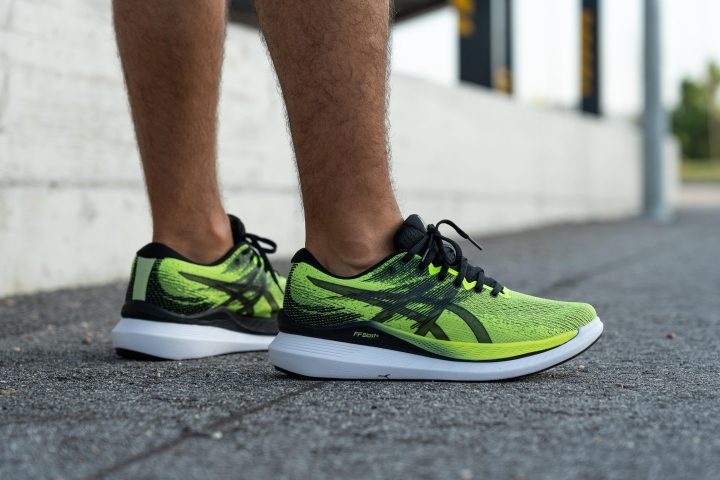 Who should NOT buy it
If you're looking for chart-topping breathability, the ASICS Gel Cumulus 22 is a better option than the ASICS GlideRide 3. Alternatively, the Saucony Endorphin Shift 2 also comes highly recommended, especially for summer runs.
Looking for a shoe that can do more? The ASICS Novablast 2 is a legit workhorse that will let you pick up the pace easily when it's not your easy-run day. AND it is more breathable than the GlideRide 3!
ASICS GlideRide 3 vs. 2
"A vast improvement," and "big difference" are some of the remarks left by expert reviewers with regards to the updates implemented in the ASICS GlideRide 3. The changes?
Lighter weight, going from 325 grams/11.5 ounces in US men's 9 to 266 grams/9.4 ounces
Livelier and softer ride, thanks to the new Flyte Foam Blast+ midsole
A more flexible outsole
Plusher upper to nail that luxury comfort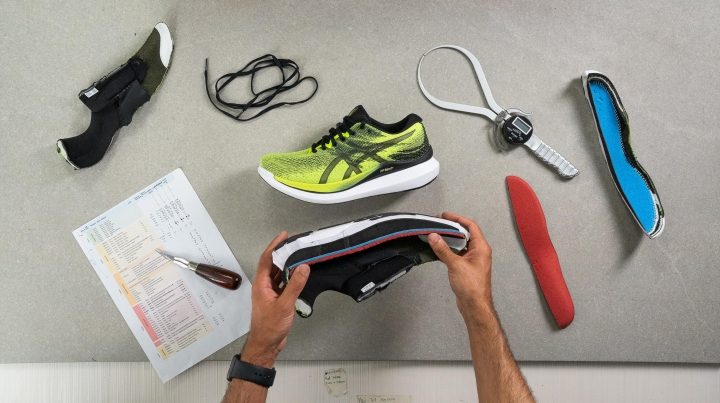 Smooth like butter
The GlideRide 3 from ASICS has "a pretty severe" rocker geometry as one tester puts it; it offers a "forward tipping" sensation that helps you roll forward seamlessly and without much effort.
Almost every reviewer is stoked about this feature; one of them says, "you can't beat the rocker system" because by far, it's the shoe's "big kicker."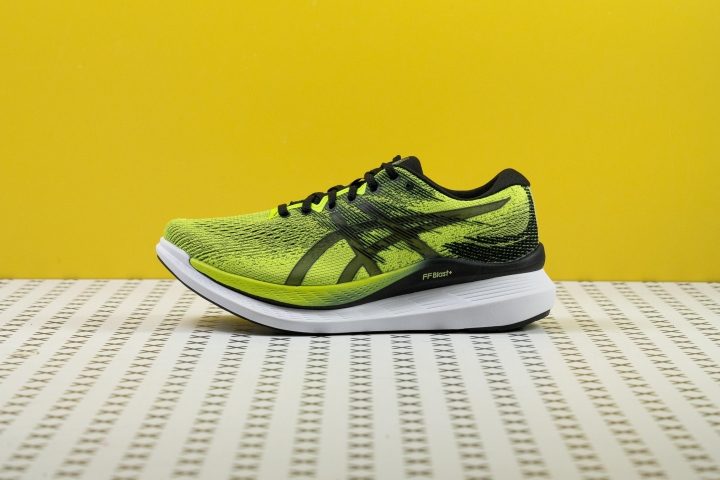 Ride: Filed under fun
The "MIDSOLE RIDE is BEAUTIFUL NOW!!" exclaimed one video reviewer. Comparing it to version 2 of the GlideRide series, the GlideRide 3 is indeed a much-improved edition, having a bouncier, more energetic foam. And if there's one comment that sums up the whole experience, it's "very very very enjoyable."
Two more runners, on the one hand, mention that the ride is "really neat" and "very polished;" they don't see any major weaknesses in the shoe.
The ASICS GlideRide 3 is a mile eater!
The GlideRide version 3 is "not ridiculously soft," as described by one road runner but it delivers max-level of comfort. So much so that you can really log in the miles with this shoe.
With its cushy ride, it's among runners' top choices for long-distance runs, and it's also their "strict slow run trainer."
Fact check
Although "not ridiculously soft," we can still confirm that the GlideRide 3 is among the softest shoes not only from ASICS but across other brands too.
Disclaimer: We took 5 measurements before making a final statement. The photo shows one of them.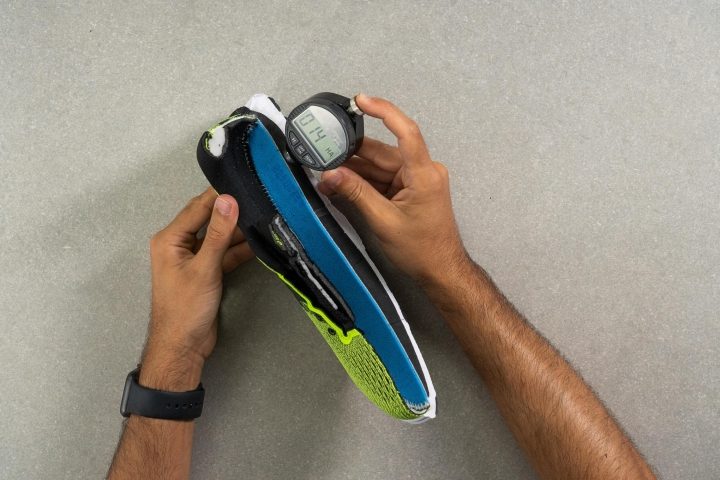 However, when exposed to cold temperatures, the foam does firm up significantly. It gets 53.6% denser, while most running shoes only get around 23.1% firmer.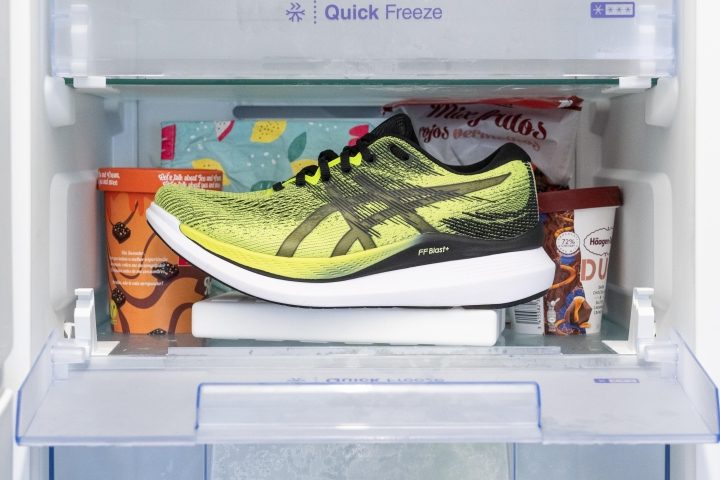 Foot strain

is at arm's length

In the ASICS GlideRide 3, there's "no harshness, no vibrations," shares one critic. The shoe's generous cushioning eats up all the impact during each foot strike.

Fact check

We measured the stack height of the GlideRide 3 at 42.7 mm (including the insole). This is a solid amount of foam given that the average is 32.6 mm.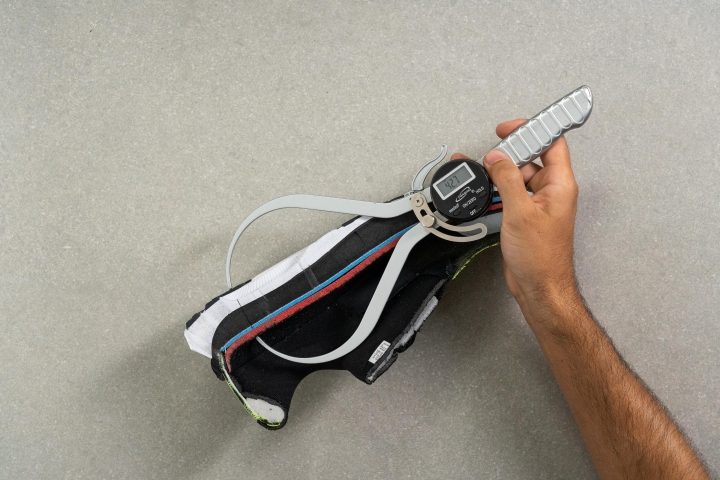 Fact check
Meanwhile, the heel-to-toe drop appears to be far from the brand's officially stated 5 mm. We measured it to be 11.1 mm! This is a typical drop for daily trainers.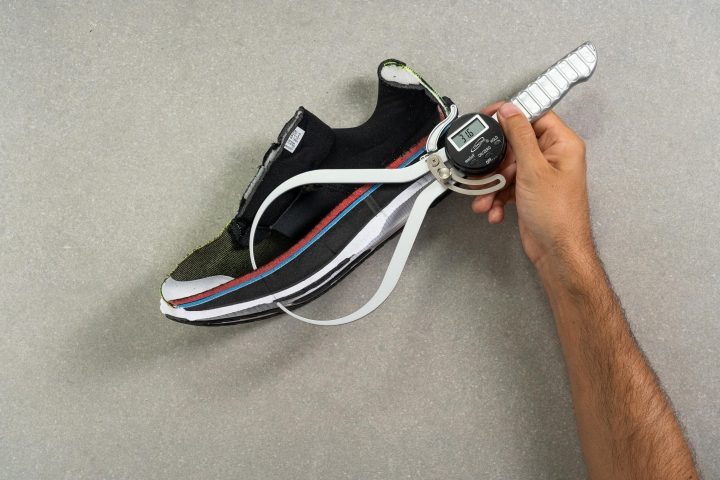 Underfoot cushioning is enhanced by the 5-mm insole. It is 0.5 mm thick than the average.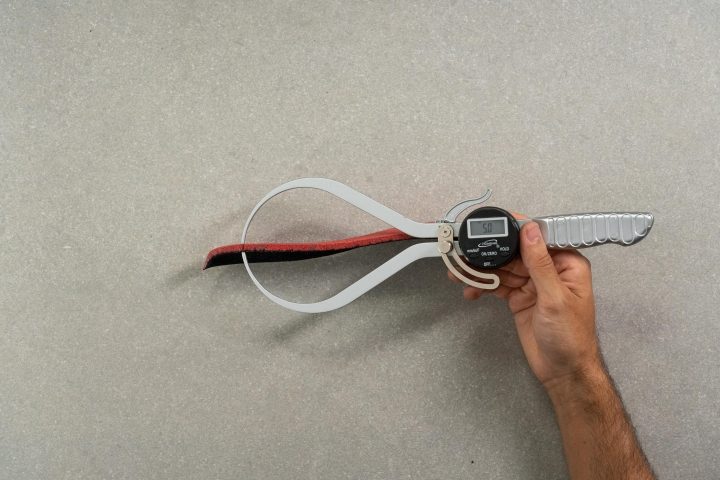 Is this really a neutral shoe?
Yes, it is. But "it almost feels like a stability shoe," expressed one expert runner. The midsole's bottom part is the firmer Flyte Foam Propel that creates a layer of support. On top of this, the midsole is slightly raised on the sides; it centers the foot.
Summarizing everything perfectly, a long-time runner has this to say, "bottom line: you feel confident." There's no need "to overthink your footstrike."
A GlideRide that actually bends
This shoe, being able to flex, was described as a "huge shock" by an ASICS loyalist. Both the GlideRide 1 and GlideRide 2 were so stiff; it was practically impossible to bend them.
Fact check
It might be more flexible than its predecessors but it is still considerably stiffer than most running shoes: by 24%, to be exact.
Disclaimer: The video shows one out of five measurements that we took in this flexibility test.
Fact check
Torsional and longtitudal flexibility of the GlideRide 2 is also on the stiffer end of things. In our subjective assessment, we gave the shoe 4 out of 5 on both (5 is the stiffest).
An accommodating fit
When one expert said that it welcomes all foot shapes and sizes, he didn't lie. Those with narrow to medium-width feet agree that it fits true to size.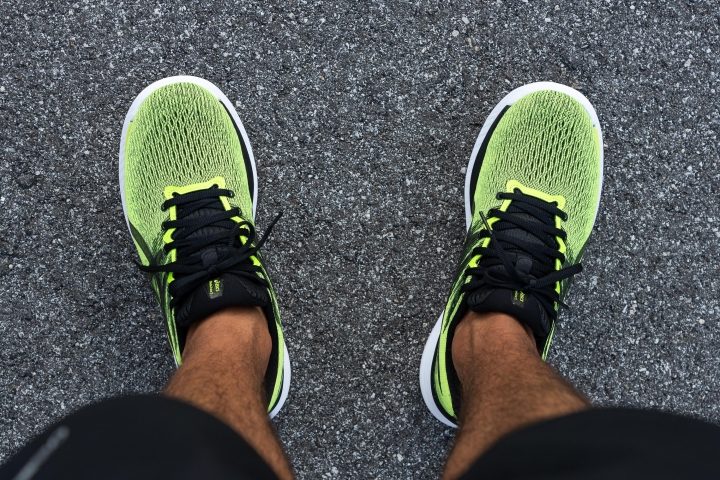 Two out of two wide-footed runners also claim that the fit is "comfort-oriented" and the other saying, it "fits my feet fine." And the icing on the cake — it has plenty of room in the toe box.
Fact check
Measuring the forefoot width of the shoe, we cannot agree that it is among the wider ones on the market. With 95.8 mm at its widest part, it is slightly narrower than the average (98.2 mm).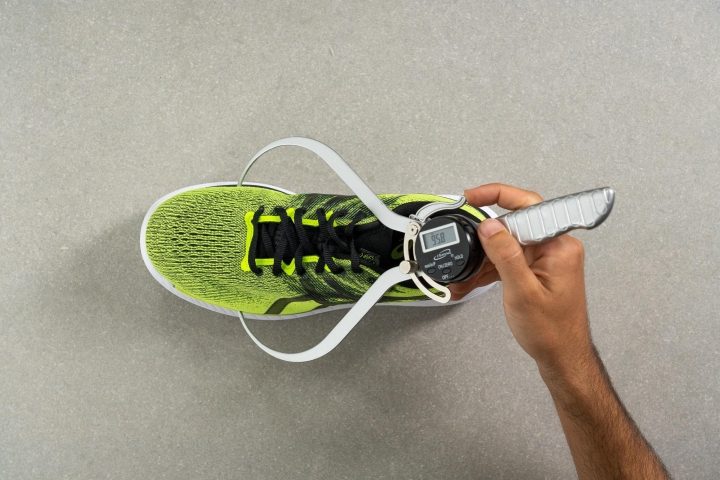 Upper screams plush comfort
"Build quality: through the charts!" This is how one commenter reacts to the shoe's very padded upper. Even better, the ample padding also positively contributes to the shoe's secure lockdown, especially in the rearfoot area.
Assessing the heel counter, we gave it 2 out of 5. It is more flexible and forgiving than the average. It is not the "ASICS clutch" of a Kayano shoe but seems to do the job of keeping the heel in place just fine.
Runners report that, because of this, there's "zero lateral motion" in the shoe.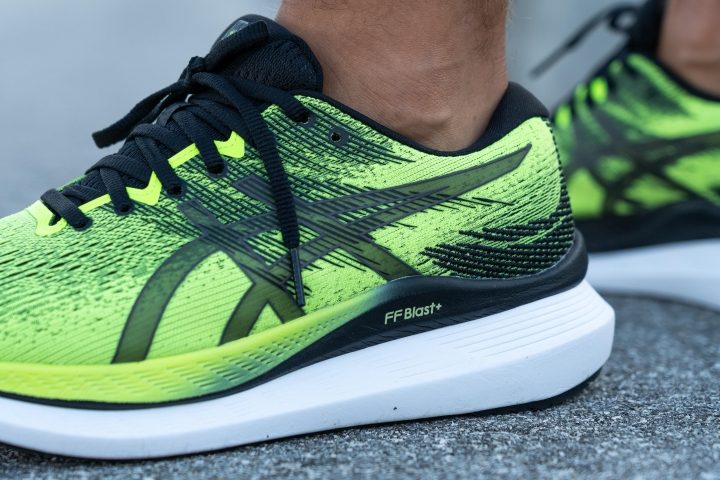 Breathability needs improvement
The comments on the shoe's ventilation go from "not bad" to "runs very warm" with most of the feedback leaning towards it being hot. This is the price to pay for the soft and padded wrap you get from the GlideRide 3. This said, runners advise that it's better used in winter runs and cool climates.
Fact check
However, the shoe's upper performed rather well in our breathability tests. It lets the smoke pass through much easier compared to the Kayano 29 on the right.
You can also see how much light is shining through the upper fabric in the transparency test below.
The tongue makes a name for itself
It's semi-gusseted (meaning it's attached to the sides); it stays in place the entire run.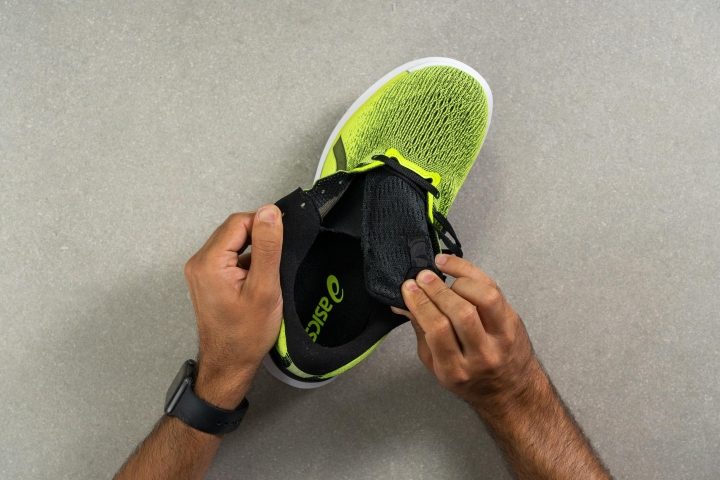 Even better, it's padded enough to keep the laces from digging into the skin.
Fact check
The tongue beats records in terms of padding. It is 9 mm thick! The typical thickness for most running shoes is 5.8 mm.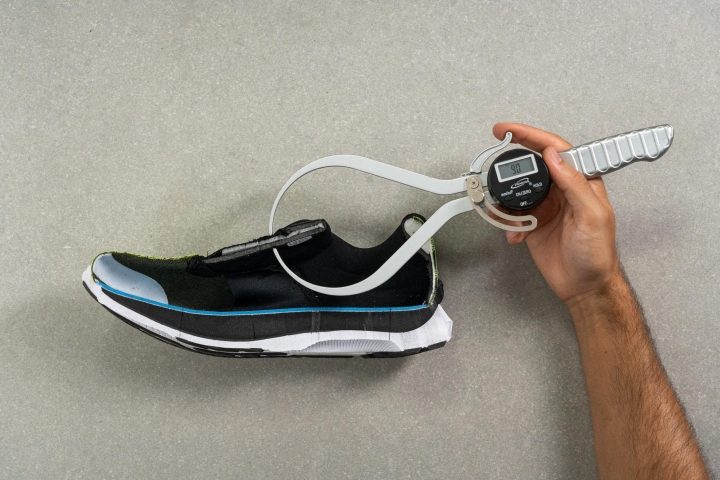 Reflective elements on the heel
Running in low-light conditions is not a problem with the ASICS GlideRide 3. It features wide reflective stripes at the heel.
Expect nothing less from ASICS AHAR outsole
It's not just your regular (tank-like) AHAR outsole. This is AHARPLUS, meaning durability has taken a step up, and almost everyone agrees with this.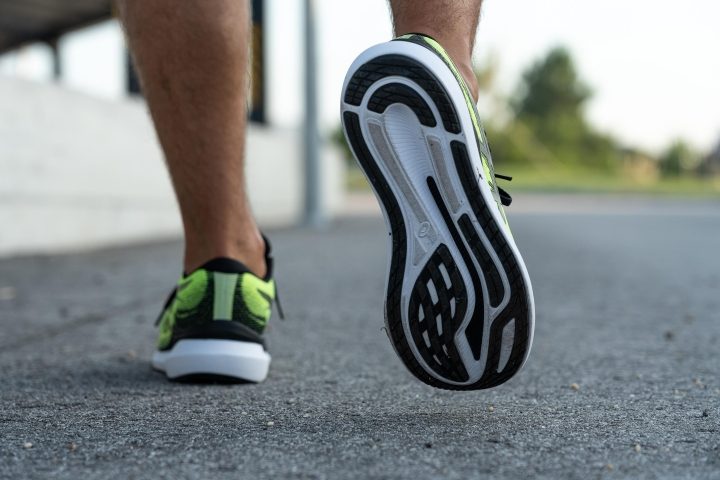 It's "gonna withstand many miles," one reviewer confidently remarks. Another says the rubber is going to last long "probably longer than the foam."
With these comments, it's clear AF that the ASICS GlideRide is heavy-duty. A tester even predicts it to last 600+ miles and further adds that he "could've gone 700 or even more" because it's really solid.
Fact check
The GlideRide 3 uses a solid, 3-mm thick layer of rubber on the outsole.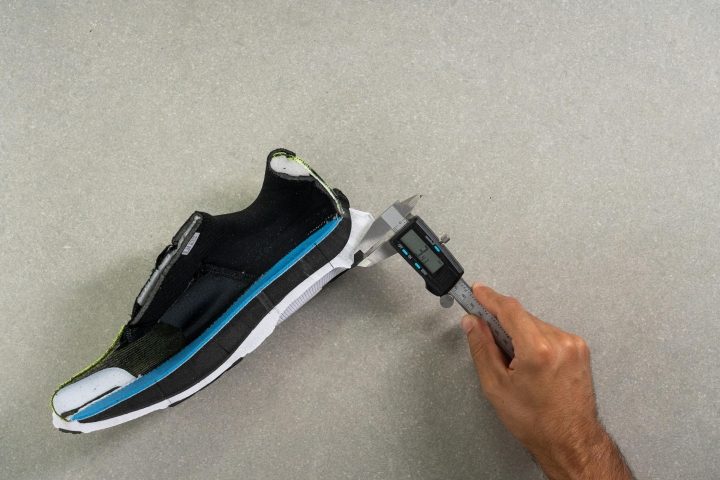 Fact check
The rubber on this shoe also shows above-average density which is a contributing factor to the outsole longevity. It is 7.2% firmer.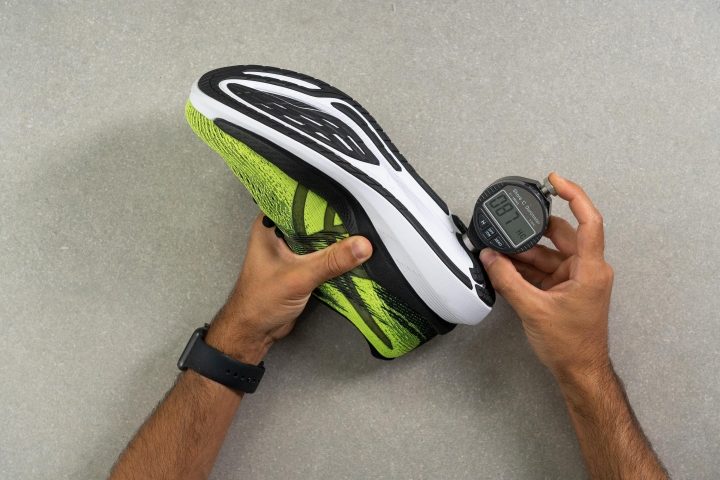 Quality lives up to the price
Daily trainers, on average, retail for only $119, making the ASICS GlideRide 3 expensive at $150. However, runners find it a good deal at this price point, given its durability and build quality.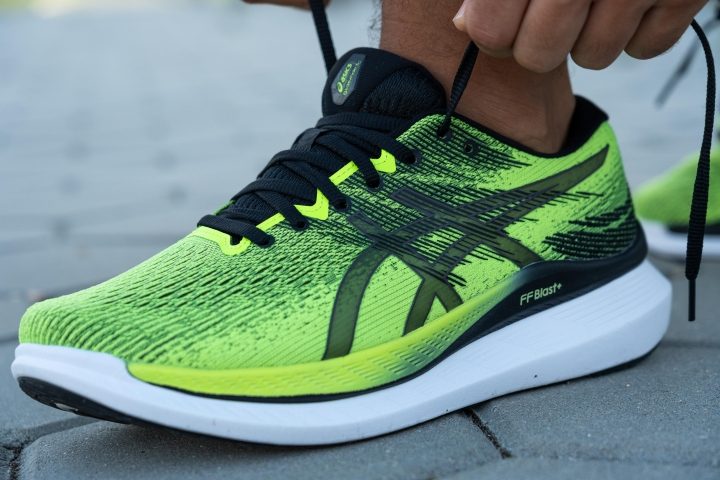 A runner who's always been critical about shoe prices (especially daily running shoes) even says "I'm not sad at all that it's at $150."
Complete lab-specs overview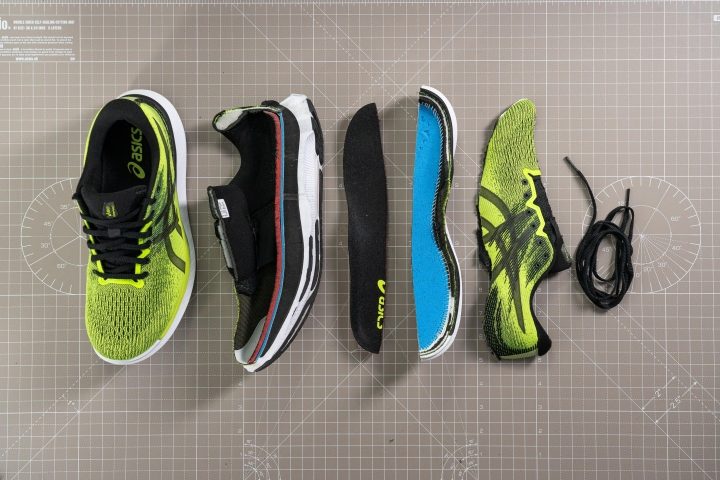 ASICS GlideRide 3
Average
Whole shoe

Weight (g)
254
271
Drop (mm)
11.1
8.6
Flexibility of the shoe (N)
40.3
30.7
Flexibility of the shoe (Freezer 20 min) (N)
55.8
42.4

Flexibility of the shoe (% of change)

38.3
41.1
Longitudinal flexibility (1-5 scale, 5 being the stiffest)
4
3.2
Torsional flexibility (1-5 scale, 5 being the stiffest)
4
3.3
Upper

Thickness - Tongue (mm)
9.0
5.8
Width Upper - Forefoot (mm)
95.8
98.2
Width Upper - Heel (mm)
75.2
75.4
Flexibility of the heel counter (1-5 scale, 5 being the stiffest)
2
2.8
Tongue: gusset type
semi-gusseted
-
Heel: pull tab
none
-
Midsole

Width Midsole - Forefoot (mm)
110.1
111.7
Width Midsole - Heel (mm)
88.7
88.6
Stack - Forefoot with insole (mm)
31.6
24.1
Stack - Heel with insole (mm)
42.7
32.6
Durometer Midsole Heel (Room temperature) (HA)
14.0
27.9
Durometer Midsole - Heel (Freezer 20 minutes)
21.5
42.4
Durometer Midsole - Heel (% of change) (TEST)
53.6%
41.1
Outsole

Outsole thickness (Heel) (mm)
3.4
3.6
Durometer Outsole Heel (Room temperature) (HC)
87.0
80.7
Insole
Insole Heel Thickness (mm)
5.0
4.5
Insole: removable
yes
-