The Adidas Adizero Boston line saw a radical change with version number 10 when it got much bigger. The 11th iteration sees just a few differences and remains a maximal training shoe devoted to those runners who love a very firm ride and train for medium to long-distance races. It's still surprisingly stable, got lighter, and longevity has been further enhanced. And thumbs up for including some recycled materials.
Pros
Very stable for a high-stack shoe
Excellent grip
Breathable upper
Versatile for different workouts
Protective underfoot
Extremely durable outsole
Made with recycled materials
Attractive design
Cons
Definitely stiff and firm
Long breaking-in period
Who should buy Adidas Adizero Boston 11
You should get it if you are training for competitions such as half-marathons or marathons and want a high-stacked shoe that's protective, durable and shines at tempo-paced workouts. No matter if you are an advanced runner or have just started, but make sure you like a very firm feel underfoot, or you won't appreciate it.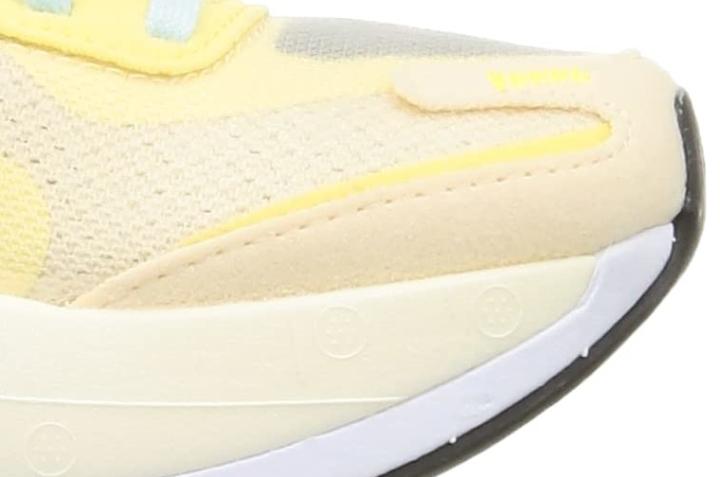 Who should not buy it
Look elsewhere if you: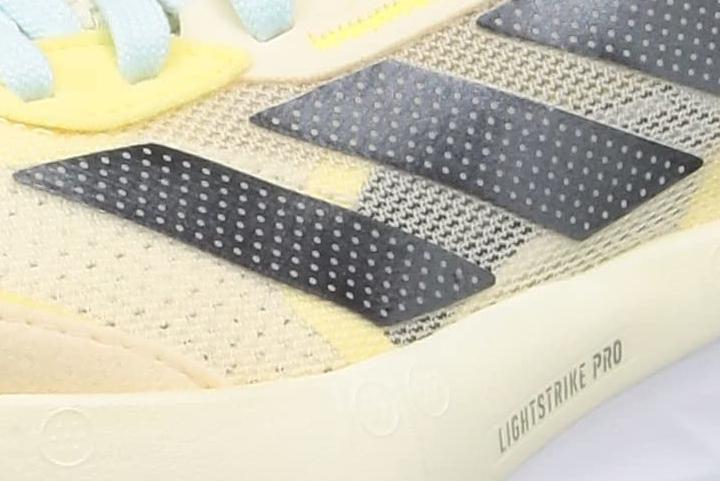 A new, solid upper
The upper is the part that, according to the reviewers who tried it, saw more changes in this new version. The mesh is now thinner, and as a runner said, it's "super breathable," but also stiffer than before and quite structured. It's also made with 50% recycled materials, which is very welcome.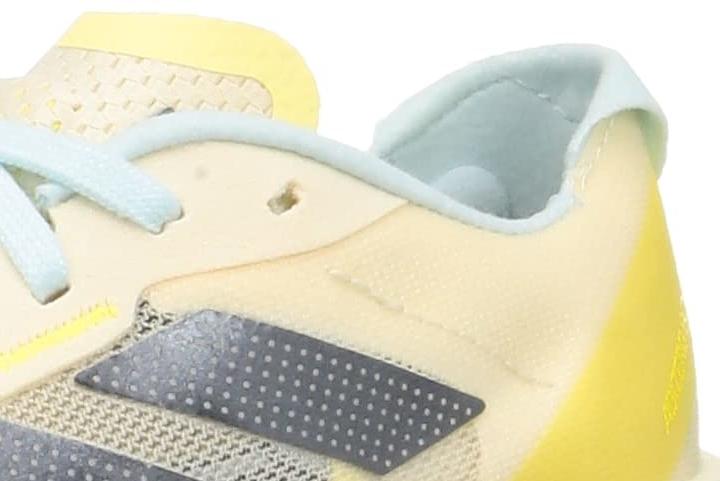 Great fit and comfort, yet not for all
Opinions were very polarized in this case. The toe box is described by a tester as "nice and roomy," yet the lack of proper padding and lockdown caused him some heel slippage. Instead, another experienced runner said he felt a "high level of security" in this area.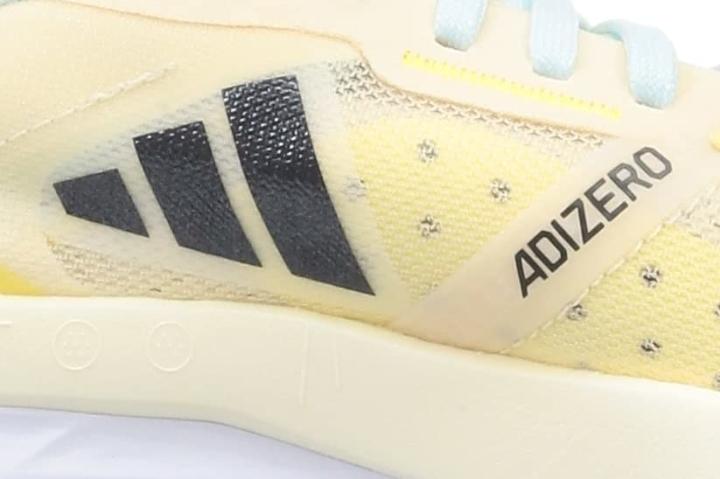 This was better explained by another runner who said that, unlike with many other shoes, achieving a good fit in this shoe really depends on the foot that one has. Besides, two more experts added that choosing the right sock was vital in this case.
Adizero Boston 11 is grippy
No bad surprises when it comes to the outsole. Traction is described as great and reliable on most surfaces.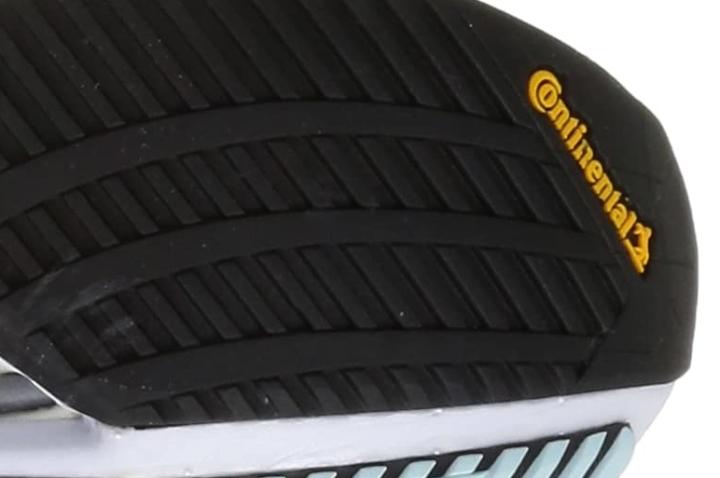 A tester pointed out that "it's just good," while another expert said that "this tread really gives the shoes a non-slip grip."
Looks elsewhere if you need softness
Many reviewers noticed that this shoe is not for everyone. It's protective for sure, and this was confirmed by a tester who said it has "really good vibration dampening properties." Besides, when picking up the pace, the shoe "starts rolling and it feels really nice."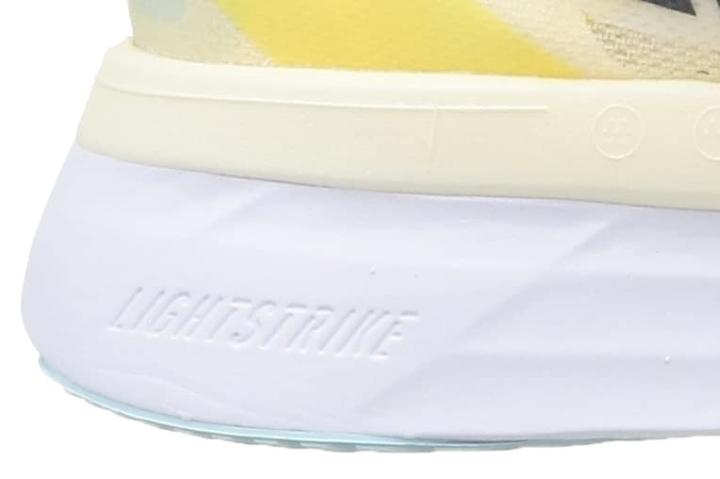 However, as another tester reported, it's also "far firmer than it needs to be" and there are definitely more responsive alternatives. This is why many runners would love to see the Lightstrike foam be replaced with a better-performing material.
Adidas Boston 11 is not limited to marathon training
Provided that one likes its stiff and firm ride, this Adidas running shoe, as a tester pointed out, it's "a great versatile trainer that you can use for a lot of things." It's best for tempo runs, of medium and long distance, but it can handle shorter efforts pretty well too.
Plenty of support
Despite the high stack of 39mm, this Adizero shoe, as reported by a tester, has a "highly stable ride," and "excellent guidance for a neutral shoe." That's why he said that "those that need medial heel stability will do well here."

Definitely not ready out-of-the-box
As mentioned before, both the upper and the midsole are quite rigid, and it takes a rather long time to break in the shoe properly. As an expert found out, it took him almost 50 miles to achieve that. After that point, the midsole started working better, responsiveness increased a little bit, and faster efforts became easier.
That's why, he added, it's a great shoe for "those who are patient enough to break it in."
It's a huge Adidas shoe, but not heavy
Weight has been reduced from the previous iteration (it lost 0.4oz or 11g) and now the shoe feels lighter on the foot, which, as those who tested it explained, helps with picking up the pace.
Long-lasting companion
Judging by the comments of the testers, there's no doubt about the durability of the outsole. A runner had 48 miles on his pair and didn't see any significant damage. According to him, it's "extremely durable."
Another tester added that, in this shoe, "the outsole will probably be the last thing to expire."
Adidas Boston 11 is stylish
Although the look of a shoe is not always of primary importance and doesn't say much about its quality, in this case, reviewers appreciated the design and colors. One of them said "it has a really good high visibility feel to it," and the upper sports "a futuristic see-through look."
Another experienced runner added that it looks "quick and razor sharp."