Topo Athletic Hydroventure 2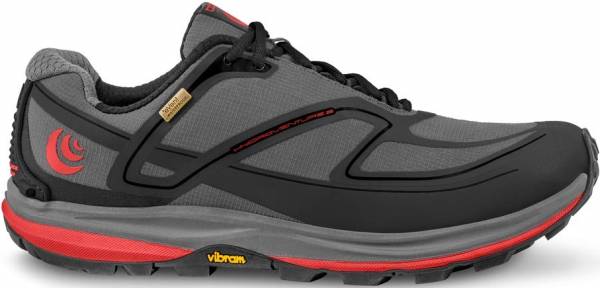 The Topo Athletic Hydroventure 2 is a good option for all types of seasons runs because of it also being a waterproof running shoe. It offers excellent performance on varied terrains that one would wish to run. It features a gaiter attachment which makes the Hydroventure 2 one of the best choices if wet conditions are expected. Although a few feedback about its pricing and upper are negative, the Topo Athletic Hydroventure 2 is still a neutral running shoe that is preferred by trail runners because of its versatility and functionality on all types of terrains and weather.
---
Verdict from 5 experts and 100+ user reviews
4 reasons to buy
Most wearers liked that the Athletic Hydroadventure 2 has a very functional waterproof upper.
Some runners appreciated the breathability feature of the shoe.
The Topo Athletic Hydroventure 2 offers good stability support which was liked by most users.
The shoe is durable.
2 reasons not to buy
Noted by a few users was that the Hydroadventure 2's upper is somewhat stiff due to the waterproofing feature.
It is a bit expensive.
Bottom line
The Topo Athletic Hydroventure 2 is a good option for all types of seasons runs because of it also being a
waterproof running shoe
. It offers excellent performance on varied terrains that one would wish to run. It features a gaiter attachment which makes the Hydroventure 2 one of the best choices if wet conditions are expected. Although a few feedback about its pricing and upper are negative, the Topo Athletic Hydroventure 2 is still a neutral running shoe that is preferred by trail runners because of its versatility and functionality on all types of terrains and weather.
Best price from 50 shops
We earn affiliate commissions at no extra cost to you when you buy through us.
75% say it's too small, 25% say it's true to size.
Our reviews
With a mission that states "move better naturally," these shoes allow you to do just that. Topo Athletics go above and beyond when constructing their shoe designs and it absolutely shows. From the moment I took these kicks for a spin, I was hooked.
If you're looking for a zippy, lightweight trail shoe for everyday trail running, these might be your next go-to trail shoe!

Overview
Topo Athletics was founded in 2013 making this shoe brand relatively new to the market. I'm new to Topo myself, but I was blown away at how comfortable these shoes were directly out of the box. Despite being a newer shoe company, this shouldn't be a deterrent for you to try their incredible shoes.
If you're looking for an all-season trail shoe, I highly suggest that you give the Hydroventure 2 trail shoes a shot. After researching more about the founder, Tony Post, I came to learn that he puts a great deal of thought and innovation behind the construction of Topo shoes. They may be new, but make no mistake, the Hydroventure 2 trail shoes are a force to be reckoned with!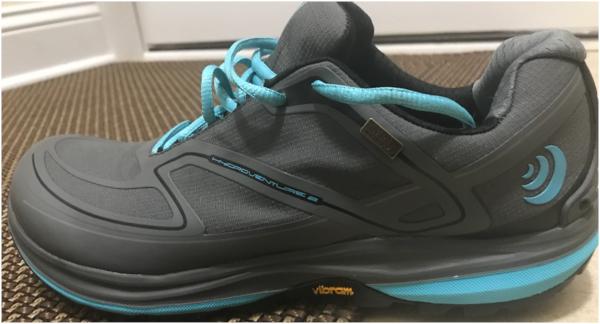 These shoes are more than just stellar trail shoes as they are devised to complement the anatomical shape of our feet. The Hydroventure 2 is incredibly lightweight with a roomy toe box allowing for comfortable toe splay.
Running in wet conditions? Well, great news because the Hydroventure 2 trail shoes are fully waterproof, yet still breathable.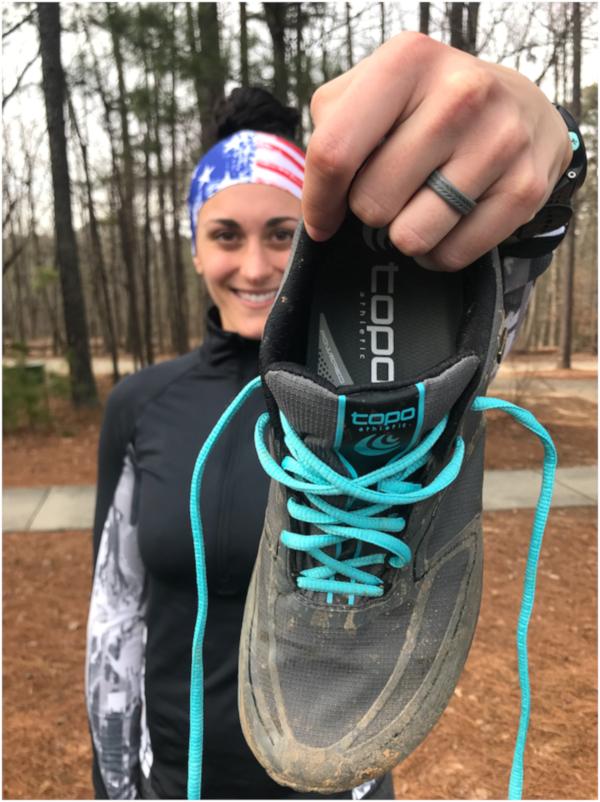 Sizing/comfort/aesthetics
At first glance, I absolutely love the aesthetics of these shoes. The Hydroventure 2 encompasses a sleek design with a low key color scheme perfect for my taste (charcoal gray/sky blue).
I give these shoes a 10/10 in the comfort department. As mentioned, the Hydroventure 2 trail shoes were completely comfortable directly out of the box. I literally put these shoes on straight out of the box and immediately went for a 10K trail run in with the mindset that I would need to break them in.
Well, no break-in period was required as I didn't feel any hot spots, irritation, or any issues whatsoever during my first run. Very satisfied with the comfort of these shoes!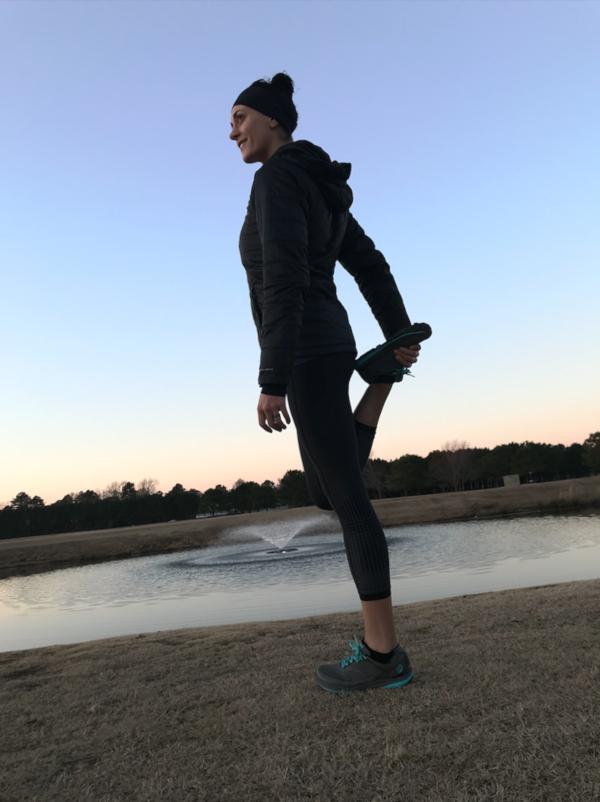 I've tested these shoes in various conditions including in rain, snow (well, flurries!), heavy wet mud, and dry conditions and they performed like a champ. They performed not only great on trails but in the grass and on gravel, too!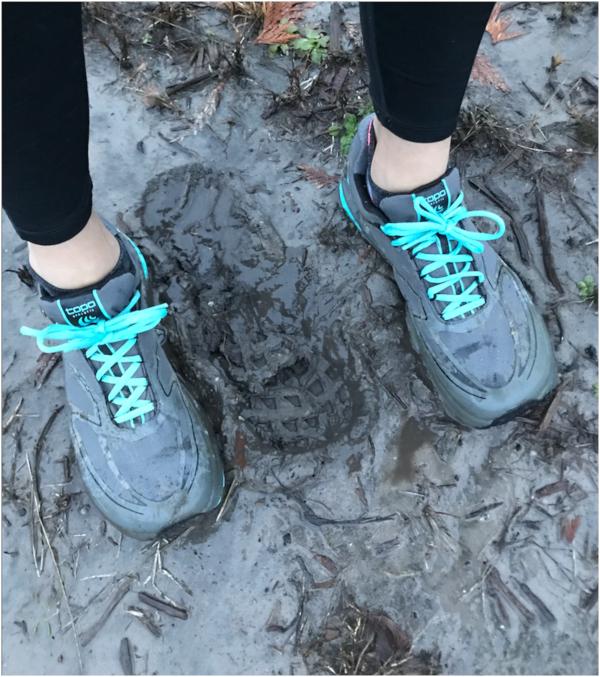 In my opinion, the shoes have a firmer feel which doesn't bother me, but it all depends on your personal preferences. Majority of my runs were on extremely muddy technical trails, and I couldn't be happier with their performance.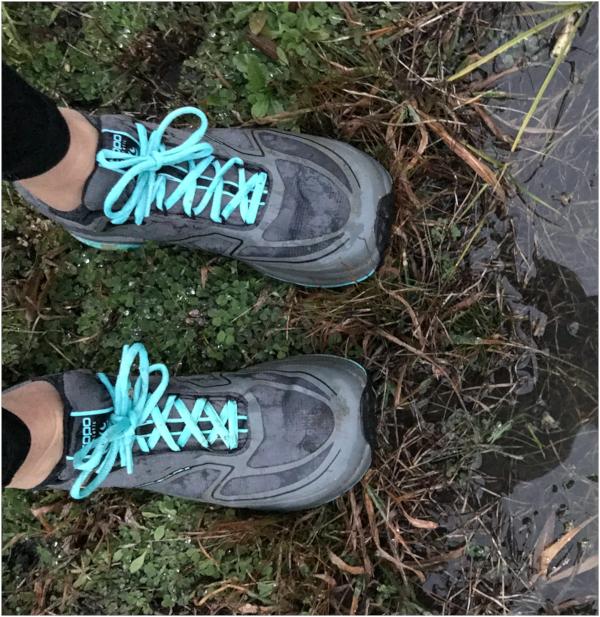 My only complaint was that during my longer runs, usually at about mile 8ish, I found myself wishing that the shoes encompassed more cushioning in the midfoot and forefoot region for the remainder of my runs.
For runs under 6 miles, I never had any issues whatsoever. Regardless, the comfort was still well above average, and I understand why the shoes are firm—to protect your feet. I know for a fact that they did just that.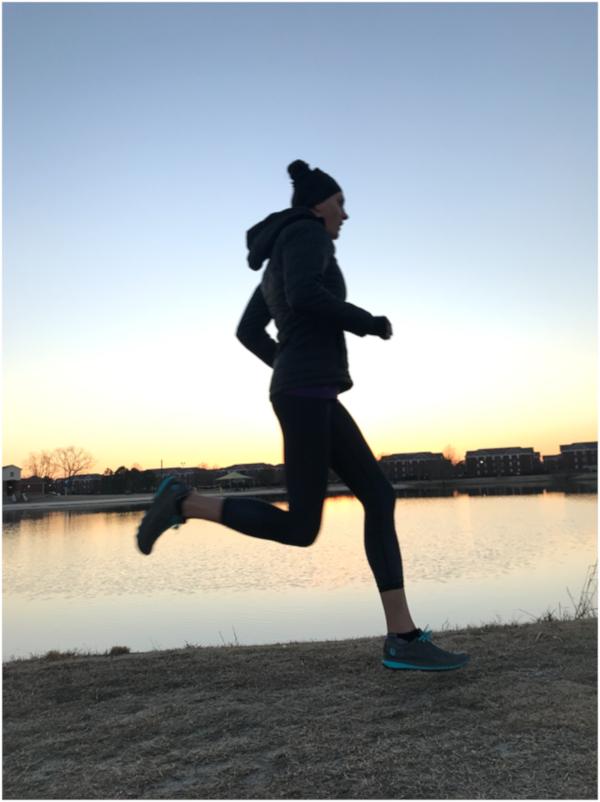 My husband is my running partner, and I must have mentioned how comfortable the Hydroventure 2 were to him just about every two minutes during nearly all of our runs (sorry Phil, haha!).
My favorite feature of these shoes is the roomy toe box. It doesn't compromise a secure fit throughout the midfoot or the heel. I have tried other trail running shoe brands where the toe box was roomy, but I couldn't ever really lock down my midfoot or heel as I perhaps would have liked to in other brands quite like I could in the Hydroventure 2 trail shoes.
Being able to lock down my heel and midfoot whilst having a roomy toe box was fantastic and created a much more comfortable ride. These features differentiated the Hydroventure 2 from other trail shoes I have ran in in the past.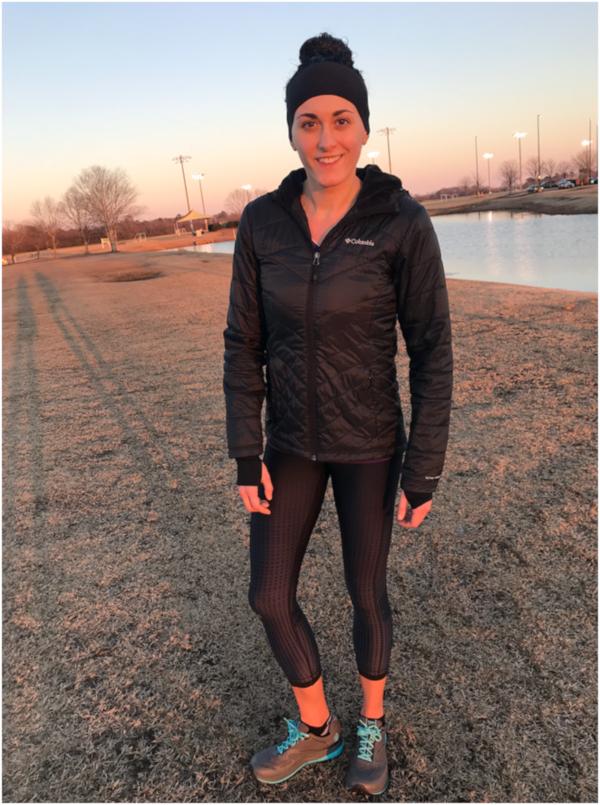 Expounding further on the firmer feel of these shoes, the Hydroventure 2 has a sturdy forefoot rock plate which I am thankful for as they protected my feet from stone bruising on my technical runs. I found it amazing that the shoes had such great protection and were still ultra light in weight.
Additionally, I've put in nearly 70+ miles in these shoes, and they may be on the firmer side, but the responsiveness of the shoes are still top notch. I love the fact that I could really open up, especially on flat areas of trails, and didn't feel weighed down by the Hydroventure 2.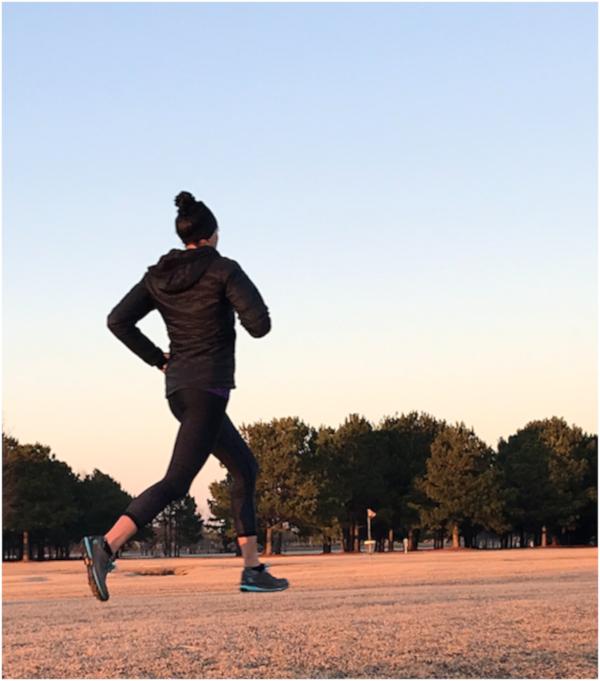 As far as sizing goes, I ordered a half size up after reading reviews pertaining to predecessing models of Topo shoes, and I am glad that I did. The half size was just what I needed. So be mindful that the sizing is on the smaller side and you'll likely want to order a half size up, too.
After running on steep trail descents, the extra half size came in handy because my foot was locked in and my toes never slammed the front of my shoes, not once.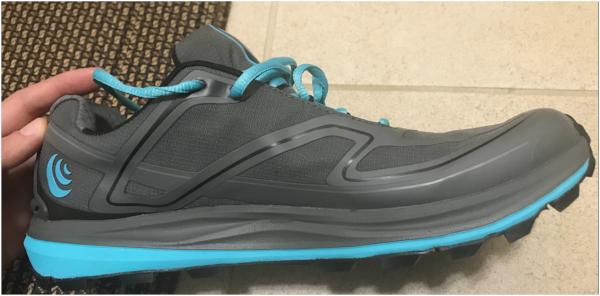 Shoe specifications
At 3mm, the Hydroventure 2 has a much lower heel-to-toe drop than most trail running shoes I am familiar with. Prior to running in these shoes, I predominantly trained in the past in shoes that were an 8mm heel-to-toe drop or greater for trail-specific shoes.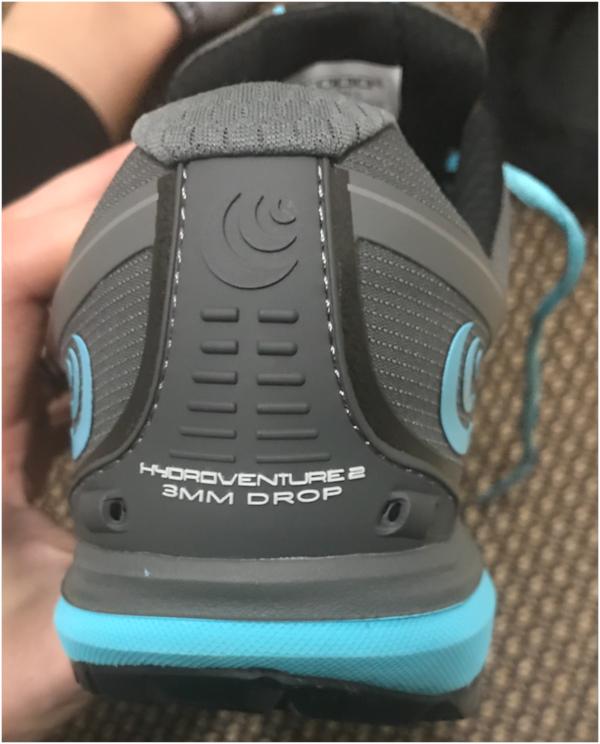 Initially, I was concerned that the drop would be too low but quickly realized that my experience was actually pretty stellar. I didn't have any issues with the 3mm heel-to-toe drop of the Hydroventure 2 whatsoever. I was definitely a happy camper!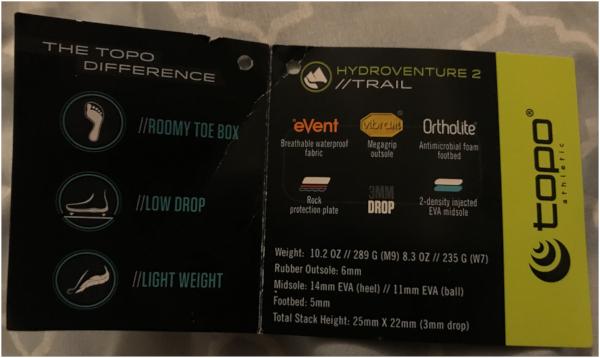 The Hydroventure 2 trail shoes are incredibly light in weight, weighing in at 8.3 ounces (235 grams). I found these shoes to be quite nimble on my trail runs and I was amazed at how well my foot was protected due to the forefoot rock protection plate design.
This was a well thought out feature of the Hydroventure 2's by Topo Athletic in my opinion. In my experience, it is pretty rare to find this level of protection for such a light trail shoe.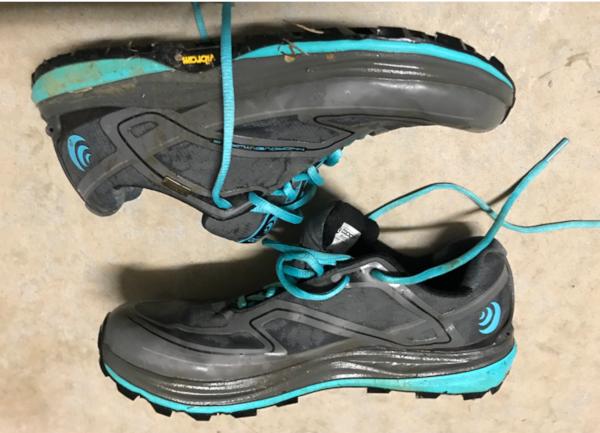 Sometimes during the last miles of my endurance runs, my footing can get a bit sloppy due to fatigue. This is where I was eternally grateful for the rock plate protection because it did an amazing job at protecting my precious feet. It certainly is a feature that will keep me coming back to Topo for trail shoes!
Special features
The Hydroventure 2 encompasses a fully gusseted tongue which I unquestionably valued on my endurance trail running endeavors. The trails that I run on have segments of gravel between different trail loops in which I normally accumulate small rocks in my shoes.
The gusseted tongue really did keep gravel, stones, and dirt I accidentally kicked up during my runs from getting inside my shoes. I especially love how the tongue of these shoes stayed in place while training in them on my long run days. I never had to stop to fiddle with my shoes or shoelaces which is amazing even on sloppy, muddy terrain.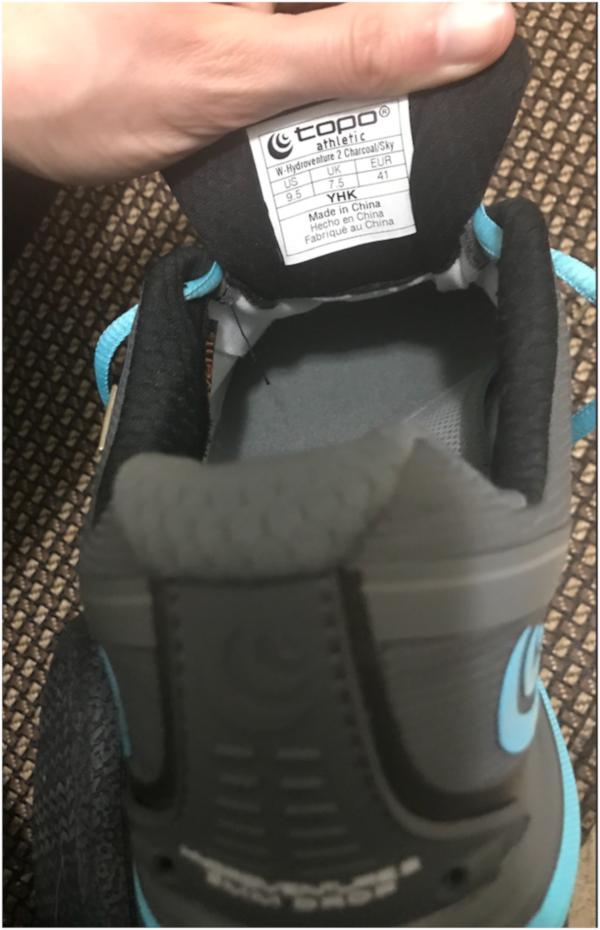 For all the gaiter fans out there, one nifty feature of the Hydroventure 2 is that they are equipped with loops to apply gaiters if you desire to do so. Ideally, I'm not an individual who typically wears or uses gaiters on my shoes for trail runs, but there are designated areas on the posterior aspect of the shoes in which a gaiter could be secured to if you were to choose to use them.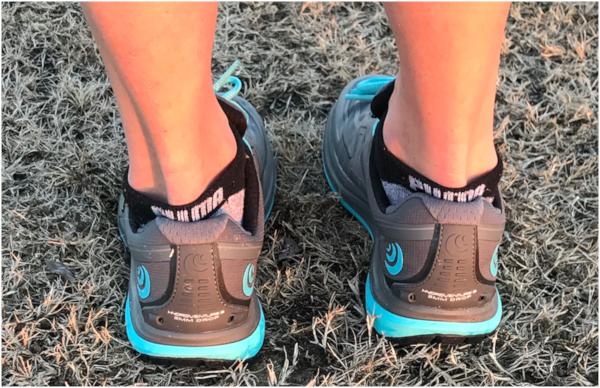 The heel cup of the Hydroventure 2 trail shoes is extremely cushioned, and I absolutely was a fan. This is an area where I frequently would get blisters from other trail running shoes, but not in the Hydroventure 2!
Topo Athletic contoured the heel cup to emulate the human anatomy of the foot, and it certainly didn't go unnoticed for me. The cushioning is extraordinary and really made for a comfortable ride. Again, I cannot stress enough how comfortable these shoes genuinely are to run in.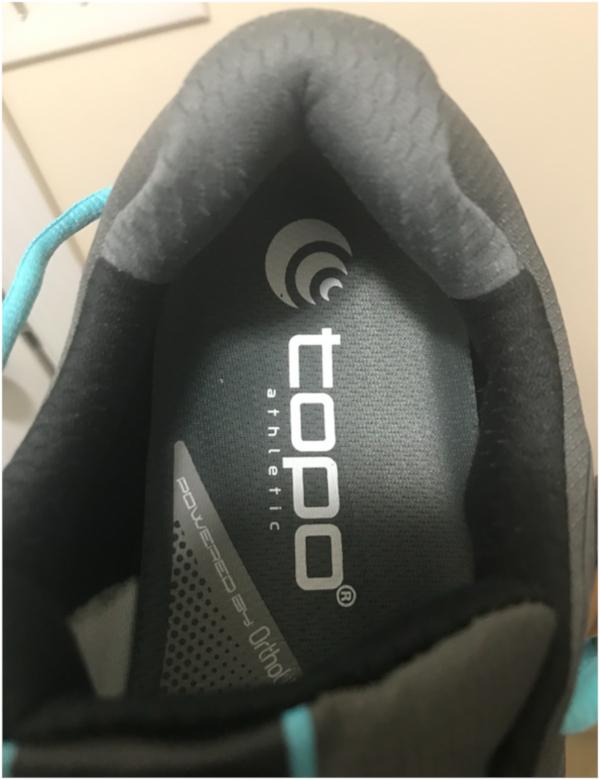 Upper
Let's talk about how I intentionally scouted out puddles to run through during my runs to test out the waterproof design of the Hydroventure 2, and they did not disappoint!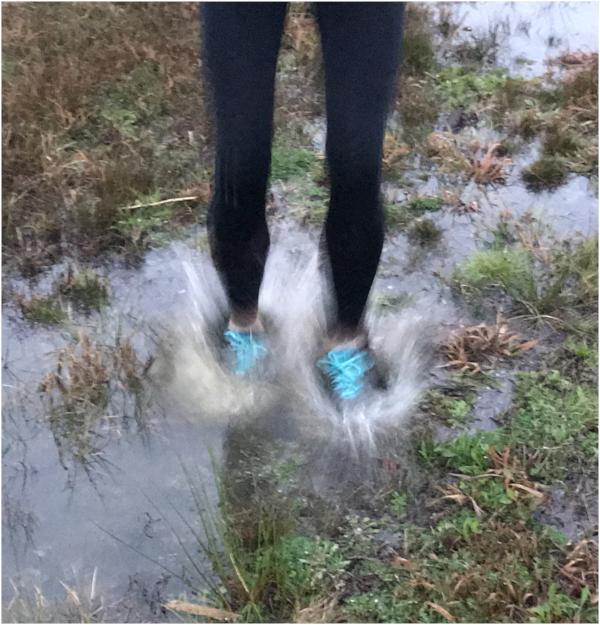 Admittedly, I didn't fully submerge my feet for prolonged periods of time, but even while deliberately plowing through copious amounts of puddles and running in the rain, my feet remained dry in these shoes. It was fascinated to still have completely dry socks after running in the rain and frolicking through puddles.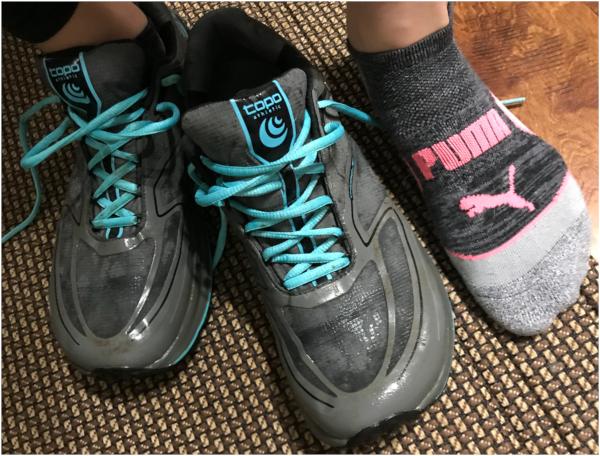 Plus, let's talk about how it was super fun to jump in puddles on purpose, haha! It's almost as if the Hydroventure 2 trail shoes say "bring on the puddles!" No joke, my socks were still completely dry after plowing through puddles during my run.
These shoes are absolutely waterproof, and it's the coolest thing! I didn't notice my shoes becoming heavy either while they were wet. They didn't bother me whatsoever during my run in the rain. It was great!
Another amazing feature is that the shoes dried incredibly quickly due to their single layer eVent fabric breathable design allowing for what Topo refers to as "direct venting technology." Even if you aren't hopping through puddles like I was or running in the rain, as much as you'd like to think your feet do not sweat during your runs, they do.
The Hydroventure 2 uppers allow sweat to evaporate while still keeping your feet dry from external means. I mean, how cool is that? Again, I'm fascinated at how much thought was put into the design of the Hydroventure 2 trail shoes.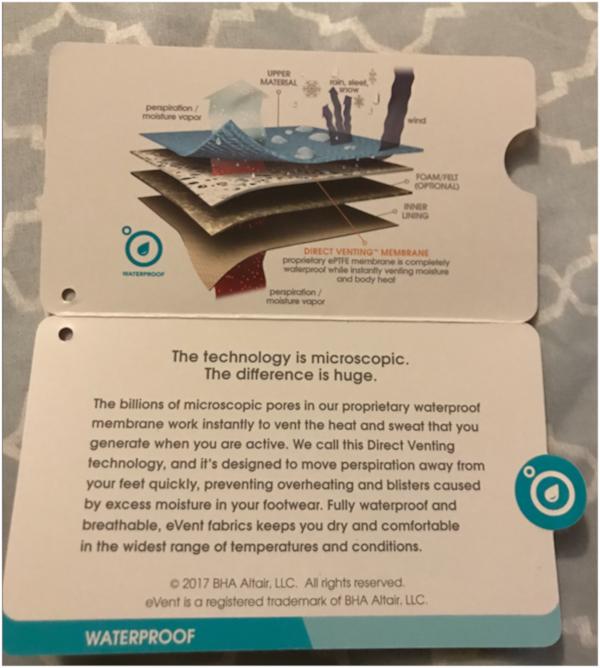 Majority of my runs have been in sub-50 degree temperatures, and even while trudging through every puddle and the muddy trail I could find, my feet remained warm and dry.
In addition, the upper is constructed as one whole piece encompassing printed patterns. This minimizes hot spots and potential areas of irritation, as well as allowing the shoe to remain light in weight.
Even on my 10-mile-long runs, I didn't have any irritation! Reiterating again, the wide toe box is phenomenal, and this also prevented the upper from irritating my toes. Very satisfied!
Midsole
The midsole is comprised of a dual-density injected EVA which provides softer cushioning near the feet, yet still allowing firmness designed for incredible responsiveness. As mentioned in the specifications, the Hydroventure 2 has a 3mm heel-to-toe drop with a 25mm/22mm total stack height.
I found the midsole of the Hydroventure 2 trail shoes to be firm, yet comfortable. As I mentioned previously, I never had issues running shorter distances in them. The firmness of the shoe was only noticeable on longer and lengthier runs where I desired just a tad more cushion.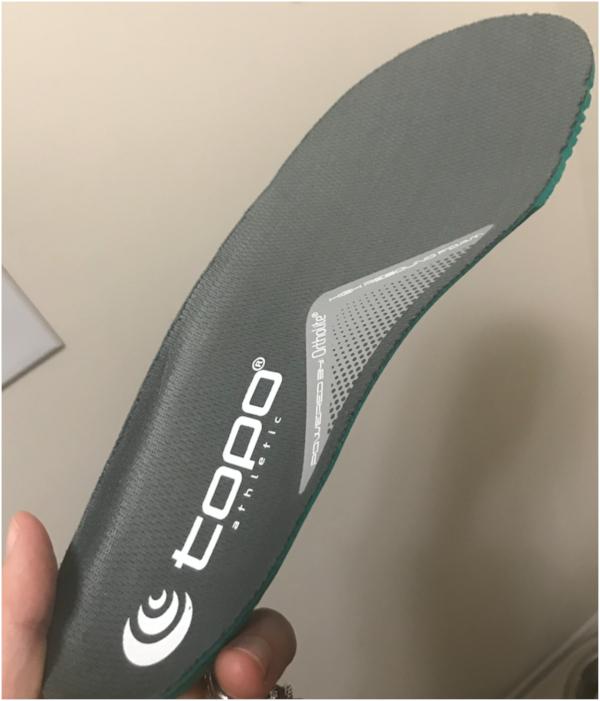 The Hydroventure 2 is outfitted with a 5mm Ortholite comfort foam insole. I love these insoles as I never had any issues with the insole rolling up on me during trail descents.
These also helped to generate a higher rebound when hitting the trails. Allegedly, I read that the Ortholite insoles are machine washable which is a plus if you're someone who frequently runs muddy trails as I do.
Outsole/traction
TRACTION - My favorite part of trail shoes. I couldn't wait to hit the trails when I saw the lugs of the Hydroventure 2 comprised of VibramMegaGrip sticky rubber!
Just as an observation, I noticed that the 6mm lugs were more generously spaced from one another which really prevented debris from sticking to the bottom of the shoes. Another observation of mine was that the lugs were more focused toward the forefoot of the shoe, which is great for forefoot/midfoot strikers like me.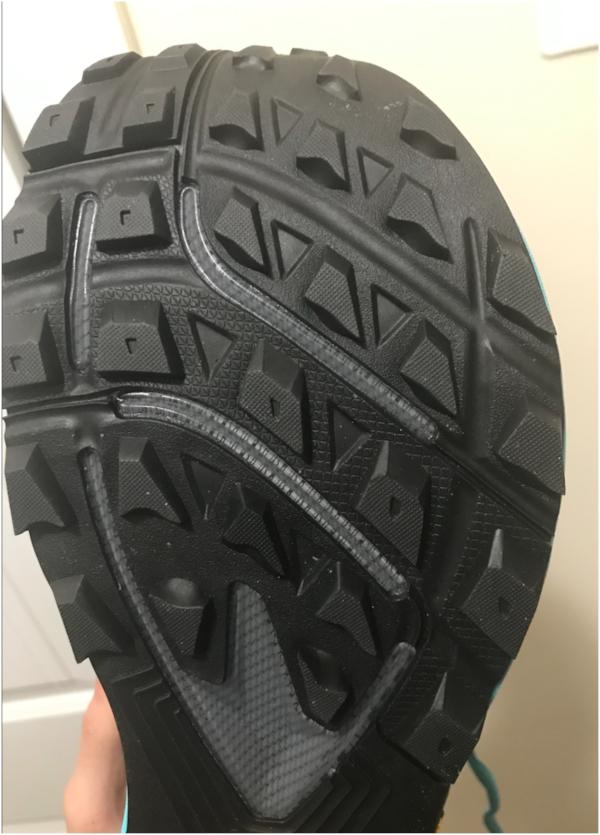 I really felt that the grip was phenomenal in these shoes during steep muddy climbs. My husband and I run on dicey trails with wet rocks and slick terrain, but the Hydroventure 2 chomped down on the terrain effortlessly. It was quite impressive what these shoes were capable of in the grip department.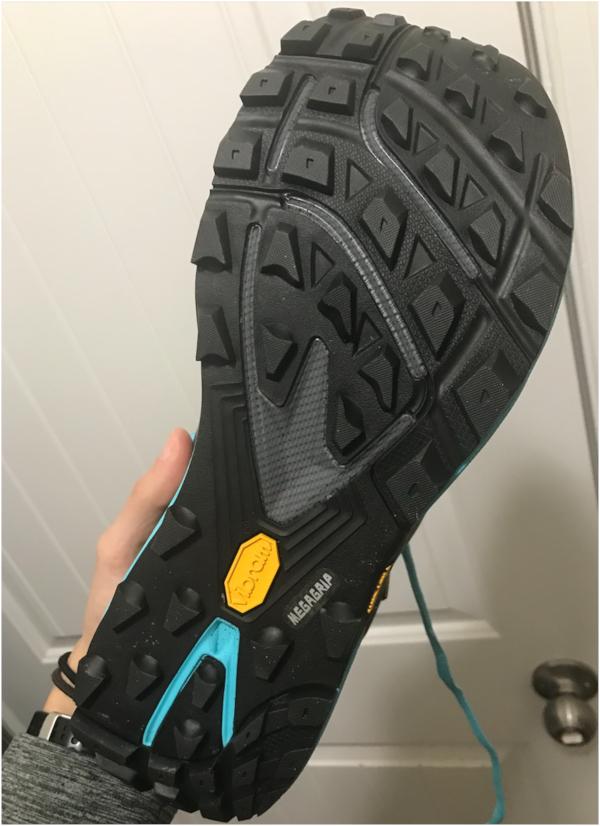 It's a great feeling to know that the traction of the Hydroventure 2 has my back. Even after nearly 70 total miles of running in these shoes, I felt extremely comfortable running on all types of terrain without fretting if the shoes were going to perform well. They superseded my expectations, and I couldn't be happier with them.
Pros
Wider very comfortable toe box
No break-in required
Rock plate protects feet from stone bruises on technical terrain
Sheer innovation to complement human anatomy and biomechanics
Cons
Firm feel - just wish there was a tad more cushion in mid/forefoot region
Run a bit small, so order a half size up
Final thoughts
First and foremost, I love the sheer innovation that goes behind each and every product of Topo Athletics. In addition, I am a huge fan of Topo's wider toe box and natural feel because it truly did provide an extremely comfortable ride.
I know how important toe splay is to optimize running and a wider toe box allows full foot functionality and the ability to push off of your great toe fully. Moreover, the sleek designs are aesthetically pleasing and are more than just good looks, they have phenomenal functionality.
I am beyond impressed with the Hydroventure 2 trail shoe for trail running as I have tested the shoes on various types of terrain and they never disappointed me. I love that no matter what condition it may be outside I felt confident running in my Hydroventure 2 - thanks to their sticky VibramMegaGrip outsole.
These shoes have been marvelous for my race preparation because they are versatile enough for all-season trail terrains and they were reliable each time I outfitted my feet with them.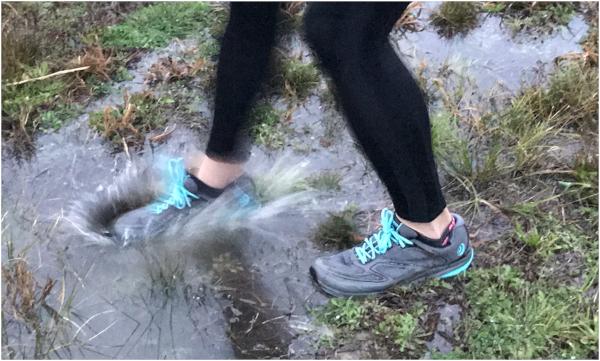 Above and beyond the waterproof capabilities, I also love the rock plate because on technical terrain I'm not worried about becoming potentially injured by roots, stones, etc. which I encounter frequently.
I now prefer Topo because they have the runner's biomechanics in mind! If we aren't starting from the very foundation of human biomechanics how can we expect optimal athletic performance?
Lastly, for obstacle course racing, I compete on very gnarly terrain so I need a tough shoe that is robust enough to help me to emulate what I may encounter for race day. I can't afford to get hurt from stone bruises, so I'm grateful for the rock plate that protects me from getting injured during my training.
Knowing how great the trail shoes perform, I'd actually be elated to try their road running shoes in the future as I don't always train on trail conditions for my tempo runs and speed work. Topo definitely has impressed me with the Hydroventure 2 trail shoes, and I'm excited to try more of their shoes later down the road!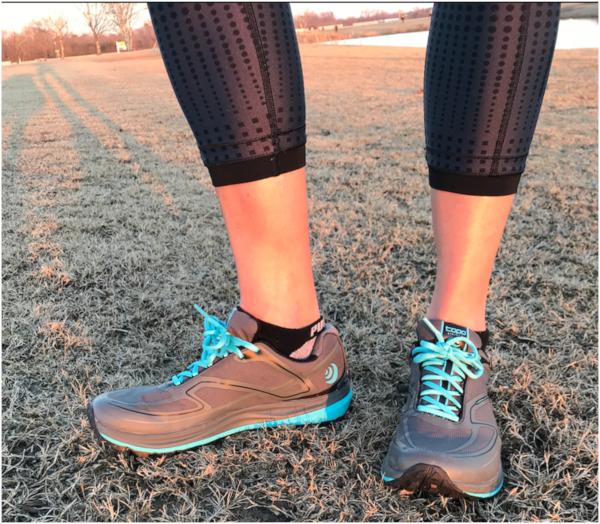 For a few years now, I have glanced a curious eye over the Topo Athletic brand. The brainchild of former Vibram exec Tony Post (hence ToPo) has its roots in the minimalist running scene. Most shoes in the company's line, however, offer fare to an often underrated and underserved group of folks.
Those looking for a shoe with less heel to toe offset and less fluff, but still learning to improve body mechanics during running or those who have attempted barefoot or minimal running, only to find that they need a modicum of protection to stave off over-usage injuries when running long, or over rough ground.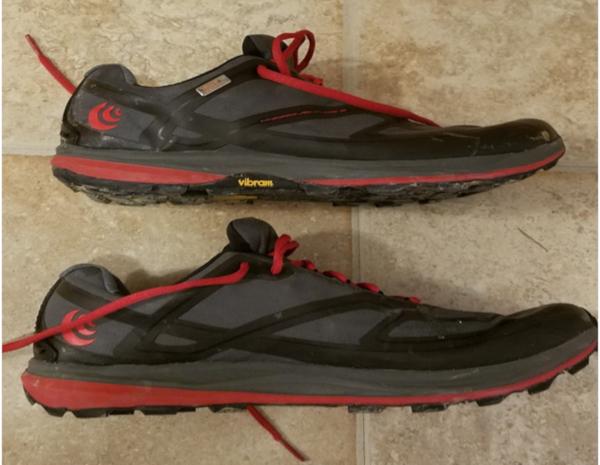 The Hydroventure 2 checks these boxes and more. Winning the National Geographic Gear of the Year Award in its first iteration, the shoe comes with high praise. A trail shoe with ventilation and in a lightweight package is certainly tantalizing to a Midwestern guy stuck in the wet and cold grip of Old Man Winter.
What I found was a shoe worthy of its pedigree, but with some of the growing pains common to a newer model of shoe.
Upper & fit
Being new to the Topo Athletic brand, sizing was certainly the initial concern. While I have tried and enjoyed the roomy toe boxes of Altra and the toe space embracing models from Vibram, every brand has their own spin on what an anatomically correct shoe looks and feels like.
The Hydroventure 2 is no exception. While certainly not the widest shoe I've ever worn, at a slightly sized up 11 (I usually take a 10.5 and measure on a little past 10 these days) it has plenty of space to accommodate proper toe splay and room to buffer between the rubber reinforced toe box.
In terms of feel, the booty-like construction of the eVent waterproof material feels gentle and also proved to be very breathable for a waterproof shoe. The construction has a three-layered design with the hydrophobic layer sandwiched between two layers of moisture-wicking mesh.
While certainly not in the realm of Gore-Tex, the material does have some edges over the more expensive and established challenger. For one, the material feels good to the barefoot for those who prefer to run sockless when temperatures permit, while Gore-Tex has often felt a tough gritty to me in the past.
In addition, the eVent, even during longer workouts managed to perform admirably to excellent in terms of not only keeping the foot dry but allowing the shoe to air dry quickly at room temperature.
Sometimes within just a few hours of being soaked with sweat and snow (unlike Gore-Tex models such as the GT 2000 and Adrenaline GTX series which occasionally left puddles of sweat residue in my shoe that required turning over of the shoe to dispense of the excess moisture without hours of dry time).
Having said this, the one thing that E-vent did lack was the insulator and wind stopping the power of a Gore-Tex equipped shoe. While I was able to log long runs of up to two hours in GTX models, the Hydroventure 2 running through windy conditions felt dry but frigid at times, especially when doing speed work in open areas such as my local track.
In terms of pliability and comfort in materials, the heel counter feels good to the foot and is not as rigid as a traditional trainer. The mesh cradling the Achilles also has held up well despite being peppered with sand, salt and debris over the course of 60 miles of training.
Nonetheless, the anterior curvature seems unnecessarily acute (see photo below) and left me feeling like I was being slightly pushed forward into the front of the shoe.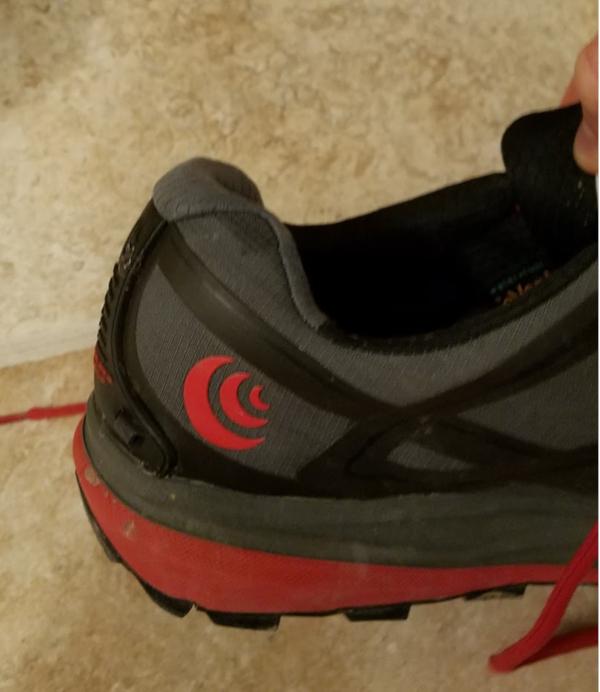 This may have contributed to the only real comfort flaw in the upper of the shoe, which manifested at the flex point in the lateral midfoot.
My right foot felt perfectly cradled, but on the left near where I tend to have some midrun swelling close to the heads of the metatarsals, there is a small fold that over the course of long days on my feet in the PT clinic burned into a dime-sized hot spot.
In terms of protection, the overlays of printed on TPU strike a functional balance between the structure to the toe box and midfoot while not inhibiting moisture management and overall flexibility. It also feels light overall and may help contribute to the incredibly lightweight (10.2 oz. men's size 9) nature for a waterproof trail offering.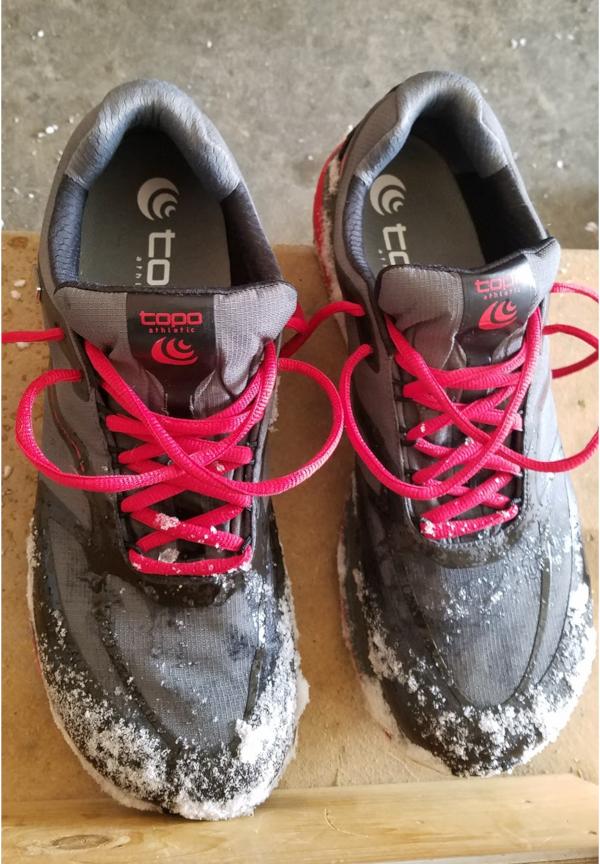 As a bonus, The Hydroventure 2 also boasts not only a rubberized toe guard reminiscent of Keen's ouch-free toe but also a rubberized heel guard to which a gaiter can attach to provide additional barriers against the incursion of unwanted moisture and grit.
While mildly stiff in nature initially, these materials have become quite supple and almost fine leather-like once exposed to the elements.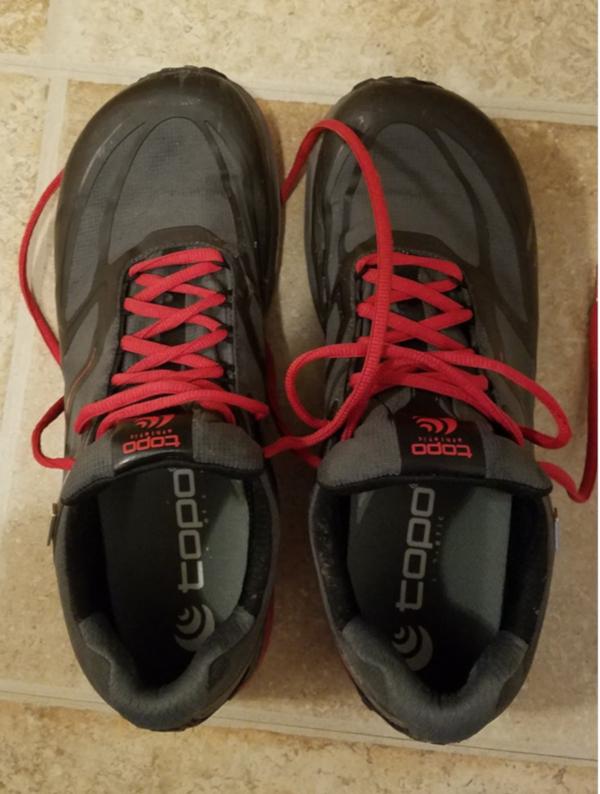 Insole & midsole cushioning systems
One thing that is truly pivotal in this model in terms of a line of demarcation between appeal to minimal and non-minimal fans is the rock plate. It is certainly robust in terms of its ability to protect the foot on gravel roads and provides a certain measure of forefoot stability and toe spring that reminds me of the old Mizuno Wave Cursoris.
However, for those who value a flexible forefoot to allow proper translation of force evenly through the foot and are not used to the firm nature of a rock plate, this shoe may provide a small measure of consternation.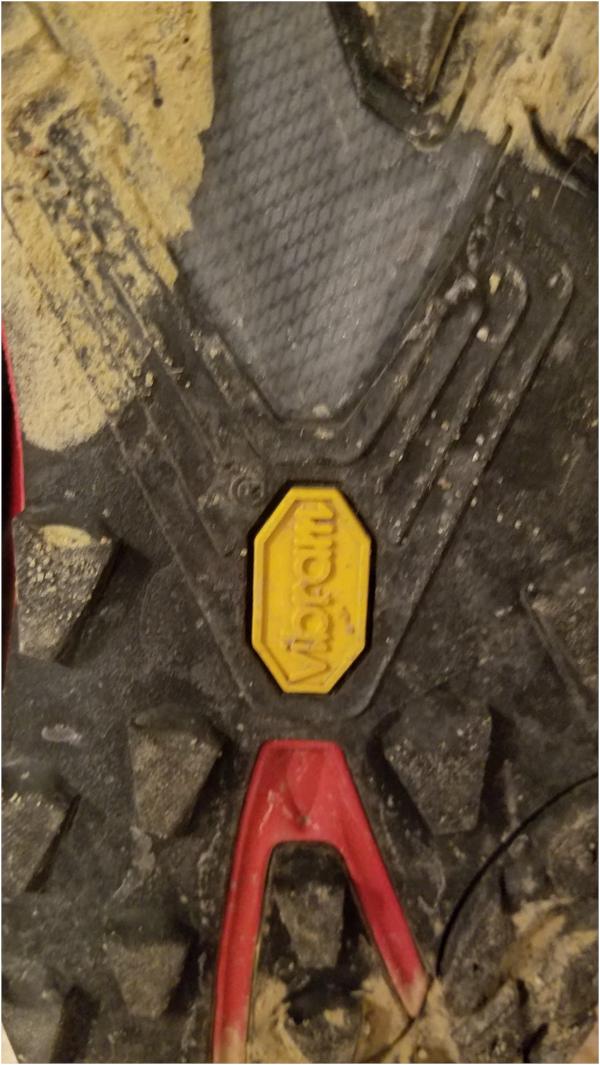 The Hydroventure 2 exhibits a small beveling in the sole typical of most traditional running shoes (that is, one can clearly see with the naked eye and feel to the barefoot a cambering of the medial edge of the shoe compared to the lateral edge that is not present in most shoes with low or no heel to toe drop such as multiple offerings from Altra, XeroShoes and Merrell's Bare Access and Glove Series).
While most runners will welcome the familiar feel, those looking for a more even and low to the ground feel may find this feature less than ideal, especially in a shoe which boasts a significantly low heel to toe offset at 3mm.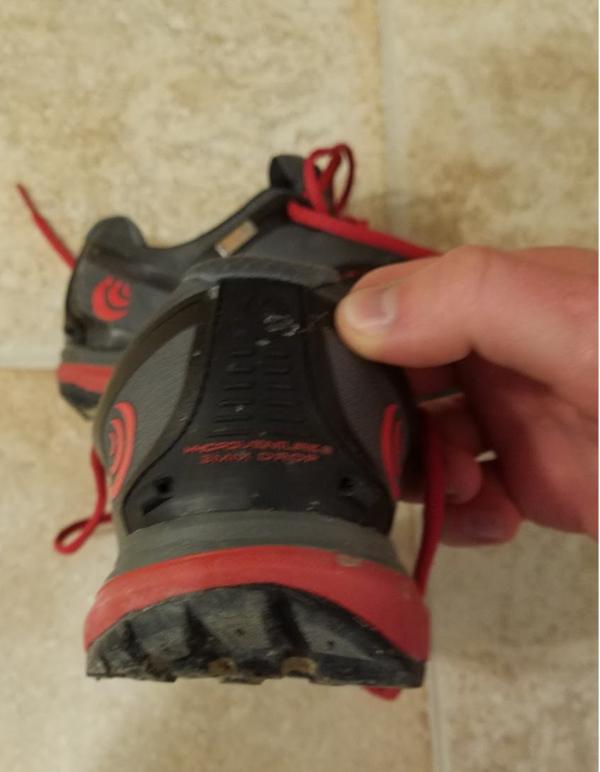 Where the shoe's midsole does excel is the nature of the dual density EVA used that feels very accommodating and modulates the traditionally firm nature of the Vibram outsole compound.
Running over the road, track and treadmill, the forefoot felt mildly firm due to the rock plate, but supple and smooth under the midfoot and through the heel on mishits with a heel strike on steep downhills and with sharp cornering on the trails near my home.
This may also have contributed to this shoe winning as a special place in the rotation as one of the few shoes I have tried in recent years on the elliptical machine that did not leave me feeling paraesthesia (tingling and numbness) in my toes after an hour plus workout.
The Insole (standard Ortholite foam) molds quickly to the foot and provide a solid fit without breaking down equally as quickly. It also shared the swift drying nature of the shoe's upper when removed between workouts.
One improvement that could help make the shoe easier to grab and go the next day would be to improve the ease of ability to reinsert into the forefoot without bunching and folding.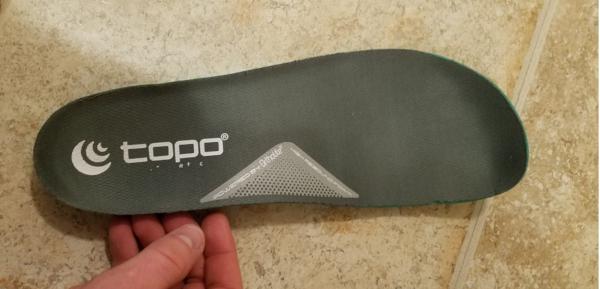 Overall, while the foam is certainly agreeable and the insole balm, the rock plate and cambered nature of this shoe could be areas to improve upon the ride in future models.
Outsole & durability
The outsole on the Hydroventure 2 sports the newest offering in Vibram's rubber outsole compounds, the MegaGrip sole. While certainly thicker than the outsole on the Vibram V-Alpha and V-Aqua, it performed no less admirably over track and trail.
In fact, due to the two-way nature of the lugs (forward facing on the heel and rear-facing through the forefoot), I felt more secure running downhill through the snow and heavy rains that have recently swept through the area.
The only time where I felt at all insecure was over a thick sheet of black ice during one of my morning runs that formed an ice dam over the sidewalk following a big meltdown the day before. Even with a skid of a foot or so, the sole locked up enough for me to keep my footing and recover my balance in a split second.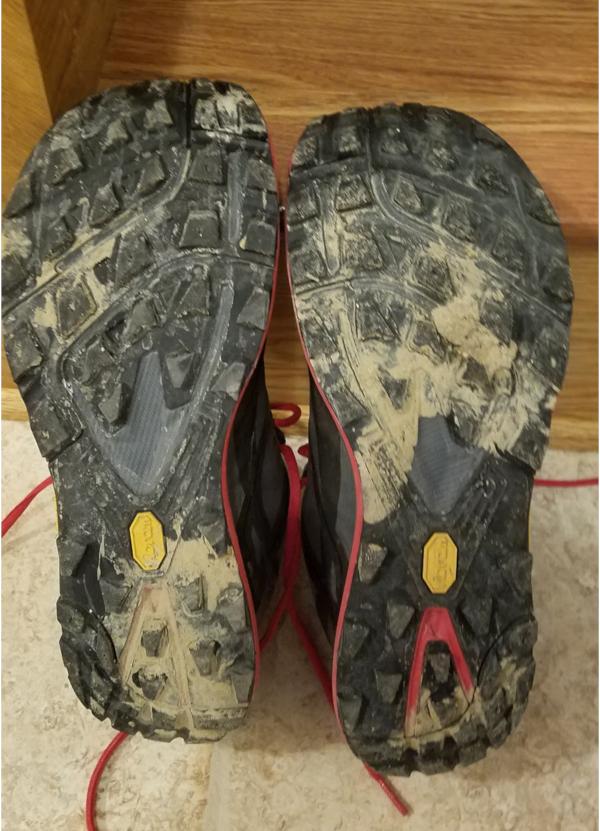 The only real trade-off with the MegaGrip sole compared to the VFF's is the overall thickness of the pattern. While trusty and useful off-road, the thick sole in combination with the rock plate creates an inherently less flexible fore and midfoot when worn on stiffer surfaces such as concrete and asphalt.
In addition, while the shoe is certainly light in-class and would be great for running an off-road ultra, tough mudder, or obstacle race, its suitability as a true speed day shoe is very limited.
While training for the USA road mile championships this spring, I have run timed miles and 400/100 meter intervals and have maxed out my speed with much greater difficulty compared to the Mizuno Wave Shadow that has been my go-to over the past training cycle.
In terms of durability, this shoe has impressed me more than any other shoe I have worn in the past year. Out of the box, as mentioned above, the feel underfoot has not changed despite wearing the shoe for over 60 miles and two months working over 40 hours a week in a physical therapy clinic.
In addition, the shoe was my partner on several cross-training workouts at the gym as I transitioned back into my normal cross trainers following a layoff from a stress fracture.
The added cushioning and lack of breakdown were huge factors in avoiding foot fatigue as I built back up my atrophied foot musculature and was a welcome helping hand (or foot as it were) through the process despite some of the shortcomings mentioned above.
Even after days on the trail, sand, and grit from shoveling snow and running in salted streets, all the ripstop patterned fabric and outsole ever needed was a cloth towel and shoe shampoo to regain its like-new appearance. Even the MegaGrip rubber's micro slip and score pattern are still vaguely visible on some of the outsole lugs as you can see below.
In short, while the Hydroventure represents everything you could want in a durable shoe and one to tackle some tough and uneven ground, it lacks a bit in speed and flexibility. With a few minor tweaks (a less aggressive rock plate and a slightly thinner outsole) this shoe could be a speed demon on and off the trail.
Style
In terms of style, this shoe seems to be a true swiss army knife of a trail and daily shoe. As mentioned above, it cleans up well enough and the colorway is neutral enough to pass the muster in most workplaces (including mine in the medical field as a Physical Therapist Assistant).
On the other hand, it is sleek enough and the TPU overlays give the illusion of a narrower shoe look for an anatomical toe box that even my wife agreed looked nice with a pair of jeans on date night.
Another reason for kudos that is always nice is the addition of a complementary set of extra laces to accent the scarlet in the pinstripes of the TPU overlays and Topo logo in the heel.
While a small bonus, it is highly appreciable in a shoe to be taken off-road to have an extra pair of laces around for the moment when you inadvertently run through a burr patch or snap a lace off on a tree branch (or inadvertently spill Ultrasound gel on the midfoot of your shoe).
For a more toned down look, black also comes standard. While very functional, the gusseted tongue and looped lacing holes also give the shoe a very clean look from the top down.
The only current limitation is the lack of additional colorway options for those looking to trade out and trade up as they log their miles. Overall, this shoe wins the beauty contest in class as a trail shoe that you can wear from tarmac to technical trail to tapas joint with little to no hassle.
Pros
Excellent breathability in a waterproof shoe and good water/snow shedding in prolonged wet and snowy environments
Style points for versatility and customization with alternate lacing colors included
Rubberized toe and overlays protect the foot from moisture and foreign debris well
Vibram sole is grippy and two-way lugs feel safe over uneven and very slick surfaces
Very lightweight for a waterproof trail runner
Cons
Rock plate is more flexible than most but still creates a stiffer ride over road and hard tracks
Curved heel counter feels unnecessarily aggressive
Midfoot and forefoot width felt a bit too roomy when performing step and agility training
Insole is difficult to replace after cleaning
Overall take
The Hydroventure 2 is a rugged mileage eater on the trail, in the office and on the go. It has the potential to become a solid race day option for trail series runs with minor tweaks to its flexibility and fit and has a varsity letter as a daily trainer during the spring months (or as a winter ice buster with some layering to the foot).
Topo's updated version adds Vibram technology and a streamlined look.
The Hydroventure 2 provides a breathable, waterproof upper on a grippy platform with moderate cushioning. If you like low drop shoes and support that cradles the foot, check out the improvements below.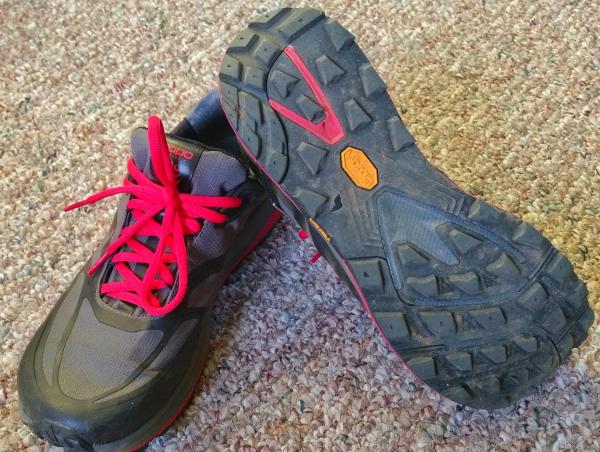 Pros
Solid, grippy Vibram sole
Wide toe box
Waterproof but still breathable
Rock plate protection
Simple, clean style
Cons
Hard bumper at end of toes
Tightness across lowest eyelet when the foot is plantar flexed
Natural Running Tech did not complement previous barefoot training
Motion dampened from cushioning
Stiffer transitions due to treads and rock plates
Outsole
Topo did not spare in this upgrade and switched to a deeply treaded Vibram Megagrip outsole. You get 6mm complete with spacious grooves that favor forward traction yet do not hold onto the mud.
I was able to tear through muddy trails and cruise over unraked mulch left to winter over on the trails. At the end of the run, my shoes barely had any mud left and never carried additional mud weight during the run.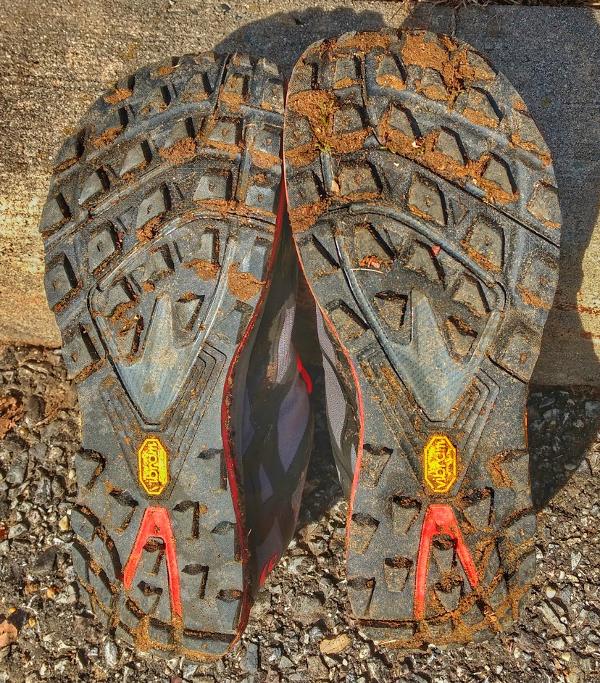 Kudos to Topo's choice with the Megagrip sole. Vibram's premier outdoor material offers unparalleled grip on wet and dry while remaining softer than other compounds. The outsole provides a smooth ride and will outlast the midsole cushioning, so I don't foresee the softer rubber choice becoming a problem and enjoyed the extra traction.
A hard plastic insert around the area of the arches covers the area not protected by the more flexible rock plates in the midsole. If you are running on ungroomed trails or plan on trying to run through a river rock crossing at a fast pace you will be thankful for its presence.
Midsole
This version offers a dual density EVA midsole with an overall 3mm drop. The heel measures in at 14mm and the ball at 11mm, so you are getting supportive, but not extensive, cushioning throughout the shoe. The front and rear parts of the midsole incorporate a segmented rock plate that protects the foot from any sharp terrain you are unable to avoid.
Topo's big focus on natural running technology shines in this shoe. By no stretch a minimalist shoe, the transitions are carefully designed to provide flexibility and natural arch activation in the foot. If you want protection for long-distance adventure running, this shoe should be near the top of your list.
Insole, stack, and drop
The Hydroventure features a 5mm Ortholite insole that closely mimics the tread design on the outsole and smooths out the ride.
The final total of 25mm x 22mm stack is high but does not feel bulky. The model compares well with HOKA trail running shoes and is a great lightweight and aggressive alternative to The North Face or Salomon shoes.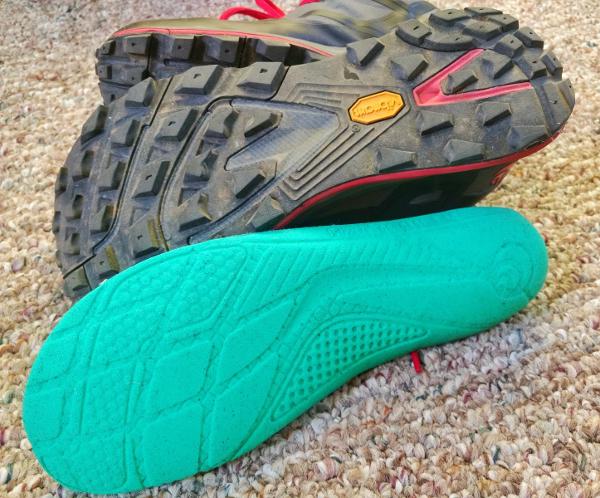 Upper
A one-piece eVent DVdryLT fabric is the star of this shoe in my opinion. I have owned numerous pairs of the North Face / GoreTex / Vibram combos and none offer the waterproof feature with comparable breathability, flexibility and low profile of this fabric.
Any depth of water below the top of the shoe is easily repelled while the micropores of the membrane keep your feet from getting overheated and sweaty.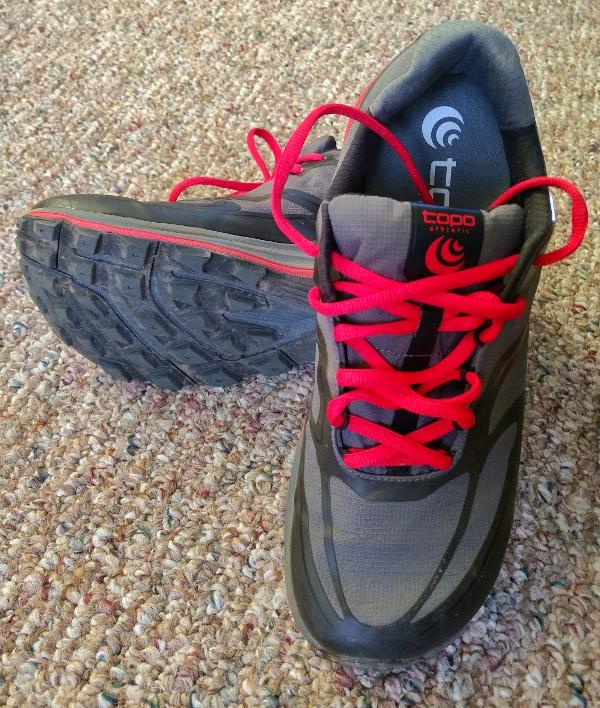 The tongue is fully gusseted and prevents most debris from entering in the shoe.
For those planning extreme adventures, the Hydroventure offers a built-in connection for the Topo Gator (US$20) to keep nearly everything else and provide a decent chance of not getting the inside of the shoe completely soaked, though the gator is only quick-drying and not waterproof.
While I personally don't get too bothered with soggy feet during the summer, this would be an excellent idea for any cold weather ventures.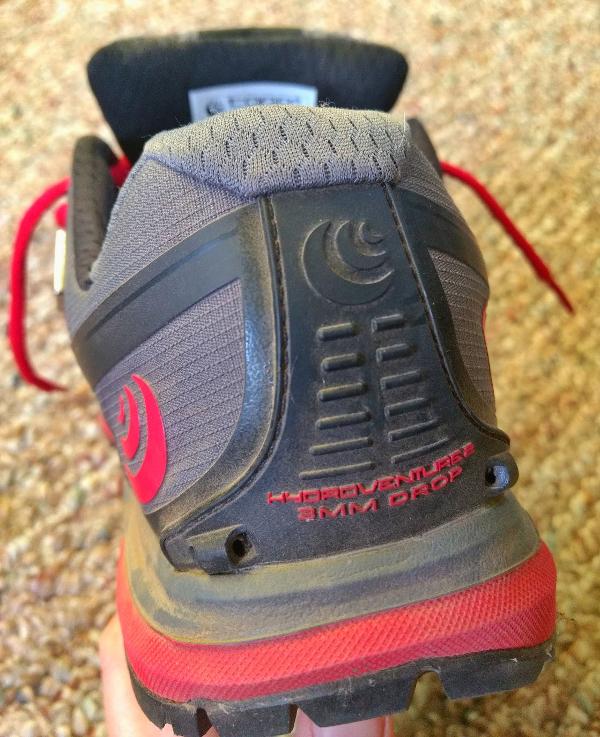 On the inside, the low profile gives you additional room to splay your toes and flex your foot. I tried removing the insoles and found my longest toe kept crashing into the front bumper on toe-off, so stick with the insoles on this one!
The only other pain point worth noting was a tightness at the end of the eyelet reinforcements at the bottom of the lacing when plantar flexing the foot, though usually only when walking.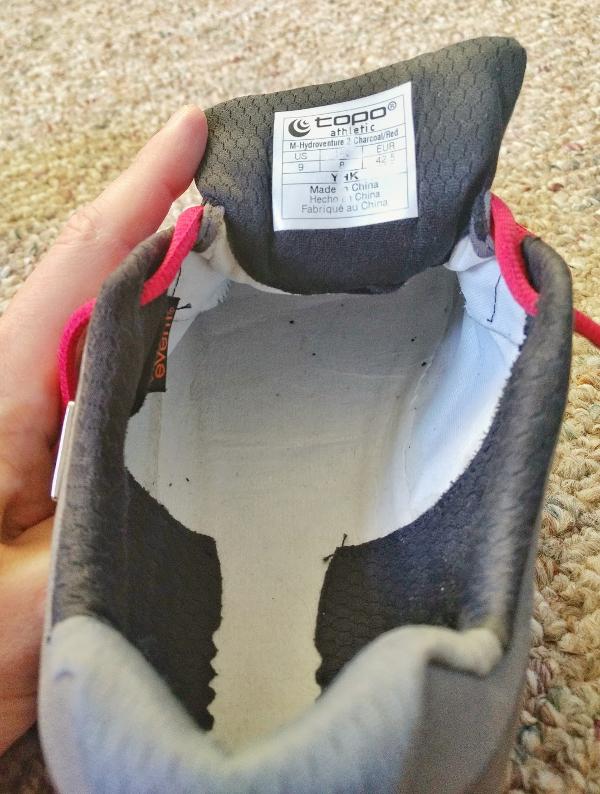 Finally, a nice touch in this new update comes with two sets of laces. Black comes installed on the shoe and can be swapped out for bright red. I obviously felt much faster in the bright red!
Uses
A great trail running or hiking shoe for longer and non-threshold running paces. All the feature in this shoe totals 10.2 ounces which is quite a feat.
I really wish I had this shoe for some of the trail races and hikes I had done in the past. Although I am not personally an ultra-distance runner, I suspect these shoes would be a prime extra cushion, low drop candidate for long miles on technical trails.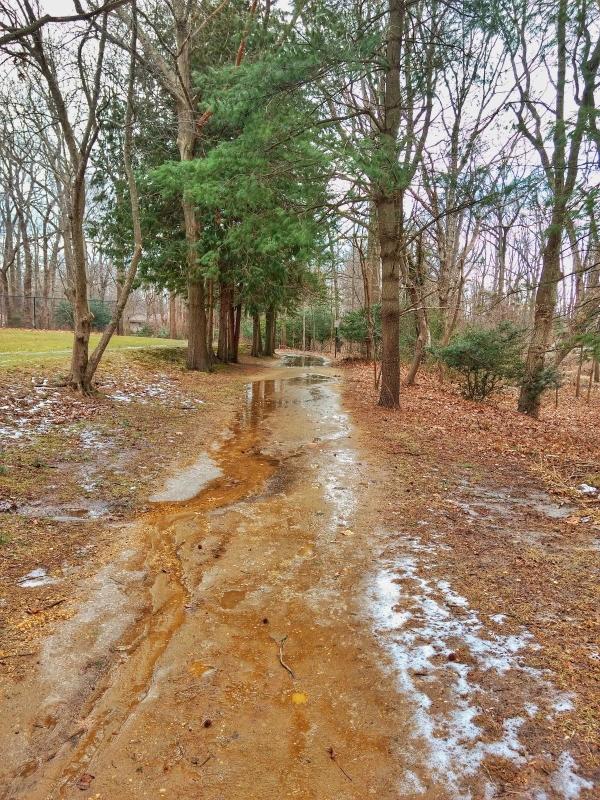 The shoe handled snow, frozen ground and thick mud with remarkable ease.
The perfect and go-to shoe anytime wet and cold conditions are expected. The shoes do a great job of getting rid of heat and moisture and keep your feet dry.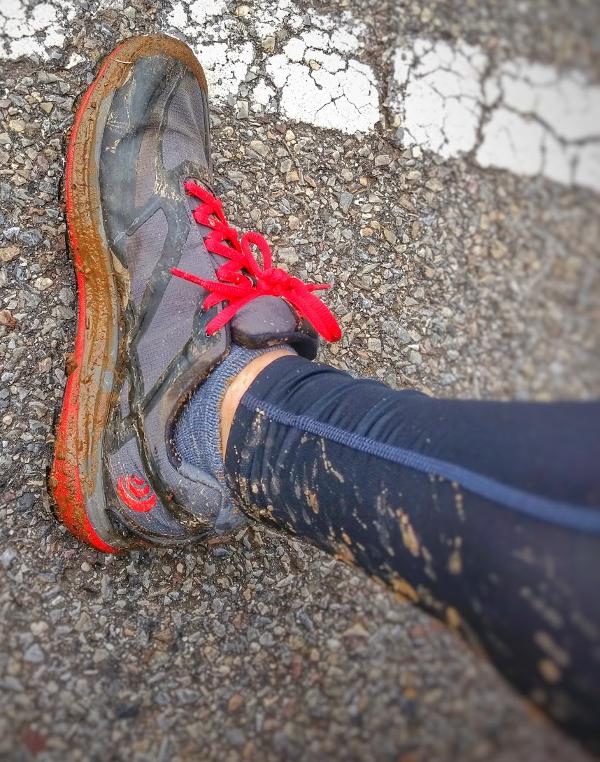 Ratings
The shoe delivers exactly as promised. The grip on the sole and the waterproof but breathable upper are the best attributes of this shoe. The style is simple and clean.
I do struggle a bit with the natural running description of this shoe, as I've spent the last few months running in Vibrams, Merrells and other zero drop minimalist shoes. While the rock plates and cushioning are superb, they really do dampen your proprioception and transitions. That said, this is a wonderful shoe for low zone long runs when combined with a lighter shoe for speedwork, threshold, and VO2 Max training.
Think of this as a mountain bike version of a shoe, with lots of suspension. When you switch to a road bike you don't miss the shock absorption until you hit a pothole or rougher road. Depending on where you are riding you will choose the tool. The same concept applies here.
This is a great upgrade to shoe technology as materials get lighter and thinner. If you are slow twitch, endurance runner, please check this shoe out. If you are training more fast twitch, I currently prefer a lighter and more responsive shoe.
Less weight definitely makes a difference and, in my experience, the minimal cushioning reduces the amount of muscle and joint soreness since I am not pounding so hard when I run.
Comparison
To get a better idea, observe the three shoes I currently use when trail running: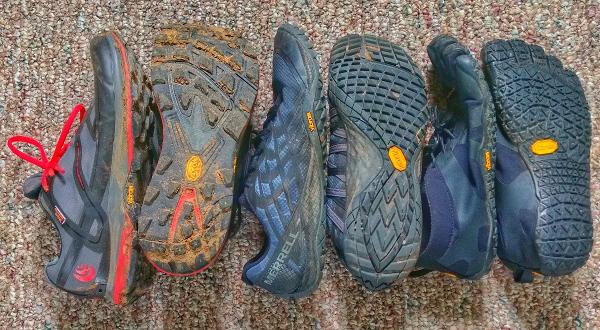 Hydroventure 2 has better traction when really ripping through bad conditions, but lacks a lot of the proprioception offered by the other two.
The Trail Glove 4 offers less protection, provides a bit of cushion, retains much of the grip and offers excellent flexibility. The V-Alpha is a great training tool that provides equal amounts of grip and ground feel, just don't expect them to get you up a muddy hill as quick as the Hydroventure 2s.
Final thoughts
Unless you live in the mountains or consistently run ultramarathons this shoe is overkill, though I must admit it makes those runs in NJ winter weather really fun.
A great pair to have in the closet if you have the extra cash. I look forward to seeing what Topo continues to come up with!
Updates to Topo Athletic Hydroventure 2
The updated version of the Athletic Hydroventure 2 has been renewed entirely. It now features the Topo's proprietary eVent breathable and waterproof upper. It also has a fully gusseted tongue, forefoot rock plate, 2-density injected EVA midsole and a new Vibram Megagrip outsole.
The Hydroventure 2 now offers an enhanced natural movement while still providing the protection needed on wet and technical surfaces.
The dual-density injected EVA midsole is now softer near the foot yet more responsive on the bottom area.
The shoe's new Vibram Megagrip outsole features deeper and more generously spaced lugs for better traction in wet or muddy conditions. Also, the new outsole's design, although able to keep some similarities with its predecessor, is now much better in providing stability.
Size and fit
The Topo Athletic Hydroventure 2 was made to fit true to size correctly. The shoe comes in standard sizing Medium D for Men and Medium B for Women. Like most of Topo's running shoes, the Hydroventure 2 has a roomy toe box which allows space for the wearer's toes to spread out freely throughout the run. Although this anatomic toe box is supposed to ensure the right fit, it still happens that it misses the mark and does not fit as it should on some buyers. Best is to visit the nearest running store to get one's gait analyzed by experts and properly measured with the best fitting Hydroventure 2.
Outsole
The Hydroventure 2 is now constructed with the new Vibram Megagrip outsole. The Vibram MegaGrip outsole uses an extremely sticky rubber for uncompromising the shoe's grip. The outsole also features deeper and broader spaced lugs for better traction on all types of terrains, no matter what the weather condition is. The lugs are placed multi-directionally on the outsole to provide aggressive traction on a variety of surfaces.
Midsole
The dual-density injected with EVA midsole has now been made softer to provide better cushioning near the foot and increased responsiveness at the bottom. This improvement in Hydroventure 2 creates just the right balance of comfort and support.
Upper
What makes the Topo Athletic Hydroventure 2 so notable is the shoe's upper. It features a one-piece breathable eVent DVdryLyt upper. This single-layer eVent breathable and waterproof upper allows sweat build up to evaporate while keeping rain out at the same time. The upper patterns are also printed to help reduce weight and provide a snug midfoot lockdown for a more anatomical fit.
The shoe has a fully gusseted tongue to keep out grit and pebbles while the forefoot rock plates help protect the foot against sharp rocks and stone bruises.
Lastly, the Topo Athletic Hydroventure 2 has a Ghillie lacing system that provides additional midfoot security in the upper.
Rankings
How Topo Athletic Hydroventure 2 ranks compared to all other shoes
Popularity
The current trend of Topo Athletic Hydroventure 2.