Our reviews
The North Face had the millennial trail runner in mind when they designed the Rovereto trail running shoe. With the fashionable great looks of The North Face Rovereto, I couldn't wait to hit the trails to see what these shoes were really made of!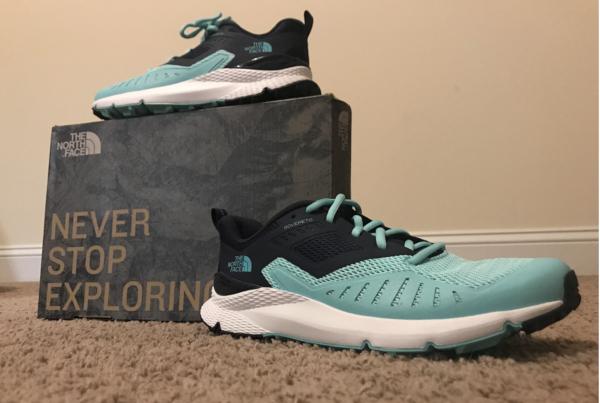 Overview
My dog, Kato, and I were all full of smiles when these shoes came in because you know what that means? More outdoor adventures with my 4-legged bestie!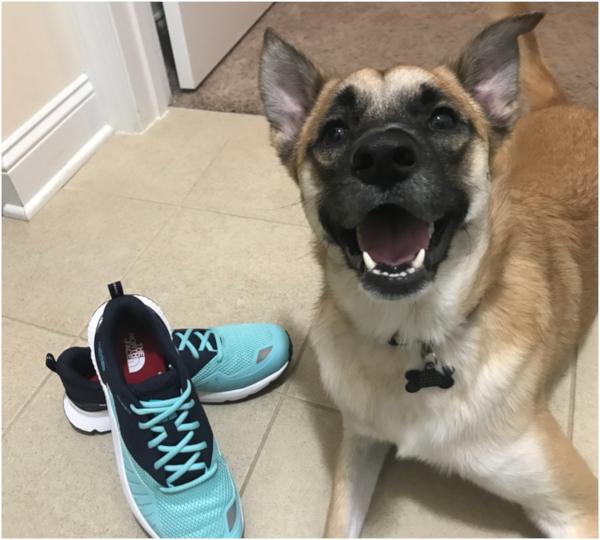 Don't ask me why, but at first glance, while unboxing this shoe, I couldn't help but think about how the design of the Rovereto trail shoes somewhat resembled Nike Air Max sneakers. Especially from the side profile of the shoe.
Needless to say, the shoes look phenomenal, and I was really pleased with their outward appearance.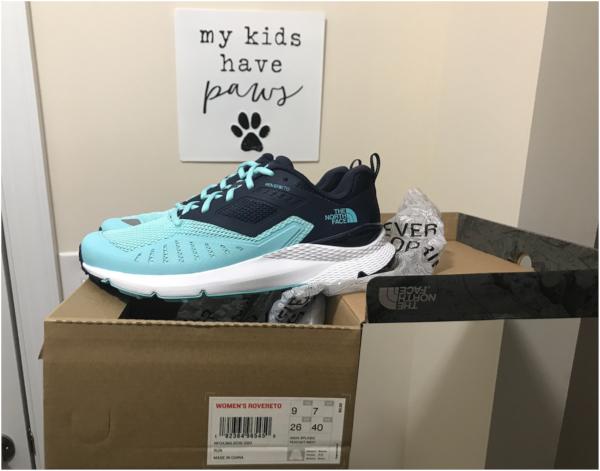 If you are a fellow trail runner, you know that sometimes fashion is sacrificed for functionality as trail shoes aren't always the most aesthetically pleasing shoes on the market. That certainly is not the case for The North Face's Rovereto trail shoes.
Furthermore, these trail shoes are great for a progressive jogger looking to tackle some light trails or perhaps even gravel roads.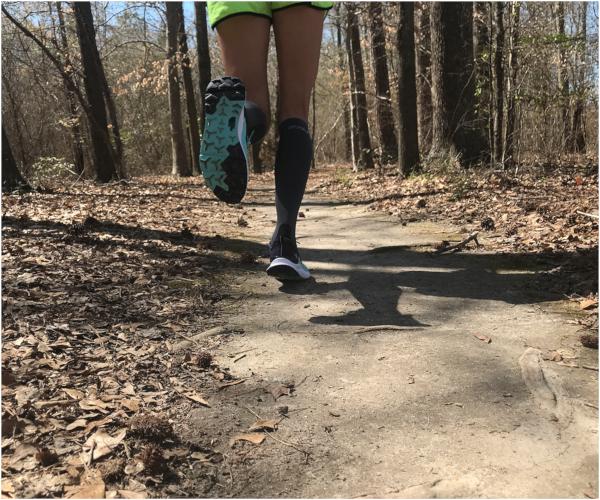 Aesthetics
Nevertheless, as I mentioned, I love the aesthetics of these trail running shoes. The black color scheme is fantastic, and I think these shoes looked equally extraordinary on the trails as they did while out and about.
I am a fan of blue hues; thus the "aqua splash/peacoat navy" well suited my color preferences. The North Face has also released a few different color options for the Rovereto's such as "grisaille grey/tin/pink," and "high rise grey/purple cactus flower" which are also very stylish, to say the least.
Moreover, I focus predominantly on functionality over aesthetics. I simply see aesthetics as a bonus, especially if a shoe performs really well.
Lately, I haven't whipped out my headlamp to run trails at night, but I love the small reflective area on the tip of the toe and a reflective strip along the heel. These are a nice touch on The North Face's behalf and could be of benefit to those running at night.
We can all agree that these shoes are gorgeous, but how do they perform? Let's find out!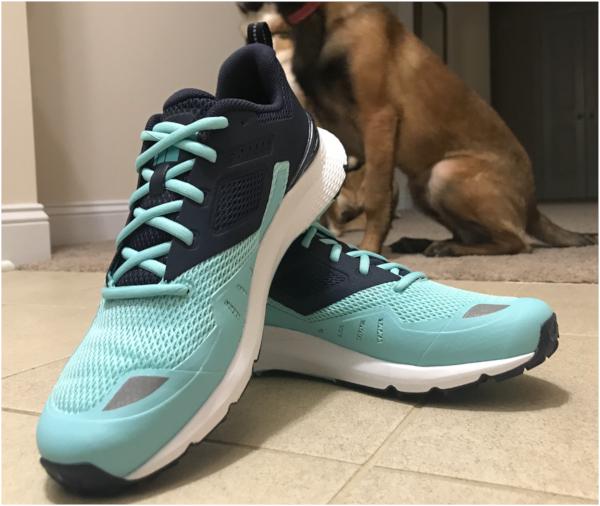 Sizing
I believe the sizing for The North Face Rovereto trail shoes fit true to size. The shoes right slightly on the narrow side, so if you have a wide foot you should be mindful when ordering these shoes.
Ideally, I wear a size 9, and the fit of the Rovereto's was on point. Here are various shoe brands that I run in and my size chart to be used as a comparison in choosing the right size for yourself:
| | |
| --- | --- |
| Nike | 9 |
| New Balance | 9 |
| Reebok | 9 |
| Asics | 9 |
| Brooks | 9 |
| Altra | 9 |
| Saucony | 9.5 |
| Mizuno | 9.5 |
| Inov-8 | 9.5 |
| Salomon | 9.5 |
| Topo Athletics | 9.5 |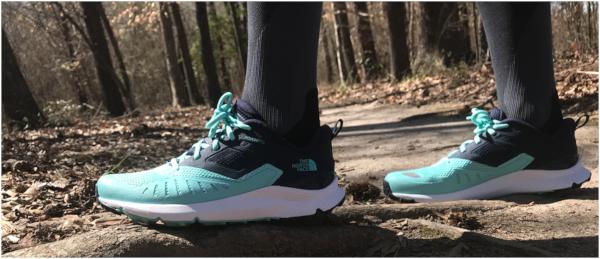 Specifications
Here's a quick break down of The North Face Rovereto trail shoe specifications:
| | |
| --- | --- |
| Weight | 9.3oz (263g) |
| Heel drop | 20mm |
| Forefoot height | 6mm offset |
| Type | trail shoe |
| Category | neutral/cushioned |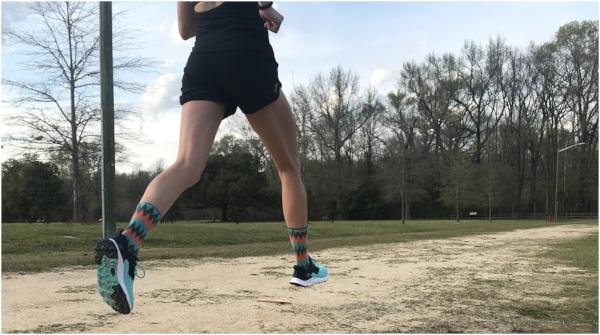 The first thing that drew me into the Rovereto's was that they were a neutral lower drop trail shoe.
I am not typically a minimalistic runner by any means, but I range anywhere from a 3mm to an 8mm heel-to-toe drop as my preferential shoe offset. The Rovereto's fit the bill in this regard sitting at a 6mm offset.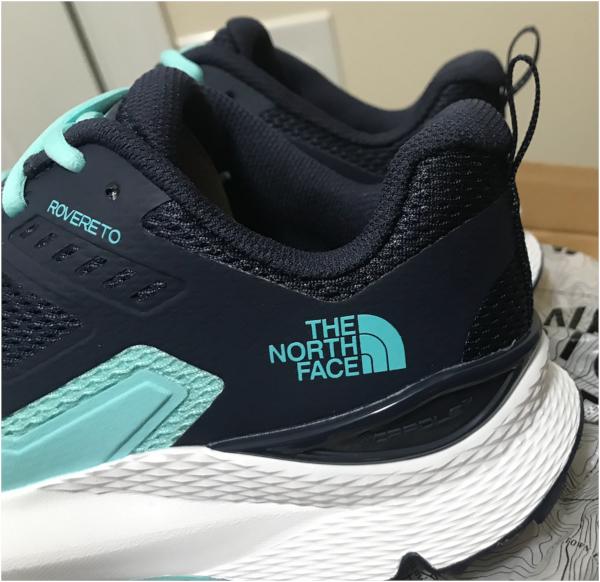 Upper & laces
The uppers of the Rovereto trail shoes are incredibly breathable. They are designed with a no-sew mesh which helps with comfort and breathability.
The shoe also encompasses a light toe cap bumper to protect your feet from accidentally kicking roots or rocks on your running excursions. Furthermore, the Rovereto's have a synthetic forefoot overlay intended for additional stability and protection of your feet while running.
Moreover, the shoelaces felt silky to the touch and actually untied pretty frequently during my runs unless I both double-knotted and double-tied them. Not a deal-breaker, but definitely a tad frustrating when you have to stop to tie your shoes during your runs.
In addition, the structural positioning of the first eyelet of the shoes can cause blistering on the outer metatarsals due to shoe synching. So be mindful how tight you make these shoes when lacing up for your trail adventures.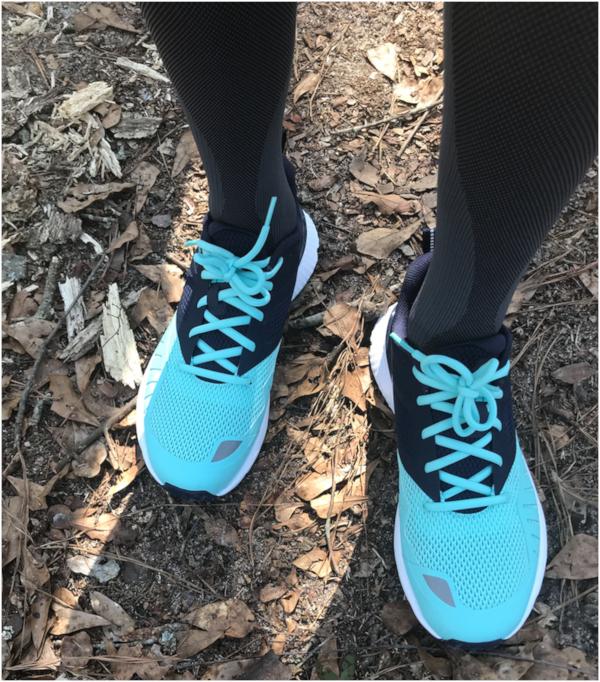 Outsole & traction
Typically, when choosing a trail shoe, I choose shoes with far more aggressive lugs for technical terrain because I predominantly look for a shoe that doubles as both a training shoe and obstacle course racing shoe.
The outsole of The North Face Rovereto's are comprised of a proprietary ETS outsole traction system designed in a trigonal shape. I found the shape of the lugs to be quite interesting as they differ from various other trail shoe brands and had never seen lugs shaped quite like this before.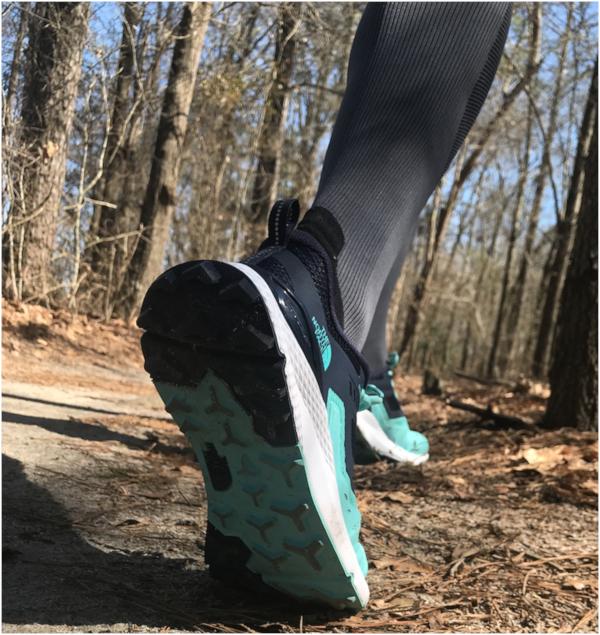 The particular shape of the lugs, in my opinion, did not increase traction on highly technical trails but did just fine on dirt and gravel roads. I was highly dissatisfied while running on wet surfaces as I was not able to get nearly the desired traction that I needed.
I found myself sliding and tripping all over the place on the trails because I was not getting the traction that I wanted on wet and muddy terrain. I personally believe that the lugs were neither as large, nor as aggressive as what I would prefer in a trail shoe.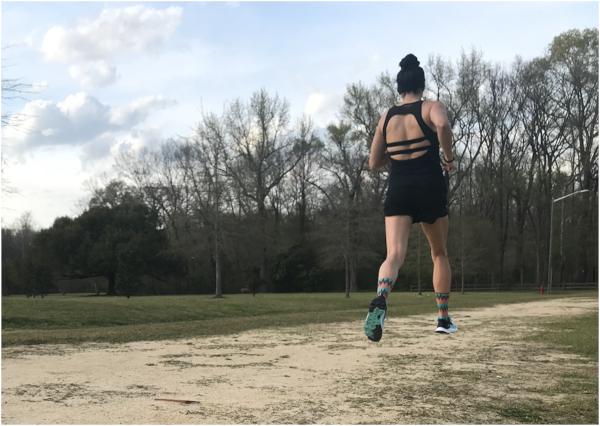 Moreover, I certainly would not recommend these shoes for technical muddy terrains as the Rovereto's are best suited for light dry trails.
Through my personal experience, I have found that the Rovereto's performed the best actually on light dry pressed gravel.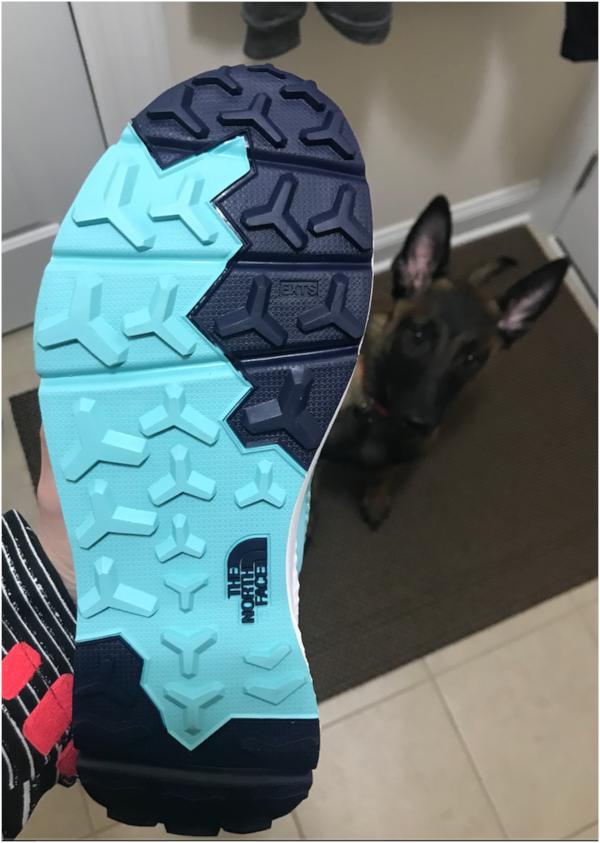 Midsole & footbed
Similar to various running and trail shoes, The North Face Rovereto's encompass a midsole that is comprised of EVA foam which is a rubber-like closed cell foam. The contoured single density EVA midsole allows for additional cushioning and stability in the Rovereto's.
The cushion of these particular shoes actually felt more comfortable while walking in them in comparison to running. The shoes have an Ortholite footbed which is also intended to add cushioning and comfort.
I felt as though the footbed had a "yoga mat" feel while walking around in them, but while running, it was not very noticeable because it almost felt as though it flattened out.
Performance & comfort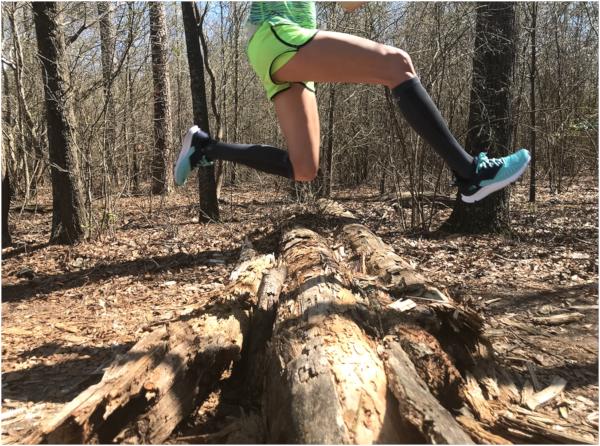 Strangely enough, these shoes did not feel like a 6mm offset whatsoever. Biomechanically, I found myself heel-striking in these shoes as the shoe felt more like a 12mm drop than a 6mm drop sneaker.
Also, I did not receive the energy return and responsiveness that I had hoped for from these shoes. Additionally, I started to have bilateral Achilles pain and knee pain while running in these shoes as I didn't feel as though they were providing the support that I needed.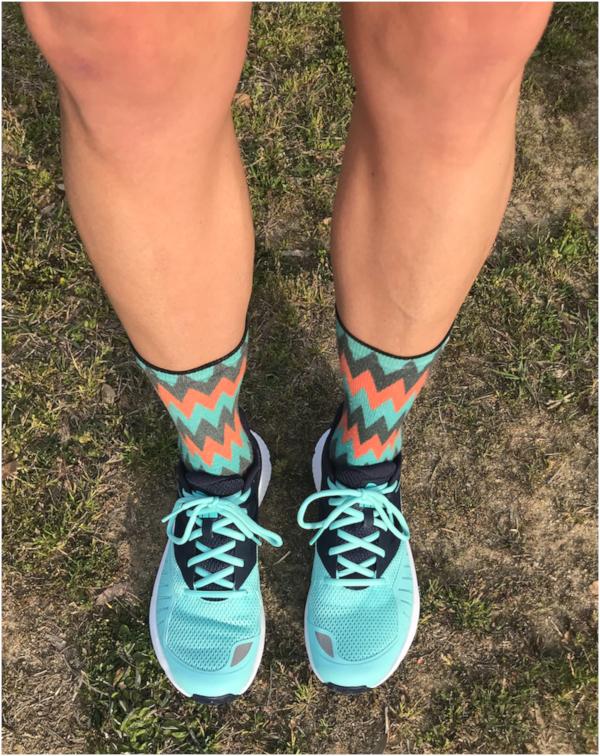 Initially, when I put the shoes on and walked around in them, I felt as though the shoes were quite comfortable. But the shoe felt completely different when hitting the trails.
Additionally, after long periods of wear, I found the shoes to be quite uncomfortable on my feet as I had quite a bit of hot spots developing even while just walking around.
As much as I wanted these shoes to be comfortable while running, I found them to be "clunky" and quite uncomfortable. After putting in miles and miles in the shoes, I hoped that they would eventually break in, but to no avail, I continued to get a plethora of blisters.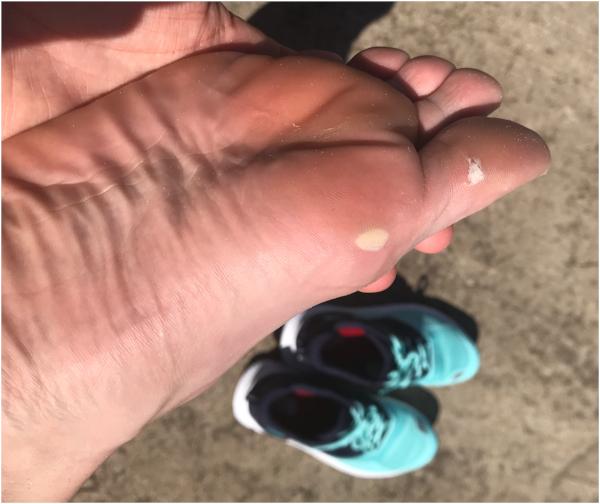 Initially, I thought that I could remedy this issue by trying different socks. I went to the extent of trying various types of anti-blistering socks (including 2XU, Balega, Injinji, and more) to see if it would alleviate my issues with blistering on my feet, yet I continued to get blisters on the plantar aspect of my first and fifth metatarsals as well as on the tips of all of my toes, especially my great toe.
Structurally, the shoes tended to be a bit on the narrow side, as well as the shape of the shoe was rather pointy. I suppose this structural component of the shoes is what caused the vast amount of blistering.
I found that the shoe did not really complement the anatomy of the foot very well, which could also be indicative of why I was having so many issues with the performance of the shoe.
Pros
Aesthetically pleasing
Sufficient underfoot cushioning for walking
Breathable upper
Affordable ($90)
Cons
Felt "clunky"
Never felt completely broken in/long break in period
Somewhat narrow
Caused hot spots on areas of feet
Lacks anatomical complement of the foot (pointy)
Continual blistering even after 50+ miles of running
Shoelaces wouldn't stay tied
Light "lugs" not ideal for technical trails
Scarce energy return
Started to get Achilles and knee pains after running in these shoes
Would not recommend for wet conditions
Best suited for very light trails or walking hikes, not running
Uncomfortable when wearing for long periods of time
Final thoughts
The North Face Rovereto trail shoes are great for someone who is perhaps newer to trail running or prefers to jog on gravel roads. I did not find the treads/lugs to be aggressive enough for technical trails as they lack the amount of the desired grip that I am used to in a trail shoe.
For clarification, just because the shoes were not ideal for me, and my biomechanics does not mean that perhaps another individual's experience may be very different from mine. I found the Rovereto's lacked the comfortability I desired while running trails in comparison to various other trail running shoes.
I think a plausible use for these shoes would be for an individual who would desire a walking shoe or a shoe for light jogging with a slightly more aggressive tread than what a regular running shoe embodies.
Otherwise, I love the overall appearance of The North Face Rovereto, but I just was not thrilled with the overall performance of the shoe in the specific area of running/trail running.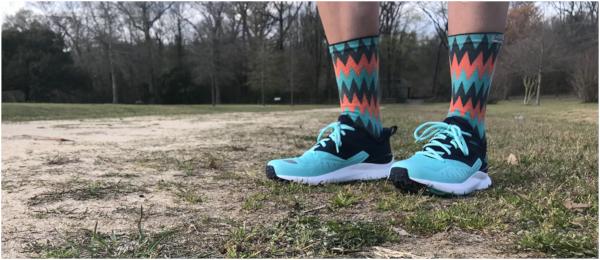 Notable elements of The North Face Rovereto
- The trails are the playground of The North Face Rovereto. This product features a façade that looks similar to casual sneakers, with a sporty mix of breathable mesh, printed overlays and complementing color combinations. A padded interior with a soft fabric wall ensures a snug yet agreeable coverage.
- A full-length midsole made of ethylene vinyl acetate graces this neutral running companion. The topmost layer has a contoured midfoot which supports the arch and prevents it from quickly getting tired during the run. A thermoplastic wall on the heel area holds the foot in place, preventing it from undermining the quality of the step because of any possible positional deviation.
- The external pad features the ETS™, a traction system that is meant to heighten the excellence of the movements over the unpredictable terrain. A proprietary rubber compound is the source of this tech, and it's reinforced by three-pointed stars for lateral movements and arrowhead lugs for inclines.
Size and fit
Standard size options are available for The North Face Rovereto. Users are more than welcome to use their usual sizing preferences when it comes to getting a pair. It is worth noting that one should readily try on the shoe first to attain the most agreeable in-shoe feel.
When it comes to width, the variants that are in the market are D – Medium for men and B – Medium for women. The runner that has low and medium foot dimensions are the ones who are welcome inside this product's foot-chamber.
Outsole
ETS™ or Exploration Trax System is what makes up the external pad of The North Face Rovereto. This layer is composed of durable rubber, one that's ready to stave off the abrasive nature of the trails. Extra-dense versions of the rubber rest on the forefoot and heel, ensuring longevity.
Gripping lugs are traction-enhancers, and they have various shapes. Three-pointed stars on the midfoot and forefoot handle sideways movements and general off-road steadiness while arrowhead patterns on the heel are for downward traversals.
Midsole
An ethylene vinyl acetate midsole is used for The North Face Rovereto. This full-length foam is tasked with mitigating the impact shock during the landing phase of the gait cycle, then returning the resulting energy to the foot and leg for an enabled takeoff.
A raised midfoot section supports the arch of the foot, keeping it getting tired during the run. It also prevents platform destabilization, especially since the off-road paths are usually uneven.
CRADLE™ is a thermoplastic wall that sits on top of the platform's heel section. The purpose of this piece is to stabilize the back of the foot and prevent it from buckling or quivering during the activity.
An OrthoLite® footbed is placed on top of the platform's lasting board. The purpose of this removable add-on is to provide extra cushioning for the underfoot. It has antibacterial and anti-moisture properties to help with the cleanliness of the in-shoe environment.
Upper
A breathable mesh is used for the upper unit of this running shoe. This textile is light, flexible and able to accommodate environmental air into the foot chamber.
A rolled tongue top and a soft inner lining allow the skin of the foot to experience a non-irritating coverage. These elements also have tiny breathing pores to further accentuate ventilation.
Synthetic overlays cover the sides and the front of the upper unit. These prints are meant to bolster the structural integrity of the façade while also helping the lacing system in providing a secure wrap.
No-sew suede prints grace the rear part of the upper. These layers help the collar in maintaining the position of the foot and preventing accidental shoe removals.
A pull tab widens the opening of the silhouette, thereby permitting the foot to enter or exit the interior chamber with ease.
Compare popularity
Interactive
Compare the popularity of another shoe to The North Face Rovereto: