80
The Corescore is a score from 0-100 that summarizes opinions from users and experts. Below shows the distribution of scores for all running shoes.
Verdict
If only we were testing the Saucony Freedom 4 for comfort alone, then this would be top-notch. Sadly, we're testing it as a running shoe, and it just falls short on performance. But if you're on the lookout for a daily trainer that prides itself in keeping the foot cozy, while being durable and light, then take the Saucony Freedom. It won't disappoint in such areas.
Pros
Insanely comfortable
Low to the ground and stable
Great midfoot lockdown
Good for walking and gym
Extremely breathable
No break-in period
Lightweight
Really durable
Visible at night
Cons
Not a running shoe per se
Sloppy fit
Runs ⅕ size big
Vans-like ride
Heel slips
Gets dirty easily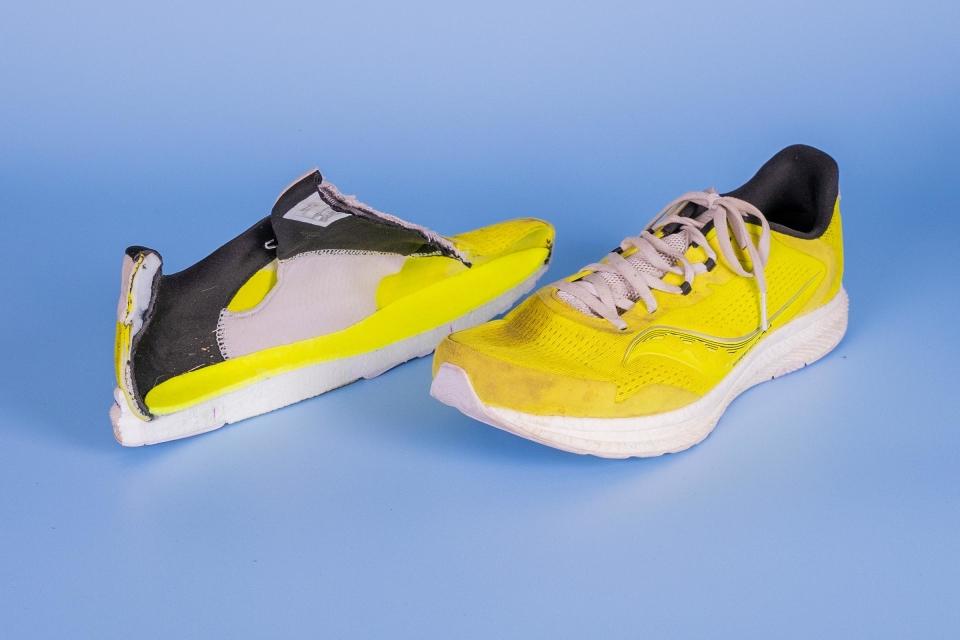 81% say it's true to size.
We earn affiliate commissions at no extra cost to you when you buy through us.
Comparison to similar running shoes
Saucony Freedom 4 review and lab test
If I could swear here I'd say "**** these are comfortable!" BUT they are not running shoes.
The Saucony Freedom 4 is an insanely comfortable trainer that's really more designed for the gym or around town than the open road.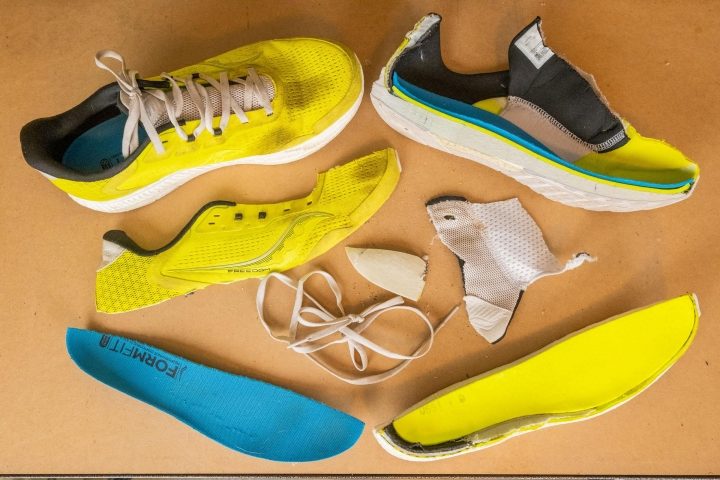 Who the shoe is (not) for
Buy the Freedom 4 if you want:
a stable, low-to-the-ground shoe that's incredibly comfortable for gym and interval workouts
an amazing around-town sneaker.
Pass on the Saucony Freedom 4 if you are looking for a high-tech running shoe. Yes, it has Saucony's fantastic PWRRUN PB midsole, but if you want to experience this tech in a true running shoe, opt for the Endorphin Pro or the Endorphin Speed.
Serious fit issues in Freedom 4
The main issue with the Freedom 4 is its fit.
It's too loose and sloppy to be a true running shoe.
The heel slip was unsolvable for me.
It runs a half size too big.
Great midfoot lockdown
On the positive side, Saucony built in a really nice gusseted tongue with stretchy mesh gussets that extend 3-4'' down the sides of your foot (compared to the 1'' gussets on the Endorphin Speed) which does give this shoe great lockdown in the midfoot.
Superb comfort
Although I don't think this is truly a running shoe, I will sing praises from the rooftops for the Freedom 4's comfort! The second you slide this shoe onto your foot you'll audibly sigh.
The upper is smooth on the interior, making it easy to slide on. The material by the heel is slippery nylon that feels great (although this is part of the heel slip issue), and the PWRRUN PB midsole is insanely plush.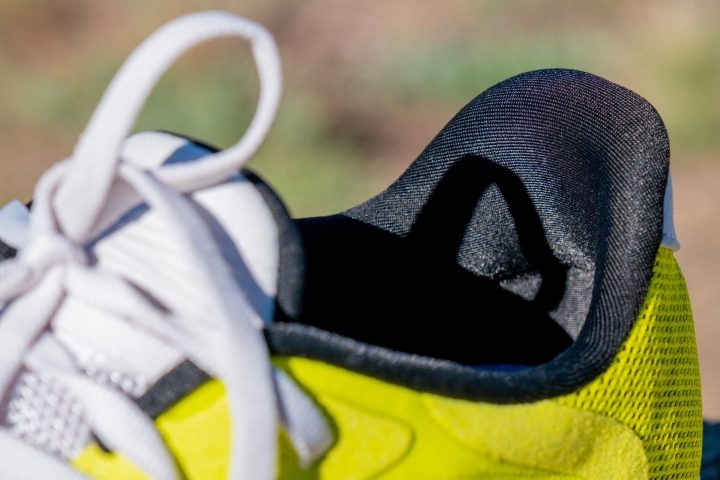 I want to focus on the midsole for a second though because Saucony really does have a great product here. However, what makes Saucony's higher-end shoes work so well with this product are the nylon and carbon plates that stiffen it up.
On the Freedom 4 there's no plate, just a soft squish, topped by a generous layer of soft foam in the sock liner, and then a 4mm insole. It's built for comfort, no two ways about it.
Better for walking and gym activities
Ultimately I'd say this is a cross-training shoe. I think you'll be more pleased using this on gym days, giving your feet a rest from your running shoes, and focusing on how good they feel rather than how well they run.
I took this shoe to the gym and out on a few runs, the outsole grips well in all conditions and it's plenty sticky and stable for activities like box jumps and super legs.
I would use this shoe for walking as well. I'd be happy to spend a full day on my feet in the Freedom 4, maybe touring a new city, enjoying a local park, or chasing my nephews around Six Flags (fingers crossed COVID is over soon).
Saucony Freedom 4 feels like running in Vans sneakers
I've said it already, this is not a running shoe, but you can run in it. You can also run barefoot… I tested it as a running shoe and it does work, and the ride is enjoyable. The midsole is just that good.
However, the shoe feels flat, low, and loose. I measured the stack heights at 21.1mm in the forefoot and 26.4mm. The shoe's lower stack heights are a welcomed change compared to the trend of 35-40mm stack shoes these days.
The Freedom 4 is kinda like running in a pair of Vans (there's virtually no rocker underfoot) and it feels much more like a townie sneaker than a runner.
I scored it at a 4 out of 5 on flexibility, 5 being a minimalist shoe you can basically roll up and put in your pocket.
Forget the adaptation period with Saucony Freedom 4
Zero break in. Open the box, slide your foot in, and enjoy the luxury of the Freedom 4!
Heel drop inconsistencies found in Saucony Freedom 4
In our lab, we measured the heel drop to be 5.2mm.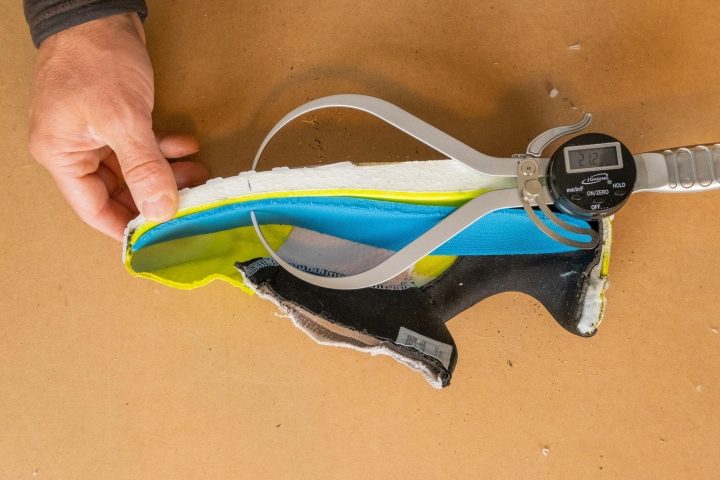 There's a bit of confusion around this measurement, Saucony says it's a 4mm shoe on their site, but the insole has "8mm drop" printed on it.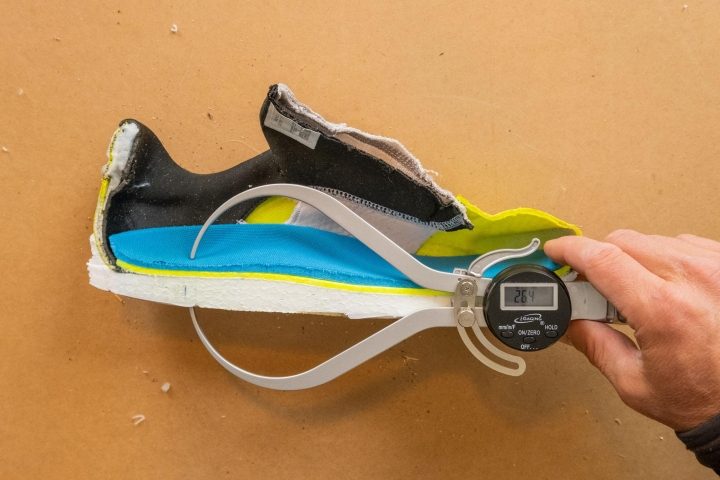 Impressive weight
At 7.95 ounces (227g) the Freedom 4 is light. Saucony nailed this, and it's impressive since it's adorned with ample, luxurious suede elements throughout the upper which Saucony could have ditched to lighten this shoe up even more.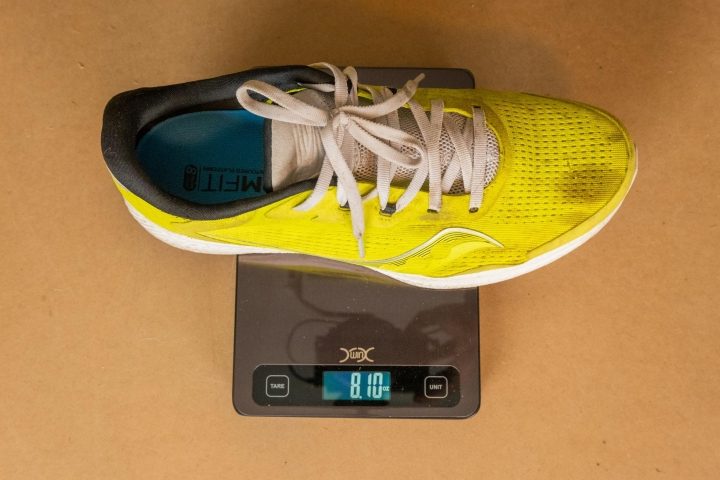 Between the PB midsole and it coming in under 8oz, it's insanely enjoyable to have on your feet.
Reinforced and durable
I have no fear this shoe will last.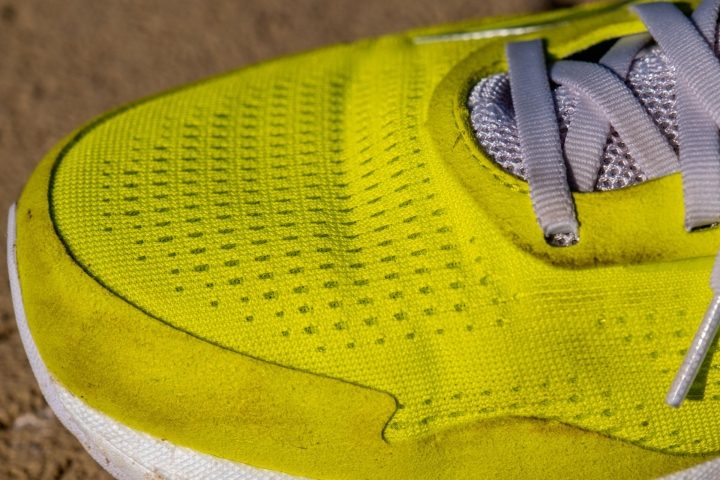 It's reinforced with suede around the toe, on the tongue, and on the back of the heel. The extremely breathable engineered mesh upper seems well made and durable as well.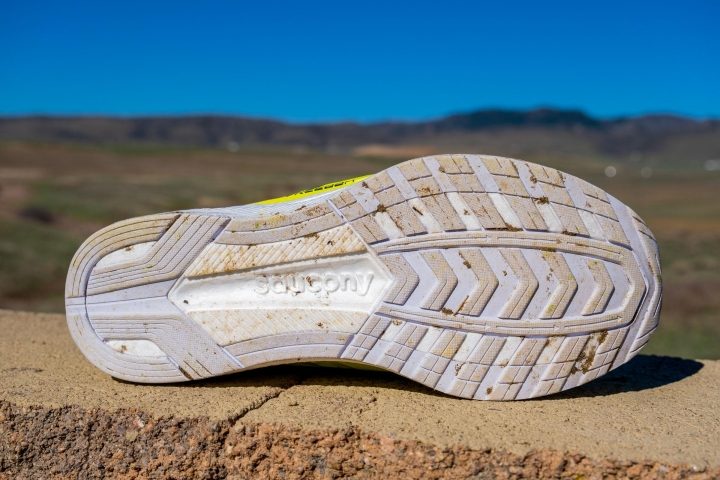 It also has a full-rubber outsole. Although the outsole is thin at right around 3mm, there's not a lot of exposed midsole hitting the ground.
Freedom 4 gets dirty quickly
One gripe though, they got insanely dirty insanely fast.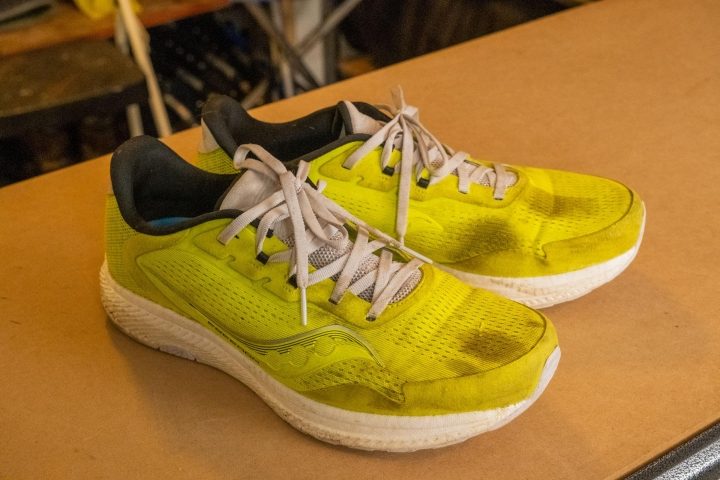 I have no idea what happened to these but they are a mess after just a few test efforts.
Also, Saucony hid the reflective features of this shoe under the heel mesh.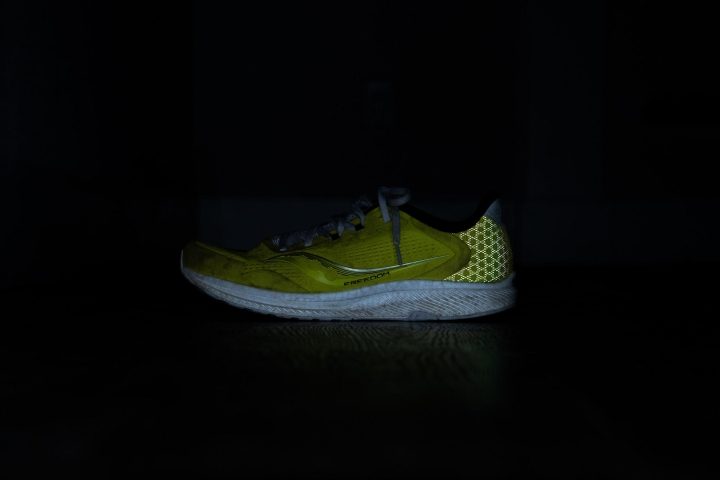 Looking at it in daylight I didn't assume there were any, but surprise, there it is! Look pretty dang cool too.
Conclusion
Wrapping up, I think this is a great sneaker. From what I can tell, Saucony designed it as such. It's flat, low, has suede overlays, and is focused more on comfort than performance.
I love how these shoes look and if I hadn't sawn them in half I'd be thrilled to wear them all day every day.
The PWRRUN PB midsole is amazing, I have to say it again, but without a stiff inlaid plate, it's more suited for walking than running.
If you're a runner, spend the $10 more and get the Endorphin Speed, if you want cool kicks for town or the gym with a top-end midsole try the Freedom 4.
Complete lab-specs overview
Saucony Freedom 4
Weight - Left
227
Weight - Right
231
Weight - Insole
20
Weight - Lace
4.3
Length - Overall

288.31

Length - Insole

272.86

Width Midsole - Forefoot

111.8

Width Midsole - Heel

80.1

Width Midsole - Middle

70.1

Width Upper - Forefoot

99.7

Width Upper - Heel

75.6

Width Upper - Middle

74.5

Stack - Forefoot with insole

21.2

Stack - Heel with insole

26.4

Stack - Forefoot without insole

17.1

Stack - Heel without insole

22.4

Insole Thickness

4

Drop

5.2

Outsole thickness (Forefoot)

3.13

Outsole thickness (Heel)

2.84

Lugs Depth

N/A

Laces (without stretch)

50

Laces (with stretch)

60.5

Lace Stretch

21.00%

Laces - Thickness (Height)

1.5

Laces - Width

6.3

Room temperature

57.7

Durometer Outsole Forefoot (Room temperature)

80.7

Durometer Outsole Heel (Room temperature)

74.5

Outsole % of change from Heel to Forefoot (Room temperature)

-7.64%

Durometer Midsole Forefoot (Room temperature)

30.0

Durometer Midsole Forefoot 2nd layer (Room temperature)

N/A

Durometer Midsole Heel (Room temperature)

25.3

Durometer Insole (Room temperature)

34.2

Flexibility of the shoe

24.8

Durometer Outsole Forefoot (Freezer 1 hour)

83.2

Durometer Outsole Heel (Freezer 1 hour)

80.5

Durometer Midsole Forefoot (Freezer 1 hour)

32.8

Durometer Midsole Forefoot 2nd layer (Freezer 1 hour)

N/A

Durometer Midsole Heel (Freezer 1 hour)

33.0

Durometer Insole (Freezer 1 hour)

35.2

Flexibility of the shoe (Freezer 1 hour)

29.3

Durometer Outsole Forefoot (% change with temperature)

3.10%

Durometer Outsole Heel (% change with temperature)

8.05%

Durometer Midsole Forefoot (% change with temperature)

9.44%

Durometer Midsole Heel (% change with temperature)

30.26%

Durometer Insole (% change with temperature)

2.93%

Flexibility of the shoe (% change with temperature)

18.05%

Thickness - Heel Counter/Insert

1.6

Thickness - Ankle Collar (Front)

6

Thickness - Ankle Collar (Middle)

8.6

Thickness - Ankle Collar (Back)

12

Thickness - Tongue

3.5

Flexibility of the heel counter

65.3

Lace slip test with the knot

13.8

Longitudinal flexibility (0-5)

4

Torsional flexibility (0-5)

4

Heel counter material

Plastic

Tongue: gusset type

both sides

Tongue gusset material

Nylon stretchy

Laces: profile

Flat

Laces: material

Nylon

Laces: extra hole

yes

Laces: are they long enough to use the extra hole

yes

Heel: pull tab

none

Insole: removable

yes

Control devices:
Multi-density midsole
Rigid heel counter
Elevated medial insole under arch
Supportive tensioned medial upper
Medial flare
Thermoplastic medial post


no
yes
yes
yes
no
no

How minimalist the shoe is in %

48
Note: all the tests were done on a men's shoe US size 9.
Compare popularity
Interactive
Compare the popularity of another shoe to Saucony Freedom 4:
Saucony Freedom 4 video reviews