For a decent selection of sports apparel and footwear, Under Armour is one of the top go-to brands in America. This shoe manufacturer and supplier is just 19 years young, but that doesn't leave them at the end of the competitive running industry. In fact, the brand established its presence as a running shoe brand with trusted options for both track and trail. Its selection is offered for men, women and children alike, whether they are casual runners or professionals in track and field, such as Adrian Foster. The men's and women's models that have high ratings in the last few years include the Under Armour Charge RC, Under Armour Micro G Engage, Under Armour Speedform Apollo and the Under Armour Micro G Pulse.
Under Armour Running Shoes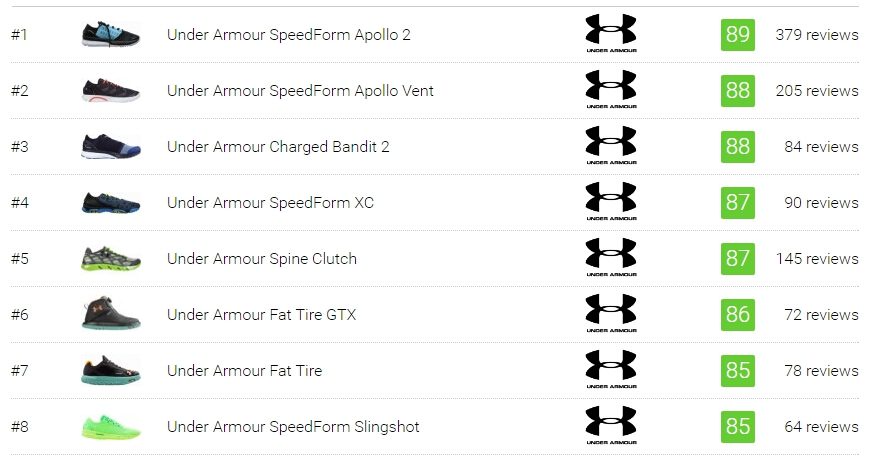 Under Armour running shoes are just some of the offerings from the brand, since it also caters to football, rugby, basketball, boxing, golf and even auto racing. According to reviews, not all models exceed the expectations of the running community, but their platforms are developed enough to ensure performance and comfort in every pair. Shoe technologies and technical features are constantly developed to improve every platform. The team behind the brand also considers aspects, like pronation, flexibility, terrain and weather to create running shoes that work.
Never lose sight of your running goals with a decent performance pair from Under Armour, a brand that has been mentioned in more or less 100, 000 shoe reviews. Season runners and beginners will like the brand's collection and shoe innovations that are specifically categorized to fit a runner's level of experience. Know more about Under Armour's shoe collection below.
How can you improve running with the best Under Armour shoes?
If you want to improve your speed for racing, train with the best Under Armour race shoes. The racing-specific technologies in such platforms are lightweight and minimal, which are suited for speed training and racing.
Pursue a barefoot-like running movement with Under Armour low drop shoes and Under Armour minimalist shoes. These kinds of shoes will allow your foot to get a better ground contact without losing the support and cushioning you need on the trail or track.
Decelerating pronation could be done with the best Under Armour stability shoes and Under Armour motion control shoes. However, if you have high to medium arches, you can enjoy a flexible run on Under Armour neutral shoes without sacrificing gait efficiency.
Whatever your terrain preferences, you will be sure that Under Armour has got the right type of footwear to keep you safe and steady. Under Armour road shoes are responsive and stable enough for pavement running, while Under Armour trail shoes have sole protection, traction and water-proof features that can be trusted.
What makes Under Armour running shoes popular?
Footwear technologies. Stylish platforms are pretty useless if they do not have top-notch shoe technologies in their technical construction. The best Under Armour shoes are proudly paraded for their range of state-of-the-art footwear innovations that ensure cushioning, performance and speed. Some of the shoe technologies from Under Armour include Micro G Cushioning, Anatomical Flex Grooves, Charged Foam, Ultrasonic Welded Seams, 4D Foam Sockliner, Armour Vent Mesh, Traction Lugs and ESS Rock Shield compound. Whether you are a trail or road runner, Under Armour's technologies will help improve your running performance, comfort and protection.
Popularity. Even with 19 years of presence under its belt, Under Armour is a trusted brand in the active community. Its performance footwear range for men, women and children are well-known to exhibit comfort, performance and style. The brand's technologies that are incorporated in the models add to the overall appeal of the footwear collection. In fact, Runner's World, T3 and other sports authorities have given awards to the best Under Armour shoes on the market, including "Sports Brand Innovation Award", "Gear of the Show" and "Running Shoe Trail Award".
Pricing. The best Under Armour shoes are some of the most reasonably-priced footwear options to consider. Despite their technical specifications, Under Armour shoes maintain budget-friendly price tags. Running newbies and professionals can enjoy performance footwear for as low as $80. Their high-end shoes are only priced at $140-$150, which are some of the best deals out on the market. If you are tight on budget, but want a decent pair of performance footwear, browse through Under Armour's shoe collections.
This shoe has recently been added to RunRepeat. There are still not enough reviews for us to assign it a
Corescore
.
Corescore
A score from 1 to 100 that summarizes opinions from users and experts. The average Corescore is 78.
More...