Difference between tennis shoes and tennis sneakers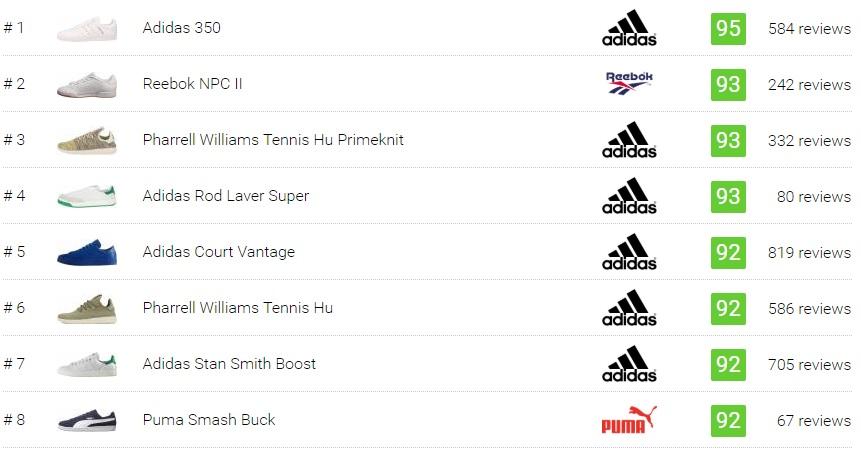 People are commonly confused between tennis sneakers and tennis shoes. Let us differentiate them before we do a thorough discussion about tennis lifestyle sneakers.
Generally speaking, tennis shoes are technical footwear that is solely worn for the tennis matches on the court and also off the court. It provides extra comfort for swift movements to prevent ankle injuries. It also features additional cushioning to avoid joint injuries, superb traction, and power to the player. Tennis shoes are also considered trendy and can be easily found in athletic stores and online.
Meanwhile, the tennis sneakers are silhouettes inspired by the tennis shoes. They have a simple construction that can be worn outside court but not on the court. This daily kick is not specific for the tennis but provides comfort for the casual user. They may not be constructed in highly technical manner but considered more flexible and fashionable.
To be short and sweet, all tennis shoes can be called sneakers, but not all tennis sneakers can function as tennis shoes.
How it all began?
Tennis sneakers have been considered staple lifestyle footwear for its on-trend design. They have been in the market for a long time and turned as one of the most sought-after silhouettes in the lifestyle section. Ever wondered how tennis sneakers came to be and when did they first made their appearance as a casual kick? We will try to answer these and more.
Brief history of tennis shoes
You do not need to intimately know the history of a shoe for you to be able to wear it. But knowing a little background on the renowned silhouette's century-old account will help you understand how this sneaker bridged the gap between trendsetter and general consumers.
In 1892, Plimsolls were created as footwear with rubber soles and canvas uppers for the British Navy. They were first called sneakers as they were silent when you walked with them. These shoes are so comfortable that aristocrats started wearing them while playing tennis, thus calling them tennis shoe.
In 1916, Keds was first to introduce and created their tennis shoe. A year after, Converse All-Star shoe was launched as the brand's version of tennis footwear. There were little changes in the design of tennis sneakers the 60s when various brands experimented their versions. Adidas was the first to introduce tennis shoe with leather upper, PU outsole and suede toe.
Several brands followed suit and started developing tennis footwear with better features. In the 1980s, Nike launched the Air Trainer 1 with lateral straps and heel lift. Several tennis Superstars also got involved in developing better looking and high-performance footwear. The modern era of tennis shoe was born with companies bringing more modern features for players to play better on the court.
Overall, all athletic footwear was molded from the meek tennis shoe and later on developed into footwear that is specific to various sports like running, basketball, and the likes.
How did it turn into a tennis-casual sneaker?
Because of its stylish look and comfort, players and non-players who loved the court style numbered in thousands. Shoe companies developed to make them more appealing. Many runners in the 70s bought tennis shoes for jogging and soon began using them for all occasions.
Renowned designer Calvin Klein began creating stylish tennis shoe giving rise to on-trend sneakers designs. Tennis sneakers with sequins and satin uppers with platform soles may be useless for the tennis sport but trendy on the disco dance floor.
The masses considered tennis sneakers as an essential in high-fashion and seamlessly turned it into lifestyle footwear. People wore them for both sports and on the streets and typically sold at a higher price compared to other athletic kicks all around the globe.
Common features of tennis-inspired sneakers
Tennis sneakers are everywhere. Many users pick this kick as their go-to sneaker for its versatile and uncomplicated design. Most of the main models of tennis-inspired sneakers carried the true facet of its heritage and remodeled to fit in the lifestyle fashion.
The upper of lifestyle tennis sneakers are mostly adorned with a straightforward style. They have a low-top silhouette to maximize flexibility when moving side to side. Largely of them have reinforced toecap useful for the sudden stops.
Meanwhile, the cushioning is less yet sturdier and usually has stabilization features and lateral support for quick side to side activities. To finish, tennis sneakers have durable flat rubber outsole construction to avoid rolling of the ankle.
Iconic tennis-based sneakers
During the 60s, tennis drove some companies to create footwear that eventually jumped to street fashion. Considering that nostalgia has been a massive inspiration for the recent modern style, a retro tennis silhouette is a great way to get on board. Here are some of the iconic tennis sneakers to date:
The Adidas Stan Smith
Admit it, when searching for tennis sneakers, the first thing that pops up into your mind is the Adidas Stan Smith. One of the most iconic tennis--inspired sneakers is the Adidas Stan Smith, which has been tagged as footwear that never goes out of style.
In 1965, Horst Dassler designed a tennis shoe for the world's best player, the Frenchman Robert Haillet. It has perforations instead of the signature three stripes which made it different from the other designs. 6 years later, due to Haillet's retirement, Horst commissioned another tennis superstar to represent the Adidas in tennis, the American Stan Smith.
Horst made some subtle tweaks to make it a little different from the Haillet's. It's full white leather lace sneakers with an image and signature of Smith on the tongue with the Smith's full name on the shoe heel. Officially called Stan Smith in 1978, this footwear is the first leather tennis shoes that without a glitch turned into a fashion essential.
With its simple silhouette with all white leather upper and white soles and the iconic green heel tab and green logo Stan Smith on the tongue, this shoe is a mainstay in the lists of most iconic footwear. 1988, 2 million pairs of Stan Smith were sold around the globe. The brand terminated the production of Smith due to congestion in the market and made a huge comeback in 2014.
Adidas Stan Smith has been considered a real OG and one of the easiest one to style. These tennis-inspired sneakers are excellent kick off to start a sneaker collection. It successfully reached the iconic status with its minimalist and upfront style that has achieved the current day's prominence.
Like any other iconic silhouette, Stan Smith has undergone revamping to fit various consumers to add another chapter to its legacy. Here are the some of the variations of the Stan Smith that are considered popular in the market:
Adidas Stan Smith Boost - The iconic silhouette met the most responsive cushioning ever. Displaying a retro profile, the brand upgraded this tennis-inspired sneaker with a springy, cloud-like sole unit called the Boost technology. This upgrade is so subtle that people might not recognize the difference. However, the comfort is way beyond the regular PU sole and can be described as the most comfortable sole unit in the market.
Adidas Stan Smith Primeknit - This Primeknit update showcased the same silhouette and upgraded with flexible and breathable Primeknit. The single piece upper of this tennis sneaker is more lightweight and gives adaptive support on foot.
Adidas Stan Smith – Black - This variation stayed authentic to the details of the original but updated with the sleek black colorway. This shoe is a nice alternative to keeping one's ens4emble fresh and when one wants to strut smart guise while wearing tennis sneakers.
Adidas Stan Smith Suede Grey - From leather to suede. Stan Smith braved the challenge of creating a variation of Stan Smith in suede, which is considered more laborious to maintain but equally aesthetically appealing. The suede upper enhanced the luxurious vibe that is easier to recognize as streetwear compared to the leather.
Adidas Stan Smith All White - Adidas launched an all-white variation including white heel and logo. This overall tonal look did some reworking on the heel tab color and texture to an exciting touch to this simple, sleek, and clean yet eye-catching sneaker. You might need to purchase a shoe cleaner with this.
Adidas Stan Smith CF - This version is considered the best option for people who have an on-the-go lifestyle. This shoe a reminiscent of grade school's PE sneakers and an alternative to the usual lace-up design. Just as the original, this shoe is easy to style too.
Adidas Stan Smith GTX - To make the Stan Smith wearable during the cold months, Adidas revamped the classic look with elements apt for the winter, the Gore-Tex or better known as GTX. This feature provides waterproofing ability against the snow.
Adidas Stan Smith Mid - The first leather tennis sneaker has been elevated, literally, with a mid-top height dressed in a premium soft leather upper, iconic tongue label, distinct heel tab, and the iconic perforated three stripes.
Adidas Stan Smith Nude - This women-exclusive model displays the symbol of clean and fuss-free tennis sneakers. The brand removed all the visible stitching, with tonal branding on the tongue and heel. This sleek makeover displays a real eye-catching look with its uncluttered design.
Stan Smith Collaborations
It's hard to feel unique while wearing the Stan Smith because it's doubtful to stroll the streets without passing a couple of pair of this renowned sneaker. For collectors who want to be unique while wearing Stan Smith, then try checking out some collaborations with celebrities, designers for some exclusive designs.
Raf Simons x Adidas Stan Smith Comfort Badge - This collaboration has been a firm favorite by celebrities and fashionistas. This collab displays the original iconic elements with subtle tweaks as Raf Simons' interpretation. It has perforated R instead of the three stripes, dressed in a wide array of colorways.
Pharrell Williams x Adidas Stan Smith Small Polka Dot - Pharell Williams has been the firm favorite of Adidas to collaborate with. Williams turned his hand to the Stan Smith using his gallant aesthetics like polka dots all over to bring new height to the classic tennis sneakers, Stan Smith.
American Dad x Adidas Stan Smith - American Dad is a renowned animator and gave his hand in interpreting the Stan Smith. Instead of placing the image of Stan Smith, he used a cartoon character image in the iconic green accent printed on the tennis sneaker's tongue.
Bait x Adidas Stan Smith 420 - In celebration of the 420, Bait and Adidas collaborated to bring us a unique design that connected the tennis-inspired sneaker with skateboarding domain. This project displays Hemp materials with pebbled pattern and a fuzzy green heel tab. A happy face can also be spotted on the side panel as a reference to the 420 celebrations.
Concepts x Adidas Stan Smith - Boston's premier sneaker boutique, Concepts, ditched the all-white look of the Stan Smith and launched a textured upper featuring snakeskin pattern. The brand added neoprene sockliner and cork insoles.
Adidas Y-3 Stan Zip - Designed by Yohji Yamamoto, this model is considered the most daring rework of the Stan Smith. This futuristic yet minimalist tennis-inspired sneaker displays monochromatic colorway with elegant appeal without stripping away the sporty heritage.
The Y-3 line is known for its cutting-edge designs and luxurious fashion. Y stands for the designer's name, and 3 is for the Adidas' signature three stripes logo.
Expensive Replicas of the Stan Smith
Because of its extreme popularity in today's lifestyle culture, the Stan Smith is owned by almost anyone, and you would be hard-pressed to find someone who doesn't own a pair. This shoe is so versatile that even grandmothers and babies can easily pull this tennis sneaker off. Plus, the fact that it is available at a very wallet-friendly price point, owning a pair of Stan Smith is obtainable.
However, in the attempt to make a profit out of the popularity of the Stan Smith, some luxury brands copied and cloned the colored heel tab Stan Smith, and sold them seven times the price of the original one.
Here are some of the expensive replicas of the Stan Smith:
Alexander McQueen ($575)
Saint Laurent ($495)
Anya Hindmarch ($366)
Chiara Ferragni ($319)
Woman by Common Projects ($430)
Dsquared2 ($420)
Givenchy ($495)
Golden Goose ($495)
Iro ($342)
Isabel Marant ($390)
Leather Crown ($289)
Moncler ($420)
Tod's ($495)
Reebok Club C 85
The Club C or Club Champion has been labeled as the most popular tennis-inspired sneaker of the Reebok brand. It was first launched in 1985 and was the simplified version of the prior iteration Reebok Revenge Plus in compliance with the dress code in the tennis sport.
Recently, '85' was added to the official name to pay homage to its release date. This shoe is made of a premium upper with a comfortable lining that absorbs moisture and sits on top of a durable EVA midsole and robust cupsole.
The Club C 85 displays a clean and simple profile that is easy to style. This tennis-inspired sneaker was dubbed underrated and managed to survive the space-aged runners' massive wave. This model succeeded in staying true to their roots and survived to be a real icon after all these years.
This tennis sneaker was able to jump out from athletics to lifestyle kick because of its fashionable appeal. While its contemporary Adidas Stan Smith has introduced countless variations and modernizations, the Club C 85 opted to stay as authentic as possible to its origins. The brand keeps the tastemakers charmed yet stays faithful to its classic elements.
Just like any other icons, Reebok has launched various models molded from the Club C 85 silhouette. Here are just some of their popular iterations:
Reebok Club C 85 Collaborations
Reebok Club C 85 MCC - Reebok's collaboration with the Montana Cans celebrates individuality. This model has a soft suede upper comes in Montana Cans hues that can be pinpointed by the code found in the insole.
Beauty & Youth x Reebok Club C 85 - Unveiled in 2016, the Beauty & Youth collaboration with Reebok Club C 85 shows a plush off-white suede with tonal laces and clean sole. They used the silver thread for the added luxurious vibe and the co-branded insoles.
Reebok Club C 85 Kendrick - Reebok launched this collaboration with popular music artist Kendrick Lamar in 2017 that features tonal suede with sporty gum sole. This shoe has the "Hold Court" campaign that honors the origin of the tennis sneaker and its journey to the contemporary market.
Reebok x Artists for Humanity C - Artists for Humanity is a program that helps youth that are underprivileged. Reebok teamed up with the Artists for Humanity by allowing two youths to create a limited-edition design of the classic Reebok Club C 85 silhouette.
Puma Smash
The 1960s was the decade when everyone was going gaga over basketball sport. During this era, Puma braved the challenge of creating a unique tennis sneaker profile. They launched the Puma Smash Leather in 1968 as their answer to the Adidas Stan Smith.
A year after, Puma introduced the tennis sneaker suede version, as opposed to the usual canvas and leather upper. This subtle design is deemed to be one of the major players regarding performance and style. Several adaptations were launched in the market using the Smash silhouette. Some of them are the Smash Leather, Smash Canvas, Smash Jersey, Smash Buck, etcetera.
Puma Match
In the 1970s, Puma launched their first professional tennis sneaker, the Match. This is mainly the Puma's version of the Adidas' Stan Smith or Nike's Wimbledon. All these three tennis sneakers have the same characteristics – white-based, blucher toe and perforated logo.
The Puma Match is slimmer compared to the Stan Smith. It is a low-profile shoe with a simple and classic approach to a tennis shoe. The suede lateral overlays provide reinforcements and design accents. It has a premium leather upper and textile lining.
The Match has been updated to give an off-court appeal. Puma introduced the Match Lo with an irrefutable cool factor. The patent leather upper with laid-back lace-up front provides this shoe with a touch of spunk.
Puma GV Special
70s tennis superstar and playboy, Guillermo Vilas, worked with Puma to create a tennis shoe line to match his style of playing. The GV Special is one, and it features a leather upper with perf details. Although overshadowed by the other tennis casual sneakers, this shoe has withstood the test of time by staying iconic since the 80s.
Several variations were launched under the GV Special line - the GV Special Basic Sport, GV Special Geometric, and the GV Special Iridescent.
Puma G. Vilas
Another iteration from the Puma and Guillermo Vilas collaboration is the Puma G. Vilas model. This tennis sneaker was launched with the classic court look with tennis performance details. Although initially designed for the on-court, this shoe won the lifestyle scene with its appealing flair.
Two tennis sneakers variations were released in the G. Vilas line, the Puma G. Vilas 2 and the Puma G. Vilas 2 Core. Both demonstrate the heritage elements and updated to fit as stylish tennis sneakers.
Nike Tennis Classic
The Nike Wimbledon GTS was launched in 1982 as the signature tennis shoe of Hall of Famer John McEnroe. This kick was turned into a fashionable tennis sneaker because of its clutter-free look.
This shoe was discontinued in 1996 and reemerged in the market in 2002 as the Nike Tennis Classic and maintained the sleek and appealing vintage silhouette. Over the years, various versions and styles were unveiled which were ran-after by both the masses and the well-off.
The Nike Tennis Classic CS was introduced in 2015 displaying contemporary update to the retro profile. It has flexible leather with clean and simple details. The cushy EVA midsole supplies superb comfort while the rubber outsole for excellent ground grip.
Another reissue is the Tennis Classic Ultra Leather, it presented the exact silhouette of its predecessor and updated with perforated Swoosh instead of the blue leather logo from the original model.
In 2016, the Swoosh launched a fresh, airy, and lightweight variation of the Tennis Classic by adding in the Flyknit technology. The Tennis Classic Ultra Flyknit hugs the foot entirely giving a form-fitting snug and available in various colorways. This tennis sneaker gives a new facet to the vintage silhouette suitable for the lifestyle wear.
Nike Court Royale
In 2014, Nike opted to alter the name of Nike Tennis collection to Nike Court. One shoe under this collection is the Nike Court Royale that was received positively by the consumers because of its heritage and stylish elements.
Most people consider this as their go-to tennis sneaker for its fuss-free look and comfortable strides. The leather and suede materials on the upper give authentic throwback look while the cupsole provides flexibility and comfort.
New Balance 300
Known for its high-performance footwear, New Balance launched their version of tennis shoe driven to make their wearers achieve excellence. They introduced CT300 in 1979 and revamped it as the CRT300 or Court 300 using more comfortable and durable cushioning while maintaining the lightness and breathability. Because of its versatility and on-trend look, this kick is now considered casual tennis sneaker for everyday use.
The New Balance 300 Deconstructed was unveiled with a minimalist look and ultra-breathable features. This versatile tennis sneaker has perforations all over the upper with the ultra-cushy midsole and a grippy outsole. Meanwhile, the New Balance Leather used a more plush upper for a luxurious vibe tennis sneaker.
Ecco Jack Sneaker
Another European brand joined the tennis-inspired sneakers game. The Ecco unveiled the Jack model inspired by classic tennis footwear that suits the lifestyle realm. It has a low-top leather upper with easy to style design.
Ecco Jack blended retro look with a modern fit. The brand used breathable and lightweight materials that won't strain the wearer's feet on the urban pavement. Several models were launched as descendants of the Ecco Jack, the Ecco Jack Summer Sneaker, and Ecco Jack Tie.
Adidas Rod Laver
Australian professional tennis player Rod Laver inspired Adidas to create footwear for professional tennis tournaments. In the 70s, the brand introduced the Rod Laver shoe that features rounded toebox with leather upper and thin midsole.
This tennis sneaker has undergone multiple overhauling and has witnessed impressive collaborations using its classic silhouette. The Rod Laver Super was introduced with improved traction and enhanced comfort.
The Primeknit technology was eventually fixed in this silhouette giving rise to the Rod Laver Super Primeknit. This casual tennis sneaker is breathable and lightweight perfect for the streets.
Adidas Court Vantage
This tennis-inspired sneaker was molded from the Rod Laver profile and features minimalist aesthetics with modernized style. The brand launched variations that suite any season - the Adicolor, Mid, and Primeknit models.
Yeezy Powerphase Calabasas
While this shoe was welcomed with controversies, because of its resemblance to the Reebok Classics, many still embraced this tennis sneaker as it deviated from the usual Yeezy's loud, expensive, and Boost-filled midsole.
This pair of tennis-inspired sneakers displays the usual 80s retro tennis profile with a simple, buttery leather upper. This monochromatic shoe sits atop a ribbed rubber sole that has a smack of the classic Reebok tennis sneaker. Considered as an unexpected model, this shoe doesn't have any loud Yeezy branding other than on its box.
Keds Champion
Being the pioneer in the sneakers game, this write-up is not complete without the Keds Champion Originals. This model depicts the authentic classic tennis sneakers with its canvas upper, simplified design that easy to match with any style, and ample cushioning that without a glitch turned into a worldwide favorite.
Keds launched various iterations molded from this sneaker that was given a hype by its loyal followers. Some of the well-known are the Keds Champion Originals Leather, Keds Champion MLB Pennant, and Keds Champion Chambray Seasonal.
Tennis Sneakers Collaborations
In a realm that thrives on creativity, two heads will always be better than one. Collaborations can be exciting because it gives brands breaks to conceive fresh and unexpected designs.
Supreme x Fragment Design Air Zoom All Court
This low-top tennis-inspired sneaker comes in three colorways and features the Fragment Design and Supreme logo all over the upper. This is the first collaboration that is co-branded with a third party and released exclusively in Japan.
Pharrell Williams Tennis Hu
Pharell Williams' creative relationship with the Adidas hasn't stopped even after the release of the Stan Smith collaboration. They launched the Tennis Hu silhouette in 14 distinct colored heel and tongue tabs and showcased tennis-inspired profile that suits the casual scene.
Adidas Lacombe SPZL
Unleashed in 2016 as part of the SPZL line headed by Gary Aspden, this tennis sneaker displays the hybrid features of various tennis sneakers and the calmness of the French Riviera. This shoe has the blended elements of the Adidas Newcombe, Adidas Rod Laver's upper and slimmer Adidas Tobacco's sole.
Nike Air Court Oscillate
The Swoosh launched a tennis sneaker specific to American tennis superstar Pete Sampras' style on the court in 1996. Sampras wore this shoe for seven years. Although Sampras did not put a hand in designing this footwear, the designer Tinker Hatfield collaborated with various tennis athletes to create a perfect shoe for the tennis champ.
Nike, later on, released multiple models of this iconic footwear, the Air Oscillate II, and Air Oscillate III. In 2015, Nike re-launched the Air Oscillate as a tennis sneaker which made some fans having some nostalgic feeling.
Nike Air Tech Challenge XVII
Nike introduced this sneaker in 2017 to pay homage to the loud and bursting with attitude Nike Air Tech Challenge II worn by tennis rebel and superstar Andre Agassi. The Swoosh re-mastered the retro tennis shoe and updated it to fit the on-the-go lifestyle of the contemporary market. The modernized version is made of leather and mesh upper in the triple black colorway.
Things to consider when buying tennis-based kicks
There are two investments worth spending your money on - a comfortable bed and a comfortable pair of sneakers. The importance of getting perfect tennis sneakers is commonly underestimated.
There is a wide range of choices available in the market that offers varying levels of comfort, durability, breathability, and style. You must spend time wisely in choosing perfect tennis sneakers for a fuss-free experience. There are several things to consider in purchasing tennis sneakers:
Foot type
You should check what kind of foot you have to be able to feel comfortable while walking, standing, or doing a light workout with their sneakers. There are three main types of feet - the pronated, ideal, and the supinated.
You can do the wet test to check your type of foot. Dip your foot in the water and place it on any visible surface, e.g., brown bag or concrete, and check your inner arch.
If the print is largely open, then it means you have a supinated foot. This kind of foot needs moderate to high amount of arch support, cushioning, and durable tennis sneakers.
If the impression is complete, then it means you have a pronated foot, or you have a low arch. Pronated feet need sneakers that provide a generous amount of stability and support with a moderate to little arch support.
If the print has a moderate space in the arch area that means you have an ideal foot or called a neutral arch. This kind of foot can wear almost any type of sneakers.
Fit and sizing
You should check if the tennis sneakers you are eyeing runs true to size or smaller or runs bigger than the normal. Also, assess if the width and arch support is proper to the kind of foot you have. No one wants to stroll the streets wearing small, narrow, poorly supported sneakers that will cause pain, joint pains, and fatigue in the long run.
Have your feet accurately measure, too. Over time, your feet change in size and shape. You might need assistance from an expert shoe salesperson because not all feet are created equal. Most feet are asymmetrical and need special support for each foot.
Tennis sneakers are commonly available in men's and women's sizing and sometimes even in kids', too. For ladies, if the style you desire is only available in men's, it is advised to grab a size or two down your regular size.
The ideal pair of tennis sneakers should have a glove-like fit, and neither too tight or loose that allows comfortable movement with ample sockliner cushioning. Most tennis sneakers do not need breaking in and feels snug on your feet.
Lifestyle
Your lifestyle must also be considered when buying tennis sneakers. If you're that kind of wearer who is always-on-the-go, you may ponder on purchasing slip-on or zip up style. Also, suede is considered trickier to maintain, thus not advisable for people who have no time in tedious maintenance of sneakers.
Meanwhile, if you are on a budget and consider owning one or few pairs only, you may buy tennis sneakers that are versatile and can function for any activities, like from work to light training and chilling during the night.
Shoe materials
Shoes are made of various kinds of materials, and generally, some areas of the shoe are engineered for the wear and traction factors. In looking for best tennis sneakers, try to consider the type activities you will be doing with the sneakers.
For light training, you might need well reinforced upper with cushioning. For street strolling, you may require lightweight and breathable upper especially for the summer days. However, during the winter months or rainy season, you might need tennis sneakers with materials that have insulation function and waterproof features. If you're leaning towards the adventurous side, you may look for a tennis sneaker with rubber sole designed for superb traction.
Style
This factor is mostly the first thing lifestyle sneaker buyers consider. You must first gauge what style of tennis sneakers you prefer and if it harmonizes with your kind of wardrobe. Do you fancy the classic retro from the archive or more on the fresh designs? Colorways should also be considered especially for buyers who like the meek and fuss-free look or loud and eye-catching tennis-inspired sneaker.
Price
For the majority, this is the primary concern in buying their pair of tennis sneakers. You may do some research in finding the best deal on the internet or their physical stores. Tennis sneakers have a price range from $55 to $440 depending on the brand, materials, and collaborations.
In general, buyers will get what they pay for. The $120 shoe can be higher quality and more durable than the $60 tennis sneaker. But this is not always the case. Sometimes, a sneaker has a higher price even it has same construction, materials, and durability because of its limited availability or it was conceived through collaborations.
How to style tennis lifestyle sneakers?
Tennis sneakers have been the trail inspiration of some sneakers for its slim and classic design that suits the lifestyle section. Because of its clear-cut silhouette, styling a pair of tennis sneaker is relatively easy.
The minimalist and not too sporty design of tennis-inspired sneakers pretty much work with almost any casual ensemble with ease. For the vintage white or off-white pair, you can be a bit adventurous with your outfit choices, like vibrant-colored jeans with polo or button down. Dark denim with a low-key t-shirt also works with the white tennis sneakers.
Meanwhile, if you fancy upbeat hued pair of tennis-inspired sneakers, it is advised to pair your shoe with the simple and neutral-colored ensemble. In this way, you are avoiding color clashing and steering the attention away from your lovely sneakers.
These are just only some of the suggestions in styling your nice pair of tennis sneakers. Just bear in mind that whatever and however you decide to wear them, it all boils down to how you carry your tennis sneakers.
Reselling value of tennis casual sneakers
The reselling of shoe industry has turned into a billion-dollar market in the recent years. Almost all sneaker releases have some people lining up to cop a pair and get profits from it.
Tennis sneakers are almost always available in the market. Thus the demand is not that hype. As a result, most of the tennis sneakers have low reselling value except for the limited editions or ones that are authentic vintage pairs.
Case in point is the pair of Stan Smith where Pharell Williams drew flowers and arrows and phrases is one example of tennis sneaker resold in costly price point. It has reached almost $1500 because of its exclusivity and available only in 10 pairs.
Meanwhile, the Yeezy Powerphase Calabasas has an affordable price point yet its resell value is usually higher than the original price because it is under the exclusive line, Yeezy.
In a nutshell, the popularity of some tennis sneakers that are available only in limited numbers, colorways, size, and who designed them have turned them into part of the must-have purchases.
Tennis sneakers care tips
In tennis sports, a clean shoe is one of the requisites, but in the lifestyle world, it is not always the case. Sometimes, tennis sneakers are intentionally designed with faded and stained upper for an authentic vintage look.
For the leather upper, you may easily wipe the dirt off using a damp cloth. You may also use shoe polish to achieve the brand new sleek look.
For tennis sneakers with suede or mesh upper, surface dirt can be removed with a toothbrush with warm water and gentle soap. Canvas upper should be dabbed with a damp towel to lift the stain.
If the insole is removable, wash them separately to keep the inner part of your shoe fresh. The laces may be replaced or cleaned.
Do not forget to gently brush the rubber outsole with a steel brush.
Drying your tennis sneakers naturally is highly recommended. Place the sneaker under the shaded open area as direct heat may alter its shape. A shoe needs 12 hours to dry completely.
In storing your sneaker, it is best to store them in their original box inside the dust bag. You may use drying fabric sheets to draw out moisture and deodorize them.
Give your tennis sneakers a break by rotating your pairs to prolong its life. Through this, you are allowing your shoe to dry the sweat and moisture of your feet, completely.
Why buy these sneakers?
All sneakers are engineered to provide acceptable cushioning, support, durability, and style that are seemly for everyday casual wearing. And what makes the tennis sneaker worthier than the other sports-inspired sneakers is its versatility.
Countless prefer tennis-inspired sneakers over running, basketball, or any models because these sneakers are relatively uncomplicated to style - be it laidback, formal, and even athletic ensemble.
Coping a pair of tennis sneakers is also advantageous to practical buyers who prefer owning all-around footwear instead of obtaining different shoes for various activities. This move not only saves money but also saves space and time.
Furthermore, tennis sneakers are widely available in the market, except for the limited editions. This makes it easier for sneaker hunters to try, compare, and pick their preferred pair found in almost all retailers and online stores. This availability is advantageous to buyers who are looking for an exact same model to replace their worn-out sneaker or just to add to their collection.
Frequently asked questions:
How long do these shoes last?
Sneakers' life, in general, depends on various factors, such as usage frequency, surface type it is usually used on, and the weight of the user. Experts advice is almost all shoes last between 600 to 1200 kilometers. More often than not, you may observe some wear and tear which cues you to change it before you get injuries.
How to clean white tennis sneakers?
Use preventive care like spraying stain repellent a night before taking your tennis sneakers out for a walk. Continue doing this at least once a week for more effective results.
Clean the soles by using Magic Eraser or simply wiping it off with a damp cloth. You can use a good scrub too for the hard to clean surfaces.
To clean the shoelaces, remove it first from the tennis sneakers and give it a warm soapy bath.
In cleaning white canvas tennis sneakers: you can use mixed half part of baking soda and half part of hydrogen peroxide. Apply this paste on the canvas upper and let it sit until it hardens. Just shake the hard stuff with a crumpled paper towel.
In cleaning white leather tennis sneakers: you may use a gentle toothbrush with toothpaste and scrub it on the leather surface. Or you may use white shoe polish for the clean and sleek finish.
What is the difference between tennis sneakers and running sneakers?
Tennis sneakers are molded from footwear that supports quick changes in movements. Thus, they have traces of details that have forefoot support. These sneakers also provide thin and flexible cushioning for agility and considered slightly heavy, slimmer, and have harder heels to promote stability.
Meanwhile, running sneakers are derived from footwear models that are lightweight and has maximum cushioning for better shock absorption. Some of them have paddings on the sides for forward movements and ankle support. Also, the heels of running sneakers are thicker and softer for shock absorption.
Summarily, tennis sneakers are different from running sneakers. The tennis sneakers have profiles that are designed to maximize the swiftness while the running sneakers have designs for forward movements and maximum impact protection.
Can we use tennis-inspired sneakers on the court?
Although it was molded from classic tennis shoe models, tennis sneakers are not advisable to be worn when playing tennis on the court. When playing on the court, you need footwear that provides a generous amount of lateral support, cushioning, and superb traction to gain power and prevent you from acquiring injuries. Meanwhile, tennis sneakers only have a simple construction that excels in comfort that is suitable for everyday wear off the court.
Who is Stan Smith?
Stanley Roger Smith is an American tennis player who started his career between the 1960's and 1980s. Stan Smith won the Wimbledon in 1972 and beat Ilie Nastase, one of the world's top players in the 1970s. Smith at one time ranked World No.1 tennis player and won two Grand Slam singles champion and double teams with his partner Bob Lutz.
He was asked by Adidas to endorse their tennis footwear in replacement of tennis superstar Robert Haillet in 1973. Today, after more than forty years in the market, the Adidas Stan Smith has gained prominence in the fashion world and turned him a household name.
Smith, now 71 years old, owns a tennis center on South Carolina and his name continues to be uttered on the lips of fashion insiders all around the globe as the Adidas Stan Smith continues to dominate the fashion domain.
Can I use lifestyle tennis kicks in the gym?
Ideally, tennis sneakers cannot be used in the gym because of its thin soles and cushioning and considered slightly heavy. If you are looking for gym shoes, it is best to use footwear that provides basic cushioning, durability, and stability for various activities. The best fitting footwear for the gym are the cross trainers.
Is it possible that the same model of tennis sneakers has a different fit?
Yes, it is possible because a single shoe is handled by several operators, especially if it is handmade. Also, the same model can be made from different factories with different levels of quality control. Hence, it is advised to try the tennis sneakers on before purchasing them.
Where to buy tennis-based shoes?
Tennis sneakers are widely available and can be bought from different sources. For the limited versions or collector's items such as authentic vintage pairs, you can check online for a wide range of offers, like the eBay. Meanwhile, for the latest releases and collaborations, you may get them to your preferred brand's physical stores and other online stores.
15 best tennis sneakers
Adidas Lacombe SPZL
Lacoste Court-Master
Adidas Stan Smith Recon
Tretorn NylitePlus
Adidas 350
K-Swiss Baxter
Adidas Court Vantage
K-Swiss Aeronaut
Adidas Continental 80
Adidas Forest Hills
K-Swiss Aero Trainer T
Nike Essentialist
K-Swiss Court Frasco
Adidas Stan Smith Adicolor
Nike Court Royale
This shoe has recently been added to RunRepeat. There are still not enough reviews for us to assign it a
CoreScore
.
CoreScore
A score from 1 to 100 that summarizes opinions from users and experts. The average CoreScore is 78.
More...