The high-top is a type of sneaker that covers the area right above the ankle. During its initial years, this footwear had a collar that went well over the top of the ankle. These days, however, it is commonly confused with the mid-top, a sneaker with a slightly shorter collar. Some also get this interchanged with short-collar boots that have a collar height quite similar to the high-top.
As an athletic footwear, this sneaker has been hailed for its performance in the court. As a lifestyle/casual shoe, it has been adored for its appealing aesthetics. Its cut, however, may not work for all types of activities. Its look may also intimidate a few. Below are several reasons why the high-tops are well-loved by some and disliked by others.
Love-Its
Shoes with a high construction have been lauded for its enhanced ankle support.
High-top sneakers are considered as a popular winter/fall shoe for the added protection and warmth they provide in cold weather,
Sneakers with a high-top are also perceived as a reliable hiking shoe alternative on light terrain for the extra protection it offers from cuts, mosquito bites as well as slush and mud.
The heightened collar gives the shoe an edgy look and a retro vibe. Thus, many perceive this as a stylish piece and a fashionista must-have.
Could-Be-Betters
Some prefer the lows over high-top sneakers because the added material on the collar tends to make the legs appear shorter.
Commonly paired with jeans, a few think the high-top sneakers lack versatility.
The high collar tends to restrict ankle movement.
It's less breathable than low- and mid-tops. Unwanted moisture may also build up inside the shoe due to lack of airflow.
A few said this type of shoe is difficult to put on/off.
The lows, for years, have been ever-present compared to the high-top sneakers. The could-be-betters mentioned above could explain why this type is not as ubiquitous as the low-tops. It's undeniable, however, how much the high-top sneakers have evolved over the years.
Reasons for disliking it has been addressed. Thanks to present-day tech and designers' limitless creativity, many high-top sneakers to date are now made breathable, versatile and even more manageable.
All You Need to Know About High-Top Sneakers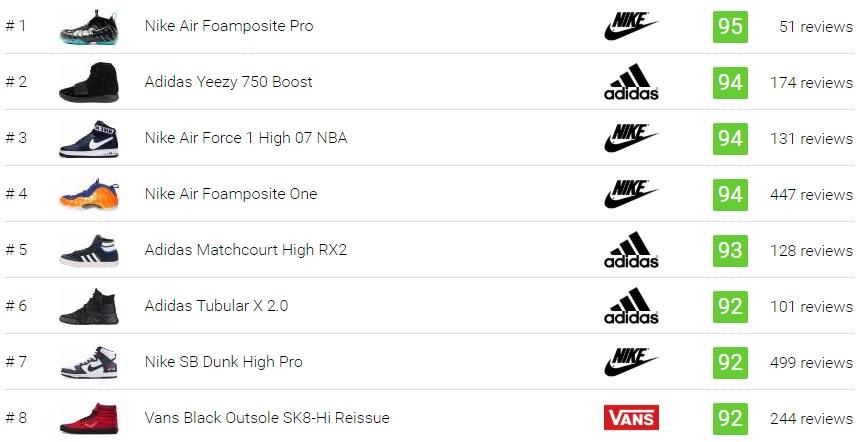 Types of high-top lifestyle sneakers
There's a wide array of high-top sneakers to choose from in the market. When it comes to design, there are two types that a sneaker fan must know about. Each one has its pros and cons, thus having a know-how of these two basic types would give anyone on the hunt for the best pair an edge.
Thin. As the name suggests, this casual shoe is built with thin, light material that sits snugly on the leg when the shoes are tied to the top. Its lack of cushioning in the collar may make the wearer's ankle look small and unproportioned when matched with the wrong outfit. This type, however, offers more flexibility and breathability compared to other high-top sneakers. The slim-styled high-top casual sneakers' simple design has remained timeless. Commonly seen in retro Converse Chuck Taylor All Star sneakers, other brands also developed their own versions such as the Center Hi model of the PF Flyers and the Royal Hi of PRO-Keds.
Thick. The bulkier version of the high-top sneaker, this type is recognized instantly for its wide ankle and somewhat heavy silhouette. Chunky high-top men's sneakers and women's sneakers are often desired for its edgy look. Its voluminous silhouette, though, at times makes feet appear larger than usual. The addition of padding, however, enhances its overall comfort and its ability to keep the feet warm and snug.
Many basketball shoes are styled this way. Among the most sought-after models are the Air Jordan 1 Retro High and the Nike Air Force 1. Vans and Adidas also have a couple of good-looking high-top sneakers available like the Vans Sk8-Hi and the Adidas Yeezy 750 Boost.
Colorway
Next to comfort, the sneaker's design is another critical factor looked at by sneaker enthusiasts, regardless of age and gender. A sneaker's appeal, however, varies from person to person. To meet consumers' desires, given their diverse and unique styles, brands have dressed high-top sneakers in a myriad of designs, not to mention colors.
A simple update on a high-top sneakers' color change its aesthetics remarkably. History shows how much a model gains more style credits when it gets outfitted in well-liked hues or one-of-a-kind color combinations. Brands like Adidas and Nike are known to roll off high-top sneakers with superb colorways regularly.
Compared to other colorways, the black high-top sneakers are seen by both genders as the safest choice. Wearers need not worry about getting dirt, stains and mud on this one. Wiping the soles clean is enough to strut this shoe on the streets.
The white high-top sneakers, though, stand second when it comes to popularity. Although keeping these kicks pristinely white is a grueling task, sneaker addicts choose to put in the extra effort to flaunt these stylish wardrobe staples.
Vibrant-colored high-top shoes like the red, yellow, orange and purple steal the spotlight in any event effortlessly. Perfect for the adventurous and the fun-loving, some choose to steer clear of these attention-seeking hues as these can only be matched with a limited number of outfits.
Metallic-tones like the shiny silver, the stunning bronze and the dazzling gold have always been popular. Throughout history, these glittery hues can be seen used in a variety of clothing and fashion accessories, high-top sneakers included.
High-top shoes can be seen in various colors, some in just two tones, others in 3 or more shades, while many keep it simple by strutting one hue. Kicks with a single color, also known as monochromatic, lead when it comes to popularity. The multi-colored ones, however, don't stray too far when it comes to prominence due to its distinct look.
Colors on sneakers is a great means for self-expression. So a splash of color here and there isn't in any way bad. In fact, the simplest of outfits instantly gain personality when matched with a pair of high-top sneakers with striking colors.
Material
High-top sneakers' comfort, durability, function, not to mention price, can be significantly attributed to one factor, its material. Better quality of materials means higher cost. This being said, a basic knowledge of the different materials would help probable buyers narrow down their choices when hunting for their next pair of high-tops.
Leather. Throughout the years, this kind of material has been preferred over others for its durability and practicality. When added to a high-top shoe's upper, the shoe instantly acquires an elegant look.
There are, however, various types of leather. Those that are human-made or synthetic is commonly seen on low-cost to reasonably-priced high-top sneakers. Shoes dressed in top-grade leather, on the one hand, come with a more costly price tag. Premium- leather made high-tops, though, boast improved aesthetics as well as comfort and durability.
Canvas. High-top sneakers have been donned in this type of material since its birth. The Chuck Taylor All Star is mainly known for this. Light and breathable, this kind of fabric is typically used for kicks meant to be worn in the summer. Unlike leather, this one does not repel water and is prone to get wet. It is also less supportive.
Suede. Known for its soft and buttery texture, extra points are automatically given to shoes outfitted with this type of material. A good example is the high-top Adidas Pro Model. Crafted in suede, this shoe looks cooler than its leather equivalent.
Like leather, it also supplies warmth and enhanced durability. This kind of fabric, although attractive and durable, unfortunately, is harder to maintain.
Mesh/Knit. Many modern lifestyle and athletic footwear, the high-top sneakers included, utilize this simple material to make shoes more lightweight and breathable. Those constructed with an all-mesh or one-piece knitted upper boast comfort right out of the box, not to mention freedom of movement. Its support, however, is often questioned.
Skechers Burst Divergent and Nike Air Force 1 Ultra Flyknit are just some of the models that have released an all-mesh/woven upper.
Variations
As a result of shoe designers' boundless creativity, high-top sneakers can be seen in countless colors, not to mention styles. Among its famous stunners are:
Velcro-Strapped High-Top Sneakers. Tying shoelaces demand time. The use of Velcro straps on shoes makes fastening easier and quicker. Not only that, but it also gives the high-top sneaker an added casual flair.
Some models, though, feature the traditional lacing system with the addition of a Velcro strap on top for additional ankle support and a better lockdown fit. Nike commonly uses the lace-up and Velcro strap closure combination on their iconic Air Force 1 Mid as well as High models.
Zippered High-Top Sneakers. Putting on high-top sneakers has always been difficult. The addition of a heel or a side zipper makes the slip on/off quick and easy. The zipper also gives the shoe an edgier look, thus making it all the more attractive.
Italian footwear and fashion designer Giuseppe Zanotti is known for his luxurious zippered high-top sneakers with the traditional lace-up fastening system. Vans, Gucci, Ecco are other brands that offer this type of kicks. Some models even have Velcro straps apart from the side zipper and the laces.
Buckled High-Top Sneakers. Aside from Velcro straps and zippers, a few brands (mostly high-end) have used buckles as a closing system for their high-top sneakers.
Shoe buckles, a fashion accessory that has been used since the mid-17th century by both men and women, are commonly seen in dress shoes. A couple of brands, though, have utilized this to give their high-top sneakers a more unconventional yet equally stylish look. Giuseppe Zanotti, Ash and Zara are among the brands that feature a buckled high-top sneaker in their collection.
Vintage High-Top Sneakers. An old-time favorite, high-top sneakers with a retro look continues to be desired for its fashionable yet straightforward aesthetics that never runs out of style.
Under this category, the iconic Converse All Star is considered the most popular. Born in the year 1917, it had stood the test of time while keeping its original silhouette intact. Other classic-styled high-top sneakers include the PF Flyers Center Hi and the High Top Vulcanized sneaker of the Japanese-based brand Shoes Like Pottery.
High-Top Sneakers with Allover Print. A definite eye-catcher, this type of sneaker have graphics all over its upper. Some have prints even on the sole. The extra material on the upper gives shoe designers a bigger canvas for better and more stunning prints and patterns.
Nike is among the brands distinguished for printed high-top sneakers. The Nike Dunk High, in particular, has been seen in a wide array of graphic designs. Other sneaker brands that boast an interesting collection of these type of kicks include Gucci, Saint Laurent and Versace.
Height-Boosting High-Top Sneakers. Perfect for those who need to be off the ground at least an inch or two higher. These height-boosting sneakers can come with platform soles or hidden wedges.
Converse and Puma were among the brands that turned their classic models into platform high-tops, the Puma Suede and Converse All Star included. Skechers, keen to join the hype, also released a high-top sneaker with a hidden wedge dubbed as the Side Street - Minimalistic.
Sock-like High-Top Sneakers. The high demand for lightweight, breathable and comfortable kicks have prompted brands to develop high-top sneakers with a bootie-like construction. The rise of stretchy, durable knitted/woven fabric, however, played a vital role in its conception.
Innovation allowed brands like Nike and Adidas to make these type of kicks. Previously disliked for its restrictive and hard to slip on/off construction, the high-tops are now respected for its added comfort, no-frills build and the ease of movement it gives its wearers. Runners commonly built with a low profile are now seen with a heightened collar. Among the most popular are the Nike LunarEpic Flyknit and the Adidas Adizero XT Boost.
Hoop shoes also morphed with the introduction of knitted material. Often constructed with stiff fabric, basketball shoes are currently made light and flexible. The Under Armour Curry 4 and Nike LeBron 15 are just some of the new knitted, sock-like b-ball high-top sneakers well-received for its superior performance on the court.
High fashion brands have also contributed to this rising trend by releasing their own rendition of the slip-on, bootie high-tops. Balenciaga Speed Trainer, Maison Margiela Glove Sock and Lanvin Mesh High-Top are among the more famous models.
Finding the Right Fit and Sizing
The numeric sizing online or in-store refers to the heel-to-toe measurement or the length of the shoes. Sizing, however, will vary depending on country and manufacturer.
When it comes to width, consumers may find that some high-top sneakers fit narrower than others. Brands, although not all, may offer a particular model in narrow, wide or extra wide width. Many, models, however, are only released in standard width which can either be "B" for women and "D" for men.
With this said, buyers are often forced to size up or down if the shoe fits a bit tight or loose thinking that a smaller or a bigger shoe size would fit better. This solution, though, doesn't work for everyone.
RunRepeat aims to make shoe-shopping significantly easier for consumers, thus, the site also features a few things to aid buyers in the task of finding the right shoe size.
The option to convert shoe sizes to the US, UK and EU sizing is made accessible on the site.
If you have questions about the shoes' build, the GBBL section which outlines what other purchasers are saying about the shoe may be helpful in determining the models' actual sizing and fit.
Data about the lengths and widths available for a particular model are also often provided in the Fit & Sizing section.
Styling High-Top Sneakers
Many have been attracted with shoes that have a high-top construction. Some, however, think twice before getting a pair stating that this type is hard to pull off. In reality, it's a shoe that is really easy to style. One just has to remember a few things when it comes to matching high-top sneakers with an outfit. Here are a few styling tips to achieve a modern and fashion-forward look.
Both men and women can safely match their high-top sneakers with any pair of jeans.
When wearing thin high-top sneakers, body proportion is maintained by creating volume. This can be done by rolling the bottoms of the jeans.
Women can also match their wide-bottomed pants with thin high-top kicks. Just make sure to show a few inches of your skin between the shoes and the pants and to tie your shoes loosely up to the middle.
Chunky high-top sneakers look great with skinny jeans. Consider going bare legged if you wish to wear it with T-shirt dresses and mini skirts.
For a smart casual look, men can pair their high-top shoes with slim-fit jeans or chinos and a plain shirt.
For men who plan to strut their high-top sneakers in the streets, this type matches well with denim shorts and a hoodie, not to mention cuffed joggers and tapered jeans.
Baggy pants and high-top shoes create a bulky look for men. Opt to wear straight-cut or slim-fit jeans for a sleeker look.
Make your shoes stand out by wearing bottoms that contrast the color of your kicks.
History of High-Top Shoes
Sneakers have been around since the 18th century. Throughout the years, a variety of styles have emerged, proving its staying power. Regardless of its many variations, these can be categorized into three types based on construction: the low-top, the mid-top and the high-top sneakers.
The low-cut lifestyle kicks, renowned for its versatility, are the most ubiquitous among the three. The high-top sneaker stands second, after low-top sneakers, when it comes to prominence in the market. Perceived by many as fashionable, the high-top sneakers boast a history filled with many shifts and turns.
The first rubber-soled shoes were manufactured by the US Rubber Company in 1892. From its inception to the year 1916, they have developed over 30 different kinds which include the first high-top canvas sneakers. These kicks, though, were produced under different brand names. It was only in the year 1916 when they decided to name it under one brand, Keds.
The iconic high-top Converse made its debut in the year 1917. Originally outfitted with a natural brown upper and a black sole, the shoe's colorway was modified to all-black in 1920. Its name was also changed to Converse All Star. Akron Firestones' b-ball player turned sales specialist and head promoter Charles "Chuck" Taylor entered the scene in 1921 and got his name added to the shoe in 1932.
Renowned for its excellent ankle support, the high-top sneaker, later on, became NBA players' go-to hoop shoe.
Although commonly used by men, women also gave into the craze. During the 1930s, white- and tan-colored high-top sneakers were preferred over other hues by most women.
Soon enough, other brands like PF Flyer and Onitsuka Tiger made and introduced their version of the high-top shoe.
Fast forward to the 80s and 90s this type of sneaker was also used for other activities like aerobics. A popular model back then was from Reebok called the Freestyle Hi.
During this era, high-top sneakers were outfitted in striking hues like red/black. The Air Jordan 1 is arguably the most popular at that time.
Kicks were also updated with never-before-seen technologies like Reebok's Hexalite cushioning system and Nike's visible air bubble unit.
Flashy and stylish, the sporty high-top sneakers soon invaded the streets and became a fashion staple. It became the shoe of choice of the popular culture and was seen in movies like Back to the Future and The Sandlots. It was also worn by musicians like Kurt Cobain of Nirvana.
A hardwood court mainstay, the chunky high-top lost its shine when seasoned NBA star and Los Angeles Lakers player Kobe Bryant chose to have a low-cut, lightweight shoe for his fourth Nike Zoom Kobe model.
Despite its descent in popularity as a hoop shoe, high-top sneakers have kept its shine with the continuous rise of the athleisure trend. To date, sneaker addicts, celebrities like Rihanna, Shailene Woodley, Gigi Hadid and Ryan Reynolds included can be seen in the streets strutting their favorite pair of high-tops.
Common Questions Asked About Men's and Women's High-Top Sneakers
How much do high-top sneakers cost?
There are considerably fewer models of high-top sneakers in the market compared to the ubiquitous lows. Its price, however, just like the low-top sneakers, may range from budget-friendly to extremely expensive.
Better quality of materials is often seen on premium models. Tech-packed kicks are also expected to be more costly. The shoes' exclusivity, though, plays a major role in determining its price. As a rule of thumb, limited editions released in smaller quantities are usually more expensive than their general release versions.
Below $100. Converse, Vans and Skechers are first on the list of global brands that sell low-cost high-top sneakers. These two are followed by Puma and Reebok. The Vans Sk8-Hi, the Converse Chuck Taylors, the Skechers Hi-Lites – Velvet Vixon, the Puma Sky II Hi Core and the Reebok Ex-O-Fit Hi are among the most affordable models in the market.
$100.01-$200. Although brands like Nike and Adidas have affordable high-top sneakers, it is notable that most of their products fall within the average to expensive price range. Sneakers with an average to expensive price tag include the Adidas Tubular X 2.0 and Tubular Instinct as well as the Nike Lunar Force 1 Duckboot, the Air Jordan 1 Retro High OG and the Nike SF Air Force 1.
$200.01 and above. Nike and Adidas have just a few ultra expensive high-top sneaker models like the Nike Air Bakin' Posite and Adidas Forum Hi Crafted. The Adidas Y-3 collection and other luxury fashion brands like Balenciaga, Golden Goose, Jimmy Choo, Giuseppe Zanotti and Maison Margiela, though, have the most number of high-top sneakers that are crazy expensive. Some of their high-top sneakers are even valued at more than $1K.
Do women's and men's high-top shoes' pricing differ?
Based on Priceonomics Data Studio customer Datafiniti's product pricing data, the median prices of moderately-priced sneaker brands like Vans, Skechers and Converse show that men's sneakers do cost a little more (about $0-10 more) than women's sneakers. These results, however, does not mean that the same model would cost higher for men than for women.
The difference in pricing between women's and men's sneakers, though, is notably higher for luxury brands like Christian Louboutin and Jimmy Choo. The difference in pricing for high-end brands may range from $35 to a whopping $298.
I'm a woman who wants to buy a men's high-top sneaker. What size should I get?
A women's shoe size in length is roughly 1.5-2 sizes bigger than men's. So, if a woman with a size 8 wants to buy a men's sneaker, she can consider purchasing a size 6 or 6.5 pair. Conversion of sizing, however, may vary per brand. Men's Nike and Adidas sneakers, in particular, are known to be just one full size smaller than their women's models.
Do high-top casual shoes protect the ankles?
Since the high-top sneakers were put on the market, it has been acclaimed for its excellent ankle support and has been known to prevent unfortunate ankle-related injuries. The absence of substantial evidence that confirms this edge that high-top sneakers have over lows, however, made people question its effectiveness.
In response, several studies were conducted. The investigations performed by these groups interestingly offered varying results. Below are just some of the studies undertaken and their conclusions:
University of Oklahoma (1993) and National Center of Biotechnology Information or NCBI (2014) did two separate studies. Both revealed that no significant difference could be seen between low and high shoe collar height and the occurrence of ankle twisting.
Brighton Young University in the year 2000 conducted a separate research and obtained different results. Contrary to what has been specified above, this group confirmed high-top sneakers' superiority over lows in reducing the rate of ankle sprains.
Some studies stated that long-term use of high-top sneakers weaken the ankle muscles and delay muscle activation.
To date, the pieces of evidence laid out remain inconclusive, and so, the debate continues. One thing's for sure, though, high-top sneakers do offer added stability, not to mention ample lateral support. The support supplied, however, is not enough to prevent ankle inversion or sprains from happening.
Reducing the risk of these accidents are best achieved by strengthening the ankle muscles through exercise and a healthy diet. Wearing the right-sized sneaker, whether high-top or low-top, that fits comfortably is also a must.
How do I keep my kicks, especially my white high-top lifestyle sneakers clean and spotless?
Keeping high-top sneakers in tip-top condition can be hard, but the extra efforts are worth it. Here are some ways to keep those shoes in pristine condition. Take note, however, that the methods mentioned below may/may not apply to all kinds of materials.
If able, pre-treat and protect your white high-top sneakers with water and stain repellent (e.g., RESHOEVN8R and Leather Spa) after taking it out of the box. Both products mentioned can be used on leather, canvas and suede kicks.
Regular spot cleaning is a must. So keep those shoe wipes handy whenever possible. Some have also used sprays with vinegar/water solution to clean stains in a jiffy.
For thorough cleaning, others choose to utilize sneaker care kits like Jason Markk and Crep. These kits often include a foam-based spray and a soft-bristle shoe brush that can deep clean high-top sneakers while keeping it damage-free.
Others use alcohol, cornstarch, vinegar/water solution, toothpaste, hydrogen peroxide and shampoo as a cheap yet effective alternative to clean stubborn dirt and oil stains.
Many attest to Mr. Clean Magic Eraser's efficiency in cleaning grime and soil off soles especially the white ones.
How can I prevent the white or icy soles on my high-top shoes from turning yellow?
Soles turn yellow due to the process of oxidation, a chemical reaction prompted by the exposure of a material to oxygen. Sadly, this is unavoidable although there are several things we can do to slow it down. Here's a couple:
Store high-top sneakers indoors, in a cool dark place that is away from sunlight. Better results can be expected if kicks are stored in a climate-controlled space.
Most sneaker addicts keep their holy grails in shrink wraps or zip lock bags.
Get rid of acidic shoe box paper since this can cause discoloration.
Silica packets are also useful. It works great in absorbing moisture and controlling humidity. Overtime use, however, may result in hardened midsoles.
Make sure that the high-top sneakers are dry before keeping it in storage.
Avoid using bleach as this can turn white canvas high-top sneakers yellow.
What to do to keep feet dry and odor-free when wearing high-top shoes?
Feet tend to sweat more and moisture is inclined to build up faster on women's and men's high-top sneakers due to its lack of breathability. These often cause stinky feet and who wants that? Prevent stink or get rid of stench with the help of these:
Always wear clean socks.
Consider buying a pair of antibacterial or moisture wicking socks or insoles.
Spraying antiperspirant or applying foot powder on the soles of the feet also help alleviate excessive sweating and reduce order.
Unwanted odor, as well as dampness, can be removed by inserting cedar trees, fabric dryer sheets or crumpled newspaper into the shoes.
Using baking soda is another tried and true yet budget-friendly method of getting rid of the shoe's rancid odor.
Look for high-top sneakers with removable, washable Ortholite insoles. A PU foam insole renowned for its superior moisture management and high-level breathability, Ortholite insoles are used by global sneaker brands like Nike, Reebok, Adidas, Timberland and Etnies.
How can I wear high-tops without looking short?
Legs are inclined to look shorter when a sneaker with a shaft that goes up to or over the ankle is paired with shorts. This disparity, though, is less noticeable when skin-toned high-top sneakers are used.
High-top sneakers with platform soles as well as hidden wedges can also help elongate the legs. Compared to the flat-soled high-tops, these height boosters can balance out the cut of the shoe.
15 best high top sneakers
Jordan Son of Mars
Jordan Reveal
Nike Air Foamposite One
Timberland Killington Hiker Chukka Boots
Jordan Spizike
Adidas Pro Model Vulc ADV
Adidas Forum Primeknit Winter
Adidas Yeezy 750 Boost
Nike SB Dunk High Pro
Vans Mono Canvas SK8-Hi
Vans UltraRange Hi MTE
Nike Lunar Force 1 Flyknit Workboot
Ecco Soft 7 High Top
Timberland Killington Chukka Sneaker Boots
Vans SK8-Hi Lite
This shoe has recently been added to RunRepeat. There are still not enough reviews for us to assign it a
CoreScore
.
CoreScore
A score from 1 to 100 that summarizes opinions from users and experts. The average CoreScore is 78.
More...