Since sneakers can be dated since the 1800s, they had evolved throughout the years and had been deeply embedded not just in our history but in our culture, lifestyle, economics, etc. The sneakers we know now of have transformed into different styles, materials, technologies, etc. From becoming the choice of footwear of athletes, sneakers have become each person's wardrobe staple and an everyday shoe.
Casual shoes can be classified as athletic-inspired footwear meant for urban and casual wear. Because of the evolution of words, it is also termed as lifestyle and athleisure (a trend that combines athletics and leisure) sneakers. Although it cannot be pinpointed as to how it started, this footwear category is relatively new since sneakers were initially intended for sports. However, based on appearance, the style of shoe and some of its models (Chuck Taylor All Stars, Stan Smiths, etc.), are widely familiar and have become a wardrobe staple. In essence, casual sneakers are meant for every day, off-court, and non-athletic wear. In contrast to performance sneakers, it prioritizes style and aesthetics more than how it performs.
The rise in trend of lifestyle shoes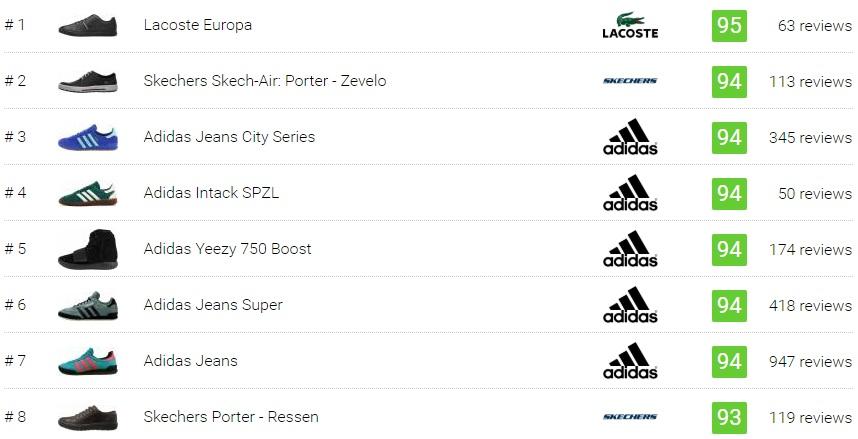 Casual sneakers have been a familiar sight. Because of this, one cannot determine how, when, and why performance sneakers reached the streets. Some accounted that it started in the 1960s when the masses pushed boundaries in fashion. Dressing casually was a way of doing that as it deviates from the tailored pants. It is then continued in the 90s when tracksuits became a hit. Moreover, because the term "casual" is lifestyle-based, it can be hard to delineate the era it spurted.
Currently, the trend lived on and became more massive upon the conception of the term "athleisure." Because it delivers the comfort and versatility of sportswear and gives the style upgrade of a business casual wear, it gave rise to a phenomenon.
Casual sneakers market
Historically speaking, performance shoes are one of the driving forces in the sneaker industry. There was also one category of footwear then, and it was only used primarily for sports. However, as time passed on, categories branched into groups:
What is garnering sales is coming from the casual shoes group and based on the 2016 report of NPD, casual sneakers exceeded the athletic shoe group. According to the 2017 NPD data, sales of casual sneakers grew by 17%, reaching $9.6 billion and have increased by more than 40% since 2004. Based on different accounts, these are the main contributors to the rise of the casual sneakers:
Millennials are one of the leading contributors to the success of the casual sneaker industry. They have a more holistic approach to health and wellness compared to the older generation. Having fitness embedded in their lifestyle is also a significant factor. Based on the 2014 footwear statistics provided by the NPD Group, ¾ of the growth of the casual sneakers market is accounted for the millennials. The remaining portion comes from the boomers.
There is a blurring of seasons and consumers are wanting products that can transition throughout each season, which the casual sneakers market can provide.
Celebrities have mainly contributed on the rise of athleisure as behind-the-scene celebrity fashion dominates reality TV shows and social media pages.
Types of casual shoes
Because it is lifestyle-based and designed mainly for aesthetic purposes, different people have different kinds of styles in their handbook. Casual sneakers can be categorized into these:
Basic Sneakers - If there's the epitome of casual sneakers, it will be this style. Basic sneakers, which are initially called plimsolls, are typically made of canvas upper, rubber outsole, and found in neutral colors for versatility. Because they are meant to be used every day, it is generally affordable and easy to clean. Popular styles are Converse Chuck Taylor All-Star, Vans Old Skool, Keds Champion, Vans Authentic, and PF Flyers Center Hi.
Refined Luxury Sneakers - These casual sneakers greatly resemble the basic sneakers, but the materials and price show a huge upgrade. It is usually composed of leather and suede, making it look and feel more premium. Brands like Tom Ford, Prada, Gucci and other high-fashion brands have their own rendition of this sneaker.
Sport Sneakers - This type of sneaker is athletic-inspired, and that is manifested greatly in its design. While there are current and classic designs, these looks like they are ready for track and field but kept in the shoe closet and used on the streets instead.
High-Tech Sneakers - Although casual sneakers have the reputation of being no-tech, certain advancements are slowly creeping in, and designers are further pushing the boundaries and breaking the rules in designing. Because comfort is the main consideration when choosing casual sneakers, specific sneakers that are built for sports are seen to cross-over into being everyday sneakers.
Maximalist Casual Sneakers - Different designers have taken the sneaker designing into different levels, some of which have taken it into extraordinary directions and screams attention. Designs of Jeremy Scott and Rick Owens are a few high-end pieces of casual sneakers. Mass-produced and well-known pieces are Reebok Instapump Fury and Nike Foamposites.
Different profiles of casual kicks
Unlike in regular shoes where it is crucial what cut of sneaker one has to use, in terms of casual sneakers, style is a more prominent factor. Nonetheless, each sneaker profile has its advantage and disadvantage.
Celebrity collaborations
History of celebrity collaborations
Celebrity collaborations with sneakers have long been apparent. However, because it wasn't the choice of footwear by the masses and was only linked to athletes, it took time to create such partnerships. The first documented partnership was in 1934 with Chuck Taylor and Converse. It was quickly followed by Jack Purcell the year after. Chuck Taylor desired to be hands-on in conceptualizing the soles of the All-Stars. However, celebrity collaborations were too advanced for its time that celebrity-endorsed casual sneakers only followed during the 70s with Kareem Abdul-Jabbar, Stan Smith, Walt Frazier, and Arthur Ashe.
Run DMC created a remarkable history as they were the first musicians to have casual sneakers collaboration. It is significant as the sneakers became not only limited to the sports realm but expanded to the music, fashion, and streets. It also opened the sneaker market to the masses.
Run DMC's hit song "My Adidas" paved the way for the partnership and the release of a customized pair of the Adidas Superstar in 1986. The sneaker features a special label on the tongue, the year across the heel, and the brand's iconic gold embellishment across the toe box.
Because of its success, different brands joined the bandwagon and are continuously pushing the boundaries regarding design and culture to achieve their own signature shoe. Here is a list of some of the most remarkable celebrity collaborations:
Rihanna x Puma
In December 2014, the appointment of multi-faceted artist Rihanna to be the creative director of fashion sportswear brand Puma was confirmed. By fall of 2015, she released her first casual sneaker which instantly sold out three hours after its release. Vogue Magazine commended Fenty x Puma for thinking outside the box, especially with its shoe designs. Rihanna was also the first woman to receive an award from Footwear News for Shoe of the Year. Currently, she has a wide variety of selections from high-top, mid-top, and low-tops. The Fenty Creepers are one of the most infamous casual sneakers to date.
Kanye West x Nike
Fashion icon, producer, and rapper Kanye West released his first collection with Nike in 2009. The Nike Air Yeezy I collection was launched in three colorways called Zen, Blink, and Net. It features a cross strap and a glow-in-the-dark sole.
It was followed with the Nike Air Yeezy II in 2012. This line embodies a more casual sneakers vibe but still took inspiration from the previous collection as it continues to have a minimalist design and the signature cross strap. For this design, though, Egyptian accents were incorporated such as god Horus depictions on the tongue and insole and Egyptian hieroglyphics spelling out "YZY" underneath the strap. It had three colorways as well and with only 5000 pieces for each colorway.
Although it was originally priced at $245, the shoe gained popularity for its inflated resale value of $4,000. It gave a signal that West should be taken seriously in the fashion industry. Two of the colorways –Solar Red and Pure Platinum were released. However, there was a delay for the third colorway " Red Octobers" which sparked controversies and upped its value.
Kanye West x Adidas
Rumors circulated that the cause of Kanye's departure from Nike was because the brand was not granting the royalties he was demanding. Adidas, on the other hand, agreed to this agreement, which started the fruitful partnership between them. The collaboration started in 2015, and much like other products released by the artist, it gained recognizable attention because of its high level of refinement and taste expected from him.
As of 2017, there are a total of 6 designs and 19 colorways under Adidas Yeezy. Some of the designs are known to sell out within minutes after the release, making its resale value extremely high.
Eminem x Air Jordan IV
Considered as one of the holiest grails among the sneakerheads, this lifestyle sneaker collaboration serves as a commemoration for Detroit- based rapper, Eminem. It features a chrome/black/white colorway with insane accents like a hockey mask, reversed E logo on the heel, chrome eyelets, and luxurious leather lining. Released in 2005 only for Marshall's friends and family, these casual sneakers only come in 50 pairs, making these sneakers highly covetable and one of the most collectible Air Jordans to date. A shoe consignment shop called Mag Park has these infamous shoes, retailing for a whopping $ 25,000.
Along with sportswear brands who have applied their knowledge in producing casual sneakers, some celebrities have also explored on the casual sneaker trend.
Fabletics by Kate Hudson
Founded by Adam Goldenberg, Don Ressler, and celebrity Kate Hudson in 2013, Fabletics is a brand offering sportswear, casual sneakers, and accessories. The company became popular because of its e-commerce approach and its 22 brick and mortar store. In 2015, FL2, in partnership with Kate's brother and actor Oliver Hudson was launched.
What is unique about the brand is it utilizes a subscription model. Membership costs $49.95 although members can choose to skip certain months without charging.
Warm Up by Jessica Simpson
Although her Macy's line has been a household name since 2006, the rise of athleisure caused the emergence of Warm Up. Simpson's line of casual sneakers carried neutral and bold colors and prints. Prices are kept affordable as it only ranges from $69-$89.
High fashion meets casual
Being in the business for so long, luxury brands are facing challenges because of the rise of casual wear. According to a 2017 survey conducted by the Boston Consulting Group with Fondazione AltaGamma, two out of three customers of the luxury fashion market are turning away from the classic outfits usually offered by these brands.
It was then expounded by this study that 61% of Baby Boomers dress more casually, even for occasions when formalwear is needed. This is driven as well by the expression of social acceptance of casual dressing by the younger generation. The office, which used to be a suit-and-tie setting, now turned into a place of freedom of expression.
One of the areas where this is greatly impacted is the sneakers, as it has experienced extremely strong growth. The sales of sneakers in the high fashion market reached $3.4 billion, thrice more than in 2009. Price points are not a major issue as well since 83% of high-fashion consumers are willing to splurge more than $336 on sneakers. Some of the luxury brands that have joined the casual shoes game are as follows:
Along with the rise of athleisure also gave rise to the sports luxe trend. Based on an article in The Wall Street Journal in 2015, luxury casual sneakers dominate e-commerce sites like Mr. Porter and Barney's New York.
Common Projects - If there's one brand that's dominating the minimalist-style casual sneakers scenery, it is Common Projects. One of the most notable styles from the New York-based brand is the Achilles, casual sneakers that are modern and timeless and can fit any ensemble. The company produces low, mid, and high top shoes ranging from $400-$700.
Gucci - Gucci was one of the first brands that capitalized on the market's growing penchant towards sneakers. In 1984, the first casual sneakers released by the brand were Italian-made tennis shoes sporting Gucci's signature green and red stripes. It was somehow a prophetic for the company as they joined the casual sneakers game way early than the other brands.
Prada - In 1996, Miuccia Prada designed high-fashion casual sneakers. It was initially intended as a yachting shoe as it was created for the Luna Rossa sailing team. The streamlined Prada PS0906 put aesthetics first over athletics. It depicted the luxury brand's shift over the expression of style.
Christian Louboutin - World-renowned shoe designer Christian Louboutin, who made his name because of his iconic red-soled high heels, released his first full men's line in 2011. The epitome of his collection was the Roller-boat, a reinterpreted version of his Rollerboy loafer, which dons his signature red rubber sole. It was remarkable in a way as it was the first time that a female-identified designer openly designed pieced linked to men.
According to Elizabeth Semmelheck, author and senior curator of the Bata Shoe Museum, the sneaker culture suggested a huge shift in how men perceive fashion. They were able to participate in the industry without someone judging their gender. With this, men can have high-end associations with shoes and fashion.
High fashion collaborations
Y-3 - Y-3 is the collaboration between legendary Japanese designer Yohji Yamamoto and Adidas. Started in 2003, the goal of the line is to blur the line between fashion and athletic wear. The Y represents the designer, while the number 3 connotes for the Three Stripes of Adidas, while the hyphen stands for the partnership. One of the most integral pieces from this collection is the Qasa silhouette, which was widely acclaimed.
Supreme x Louis Vuitton - Released in 2017, streetwear brand Supreme and high-fashion line Louis Vuitton seemed to be an opposing collaboration but resulted in both parties' advantages. For LV, it became an opportunity to reach the younger generation, a market that they have been trying to reach. On the other hand, it was a way to elevate the brand for Supreme as it connects with the world's most iconic high-end brand. Although there are different products featured in this collection, the casual shoes line remained to be extensive as there are five colorways released.
Chanel x Pharell x Adidas - As a send-off to renowned Parisian boutique Colette after being in the business for 20 years, a three-way collaboration among Chanel, Pharell, and Adidas took place. Pieces released were limited to 500 pairs and were only made available via pre-registration followed by a random draw officiated by a court bailiff. These exclusive casual sneakers reached its highest resell value at $25,000 according to Stock X.
Trends in casual sneakers
Much like in apparels, trends come and go with sneakers. Casual shoes started as early as the late 1800's with a rubber company called Keds. The shoe was constructed with a rubber sole and a canvas upper. This was then followed by Converse with Converse All-Stars in the 1920's. However, during this time, it was intended as a basketball shoe.
During the 60s and 70s, different brands and sneaker models became known for specific sports- Vans for skating in 1966, Adidas Superstar as a basketball shoe in 1969, and Nike Cortez being the first official track shoe in 1972. In 1973, the infamous Stan Smiths were released for tennis.
The introduction of sneakers to pop culture happened in the 1980's as it gained incredulous popularity when basketball superstar Michael Jordan endorsed for Nike. Different trends spurted since then. For 2018, these are what is hot in the sneaker community.
Trends in men
Ugly Casual Sneakers
This sneaker trend seems to be everywhere from the runway to celebrity off-cam street style. Almost every brand, even high-end brands like Dior, Balenciaga, and Prada, has their interpretation. What is apparent is that these are intentionally designed. Men can pair it with trousers while women can wear it with feminine dresses and skirts to make it look the next wave's normcore.
Chunky Soles
Chunky soles are appearing more and more not just on the runway but on the streets as well. Even though it has created a divisive market similar to what Crocs did, what is important is this trend got noticed. Along with the rise of athleisure, designers are going all big and that can be prevalently seen on the soles. Some of the famous models are the Balenciaga Triple S Trainers, Reebok Instapump Fury, and Skechers D'Lites Me Time.
Future Tech
Innovation has always captivated the eye of the masses. One example of this is the use of the knit technology which not only gives a sock-like fit which became a trend on casual sneakers but it promoted a sustainable process as it was able to eliminate 3.5 millions of waste because of its one-piece construction. Technology infused on casual sneakers is slowly becoming big.
Old-School Casual Shoes
Over the years, it seems like the market has been favoring either the futuristic designs or the throwback ones. With this trend, the mentality of fashion, "When you can't go forward, go backward," certainly applies. Almost every brand has its old-school classic that people keep using and will never get tired of. Think of the infamous Converse All Stars Chuck Taylors, Adidas Stan Smith, and Adidas Sambas.
Trail Runners
The outdoors is one of the inspirations for this trend. Similar to how hiking boots reached the streets, this is the same concept for trail running shoes. Old silhouettes like the Nike Air Humara and specialty shoes like Hoka One One and Salomon are traversing the casual sneaker category.
Trends in women
Sneakers, since its conception, have a way of encompassing different types of market, generations, and gender. Although this shoe is more inclined to men than women, the new generation of females seems to be jumping the sneaker train these days.
Glittery Casual Sneakers
Because glitter screams girly, it is no wonder that it climbed the sneaker trend quickly. It can be a no-brainer as it is suitable all year round and demands subtle attention compared to neons and prints. The collaboration of Converse and JW Anderson already got the glitter train rolling.
Colorblocking
Also called the Rainbow Sneakers, this trend first became huge with clothes. However, for sneakers, colors are not limited to 3 hues but every color that Roy G. Biv has to offer. Balenciaga and Celine have their rendition.
Pink sneakers/ pastels
White sneakers were on-trend during the previous years. Now, it's time for the pastel hues, more specifically the pink and blush sneakers to stand out. The millennial pink sneaker is just as versatile as the white sneaker. Those who want to join the pastel parade can make an edgier look have a feminine contrast by using a blush pair of sneakers or pair it with a dress of an all-out girly vibe.
Gum Sole
Although gum soles have been existent for years, it is still big this year not only because it remains to be stylish but how it doesn't look too dirty even with daily wear. The success of the Fenty x Rihanna, which features a thick gum sole, will certainly continue for the upcoming years.
Sneaker culture
Casual sneakers, although they have been existent in almost every person's wardrobe, have created an enormous impact and phenomenon that it is already treated as a culture. It gave rise to sneakerheads which led to different kinds of markets, transforming the sneaker business into another level. There are a few factors that contributed to its rise.
Social Media - Although the sneaker craze started before social media, it created an impact on its rise and its spread. Consumers became more aware of the limited-edition releases, what is hot and new in the sneaker community, and to be involved in a group that has the same interests. Because of the readily available information, more and more people are getting the same enthusiasm and spurted a new generation of hypebeasts and sneakerheads. It also fueled the rise of influencers which the new marketing platform.
Resellers - Resellers started as a small-time business in the mid-2000. However, over the years, as the sneaker business became huge, the way of purchasing shoes have gone through extreme changes. From establishing relationships with store managers and employees to get certain perks like getting multiples and backdoor deals, bots also became apparent during 2016. Sneakers became harder to cop as they become sold out online after being released. The resale market has become so big that it's accounted for $1 billion business.
Frequent Releases - How brands have released and retained their models changed through the decades as well. Before, limited edition sneakers, quickstrikes, and hyperstrikes were far beyond the vocabulary. Because of the high demand for products and the ease of selling and copping a pair online, brands have also thought of ways to manage this and kept their customers have fresh models all year round.
Sneaker Summits - Almost every casual sneaker enthusiast has participated in sneaker summits. It is a form of event where Holy Grail sneakers are offered. Although it still is the same as today, summits have added contests that sneakerheads—resellers and buyers alike, look out for.
StockX - Labeled as the "stock market of things," StockX is a website that lets the consumers know the rise and fall of the demand and price of a certain type of clothing, similar to how the Wall Street operates. Currently, it is also a marketplace offering casual sneakers. Even though it doesn't offer the best deal, it provides fair market value. Moreover, the website gives a level of transparency not given by other sites like eBay, Craigslist or other resellers.
Commonly Asked Questions
What are the things to consider when buying a pair of casual sneakers?
Because injuries tend to be higher with sports, people, in general, tend to have more requirements when buying performance sneakers. Although this may be true, this gives no excuse to buy a pair of casual sneaker impulsively. Those who are on their hunt for new lifestyle sneakers can look into these helpful tips:
Because they are everyday shoes, ensure that they keep your feet comfortable. It means that the sizing is correct, the material of the shoe meshes well with the feet, and the midsole suits the pronation of one's feet. Shoes should help support the feet, not damage it.
Evaluate the style of sneaker that you like and see how it'll suit your current wardrobe. Some shoes look good in pictures or on its own but don't necessarily pair with the existing clothes one has. Moreover, because the sneaker is on trend doesn't necessarily mean that it is the best shoe out there. Having the most uses on your casual sneaker is ideal to also get the most out of the money's worth.
How do you style a loud pair of casual shoes?
Whether they are donned in neon colors or loud prints, these sneakers are meant to take the outfit to a different level. There are a couple of ways to style these. One of which is through pairing it with a simple outfit to let the design of the sneaker speak for itself. Some elevate this by having a full-black ensemble. Another way of styling this is complimenting the loud sneaker with a striking outfit. Taking cues from Nicki Minaj, Katy Perry, and Rihanna by pairing it with outfits that match the color of the sneaker is one way of doing it.
What are retro sneakers and why do they cost so much? What is its difference with OG?
Retros are sneakers that were released before and are re-released again. Sometimes, they are called bring-backs, throwbacks, and re-releases. The market tends to look out for retros because it gives them the chance to get a pair of shoe that they had not had the opportunity to get before or get another pair for their collection. They get the highest demand from the resale market, making them easily out-of-stock on retail stores. Sometimes, when these sneakers get released again, brands make minor changes in the material and technology of the shoe.
OG's on the other hand, stands for original. It means that these are the models that have not retired or placed on shelves, 'til date.
Is it ok to workout in casual shoes?
To save money, to have fewer things, or to avoid the inconvenience of changing shoes, some people use lifestyle shoes for working out. Although there are a few shoes that can get away with this, ideally speaking, casual sneakers are constructed differently to sports or performance shoes. Moreover, it is essential to take note that injuries that are caused by wrong footwear are a prevalent problem. It is the reason why footwear companies have categorized their line of sneakers into performance and casual. Although one of the purposes of lifestyle shoes is to help its user be out and about, using it for sports or the gym is not suitable. Six times of the body weight is placed on the joints when running, which means that the feet and legs need all the support is necessary as injuries are more prone during this time.
How do you wear casual sneakers and still look feminine?
Casual sneakers are not limited to the males, and the women can still enjoy their feminine side while rocking a pair. There are a few ways to wear sneakers and look girly instead of looking like a schoolboy.
Pair the sneaker with skirts, dresses or ultra-girly tops to give an edgy-styled sneaker a nice contrast or a girly looking pair can complement the overall look.
Having chic accessories can elevate any outfit to a different level. A statement necklace or bold earrings can already give a whole ensemble the boost that it needs without clashing.
The trusty old trick of having a bold lip color can also be used to make a casual sneaker girlier. Not only is this trick a subtle way of looking more feminine, but it is also a quick and easy process. A red shade will always be a classic but using bright oranges or pinks can do the same trick.
When should I splurge and save in lifestyle sneakers?
How one spends his or her money is subjective. However, there are factors to consider when asking yourself if buying a more expensive pair of casual sneakers is worth it or settling on a cheaper shoe is doable.
Although casual sneakers do not have high requirements as compared to performance sneakers, comfort and style are still necessities when buying a pair.
Beaters need not be luxury sneakers. More so, the higher the price point doesn't necessarily equate to being more comfortable. More affordable pairs of casual sneakers can use everyday pairs as well.
More so, multi-functional pairs can be of higher-end as well as long as they are comfortable and will be of use for different occasions.
Trendy sneakers may be at the cheaper price point as they will only be used for a certain season.
How do I make my casual shoes work-appropriate?
Although the work setting has been a more lax environment with regards to dress, it gives people no excuse to go all out casual. However, given the proper styling, one can enjoy wearing casual sneakers without being reprimanded.
Opt for darker sneakers as they are the most similar looking to dress shoes. It will be safest and most acceptable option for the sneaker to wear to work. An all-black number or a sneaker that is the closest to black can get away with not having a second glance, which is the primary purpose.
Choosing sneakers that does not look like it will be an appropriate gym or workout shoe, is not also the best style to use. Instead, use a silhouette that is appropriate for streetwear.
Maintain the cleanliness of your sneaker. The workplace is not a setting that suits beaters or muddy shoes. The casualness of the sneaker, combined with a dirty state, takes it too far.
Pairing the sneaker with a dressier outfit like tailored pants or cuffed slacks, can make the whole look office-appropriate and not draw too much attention to the fact that it is a casual sneaker.
Which is better, Converse or Vans?
Just like Nike and Adidas, Converse and Vans have been, for the longest time, been always compared to which is better. Both of these sneakers are timeless and fashionable. However, both of which are different in many ways.
Converse started in 1908 as a rubber shoe company. In 1920, the All-Star shoe was created, a basketball sneaker that had minor changes in the last 100 years. Its sneakers mostly have white rubber outsoles and a fabric upper that is either in high or mid-top. The upper comes in a wide variety of colors and patterns. Options for personalizing the shoe are also available for a unique look. The style and silhouette of the shoe are versatile as it can be dressed up or down.
One of the downsides of Converse is its narrow silhouette which is not ideal for people with wide feet and those who prefer roomier toe box.
Vans, on the other hand, was established in 1966 as a skateboarding trainer with a design that has an easy on and off feature. Despite being able to live up to its skate reputation, it was able to expand its product line over the years so that the non-skateboarders can also enjoy these. Aside from its design with laces, Vans also became famous because of its slip-on design. Some complaint about how easily it gets worn out in the toe area. Much like Converse, its style is versatile and can match different outfits.
It's about shoe preferences. With how long both brands have existent, it is apparent that not only both are stylish, but they are also durable and comfortable.
How does one become a sneakerhead?
Because of how high the value of casual sneakers have become, it gives off the impression that it is only for the rich and famous. Although it may be true, one can also become a sneakerhead without breaking the bank. Here are a few strategies:
Maximize the opportunity for online sales. From time to time, certain casual sneaker websites hold ridiculous sales and some limited pieces get offered sometimes.
Get another pair of a coveted pair of sneaker and store it properly. Brands like Air Jordan usually sell out after its release. So getting another pair and selling it for a higher price can earn extra.
Be in a community of sneakerheads to get more information about casual sneakers. Sharing new releases, giving information on deals, and being a possible customer can be some of the advantages of this. It will also be more advantageous to know someone working in retail as they have special discounts
The Internet is also a great platform to utilize as it has social media sites for more information and websites like eBay and Craigslist that serves as a network to meet like-minded people and sell and trade goods.
How much better are real sneaker quality compared to fake sneakers?
With how massive the sneaker industry has become and how hard it is to cop limited edition pieces, it is understandable that there are counterfeit sneakers. Fake casual sneakers get mixed reviews from the sneaker community. The pros and cons of imitation sneakers are as follows:
Pros:
Over time, producers of counterfeit sneakers have been improving the quality of casual sneakers. Rumors have it that manufacturers sell the pattern of the model to counterfeiters. Others speculate that the authentic sneaker is being ripped and broken down to copy the real one. However, this doesn't produce ideal results. Some suspect that counterfeiters bribe the factories producing the sneakers to hand them over the actual blueprints and sample. It means that almost every element of the sneaker is patterned after the original.
The materials, albeit they may be different is similar from the real one. Most brands, except for some like New Balance, produce the shoe in China, where the counterfeit sneakers are mostly produced as well. This means that, in one way or another, there can be instances that they can be able to source the same material.
Casual shoes, especially limited edition pieces, are one way of avoiding resale prices.
Because counterfeiters were able to produce good-quality and close to the real ones, no one can notice, even with a closer look, the difference. A video created by Hypebeast TV in 2015, tested sneakerheads on which casual sneakers are real or fake. Only 64% were able, not able to complete the task correctly given the set of skills they possess. In summary, wearing real models can be only of prestige and value that is planted in mind.
Cons:
Counterfeiting qualifies as stealing and violation of intellectual copyright. There is nothing more wrong than breaking the law.
Although big brands have built their empire and are dominating the casual sneaker market, it takes a village to produce every model they have. Getting replica items seem like an insult to the people who have poured their artistry, skill, and mind in coming up, assembling, and making the shoe.
The quality, in one way or another, may be compromised. Because the materials are not the same and the level of craftsmanship is different, no one can guarantee that it will last as long as the real one.
Fakes can raise a few eyebrows in the sneakerhead community. There are a few reasons behind it. One of which is it defeats the purpose of certain models being released in limited pieces.
15 best casual sneakers
UGG Cali Sneaker Low
Adidas Intack SPZL
Timberland Killington Hiker Chukka Boots
Nike Manoadome
Jordan Express
Adidas Questar Drive
Adidas Yeezy 750 Boost
New Balance 247 Classic
Adidas Yeezy 350 Boost v2
Skechers Relaxed Fit: Palen - Gadon
New Balance Suede 247
Ecco Soft 8 Slip On
New Balance 247 Decon
Ecco Soft 7 Woven
Ecco Soft 1 Sneaker
This shoe has recently been added to RunRepeat. There are still not enough reviews for us to assign it a
CoreScore
.
CoreScore
A score from 1 to 100 that summarizes opinions from users and experts. The average CoreScore is 78.
More...