Verdict from 4 experts and 100+ user reviews
9 reasons to buy
A lot of runners said that the shoe was breathable.
Many users agreed that the Nike Free RN Flyknit 2018 was comfortable to wear.
Many runners commented that it has excellent cushioning.
A good number of purchasers loved the stylish design of the shoe.
According to some runners, it was supportive.
Many reviewers said that the Tri-Star pattern of the shoe was fantastic.
Most of the testers commented that the Nike Free RN Flyknit 2018 was lightweight.
Users were happy because of its perfect fit.
The shoe was flexible, according to some reviews.
2 reasons not to buy
One of the users said that his foot was sliding forward during his running sessions.
The shoe was expensive, according to some purchasers.
Bottom line
Overall, many runners were satisfied and happy with the Nike Free RN Flyknit 2018's design and lightweight structure. Aside from its minimal construction, they lauded the few changes that were made from the previous models. It's a great option to consider if you're looking for a light, versatile shoe for runs, casual wear, and light gym workouts.
Tip: see the best running shoes.
Our reviews
Once upon a time, I happened to borrow a pair of Nike Free RN from my brother-in-law for whatever reason. They got me by the looks, and the comfort was uncanny.
They are one of those shoes that just can be taken anywhere. Big minus that I discover pretty quick that the heel or ankle part would not hold your feet inside the shoe even while walking due to the flex.
However, I tried to run in them, and it was a disaster. Not sure how, but I manage to convince my mate to let me keep them. They were still great shoes. While browsing on the internet in a search for a potential new purchase, I came across Nike Free RN Flyknit 2018.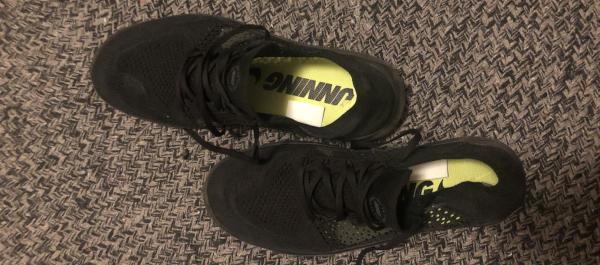 They upgraded it with already great visuals. I couldn't resist and get myself a pair in full black in size US11. My main reasoning behind the $180AUS buy was the fact that I wanted a training short distance runner that I could also use on casual occasions. An all-rounder so to speak.
They look so good that sometimes I would wear them with jeans or chinos to the office and no one would raise their eyebrow. They have that minimalist design that will allow you to match it with anything. Classic Converse shoes come to mind as a comparison. Nice, simple, and timeless. In fact, I am wearing them while writing this very review.
Sizing
Normally with Nike runners, I usually go a half size up. But in this case, people were recommending the opposite. I decided to go true to size and it fits perfectly.
The reinforced heel solves my issue with their predecessor. Teamed with improved lacing, it locks your foot nicely giving this sock kind of feel. It's like running barefoot except the pain factor is eliminated.
Upper
The Flyknit upper makes this shoe really comfortable. It is also extremely lightweight. We are talking here approximately 190 grams give or take for my size. That is just another level.
If you look closely at the upper, especially on the sides, it is literally see-through. The Flyknit breathability on this sneaker is exceptional. However, it is a plus and a minus at the same time, depending on the weather.
You would appreciate it while running in the summertime, cursing the feature during the colder times. If you wear them casually, you may consider wearing socks. The holes in the Flyknit are also quite big.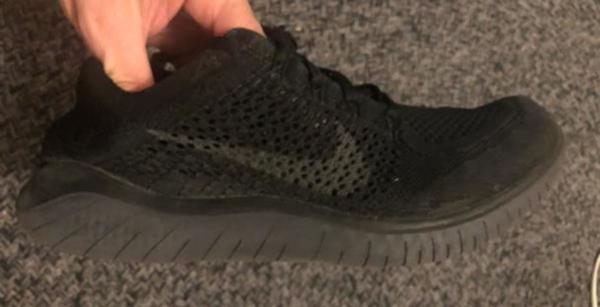 In terms of support, there is not much of it as you can see below, you can basically flex down all upper without any resistance. Easy to pack when you are traveling.
Dynamic Flywire cords and improved heel cap combined with extreme flexibility of the Flyknit keep you snug and comfortable no matter what you are up to.
Regardless of what shape of foot you have, it will adjust for that perfect glove fit. As soon as I tried that beauty in the store, I just felt an instant connection.

Midsole
The Nike Free RN Flyknit 2018 midsole uses a newer version of Phylon which is softer than before yet firm providing flexibility for that minimalist feel.
From what I experienced in the past, the foot is not well supported. But the improved midsole gives you a decent amount of protection. The Phylon foam can also handle a certain amount of impact.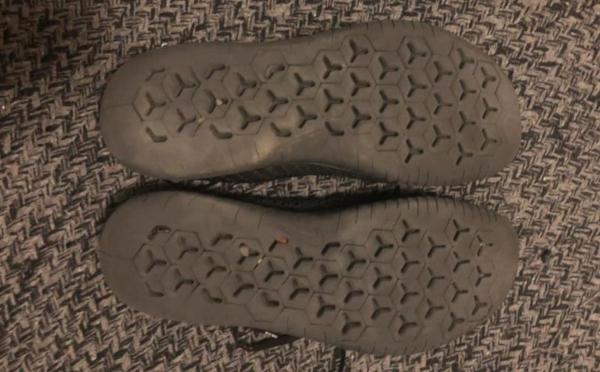 Nike is honest about this shoe in advertising that it is a great short distance performer. The design, however, is not meant for extreme terrains and conditions. It would only suit best on roads and flat surfaces.
I like to think of them as an easy-going casual shoe that you can have a short run. The versatile shoes have an 8mm drop, 22mm from heel to 14mm at the forefoot.
Outsole
The outsole is made from durable rubber featuring a Tri-star pattern that provides a very nice grip and allows this shoe to be twisted in any direction. However, lots of rock get stuck in the holes, but for me, it is not a big issue.
I had a similar situation with the Nike LunarEpic, but it never bothered me. If you won't use them as every day running on the trail they will last for a long time.
Performance
We are getting two types of cushioning here. One a bit softer, located just under your foot for the comfort and the second, stronger and firmer for that bounce giving the shoe better performance and durability.
At the end of the day, it is a great shoe, as long as you don't put too much pressure on them. They are meant for short road runs. Be gentle with them and they will serve you well.
I would not go longer than 10km myself. It would just be hard on your foot and the shoe. It is no doubt one of the most comfortable my feet were exposed to. It would give you a great ride but probably won't win you a race.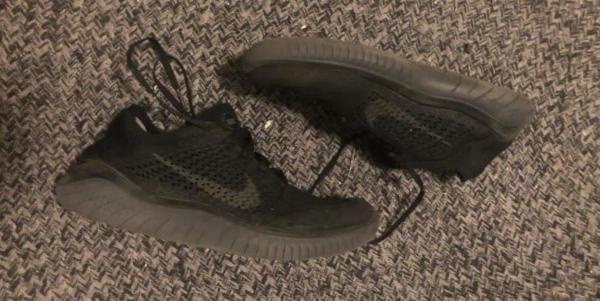 I live in Sydney where it is hot and humid so breathability here is highly appreciated. I would place it in my rotation as a steady training shoe for a relaxing run or gym training.
You can run fast in them as they got a nice bounce and are light as a feather. If you are traveling, this is also the pair to bring.
Pros
Lightweight and general flexibility
Extreme breathability of the Flyknit
Amazing, comfortable feet experience
You can use this shoe for anything
Appearance – it a stunning low-profile shoe
Big improvement from the previous version
Cons
Stuff gets into grooves on the outsole
Not suitable for longer or off-road runs
Not very supportive
Conclusion
To summarize, literally on the week after I got them, I was looking for another similar pair in a different color. They just feel so bloody comfortable and look so great at the same time. They are just great whether you are taking a hike or walk. I even love wearing them while driving.
I have them for a while and so far they do not show any alarming signs of wear and tear. The shoes are more casual than running type but still filled with great modern Nike technology. It could probably beat some of the running sneakers on the market anyway.
Main pointers here are great looks, exceptional fit from day one, and that comfort will blow your mind to pieces. While purchasing, I thought initially that I am paying too much, but now when I know how much usage I am getting for that hard cash, I find it justified.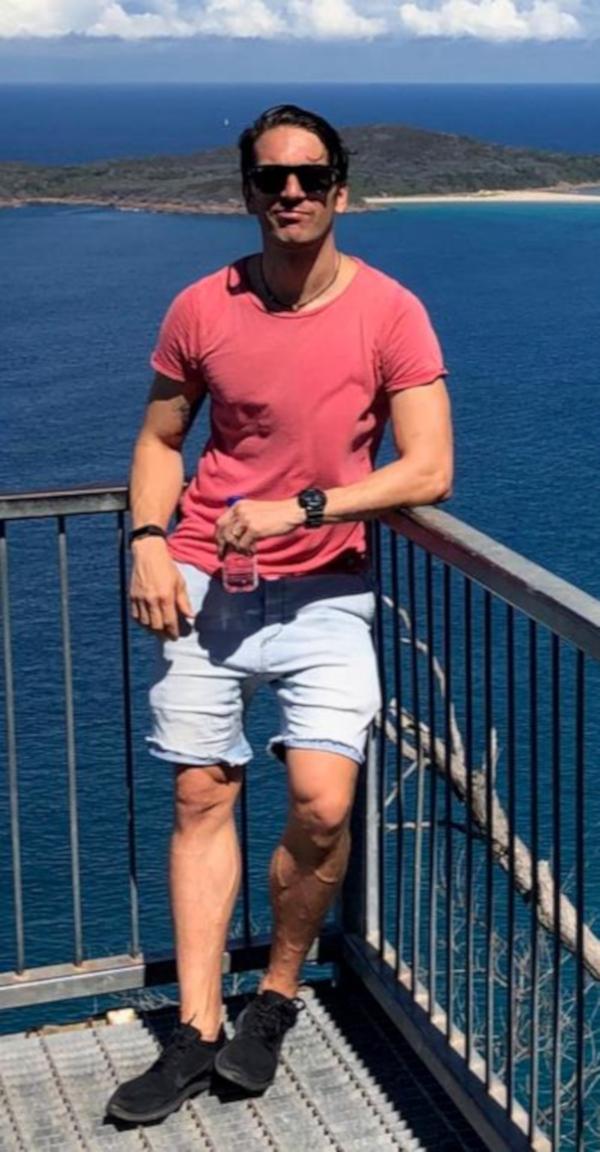 Just look at this happy face after hiking up the mountain. It is highly recommended for anyone really. A runner or an average person will be pleased with this miracle of a shoe. You may refer to it as a shoe of the Renaissance as it possesses many talents.
Good to know
The Nike Free RN Flyknit 2018 now uses a Tri-Star pattern outsole to replace the auxetic structure found in the 2017 version. It helps the foot to expand naturally without compromising cushioning.
The Spandex laces are utilized in the shoe. It aims to create a more personalized fit to suits the preference of the runner.
The Dynamic Heel Fit System has been updated. It hugs the ankle and heel to promote a snugger fit.
The outsole section of the Nike Free RN Flyknit 2018 utilizes the Tri-Star pattern, which is also used in some shoes from Nike. It allows the foot to expand naturally without sacrificing its lightweight cushioning and protection. It provides additional traction as well.
Inside a slightly firmer carrier system is a soft Phylon foam core. These features of the shoe make up the Co-molded midsole. This component of the shoe offers additional protection and comfort. It provides the runner with a hassle-free running experience.
The upper is made up of a one-piece Flyknit material which is essential in conforming to the natural shape of the foot.
Its updated construction features a more open weave which results in the better flow of air. It also provides adaptive support and a glove-like fit.
The shoe's laces and the feather-light Flywire cables work together to provide the runner with a more customized fit. These little cables are strategically designed to tighten the laces quickly. As a result, the rest of the upper unit tightens as well. Runners are in control of adjusting the amount of midfoot lockdown by loosening or tightening the laces depending on their needs.
A snugger fit is encouraged by the Spandex laces. It provides a locked-down fit without any feeling of restriction.
The updated Dynamic heel fit system is integrated into the Nike Free RN Flyknit 2018. It stretches and hugs the ankle and heel area to deliver a more secure fit.
Utilized in the shoe is the Anatomical heel. It uses a rounded construction to encourage a more natural heel-to-toe transition. This component of the shoe is made to roll with the ground as the runner strides.
Textured and solid rubber segments are integrated under the heel and toe sections for added durability in the high-wear areas.
Rankings
How Nike Free RN Flyknit 2018 ranks compared to all other shoes
Popularity
The current trend of Nike Free RN Flyknit 2018.