Verdict from 11 experts and 100+ user reviews
6 reasons to buy
Many people considered the Nike Free RN 2018 a comfortable running shoe for daily runs and walks.
Numerous purchasers lauded the lightweight nature of this running companion.
Its flexible construction gathered many fans who prefer a more natural underfoot sensation.
A lot of reviewers welcomed the breathable upper unit.
The heel section of the upper firmly secured the foot in place, according to some testers.
Several runners stated that the forefoot section was broad enough to accommodate the natural spreading of the toes.
3 reasons not to buy
Traction wasn't very efficient on wet surfaces, some people noted.
Small stones tended to get stuck in the grooves of the outsole, most consumers complained.
Part of the collar came up too high, according to a tester. He commented that it rubbed against the skin of his ankle uncomfortably.
Bottom line
Many people were appreciative of the Nike Free RN 2018. As befits a Nike Free shoe, it is a low-profile and flexible one. As light and minimal as it gets, the trainer will keep the foot nimble on sprints and short runs. It can go longer distances but not recommended for over 10K.
Tip: see the best running shoes.
Our reviews
Shoe shopping is made easier when you find a good-looking pair of fresh, new Nikes posted for sale for half of their retail price. When I saw these Nike Free RNs, I jumped on the offer and went immediately to pick them up from a local seller.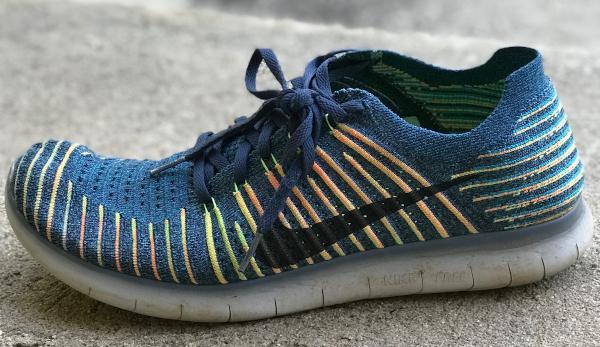 At first glance, I was confident that I had made a bold choice (as far as looks go, at least). The shoes' minimal design was complemented wildly with a bright neon pattern over a greenish-blue knit.
To me, this seemed to be an ideal trainer that would snuggle up on my feet and enable me to put in short-distance runs on the regular.
When I first slipped the shoes on, I was doing so blindly. I had no idea if they had a neutral support structure or if it was the right heel-to-toe drop for me. But, they fit and felt great! It turns out that they were indeed a great find.
Contrary to the belief of many, I feel that Nike's runners fit true-to-size more often than not, and that was the case with this pair.
Style
It is easy to tell that this shoe was designed with the intention that the wearer would feel as natural as possible on their feet. Aesthetically, this translates to a minimal design covering a construction that is built for what I might call "thin comfort".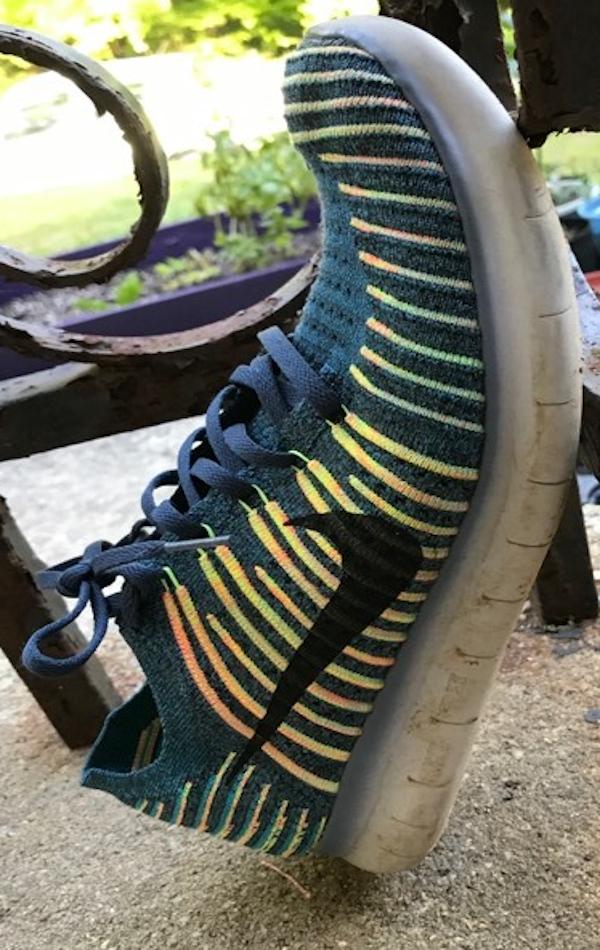 My wife always comments that it looks like I'm "wearing two pairs of socks" when I put them on because the uppers are made of a thin knit material that flexes and pulls just about as much as a pair of socks would.
I haven't used these shoes solely for running. When I wear them out in public, I can't say that I get a ton of compliments on them.
However, I feel great in them—both from a confidence standpoint and from the perspective of my level of comfort.
Performance
As a running shoe, the Nike Free RN 2018 is a tricky one to judge. I have a lot of criticisms for it—most notably that the design is a bit too minimal for me, and that the soles don't provide much cushion at all.
I do also have a lot of praise for the shoe; walking around in them feels comfortable, and they hug tight but not overbearingly on my feet when I run.
Though I'm conflicted in how I want to critique this shoe, I overall have had a positive experience with them in over 100 miles' worth of runs with them.
Here is a full list of what I feel are the pros and cons of wearing them on runs:
Pros
Flexible upper that still hugs tight
Minimal design that is easy to slip on and off
For the intent and purpose of this model, it does provide a "natural" feel
Cons
The "natural" feel (to me) isn't anything to write home about
There is little cushion in the sole of the shoe
Minimal amount of response/no propulsion
The outsoles wear quickly (discussed below)
The Nike Free RN 2018 has become a staple running shoe in my short-distance diet simply because it is just good enough. I long for the day when I can make these a pair of walking shoes and never use them for running again.
That doesn't translate to "this is a bad shoe", necessarily. I just personally think that there are probably better options out there if performance is your top priority.
Durability
I haven't been impressed by the durability of the Nike Free RN 2018. Though the comfortable upper knit is still strong and flexible, making it as comfortable as the first day that I put the shoes on, other parts of the shoe have not held up so well.
The greatest visible example is the outsole. Nike has used this thinnish material often in many of their low-profile shoes, much to the chagrin of the shoes themselves.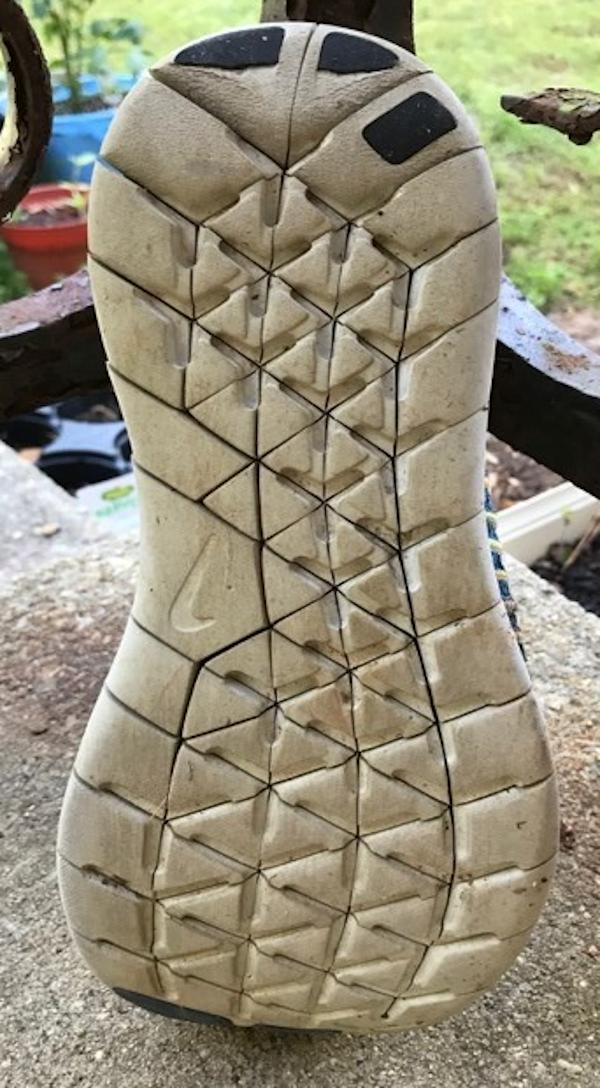 I've only logged a little over 100 miles in these shoes, and those outsoles have worn themselves out (or torn off completely).
The midsole has kept its shape well, but I fear that I will lose traction fast as that outsole wears itself thin.
I don't see myself using these shoes for more than 50-100 miles' worth of running, and since I have a new pair on the way, I don't even plan to use them that much.
Lasting impressions
These Nikes don't hold a special place in my heart, but they have helped take the tension off my primary pair of running shoes, and for that, I must thank them!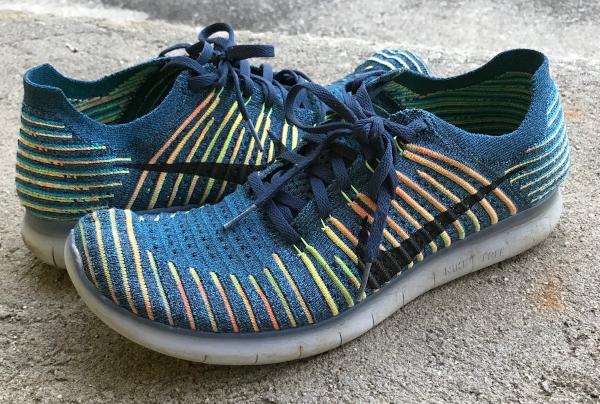 They look stylish, and they really are comfortable for daily use, but I'm ready to retire them from their duties as running shoes.
Conclusion
The Nike Free RN 2018 isn't a shoe you should consider if you want something responsive or cushioned, because it doesn't provide either (and was never intended to do so).
Perhaps I'm just not a "natural feel" type of shoe-wearer. Yet, I really feel that from an objective standpoint that these shoes are best used casually.
As a running shoe, they leave me wanting much more.
The Nike Free RN 2018 was love at first sight…well not exactly. I had never run in a pair of red shoes before (at least it won't show the dirt!), but they were extremely comfortable when I tried them on, even on a concrete floor.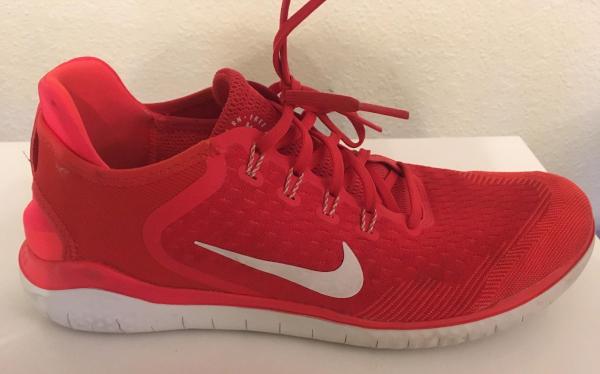 I used to kid my wife about her red Nike Free shoes. But, in time, the color kind of grew on me. It's still a tad bright for my taste, but my kids love them on me!
My first exposure to Nike RN line was the Nike Free RN Motion Flyknit 2017, which was comfortable and included a higher elastic band that ran up into the ankle.
The shoe struck me as a total breakthrough in running shoes, and they felt great on my feet. The radical design included a large eye-catching velcro strap that made me a little self-conscious when I wore them out in public.
The real test came when I took them outside on the roads. While the shoe was comfortable, it did not provide the kind of lateral stability I need for my calf, which was recovering from an injury.
Over time, I had to stop using them, and my calf recovered. I hoped that the 2018 model would offer better stability that would not aggravate my calf.
Like the Flyknit 2017, the 2018 was also very comfortable to wear around the house. I found them to be much more comfortable than the sandals I usually wear around the house (our entire house is wood floors).
Eventually, I was ready to take them out on the roads—where the results were a little mixed. For the first mile, my feet loved the traction and control. The low stack height gives you excellent ground feel.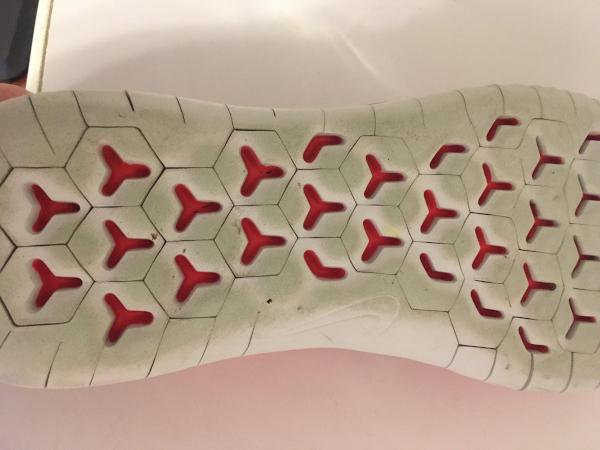 However, after about mile 2, my calf and lower leg definitely had a different story to tell. While these shoes appear to have a secure midfoot lockdown (something that plagued the Altra Escalante), I think it lacks the overall lateral stability of a shoe like the Saucony Kinvara.
By the third mile, my feet started to say "That's TOO much ground feel...give me more cushioning!" I think these can be great shoes for a nice 20-minute jog, but I cannot see using them on longer runs of 5 miles or more.
Pros
This shoe features one of the most comfortable uppers I have ever worn. It fits like a glove, and I would not change anything about it. The laces were also nearly perfect—not too long, and slightly stretchy.
Another pro is the low stack height, which can be hard to find in today's shoe market. The stack height is actually so low that when I ran on my normal route, I caught the end of the sidewalk, which had never happened before.
Another plus of the RN 2018 was the heel, which includes an elastic band strap that goes through a loop. It actually works as a handy pull tab, which allows you to quickly pull the shoes on and off, especially if you want to use them as indoor-only shoes.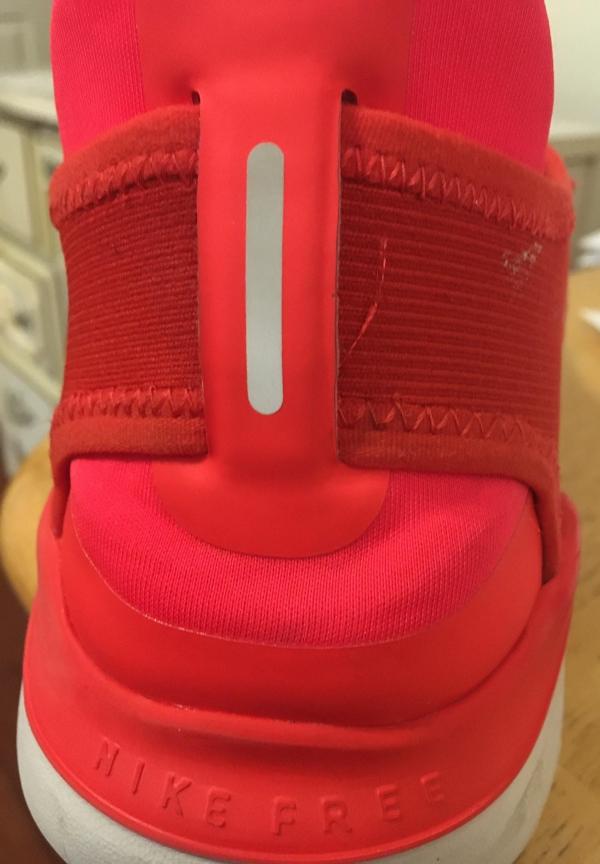 Cons
As you might expect, the unique bottom easily traps small rocks and gravel and did so every time I ran in them. I have stayed away from trails, but I did sometimes run on soft ground on the side of the road.
My feet immediately noticed the difference, which made me wonder how they would fare as a trail shoe. However, it was difficult to clean them, because the dirt would become clogged deep inside the groves.
In the end, this is a perfect shoe if you are going to spend all day on your feet. Nike has made some great innovations and improvements in this line of shoes but still needs a little more work before it can work as a daily trainer.
Good to know
The Nike Free RN 2018 is an update to an ongoing series of running shoes that are designed for the neutral pronator. The upper now has a circular-knit exterior with spandex to accommodate a smooth and flexible coverage. The back portion of the façade looks unique because it has a stretchy strap that supports the actual padded heel unit.
The underfoot platform of this road running shoe features a foam core that is responsive. A carrier unit surrounds this central piece, keeping it intact and undisturbed by the external forces. A foam insole adds a bit more cushioning to the underfoot.
Flexibility is given to the foot via the Tri-Star outsole configuration, as well as the laser-sipes that go up to the perimeter of the platform. These design elements enable fluid cushioning and smoother transitions through the gait cycle.
The Nike Free RN 2018 has a standard running shoe length. It can accommodate the usual choices of consumers when it comes to size. The available width for the women's version is B – Medium. The men's iteration features the D – Medium variant. This running shoe mimics the natural curve of the human foot by having a semi-curved shape.
The outsole unit of the Nike Free RN 2018 makes use of ground-contact ethylene vinyl acetate, which also makes up the majority of the midsole. It has slight protruding parts and dots to deliver surface traction.
Holes are patterned on the center part of the outer sole's surface. These holes are shaped like three-pointed stars, hence the name Tri-Star. Their purpose is to make the epicenter of the platform more flexible.
Laser siping is also integral to this model. The EVA exterior has thin cuts that are traced horizontally and diagonally. These incisions further heighten the bendability of the entire sole unit.
The Nike Free RN 2018 has a midsole that's composed of two foam units that are co-molded together. The first one is Phylon, which serves as the core. This compound is designed to offer lightweight and responsive cushioning.
Surrounding the foam-nucleus is a carrier unit that's made of injected EVA. The purpose of this ground-contact material is to maintain the structural integrity of the Phylon center, as well as deliver durable cushioning to the runner.
A foam insole adds a bit more cushioning for the underfoot. The wearer can remove or replace it with a custom insert if they so desire.
Circular-knit fabric makes up most of the Nike Free RN 2018's upper unit. It's created to be form-fitting and breathable. Small ventilation slices are patterned on its surface to encourage the flow of air into the foot-chamber. Part of it is also made out of spandex, which is stretchy and free of skin irritants.
While this shoe has a traditional padded heel for foot security, additional lockdown is offered by a wraparound strap that is fundamentally the extension of the fabric-spandex combo. This stretchy band is secured by a loop that slightly protrudes from the padded back section.
The tongue and collar are lightly padded. This construction makes sure to keep the foot in place and prevent it from wobbling.
A smooth textile lines the interior sleeve. The goal of this material is to maintain a pleasant wrap that's free of irritation. It even allows for sockless running sessions.
Strips of 3M are added to the tongue unit, the heel, and the lateral side. These reflective slivers help in making the runner more visible at night.
The traditional lacing system allows the wearer to tighten or loosen the fit in conjunction with their preferences.
Nike's dynamic fit system is at work in the Free RN 2018. Flywire cables loop around the shoelaces, profoundly affecting midfoot security in the process. When the laces are adjusted, the wires react accordingly, thus enabling a customizable coverage.
Rankings
How Nike Free RN 2018 ranks compared to all other shoes
Popularity
The current trend of Nike Free RN 2018.