We confirmed that the Nike Air Zoom G.T. Cut 2 is the ultimate shoe for those who are fond of a generous, plush, and bouncy type of cushioning. But it might just as well be a detractor for players in need of strong lateral support because of all that cushioning.
Pros
Excellent impact protection
Plush cushioning
Consistent traction
Good for outdoor court
One-to-one fit
Breathable upper
Strong laces
Cons
Lacks support and stability
Bottom-heavy
Little court feel
Tongue shifts
Who should buy the Nike Air Zoom G.T. Cut 2
Just like the original GT Cut, this shoe is part of a trio of shoes that target different key basketball functions. The Nike Air Zoom G.T. Cut 2 is most suited for the following:
people who play really low to the ground
players who are shifty and do a lot of quick footwork
wearers who appreciate a snug, one-to-one fit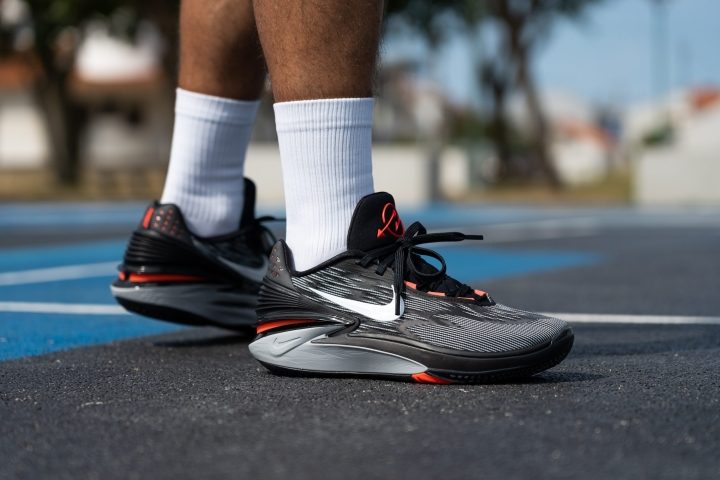 Who should NOT buy this basketball shoe from Nike
The Nike Air Zoom G.T. Cut 2 is not for players who need very high levels of support and lockdown. And if you have weak ankles or just want a shoe that moves as one unit, go for the Nike KD 15 or the Nike Zoom Freak 4 instead.
Both of these alternatives are also lighter than average, solving another problem with the G.T. Cut 2 - its weight.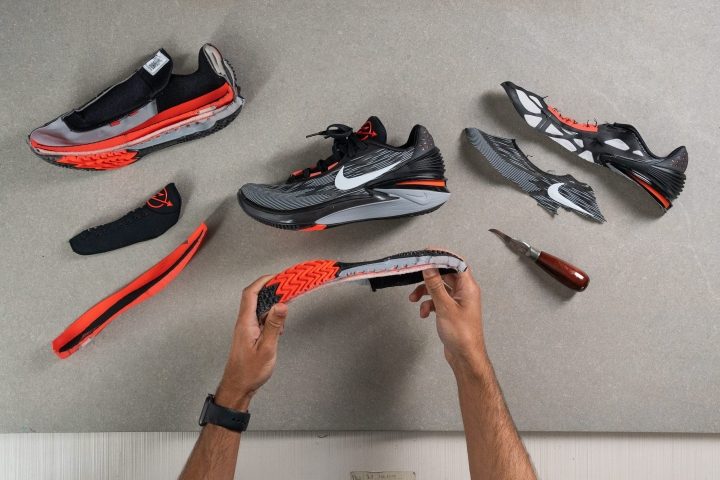 Really plush and bouncy
We are thoroughly satisfied with the very plush ride and the overall cushioning system this shoe offers. We believe that this shoe has one of the best bounce and impact protection on the market.
The cushioning setup on this Nike shoe is VERY complex. It includes the following components (listed as they appear in the shoe from top to bottom):
a plush React drop-in midsole right underneath the foot (red)
a small Zoom Air unit in the heel of that drop-in midsole (small white piece)
a carrier made of firmer Phylon foam (grey)
a full-length Zoom Strobel (white)
a shank for stability (dark grey)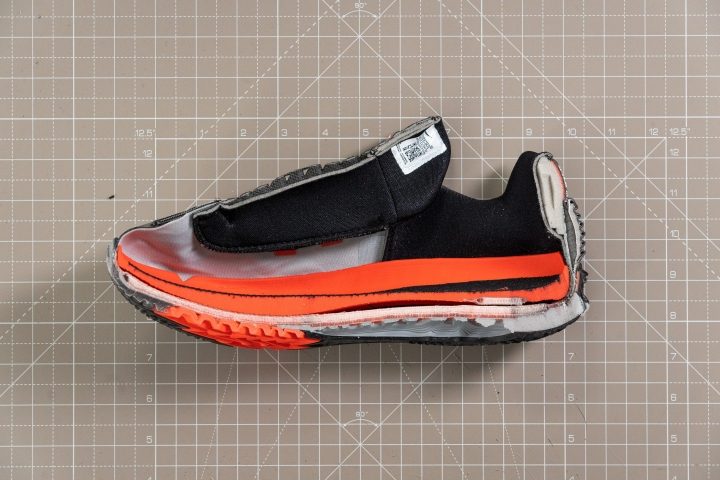 The drop-in React component is very different from a regular shoe insole. It is a thick foam layer (8.6 mm in the heel) that provides primary cushioning in the Air Zoom G.T. Cut 2.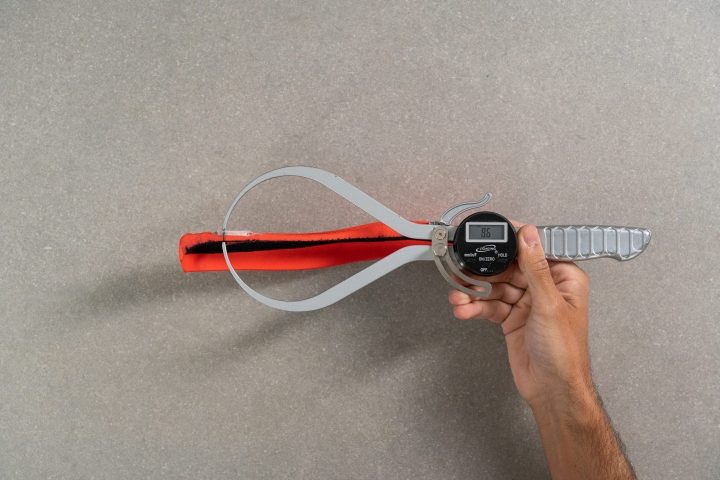 With the help of a durometer, we found that the React drop-in midsole is very soft indeed. This foam is even 39% plusher than the average of our lab-tested shoes!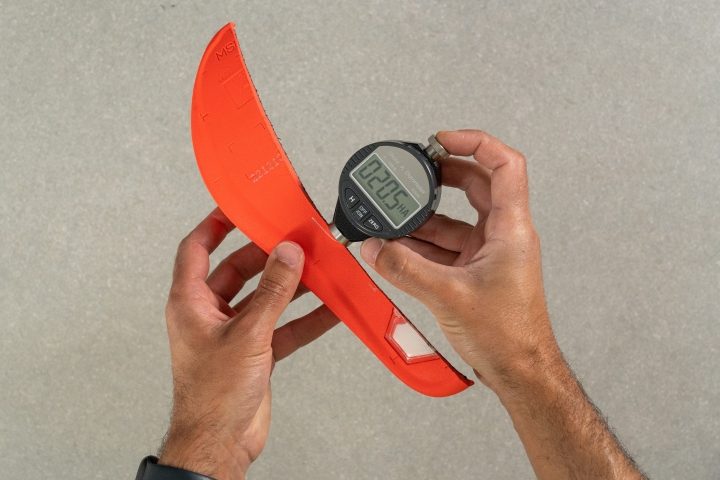 The plush React is contained inside the firmer Phylon foam. Being 57% firmer, it acts as a carrier to prevent wobbliness.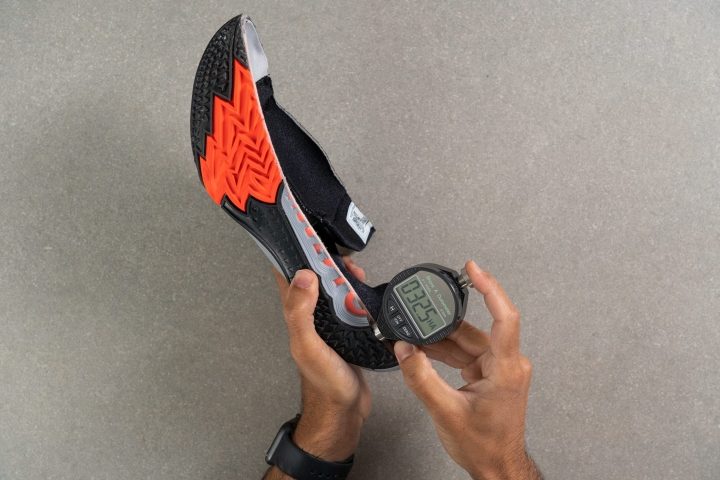 Disclaimer: We repeat the durometer measurements four times and take down the average, excluding any outliers. The photo above shows one of the measurements.
Stability is not where the G.T. Cut 2 shines
Unfortunately, Nike seems to have gone too far with the plushness and complexity of this shoe's cushioning.
We discovered that G.T. Cut 2 is more advantageous for footwork rather than air assaults and jumping due to the shoe's cushioning.
What does this mean? While the drop-in midsole and the malleable upper bestow comfort and more freedom, they also result in unnecessary shifts during strikes and takeoffs.
Because of this, we consider stability a touchy subject with the Air Zoom G.T. Cut 2. There is way too much going on underfoot. And while some players might actually prefer this kind of setup, people with weaker ankles should steer clear of this Nike shoe.
We felt like we were too high up off the ground because of all the cushioning layers.
But in reality, the G.T. Cut 2 has an average stack height for a basketball shoe. In the heel, we measured it at 27.8 mm (average: 28.7 mm), and in the forefoot, it is 22 mm thick (21.5 mm).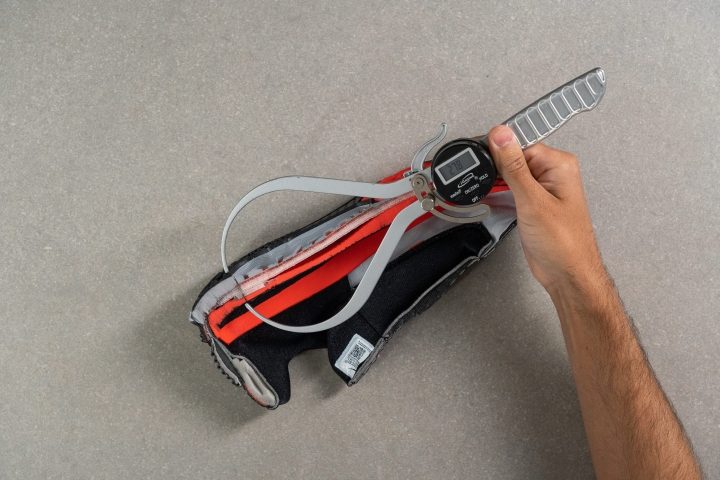 Foot containment may not be optimal either
A comfortable and malleable upper has its price. For the Nike Air Zoom G.T. Cut 2, having such an upper meant that support is not at the ideal level. While it's not totally absent, we definitely feel the upper swaying with our movements, especially when we start to get more intense and aggressive.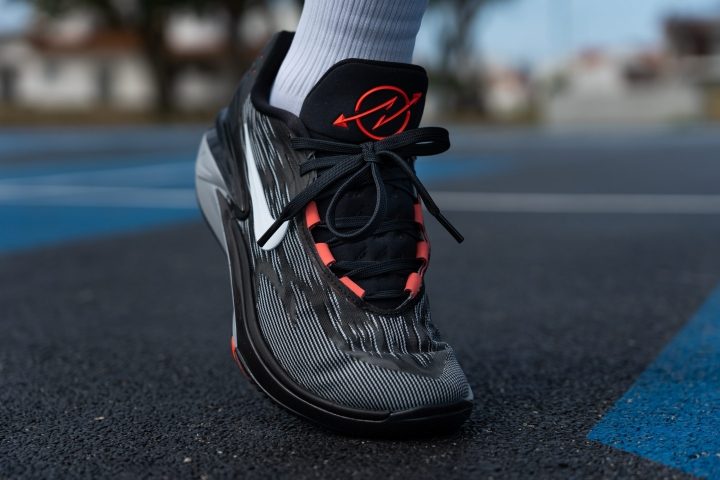 On the bright side, the external heel counter plays its part in holding down our ankles. We rated its stiffness as 3 out of 5 (where 5 is the stiffest).
Grip is what you can trust in the Nike G.T. Cut 2
As long as the outsole rubber gets the warming up that it needs, we observed that it is able to grip every surface pretty much equally.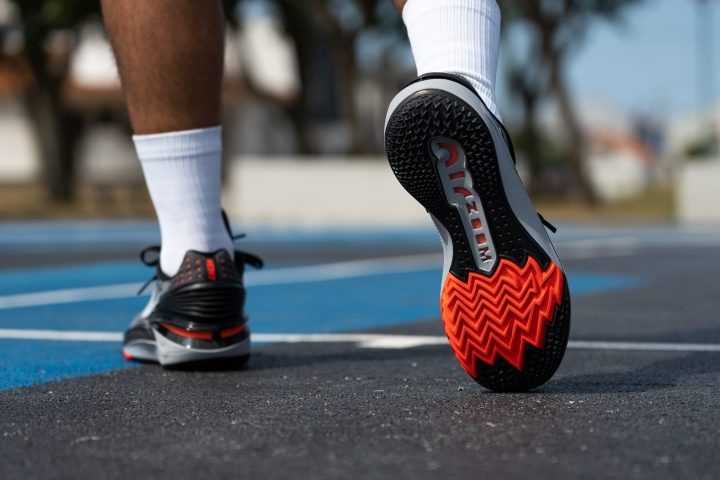 We verified that the traction patterns sculpted in the outsole are truly ideal for fluid footwork, as they did a great job of biting the floor, especially when the court is clean and dust-free.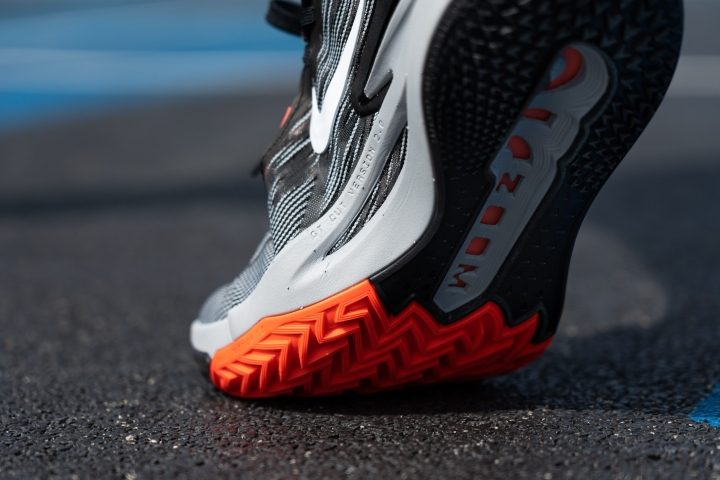 It might be bottom-heavy...
But the downside to the shoe's pronounced traction patterns is that there is so much stuff going on at the bottom part of the shoe. We felt like much of the shoe's weight was concentrated in that area. Due to this, we warn players who do a lot of runs, as they may not have that much fun while wearing the Nike Air Zoom G.T. Cut 2.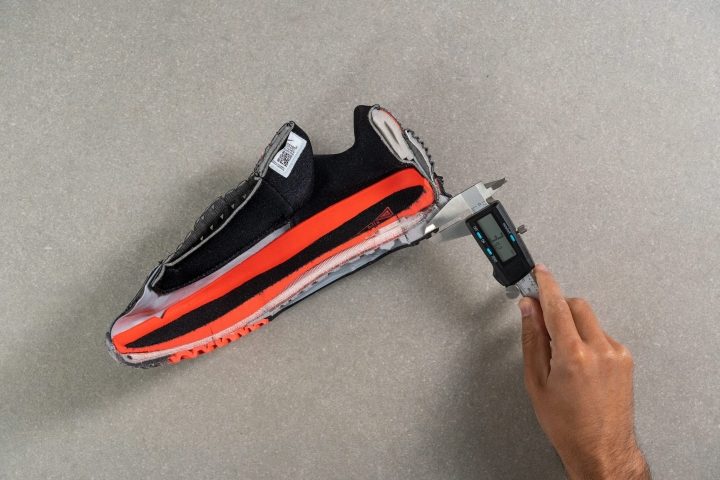 Measuring the outsole rubber, we found that its thickness is average in the heel. But in the forefoot, the coral-colored rubber gets twice as thick! This is a very burly outsole design for a basketball shoe.
...but it's outdoor-ready!
But that large helping of rubber is not only there to make the shoe heavier. Using a durometer, we measured the hardness of this rubber and found it to be firmer than 50% of our lab-tested basketball shoes!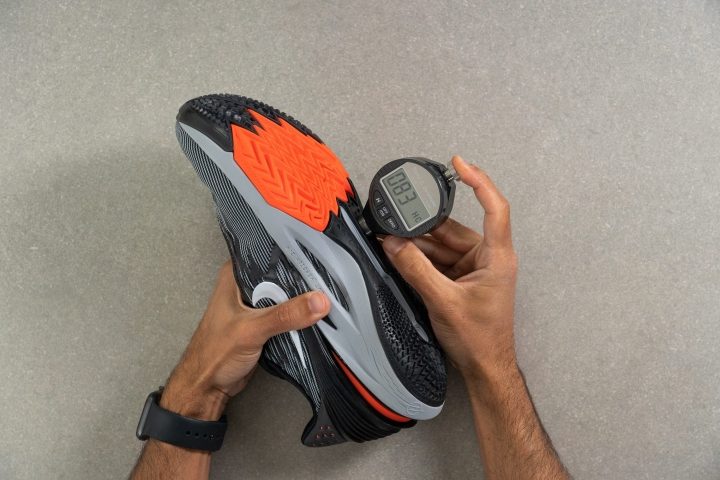 The G.T. Cut 2 is definitely ready for some outdoor wear and tear. Just be careful not to toe drag too much.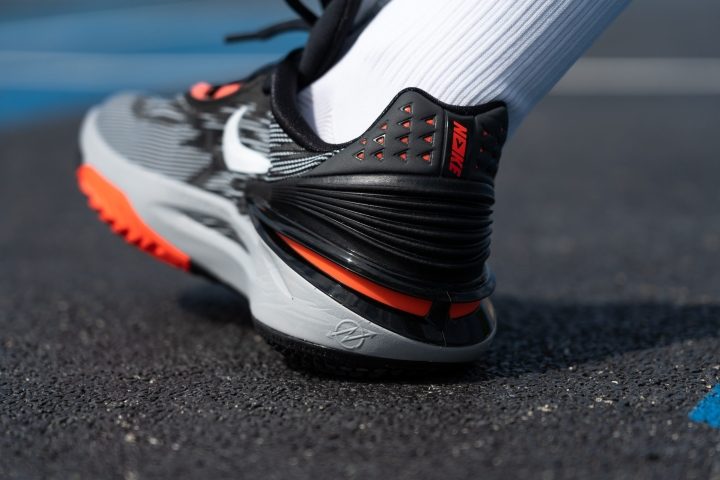 Avoid toe dragging
The shoe's TPU threads got us really excited at first. Especially when we looked at them through a microscope: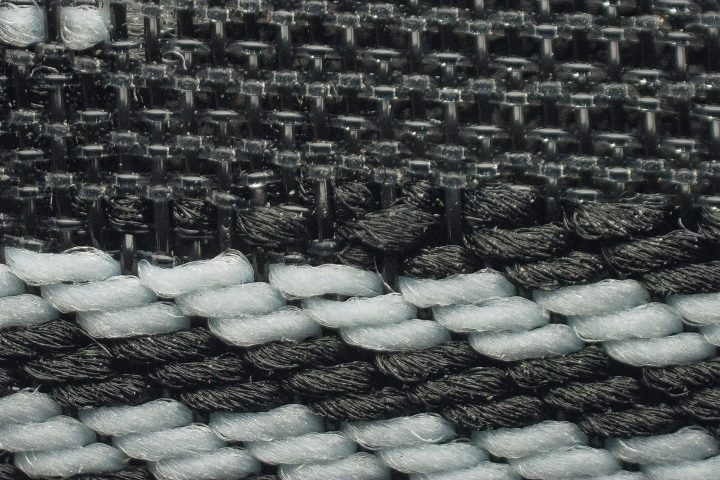 Compared to many other basketball shoes that we've tested, this type of material looked promising. But unfortunately, it never stood up to our durability test.
The shoe ended up with the same hole as a regular non-protected knit upper.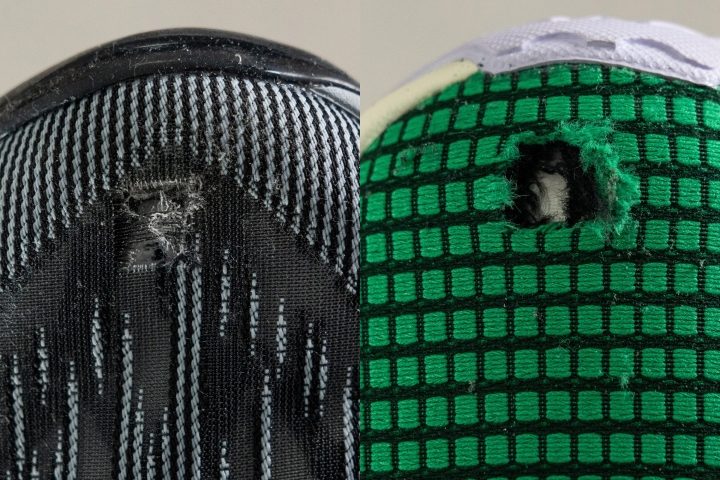 Nike G.T. Cut 2 (left) got damaged in the same way as the cheaper Nike Lebron Witness 7
Breathability and in-shoe comfort are guaranteed
Because the upper is a little bit more expandable, it does not feel constricting at all. We found that the upper has more give, so it is able to accommodate different foot shapes and sizes. The materials used in the upper are also really breathable and feel really nice on our feet.
Equipped with a smoke-pumping machine, we tested the shoe's breathability by how much smoke was able to pass through its upper. On a 1-5 scale where 5 is the most breathable, we rated this Nike shoe as 3. Not like it's perfect for a hot summer day but it is a little more ventilated than basketball shoes on average (3.8).
Nike Air Zoom G.T. Cut 2 (left) vs. the less breathable Nike Lebron NXXT GEN (right)
Special shoutout to the strong laces
We can't help but notice that the laces of the GT Cut 2 are super strong. We didn't have problems with them getting untied during motion.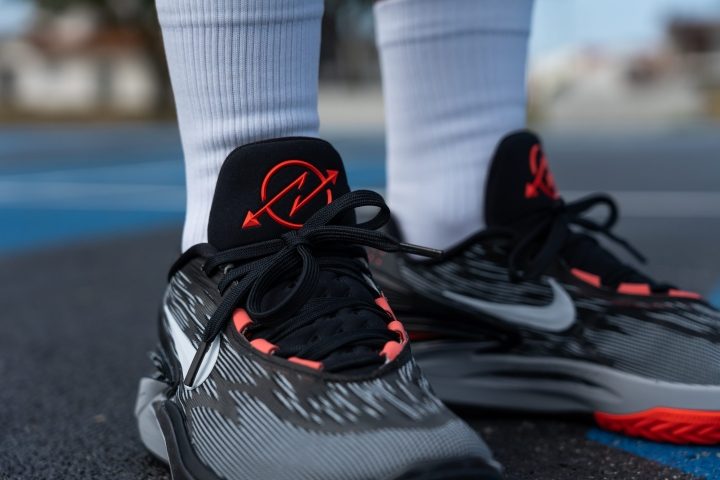 Enjoy the 1-to-1 fit of the Nike Air Zoom G.T. Cut 2
In our games, this pair didn't feel narrow and constricting. As a matter of fact, even the broad footers among us testers were able to go true to size. When it comes to inserting orthotics, we thought that it wasn't the most accommodating, though.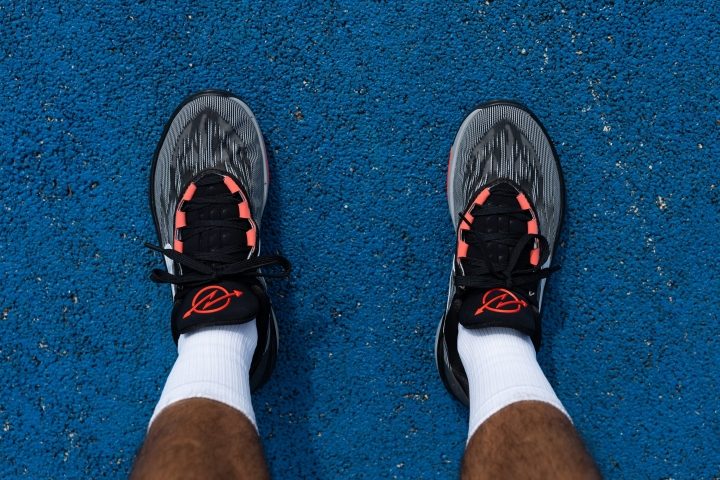 Looking at the widest part of the forefoot, the G.T. Cut 2 is a few millimeters wider than average. And near the big toe, it is just about the same as the average. We can confirm that this basketball shoe has a solid medium width with a little bit of give.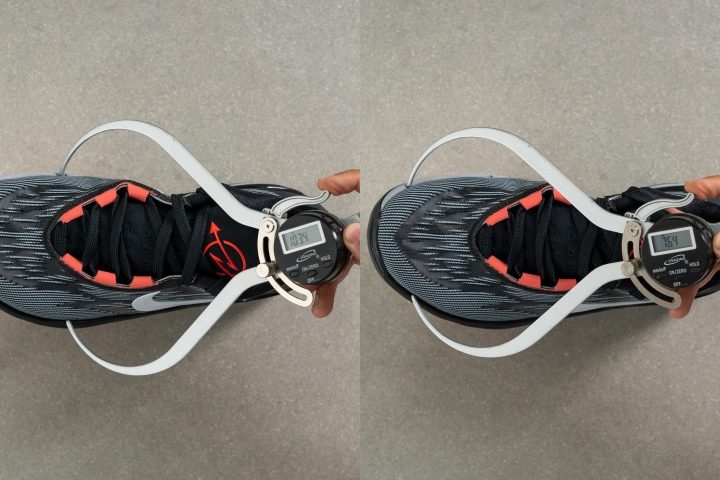 The tongue wouldn't stay locked
We were frustrated with the shoe's tongue which tends to fold on the edges and slide to the side. A kind of gusset would have been nice.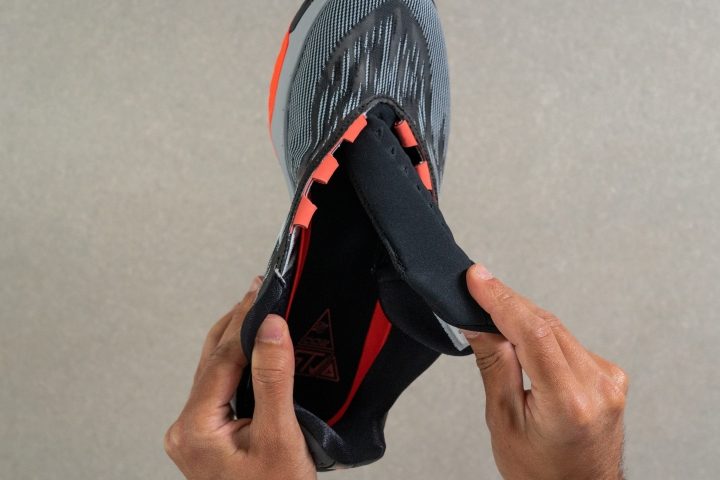 Complete lab-specs overview
Nike Air Zoom G.T. Cut 2
Average
Whole shoe
Weight (g)
399*
386
Drop (mm)
5.8
7.2
Flexibility of the shoe (N)
32.2
43.3
Longitudinal flexibility (1-5 scale, 5 being the stiffest)
3
3.8
Torsional flexibility (1-5 scale, 5 being the stiffest)
4
4.3
Upper

Smoke test (5 being the most breathable)

3
2.6
Thickness - Tongue (mm)
8.6
9.5

Width Upper - Forefoot: Max width

103.4
100.0

Width Upper - Forefoot: Big toe

76.4
76.9
Flexibility of the heel counter (1-5 scale, 5 being the stiffest)
3
3.8
Tongue: gusset type
none
-
Heel: pull tab
none
-
Midsole
Width Midsole - Forefoot (mm)
114.5
112.2
Width Midsole - Heel (mm)
86.3
89.6
Stack - Forefoot with insole (mm)
22.0
21.5
Stack - Heel with insole (mm)
27.8
28.7
Durometer Midsole Heel (Room temperature) (HA)
32.9
28.5
Outsole
Outsole thickness (Heel) (mm)
3.9
3.8
Durometer Outsole Heel (Room temperature) (HC)
83.4
81.8
Insole
Insole Heel Thickness (mm)
8.6
5.1
Insole: removable
yes
-
*Disclaimer: The weight of the Nike Air Zoom G.T. Cut 2 was originally measured in a men's US 8.5 (386g per shoe). To adjust the weight to a US 9, we used our proprietary formula which is based on the weight measurements of over 40 shoe sizes.