4 Best Nike Hiking Running Shoes in 2023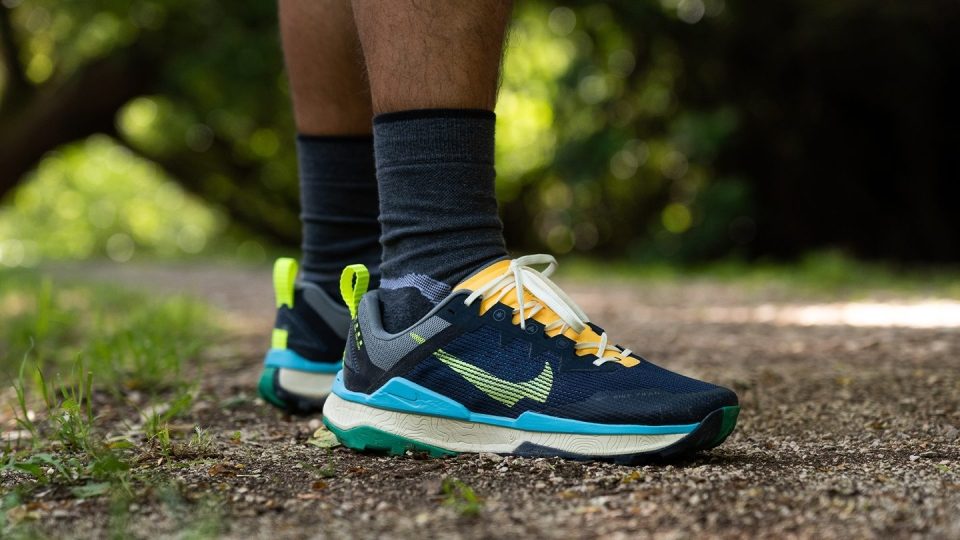 We earn affiliate commissions at no extra cost to you when you buy through us. Why trust us
If your next hikes involve summiting mountains and encountering technical terrains, shallow streams, and shrubberies, you may need a reliable pair of hiking shoes. If you're out searching for the right fit, we have tested various All Conditions Gear (ACG) hiking shoes from Nike for you to consider, as they can double for urban hiking and outdoor adventure.
From waterproof ACG models to lightweight trail kicks, we discovered that the Nike hiking shoes have gained the trust of many when it comes to great quality, reliability, and comfort. The Swoosh offerings in the hiking category include the Nike ACG Air built for the great outdoors with an emphasis on comfort, protection, and style.
After field and lab testing all the shoes in our inventory and sifting through the data, we then rank all the best Nike hiking shoes and provide you with our in-depth reviews. Check them all out below.
Comparison of the 4 best Nike hiking running shoes
| | | | | | |
| --- | --- | --- | --- | --- | --- |
| Best | | | | | |
| CoreScore | | | | | |
| Users rating | | | | | |
| Experts | | | | | |
| Best price | | | | | |
| Ranking | | | | | |
| Popularity | | | | | |
| # of colorways | | | | | |
Nike has been a powerhouse in the footwear industry since the beginning of time. Or at least it feels that way. That's because Nike has continually designed, tested, and manufactured purpose-built footwear for a wide selection of activities, like performance footwear for sports, running shoes, and everyday shoes for everyday errands.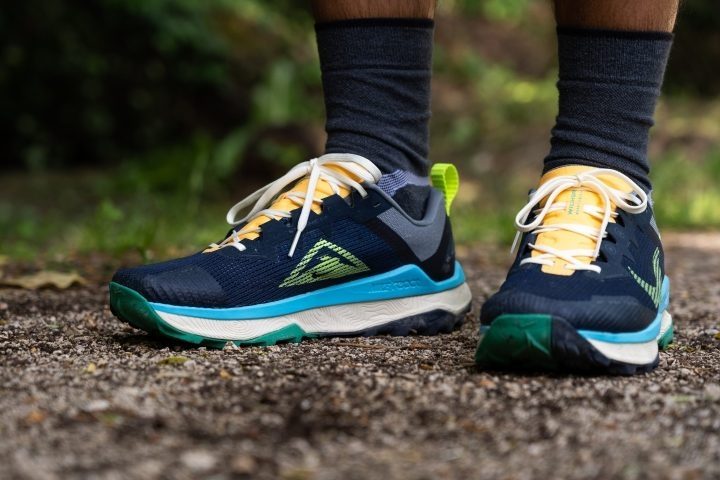 So it wasn't surprising when Nike entered into the outdoor footwear industry. As you'd expect Nike's lineup of hiking shoes seems to making customers happy.
Nike "All Condition Gear" Shoes
Nike All Condition Gear (ACG) is Nike's special foray into footwear and apparel for outdoor activities. The motto for ACG gear is "Designed, Tested, and Made on Planet Earth. For Outdoor Use."
Regarding footwear, Nike has a brand new line of fresh ACG hiking shoes, all of which are specifically designed to take you places outside and accompany you on adventures. Let's take a quick look at some of the core components of Nike ACG hiking shoes.
To start, I've categorized the ACG lineup into two categories– hiking boots and shoes and slip-on shoes and sandals.
ACG Hiking Boots and Shoes
The Nike ACG lineup has a selection of high-top hiking boots, like the ACG Air Zoom Gaiadome GORE-TEX and ACG GORE-TEX Mountain Fly.
The ACG Gaiadome GORE-TEX is Nike's rendition of a classic hiking boot. It has a classic lace-up closure system, a robust upper with a high-top collar for ankle support and protection, a grippy outsole for messy off-pavement trails, and a GORE-TEX membrane for waterproofing.
On the other hand, the ACG GORE-TEX Mountain Fly is more like a lightweight hiking shoe. However, it features an integrated high-top gaiter around the ankle to add a little protection and some support while sealing off the shoe's interior from dirt and debris.
The ACG Mountain Fly also has a "low" version without the integrated gaiter called the Mountain Fly 2. The Mountian Fly 2 looks like a traditional low-top hiking shoe. It features lightweight and breathable materials, a foam midsole with an additional shank for support, a gusseted tongue to keep out dirt and moisture, and an outsole inspired by mountain bike tires to give you traction on trails.
In Nike low top ACG hiking shoe collection, they also have the ACG Lowcate. This is Nike's trail-to-town hiking shoe. It features a more "classic" aesthetic that allows it to blend in seamlessly while worn in town.
But it also features a super grippy outsole for ascending and descending on a variety of surfaces like rock, dirt, gravel, and mud. It also uses Nike's Trailframe Technology in the midsole– an integrated shank that protects your feet from sharp objects on the trail and provides more stability on uneven trails.
ACG Slip-On Shoes and Sandals
The ACG lineup of Nike hiking shoes also has a selection of slip-on shoes and sandals targeted toward outdoor usage.
For example, the ACG Moc is Nike's rendition of camping and backpacking-friendly camp-shoe. It features a foam midsole and a drop-in footbed perfect for bringing the plush comfort you are used to at home to camp. And it has a durable and grippy outsole, and bungee closure system for easy on and off.
Similar is the ACG Moc 3.5– a lightweight and insulated version of the Moc, perfect for colder days at camp or for simple errands around town.
Next, is the ACG Watercraft+, Nike's slip-on water shoe. It's made with woven knit cords that allow the shoe to breathe, dry quickly, and facilitate water drainage. And of course, most importantly for water shoes, the Watercraft+ has a sticky rubber outsole that adds traction on various terrain types, whether they be wet or dry.
A lineup of outdoor-centric footwear wouldn't be complete without an adventurous off-road sandal. That's where the ACG Air Deschutz+ comes into play.
The Deschutz+ features a classic 90's aesthetic that looks good on the trail or in town. Plus, it features Nike Air Technology in the heel to give cushioning on bumpy or rocky terrain. And it's made with quick-drying materials in the upper so they're perfect for water-related activities or the unpredicted rain storm.
The ABCs of Nike ACG
We love it when a footwear lineup comes with a backstory. In the case of Nike's ACG footwear, it's about the ABCs.
A- Design, tested and made on planet earth. For outdoor use.

B- Location Based Story Telling

C- Designing with Earth as Muse

D- Product Testing

E- Sustainability

F- For Outdoor Use
Nike Trail Running Shoes
In addition to the already extensive ACG collection, Nike also designs trail running shoes that can easily double for hiking. These include the Pegasus Trail, the Wildhorse, and the Kiger, to name a few.
Core components of Nike's trail running shoes
Light and airy mesh uppers
All of the Nike trail running shoes featured in this article feature an upper constructed with synthetic materials and mesh. A reliance on synthetic materials like mesh helps keep the overall weight of the shoe down. For example, the Nike Kiger is among the lightest trail shoes we've reviewed, weighing only about 10 oz (285g).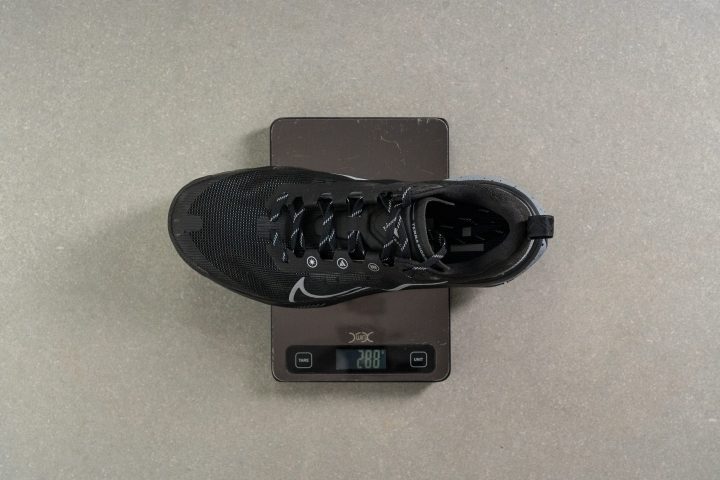 The synthetic mesh uppers also facilitate better breathability. Breathability is critical for trail running shoes because the more a shoe can breathe, the better your feet can ventilate and avoid overheating.
In addition, breathability often translates to quick drying. So even if your shoes get wet while out on the trail, you can expect them to dry quickly when given the opportunity.
Plush EVA foam midsoles
Shock absorption is critical for trail running shoes. Regarding shoe construction, one of the big players in charge of shock absorption is the midsole. Nike trail running shoes come with a super comfy, dare we say "plush", EVA foam midsole.
All of our recently tested trail shoes from Nike proved to be much softer than average. Some of them were even 80%(!) softer than average!! We found them to be exceptionally comfortable for both long-distance running and hiking.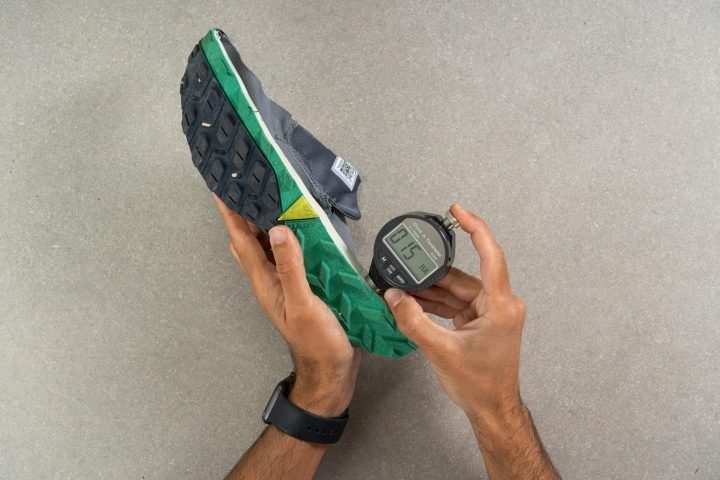 Rock plates in the midsole
Nike trail running shoes don't only feature high-quality cushioning for shock absorption. In addition to the EVA foam midsole, some of their trail running shoes also feature rock plates.
For example, the Wildhorse 8 and the ZoomX Zegama Trail all feature integrated rock plates in the midsole area of the shoe.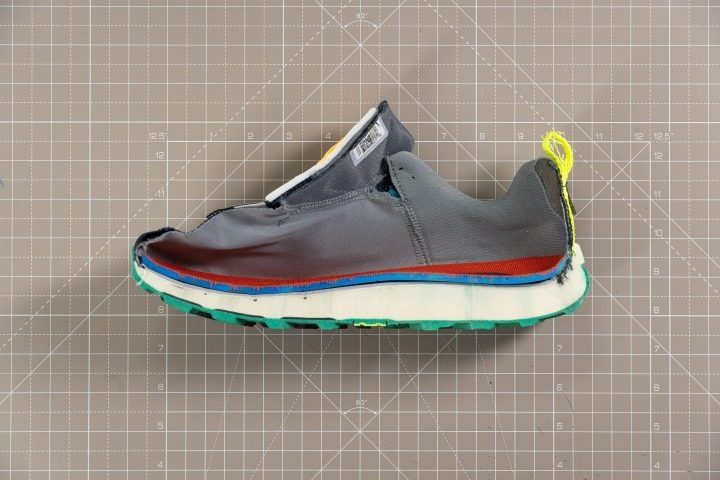 Rock plates are a super helpful addition to trail running shoes. They add support and stability to the shoe. As well as help protect your feet from sharp objects on the trail, like roots and rocks.
So if you don't mind adding a little bit of weight to get more protection, we recommend a Nike trail running shoe with a rock plate.
Grippy outsoles
Traction is one of the most important considerations when it comes to trail running shoes. Therefore, it goes without saying that Nike trail running shoes come with grippy outsoles.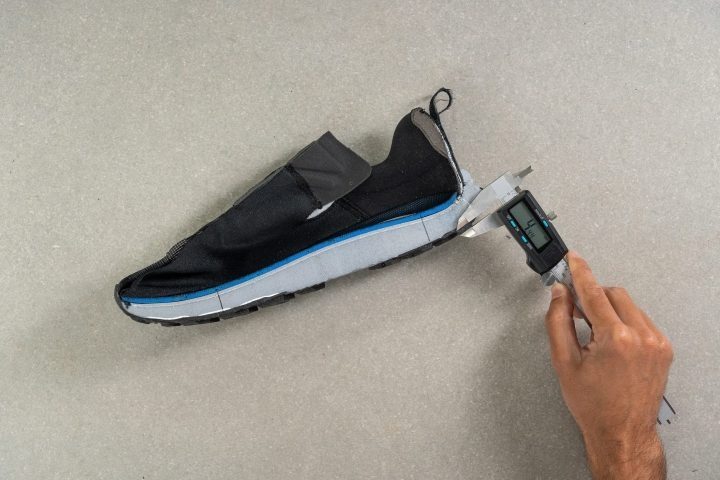 Depending on the model, you will find that the lug depth on Nike trail shoes varies from 3 to 4.5 mm. Choose deeper treads for muddy and slushy terrain and go for thinner ones if you transition from road to trail a lot.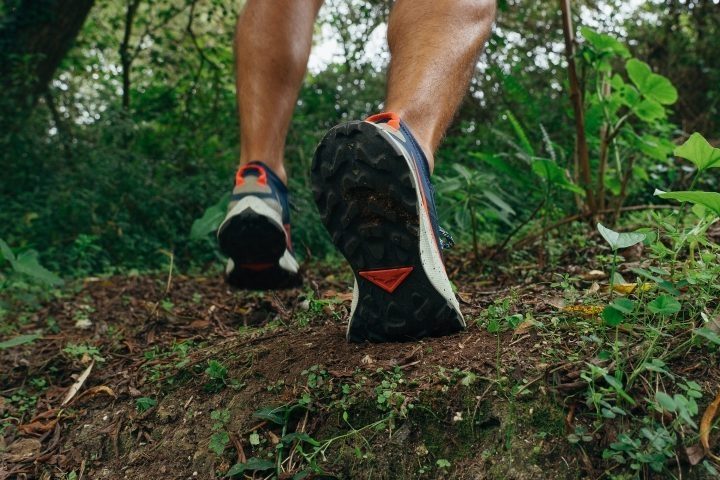 How we test running shoes
For this guide, we put in the legwork and trekked 30+ miles for each pair of Nike shoes on a range of terrains and murky trails. We also analyze the technologies and the quality of materials used for all the footwear on the list.
Our procedure includes doing the following steps:
We purchase the Nike hiking shoes from our own pocket. This safeguards our complete freedom and impartiality when giving our assessments and publishing our reviews.
We wear each Nike model on actual hikes and backpacking trips to get a real-world feel of the fit, comfort, ankle stability, waterproofness, outsole traction, heel protection, and many more. We subject all the Nike shoes further to the grind of multi-day hikes, tackling tougher terrains and inclement weather.
We also scrutinize and crack them open inside our lab to accurately measure their different parameters.