10 Best Keen Hiking Boots in 2021
KEEN—this footwear company needs no introduction! Makers of amazing outdoors kicks, particularly sandals, this brand puts out incredible hiking boots that go against the current design-wise.
We've tested over 20 KEEN hiking boots to come up with our top picks. This is the place to be, whether you're looking for the lightest pair, a boot that crushes miles in the cold, or a KEEN hiker that inspires confidence in every area.
Overview of this guide
How we review KEEN hiking boots
We at RunRepeat delight in serving honest and objective reviews on the best KEEN hiking boots. Here is how we do what we do:
Trail boots from KEEN aren't always cheap. That said, we buy all of them using our own money to give ourselves the freedom to create insightful and unbiased reviews.
Every KEEN boot we test thoroughly. We hike in each pair to gauge its best qualities and to determine the category under which it excels the most.
We reflect opinions from hundreds of gear experts and regular users in our comprehensive reviews.
The fruit of all that yields what we call the CoreScore. We use this system to help us determine the cream of the crop from KEEN.
Best overall
After days of rigorous testing 20+ KEEN hiking boots, we gotta hand the platinum badge to the Targhee III Waterproof Mid!
This hiker is the best of both worlds in that it's mighty tough on the outside, yet brilliantly comfy on the inside. Speaking of its durability, the Targhee III Waterproof Mid is an absolute tank. Its leather upper felt solid right from the start, yet it never felt too stiff nor restrictive.
Now, as mentioned, the Targhee III Waterproof Mid is a win in the comfort department. On day one, this trail boot felt supple all over; although, we'd like to give its footbed and midfoot zone extra points in this regard.
Despite its grounded, grungy look, the KEEN Targhee III Waterproof Mid didn't weigh us down. At around 490 g per shoe, this brawny kick kept up with our crazy pace like a boss!
Our time with the Targhee III Waterproof Mid was also a supportive one. We especially loved how it allowed us to twist and turn without losing our footing, considering how uneven and rocky the terrain was.
And, oh, this fantastic KEEN boot is quite affordable ($145 MSRP), so don't you dare pass on it!
See our full review and facts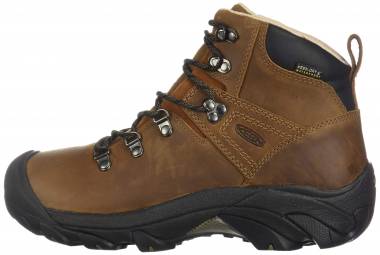 Also great
If you want something protective and tired feet are a big no-no to you, the KEEN Pyrenees should be part of your hiking arsenal!
Let's give its midfoot the spotlight it deserves for a second. Yes, the Pyrenees gave our arches enhanced security. We didn't feel the need to take a break or take it out during our downtime.
And why would we? The Pyrenees was the comfort machine we've been looking for! We did need to break it in, but the time it took us to get it to loosen up wasn't too much. Props to its padded collar—the comfort it gave us was just divine!
But is the Pyrenees dependable in wet conditions? That's a yes! Its KEEN-exclusive membrane didn't let moisture in during our rainy journey. Through streams, where we purposely dipped the Pyrenees some 3.5 inches in, the boot stayed watertight. Remarkable, right!?
As for the Pyrenees' slip resistance, all we can say is "wow!" The rubber lugs on its outsole bit into rocky and soft soil with little effort, granting us safe passage across inclines as a result.
All in all, the Pyrenees is a fantastic alternative, but perhaps not for those with high insteps.
See our full review and facts
Best lightweight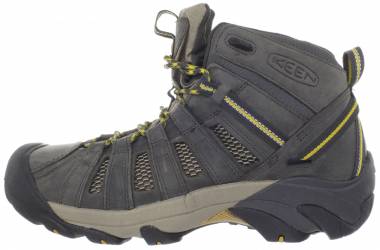 Top pick
Our king of the hill when it comes to lightness is none other than the Voyageur Mid! It's true—this KEEN boot at no more than 460 g per shoe permitted us to make bigger strides minus the shin pain!
Despite its weightlessness, the Voyageur Mid didn't slack off in giving us the amount of ankle and heel support we expected of it. Rugged terrain wasn't a threat to our often-wobbly ankles, thanks to this light-yet-solid bad boy.
From the box, the Voyageur Mid spoiled our feet with generous pampering. Its no-bunch tongue was the star of the show for us. It just felt so rich and supple that we refused to take off our pairs hours after our testing.
Is the KEEN Voyageur Mid something we'd recommend for warm-weather pursuits? Well absolutely! This supportive hiking boot is stellar in terms of breathability. Hot feet shouldn't be a thing in this boot if you ask us. If you happen to sweat in it profusely, we'd wager that it's your socks' fault!
And, boy, is the Voyageur Mid quite versatile or what!? We used it on man-made floors and such, and we felt great walking in it. Get one for yourself now!
See our full review and facts
Also great
Who said sturdy equates to bulky? Our take? Just don the Targhee Vent Mid and experience the outdoors as restraint-free as can be!
At no more than 850 g per pair, the Targhee Vent Mid will say, "How high?" when you command it to jump. But seriously, this remarkably light KEEN gear will propel your every move as it did ours.
Speaking of movement, the Targhee Vent Mid kept us going slip-free on slick surfaces (think wet rock and muddy tracks). The tread pattern on its forefoot allowed us to ascend elevations with claw-like prowess, while its heel brake dealt with descents like an absolute champ!
Is the KEEN Targhee Vent Mid comfortable, you ask? Why yes! Our experience with it was similar to our time with our top pick (the Voyageur Mid) in that its tongue gave us a nice bunch-free hug around the instep. And the best part? All the pampering we got out if it was available from the off.
Oh, and before we forget—the Targhee Vent Mid is satisfyingly spacious around the toe box. Yes, you can say goodbye to squished digits in this incredible offering!
See our full review and facts
Best winter boot
Do you want to be on top of your game this winter season? Then strap up with the Revel IV Mid Polar!
Chilly feet have no place in the Revel IV Mid Polar's cozy confines. It's true—the boot's insulation kept us warm in the snow, where the temperature was around 5°F, give or take. And the most unbelievable part? When we got indoors, where it was considerably warmer, our tootsies didn't sweat!
Wetness, courtesy of melted snow, was fence out completely by the Revel IV Mid Polar. Not a single drop of moisture got in, leaving us with fresh tootsies for hours in the cold.
Now, when it comes to comfort, we give the Revel IV Mid Polar all the accolades we can give it. Not an area inside its plush confines let us down. But perhaps what floored us the most in all this was the boot's ultra-supple heel. We didn't feel any rubbing or hotspots around this part at all.
On icy rock and snowy slopes, the Revel IV Mid Polar didn't disappoint. Yes, there's no slippage to report about this boot!
See our full review and facts
Also great
As towering as it looks, the Revel IV High Polar will impress you with its generous supply of warmth up to the lower leg!
Our major takeaway with the KEEN Revel IV High Polar after our cold-weather excursion was that it was just darn cozy. Were it not for its intense 400-gram insulation, we would have cowered back to our cabin-slash-lab when the coldness went way down the negative mark!
On hour one, the KEEN Revel IV High Polar gave us all the feet pampering we could ever need. We didn't doubt its level of comfort, but the moment we got in, we were greeted with plushness all over, which surprised us nonetheless. We just wish the boot's toe box was roomier, though.
In the area of performance, the KEEN Revel IV High Polar moved slip-free on icy surfaces, much like our top pick. And similar to the Revel IV Mid Polar, this highly insulated kick also gave us safe passage across snowy routes.
Now, is it as supportive around the ankle as they say? You got a big YES from us on that! Its majestic high-cut collar wasn't just for show—it really gave us high amounts of ankle support, which didn't waver in the entirety of our winter adventure!
See our full review and facts
Other buying guides