Verdict from 7 hours of research from the internet
6 reasons to buy
The midsole unit of the Brooks Revel 3 is lauded for allowing the foot to move through the stride with relative ease.
Several testers have noted that the quality of the cushioning system is robust and accommodating for all-day support.
The weight of this shoe has been deemed by many testers to be suitably light for their daily runs.
Some consumers claim that the fit profile of the Brooks Revel 3 is accurate.
A couple of runners notice the forefoot being wide enough to accommodate the natural splaying of the toes.
The upper unit has gained some fans for offering a wrap that is secure yet flexible.
2 reasons not to buy
A few people note that the fabrics of the upper have worn down after only a few uses.
Based on a handful of reviews, the in-shoe experience is a bit restrictive.
Bottom line
The Revel 3 has been received quite well. Those who have tested this Brooks running shoe are generally happy with what it has to offer. The underfoot cushioning system is touted to be comfortable and responsive while the weight is deemed light enough for daily use. The shoe's adequately plush platform gives suitability for mid-distance runs.
Fans of road running shoes are the ones who are likely to enjoy what the Brooks Revel 3 has to offer.
Tip: see the best running shoes.
Our reviews
Coming off consistent use of my Brooks Levitate 2's, I was hoping the Revel 3's would offer a bit more of a plush landing for me. The experience type listed on their website is one of "cushion," so I figured I was in the ballpark.
Admittedly, when it comes to cost/quality analysis, I tend to equate higher cost with better quality. I've also grown accustomed to dropping at least $130-$150 for a good, supportive shoe, so I was bracing myself for a ride that might just fall flat.
At $100 for a newly-released shoe, I was stunned when I put the Revel 3 on my feet and immediately felt the plush promise fulfilled.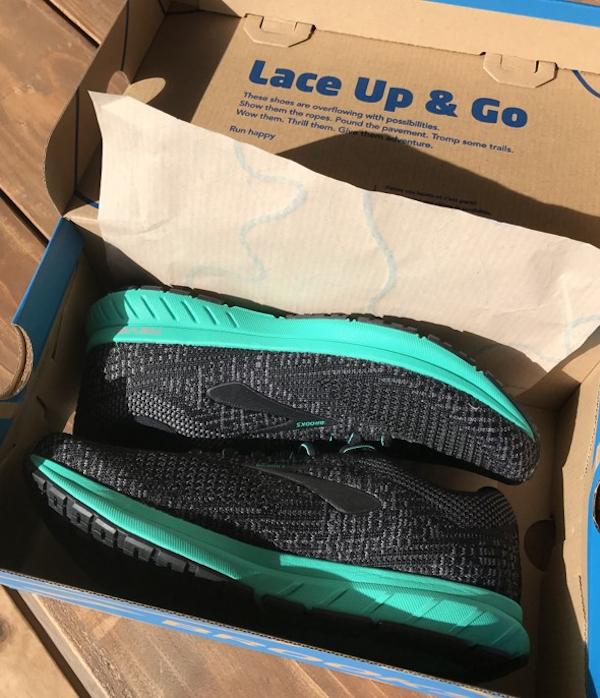 First impressions
First impressions are important, right? I know, I know...when it comes to runners, substance is always priority over style.
However, I can't help but get excited when I'm opening a new box of sneakers. And, since we don't choose the colors of the shoes we test, it adds a special level of surprise for me when I pull back the paper.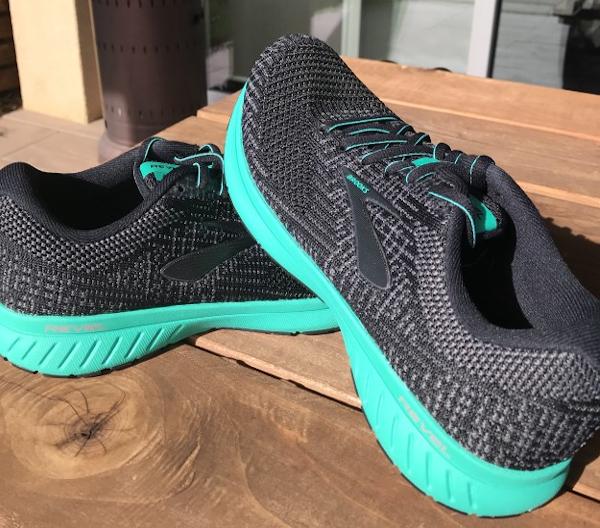 Brooks markets these trainers as a "street-ready" shoe that can be worn casually thanks to its good looks. This is a true story; the shoe looks great. I was very pleasantly surprised to reveal the slick black upper with the punch of neon teal (Arcadia?) at the sole.
But, the marketing spin on the feel that includes "perfect for work, working out or postwork activities" has created a bit of a possibly unintentional narrative. I'll explain more of this in a bit.
My second-first impression was, "wow, these are lightweight!" These sneakers weigh-in at 7.9oz for the women's model—quite a light shoe for being in the cushion category.
From my experience, most sneakers that offer comfort in the way of cushioning must sacrifice a bit in the weight category. The Revel 3 bucks that notion with the weight of a shoe built more for speed.
Fit/comfort
When I first put these on my feet, I noticed the cushioning around my heel and Achilles. The collar is quite padded and offers a sock liner in the interior to make the foot feel secure and supported, yet manages to keep from over-bulking the shoe like padded heels often do.
I had intended to complete my first couple runs in this shoe without my insoles, but I wound up running closer to 80 miles without the insoles, mainly because I was comfortable without them and forgot they were missing.
In fact, I think I may go back to the factory liner because my insoles have negatively changed the feel of this shoe. With the addition of my insoles, I feel the upper doesn't offer the same stability and that the softness of the ride has been a bit compromised.
This could be because Brooks uses their proprietary BioMoGo DNA foam cushioning as part of the insole, and the whole system works together to keep the weight light while maximizing cushioning.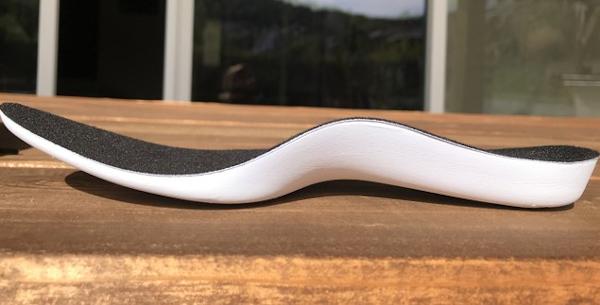 My insoles help support a slightly higher arch, but I felt sufficiently supported in these shoes as-is. These are a neutral trainer, so if you absolutely require more support from your shoe and/or insoles, the Revel 3 might not be the right choice.
For sufficient toebox room and a secure heel, I usually go a half size up from my street shoes in my running sneakers. This held true for the Revel 3 as well. I'm normally a 7.5 in street shoes, and the 8 was perfect here.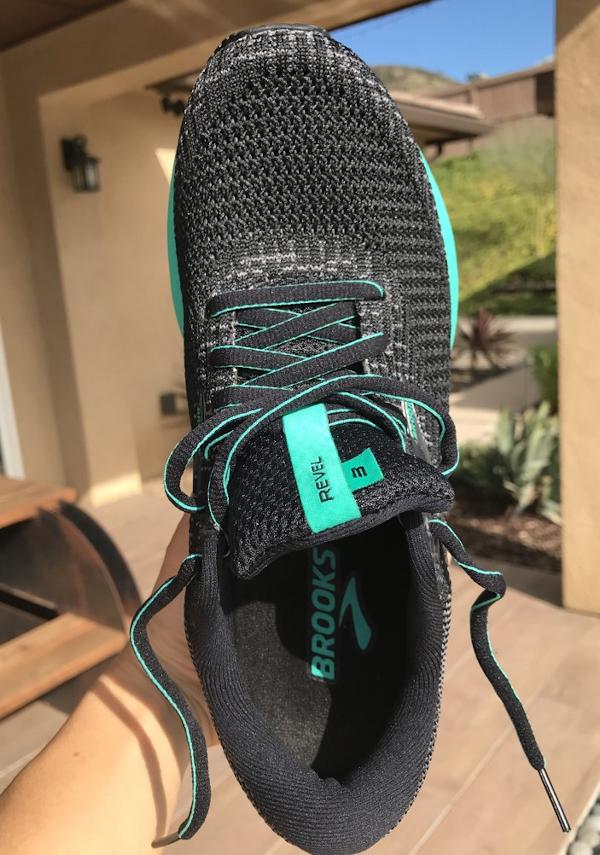 The toe box felt good enough that I haven't thought about it once since I put them on. The knit upper molds nicely to my foot and offer decent stability.
Brooks claims that the fibers are heat-activated and won't stretch out over time. A hundred miles in and no visible signs of wear yet. There wasn't any break-in period either. I put 8 miles on them fresh out of the box, and my feet, heels, and ankles were all happy.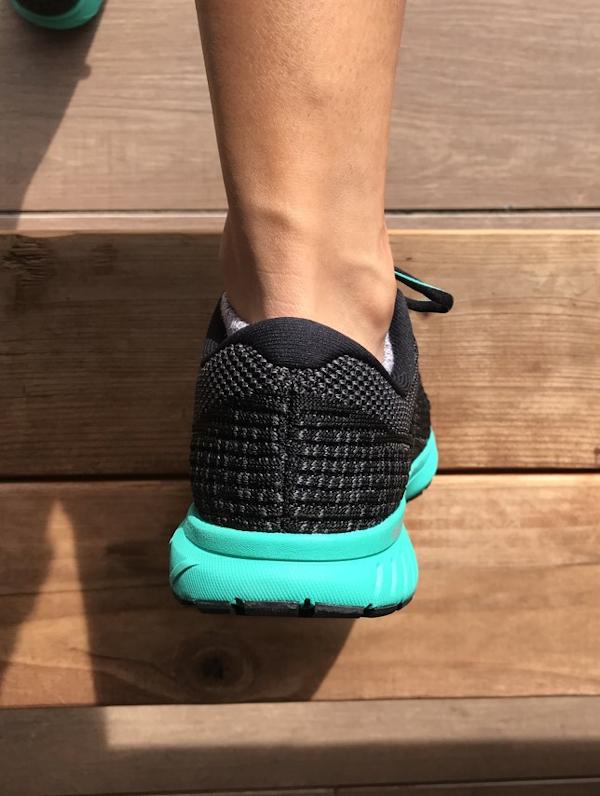 Upper
The flat-knit upper with heat-activated yarns and an inner liner claim to mold to your feet upon wear. After over 100 miles in this shoe, I haven't experienced any visible wearing spots, nor do I feel the knit is stretching out.
The shoe feels consistently snug but not restricting. It is not a very wide shoe (and is not available in wide width), but the upper allows for normal toe splaying.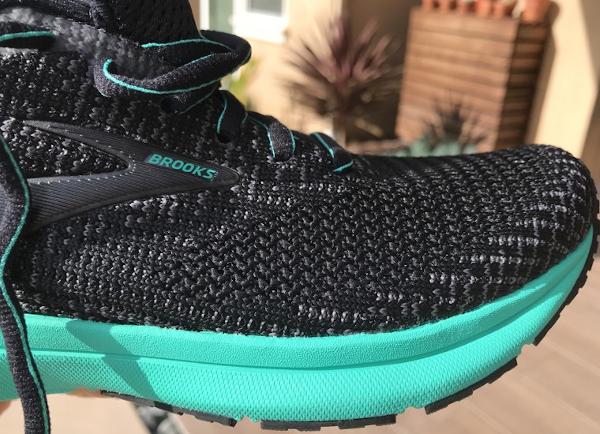 The lack of seams around the upper help avoid hot spots. The lacing system is traditional and comfortable. If we're splitting hairs, the laces are a tad long but don't come untied, so it's not a point of contention for me.
The tongue is padded, but not overly thick, so I haven't experienced any rub or movement.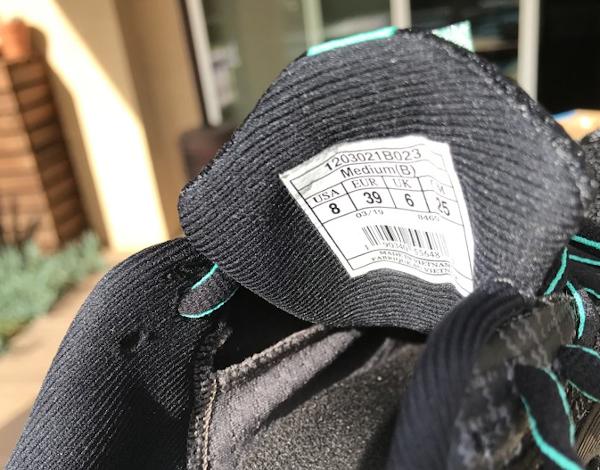 The heel cup is secure but not overly supportive, which has created some instability for me when on banked roads or when using these for lateral movements in cross-training workouts.
Midsole & cushioning
Though not a new technology, this is my first pair of Brooks that integrates their BioMoGo proprietary cushioning. Brooks states that it "...adapts to your stride, weight, and speed...so it can help protect you by deflecting impact away from your body."
While the BioMoGo DNA cushioning helps to deflect away some impact to your feet, I've been experiencing added stress to my upper legs and hips. This could be a side effect of a soft ride without sufficient stability for my foot.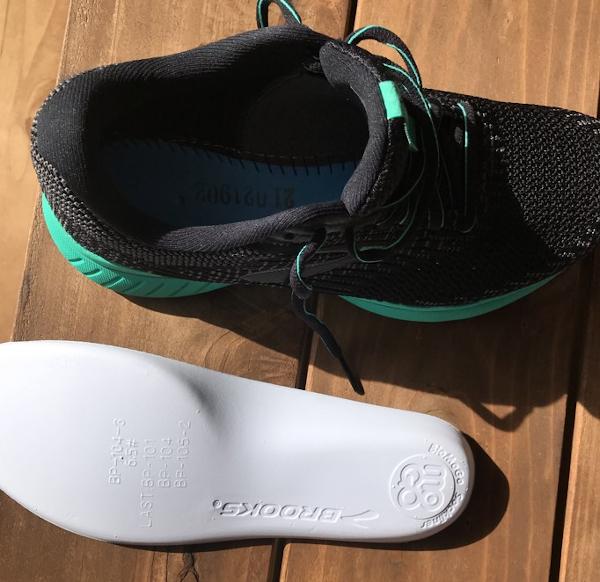 Since it's a neutral shoe, I don't expect added support, but I do think the existing support was compromised once I added a third party insole. As I mentioned earlier, I plan to return to the shoe's original insole, but this might be a non-starter for some runners.
I have really been enjoying the cushioning of the midsole. It is noticeably soft when you put the shoe on and provides a very smooth, floaty ride. At a moderate 8 mm offset, the transitions are smooth.
Most of the cushioning is felt in the heel, but mid and forefoot strikes are still ultra-soft and fluid. Combined with the light weight of the shoe, it's easy to feel a pep in your step as you glide through the miles.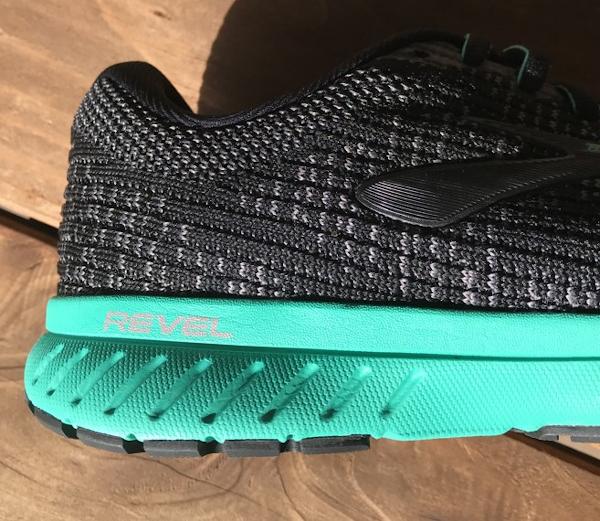 Outsole
The outsole has been nice and grippy, though I haven't had the opportunity to wear them in the rain yet (SoCal winter has been dry so far). The forefoot provides a nice, wide base of contact with tiny grooves that allow for good traction.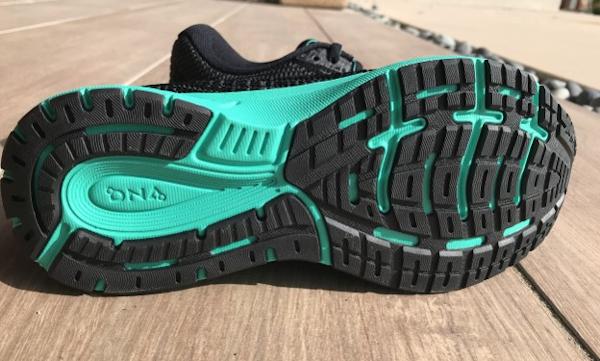 I've enjoyed wearing these for mobility and interval training as well. My only gripe is that small gravel tends to get stuck in some of the smaller, oval-shaped treads from time to time.
The hard bottom rubber combined with the blown rubber provides a good amount of flexibility in the sole without sacrificing longevity. I was surprised to look at the soles and see minimal visible signs of wear at this point in the shoe's life.
Performance
Stability in the Revel 3 is where I'm beginning to waffle. At the onset, I felt the flat-knit upper was providing more support than a traditional knit as it offers a double underlay, and the heel cup felt deep and secure.
I still feel this is mostly true, but after frequent use of this shoe for the past couple weeks, I'm experiencing some hip and IT band pain.
Most of my runs include uneven streets and banked sidewalks, so I think the Revel 3, as a plush neutral shoe, is forcing me to compensate for lack of stability accordingly using my leg and hip muscles.
Also, I'm getting a sense that the cushion of the shoe is tiring out a bit fast and takes some recovery time between runs to restore to its full-cushion capability. The compacted foam effect is noticeable when I wear the shoe out twice within 24 hours.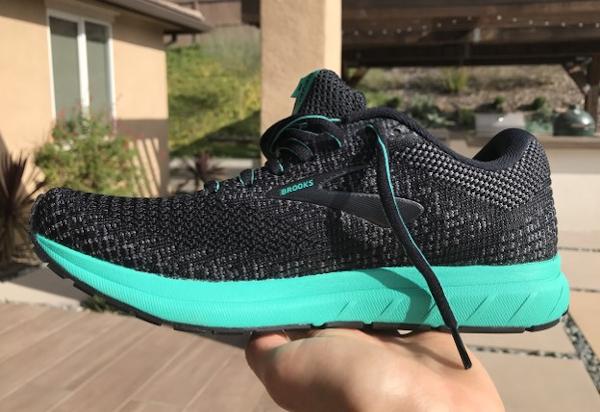 For short and mid-distance runs, I think this shoe is a winner, but if you like a soft ride for long runs, the foam in the Revel 3 might wear out before you do.
The "street-ready" narrative they use to describe the shoe makes me feel like it's geared towards an all-around wearer rather than a serious runner—someone bouncing from a treadmill to the grocery store rather than someone putting in intense daily training miles.
Perhaps, I'm unfairly interpreting their marketing language attempt to sell it as a sleek-looking shoe. I see the Revel 3 as a great answer to the average runner looking for a comfortable running shoe at a reasonable price.
However, I don't see the Revel 3 as a hearty, resilient shoe that will get someone through training to the starting line of a marathon on its own.
That's not to say it's an inferior shoe by most standards. By and large, I am impressed with the performance of this shoe. I'm no professional athlete, and this shoe suits me at about 30-40 pavement miles per week.
Cost and value
At $100 price point, the Revel 3 is a bargain. It's a really good shoe, and I won't be disappointed if I need to retire it a bit earlier than some of my other shoes due to wear.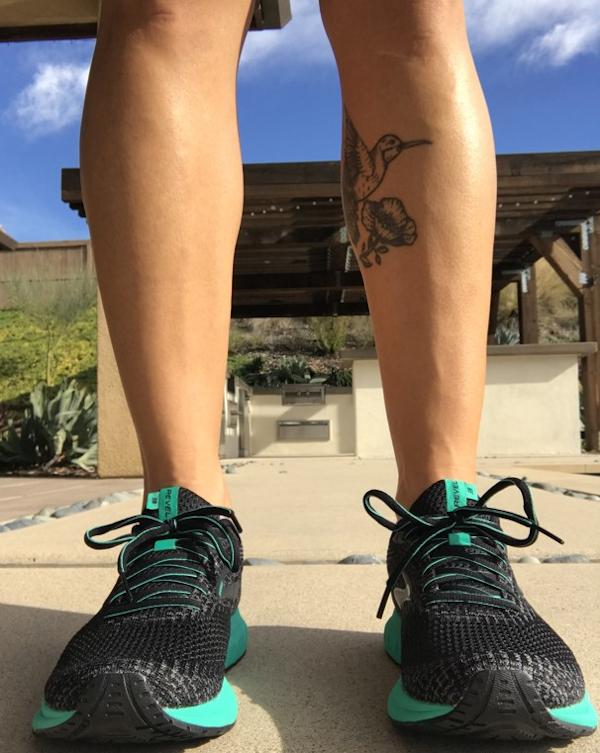 The shoe checks boxes for a soft ride, lightweight, and comfortable fit. It's fast and smooth, breathable, and looks good to boot. Plus, it's holding up really well against daily use, so, to me, that is an excellent return on investment.
Summary
Overall, I think the Revel 3 deserves a 93 score in my book. It's a solid "A" for its category/price range. My initial reaction to the Revel 3 was a major wow. At $100, I felt the value of this shoe was high to the low price point.
At this point in the life of the shoe, I'm still impressed. I think it's a great shoe, but I also think it's a good idea to rotate it if you're putting on decent mileage and running 5-6 days/week.
It has fulfilled my need for a cushioned ride, and with the bonus of being lightweight, I feel I can use this on both mid-distance runs as well as speed workouts.
The Brooks Revel series has been around for a few years and is now on its third iteration. It is an entry-level model from a company known for its high-quality (and relatively high-priced) running shoes.
Designed for neutral runners, the Revel appears to be positioned to compete with some of the better-known budget runners like the ASICS Excite and Saucony Cohesion, or at least to grab the attention of some of the same consumers that might look at those performance-oriented budget styles.
Available for a retail price of $100 or less, the Brooks Revel is certainly on a value side of the spectrum when compared with specialty brands offering shoes at $150 or more.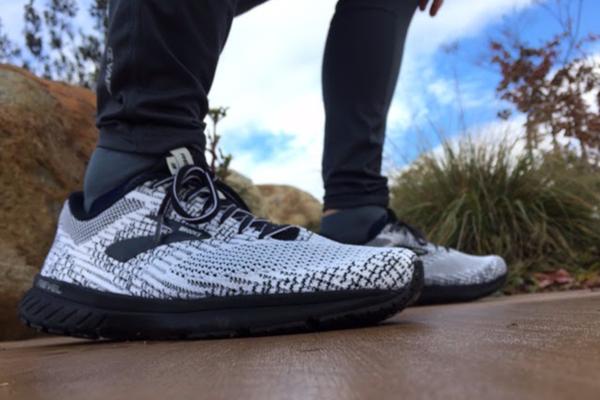 I purchased my first pair of Brooks Revel a year ago, at a significantly reduced price since they were closeouts at that time. The Revel 1 have been my main running shoe for a number of months, and I have really enjoyed them.
I did try on a pair of Revel 2 out of curiosity when they were first released and found them too tight and short in my regular Brooks size. I decided to test the Brooks Revel 3 after reading reviews online, indicating that the new model is true to size (which is true).
Before lacing up my new Revel 3's and taking them for a run, I decided to read the marketing materials for this shoe on the Brooks website.
I had always treated this model as a running and fitness-walking shoe, but was curious about how the Brooks company was promoting them.
The page for the Revel 3 on the Brooks website touts this model as a "true do-it-all shoe that you can also wear casually," describing it as perfect for work, working out, or post-work activities.
Additional language on the website focuses on the softer, more adaptable cushioning, the flexible upper that won't stretch too much, and the lower profile, which reduces the heel-to-toe drop from 10mm (on the Revel 1) to 8mm (on the Revel 3).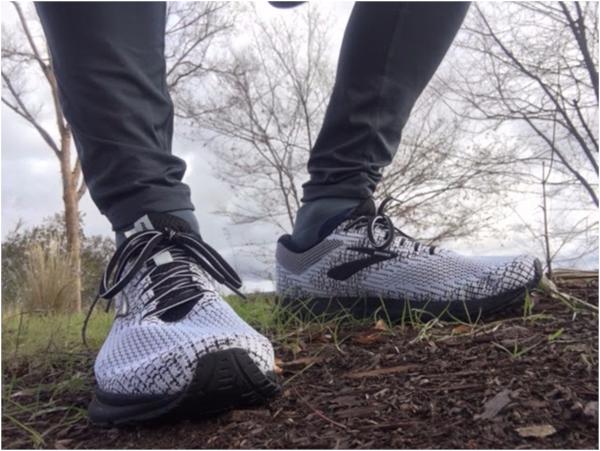 After reading the description of the shoe on the Brooks website, I decided that I would truly put the shoes to the test by not just using them as runners but also as gym shoes/cross-trainers and as fitness walkers.
How did it go? Well, you will see my detailed discussion below, but in summary:
The Brooks Revel 3 is an excellent running shoe that performs about as well as other budget-oriented neutral models like the Brooks Launch (my all-time favorite) and the ASICS Excite 6 (my runner-up)
The Brooks Revel 3 is an adequate fitness walker that probably contains more technology than necessary if walking is your main form of exercise
The Brooks Revel 3 makes for a poor cross-trainer for any serious gym rat, simply because the cushioning, which makes this model perfect for running and decent for walking, is a detriment during weight-training sessions
Overall, I still give this model an 8.5/10 overall due primarily to its outstanding performance as a runner, making it my current favorite style for that activity.
Unfortunately, though, the shoe's marketing has gotten in the way of its attributes to a certain degree. I think that if the Brooks company more carefully considered how it is promoting this shoe on its website, I would have given it a higher score.
What I'm looking for as a runner, walker & cross trainer
I think it's fair to start my review with a basic description of what I look for in a pair of runners, walkers, and cross-trainers since I am looking at the Brooks Revel 3 from all 3 perspectives.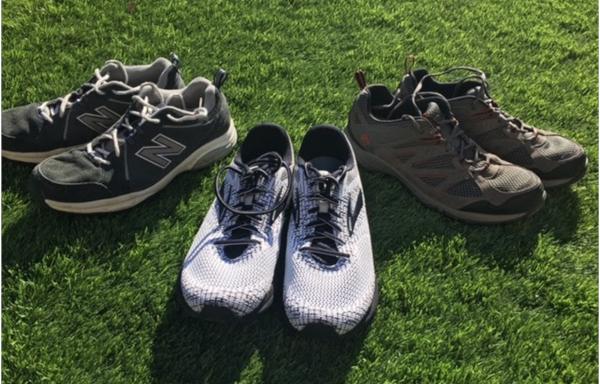 This will provide a bit of clarity as to why a shoe that is so excellent for running can be a very poor choice for training.
The bottom line is that running, walking, and cross-training are very different activities and, as such, require different footwear types.
Running shoes
I'm a low-mileage runner, which means that my running sessions are generally 2-3 miles apiece. I'm in my 40s, and long-distance running is in my past now.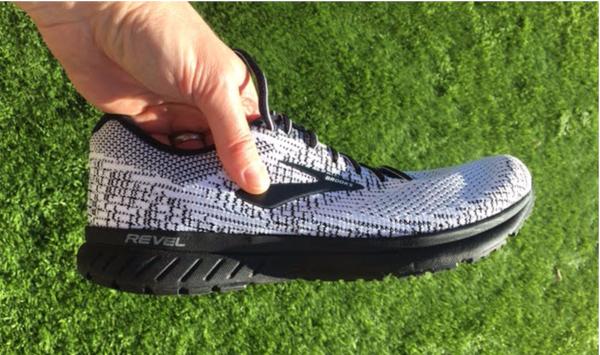 I typically run on a treadmill since it's a soft surface and less likely to do damage to my back, hips, and knees (three of my problem areas) or just use an elliptical machine.
I rarely run on concrete. My gait is also neutral when I run even though my feet are on the flatter side.
Given this type of running, I tend to seek out budget-oriented shoes because this is all I need. Here is what I look for in a low-mileage running shoe:
Soft, responsive cushioning that runs the length of the shoe
A neutral design that doesn't push my feet too far outwards or inwards while I run
A flexible yet snug and secure upper that doesn't cramp my toes
A rigid heel to lock the feet in place
A removable insole that can be replaced with a more supportive aftermarket model
A heel-to-toe drop of 8-12mm
A firm sole with some traction (too much is not needed)
Overall a fairly minimal design that gives me a close-to-the-ground feeling
Walking shoes
I enjoy fitness walking and can see myself continuing to do this activity for many years, even when I can no longer run.
I tend to walk on all types of terrain since I live in a place with close access to nature, but when I go for a trail hike, I select hiking-specific footwear.
For general fitness walking, I typically use a budget-oriented trail runner or light hiker. See above picture for my current favorite walking shoe model, made by Columbia.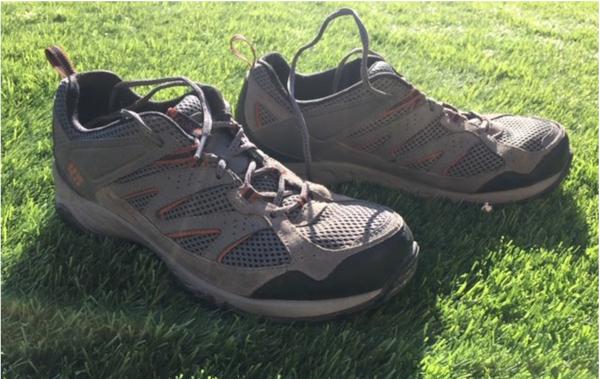 \
Here is what I look for in a walking shoe:
Moderately soft cushioning that maintains its firmness and doesn't compress too much over the miles
Solid traction on the outsole
A supportive upper with overlays to hold the feet in place
A supportive midsole with a somewhat built-up heel area
A removable insole that can be replaced with a more supportive aftermarket model
A heel-to-toe drop of 10-12mm
Overall a more built-up and supportive design than a lower-profile running shoe typically offers
Cross-training shoes
By cross-training, I mean fitness activities that aren't just walking or running. This includes strength training using weights, fitness classes, and other programs like P-90X or the like.
I enjoy weight lifting and have been performing weight-sessions several times a week for the past 20 or so years.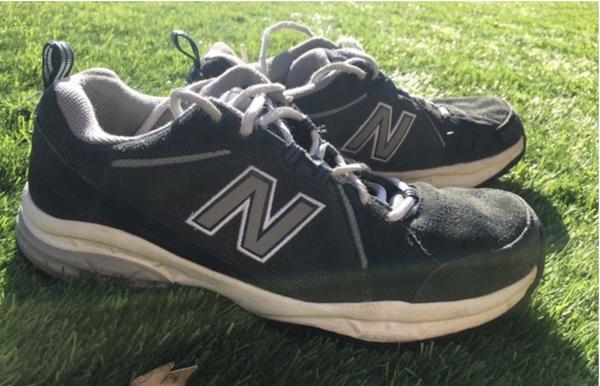 One thing I have learned is that running shoes make terrible weight-lifting shoes. I haven't used them for this purpose in a long time (trying the Brooks Revel 3 for this type of activity reminded me why).
For cross-training, including weightlifting, you'll need a strong and stable platform beneath your feet. See above picture for my current favorite cross-training shoe model, the 608 from New Balance.
Here is what I look for in a cross-training shoe:
An upper with significant lateral (side-to-side) and ankle support which holds the feet in place during any side-to-side motion
A firm midsole that does not compress during standing exercises, and feels stable underfoot
An outsole that is wider than the upper for added stability
There are also those who use minimalistic shoes for weight-training and swear by them. These shoes do offer a very close-to-ground feel with very slight cushioning that places the feet in a fairly stable position.
As a person with low-arches, the minimalistic fitness shoes have never worked for me, and I prefer a classic "chunky" cross-trainer (also known as a dad shoe) for my workouts.
Whatever type you choose, a running shoe is probably the worst choice for any serious cross-training routine because these types of shoes are designed to promote forward motion rather than to secure the foot and keep you stable.
The soft cushioning that makes running shoes feel great during the miles of pounding away on the road or treadmill makes them unstable when you are picking up heavy objects or performing a HIIT-type routine.
As you will see, the Brooks Revel 3 is a poor choice for anyone whose workouts are more oriented towards strength training than running.
Product features
Aesthetics
One of the heavily-promoted aspects of the Brooks Revel 3 is its style. The Brooks Revel series has been touted from the first iteration as being a street-ready shoe that looks good when worn casually.
I am no expert on style, in fact, quite the opposite (I'm a middle-aged dad, what would you expect?), and I don't regularly go places where having a "street-ready style" is needed or even desired.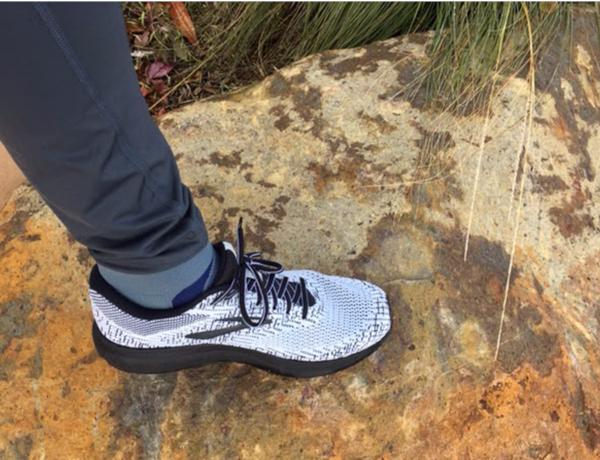 Honestly, at my age, wearing something too loud and flashy on my feet would probably just make me look ridiculous. However, I did not feel like the Brooks Revel 3's look was too youth-oriented for me.
Let's face it, the people with the disposable income available to buy shoes like this are probably going to mainly be at least in their 30s (to be generous). Making this model too, "street-ready" would probably hurt its sales.
I think that Brooks did an excellent job of keeping the design of this model subtle and streamlined enough to work for almost anyone in any age category. I like the detailing on my pair, with the black sketch-marks over the white, woven background.
They look fast and performance-oriented while still being unique and (dare I say) cool. I'd give Brooks a 10/10 on the style factor.
Fit
I am a 9.5D on a Brannock device (the ones they use to measure you at the shoe store). I have found over the past decade that running shoes have become less standard in fit.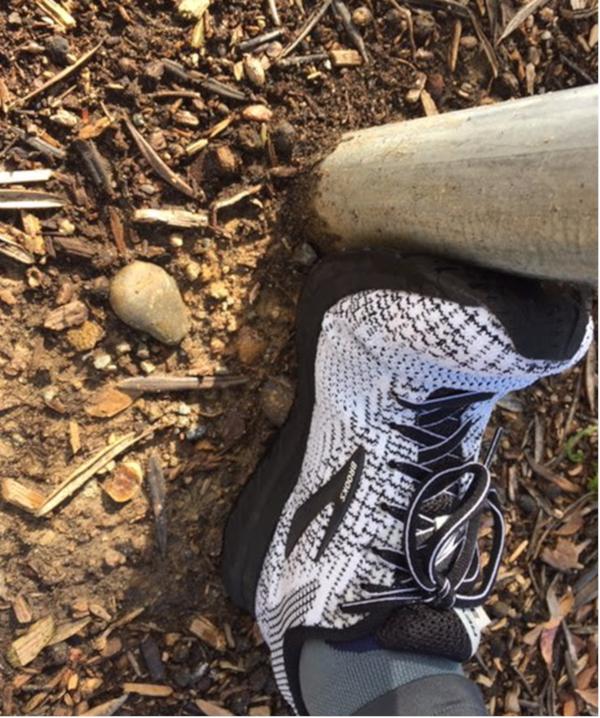 In some styles, I take a 9, in some a 10 or higher. But in the Brooks Revel 3, the fit is absolutely spot-on precise for me in my usual 9.5.
The upper is snug but not constricting at this size, and there is plenty of toe room. I couldn't ask for a better fit. I'd give the Brooks Revel 3 a 10/10 on the fit.
Weight
These shoes are surprisingly light, which makes them perfect for running. The compound that provides cushioning seems to do an excellent job at this weight, which is surprising.
The lightness of these shoes is one of their best features.
Upper
The upper on the Brooks Revel 3 is made of a seamless, woven mesh that is flexible but does not stretch out too much. The material is light and breathable, with a sock-like feel that hugs the foot.
I would not describe the uppers as being very supportive, which is fine for running but less so for any other type of activity. They are there to hold the foot in place over the sole, and they do that just fine without any excess straps or other devices.
Uppers like this are common on modern running shoes and reduce weight while maintaining comfort during a run. For me, this kind of upper works perfectly when running or walking, but not for cross-training.
Heel cup
The heel cup on the Brooks Revel 3 is rigid, which is important for holding the heel in place during the gait cycle.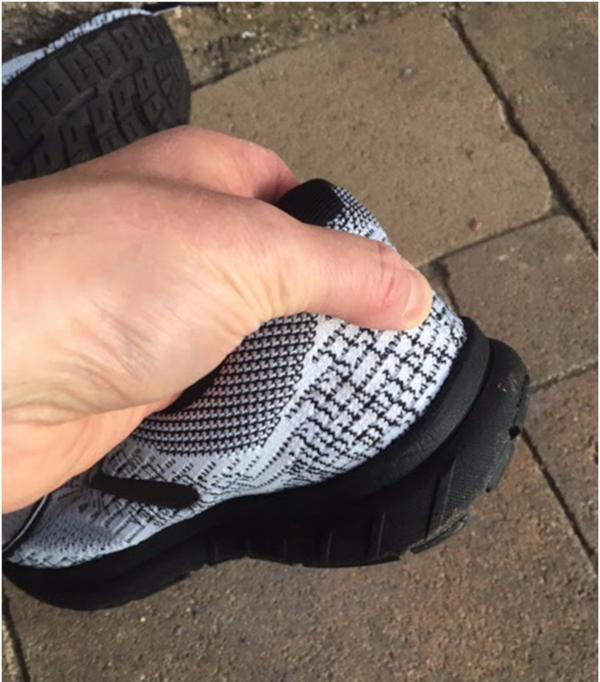 This feature is a must-have on any running shoe unless you are into very minimalistic running footwear because it will prevent unwanted side-to-side motion of the foot in the shoe.
Too much of this kind of motion leads to blisters and foot conditions like Plantar Fasciitis. Any running shoe with a soft, collapsible heel cup is probably going to cause you some issues unless you have developed your foot and leg muscles properly to train for this kind of running.
Midsole
The midsole on this model is comprised of Brooks's proprietary BioMoGo DNA compound, which the Brooks website describes as providing an extra-soft ride that "adapts to your stride."
I really do like the cushioning that this material provides for running or fast walking because it has a smooth and pillowy feel yet does not collapse under pressure. The rebound and shock-absorption on this low-profile shoe is significant and makes running much easier.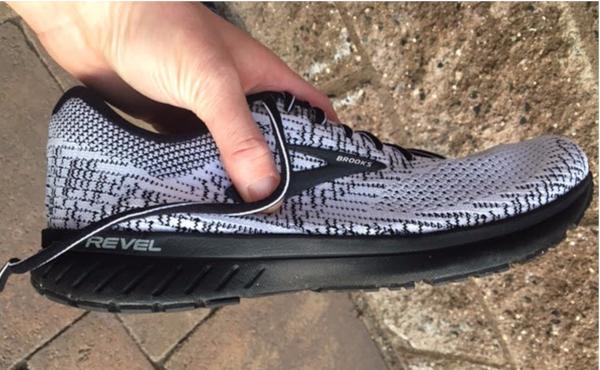 I cannot attest to whether the shoe has adapted to my gait since they have felt about the same (great!) from run #1 until the present. The heel-to-toe drop is also lower on this model than the predecessor versions, coming in at 8mm vice a more standard 11mm drop on the Revel 1.
Personally, I prefer the higher drop, but I can run effectively in an 8mm drop as well. The closer-to-ground feel of the Revel 3 did take some getting used to, but ultimately it did work very well for me during my runs.
Insole
The shoe comes with a soft and nicely contoured stock insole that is easily removable. The stock insole is soft and provides a little cushion.
It appears to be designed around a neutral or medium arch. I replaced the stock insole with my doctor-prescribed over-the-counter orthotics with no issue.
The stock insole was definitely higher quality than the ones which come in many budget shoes, but by itself did not provide enough support for my flatter feet.
Outsole
The outsole of the Brooks Revel 3 is firm and reasonably well-tractioned for a road shoe. It includes a channel through the middle of the foot, which can help steady the foot along the gait cycle.
So far, the outsoles appear durable.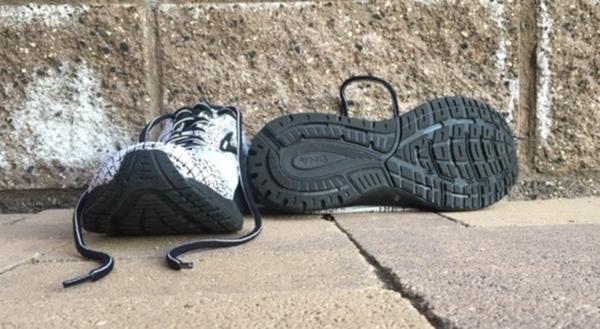 Performance
As a Runner
The Brooks Revel 3 is a running shoe, plain and simple, and as such, it performs excellently. The shoe is light, with a surprising amount of high-rebound adaptive cushioning, providing shock-absorption for every step.
I found myself able to run my usual low-to-moderate-mileage sessions with no problems at all. I am not sure how well this model would fare for higher-mileage runners, but given my experience with it so far, I suspect that it would perform well.
The Brooks Revel 3 contains everything I look for in a running shoe at a reasonable price. It provides a good value for any neutral runner looking to maintain a steady pace on daily training runs.
For running alone, the Brooks Revel 3 would rate an easy 10/10 for its lightweight performance.
As a walker
The Brooks Revel 3 performed adequately as a fitness-walking shoe. Although I tend to prefer a sturdier sole when I walk, these did allow me to move quickly without feeling weighed-down.
The Brooks Revel 3 performed excellently on fast treadmill walks but didn't feel sturdy enough for longer-distance walks outdoors.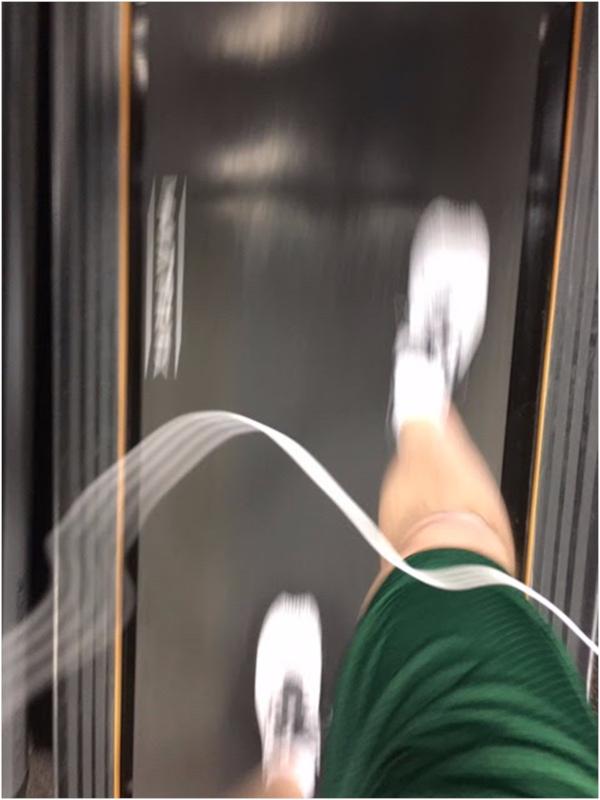 As a cross-trainer
The Brooks Revel 3 is not a cross-trainer and should not be used as such. The cushiony, adaptive midsole that worked so well for me when running made me feel unstable on my feet even when performing a basic weight-training routine.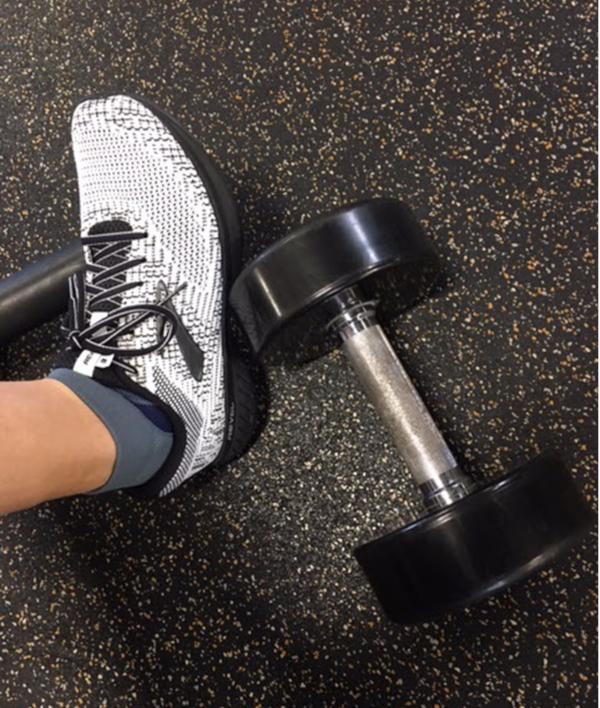 I almost rolled an ankle when moving from a seated to standing position during a shoulder workout. I had to skip squats on the days I wore these, too, for fear of injury.
If you have any interest in expanding your gym workout beyond treadmill or elliptical with a few seated machine workouts, do not use these shoes (or, really, any running shoe).
Buy a cross-trainer, and if need be, switch out your shoes as you move from the running to weightlifting portions of your routine (or plan these activities for different days and bring the shoes you need).
Having the right shoes for the activities you do is key for avoiding injury and getting the best results from your workouts. I always make sure I have at least one pair of cross-training shoes.
I currently prefer New Balance models in the 600-series and one pair of running shoes in my closet at any given time.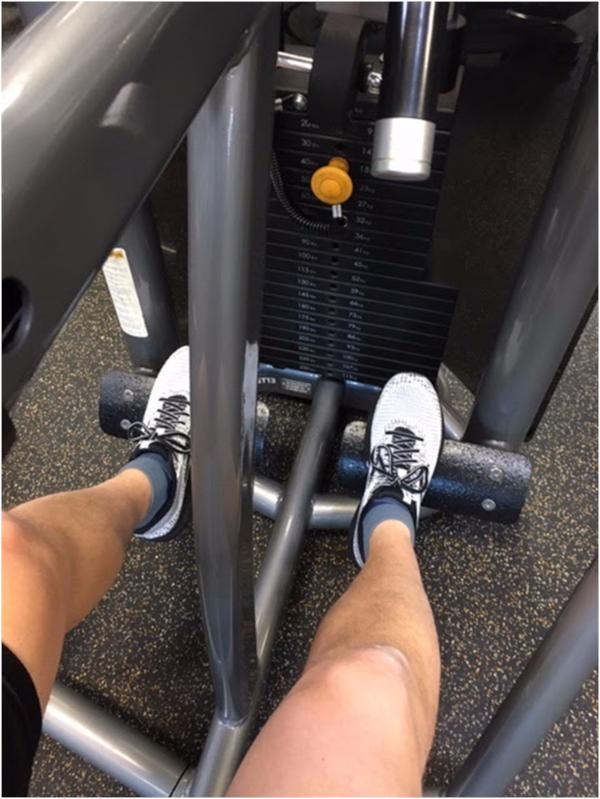 Pros
The Brooks Revel 3 is designed with running in mind. Here are some of its better features:
Fantastic fit with a snug yet comfortable seamless upper
Very responsive and adaptive cushioning with solid rebound, providing sufficient cushioning for running
A rigid heel cup that holds the foot in place within the shoe
A removable, contoured insole
Extremely light-weight
A relatively wallet-friendly price, especially when compared to some of the pricier models of running shoe on the market
Cons
The shoe does have one significant drawback depending upon the intended use:
This shoe is really only useful for running and fitness walking. This would not be a problem but for the Brooks advertising, which promotes the model as a do-everything shoe. The Brooks Revel 3 is not designed for broad use. It's just a great running shoe, that's all.
Bottom line
The Brooks Revel 3 is a superb low-mileage neutral running shoe that could also be used for fitness walking. Its low-profile design and fashionable details also make it a good option for general wear.
However, this is not a gym or cross-training shoe, and treating it as such may cause injury. For weight lifting or other general fitness use, I recommend a good cross-trainer such as one of the New Balance 600-series shoes (for example, the 608, 619, or 623).
The Brooks Revel 3 is an example of a shoe that has been marketed a bit differently than it has been designed. Ignore the marketing and buy this shoe if you are a low or moderate-mileage runner looking for a light-weight option at a reasonable price.
The Brooks Revel 3 is an update to a relatively new series from a company that is part of the front line when it comes to innovation and consistency of service. This model looks similar to its predecessor, the Revel 2. The difference lies in the lower heel-to-toe drop, which aims to smoothen the stride and provide a feeling of being close to the surface.
BioMoGo DNA is the cushioning system that's used for this product. This cushioning system contours itself to the curves of the underfoot, ensuring the support that is full and custom-made for the wearer. A rubber exterior protects against the debilitating effects of ground contact and continued use.
The standard measurements are used when the Brooks Revel 3 was made. Runners are welcome to get a pair with their usual sizing choices in mind. It is worth noting that acquiring a well-configured in-shoe experience can benefit from personally testing the shoe or seeing user reviews or comments from outlets or online sources.
Widthwise, the options that are available in the market are D - Medium and B - Medium for men and women, respectively. The runners with foot dimensions that are regular or low are likely to enjoy the fit-profile of this product.
The semi-curved shape of the last follows the natural curve of the human foot. Such a construction offers a snug yet form-fitting wrap that adheres to the foot.
The outsole unit of the Brooks Revel 3 is made of HPR Plus, a rubber compound that is touted to be highly durable and able to resist the abrasive nature of the surfaces. It covers the base of the cushioning unit, ensuring that it doesn't wear off or lose its original structure due to surface contact.
Flex grooves line the forefoot section. These shallow trenches make the platform flexible, giving the foot a chance to move naturally as it goes through the stride. The toe-off phase of the gait cycle is the part that benefits the most from this feature as it is the part that involves the most flexion of the toe joints and tendons.
Underfoot cushioning is the responsibility of the BioMoGo DNA, a full-length technology. It aims to support the whole of the foot, keeping it safe from the impact shock generated by the landing phase and permitting it to lift off effortlessly. It is derived from recycled materials. It has also been crafted to take the shape of the wearer's underfoot, giving a customized ride. BioMoGo DNA is known among many to be a natural part of Brooks' roster. It is placed in shoe lines like the Ravenna and the Cascadia.
The Heel Segmented Crash Pad is a platform design that permits the foot to appreciate smooth transitions through the gait cycle. The mild segments also help to attenuate the impact forces, isolating the energy to the point of contact and letting it travel across the platform with ease.
A cushioned sockliner is placed right above the primary midsole technologies. This add-on is meant to serve as a soft surface for the underside of the foot, determining a comfortable ride throughout the running session. It can be removed or replaced with a new one if the runner wants to do so.
The upper unit of the Brooks Revel 3 is made of engineered knit fabric. This material is designed to look and feel like woven cloth, giving the impression that the foot is wrapped by a sock. The fibers that make up the whole piece are stretchy and able to follow the shape of the wearer's foot. A bevy of breathing holes allows air to enter the interior chamber and maintain a cool and dry ride for the wearer.
The interior cleatie construction involves a soft and seamless textile that serves as the wall that encloses the outline of the foot. Its smooth structure prevents the skin from experiencing any irritation or buildup of hot spots. It has minute pores that preserve the breathable purpose of the facade.
The padded collar and tongue are responsible for cushioning the topmost areas of the foot, including the Achilles tendon, the ankles, and the bridge. These parts of the upper unit are also designed to prevent in-shoe wobbling and accidental shoe removals.
Printed overlays grace the medial and lateral sides of the silhouette. These synthetic prints help the rest of the fabrics when it comes to securing the foot in place. They also maintain the upright form of the shoe itself.
A traditional lacing system is placed on the instep. This set of flat laces and discreet eyelets allow the runner to adjust the tightness or looseness of the fit, thereby giving a customized hug that suits preferences.
Size and fit
True to size
based on 332 user votes
Size comments
I decided to test the Brooks Revel 3 after reading reviews online, indicating that the new model is true to size (which is true). -
David Cooley, Level 3 expert
How Revel 3 compares
Corescore: 58-61
2 shoes (0.22% of shoes)
Corescore: 62-65
7 shoes (0.76% of shoes)
Corescore: 66-69
10 shoes (1% of shoes)
Corescore: 70-73
38 shoes (4% of shoes)
Corescore: 74-78
75 shoes (8% of shoes)
Corescore: 79-82
95 shoes (10% of shoes)
Corescore: 83-86
191 shoes (21% of shoes)
Corescore: 87-90
253 shoes (27% of shoes)
Corescore: 91-94
225 shoes (24% of shoes)
Corescore: 95-98
27 shoes (3% of shoes)
Corescore: 99-99
0 shoes (0% of shoes)
Price: $40 - $70
112 shoes (12% of shoes)
Price: $71 - $101
266 shoes (29% of shoes)
Price: $102 - $132
270 shoes (29% of shoes)
Price: $133 - $163
167 shoes (18% of shoes)
Price: $164 - $194
61 shoes (7% of shoes)
Price: $195 - $225
34 shoes (4% of shoes)
Price: $226 - $256
9 shoes (0.98% of shoes)
Price: $257 - $287
1 shoes (0.11% of shoes)
Price: $288 - $318
2 shoes (0.22% of shoes)
Price: $319 - $350
1 shoes (0.11% of shoes)
Weight: 3.5oz - 4.7oz
6 shoes (0.77% of shoes)
Weight: 4.8oz - 5.9oz
18 shoes (2% of shoes)
Weight: 6oz - 7.2oz
46 shoes (6% of shoes)
Weight: 7.3oz - 8.5oz
141 shoes (18% of shoes)
Weight: 8.6oz - 9.8oz
210 shoes (27% of shoes)
Weight: 9.9oz - 11oz
219 shoes (28% of shoes)
Weight: 11.1oz - 12.3oz
101 shoes (13% of shoes)
Weight: 12.4oz - 13.6oz
25 shoes (3% of shoes)
Weight: 13.7oz - 14.8oz
4 shoes (0.52% of shoes)
Weight: 14.9oz - 16.2oz
5 shoes (0.65% of shoes)