Brooks Revel 3 review
Overall, I think the Revel 3 deserves a 93/100 score in my book. It's a solid "A" for its category/price range. My initial reaction to the Revel 3 was a major wow. At $100, I felt the value of this shoe was high to the low price point.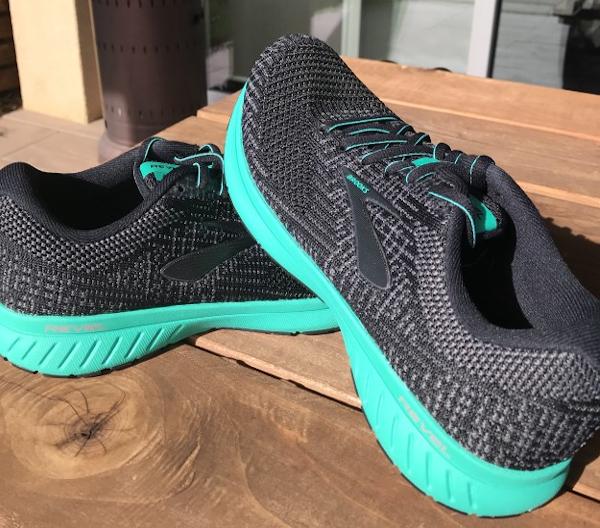 At this point in the life of the shoe, I'm still impressed. I think it's a great shoe, but I also think it's a good idea to rotate it if you're putting on decent mileage and running 5-6 days/week.
It has fulfilled my need for a cushioned ride, and with the bonus of being lightweight, I feel I can use this on both mid-distance runs as well as speed workouts.
Pros
lightweight for its category
comfy and secure fit
roomy toebox
smooth ride
soft cushioning
side, stable platform
breathable
reasonable price
Cons
not a high-performance running shoe
cushioning bottoms out fast
First impressions of the Revel 3
First impressions are important, right? I know, I know...when it comes to runners, substance is always priority over style.
However, I can't help but get excited when I'm opening a new box of sneakers. And, since we don't choose the colors of the shoes we test, it adds a special level of surprise for me when I pull back the paper.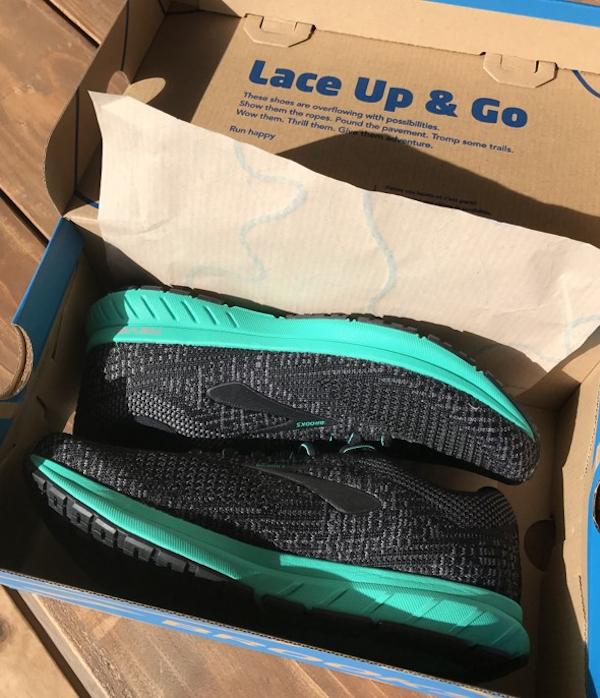 Brooks markets these trainers as a "street-ready" shoe that can be worn casually thanks to its good looks. This is a true story; the shoe looks great. I was very pleasantly surprised to reveal the slick black upper with the punch of neon teal (Arcadia?) at the sole.
But, the marketing spin on the feel that includes "perfect for work, working out or postwork activities" has created a bit of a possibly unintentional narrative. I'll explain more of this in a bit.
My second-first impression was, "wow, these are lightweight!" These sneakers weigh-in at 7.9oz for the women's model—quite a light shoe for being in the cushion category.
From my experience, most sneakers that offer comfort in the way of cushioning must sacrifice a bit in the weight category. The Revel 3 bucks that notion with the weight of a shoe built more for speed.
Comfort is impressive!
When I first put these on my feet, I noticed the cushioning around my heel and Achilles. The collar is quite padded and offers a sock liner in the interior to make the foot feel secure and supported, yet manages to keep from over-bulking the shoe like padded heels often do.
I had intended to complete my first couple runs in this shoe without my insoles, but I wound up running closer to 80 miles without the insoles, mainly because I was comfortable without them and forgot they were missing.
In fact, I think I may go back to the factory liner because my insoles have negatively changed the feel of this shoe. With the addition of my insoles, I feel the upper doesn't offer the same stability and that the softness of the ride has been a bit compromised.
This could be because Brooks uses their proprietary BioMoGo DNA foam cushioning as part of the insole, and the whole system works together to keep the weight light while maximizing cushioning.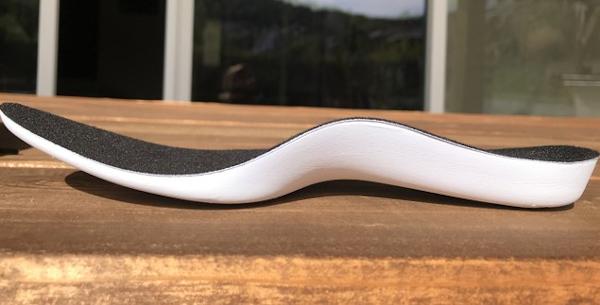 My insoles help support a slightly higher arch, but I felt sufficiently supported in these shoes as-is. These are a neutral trainer, so if you absolutely require more support from your shoe and/or insoles, the Revel 3 might not be the right choice.
For sufficient toebox room and a secure heel, I usually go a half size up from my street shoes in my running sneakers. This held true for the Revel 3 as well. I'm normally a 7.5 in street shoes, and the 8 was perfect here.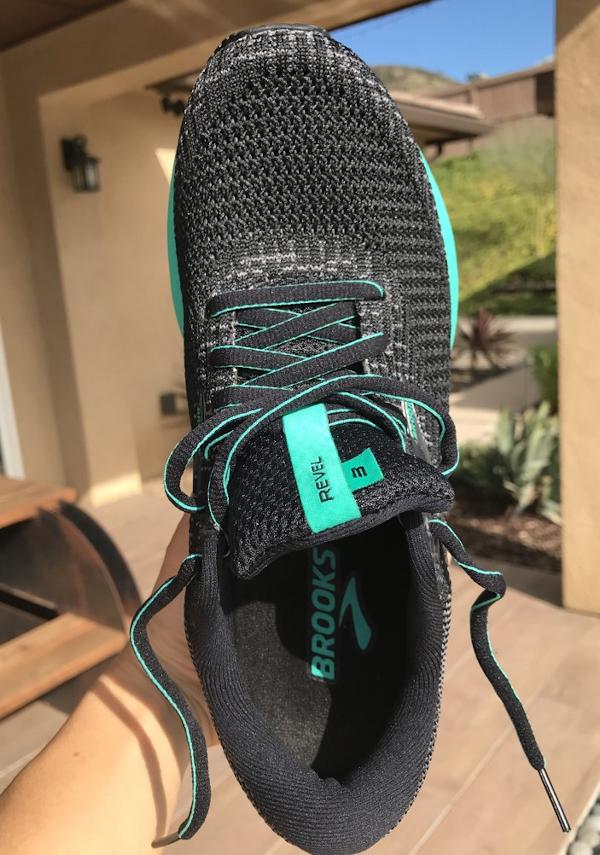 The toe box felt good enough that I haven't thought about it once since I put them on. The knit upper molds nicely to my foot and offer decent stability.
Brooks claims that the fibers are heat-activated and won't stretch out over time. A hundred miles in and no visible signs of wear yet. There wasn't any break-in period either. I put 8 miles on them fresh out of the box, and my feet, heels, and ankles were all happy.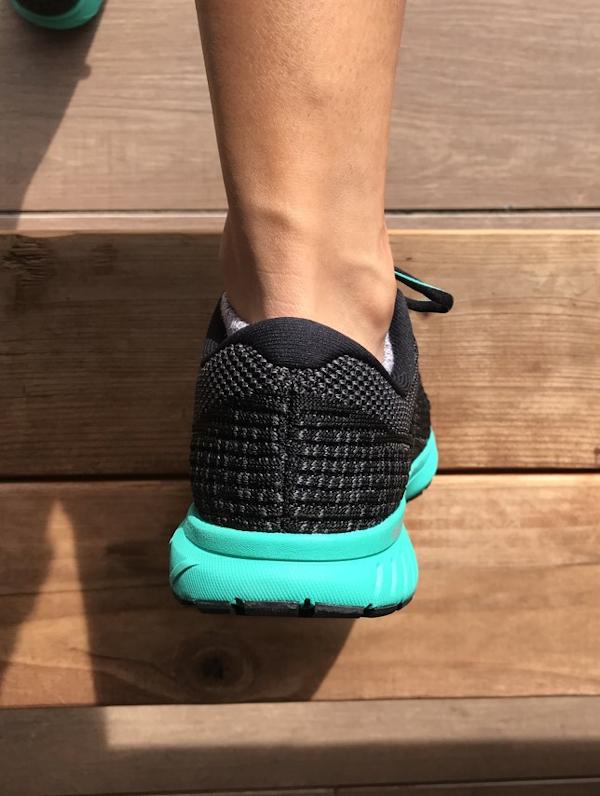 Feel-good fit of Brooks Revel 3
The flat-knit upper with heat-activated yarns and an inner liner claim to mold to your feet upon wear. After over 100 miles in this shoe, I haven't experienced any visible wearing spots, nor do I feel the knit is stretching out.
The shoe feels consistently snug but not restricting. It is not a very wide shoe (and is not available in wide width), but the upper allows for normal toe splaying.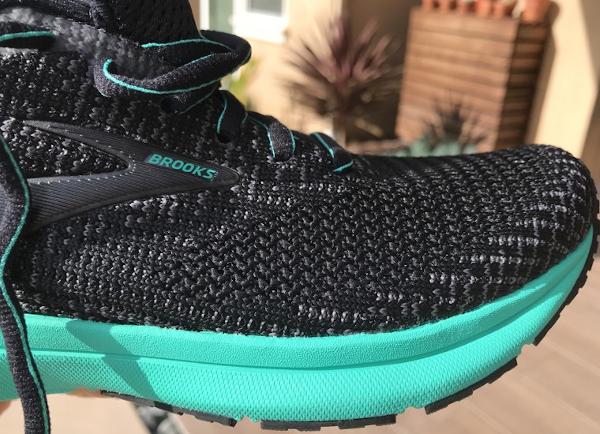 The lack of seams around the upper helps avoid hot spots. The lacing system is traditional and comfortable. If we're splitting hairs, the laces are a tad long but don't come untied, so it's not a point of contention for me.
The tongue is padded, but not overly thick, so I haven't experienced any rub or movement.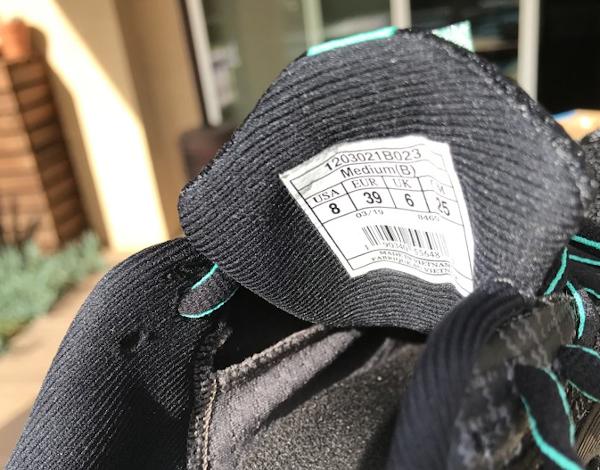 The heel cup is secure but not overly supportive, which has created some instability for me when on banked roads or when using these for lateral movements in cross-training workouts.
Cushioning is on the softer side
Though not a new technology, this is my first pair of Brooks that integrates their BioMoGo proprietary cushioning. Brooks states that it "...adapts to your stride, weight, and speed...so it can help protect you by deflecting impact away from your body."
While the BioMoGo DNA cushioning helps to deflect away some impact on your feet, I've been experiencing added stress to my upper legs and hips. This could be a side effect of a soft ride without sufficient stability for my foot.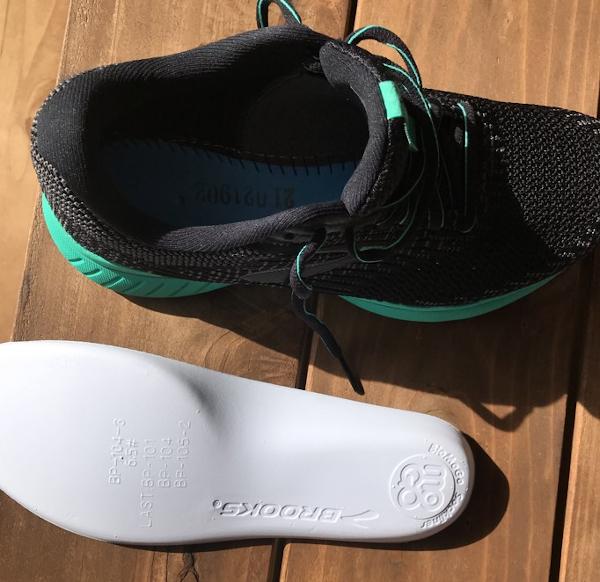 Since it's a neutral shoe, I don't expect added support, but I do think the existing support was compromised once I added a third-party insole. As I mentioned earlier, I plan to return to the shoe's original insole, but this might be a non-starter for some runners.
I have really been enjoying the cushioning of the midsole. It is noticeably soft when you put the shoe on and provides a very smooth, floaty ride. At a moderate 8 mm offset, the transitions are smooth.
Most of the cushioning is felt in the heel, but mid and forefoot strikes are still ultra-soft and fluid. Combined with the light weight of the shoe, it's easy to feel a pep in your step as you glide through the miles.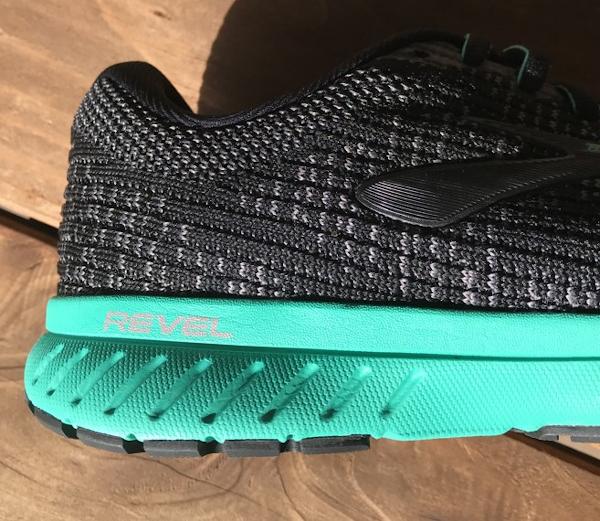 Solid outsole
The outsole has been nice and grippy, though I haven't had the opportunity to wear them in the rain yet (SoCal winter has been dry so far). The forefoot provides a nice, wide base of contact with tiny grooves that allow for good traction.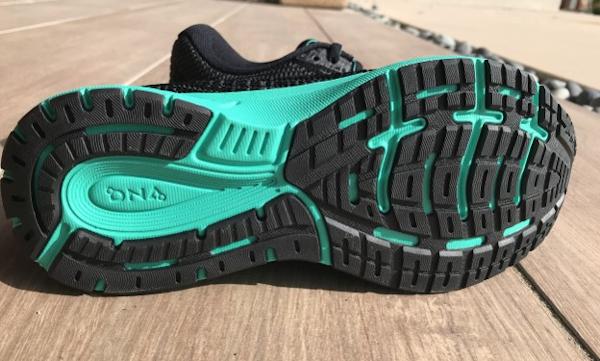 I've enjoyed wearing these for mobility and interval training as well. My only gripe is that small gravel tends to get stuck in some of the smaller, oval-shaped treads from time to time.
The hard bottom rubber combined with the blown rubber provides a good amount of flexibility in the sole without sacrificing longevity. I was surprised to look at the soles and see minimal visible signs of wear at this point in the shoe's life.
Performance: good enough for its range
Stability in the Revel 3 is where I'm beginning to waffle. At the onset, I felt the flat-knit upper was providing more support than a traditional knit as it offers a double underlay, and the heel cup felt deep and secure.
I still feel this is mostly true, but after frequent use of this shoe for the past couple of weeks, I'm experiencing some hip and IT band pain.
Most of my runs include uneven streets and banked sidewalks, so I think the Revel 3, as a plush neutral shoe, is forcing me to compensate for lack of stability accordingly using my leg and hip muscles.
Also, I'm getting a sense that the cushion of the shoe is tiring out a bit fast and takes some recovery time between runs to restore to its full-cushion capability. The compacted foam effect is noticeable when I wear the shoe out twice within 24 hours.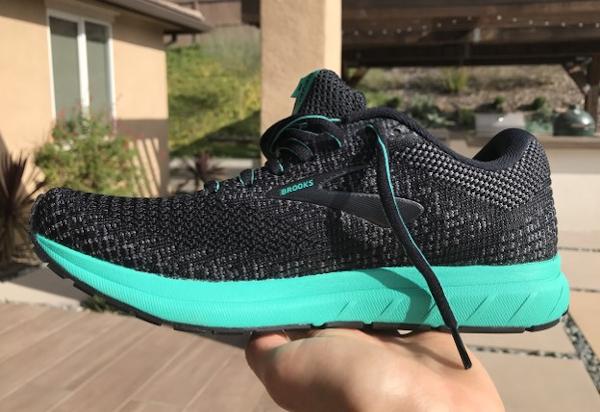 For short and mid-distance runs, I think this shoe is a winner, but if you like a soft ride for long runs, the foam in the Revel 3 might wear out before you do.
The "street-ready" narrative they use to describe the shoe makes me feel like it's geared towards an all-around wearer rather than a serious runner—someone bouncing from a treadmill to the grocery store rather than someone putting in intense daily training miles.
Perhaps, I'm unfairly interpreting their marketing language attempt to sell it as a sleek-looking shoe. I see the Revel 3 as a great answer to the average runner looking for a comfortable running shoe at a reasonable price.
However, I don't see the Revel 3 as a hearty, resilient shoe that will get someone through training to the starting line of a marathon on its own.
That's not to say it's an inferior shoe by most standards. By and large, I am impressed with the performance of this shoe. I'm no professional athlete, and this shoe suits me at about 30-40 pavement miles per week.
Cost and value of Brooks Revel 3
At $100 price point, the Revel 3 is a bargain. It's a really good shoe, and I won't be disappointed if I need to retire it a bit earlier than some of my other shoes due to wear.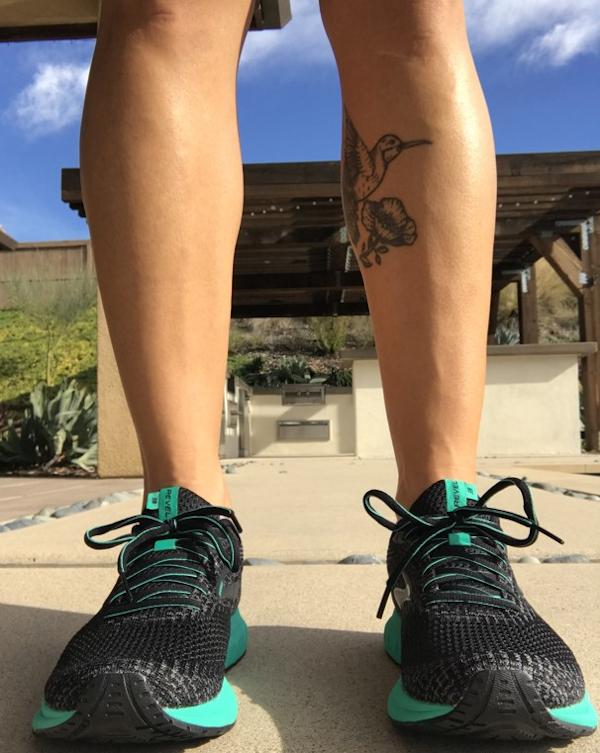 The shoe checks boxes for a soft ride, lightweight, and comfortable fit. It's fast and smooth, breathable, and looks good to boot. Plus, it's holding up really well against daily use, so, to me, that is an excellent return on investment.
In conclusion
Coming off consistent use of my Brooks Levitate 2's, I was hoping the Revel 3's would offer a bit more of a plush landing for me. The experience type listed on their website is one of "cushion," so I figured I was in the ballpark.
Admittedly, when it comes to cost/quality analysis, I tend to equate higher cost with better quality. I've also grown accustomed to dropping at least $130-$150 for a good, supportive shoe, so I was bracing myself for a ride that might just fall flat.
At $100 for a newly-released shoe, I was stunned when I put the Revel 3 on my feet and immediately felt the plush promise fulfilled.
Tip: see the best running shoes.
Rankings
How Brooks Revel 3 ranks compared to all other shoes
Popularity
The current trend of Brooks Revel 3.