Verdict from 5 experts and 100+ user reviews
8 reasons to buy
Many runners thought that Brooks Revel 2 is a very comfortable shoe.
Some wearers found the fit to be true to size.
According to some users, the cushioning of the shoe is soft and bouncy.
Most users found the Revel 2 to be a lightweight shoe.
Several purchasers admired the shoes street-ready design and eye-catching colors.
A few users mentioned that the shoe offers great heel support.
The shoe is affordable.
The Brooks Revel 2 is a versatile shoe that performed well both as running gear and lifestyle shoe.
1 reason not to buy
According to a tester, the outer edges of the façade ripped apart after only a few days of use.
Bottom line
The response for the Brooks Revel 2 was generally positive. Runners admired the comfortable feel, exact sizing, soft cushioning and lightweight design of the neutral running shoe. The affordable price and eye-catching colors were also highlighted in some reviews. Overall, the Revel 2 is indeed a successful release from Brooks.
Tip: see the best running shoes.
Our reviews
I've been willing to give Brooks running shoes a try but never had the chance. Finally, it happened.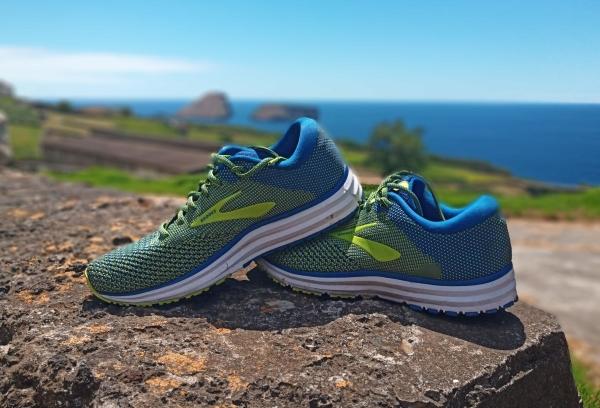 After reading some reviews that put the Brooks Revel 2 in the group of the bests shoes for daily runs and long distances, I decided to get a pair.
My first impressions were very good. The shoe seems to be well built, the midsole seems to have the right amount of cushioning, the color scheme is awesome, and I was amazed by their lightness. They're very light!
At first glance, it is definitely a must-have shoe.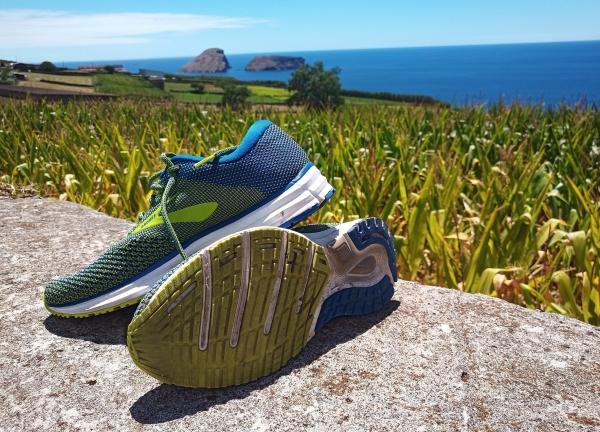 I wrote the review after putting some serious runs on them. For 'serious', I mean more than ten sessions of 8 or more miles and one session of 48 miles.
Please note that the first three out of four sessions were hard to my feet. The midsole was really stiff and needed to be broken in. It happened in each one of the first sessions.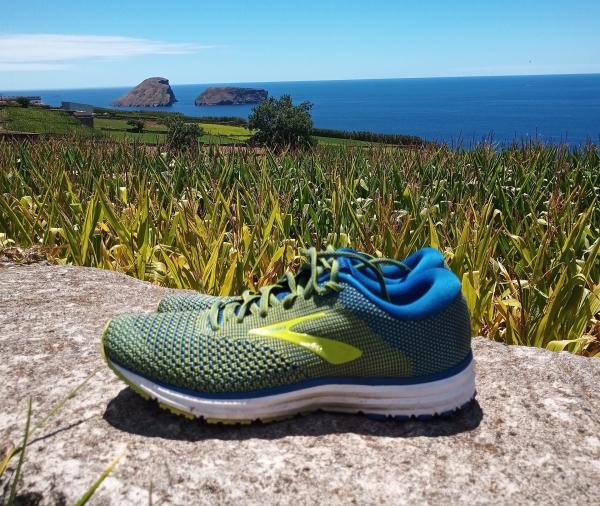 After that, I finally "broke" the stiffness and the shoe became much more comfortable. Well, it became really comfortable indeed.
The outsole grip is very good. I have run in rainy and sunny days and didn't have any major issues.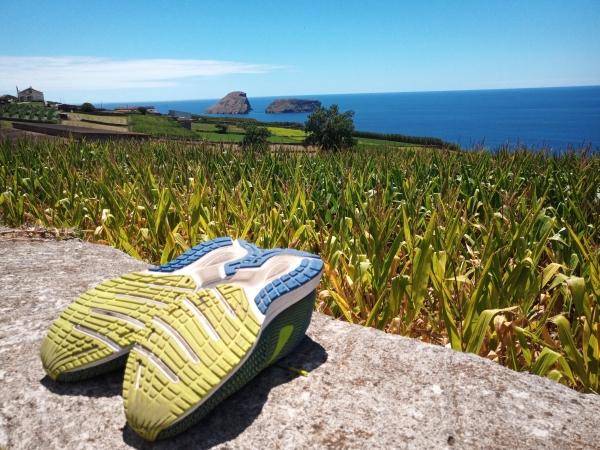 However, being faithful to this review title, here it comes one of the paradoxes. The shoe is comfy, and the grip is very good. The upper is terrific, and I can even wear these shoes as a casual shoe.
But, and there's always a but, I faced a major issue that even after more than a month running with them, I still haven't found a solution. The Brooks Revel 2 insole is a real problem.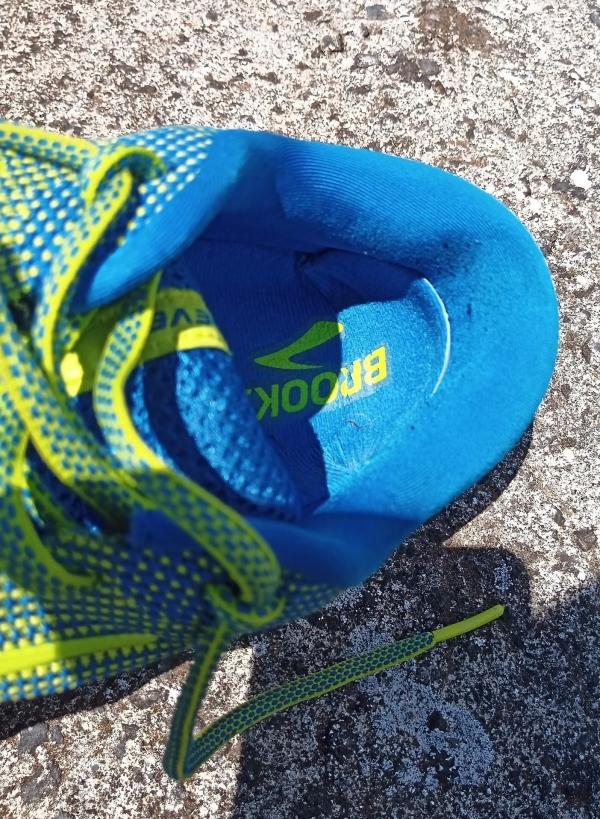 In all of my sessions, the insole kept slipping under my feet. I've even tried to tighten the laces and lock the heel further but to no avail. Unfortunately, it keeps on sliding, and I have to assume that it is either I got a faulty pair, or it really is a design flaw.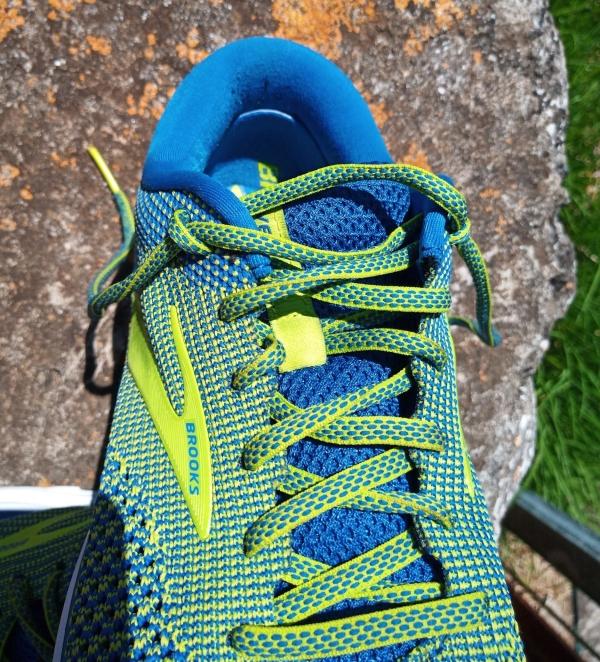 I continued to use the shoe in my daily run. When I finally felt that the shoes were molded to my feet, I went in a session of 48 miles.
Again, in the beginning, everything was fine. The midsole was doing its function, and the outsole was gripping well the tarmac (first on dry tarmac and then on wet tarmac). It seemed that it was going to be a nice session.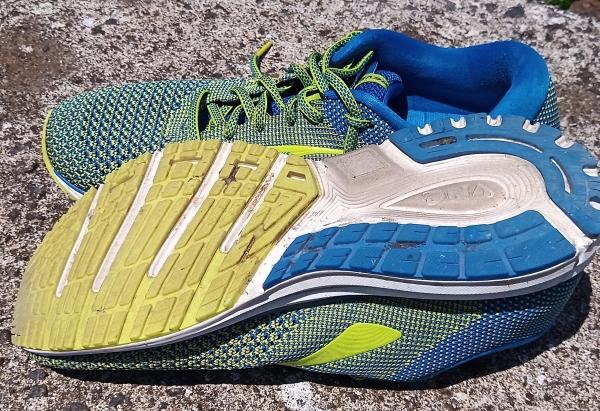 I was wrong! This is a long-distance shoe, keep in mind. Around the mile 23, the bottom of both my feet started to hurt and warm up. And why? Well, the midsoles slid again.
The midsole lost a serious amount of cushioning, and my feet became hot, really hot. I finished the session in serious difficulties, but, well, at least I was able to finish it (48 miles).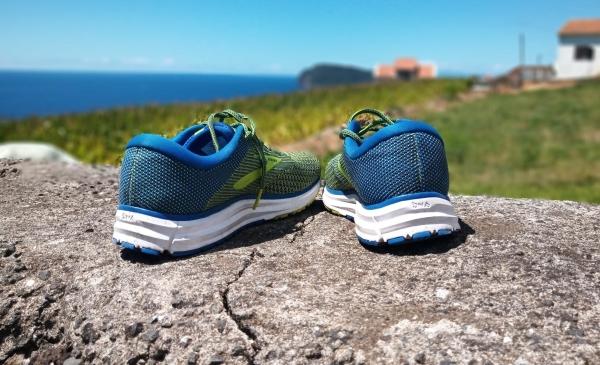 They have now 300 miles, and the outsole still looks good. It is a little worn out, but it's natural as I run on tarmac. Regardless, it seems that it will last 300 more.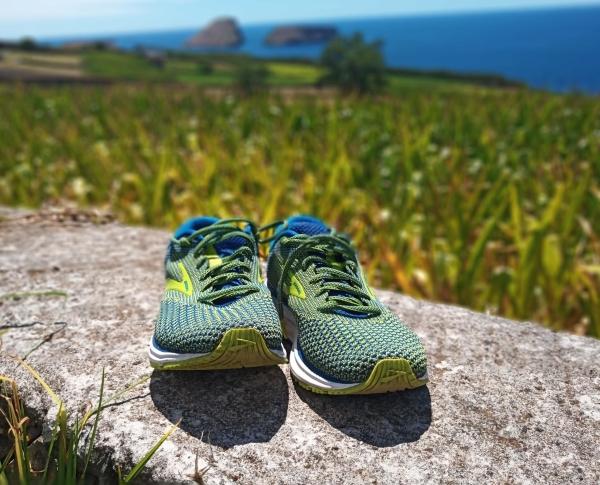 This model isn't the most breathable. Though it is not too suffocating, it could be a little less.
On the one hand, it can be amazing, affordable, comfy, a real must-have. But, on the other hand, it can be uncomfy and not made for long runs.
Conclusions
If you run regularly, with practices up to 26.2 miles, this should be a perfect shoe. But if you run more than 26.2 miles, I can't advise you to buy this model. Sorry, Brooks, you have to improve in this field.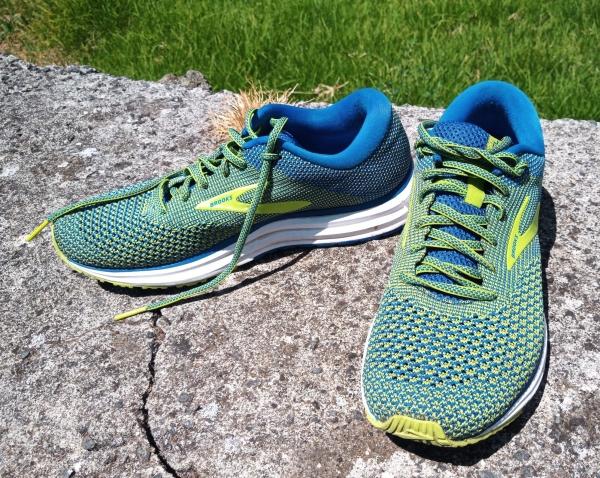 Pros
The color scheme is amazing
The outsole seems to be durable
It's comfy (keep in mind that you will have to put 20 or 25 miles to brake the initial stiffness) to sessions up to 26.2 miles.
The low weight
Well-built
True to size
Good size shoelaces and steady tongue
Cons
Initial midsole stiffness
The insole that keeps sliding. It's a major problem that I hope Brooks can resolve in the next model.
In sessions with more of 26.2, the shoe gets uncomfy, so, this isn't a "pure" long-distance shoe. Keep it in mind.
I have put in about 250 miles into this shoe. I have run anywhere from 200m intervals in this shoe to 10 mile long runs in this shoe. It was my first pair of Brooks I ever ran in, and I was very impressed with how comfortable and how durable they were and still are.
I have run this on trails and on roads, and it did great on both. It is a daily trainer that focuses on cushioning and does an absolutely great job!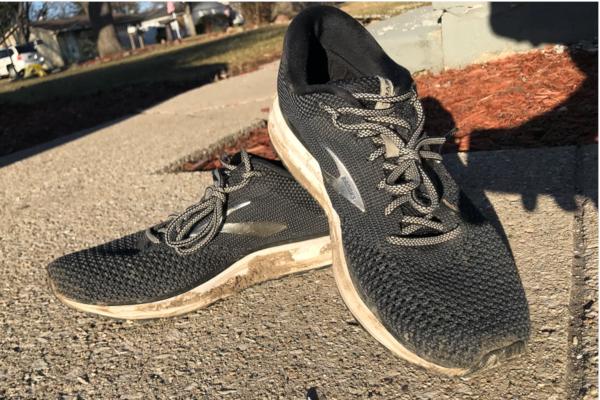 First impressions
These shoes have a very simplistic design with very simple colorways that are still nice. These shoes are also very good looking, and I wouldn't hesitate to wear them as a casual shoe.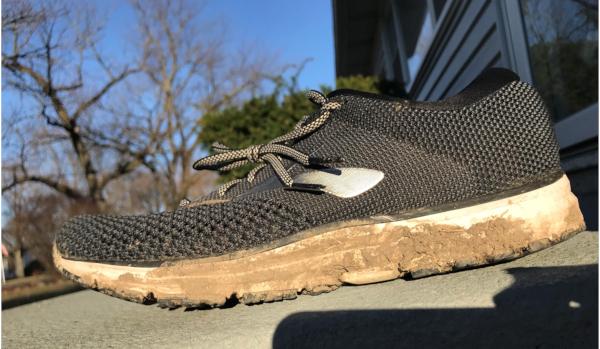 Upper
The upper is made of a flat knit material. It is very breathable and keeps your feet cool in any weather.
At first, I was a little skeptical because the upper looked very delicate. But it is not, and it holds up very well.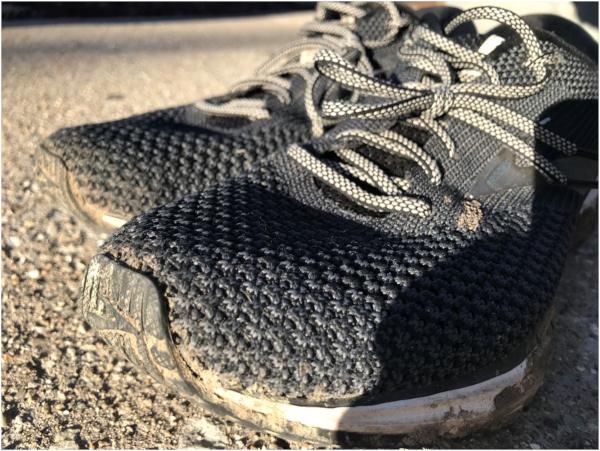 Durability
In terms of durability, these shoes are very promising. I wouldn't even be able to tell I had put 250 miles into this shoe because of the lack of wear and tear. The only show of wear and tear is the threading of the outsole rubber is fading, but that's what you'd expect after 250 miles in any shoe.
Comfort
In terms of comfort, these shoes are the most comfortable shoes I have ever run in. These Brooks use a midsole cushioning called BioMoGo DNA.
It essentially shapes into the runner's foot which personally feels amazing and really prevents pain or slipping of the foot. Even after 250 miles, I can go on an 8 mile run in these and feel minimal discomfort.
A small but big thing about the Revel 2 is that the heel cup is cushioned so well. I never feel any heel pain in that shoe, which you don't get in many running shoes.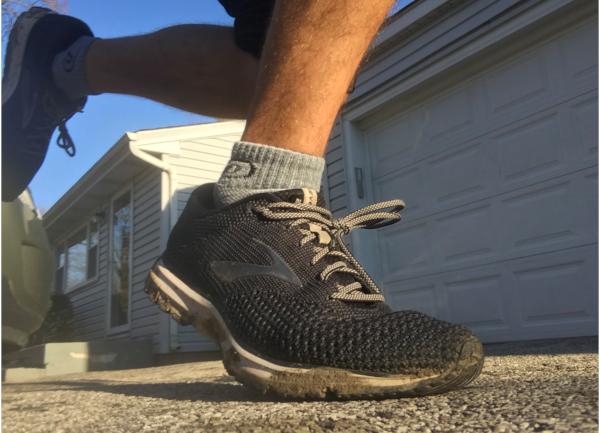 Price
In terms of price, these shoes are about $100 which could be expensive depending on the person, but personally, for the quality of these shoes, it's more than worth it.
What I like about this shoe
What I personally like about these shoes is how comfortable they are. Most shoes lose comfort around 250 miles, but these still have so much cushioning and feels great.
I also like the versatility of these shoes. I used them for both speed work and recovery runs, and they did amazing in both runs, because of how lightweight and responsive these shoes are.
I also liked the cushioned heel cup which is a small but extremely important part of the shoe for a runner.
Why you should buy this shoe
You should buy this shoe for a comfortable run no matter how hard the ace is. Its extremely good for road or trail runs.
It is extremely durable and never gave me any kind of extreme discomfort. Whether you are a beginner or veteran runner, these shoes will not let you down.
Conclusion
The Brooks Revel 2 is a daily trainer that is made to go the distance. It has extremely good cushioning that goes a long way.
It is very durable and doesn't wear out easily. It is very well for any kind of runs: tempo, fartlek, recovery, speed, long, you name it, it can do it. It is very well priced based on the very well quality of this shoe.
It looks very clean and sleek and could be casually worn. It doesn't matter if you're running a 4-minute mile or a 10-minute mile. It will do you good.
I have never previously purchased brooks. I selected this shoe as I wanted something different to use as my daily go-to training shoe.
My first impressions of this shoe were they are extremely comfortable, and I couldn't wait to put this shoe to test!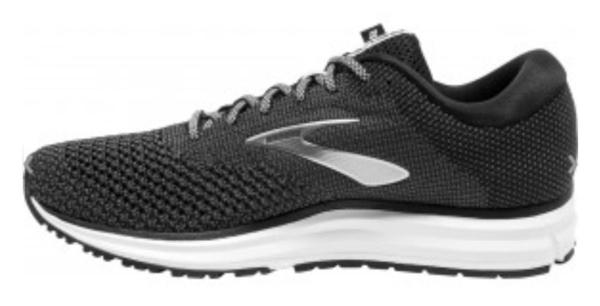 Design
The shoe looks as good today as it did upon arrival. I have put this shoe through every training session for a month in preparation for a PB Half Marathon race in October 2019.
The shoe has received many compliments from other runners, especially as I was so loyal to wearing Nike running shoes.
Comfort
The most comfortable shoe I have worn to date, and I have worn some top-end premium shoes costing twice the amount of this shoe. The back of the shoe is padded very nicely to offer support on your ankle and your Achilles heel area.
The tongue on the shoe is so comfortable, and even if you like a tight lockdown by tightening your laces, then this doesn't impact that comfortable feel whilst your moving and enjoying your run.

The upper has a flat knit feel to it, and this wraps around your feet very comfortable, especially around the toe box. The material used in the upper is a heat activated yarn that keeps the shape of the shoes.
The shoe has a breathable upper which helps keep your feet cool, which is very important to me, especially when performing quick, fast-paced tempo sessions at the athletics track.
Control & traction
I was very impressed with the grip in terrible wet conditions.
I was running interval sessions up and down a steep hill, and I was very happy with how the shoe performed. This was very assuring as I have never had great experiences of road shoes in storm-like conditions.
My feet were surprising dry during this very wet session, which was an added bonus and definitely a nice surprise.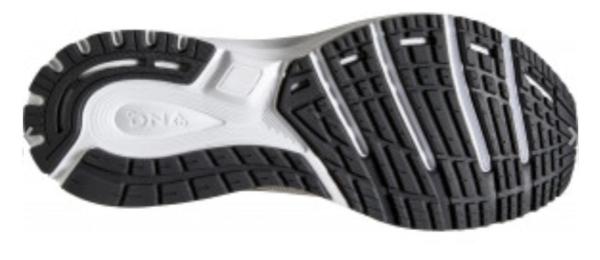 Stability
The revel 2 is a neutral running shoe which is ideal for flat feet runners and those that are pronators. The shoe locks down very well, and the laces are very long, which is a good point to allow a double knot to prevent any unwanted stoppages during a run/race.
The sole of the shoe has a cushioning system that adapts to every step you take. It is a DNA technology that ensures that expected smooth transition.
Best used on
I have worn these shoes on solid surfaces like pavement, and various types of flat surfaces and the shoe performs really well.
I have ran over stones on a trail type local park run course and the feeling underfoot was positive due to the comfortable transition.
Pros
The shoe looks fantastic and is a brilliant all-round performing running shoe.
It has a real feel of being close to the ground, which I liked in my first 100 miles.
The shoe is versatile and brilliant for short distance. It's also suitable for my long half marathon training runs every Sunday.
The shoe has a 12mm drop, and this is evident from the very first use as it is a very responsive shoe.
Smooth transition from heel to toe.
Cons
To date, I have no negative comments from this awesome Brooks product. I always order half a size up with every running shoe, to allow for movement whilst running, and this was a great choice with this shoe.
Conclusion
I have now ran over 100 miles in this shoe, and I am really happy with my selection in sampling a running shoe other than my favorite brand, which is Nike.
If you're new to running or you're a seasoned runner, then this shoe will not let you down.
Good to know
The design of the flat knit upper was updated. Instead of two colors, Brooks made the upper more seamless looking by using only one color thread throughout. It looks chicer than its predecessor, allowing runners to wear the shoe for different occasions - for work, working out, as well as post-work activities. The thin film on the midfoot was removed to preserve the exterior's appearance.
The shoe's weight has been slightly reduced. From 292 grams on the first Brooks Revel version to 289 grams on this newer shoe iteration. The reduction is not significant, but it makes the shoe a lightweight trainer.
On the outsole is the Brooks HPR Plus material. It was developed to be highly resistant to abrasion, optimally protecting the underfoot area of the shoe. Aside from improving durability, this rubber material also enhances traction, improving its grip on various common surfaces.
To provide a bit of flexibility to the outsole material, flex grooves and lines were incorporated. These lines allow the bottom of the shoe to move with the runner, as well as complement the traction and grip provided by the outsole material.
Same as with the popular road running shoe, the Brooks Levitate 2, the main material of the Revel 2' midsole is made of is called BioMoGo DNA. The Brooks DNA commonly uses a gel material for cushioning on the heel, but in the case of the BioMoGo DNA technology, gel inserts are replaced with BioMoGo foam which is biodegradable and more environmentally friendly, while still delivering adaptive cushioning all throughout a run.
The upper is made of a flat knit material which was engineered in specific areas to provide minimal support. It is highly breathable, keeping the foot cool at all times during runs. It also possesses a stretchable characteristic, adapting to any foot shape and providing a comfortable fit that feels customized.
Runners will be able to reap the benefits of a sock-like fit because of an internal cleatie construction. From the inside, the cleatie wraps the foot snugly, providing a feeling of security, as well as a comfortable in-shoe feel without being too constrictive.
Not a lot of overlays sit on the upper material. Only the Brooks logo is found on both sides of the middle area of the foot. The logos serve an aesthetic purpose, completing the look of the shoe without compromising its sleekness.
Rankings
How Brooks Revel 2 ranks compared to all other shoes
Popularity
The current trend of Brooks Revel 2.