Despite its cushioning that lacked any bounceback, the Under Armour Curry 7 is a very admirable performer basketball shoe due to its amazing fit, lockdown, and traction. Best for indoor hardwood surfaces and with a ride that is extremely low to the ground, the Under Armour Curry 7 is a stable beast that suits well to all hoopers who like to play fast!
Pros
True to size
Fantastic lockdown
Multi-direction traction
Stable
Impact protection
Top-notch support
Wide-feet friendly
Cons
Lacks bounce
Not for outdoor play
Poor ventilation
Under Armour Curry 7 review
Steph Curry has notoriously become the NBA all time 3 pointer record holder, and his shoes have been no slouch through the last few models as well. The Under Armour Curry 7 is a beast of a performer, and plays best on indoor hardwood gyms but is still capable outdoors with less longevity.
Who should buy it
The Curry 7 is ideal for a speedy perimeter player looking for a minimalist shoe that rides extremely low to the ground, has ultimate responsiveness, and has great lockdown and support
Who should NOT buy it
Do not buy this shoe if you are a bulky player who prefers
sizable cushioning that offers lots of bounce (the Curry 10 is more bouncy and responsive)
superb outdoor durability (the Jordan Zion 2 is praised for its sturdy outsole suitable for outdoor courts)
Amazing true to size fit in the Curry 7
I went true to size on the Under Armour Curry 7 and received an outstanding fit. Being a wide footer, the forefoot expanded slightly to provide a comfortable strong fit and the heel and backfoot had no slippage problems.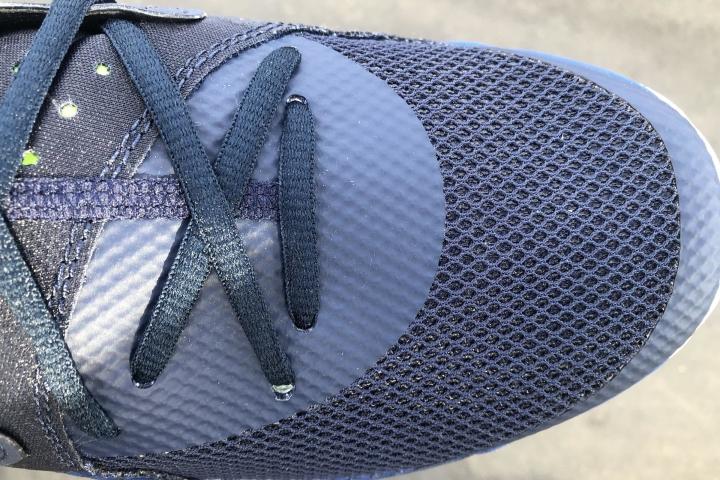 The lacing eyelets placements are well done, but the tongue is fairly padded where the shoe isn't able to be significantly tightened with the laces, if that's something you look for in particular.
Minimal, serviceable cushioning
The cushion on the Under Armour Curry 7 gets the job done, but not superbly - Micro G was the technology utilized but the implementation provided little bounceback or plushness throughout the shoe. That being said, the cushion still did provide adequate impact protection and I did not feel any undesired pain in my legs or knees from impact absorption.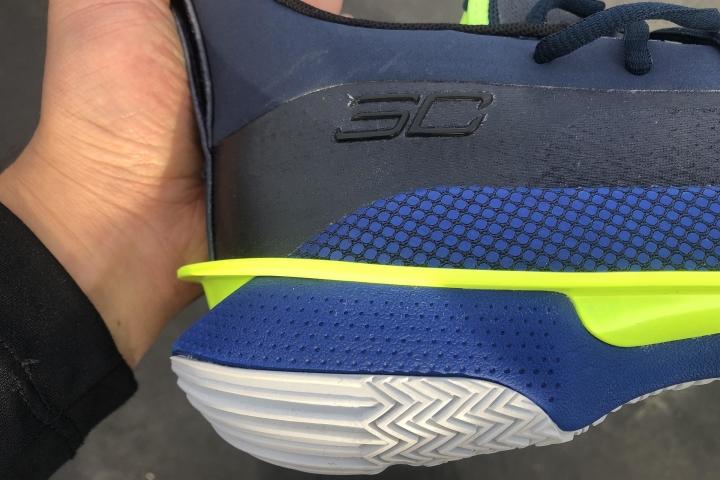 Personally, this is about as minimal as a shoe can get cushion-wise that I'll still enjoy - players who prefer a low responsive ride will enjoy these but not any players who're hoping for a noticeable bounce back. This type of cushioning setup has been pretty consistent across the Curry signature line.
Elite traction with little wiping needed!
The Under Armour Curry 7 has top notch multidirectional traction both indoors and outdoors. The pattern is a hard, herringbone like groove set. I tested the shoe on multiple terrains and the traction held up well on all without fail. Even on dusty indoor courts, the traction clicked with minimal wiping needed!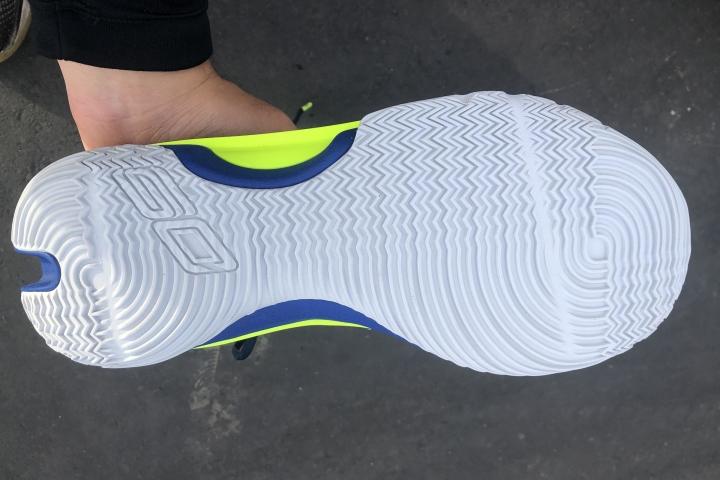 The grooves are hard but not super deep, so my only concern is the traction holding up after the high-wear areas for me begin to take some damage.
Small break-in time needed in the UA Curry 7
The fit, lockdown, traction, and cushion all worked well pretty much right away, with about one or two hour play sessions or shootarounds to break into the general upper material on the shoe. It won't be a major issue if you do bring these to a major game right away, but the shoes did feel best after getting a small set of reps in.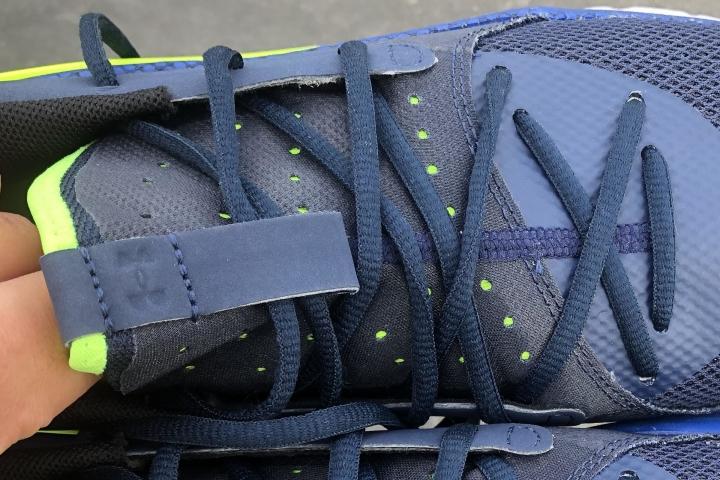 The Curry 7 is doable for outdoors
I would mostly recommend the Under Armour Curry 7 mostly for indoor play, due to the thinner grooves used on the outsole. The grooves, despite being on the thinner side, are actually quite hard, but it is only the dual combo of deep grooves + hard material that I confidently recommend for outdoor hoops. Nonetheless, this should still provide some respectable value serving as an outdoor shoe.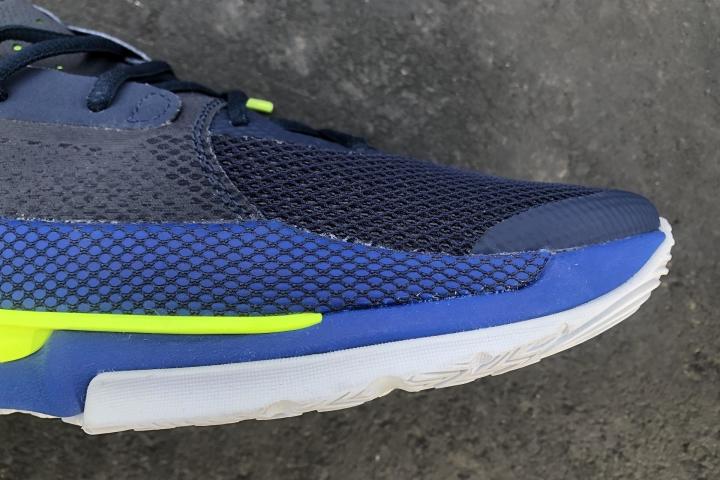 Weighs slightly light for a basketball shoe
The Under Armour Curry 7 weighs 13.2oz/374g, on the light end for basketball shoes average weight is 13.6oz/387g. This was no surprise with its minimal cushioning and upper setup. It's weight sits just a tad lower than the other popular lines, such as the Nike KD/Nike Kyrie/Nike PG releases.
Ventilation is poor
The upper of the Curry 7 uses a synthetic mesh-like upper which was okay in terms of ventilation. While your foot will probably never get the extreme overstuffed sweaty heat, it won't feel fully ventilated and there might be minor sweat buildup. This did not affect the performance much for me but can be of annoyance to some people.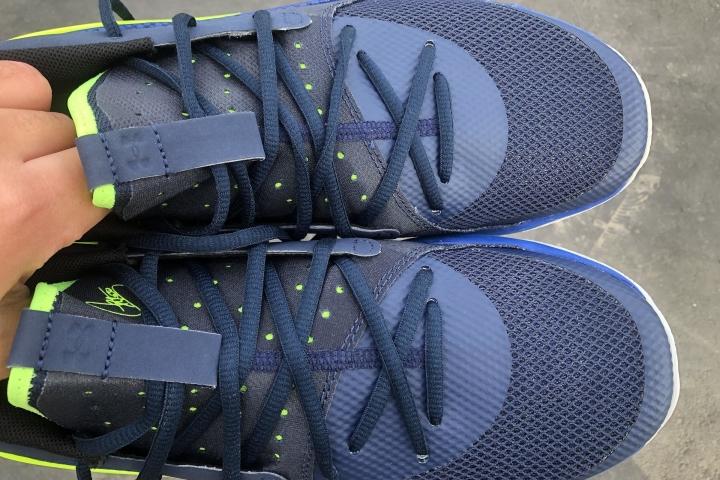 Outstanding lockdown across the foot
Lockdown for me was another superb area of the shoe for me. There is a plastic outrigger covering nearly the back half of the shoe and assists in perfect heel lockdown while the forefoot has a great fit with zero dead space. The materials are also slightly elastic, but not overly where it will adjust to your foot, but not stretch to provide risky support on any hard stops or slides.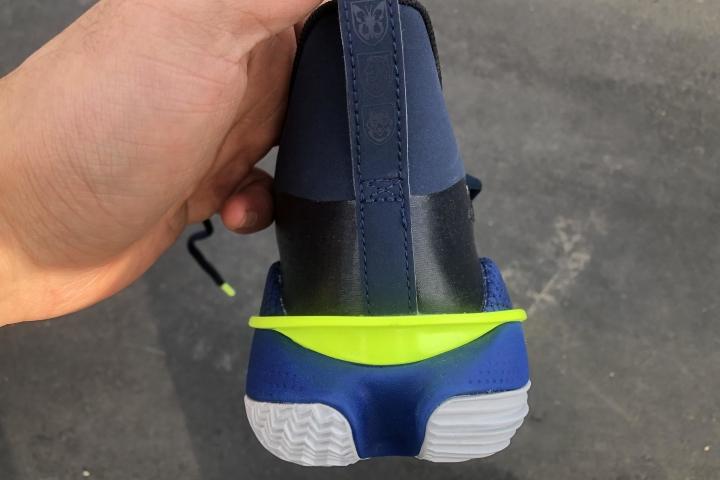 A good buy
The retail price for the Under Armour Curry 7 is $140 (basketball shoes have an average price of $133). For the price they're a great get if you're a quick guard who values traction and fit.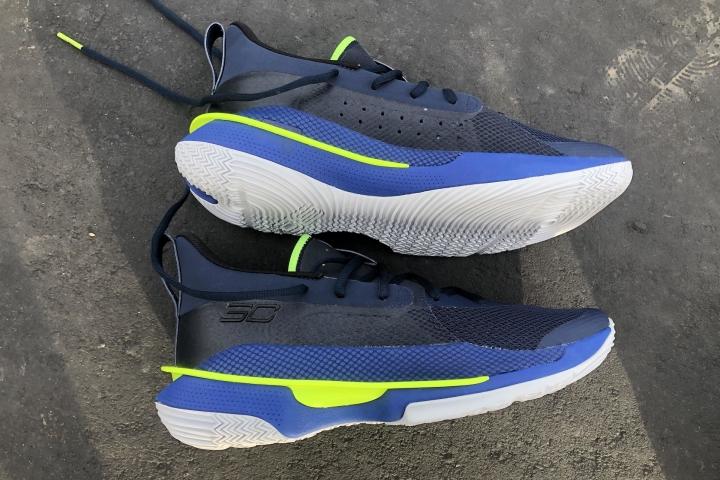 For all attributes summed up across the board, there aren't many other basketball shoes exceeding this shoe unless you want an upgrade in cushioning, for which you may sacrifice another attribute across the board.