The verdict from 21 experts and 100+ user reviews
Overall, experts are happy with this shoe: "this shoe is a keeper," "probably the highest scoring shoe in recent years," "I am in love with this shoe."
Just by looking at the number of comments and miles logged in the shoe, experts are really excited about it. They kept going back to it - something that does not happen often with new shoes.
While this model certainly got a spot in the experts' rotation collection, it never got the highest rank.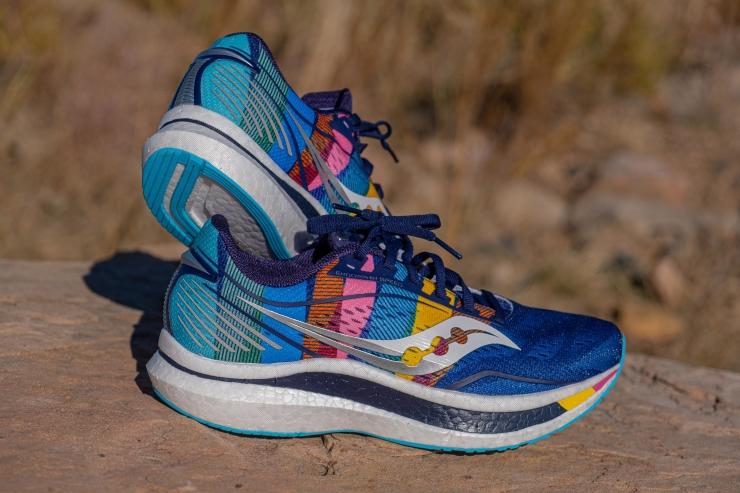 Pros
Fast ride
Responsive
Cushioned and soft
Spring effect
Excellent durability
Lightweight
Breathable
True to size
Perfect foot lock
Bold colors
Cons
Adaptation period might be needed
Not for walking
Not for slow runs
Questionable grip on wet surfaces
Experts have also found the shoe to be pricey, but worth the investment.
Who should buy Saucony Endorphin Speed
Perfect if you want to pick up the pace and do tempo runs and long runs. It's great for a recreational racer: 10k, half marathon, marathon, just make sure to turn up the tempo. This is a neutral running shoe.
Who should NOT buy Saucony Endorphin Speed
Don't buy it if you want a daily trainer for easy runs and recovery runs. For that purpose, you can check out Saucony Endorphin Shift. If you're looking for a race-ready shoe, look at Saucony Endorphin Pro.
Endorphin Speed vs. Endorphin Shift vs. Endorphin Pro
If in doubt, look at the main differences:
| | | | |
| --- | --- | --- | --- |
| | Saucony Endorphin Shift | Saucony Endorphin Speed | Saucony Endorphin Pro |
| Purpose | Easy runs, recovery runs | Fast runs, long runs, races | Races, fast runs |
| Weight (men's) | 10.1oz or 286g | 7.8oz or 221g | 7.5oz or 213g |
| How it feels | Soft, cushioned, somewhat springy | Snappy, bouncy, cushioned | Snug, fast, really snappy |
Geared for responsiveness
Not squishiness!
Look the other way if you want a stiff shoe. Endorphin Speed feels soft and bouncy, thanks to the midsole that's "the secret sauce of this shoe."
Experts also described the experience as:
"feels like running on a trampoline"
"incredibly reactive"
"fast ride feel with plenty of cushion."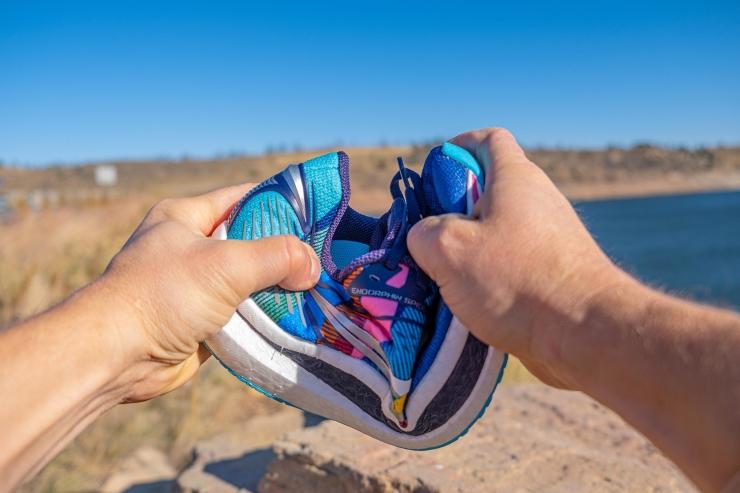 Spring effect: a game-changer
"Snappy toe off" and "squish and bounce" that's how this shoe feels. Fireworks and confetti! The ride wouldn't be as good if there wasn't for a nylon plate.
Not only does it make the shoe bouncier, but it also "boosts comfort" for longer runs. Some experts reported that it doesn't force the feet in a mechanical way, something that carbon plates have been known to do.
Note: nylon plate needs to be loaded to develop its "spring effect" which means you need to run (not walk) and pick up the pace.
Endorphin Speed was built for speed
This shoe has "a very speedy vibe." It simply excels at fast and racing speeds. Experts described it as "my go-to uptempo shoe" and "suitable racing option."
One expert said "These are paces I haven't seen in more than a year, and they felt natural."
Since it's also built for mileage, it's great for runs that mix intervals with long warm-ups or cool-downs.
Adaptation period needed
You might need to learn how to walk and run in these. They feel "unstable at slower speeds" and it takes time to learn how to run correctly in them - not just form-wise, but also how to "glide effortlessly" while utilizing the nylon plate. It becomes easier with speeding up.
Foot stays put in Saucony Endorphin Speed
Foot lockdown depends on:
Heel lock frame: All experts agree that there's absolutely no heel slipping. As an expert said, "[the frame] locked my heel in for every run and every pace."
Not even the need for a heel-lock lacing system was reported.
Upper: mesh upper is "soft and secure" and it keeps you locked in "without being too snug."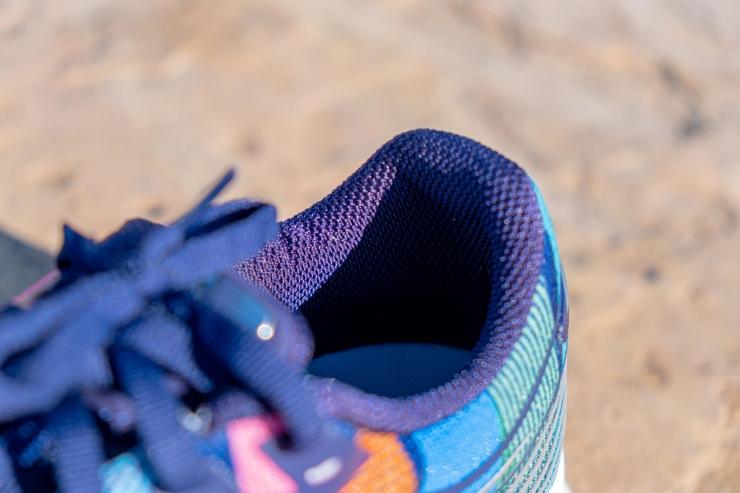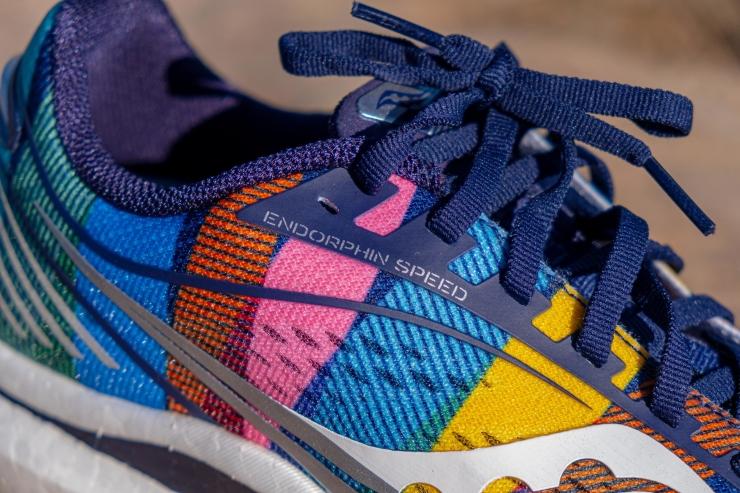 Average breathability
It's breathable. Nothing more, nothing less. When it comes to the upper, experts focused more on how it locks the foot rather than breathes.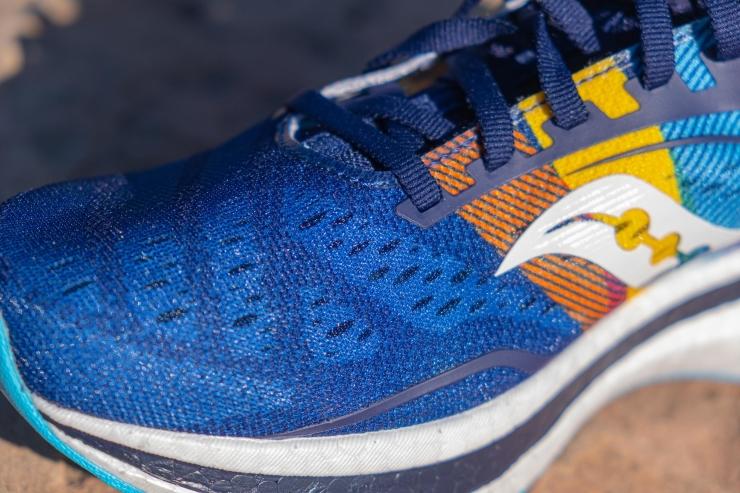 Durability at its best
"A perfect 10 for durability", "looks good as new after 100 miles" - experts are obviously fascinated by how "incredible" the durability of this shoe is.
It's something "a lot of running shoes can't match".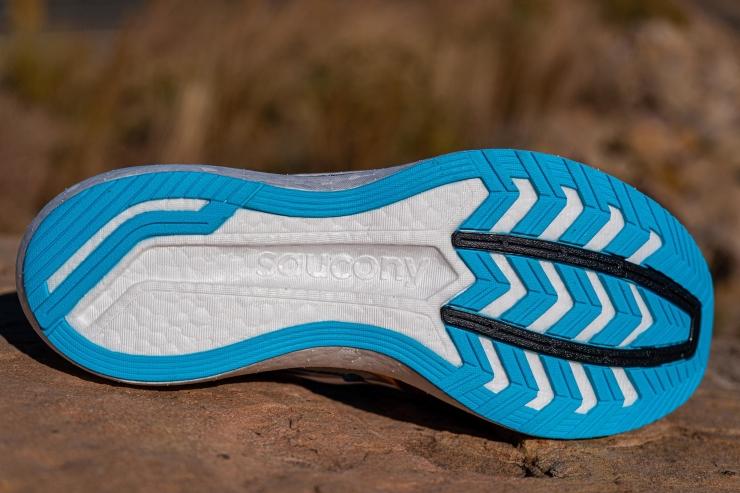 Featherweight
One expert went as far as saying that Endorphin Speed is "the undisputed king" of lightweight trainers. Others agree it's a light shoe: "very light for overall substance".
For some reason, it's said that Speed is lightweight and Pro is super-lightweight. The difference is only 0.3oz (8g), though!
Saucony Endorphin Speed weight (men's): 7.8 oz or 221g
Saucony Endorphin Pro weight (men's): 7.5oz or 213g
Saucony Endorphin Speed is slippery when wet
Caution: a few experts have reported that Saucony Endorphin Speed doesn't perform well on wet surfaces.
Fits true to size
It's a consensus: Endorphin Speed runs true to size. It's a medium fit throughout the shoe with plenty of room in the toe box. Only one expert found the fit to be narrow.
Endorphin Speed is worth the investment
Even though its price tag is high, the majority of experts who commented on the price of Saucony Endorphin Speed said it's definitely worth it. It seems like those experts really appreciate a performance-oriented running shoe, given that they found it "correctly priced" and "affordable."
Bold color choice
Of those who commented on the looks of Endorphin Speed, only 1 expert expressed criticism saying it looks like "Lisa Frank experiment gone wrong." Others find the mutant (as called by Saucony itself) color choice "lively," "cheery bold," "classy looking" and even "iconic."
Tip: see the best running shoes.
Rankings
How Saucony Endorphin Speed ranks compared to all other shoes
Popularity
The current trend of Saucony Endorphin Speed.