Our reviews
So, the time that every runner doesn't like came. I started getting some problems with my hamstrings during some of my runs. Almost immediately, I took a close look at my running shoes and discovered that I had run with this beloved pair for a bit more than 900km.
It was 900 km ago that I tried my first pair of the On Cloudflow shoes. I liked them—they were comfortable, lightweight, and more importantly, kept me injury free for all these miles.
It was time to get new shoes. And after being so satisfied with my old pair, I wanted to get the same model again, just to realize that there was a new version of the Cloudflow and got my hands on two new pairs of them.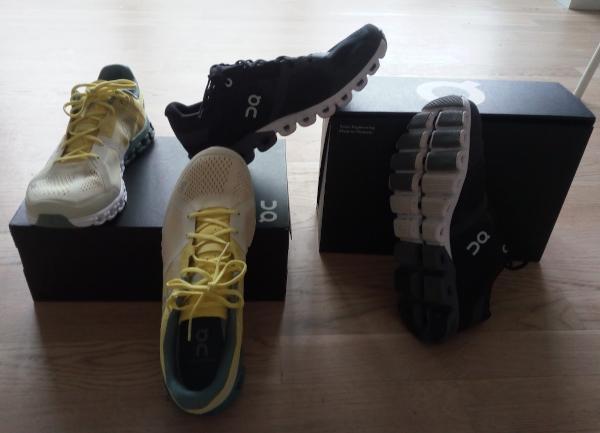 In terms of looks, I think they look amazing. I like all the details that On puts in the design of their shoes, the little Swiss flag in them is a charm and kind of shows how the brand takes care of everything, including the tiniest details.
It was time to try them. The first impression is that these are very comfortable shoes. I've to admit that I still love shoes with a barefoot feeling.
I love to feel the texture of the ground with my feet. This feeling and awareness of the floor is something you simply cannot get with these shoes and is something that I kind of miss.
Nevertheless, it allows you to run more comfortably for longer distances and enables you to recover your legs, especially your calves, faster.
When starting to run, I noticed that this Cloudflow provides you with some cushioning and at the same time, some springy feeling. Somehow, you feel like wanting to move your legs faster while running with these shoes.
Comparing to my old Cloudflow, this new version to me seems to have less cushioning, provide more direct contact with the ground, and feel a bit more responsive. This is contrary to what I read from other reviews from the Cloudflow 2.0.
However, I've to admit that I'm comparing a new pair of shoes against an old pair, so take this bit of information as a grain of salt.
One big difference between the old Cloudflow and the new generation deals with the size of the "Cloud pods". Both generations of Cloudflow shoes come with 19 "Cloud pods." However, with this new generation, the pods get closer to the middle of the foot.
On the left is an old Cloudflow while on the right is the new generation of it.
I read that one advantage of closing the gaps in between the "Clouds" was to avoid getting pebbles stuck on it. Well, that is not actually the case. I just finished running 24km with them in all types of terrains, and I arrived home with these two pebbles.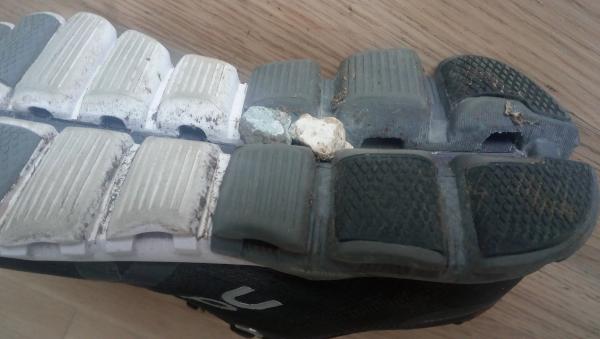 Anyway, 24km is the longest I've run so far with these shoes, and the run went very smooth I completely forgot about my feet during it, which to me shows that the shoes did a great job.
The biggest complaint I had about my old Cloudflow, was their lack of tracking in wet pavement. This new generation of Cloudflow does not seem to have this problem anymore. They provided me with a fairly decent grip during one of my rainy runs.
Design
In terms of design, the Cloudflow 2.0 looks fantastic. This generation has a total of six shoe designs, three for females and three for males. Some of the designs are very sober, some very flashy, and all of them very classy.
Comfort
The new generation of Cloudflow is a very comfortable shoe. They fit perfectly to me. They present a bit of cushioning while keeping the lightweight and some springy feeling.
Performance
Easy and long runs
These shoes are great for easy and long runs. You quickly forget that you are wearing anything, and you get the feeling of wanting to run faster.
Tempo runs
The previous version of the Cloudflow had some cushioning but lacked some responsiveness. Therefore, I did not find them that good for tempo runs.
However, with the springy feeling that this new generation of Cloudflow provides, you do not feel like slowing down so much because of the cushioning. Therefore, I think the shoes are pretty good for faster runs.
Races
While I find the new Cloudflow good for faster runs, I think there are better options if you are really going for a personal best in a race.
Durability
I guess Cloudflow 2.0 will have approximately the same durability as the old ones. I'm fairly lightweight, and usually, I change my shoes after 1000km. I used my old Cloudflow for a bit more than 900. So, they might be a bit less durable than the average running shoes.
Conclusion
On Cloudflow 2.0 are great running shoes for all-around running workouts. They are comfortable, and running with them feels great.
You might get some pebbles stuck, and they might be a bit more expensive, and less durable than the average running shoes. However, to me, they are the best training shoes that I've ever had.
On Cloudflow 2.0: Cushion-loaded but lightweight
A signature from the Cloudflow lineup, On Cloudflow 2.0 creates that cloud-like underfoot feel when running, but this time, much better. Tagged as one of the best road running shoes, the Cloudflow 2.0 remains a favorite among athletes. It gears runners with the following benefits::
Featherlight bulk. Utilizing featherlight components, the second iteration of the Cloudflow series does not weigh the athlete down, allowing for energy conservation for endurance and lasting performance.
Impact protection. A standout for its non-compromise between lightness and cushioning, the brand's revolutionary Helion Superfoam makes up the midsole of the shoe. Because of its properties, it impedes foot strain by attenuating shock during impact.
Better speed. Contrary to its precursor, the Cloudflow 2.0 has a higher energy return and stickier grip, propelling the racer forward.
On Cloudflow 2.0 vs. On Cloudflow
Centered on filling the gaps of its popular predecessor—On Cloudflow—the 2.0 introduces a few significant upgrades:
Improved cushioning. To achieve its pledge of better cushioning, the Cloudflow 2.0 utilizes the innovative Helion Superfoam in place of the earlier Zero-Gravity EVA foam. The main difference between the two is that Helion has more bounce and durability with decreased bulk.
Enhanced grip. The Cloud elements present in the forefoot of the Cloudflow are revamped in the second version by covering them with rubber. With such improvement, surface grip and traction are amplified. It also betters impact absorption during landing for a softer, more natural sensation.
Overall, the reconfigured cushioning system and Cloud elements make the On Cloudflow 2.0 a worthy investment compared to its predecessor.
Compare popularity
Interactive
Compare the popularity of another shoe to On Cloudflow 2.0:
On Cloudflow 2.0 video reviews